There is no denying that spring is gathering momentum. I keep finding small clumps of flowers budding up in unexpected corners, around the garden. While weeds are gaining an advantage in other areas.
Always the way. "Remove weeds" glides effortlessly to the top of my weekend list.
It's not the only area that's growing. Earlier this week, I mentioned how the children are sprouting in height (muffin recipe here). Turns out that they are growing in confidence, self reliance and knowledge too.
The Teen returned from Italy, full of her adventures. She did have fun and has fallen in love with the country. (I knew she would.) This has probably been one of the most successful residential school trips she has been on. I am full of admiration for the teachers that take students on these outings. Whether for a day, a week or longer. They deserve recognition.
I really believe that this sort of expedition teaches children more than the theme of the trip. The Teen has grown in confidence and self-reliance. Something that would be harder to achieve if we were with her, always at the ready to step in whenever she needed us. Instead, she has had experiences to reinforce and add to her belief in herself. She has grown, in height as well, but also in herself.
Middle daughter has also grown. She is over mid way through her first year at secondary. This week, all her hard work was singled out and recognized by the school. No mean feat in a large school. Wonderful for us all to hear, but even more importantly, confidence building for her. There is a definite skip in her step, and an easy smile, at the moment.
I've been busy too. Our windowsills are heavy with seed trays. Seedlings erupting through the soil, when my back is turned. I'm particularly pleased with my sweetcorn. Last year, I saved a few of the old cobs that we grew. A couple of weekends ago, I planted them in pots, with only a half-hearted thought that they would grow.
Turns out they did. I have about 100 plants coming up. I can make room for them all in the kitchen garden, but I don't want to get carried away and count my chickens before they hatch. Who knows what kind of cobs they will produce. Fingers crossed, but if they all succeed, I have images of a farm stall at the end of our drive, with the children spending late summer, selling armfuls of sweetcorn cobs. Maybe wearing dungarees and straw hats. Probably taking it too far.
A girl can dream.
Our squashes, cucumbers and cabbage are doing well too. I'm following the three sister planting approach again. I can't help smiling at all the trays of seedlings. It looks like a miniature version of our kitchen garden tucked up on the windowsills for now. In a few months time the few square foot will scale up to metres by metres of growing food outside. I hope.
I'm back to crocheting my garden bunting, from last year. Yes, this is garden twine I'm using. No, it is not the easiest thing to crochet with. I must be mad. I did up the size of my hook in an attempt to make it easier, but the squares were loopy and loose. So back to the 4.0 mm hook. One square a day is about all I can manage before my hands ache too much. Growing, but slowly.
Last day of term before the school holidays begin. Phew. Lots to do. Before I forget, must add new school trousers to my list. Couldn't help noticing that there is a little bit more ankle been shown recently, by two of the children.
They grow. No arguing with that.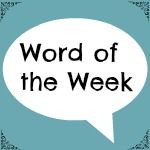 Word of the week. Grow.
I love spring. The landscape changes from muddy brown to fast growing green, in a blink of an eye.
Blue sky. Washing drying on the line. Birds courting on the roof tops. Lambs gambolling in a neighbour's field. Bees buzzing around, visiting the flowers that seem to appear by stealth. All wonderful and most welcome to see.
Is it just me or have you ever noticed how the flowers seem to get more colourful as the months roll on? They certainly seem to in our neck of the woods. White snowdrops are replaced with daffodils and lesser celandines in the hedgerows. Then flowers such as pulmonaria and crocuses start to hold the space. Soft pastel colours, that will be replaced before long by more vibrant coloured flowers. And so the year rolls on. Slowly getting more colourful.
A few weeks ago, in a crazy moment, I decided I wanted to capture those early spring colours. Soft and hazy. Perfect for an Easter themed cushion cover. A change from my usual choice of bright colours.
So I made a daisy cushion cover. It's the same daisy stitch that I used last year for my blanket. I do love making these daisies. I have perfected the initial yellow circle (it's all down to the knot) and improved the way of adding a twist to the first petal. This time the squares are smaller, using only two rounds of double crochet clusters, instead of three, to add colour around the daisies. I joined the 16 squares up with white yarn. Using a stitch with a ridge, to give a frame to each individual daisy.
I have to admit, I ummed and ahhed about how to make the rest of the cushion. The crochet front was the easy part. Should I crochet the back too? Do I need to put fabric between the crochet and the cushion pad? How exactly am I meant to join the crochet panel to the rest of the cushion cover, if I do use fabric?
In the end, I decided to dilute the crocheting with a fabric back. I just wasn't quite ready for a crochet-only cover. I made a fabric cushion cover from a bit of Cath Kidson strawberry fabric, that I had in my stash, and an old brushed-cotton crib sheet. Opting for an envelope style cover. I then blanket stitched the crochet panel to the crib sheet.
Add a cushion pad and it's done.
I love the cushion. It is pretty and soft. Of course, it goes with absolutely nothing else in the house…except the original daisy blanket, which lives on my old blue, rocking chair in our bedroom. I'm not sure I really want to add more crocheting there. Leaves me in a bit of a quandary about where to put my new cushion. I've tried it in several rooms but it really doesn't work on our dark chairs. It looks best in a light, white room, so it will probably end up in my sewing room.
No matter how much I love crocheting, filling our house with crochet pieces is never going to end well. They look out of place, which makes me a little sad. Crochet can look good. In the right setting. Even en masse. You only have to spend a happy hour or…ahem… so in Pinterest to see that. Maybe I should try a different stitch or colour when I next crochet. Or maybe I should stick with knitting and patchwork. Anyone else have a similar problem with crochet?
At least book bunny can enjoy it out in the sun. For now. Ravelry details here.
Joining in with the Crafting On Linky
---
Quick update on yarn projects and books. New project to share.
Knitting
I've made progress with my sock knitting. Nearing the toes, so hopefully a finished sock by next week and, fingers crossed, the second one starting.
My harlequin shawl has grown my 10 rows. It's lurking in the back on my photo, just so I don't forget it. It may be some time before a ta-da on that one.
Crochet
I started a new crochet project. An Easter cushion. Technically, I'd already made three of these squares, which were leftover from my daisy blanket. I love these colours together. They remind me of spring. I thought the combination of daisies and spring colours would be perfect for an Easter cushion cover. Also, I needed to work with some brighter colours!
It is a fairly easy pattern, so I can crochet and be sociable at the same time, unlike my knitting. Great for car journeys. I never feel confident knitting in the car, with pointy needles.
Book
I'm reading the Asimov collection of sci-fi stories. Each story is written by a different person. As a teen, I read bookshelves of sci-fi and then moved on to sci-fi/fantasy. I had forgotten how good sci-fi, by itself, can be. I find myself wondering what happened next, or how would I have dealt with it.
Escapism? Yes, but also thought-provoking. I can't help thinking that it gives the author a chance to put human life in a test tube and alter an element or two, to see what happens. While preserving the laws of physics and human nature. Being short stories, I can limit myself to one story at a time, and squeeze in more reading time, which works perfectly.
So what are you reading and yarning up, at the moment? No yarn along to join in with anymore, but I thought I'd post one all the same. Linking up with Nicole over at Frontier Dream. #KCCO
---
Photos
There have been cases when people lifted my photos and words, and used them without credit to me or asking permission first. Using them for their own commercial gain. I have now added a level of security to deter people from doing this. Apologies to people who do play nicely. If you would like to use any of my photos, please contact me.
Copyright notice:
All my words and photos are copyrighted to me. They cannot be used for commercial benefit by anyone else. If you would like to use any of them, then please ask me first and don't just take. Written permission only. Don't pass my words, photos or ideas off as your own. It's not nice.