Here's a confession. My purse is held together with a hairband. I keep meaning to do something about it. The purse is pretty perfect for my needs, with just the right number of pockets and zips. It holds my cards, notes, receipts and pennies. All that I need. Only problem is that the twiddly fastener thingy, that's meant to keep it tight closed, snapped off soon after I bought it. Now I use a hairband, which is also handy as an emergency hair tie.
Why do I put up with it? It is a Boden purse, which cost me £2 from a charity shop, a few years ago. No great shakes. I'm sure I must get a few looks from the cashiers, as I fumble to remove the hair band, when I pay for anything. I really don't care. It works for me.
The reason I still soldier on with it is that I'd like to design my own. I don't like the design of the card area. Potentially, the cards could fall out the top. I've thought about the features that make for a perfect purse and I'd like to sew it. I just needed to find the right materials to make it.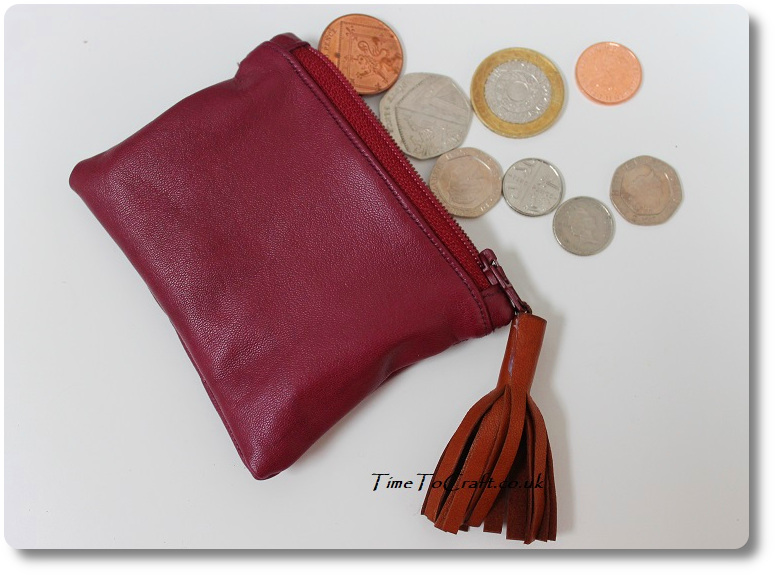 This holiday, my brother gave me a couple of bags filled with leather off cuts. Factory discards. Not big enough for them to use, but perfect for a home crafter like me. Different colours, thicknesses and texture effects.
I've not worked with leather before. I researched and found that I needed a different needle for my sewing machine. Also longer stitches and a way of pinning the layers together without using pins. Once you make a hole in leather, it stays a hole.  I used my old hand cranked Singer sewing machine, as I've read that they're good with leather.
I needed a straightforward project. I'm not ready to make my all singing, all dancing purse yet, so I settled for a simple coin purse. Fortunately, I had the small zip in my cupboard, which worked well with one of the pieces of leather.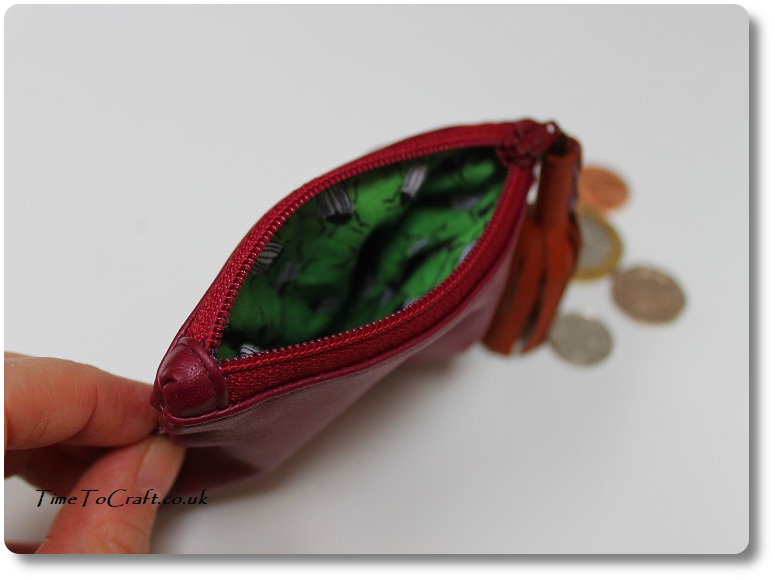 I lined the purse with a remnant of beetle fabric, which added a degree of complexity. I probably didn't need anything extra when learning a new skill, but that's me. It needed a lining, so I went for it.
I added tabs at each end of the zip, to give it a neater finish. The Singer coped effortlessly sewing over the extra bulk of the leather and the zip at the same time. They really do deserve their reputation as a work horse for home sewing.
Final touch is a leather tassel. I used my glue gun to stick it together.
So one coin purse finished. It's not perfect. Not bad for a first try. I will use it. More importantly, I've learnt a lot along the way.
I know working with leather is not everyone's choice. I did pause, but I reckon that this leather counts as a waste product. Potentially destined to be thrown. I have a couple of friends that will only eat meat if it's roadkill. Waste not, want not, is their mantra.
It may take me a bit of time to work out how to make my purse. I'm going to try and make a pencil case next for one of the children, to practise. In the meantime, I'm going to feel quite pleased, with myself, bringing out my little purse at the till, next time I go shopping.
(affiliated links included)
There is something very natural about embroidering, for me. It's something I don't do often, as it feels slightly indulgent. Not for a practical purpose. I do love doing it. Hundreds of tiny stitches, positioned precisely. In this case, they are spelling out something that I hope will be inspirational.
Occasionally that is good thing and all I need.
Last week, I was browsing for an enamel cleaner on Amazon. Don't ask me how I ended up looking at embroidery templates. I've inherited a lot of unfinished embroidery, but I don't think I've ever started one from step one.
Cut a long story short (and yes, I did find the enamel cleaner I was after), I ended up buying a width of beige linen and a pack of ten inspirational embroidery templates. They are so easy to use. Using a hot iron, I pressed the paper print on to the linen. Bit light at the bottom of the print, as I didn't press it hard enough, but enough to follow.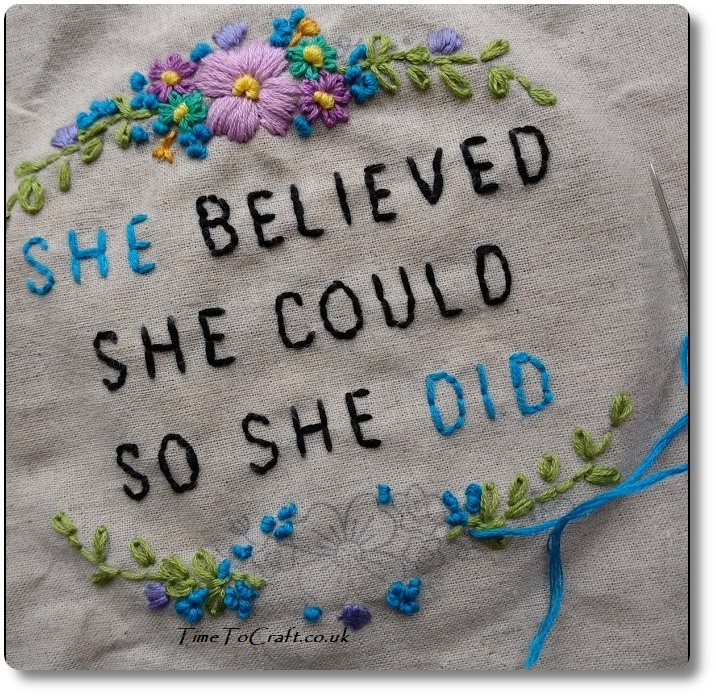 I have a good size collection of silks to sew with. Drapping them over the print and deciding the colour scheme is always fun. This one and this one, but not that. Too garish. Too much pink. It is fun to find the right balance of colours.
I used daisy stitch, French knots and satin stitch. I was taught by my grandmother and I can still hear her nudging me in the right direction. Telling me to move my needle point a little to the left.
The embroidery template doesn't come with a guide to colours or the stitches to use. It is absolutely up to you. I wouldn't say it is suitable for beginners who may need a helping hand, unless you put in a bit of research.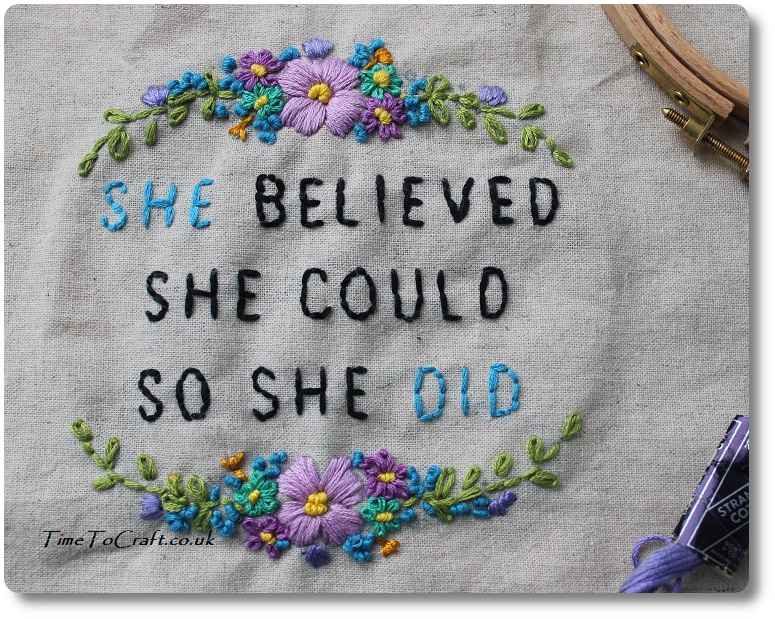 My embroidery is all finished now. I didn't plan on using two colours for the lettering. That happened as I stitched.
I don't know what I'm going to do with this piece yet. For now I'll put it in a hoop and display it. The right sized hoop has been ordered and is on its way. I might eventually make it into a little bag or pencil case. We'll see.
It needs a stretch in the hoop first, to make it lay flat.
What next? Well, the pack came with nine other designs. I just need to decide which one.
It's finished. Middle Teen has finished her first quilt. I'm so pleased with how it has turned out, but far more importantly, she loves it. It's her quilt. Apart from the odd pointer from me, she's just got on and made it all by herself. Transferring the skills she learnt while making her patchwork tote and cushion.
I love her choice of fabric. This is a girl who dreams of flying. I don't just mean that she wants to fly, but she also wakes up, on a regular basis, from dreams where she is flying. A quilt made of images of hot air balloons and space seems even more of a perfect choice to snuggle under, while dreaming her dreams.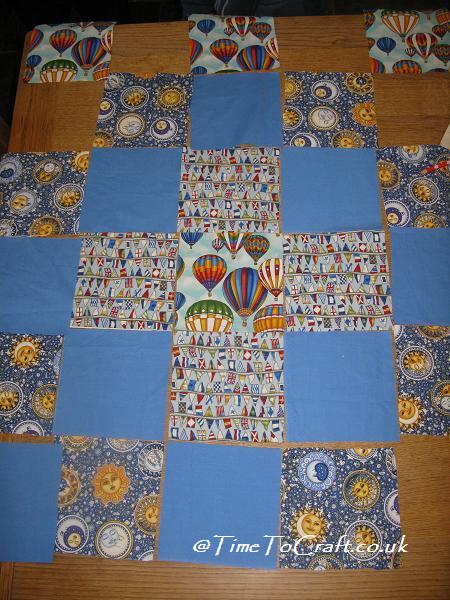 (photo from 2012)
The project
Selection of the fabric and cutting out happened back in 2012. She was eight. I took her to a local fabric shop and gave her full rein. She chose hot air balloons, cosmic images and flags fluttering in the sky, along with a blue to break it up.
After cutting out the squares, she spent ages playing with the arrangement.
Then the project was put aside to gather dust.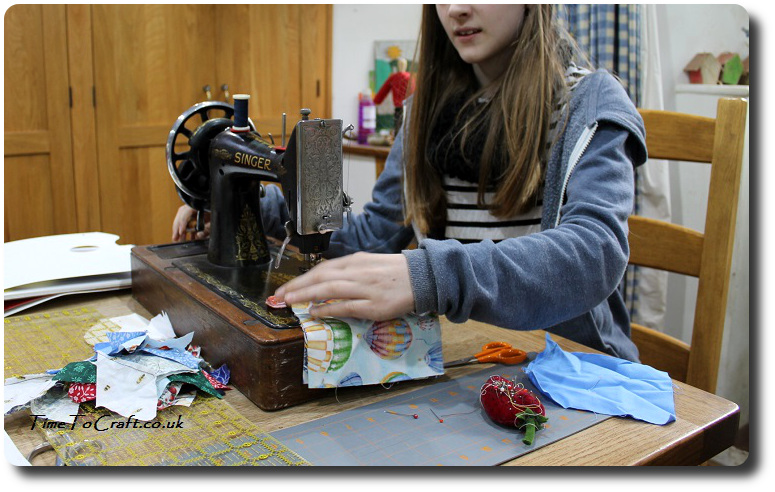 Move on to 2017 and she dug out my old hand-cranked Singer sewing machine, to sew the patches together. She was pleased with the arrangement and enjoyed stitching them. The slow rhythm of the manual sewing machine is something every person, who sews or not, should experience at least once. Good sewing therapy.
Anyway, then the project was put aside again to gather dust. (Not literally. She did store it in a box)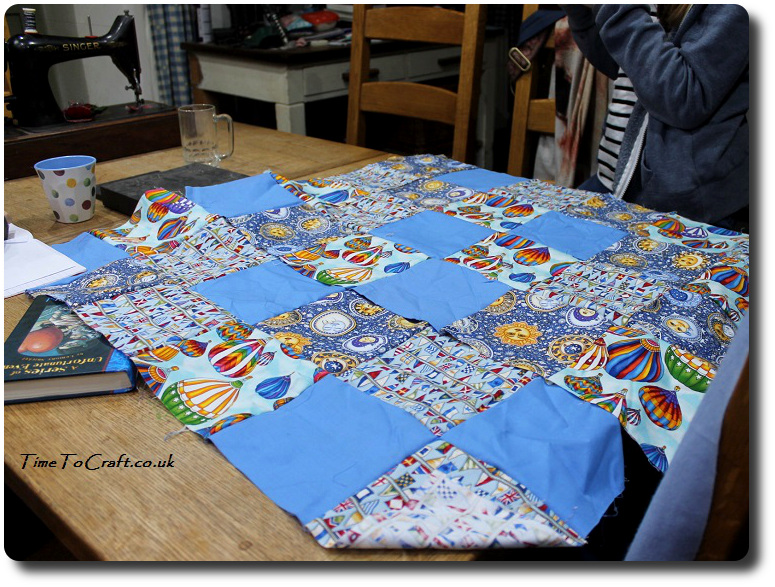 Time shift to early 2019. She's 15. I gave her a piece of wadding and an old duvet cover for a backing fabric, which she duly sandwiched together.
Slight pause. Dust bunnies formed and multiplied….
This holiday, I encouraged her to finish it. Partly because I needed my curved safety pins back which she'd used to pin it all together. Out came the old Singer sewing machine, once more. It really is a good machine for quilting. She sewed in the ditch, which basically means where two squares meet.
She was on a roll now. Using the backing fabric, folded over to the front, she made the binding. She even figured out how to do mitred edges for the corners, which I was hugely impressed by.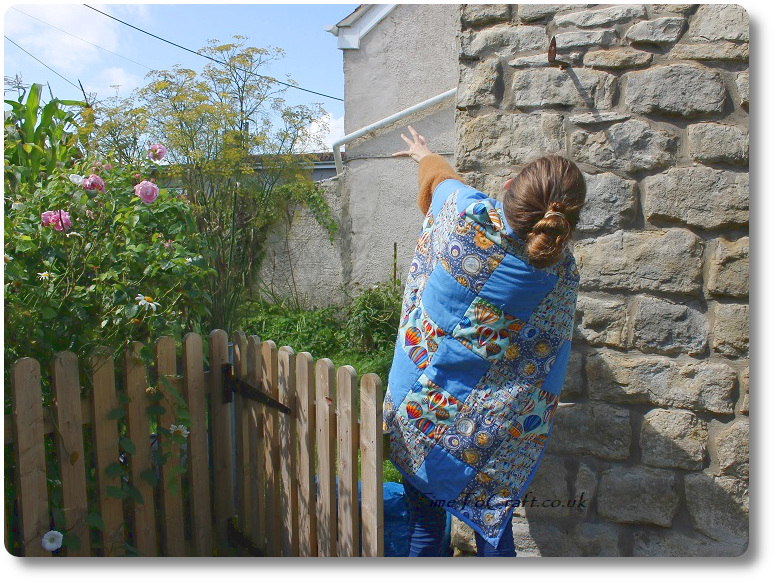 Quick, light press of the fabric and it was done. My funny, gorgeous girl had finished her quilt. Several years may have elapsed, but I really do believe she tackled each stage, when she was ready for it.
She's starting her Textiles GCSE course this September. I hope finishing this quilt will give her just that little bit more confidence to take on any project. I want her to fly. I want her to believe that she is capable of anything, because she is. Oh, yes. My girl can do it. There is no doubt.
Photos
There have been cases when people lifted my photos and words, and used them without credit to me or asking permission first. Using them for their own commercial gain. I have now added a level of security to deter people from doing this. Apologies to people who do play nicely. If you would like to use any of my photos, please contact me.
Copyright notice:
All my words and photos are copyrighted to me. They cannot be used for commercial benefit by anyone else. If you would like to use any of them, then please ask me first and don't just take. Written permission only. Don't pass my words, photos or ideas off as your own. It's not nice.
Cookie Policy
Our web pages do not use cookies however this website uses Google Analytics, a web analytics service provided by Google, Inc. Google Analytics uses cookies to help us analyse how people use our site. The use of cookies by Google Analytics is subject to change.