It seems that the combination of spring and lockdown, this year, killed my crafting mojo. It just went. Even at the end of the day, when usually I'd have something keeping my fingers busy, there was diddly squat going on. Imagine tumbleweed. Actually scrub that. Imagine the dusty, deserted road without the tumbleweed tumbling. Nothing. I toyed with finishing my cardigan, but it really wasn't enough to ignite any sign of enthusiasm.
The garden is looking good and the family have found a good rhythm and are happy, so I'm not complaining. My energy and focus was elsewhere. Autopilot was off and I was flying manual for everyday tasks. Something had to give and it turned out crafting was the one.
It did feel like something was missing. An empty feeling.
Yesterday afternoon, I downed tools (or keyboard, to be more precise) and cut out a dress. I really need a new summer, everyday dress for hanging around the house. Especially with the glorious weather we have at the moment.  I've made a wardrobe of dresses, but mostly they fit into the work or going out categories. Formal. Not much call for that at the moment. If I dressed up in one of those, the neighbours might wonder what I was up to. Not my usual gardening gear.
A month ago, I picked up a couple of metres of cotton lawn. It is a light grey with small, intricate flowers. It's soft and drapey, which should be comfortable. I chose a pattern, that in retrospect, was probably influenced by all the VE day celebrations that were building up at the time. A tea dress of sorts. It is McCall's M7084 and I'm making the B version.
It was good spending the afternoon planning and plotting how to lay out the pattern pieces, as I didn't have quite enough fabric, according to the pattern envelope. I'm also counting this as exercise, as half way through cutting it out, I remembered the workout my back muscles get from bending over the table, while pinning and cutting.
I'm going to do this dress in stages. Maybe the odd hour. Just as I did with the last everyday, summer dress I made. I used the same type of fabric, but this time the pattern has a lower waist that should be more flattering.
I've also started a new knitting project, for the evenings. My pink cardigan has reached the stage of picking up stitches along the front borders, which is not easy late at night. I needed a basic, no-brainer knit to do on autopilot. Something like a scarf, but I really don't need one of those. Instead, I chose an ordinary jumper. Nothing fancy. It uses 4 ply wool, so will take ages to knit. The yarn is so thin and the needles match it. Progress will be slow, which is what I need. My fingers can be busy, while my brain is elsewhere.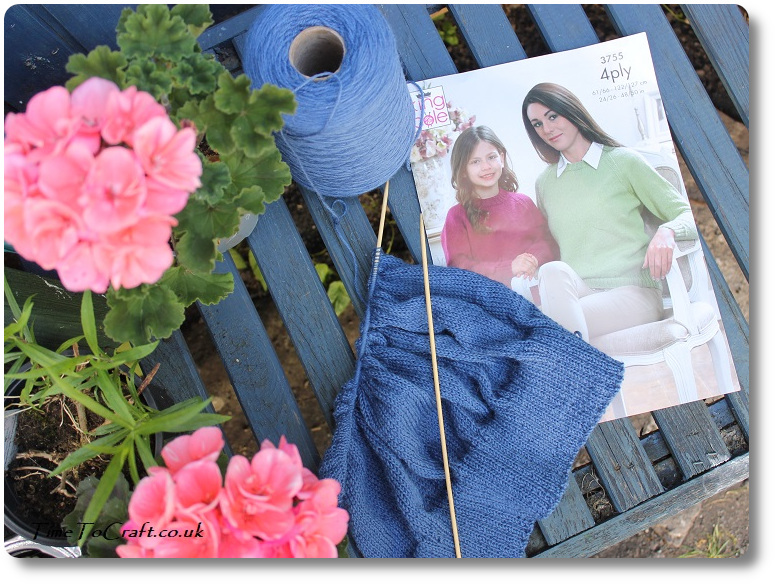 Although, this knitting is also good for picking up at other times too. Like sitting in the garden with cup of peppermint tea. Surrounded by geraniums.
I think I have a way forward. It does feel good to be working with textiles again. Hopefully I'll have a new handmade outfit, but really it's all about the journey and not the end point for me. Making pretty things is good for the soul.
I'm interested. Has anyone else found they've put their crafting aside in the last few months?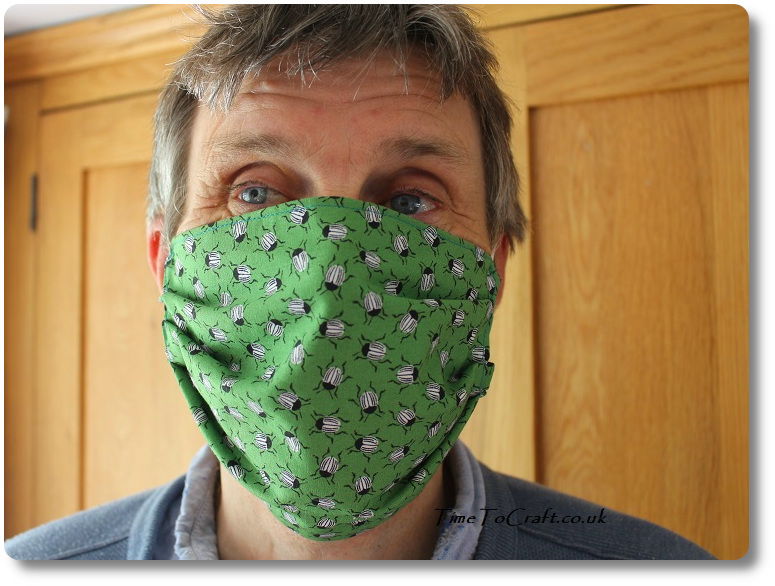 I'll admit, I was in no hurry to make a face mask. We've come in contact with only a handful of people during the lockdown, so there's been no point. Most of the time it's much more than two metres and always outside. Not that that has stopped me researching how to make a face mask and what fabric to use. I've indulged my nerdy curiosity by delving into research about the best kind of filter materials to use, and am ready to take my masters in it now. It's OK, I'll hold off the discussion for now.
Yesterday, we reached the point where we needed a face mask, or I should say, my husband required one. He has to go into a client's office today. There won't be many people in, but as it's an enclosed area, it seemed the right time to wear one.
Time to wheel out the sewing machine.
I discovered that my sewing area, in my absence, was now filled with empty boxes. Squeezing past them, I did find almost everything I needed.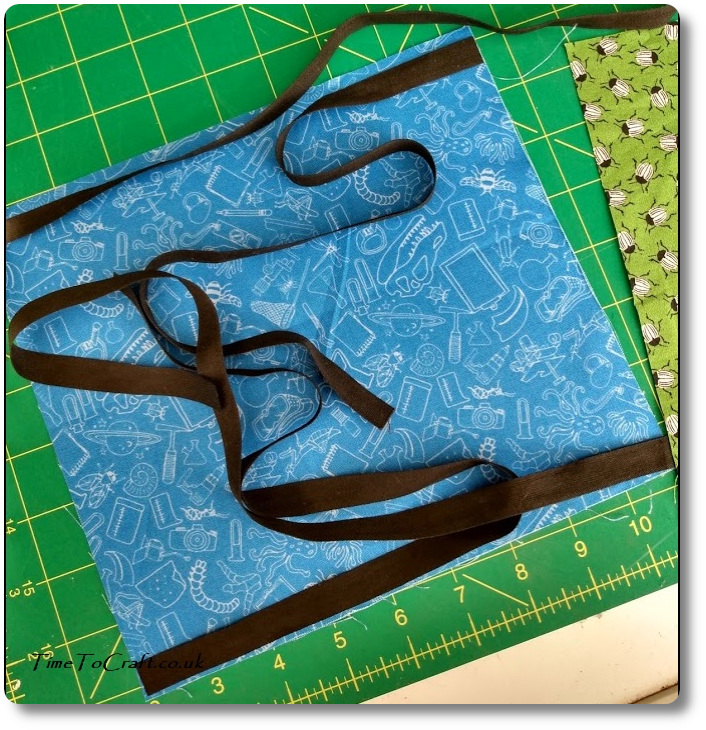 I'd already chosen to use Dana's instructions from MadeByDana. See. Research is good. I couldn't reach my knit fabric for the ties, so opted for grosgrain ribbon instead. Added bonus was that it matched his hair colour too. The steps are easy. I used a bit of fabric glue to keep the ribbon in place temporarily, while I sewed.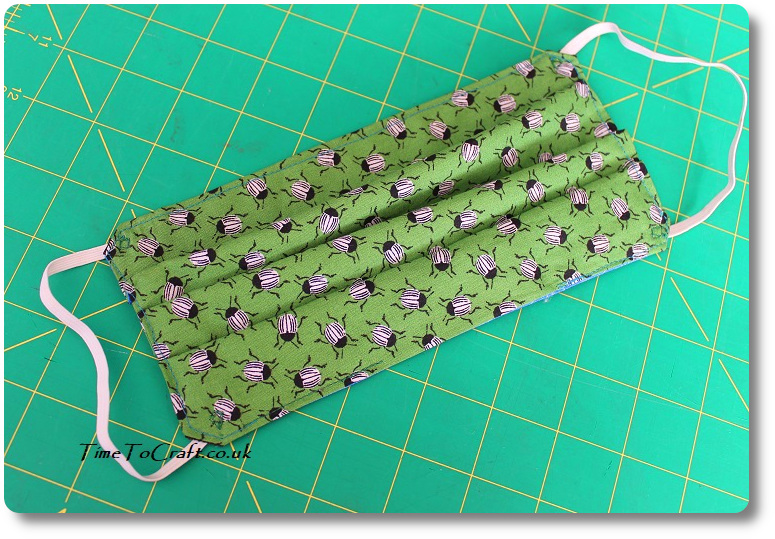 Once finished, it became obvious that he wasn't going to find the ribbons easy to tie, so I dug out some elastic and converted the mask to one that fits around the ears. It felt snugger, which is good.
The design leaves room to add a one use filter. I like that idea. Also allows for a removeable pipe cleaner to be added, to mould the mask to the user's face, which is neat.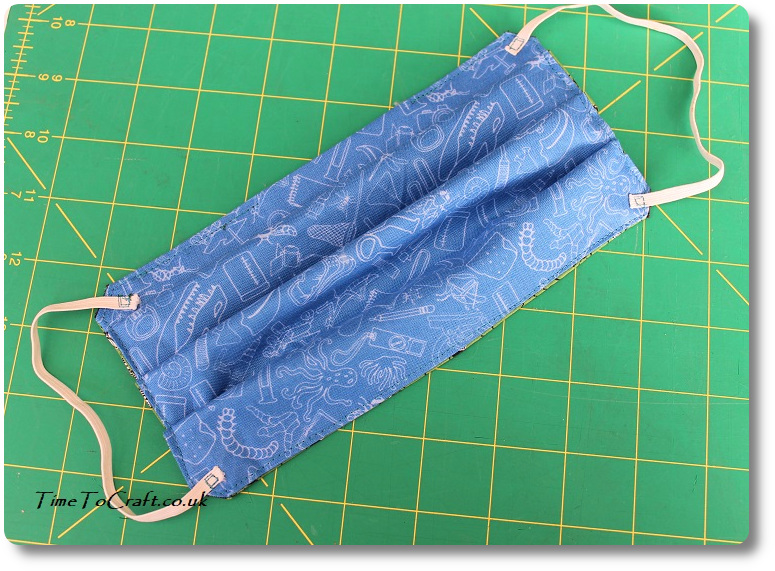 Fabric wise, one side is a science print, while the other side is covered in beetles. Needless to say, both amused me. I love beetles, but I'm guessing that the image of creepy crawley mini beasts might remind people to back off.
Slightly wacky, maybe, but it seemed fitting as the client is a radical fashion/sports kit company. Although, now I think about it, my fabric choices are probably a bit tame.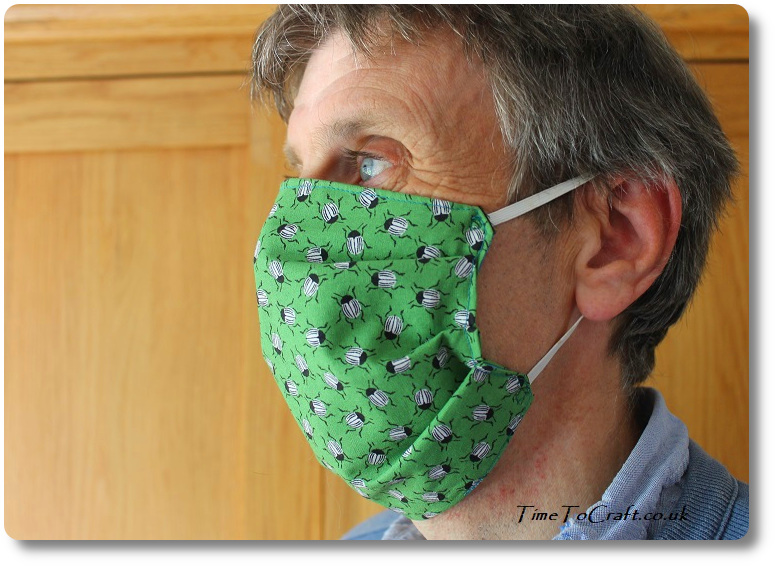 I wonder which way he will wear it today. He did say his glasses are steaming up, which I forgot was a problem. I don't wear glasses, so I didn't research it.
Anyone else made a face mask? Any solutions to the misting up of glasses?
Here's a confession. My purse is held together with a hairband. I keep meaning to do something about it. The purse is pretty perfect for my needs, with just the right number of pockets and zips. It holds my cards, notes, receipts and pennies. All that I need. Only problem is that the twiddly fastener thingy, that's meant to keep it tight closed, snapped off soon after I bought it. Now I use a hairband, which is also handy as an emergency hair tie.
Why do I put up with it? It is a Boden purse, which cost me £2 from a charity shop, a few years ago. No great shakes. I'm sure I must get a few looks from the cashiers, as I fumble to remove the hair band, when I pay for anything. I really don't care. It works for me.
The reason I still soldier on with it is that I'd like to design my own. I don't like the design of the card area. Potentially, the cards could fall out the top. I've thought about the features that make for a perfect purse and I'd like to sew it. I just needed to find the right materials to make it.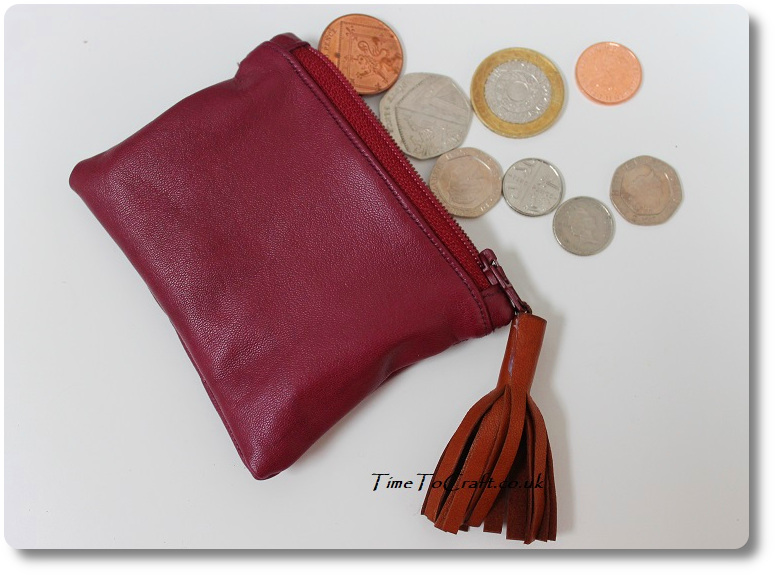 This holiday, my brother gave me a couple of bags filled with leather off cuts. Factory discards. Not big enough for them to use, but perfect for a home crafter like me. Different colours, thicknesses and texture effects.
I've not worked with leather before. I researched and found that I needed a different needle for my sewing machine. Also longer stitches and a way of pinning the layers together without using pins. Once you make a hole in leather, it stays a hole.  I used my old hand cranked Singer sewing machine, as I've read that they're good with leather.
I needed a straightforward project. I'm not ready to make my all singing, all dancing purse yet, so I settled for a simple coin purse. Fortunately, I had the small zip in my cupboard, which worked well with one of the pieces of leather.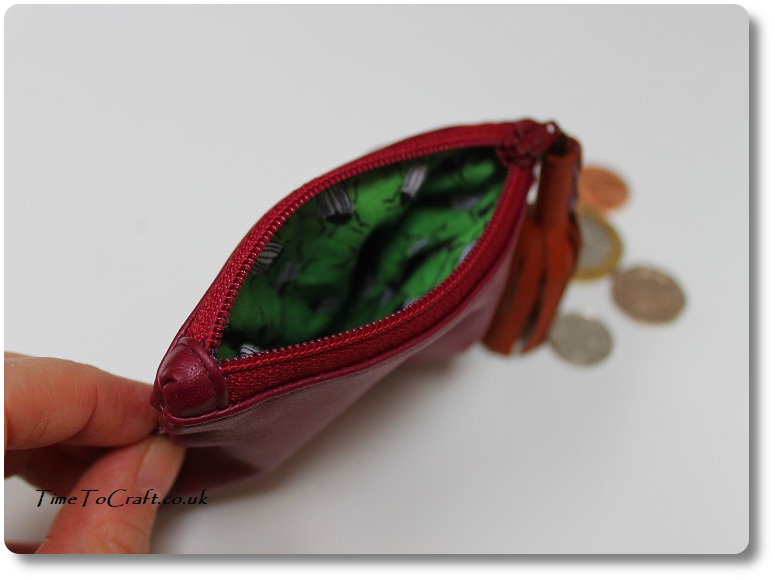 I lined the purse with a remnant of beetle fabric, which added a degree of complexity. I probably didn't need anything extra when learning a new skill, but that's me. It needed a lining, so I went for it.
I added tabs at each end of the zip, to give it a neater finish. The Singer coped effortlessly sewing over the extra bulk of the leather and the zip at the same time. They really do deserve their reputation as a work horse for home sewing.
Final touch is a leather tassel. I used my glue gun to stick it together.
So one coin purse finished. It's not perfect. Not bad for a first try. I will use it. More importantly, I've learnt a lot along the way.
I know working with leather is not everyone's choice. I did pause, but I reckon that this leather counts as a waste product. Potentially destined to be thrown. I have a couple of friends that will only eat meat if it's roadkill. Waste not, want not, is their mantra.
It may take me a bit of time to work out how to make my purse. I'm going to try and make a pencil case next for one of the children, to practise. In the meantime, I'm going to feel quite pleased, with myself, bringing out my little purse at the till, next time I go shopping.
Photos
There have been cases when people lifted my photos and words, and used them without credit to me or asking permission first. Using them for their own commercial gain. I have now added a level of security to deter people from doing this. Apologies to people who do play nicely. If you would like to use any of my photos, please contact me.
Copyright notice:
All my words and photos are copyrighted to me. They cannot be used for commercial benefit by anyone else. If you would like to use any of them, then please ask me first and don't just take. Written permission only. Don't pass my words, photos or ideas off as your own. It's not nice.
Cookie Policy
Our web pages do not use cookies however this website uses Google Analytics, a web analytics service provided by Google, Inc. Google Analytics uses cookies to help us analyse how people use our site. The use of cookies by Google Analytics is subject to change.