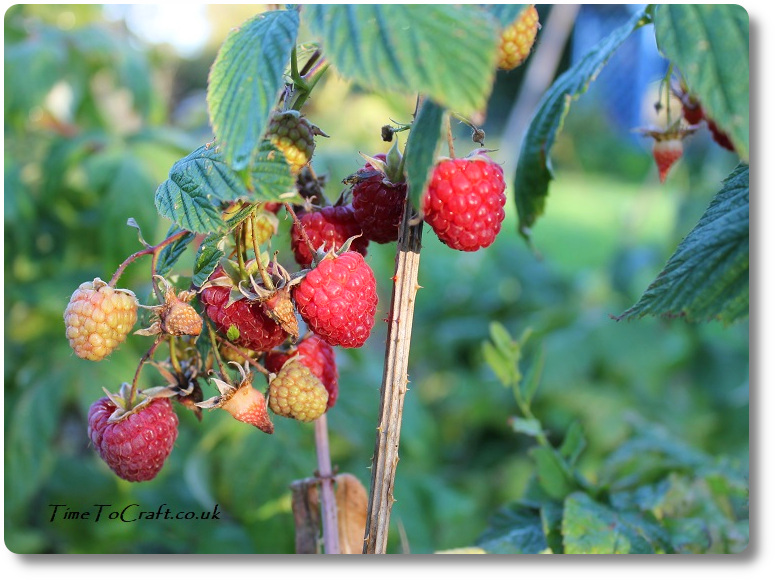 It's been one of those weeks when the days have jumbled themselves up. I spent Tuesday having to remind myself that it wasn't Friday, thanks to a client mixing it up. Nor did it help that, it's only a four day week for the younger teens as they have a teacher training day today, so no school.
One of those weeks when I feel like I've been on the go all the time, but nothing to show for it. No entirely true. Finally organised a solution for my canning problem, so this weekend I'll be cooking and preserving like there is no stopping me. I've prepped the strawberry and rhubarb ready for pie fillers. I cannot wait!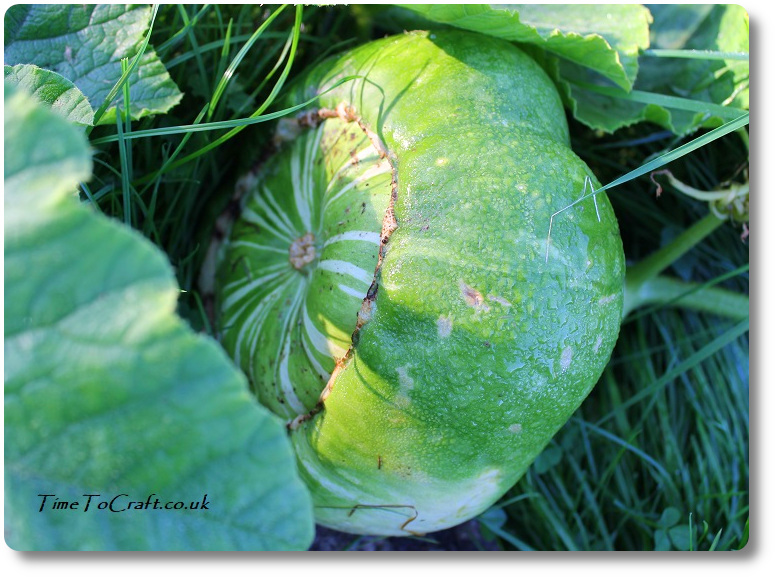 I can't believe that eldest teen's exams start in just over a week. We have a team of tutors who have been supporting her. It's taken a fair bit of organising and I think I'll oddly miss it once it's all over. They are such lovely people.
Eldest always planned to have a gap year and I am thankful that she's not gone to uni this year. One of her choices is a Scottish uni. Current advice/guidance from Scotland is that students should not go home for Christmas. I see the logic, but it is harsh on teens living away from home and family for the first time.
Fresher weeks are limited and lectures delivered on-line. When I think back to my first year, I made so many friends in those first few weeks. I remained friends with long after we graduated. Shared houses with. It is all so different.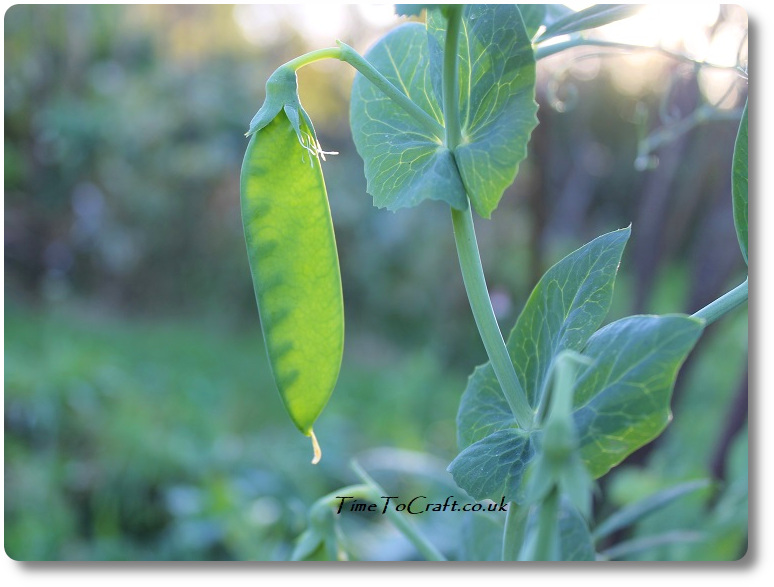 On the garden front, I'm gradually bringing everything in. I've discovered a few more pumpkins and squashes, which is always the way. Hiding under leaves. We are eating raspberries by the bowlful. I make some up as a delicious raspberry sauce which is wonderful on panna cotta.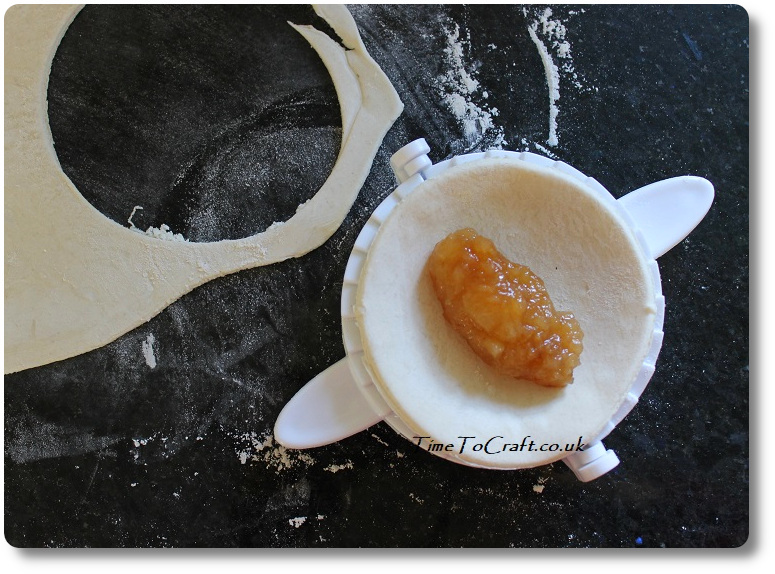 We have beans and peas coming in by the crate, along with tomatoes. All being prepared for preserving. I've also improved my pizza base making, which the rest of the family would be happy for me to make every day. Good way for me to use some of the tomatoes.
Not forgetting my annual apple mountain. Plenty of apples to keep me busy. I've been making apple hand pies, which the family have been devouring almost as fast as I can make them. I bought a new gadget to help with the finished look. I'll save you from the before photos. Goodness knows I needed to make them look more the part. It speeds up the production no end.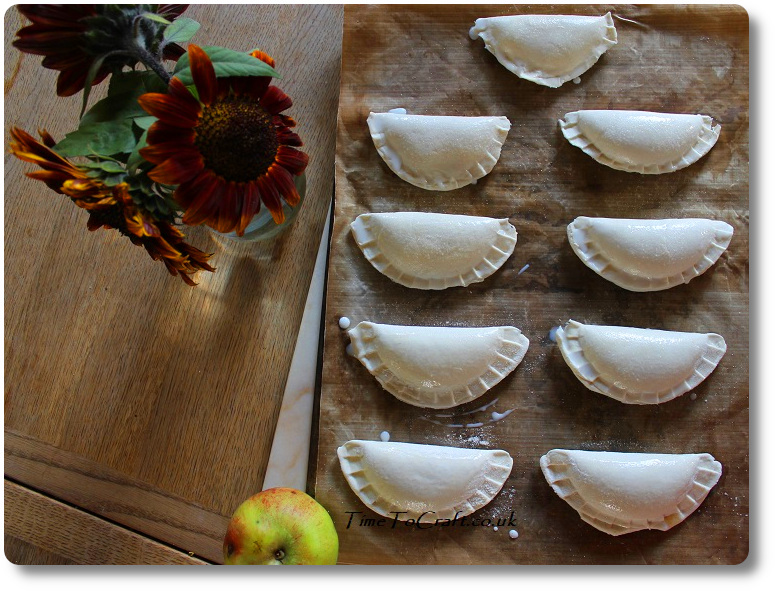 My week has definitely been consumed with preparing. I've got a few more busy weeks to go, but the groundwork is mostly done. It does feel good.
Hope you all have a wonderful weekend, whatever you're doing.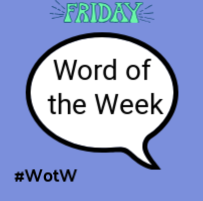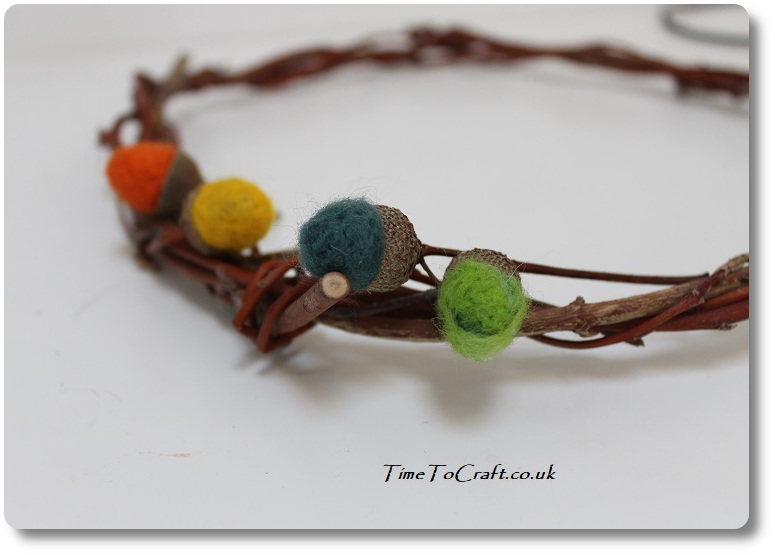 Hands up who wants to make a felted acorn or 10?
Aren't they adorable? The perfect nature craft, using natural materials. Most of it can be picked up for free. I used sheep's fleece for the base and needle-felted dyed merino wool over the top, for a splash of colour. Added a dab of glue to hold it in place, inside the acorn cup, and I soon had a handful of felted acorns.
These are going to be added to an autumnal wreath, but they could be used anywhere as decorations. Maybe a string of them above a fireplace, or individually hanging from a twig as a table centre decoration. I like to put a few on our nature table, among the real acorns. These are purely decorative and must not be used as toys.
Want to make some?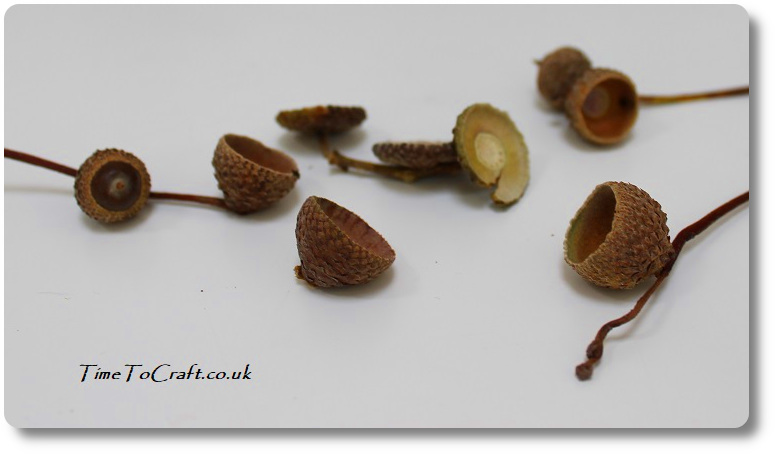 What do you need
wool scraps (merino, sheep's wool)
acorn cups
felting needle
glue
soap (Any soap will do. I use olive soap or wool soap, but that's me.)
hand hot water (needs to be hot to start the felting process)
To start with, you may be surprised to realise that not all acorns and their cups are the same. Different oak trees produce different size and shape cups. On our dog walk, each morning, we pass several oak trees and the lane is sprinkled with acorns, at the moment. I can pick up small acorns from one tree, big ones from others and, further on, I'll find a tree with acorn cups which are more like pancakes, or flat plates. There are so many different variations.
The oak trees I pass, are growing in hedgerows and would originally have been planted as hedge oaks. While the rest of the hedge was controlled by cutting or hedge laying, these trees would be left to grow to their full potential. They were harvested eventually as building materials.
Fun fact: oak trees have to be about 20-30 years old before they produce acorns, but they don't reach peak production until about 50 years of age.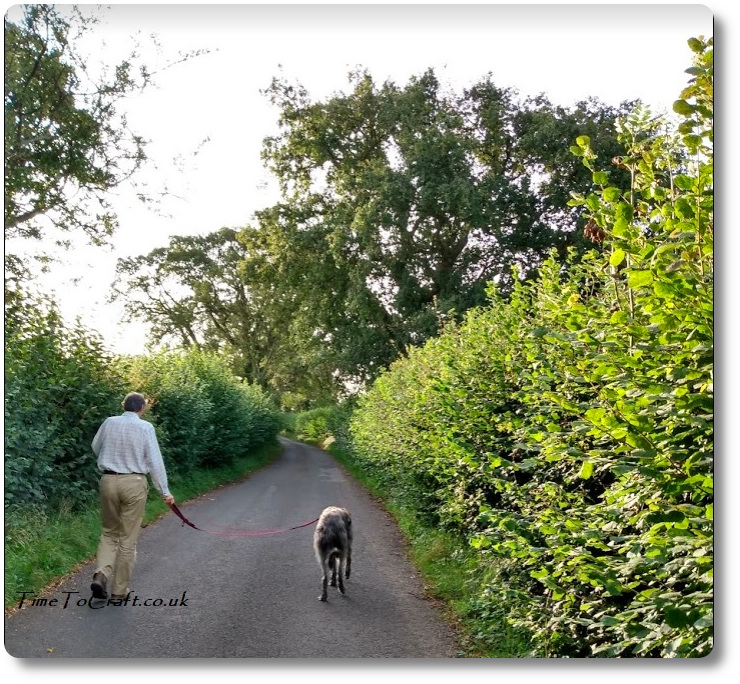 Oak trees are fairly easy to find in the UK, otherwise various craft shops do sell the cups, including online ones. I've seen them on Etsy too.
I like to use a tougher fleece as the base. You can use the coloured merino for the whole project, but it does cut down the cost if you use the plain fleece underneath. I find lots of wool snagged on barbed wire in sheep fields, when we're out walking. You need to ask permission of the farmer before you take it, but in my experience of rescuing sheep (a fairly regular occurrence), it can be near on impossible to find the owner when you need them.
Once home, give the snags of fleece a very gentle hand wash, remove any debris and leave to dry.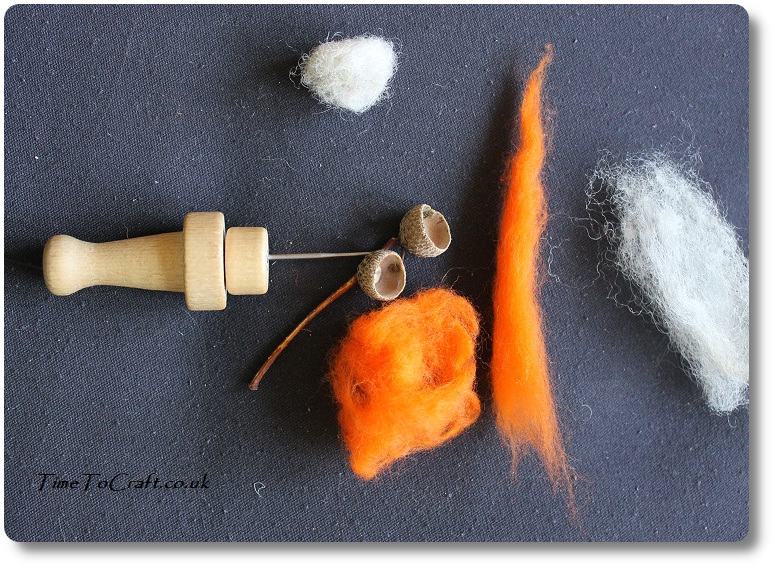 I use merino dyed rovings for the top layer. I have a collection of odd scraps from previous spinning and felting projects. It's much easier to find these in craft shops now, as more shops stock felting materials. Alternatively, I buy online from Wingham Wool Work.
How to make the acorns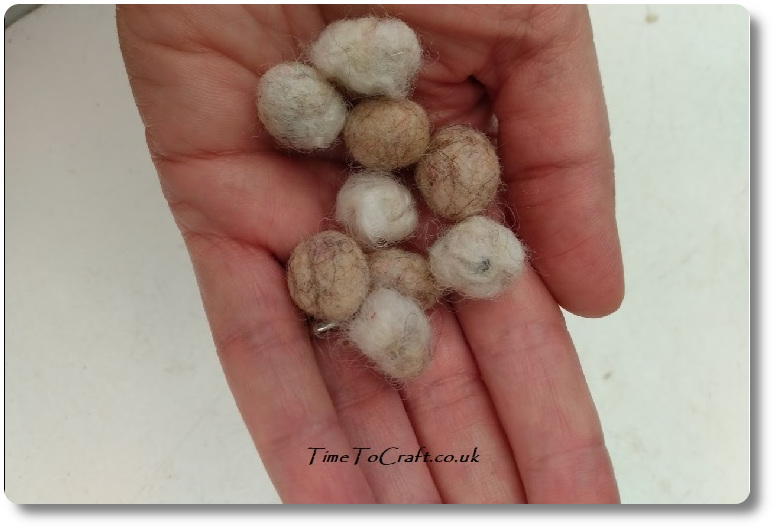 To start with, the base acorns are made. There are two ways to make it. Either using wet felting or needle felting.
Wet felting –
Take a clump of the sheep's wool and dip it in soapy, hand hot water. To start with, roll the wet wool gently, in a circular motion, between your palms to make a slightly, elongated ball. Like when you make a ball out of clay or plasticine. As it takes shape, increase the pressure as you roll it between your hands. Keep going until it feels firm and is acorn shape. Your hands will get quite soapy.
It may be necessary to work the wool between your finger tips of both hands, to start it off.
If the acorn is not big enough, wrap more wool around it and repeat the hot, soapy water and rolling. Remember, this is the base layer. The top layer will make it bigger again, so do check that the base acorn will rattle in the acorn cup and is not snug.
Wash the soap out with cold water and let the acorn dry.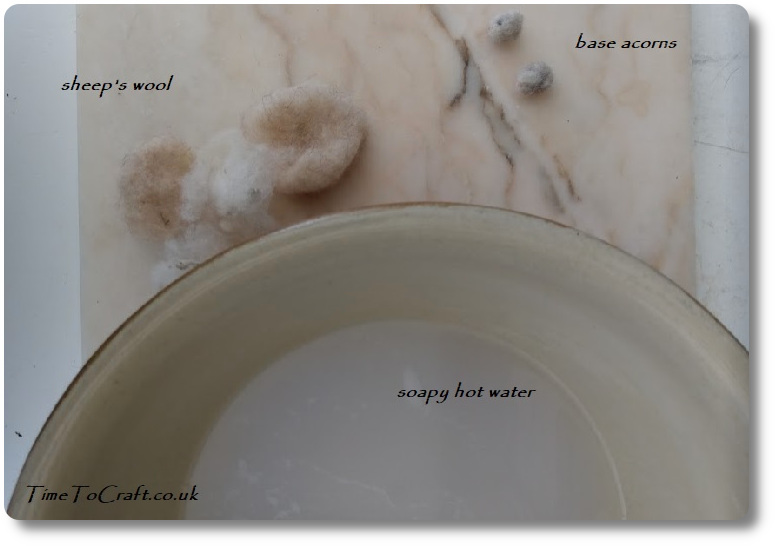 Or needle felting –
Use a single needle felting needle to stab a clump of sheep's wool into an acorn shape. Bunch it up into a ball to start it off. Mind your fingers as you use the needle. Move the acorn around, as you work, to cover all the surface, fixing it in place. Here again, keep going until the acorn is firm. Add more wool if you need it.
I roll it briskly in my hand at the end. It helps to give it more shape and firmness, as well as smoothing out any puncture marks.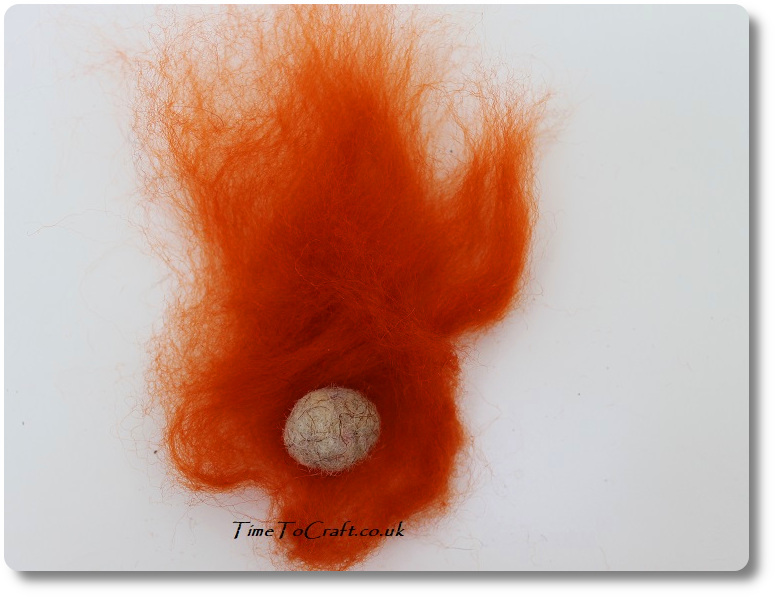 Add the colour
Take the merino and spread it out flat. Wrap the base acorn up in the merino.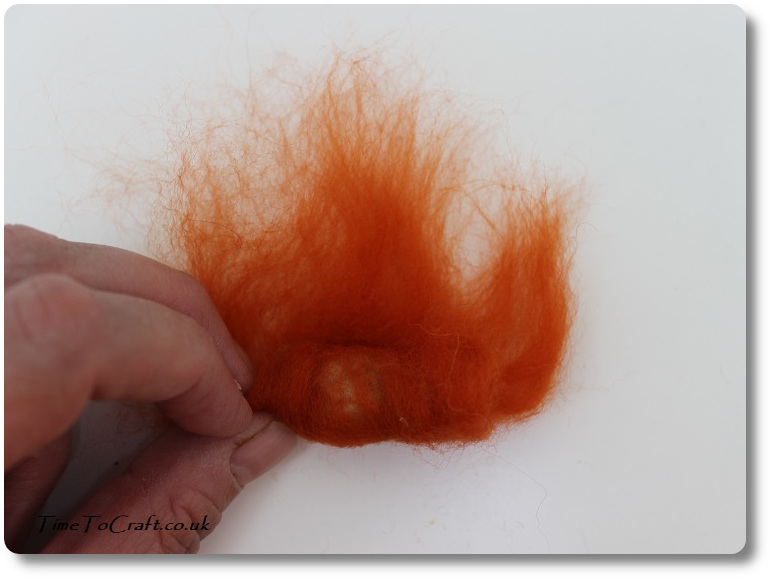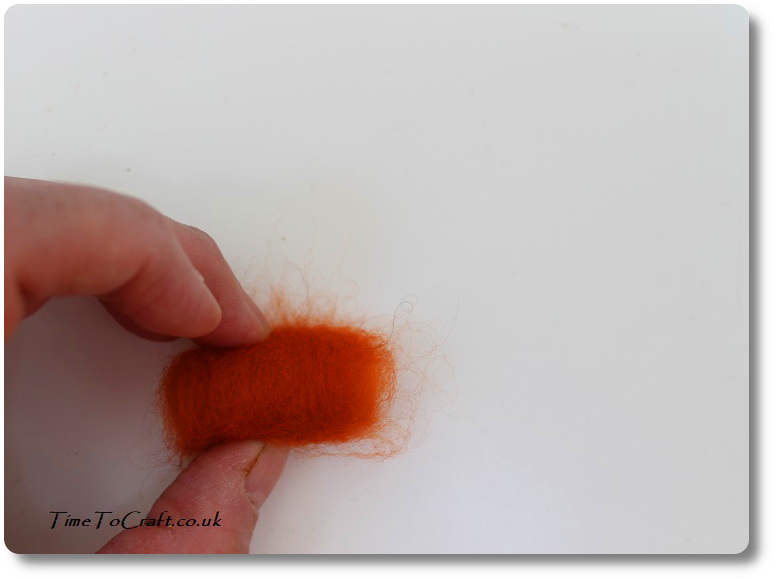 Use the needle to work the acorn into shape. Or you can use the wet felting method again.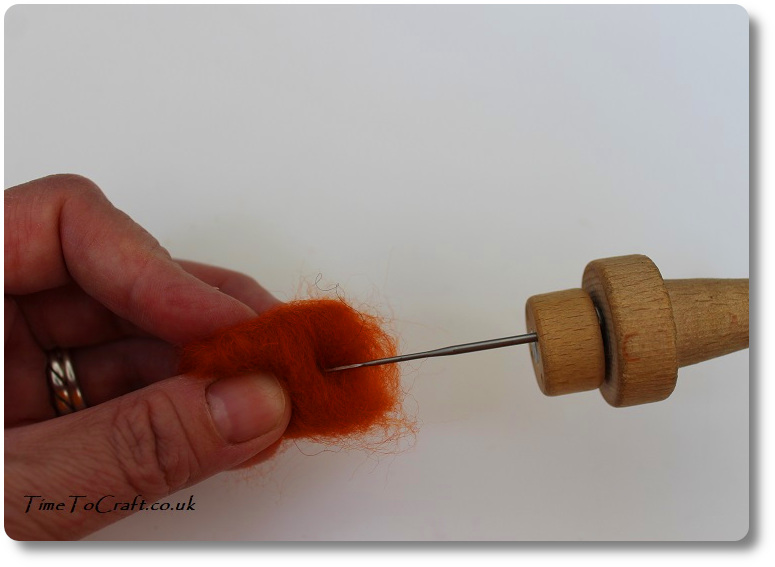 Both methods
Fix the acorn into one of the acorn cups, using a spot of glue to keep it in place.
Repeat until you have all the felted acorns you can handle.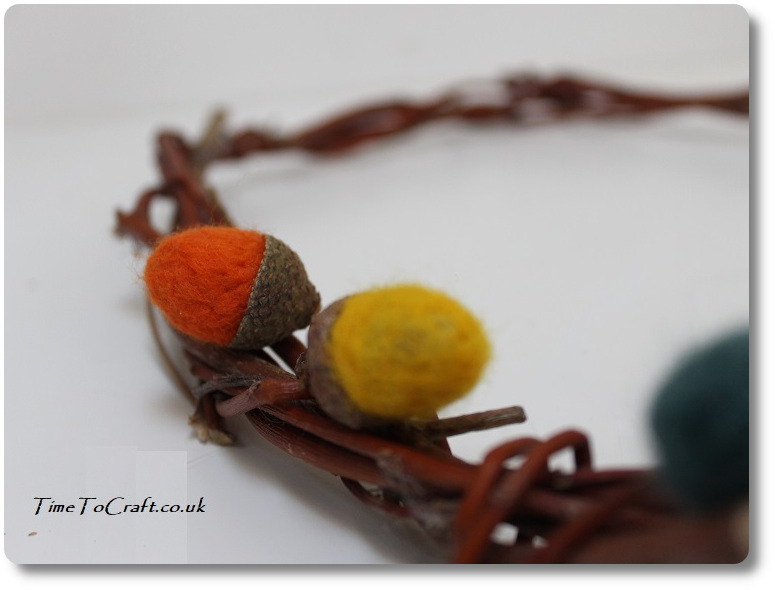 These make great gifts. Add a clutch of three as decoration to a pot of homemade jam, as an autumn gift. It can be fun to blend different colours together. I've blended yellow and orange, also blue and green, in my latest batch.
I'm adding my acorns to a willow wreath I made a few years ago from our willow tree. It's lasted well. My next step is to make oak leaves. The question is whether to knit, felt or some other method.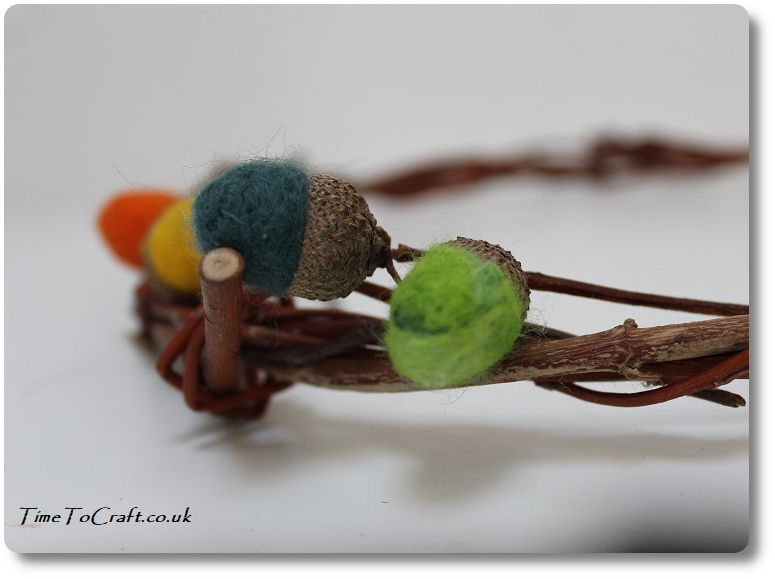 I hope you give the felted acorns a go. Please remember that these are not toys and shouldn't be given to children to play with. I have used the wet felting method to make the acorns with older children and they've all loved making them. Added bonus is that their hands are perfectly clean and ready to make bread afterwards.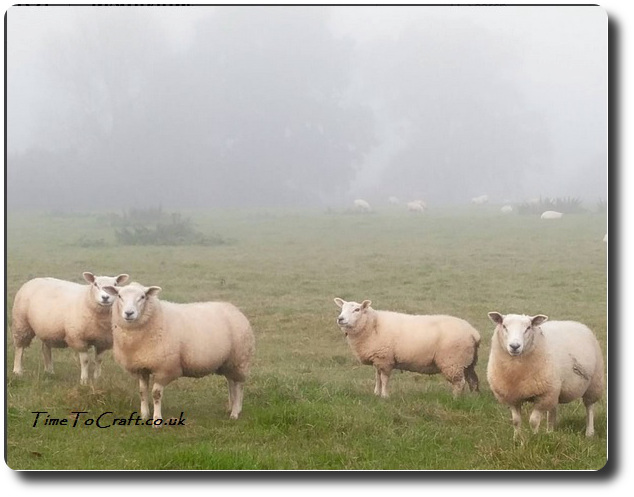 From little sheep, great acorns grow. 😀
If you have any questions, leave a comment and I'll get back to you.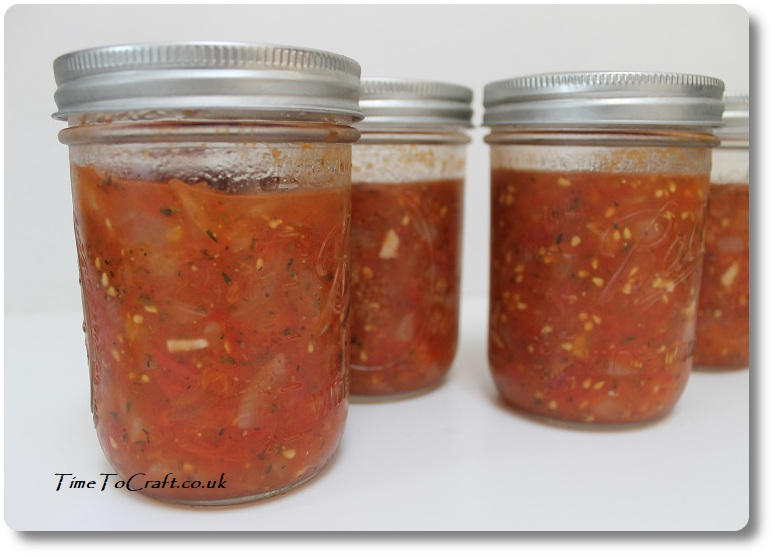 What a difference a week of good weather in September makes. I've been busy cutting, clearing and harvesting in the garden. So much easier to feel motivated when it's not overcast or just generally miserable. I feel like getting out there. I've even been inspired to make a start on the autumn planting plan.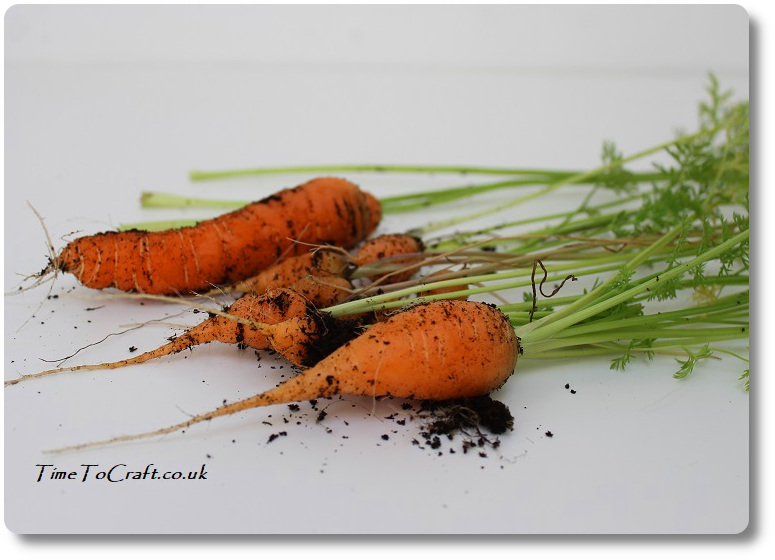 We've had a reasonably good year, in the garden, including carrots. Our soil is heavy and even though I plant the carrots in raised bed, they are usually uneventful. This year, I used an old insulation box, which frozen food was delivered in, to scatter a few seeds. They seem to have done well. I'll do this again. Especially as the height appears to deter the carrot fly. Also great if you don't have a lot of growing space.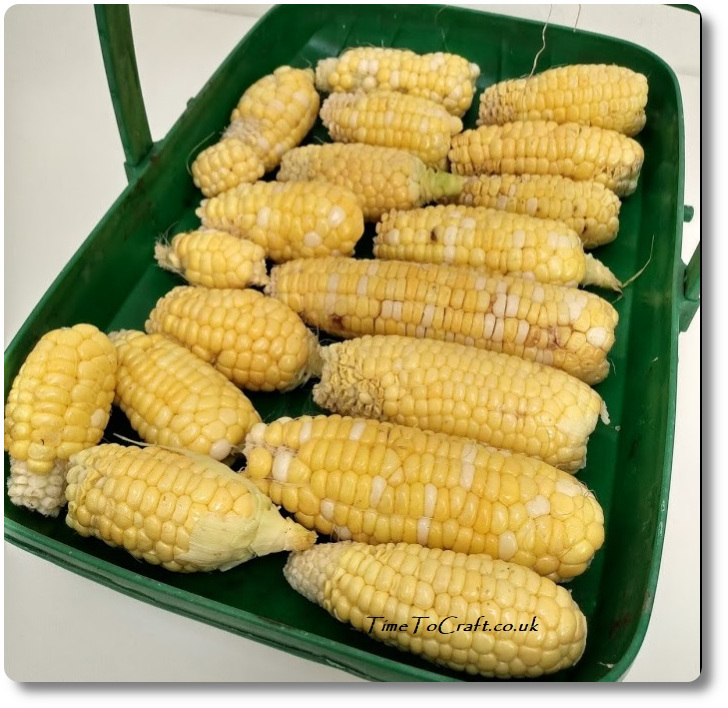 I pulled out all the sweetcorn stalks at the weekend. We've been eating the cobs on a regular basis, without anyone getting bored. I lost my first plants to the frost. These were the second planting.
As I was pulling the stalks, I thought I might find a few, scraggy cobs, but I was amazed at how many it did glean. We had some for lunch and the rest I shucked for the freezer.
Potatoes have done well, too. We've been eating them most days. I've bought big paper sacks to store the rest in. Still in discussion about where to store the sacks, but I'll start digging the potatoes this weekend.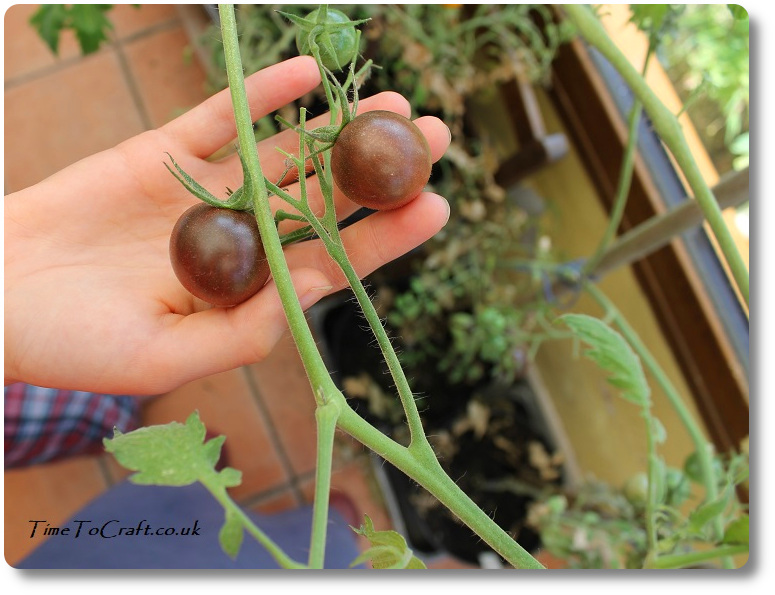 The photo above is of youngest teen holding chocolate cherry tomatoes. Bit of a back story, which regular readers might remember. A few years ago, youngest brought home a tomato plant as part of a science experiment at school. While the rest of the class labelled their plants "tomato" (although I suspect there were a few "Bobs" and "Harrys"), my son decided that we grew enough tomatoes and he'd prefer a chocolate biscuit plant, so he named his plant Oreo.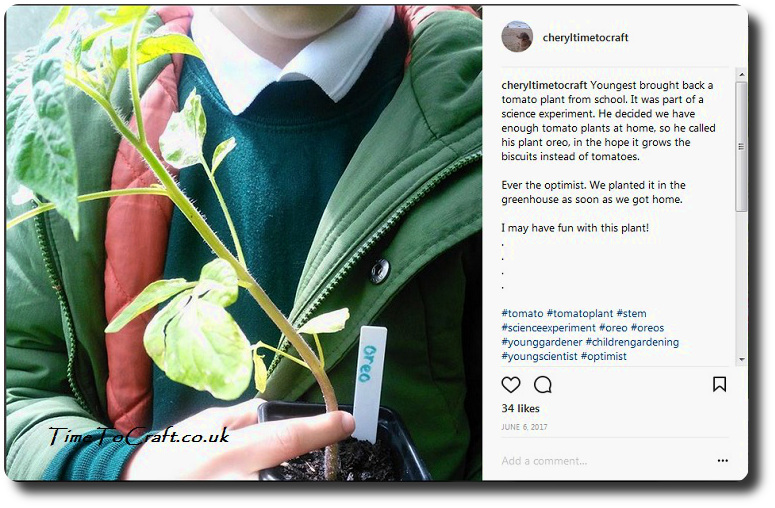 His plant grew sweet, red cherry tomatoes, if I remember rightly. Not remotely biscuit like.
Roll on to this summer. I found cherry tomato seeds that were called chocolate. I was excited and couldn't help giggling inside. Could this be the answer to his dream? Had I made it happen? No, apparently not. Three years is a long time in a boy's life. He's a teen now. He's moved on. Unlike his mother, who still thinks it's funny.
Never mind, the chocolate cherry tomatoes taste amazing, even though they taste nothing like chocolate.
Our non-chocolate tomatoes have done well too, and we've had a good crop of garlic and onions. I've been experimenting with canning pasta sauce. It worked well until I realised my pan was too small. Or the jars were too big. Either way, I couldn't seal the jars enough to store them outside the fridge. I need 2 inches of water above the lid when I boil to preserve the jars. So, we are eating the first batch and calling it research and development. Hopefully this weekend, we will sort out a better canning pot. I am dreaming of a pantry full of pasta sauces and pie fillers. Fingers crossed.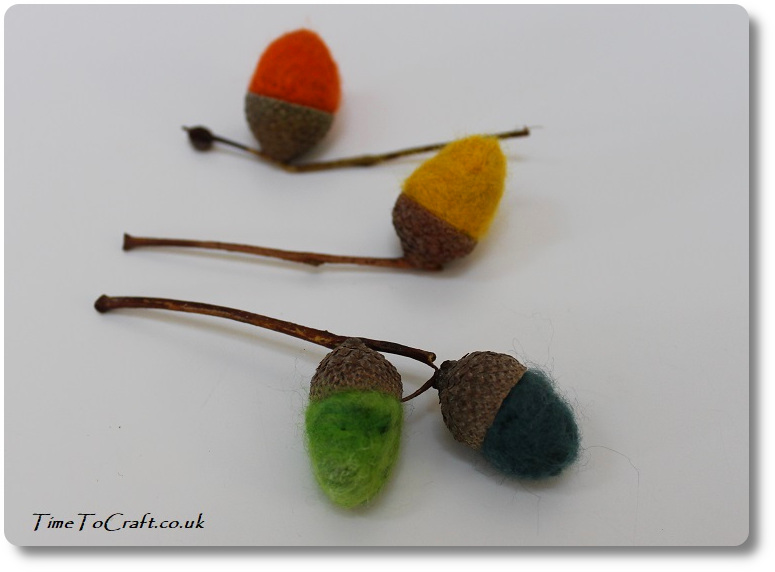 Not that all our garden treats are edible. Our oak tree is busy losing its acorns, to the delight of our local squirrels and magpies. I love acorns. I pick them up and store a few in my pocket in the same way I do with sea glass on the beach. It's my happy thing. With acorns, I only take a few and leave the rest for the wildlife, but the caps are fair game.
Each morning, our dog walk takes us down a lane which is lined with hedge oaks. Each tree is a different type of oak, so their acorns and caps are different shapes too. I'm going to write more about oaks tomorrow and how I made the felt acorns, which are destined for an autumn wreath. It is a fun craft and easy to do. With the added bonus of adding a bit more colour to life.
(misty morning dog walk)
This weekend looks like an apple windfall processing weekend too. I have two big crates in the kitchen, that I'm tripping over. Hope this weather holds and I can sit outside and do it. Also, I'm digging up three flower borders ready to plant with roses and bulbs. Thank goodness I have easy lunches ready to go.
Hope you all have a great weekend.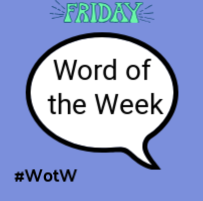 Photos
There have been cases when people lifted my photos and words, and used them without credit to me or asking permission first. Using them for their own commercial gain. I have now added a level of security to deter people from doing this. Apologies to people who do play nicely. If you would like to use any of my photos, please contact me.
Copyright notice:
All my words and photos are copyrighted to me. They cannot be used for commercial benefit by anyone else. If you would like to use any of them, then please ask me first and don't just take. Written permission only. Don't pass my words, photos or ideas off as your own. It's not nice.
Cookie Policy
Our web pages do not use cookies however this website uses Google Analytics, a web analytics service provided by Google, Inc. Google Analytics uses cookies to help us analyse how people use our site. The use of cookies by Google Analytics is subject to change.