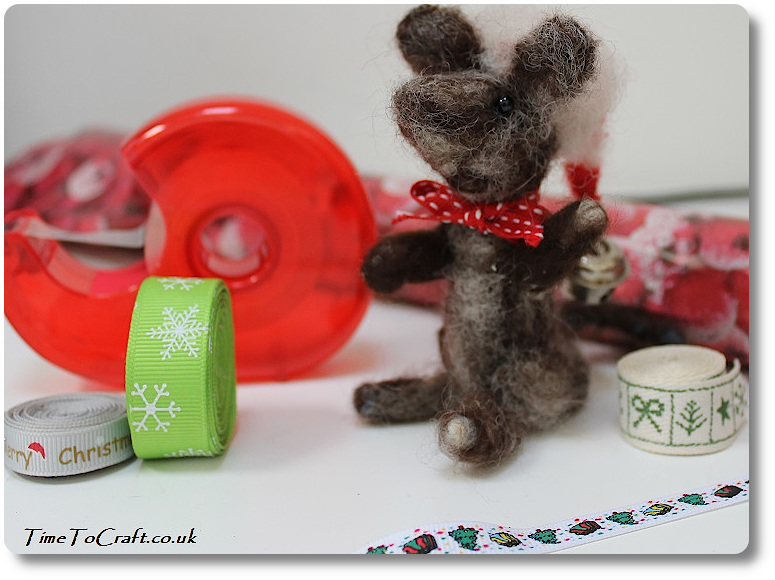 Needle felting is one of my favourite crafts. I can make something in a couple of hours. I can transfer the image in my head and turn it into something that fits perfectly in my hand. Just like magic. It is akin to a doodle, but in felt form. Any stress vanishes somewhere between twisting up the pipe cleaners and adding the eyes.
This is my first finished Christmas project of the season. I have plans to make a mouse garland. Knitted baubles, acrobatic mice and other treats. I'm quite excited about the prospect. A fun project to squeeze in at the odd moment.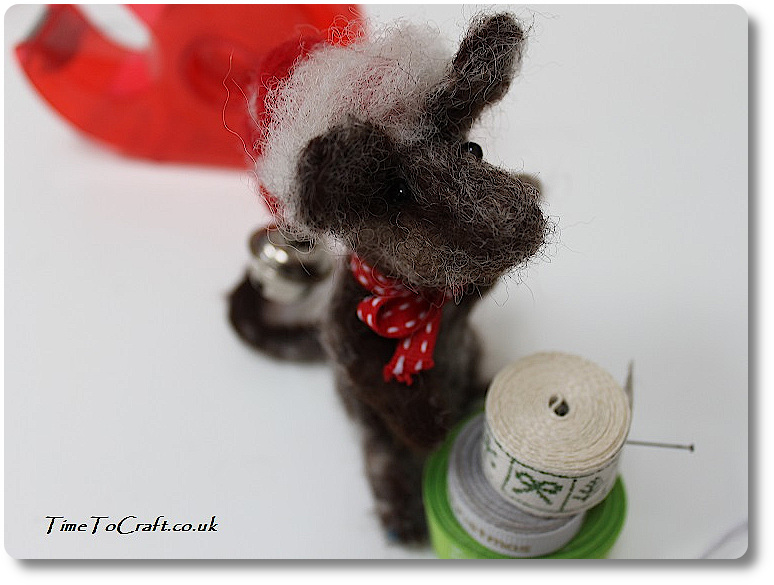 I've been asked in the past, why I don't sell some of my creations, which is a lovely sentiment. The thought that someone would want to pay money for my felted doodles, tickles me pink to be honest. I have no plans to, but it does get me thinking about why I wouldn't.
First up, I think it would mute my creativity to a degree. External expectations would influence what I made. There is limited fun in that. I'm also not keen on doing lots of similar projects. One after another. I like to lead from one project to the next. Following a whim. Not fitting into a brand.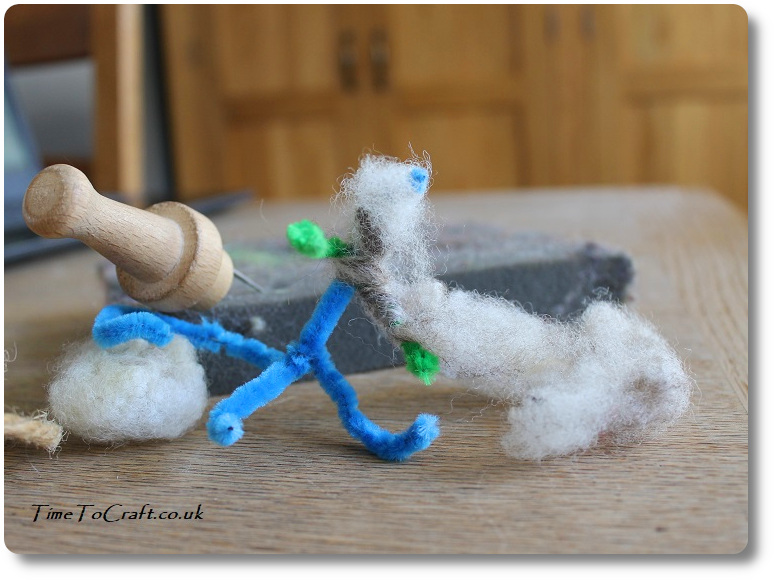 (pipe cleaner frame work, so the mouse can move.)
I'd also miss it. I've only sold one item and that was part of a charity raising experience. I still think about that piece. What happened to it?
I think the biggest problem would be, that it would not be worth it. No one is going to pay for my time, when they can buy something similar in a shop for a few pounds. If I costed the time it took to make Sydney and multiplied it by the UK minimum wage, plus materials, I would need to charge about £20 just to break even. Less than that and I'd be paying the person to take it away. There would probably be commission fees and postage to add on top.
When you could buy a felted animal, to hang on your Christmas tree, for £3 in a garden centre.
I don't know how people do it.
If I was going to do anything, I'd run workshops to teach people how to make mice, reindeers and polar bears. I would market it as a form of meditation or stress relief, with something to show for your time. That would be cool to do.
(adding wool – Jacobs sheep and merino)
So, no. I won't be setting up an Etsy shop any time soon.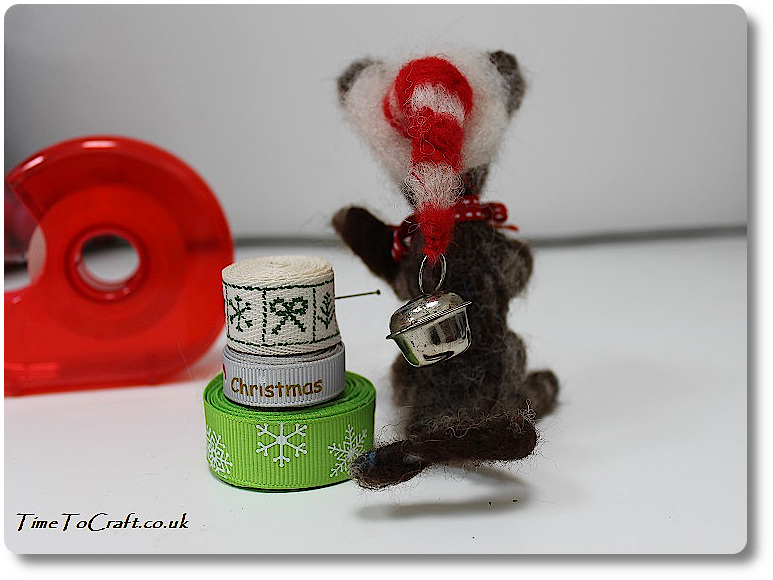 Sydney was fun to make. He's going to look good among our Christmas decorations. I like his oversized bell. While I was sewing the bell on his stripy hat, Hero the hound was sure the neighbours cat had snuck in. Very interested.
I'm glad I included the tail in the pipe cleaner frame. I can carry on twisting it into shape. It will work well to wrap into the garland and maybe snag a few decorations too.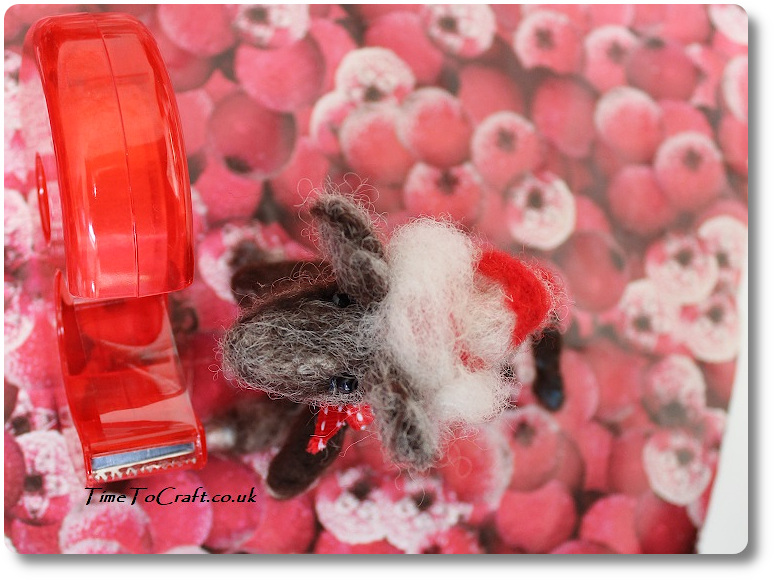 I can see that Sydney may be handy in the wrapping department too. He might find the ribbons a better choice than Sellotape though.
If you've never tried needle felting, I can recommend giving it a go.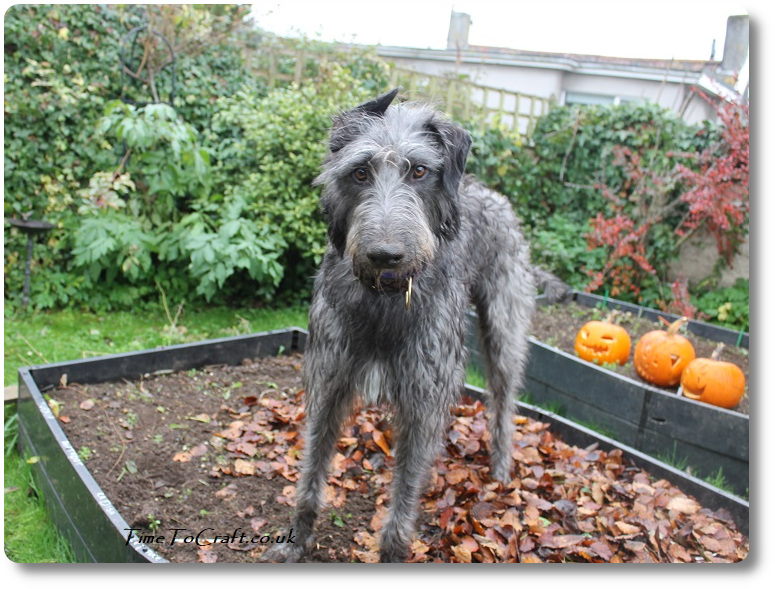 I can give you 101 reasons why I shouldn't go out. Probably more. Don't test me.  It is completely down to the time of year. In the summer, I'm in and out like a yo-yo. I'll spend hours out in the garden or walking the dog. I lose time. Housework be blown. We can live outside.
In autumn, it's a different story. I put it off. It's easier to stay indoors. I'd have to put boots and a coat on. In any case, there are jobs to do inside. Including the dusting. Have you seen the dust?
Of course, once I don my coat and get outside, I'm fine. I can lose hours again and find plenty to do. I have a garden to put to bed for the winter, after all. No. I'm under no illusions. It is that initial step that gets me each and every time. I am fully aware of it.
So this week, I've challenged myself. One barrow load of fallen leaves a day. I can squeeze that in between the vacuuming and rearranging bath towels*. Of course, once I'm out there, one barrow leads to two, but that's OK. We have beech trees and a fig tree which are providing the bulk of the leaves this week. Other trees to a lesser degree. I can easily fill a barrow.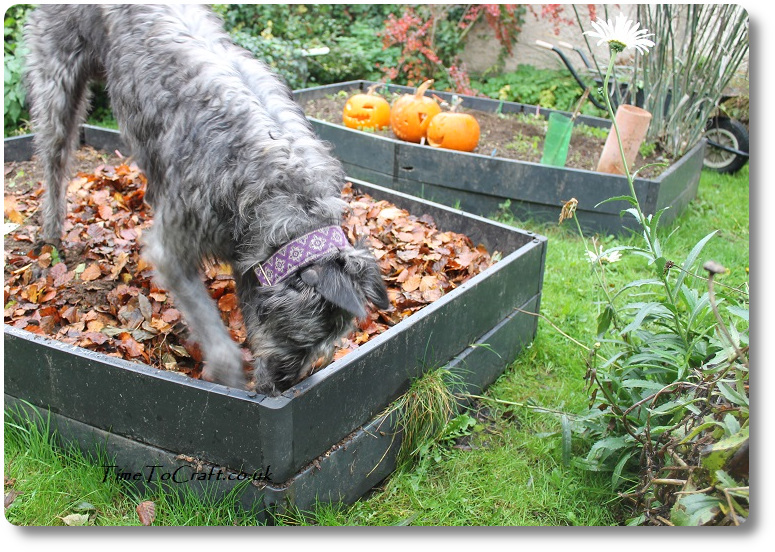 I can sense the benefit straight away. I feel happier. The fresh air, the light and open space fill my soul with positivity within minutes. My head is filled with happy thoughts. The Pup is in his element too. See-sawing from helping one moment, to undoing my work the next, and back again. He is excellent at digging over areas for me, then undoes it all by getting carried away. He is just being him. Another one who loves to be outside.
Has my challenge worked? Yes. It's benefitted the garden too. I'm on a mission to improve the soil in my raised salad beds. I usually put the fallen leaves in the compost or a leaf store. Contrary to what I've read, they always rot down quickly, so I'm cutting out the middle man and putting them straight on the beds this year with a pile of compost. Covered with cardboard to suppress the weeds. The worms should get busy between now and spring. My underground farmers. I'll see if it works. I love that you never stop experimenting and learning in gardening.
If nothing else, it has got me out there.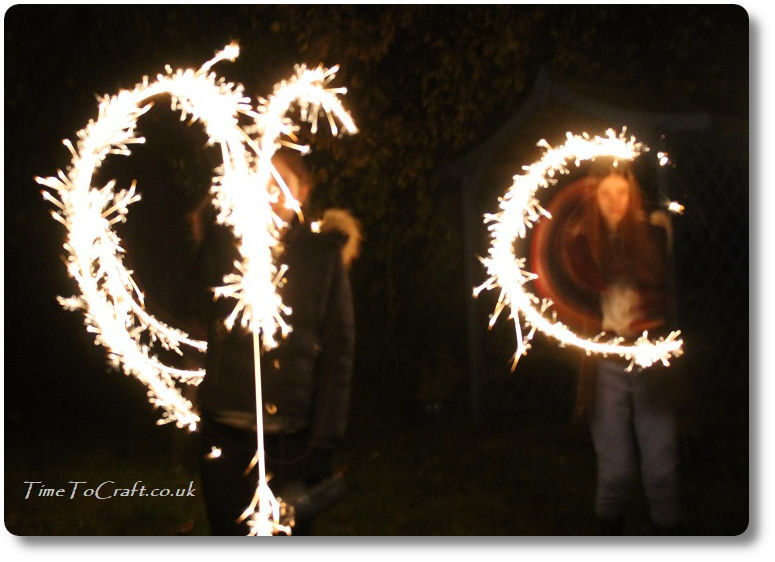 Not relying on my challenge alone, I still have the Pup to take out. Neither of us are keen on trudging through the lanes in the rain, so we time it. Else we take his favourite squeezy toy out in the garden and he runs like the wind in big circles.
Monday night was Bonfire night. Like most of the country, we left the warmth of the house and stood outside to watch fireworks and write in the air with sparklers. Hand knitted mittens were dug out for the first time this season. They still fit.
Final "out" is blown out candles. We had a birthday this week. Red velvet birthday cake went down very nicely.
So that is my week. Joining in with Anne's Word of the Week link up. My word is "Out". How about you?
(* just to say, I have never been known to re-arrange bath towels. This is a step too far into organized territory than I'd like to venture.)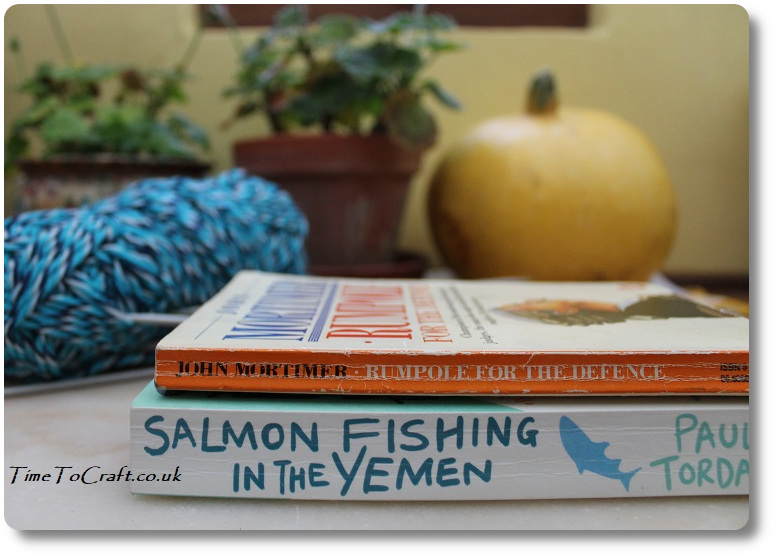 We've reached the point of the year when the fire is roaring in the wood burner most evenings. Not that it's nose tingly cold, but it does take the chill off the room. It's dark early. What a contrast to back in the summer, when I'd be out in the garden till late. Pottering around. Enjoying the extra time. I'd gladly volunteer to pop out in the car, if we needed something, or to drop one of the children off. It seemed no hardship. "It's OK. I don't mind. I'll pick up some more milk, while I'm at it", as I grabbed my car keys. It was still light.
Now the house is surrounded in darkness by five o'clock and, for all I know, the rest of the world has vanished. No streetlights or car headlights to be seen, as we're tucked away from it all. The urge to curl up in a chair, with my feet warming by the fire, is undeniable. Maybe a good book or another row of knitting, preferably with a hot chocolate on the table beside me. A marshmallow melting on the top. One thing is for sure, there is no way you'll catch me venturing forth on a whim. Not on your nelly, Miss Kelly! Not if I can help it.
It does mean I have time to concentrate on other hobbies. A lovely indulgence. It's the first Wednesday of the month, so I'm sharing my current knit and book with Ginny's Yarn Along. First up, my knitting roundup for the month.
At the end of October, I finished my purple jumper. I loved knitting it. I'm really happy with the colour. Plus it was proof that knitting a jumper, in a month or two, is perfectly possible for me to do. It was quick. The neckline is pleasing and the sleeve length just right.  I've worn it a few times now and have felt wonderfully toasty.
I wish I had knitted the body length a couple more inches longer, or maybe shorter, as the hem hits me just in the wrong place. To add insult to injury, the hem has turned out a bit flappy and looser than I'd like. This is most definitely not flattering.
The pattern is Sirdar 8067 pattern and I used Sirdar Harrap Tweed to knit it. I changed the design of the hem, which is where the problem with the flappiness stems from. The wool is gorgeous. It gives a tweedy look to the jumper. Reminds me of the heather on the moors.
I have an idea how I can save this jumper, but it will have to wait until I finish my Christmas knitting. For now I can wear it.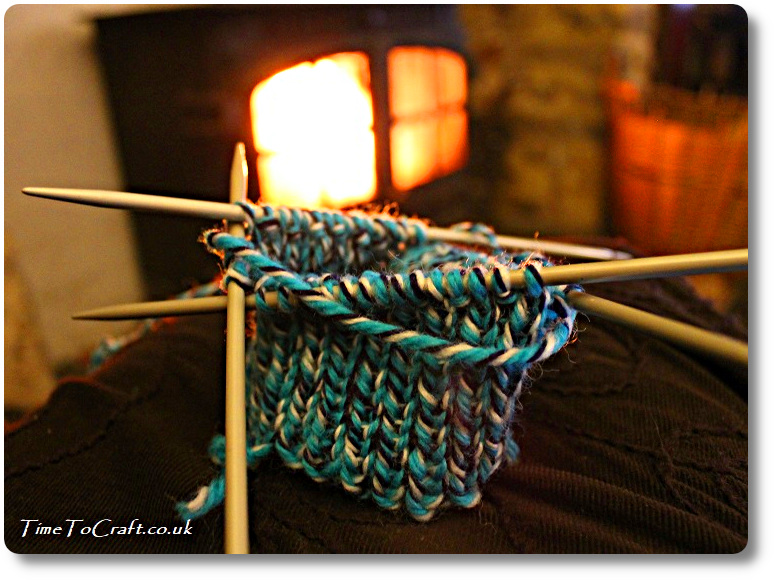 I'm busy knitting for Christmas, so I can't say too much about it, just in case the intended recipient is reading this, except the wool is Swedish, which doesn't give much away.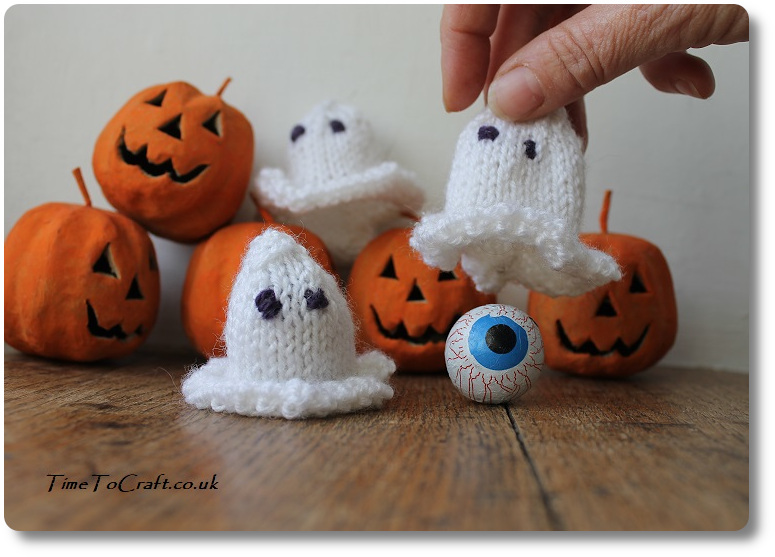 I also knitted a few ghosts for Halloween. Exceedingly quick and satisfying. By the end of Halloween, they were up on the points of our (papier mache) deer head above the inglenook. They looked just the right amount of spooky.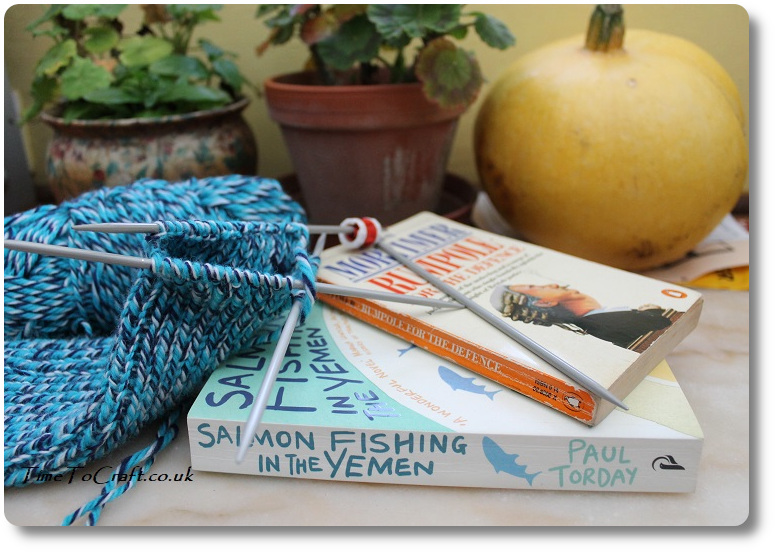 Books. I've taken to having two books on the go. One in the car and one in the house. I learnt a lesson a few months ago, when my car broke down and I was stuck for 4 hours, waiting for a tow truck big enough to rescue it. Oh, the joy. I had no book. Ever since, I have kept one in the glove compartment (and changed the car). An easy and light one to pick up and put down. I read it when I'm waiting to pick up the children from their various activities. I chose Rumpole  (affiliated link) as it never fails to make me smile. I've read it before, but it's been long enough ago for me not to remember the endings to each of the stories.
I've had Salmon Fishing in Yemen (affiliated link) on the bookshelf for a while. I bought it from a charity shop when eldest was reading books from around the world, as a reading challenge. I don't think she read it. I've seen the film and am looking forward to seeing how it differs. Not too far into it yet, so I can't add much more.
The irony of this post is that I'm actually writing it in the car, waiting for youngest to finish one of his clubs. Trampolining. It's dark and I want to be home. I'm planning to occupy the seat nearest the fire when I get home, which hopefully one of the family will have lit already, and indulge in just a bit more knitting.
(edited: the fire wasn't on, but supper was ready as we walked in the door. I did get the seat next to the unlit fire, but promptly fell asleep exhausted, so didn't miss the fire or get much knitting done! I tell you, people, I live the life.)
How about you? Have you got a knitting project on the go? What are you reading at the moment?
Photos
There have been cases when people lifted my photos and words, and used them without credit to me or asking permission first. Using them for their own commercial gain. I have now added a level of security to deter people from doing this. Apologies to people who do play nicely. If you would like to use any of my photos, please contact me.
Copyright notice:
All my words and photos are copyrighted to me. They cannot be used for commercial benefit by anyone else. If you would like to use any of them, then please ask me first and don't just take. Written permission only. Don't pass my words, photos or ideas off as your own. It's not nice.
Cookie Policy
Our web pages do not use cookies however this website uses Google Analytics, a web analytics service provided by Google, Inc. Google Analytics uses cookies to help us analyse how people use our site. The use of cookies by Google Analytics is subject to change.