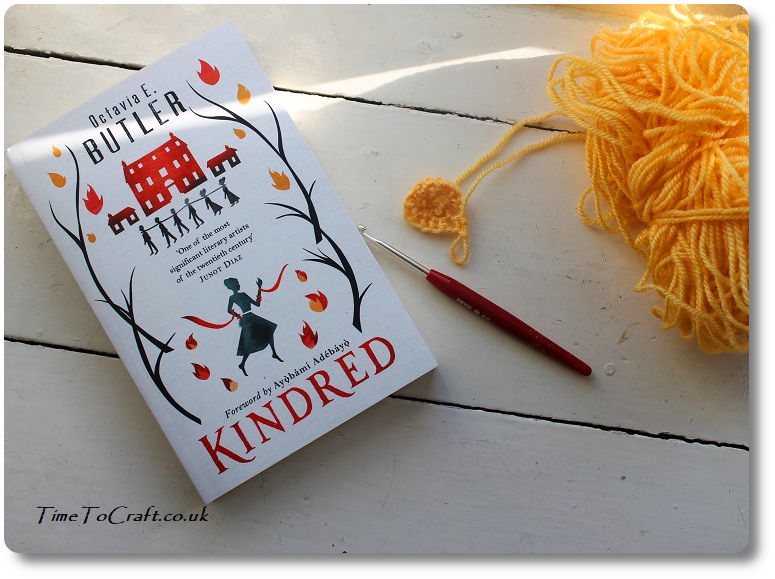 I'm a great believer in breaking tasks down into smaller bites. I'm far too easily put off when presented with a big project. Breaking it down and thinking of it as individual projects is the only way forward for me. This week I've had time to tackle some of the mini projects.
Sorting
Started off going through my bookshelves and getting rid of a few books. I managed three carrier bags. These, along with three clothes bags, were taken, the same day, down to the charity shop. No chance to change my mind.
I'll need to do this several times. I'm hoping to clear a bookcase to make room for a piano. Middle teen passed her piano exam and is keen to move on to the next one. With a combination of wanting to encourage her and also aware that our keyboard is not quite enough, a piano is in our near future. Also a new piano teacher, as her last one stopped providing after school teaching. See. It is a bigger project. One bite at a time, otherwise I'll crumble.
Also tackled a finance project I needed to sort out. Pleasantly surprised how it shattered into much smaller projects. To think that the magnitude of it all had been putting me off!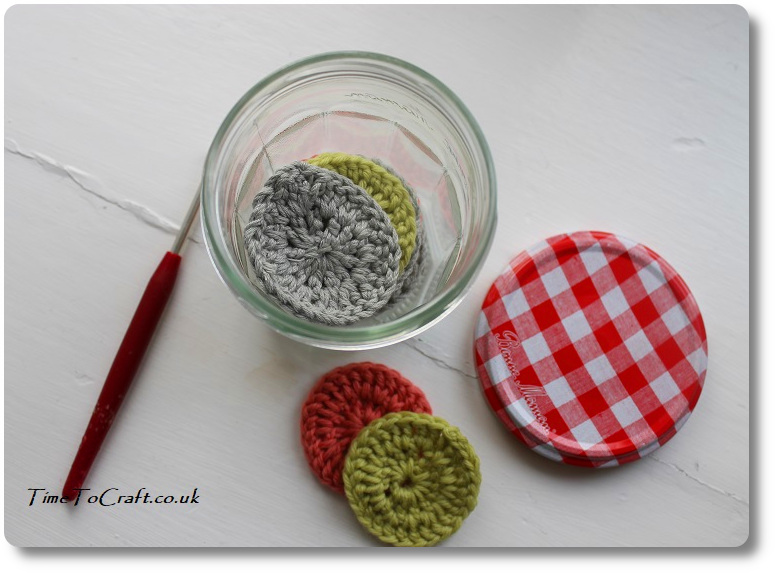 Making
I've had my crochet hook out this week. Not only did I make a small alternative to the cotton wool pads for skincare we've been using (another small step to zero waste), but I started a new blanket. This one will eventually be big. Very big. The small start of it is in the top photo. It is a little bit bigger already. It's going to be my go-to project for travelling and waiting in the car, this year. It will grow. I do a lot of waiting.
I also have a knitting project in the mix. The yarn has just arrived today, so nothing to show yet. One of the very few purchases I made in the January sales.
Milestones
Back to school this week. The younger two have been back five days now. Eldest has had exams, which means study leave at home for part of the week. As a treat, after her last exam, we popped into Wells for lunch and a trawl through the bookshops. I do realise the irony. Here I am emptying bookcases. Next moment, I indulge in buying a book. What can I say? I like to read and it was 40 plus books out and only one book in.
Anyway, I picked up a copy of Kindred and am now on the look out for her Lilith series. (*affiliated link)
We also managed to find school trousers for Middle teen that we could agree on, in Next. This may seem like a minor problem, but quite honestly I think this is my biggest triumph of the week. It has been on ongoing saga. She now has two pairs that fit her, that she likes and pass the school criteria.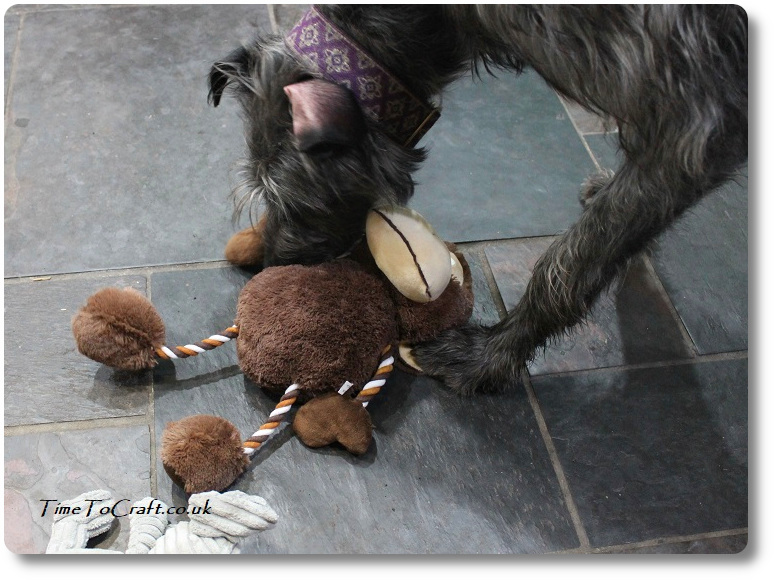 Hero also hit a milestone this week. He turned one.
He loved his presents. I've always said that our dogs could never have soft toys, as they wouldn't differentiate between the children's toys and theirs. I couldn't bear (pun intended) the children's reaction if one of their precious toys was ripped to pieces. I changed my mind. Hero was stopped trying to wrestle slippers off feet and picking up bears, in favour of his new squeaky toys.
That has been my week. I'm ready to start the weekend, once the two younger ones get home and the supermarket delivery arrives.
Joining up with Anne's word of the week. My word is small. Lots and lots of small things.
With two teen daughters in the house, it was only a matter of time before skincare and makeup products would become the major occupants of our bathroom cupboard. Heck. It got so bad, I even contemplated a second cupboard to cope with the invasion. Could I squeeze one in without making it feel too crowded? Maybe two?
Fortunately, as so often happens, it sorted itself out. Makeup was eventually herded into bedrooms to prevent one sister using the other one's collection. Peace was restored. Skincare tubs and bottles were still in residence, but there was room. Plans for future cupboards were abandoned.
It feels like a long, long time ago that I wrote a letter to my 11 year old daughter about the use of makeup. I'm pleased to say, neither of them are over the top in their use. They go for the natural look. This is a good time to experiment, as far as makeup is concerned.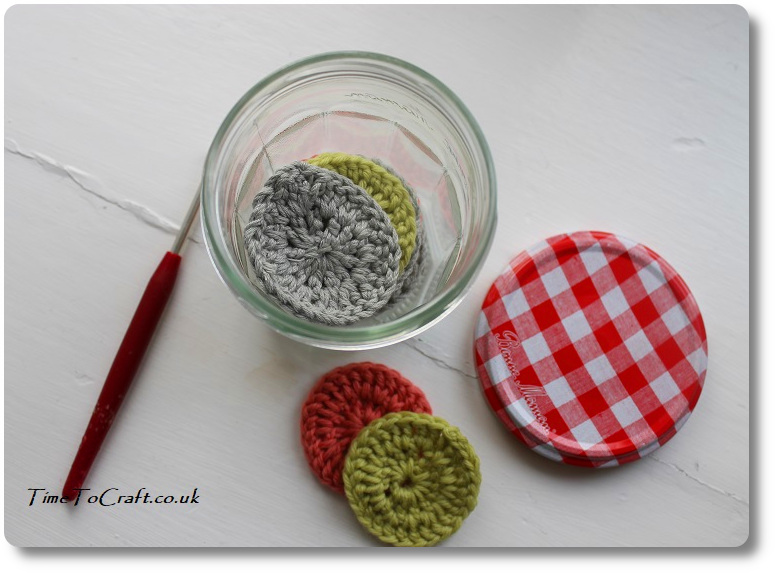 Anyway, the next looming issue was tied up with the removal of said makeup. What goes on, has to come off.  I eliminated single-use wet wipes and cotton wool pads from the house, by a ready supply of flannels. I made a clutch of bamboo flannels. These have been a bit of a success, I'm mighty glad to say.
Just one niggly problem. Teeny tiny one, at that. They found the flannels too absorbent. The makeup remover glugged away into the fluffy fibre, never to be seen again. Same with toner. As good as gone. They were resorting to using tissues instead with the remover and toner.
Neither solution was good. Apart from the waste of the remover with the flannel, the tissue wasn't a good alternative to a cotton wool pad either and it was adding to our waste. We only have a tiny bin in the bathroom and I was emptying it far more frequently. All heading for the landfill.
I've had reusable cotton pads on my radar for a while. Crochet in cotton. There are so many different designs but most boil down to a small circle. Usually 12 half crochet stitches in a circle. Then 24 on the next round. Digging through my stash, I had a few odd balls of cotton yarn. I wanted three different colours, so each of us skin care/make up users could have our own colour.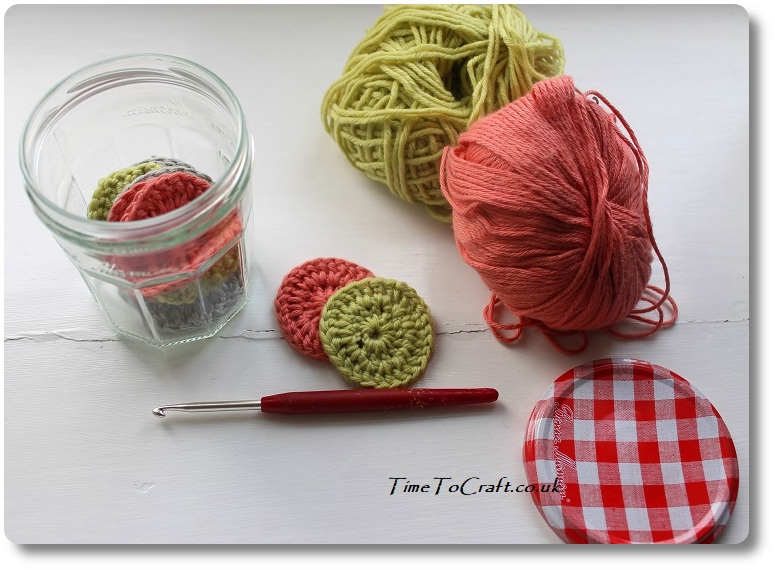 I made three trial sets. Three of each colour. If they work out, I'll make more. They take no time to crochet up. The plan is to store them clean in one jar and put the used ones in another jar. Once there are enough to wash, I'll put them in a small, drawstring mesh bag I have in the cupboard. Then into the washing machine they will go.
I've tried one with toner and it is so much better than a tissue or fluffy flannel. Thick enough to hold the liquid, but thin enough not to hide it. Fingers crossed. It looks hopeful.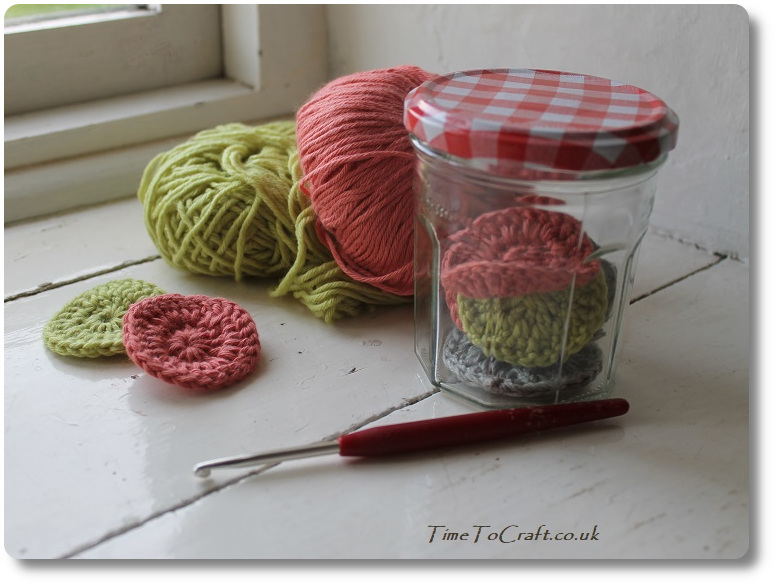 If nothing else they are so darn pretty. I did look at buying a ball of recycled cotton yarn, but hard to justify when I already have cotton in my cupboard. Another time.
First make of 2019.  So simple and satisfying. Thrifty and frugal. Also a warm, fuzzy feeling that it is an eco friendly solution to boot. Cutting waste. Cutting water and chemical use in the production of single use cotton wool. Happy dance.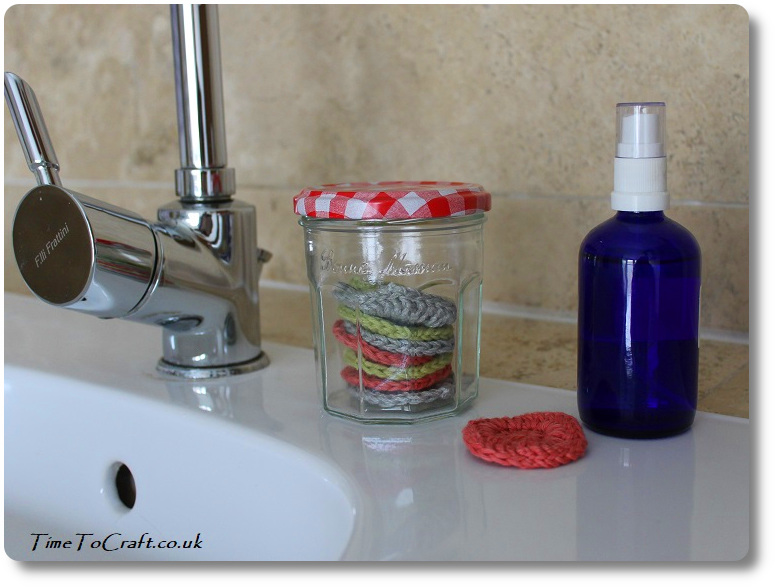 And, even though I say it myself, I think they look rather good in their jar by the sink. Like little rounds of candy. Irresistible. Encouraging all to give them a go. Some projects are win-win, I'd say.
Linking up with #GoingGreen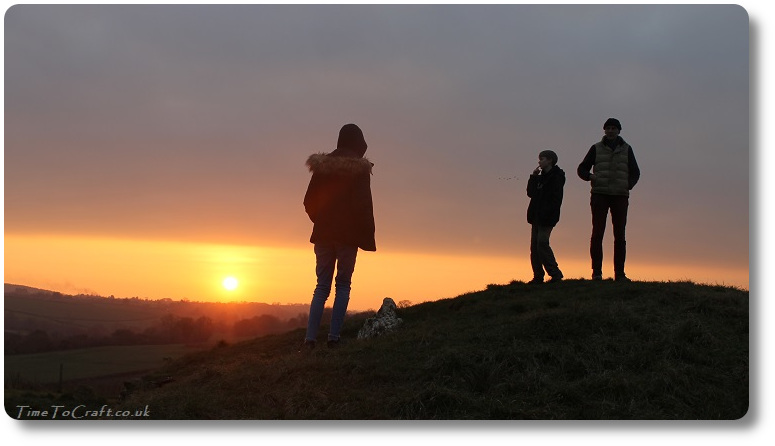 The time between Christmas and New Year is one of my favourites. We take the week off apart from monitoring emails. It's a quiet time of the year and only three working days, so it works out perfectly. The manic buying of presents is over and leftover meals are on the menu. It is relaxed.
We spent a couple of days visiting family. Always good to see the folks. I sneaked my birthday in. Quietly. I don't go for big celebrations. It probably explains why certain members of the family have lost track of how old I am, which was amusing. There was cake. So that was good.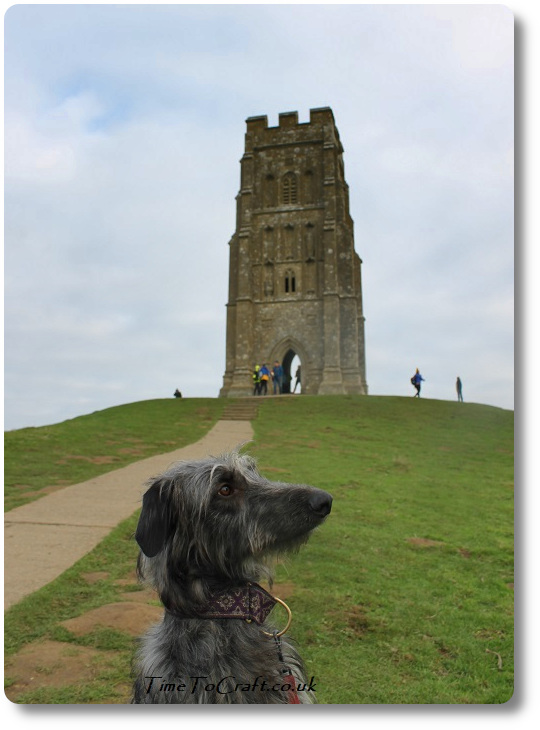 We've fitted in a few days out too. Hero went to the beach for the first time and loved it. I think he was overwhelmed by the number of dogs all in one place. We didn't let him off the lead until we'd reached a quiet section, as I'm sure he would have become instantly deaf to our calls. It was fabulous to see him run along the beach.
Also went for a walk up to the top of Glastonbury Tor (my legs are feeling that one), followed by a walk around the town. Glastonbury is unlike any other town I know. The high street is filled with gem shops, new age shops, alternative lifestyle shops like no other town I've visited. You can walk into a shop and pick up a love potion or lentil bake with no difficulty. It is colourful and fragrant.
Dogs were allowed in most shops and it fascinated me to see which ones Hero felt relaxed enough to lie down in. Any shop with candles, smudge sticks and quartz were favourite. Sheepskin shops made him edgy. The more welcoming the shop keeper, the more relaxed he was. They were also the shops we bought something from!
Finally made it to a local long barrow that's been on Mr TTC's list for a while. Dates back to about 3500 BC and was a burial site. As we left, the sun was just setting and it could not have added more to the atmosphere. I'm planning to write more about this visit.
The rest of the week, we've spent time at home. This week of the year could not slip by without at least a couple of jigsaw puzzles being completed. In the past, we've had to juggle meal times as the only available table, that can hold a 1000 piece jigsaw puzzle, is the kitchen table. This year, I was given a jigsaw roll. I was amazed at how well it works. Meal times and puzzle doing could exist side by side in harmony!
Also had fun constructing with cardboard, by making a sweet shop and revisiting my childhood. I'm hoping this is a catalyst for more cardboard crafting, as I have a handful of ideas to distract the children away from their screens.
It has been a good week. Next week the children go back to school and I'll properly sit down at my desk again. It goes too fast. Still. We have a couple more days, so I plan to make the most of the time left.
Hope you have enjoyed your inbetween week.
Linking up with Anne. My word is visiting.
Photos
There have been cases when people lifted my photos and words, and used them without credit to me or asking permission first. Using them for their own commercial gain. I have now added a level of security to deter people from doing this. Apologies to people who do play nicely. If you would like to use any of my photos, please contact me.
Copyright notice:
All my words and photos are copyrighted to me. They cannot be used for commercial benefit by anyone else. If you would like to use any of them, then please ask me first and don't just take. Written permission only. Don't pass my words, photos or ideas off as your own. It's not nice.
Cookie Policy
Our web pages do not use cookies however this website uses Google Analytics, a web analytics service provided by Google, Inc. Google Analytics uses cookies to help us analyse how people use our site. The use of cookies by Google Analytics is subject to change.