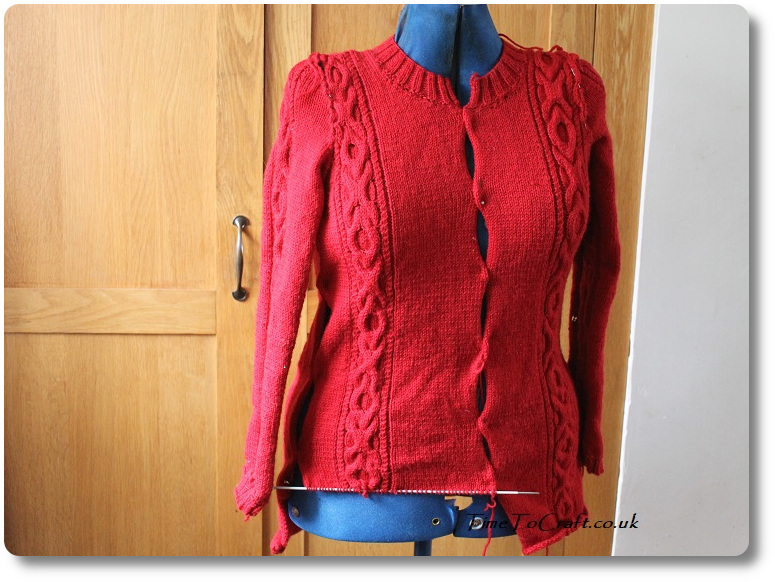 Here it is. My red cardigan. Still not finished. It's true. Doesn't it look tantalizingly like it will be ready in two shakes of a reindeer's snow covered tail? It could almost be worn, you'd imagine. Just the ribbing for the opening to do and a few buttons to sew on. Oh, and that bit at the bottom, with the rather awkward knitting needle sticking out. Shouldn't take long now.
Sadly, appearances are deceptive.
For the last week, my unfinished cardigan has been sitting in the naughty corner. Sulking, I like to think. We have fallen out.
Sigh.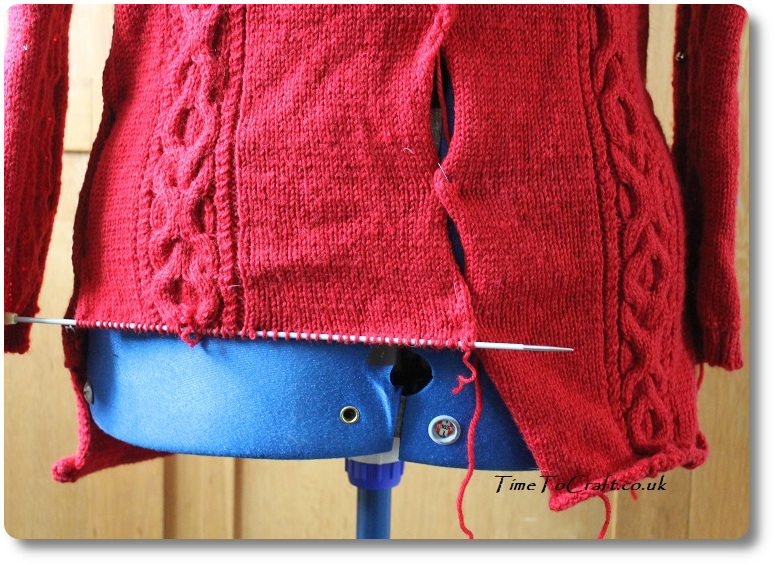 Sadly, I'm destined to unravel the neckband and the right front. There is a mistake. The pattern calls for a vent/slit at the side seam hem.  The front is shaped, at this point to allow for it. Unfortunately, I put the shaping on the centre front rather than the side seam.
If I was sewing, I could cut off the fabric and resew it in place. Knitting is very sadly, unbelievably unforgiving. Chopping into it with scissors would be a disaster. Stitches would unravel, as if it was a fictional jumper in a child's story book, with the yarn caught on tree branches, so that the heroes could find their way home through the deep, dark forest.
I was looking more for a cardigan to wear rather than a route finder, to be honest.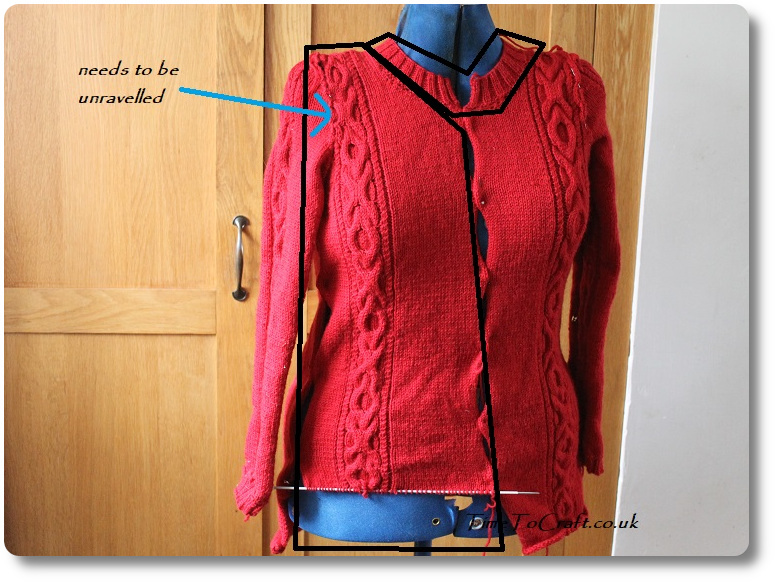 Deep breath.
I undid the bottom of the front to see if I could reknit it upside down, but, deep down, I already knew it would show. There was bound to be a tell tale line across it. So only other option is to redo the right front, and the collar ribbing, to prevent it looking an utter mess.
I made the discovery about a week ago. I did the only sensible thing. Threw the unfinished cardigan in the corner, cracked open a box of Christmas chocolates and started a new knitting project.
Do you blame me?
So, yes, never ask a crafter if she is ready for Christmas. Behind the scenes I'm busy sewing and sticking, pinning and tacking other secret projects. I'll be doing that all the way up to the twelfth hour, because there is always something else I can make. Can't show you yet. The cardigan I can show you. It is for me. Nothing secret. Should have been finished months ago, but here we are, still looking at it's unfinished, sorry state.
It's OK, I'll get there. I'm calm now. It will be worth the extra effort in the long run.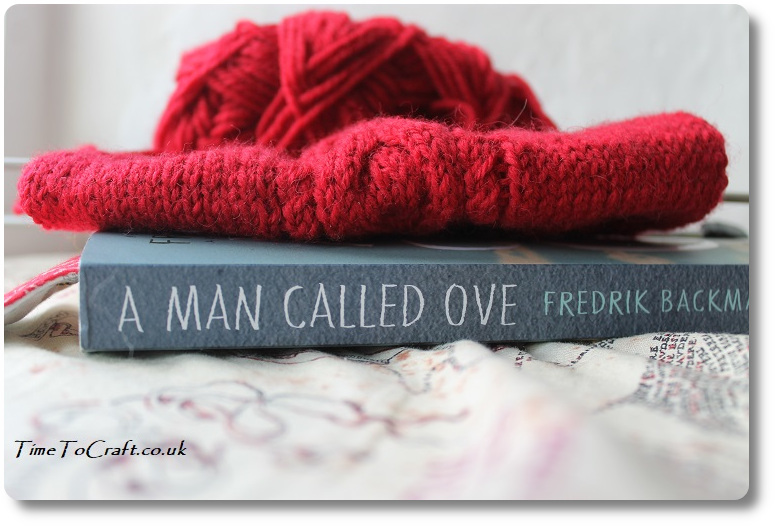 I very nearly missed my usually Yarn Along post this month. I didn't forget. No. It was totally down to making little progress with both knitting and book. Thought I'd slide on by to next month. No-one will notice. Instead I'll hope to add a few more rows, finish a book and join in next month. Then it hit me. It is not remotely honest. I'm only showing the times I make progress. How about the times I just stand still and achieve diddly squat?
So here it is. Same book. Same knitting, which in all fairness has grown but not as much as it should have done in a month.
This is the last sleeve. I'd like to finish it for Christmas. Red cardigan would tick so many boxes as I wish every one good tidings and good cheer, while enjoying a mulled wine and mince pie.
Now admittedly, I've not been twiddling my thumbs all month. I've made a couple of birthday presents, which have now been given.
First up are the gloves for my sister. This seemed to take a lot longer than usual to knit. I'm still mulling that one over.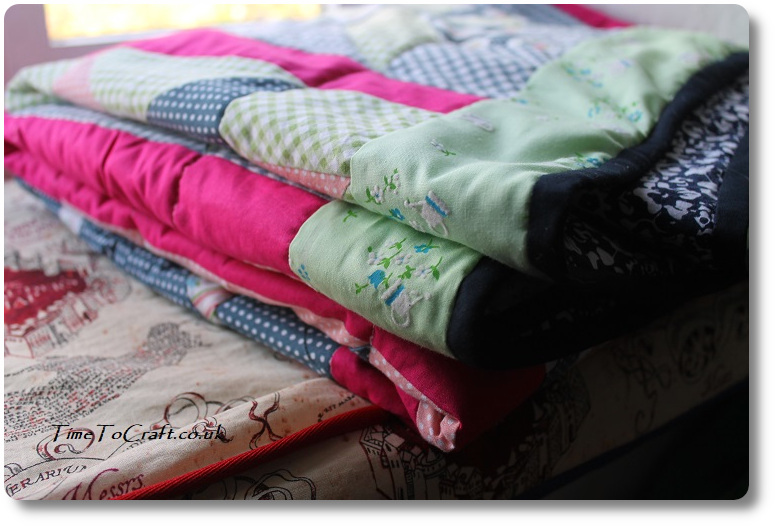 I've also finished my Middle Teen's quilt, which is gracing her bed as I write. My reading time was taken up by hand stitching this one. I love stitching just as much as reading. More about this quilt another time.
So maybe not the progress I wanted. I'm pleased with the gifts and loved the recipients' reactions. It's good to be back knitting my cable pattern again, with the end in sight.
More progress next time, I hope.
Joining in with Ginny's Yarn Along. What are you knitting at the moment?
There is something about an object with a story. A witness to the past. However humble it may be, turning it over in your hand, or stroking the surface, it has a tale to tell. Sometimes it is already known. Documented. Other times you can follow the clues. As a crafter, a real joy for me is that occasionally, I can add to its story, before setting it free to continue the journey.
These gloves are a good example.
Back in September, I picked up four balls of yarn from a charity shop. Each 1 ounce and 100% pure "new" wool.  Made in Great Britain. In other words, they had been spun and wrapped before the metric system was introduced into the UK. Before my time.
Judging by the font of the writing on the paper band around each ball, I guess that these balls of yarn had started their journey around the 1960s. Someone had bought them. Maybe there were more of them and only these four had been surplus to requirements. Were they stored away all that time, or had they jumped from one charity shop to another?
I only popped in to the shop, as I had unexpected bonus of time to kill. It was a lucky find. Priced at a level that I could never buy 100% pure wool in a modern wool shop.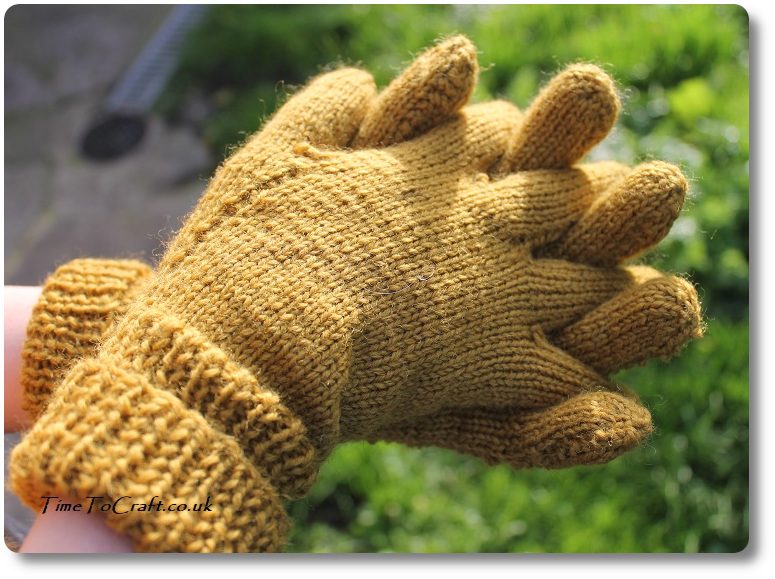 I knew straight away that they would make a perfect pair of gloves. Also, who they should be given to. I dug out my favourite vintage glove pattern, which I've knitted many times. The pattern used to belong to my grandmother. It has her notes, scribbled all over it. Anyway, it felt like the right period.
I made a mistake with the sizing. I knitted one glove and had to undo it. Second time around, I knitted both gloves at the same time. With something like gloves, it makes sure that they match.
The gloves are now finished and gifted on to my sister. I've told her that once she is finished with them, that she should send them on their journey. Set free from their paper band and their charity shop basket, they feel like they need to continue their story. She says that it won't be for a while. They are exceedingly warm to wear. I hope that they will journey with her for a bit.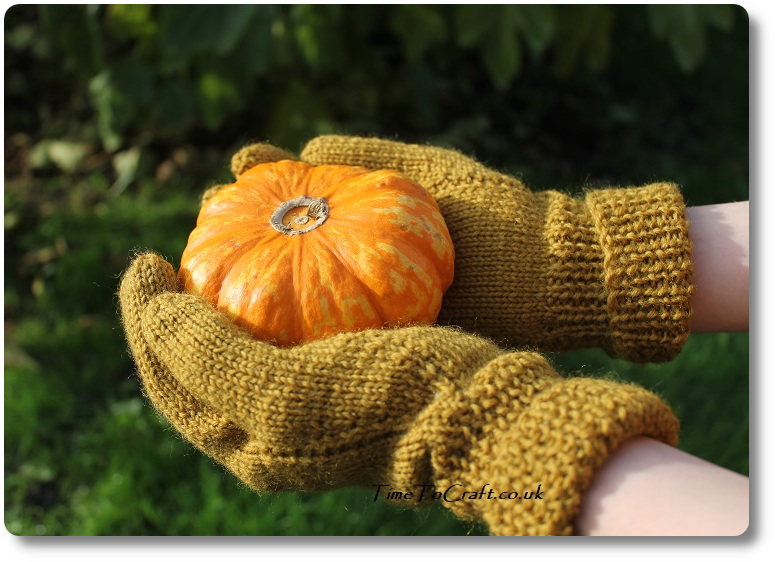 So the moral of the story is to check out the odd ball section of the charity shops. There is a chance that you might just find something that deserves a turn to be set free.
I still have two balls left. I already know what to make from them.
Photos
There have been cases when people lifted my photos and words, and used them without credit to me or asking permission first. Using them for their own commercial gain. I have now added a level of security to deter people from doing this. Apologies to people who do play nicely. If you would like to use any of my photos, please contact me.
Copyright notice:
All my words and photos are copyrighted to me. They cannot be used for commercial benefit by anyone else. If you would like to use any of them, then please ask me first and don't just take. Written permission only. Don't pass my words, photos or ideas off as your own. It's not nice.
Cookie Policy
Our web pages do not use cookies however this website uses Google Analytics, a web analytics service provided by Google, Inc. Google Analytics uses cookies to help us analyse how people use our site. The use of cookies by Google Analytics is subject to change.