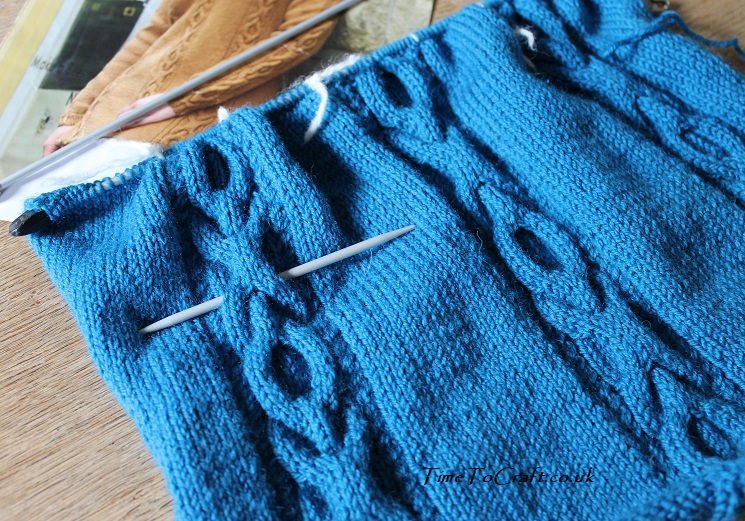 It's Wednesday, and the wind is still blowing a hoolie, courtesy of Storm Gareth. I'm getting a tad fed up with it. I have a few outside jobs I want to do, but they don't lend to everything blowing around. Never mind. There is always a silver lining. A good excuse to stay in and get on with indoor jobs instead. I have a list, which is gradually being checked off. One item is a crafting update, which is handy.
I  have actual progress to share. Nothing finished yet. Big projects always take so long to complete, by their very nature. Reaching a ta-da moment is few and far between, so I'll admit I'm only sharing milestone progress this time. Better than radio silence for months, while my fingers spin fibre and textile into something worth showing.
Anyway, here is my current knitting project. And may I just say, this is a first for me. Usually I finish one knit and then straight on to something completely different. I'm pretty sure it's all down to the length of time each project takes. Too long doing the same thing, means I'm yearning for a change of scene.
Not this time.
After knitting my purple cardigan, I took the plunge and dived straight into knitting the jumper version of the same pattern. I know. Bar a buttonhole band, it's the same pattern. I loved the fit and style of the cardigan. It seems to suit me perfectly. So I've got my fingers crossed. I'm hoping that it will be true with the jumper too.
I chose King Cole yarn again, but this time in blue. The colour is called petrol. Not sure why. Maybe I'm missing the point. Whatever the name, I'm pleased with the colour. Strong colours suits me. The yarn is gorgeous to knit with and also to wear. It washes well in the wool cycle of our washing machine, which is a relief when it comes to 100% wool. I find hand washing an easy task to put off. Whatever the weather.
I was lucky with the yarn. They didn't have enough of the same dye lot, but managed to do 12 of one batch and one of another. I can't see the difference, but will use the odd ball for the ribbing, where any colour change won't be so obvious.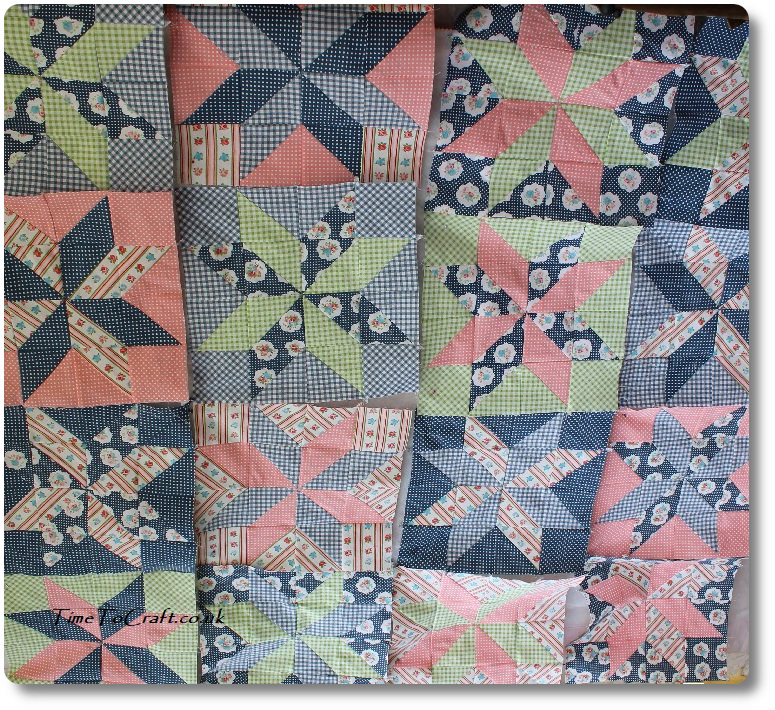 Second craft project. I've finished all 16 blocks of my latest quilt. I loved sewing these together. Now to decide the colour of the borders/sashing. I find the blocks a bit washed out. Close up they are not so bad. I'd like a strong colour in between the blocks to lift the quilt a bit. I thought royal blue at first, but I might go for raspberry instead. I'm open to suggests. What do you think?
So there you are. Progress updated. I do have a ta-da moment tomorrow. Something I made a couple of months ago and can now share.
Right. Over to you. What are you working on, at the moment?
I finished knitting my purple cardigan. I love it. It could very well be the best thing I've ever knitted. I'm really happy with the fit and love wearing it. From my notes, I reckon it's taken me eight weeks to knit, which is impressive for me.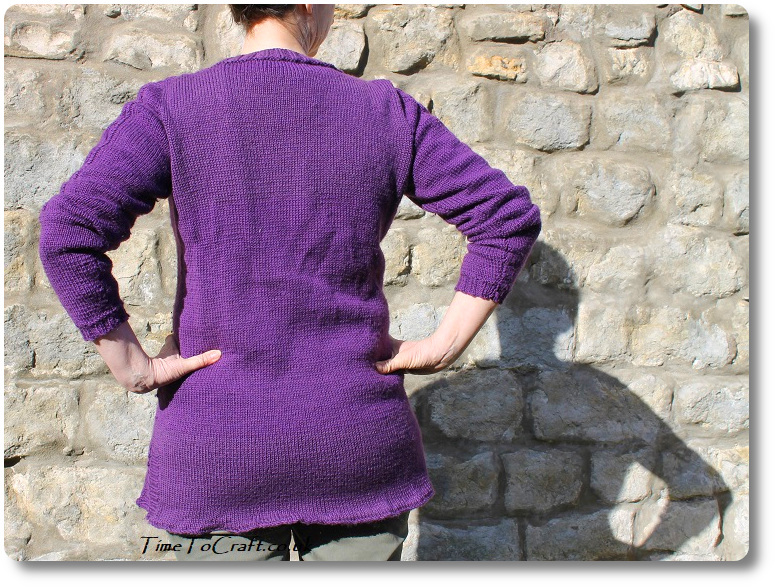 The only part I need to work on is the curling hem. I have blocked it, but not enough, it seems. If anyone has got a tried and tested method to make the hem behave, please let me know.
I used King Cole Merino blend dk. 100% wool. It is now my favourite yarn to use. A real pleasure to knit with. I've made hats with it before as it's anti-tickle, and have often thought it would be good for something bigger. I bought the yarn in the sales, which reduced the cost down to a do-able price. I've found it priced at anything between £3 to £3.79 per ball. Back in January, I bought it for £1.79 per ball making the cardigan work out at just over £25 to make, instead of the usual £42. Perfect!
The cardigan pattern is King Cole 4076. There is a choice of a cardigan or jumper. Both are long line with side vents. I found the pattern straightforward. The cable panel is easy once you get into the swing of it. After a while, I stopped referring to the instructions, as the it's obvious what to do from the previous row, if you see what I mean. Total joy to knit.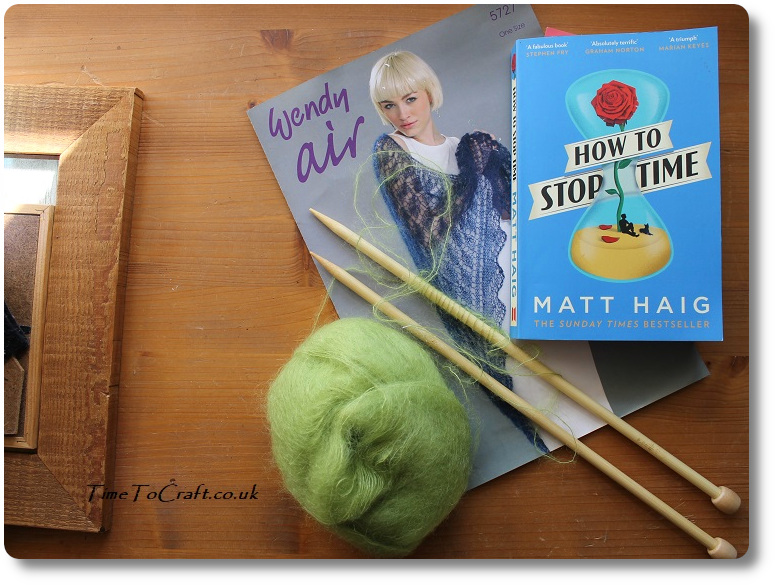 So on to the next knit. Yes, I've cast on, but the photo really doesn't give a fair representation of the amount of time it has taken. I'm using Wendy air yarn. It is wispy thin. Never underestimate how long it can take to find the start of the yarn in a ball like this. Lots. I've tried the first row a few times, but undone it. I'm not charging ahead with this one. I'm sure I'll find my way with it. Eventually. It is such a contrast from my last project.
As it's Yarn Along time again, I'm including my book, which I am loving. Matt Haig's How to Stop Time. I've nearly finished it and am dragging out the end, because I don't want to finish it yet. Savouring every last page. It is difficult to put down. It's so good, I find myself reading and preparing the evening meal at the same time. The book in one hand and a spoon in the other. Children mumbling that I'm ignoring them.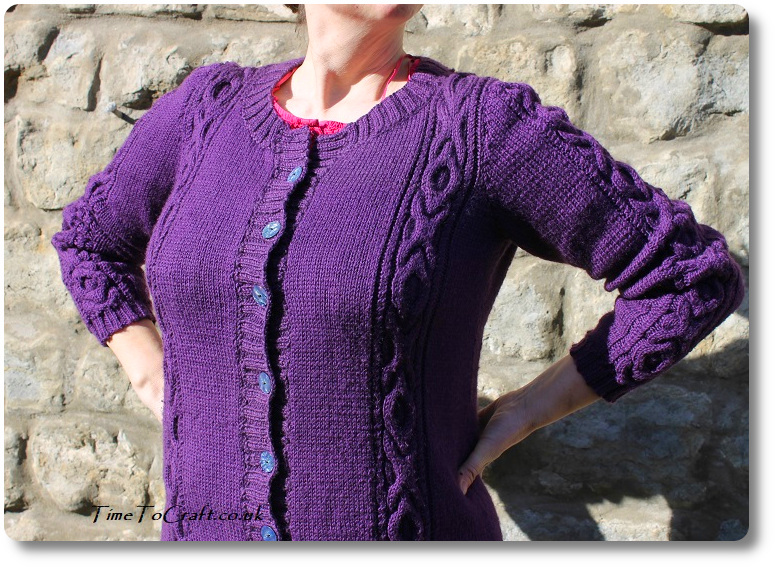 Last photo of my cardigan. I've ordered some more wool to make the jumper version next. I've found it again at the same price, so hopefully they have enough of the same dye lot, which caught me out last time. I had to change colours. Fingers crossed. It is such a good pattern.
Joining in with Ginny's Yarn Along. What have you got on the needles at the moment? Are you reading a good book? Oh, and any advise on my curling hem, would be much appreciated.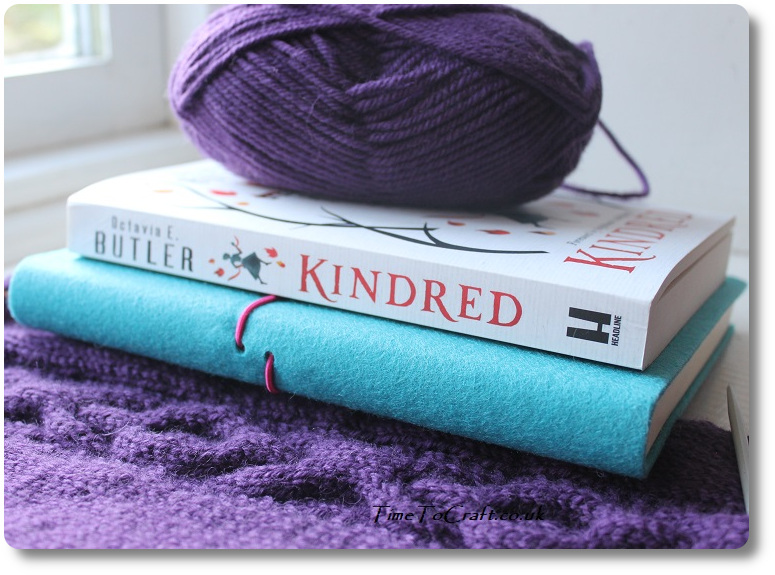 It's yarn along time again. Technically I'm about two weeks late, but I'm on Somerset time, so totally understandable. Time. It's a strange thing. Definite audible click whenever we approach a city, as time realigns, after weeks in the countryside. Anyone else?
Anyway. Without any more to do.  A book and my current knitting.
Knitting
I've started knitting King Cole 4076. I always research my new knits before I commit. There seems to be a lack of finished versions of this pattern. Even Ravelry was missing it. (I wonder if it is a UK version with a different name)Either it's new or not popular. Or the choice knit of people who don't post up photos on the internet of their latest project. The pattern is a long line cardigan or jumper, with a split on the bottom hem at the seams. I've gone for the cardigan.
The cable panel is the same for the sleeves and body. I love cable. The first jumper I knitted was cable and I learnt to knit on the project. Seeing the pattern grow as you weave stitches backwards and forwards is my kind of knitting. For the main pattern of circles and crosses, I use a standard cable needle. There is a two stitch twist on the either side of the panel and I use an open safety pin to hold the one stitch at the back before it's knitted back into the panel. Easier to control.
The yarn is the recommended Merino Blend DK from King Cole. I've used it before to knit anti-tickle hats as gifts and loved it. When I saw it at a tempting price in the January sales, I couldn't resist using some of my birthday money and snapping it up for a jumper for me. I went for the emperor colour at first, but it turned out the sale wool was a mix of dye lots. Not enough of one to make my jumper, so I opted for the magenta instead. I'd say it is more purple than magenta. I'm knitting the second size after checking the ease. I don't want to make the same mistake as I made with my lilac jumper.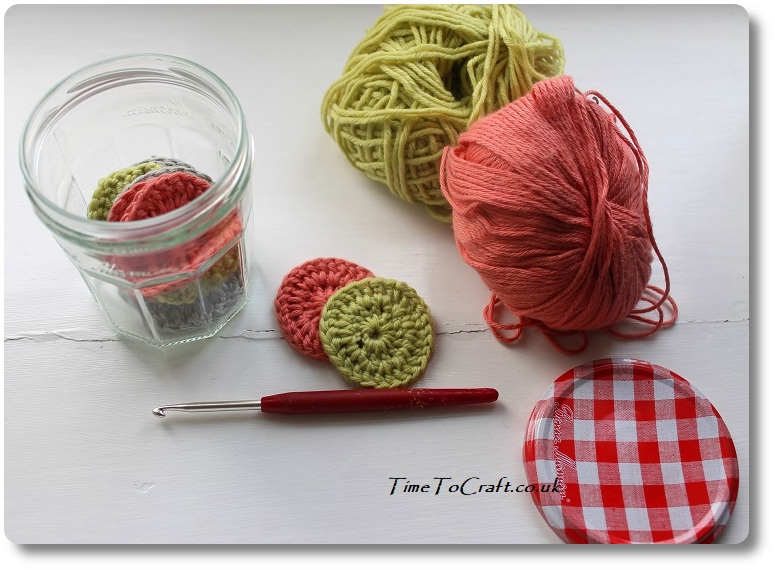 Crochet
Sneaking a bit of crocheting into this post too. I've already written about this, but I thought a follow up was needed. I've been crocheting alternatives to cotton wool pads for us to use for skincare and to remove makeup. The experiment has worked. They washed well and everyone seems to think they were good to use, so we are going with this substitution and reducing waste. I need to crochet some more up as three each was not enough, and was only for trial purpose. I will need to secure my net bag I use for washing them in the machine, as it opened last time and spewed the pads around the washing. I have found them all. No pipes clogged this time!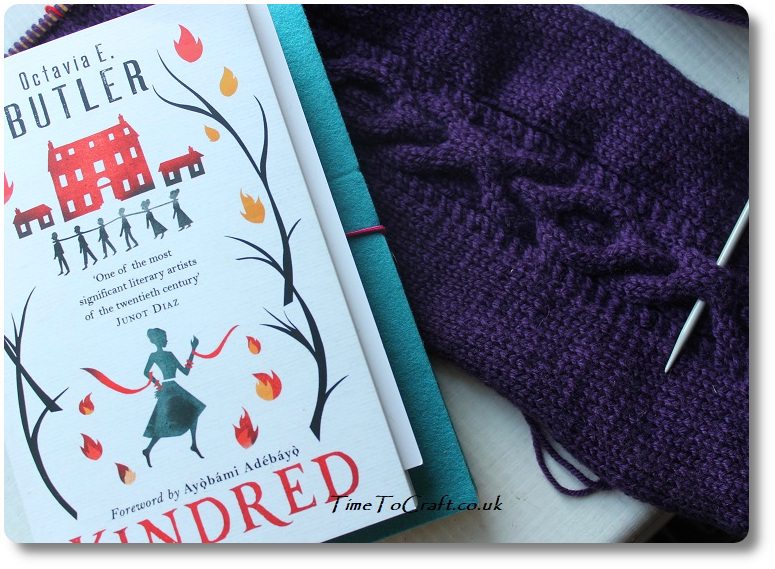 Book
I spotted Melissa on Instagram reading an Octavia Butler book. I've not heard of the author before and when we ducked into Wells the other day, I picked up a book.  It's about a modern, black woman who is drawn back through time to rescue a slave owner's son from death on numerous occasions. I've not read much, so early days. Understandably there is violence. Not my usual genre, but not out of place. I was surprised that a potential mystery was explained so early on. Saying that, I'm interested enough to carry on reading.
So that is my book and knitting (and crocheting) at the moment. The turquoise/teal book in the photos is my planning book for 2019. Making the most of the long evenings to make progress with my jumper and books-to-read pile. In my planning book, I'm laying plans for the kitchen garden. Not long until the first seed hits the soil!
What knitting are you doing? I do love book recommendations. What are you reading at the moment? Special hello to fellow linkers to this month's Yarn Along.
Photos
There have been cases when people lifted my photos and words, and used them without credit to me or asking permission first. Using them for their own commercial gain. I have now added a level of security to deter people from doing this. Apologies to people who do play nicely. If you would like to use any of my photos, please contact me.
Copyright notice:
All my words and photos are copyrighted to me. They cannot be used for commercial benefit by anyone else. If you would like to use any of them, then please ask me first and don't just take. Written permission only. Don't pass my words, photos or ideas off as your own. It's not nice.
Cookie Policy
Our web pages do not use cookies however this website uses Google Analytics, a web analytics service provided by Google, Inc. Google Analytics uses cookies to help us analyse how people use our site. The use of cookies by Google Analytics is subject to change.