Happy May 1st. I've been enjoying walks in our woods. The wildflowers are making their presence felt. Carpet of bluebells with sprinkling of wild garlic and wood sorrel, which sounds more like a recipe than anything.
I started my new yarn project last night. I'm making another King Cole pattern. In fact, it's a long cardigan again, but this time with pockets and a zigzag hem. Pockets make me feel like I'm giving in to my sensible side, while the yarn colour is a riot and makes me smile. I do love bright, strong colours. The yarn is called raspberry and is probably a closer match to the contents of an Angel Delight or Kool Aid packet, than anything I'd grow in my fruit garden, but that's OK.
I'm using King Cole Merino Blend again, because, quite frankly, it's my favourite wool at the moment. I love knitting with it. I love wearing it. I can't think of a better reason to use it on this latest project.
The pattern is King Cole 4750. I've knitted the pocket linings and the start of the left front hem. I'm not sure about it yet. It is a little bit loopy in parts. I'm tempted to start the right side and see if I can get it tighter. If I can then, the left side can be unravelled and started again. If you look at the photo of the finished cardigan, it does look a lot tighter, compared to mine. Hmm.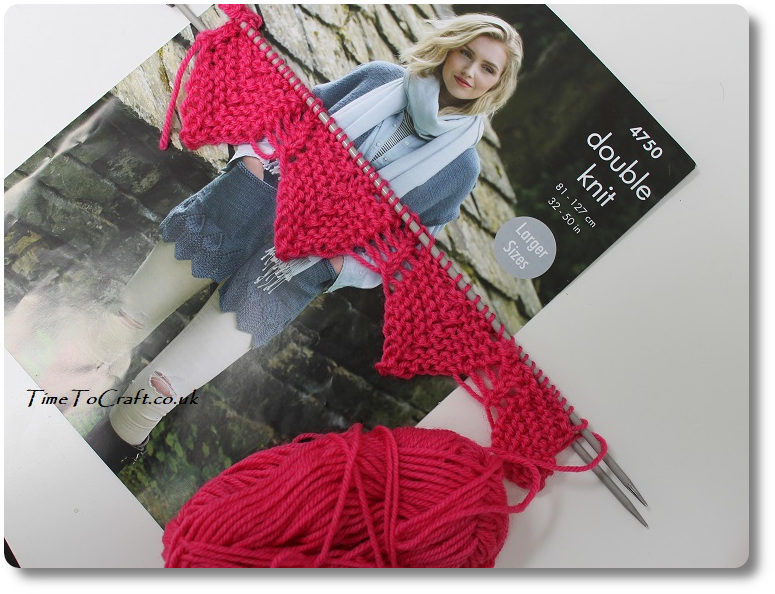 Still with the yarn projects. I finished the front of my daisy cushion (top photo). Just need to sew on the fabric back and it can join the other one at the kitchen table. The is a scrap buster and I've finished the white and the blue balls of yarn. I'm tempted to do another cushion cover, but this time just use the green as a background for the daisies. So long as I can find another ball of white skulking around.
I have finished my jumper, since last Yarn Along. Reblocking as the hem is still curling. Makes me appreciate a ribbed hem, at times like this.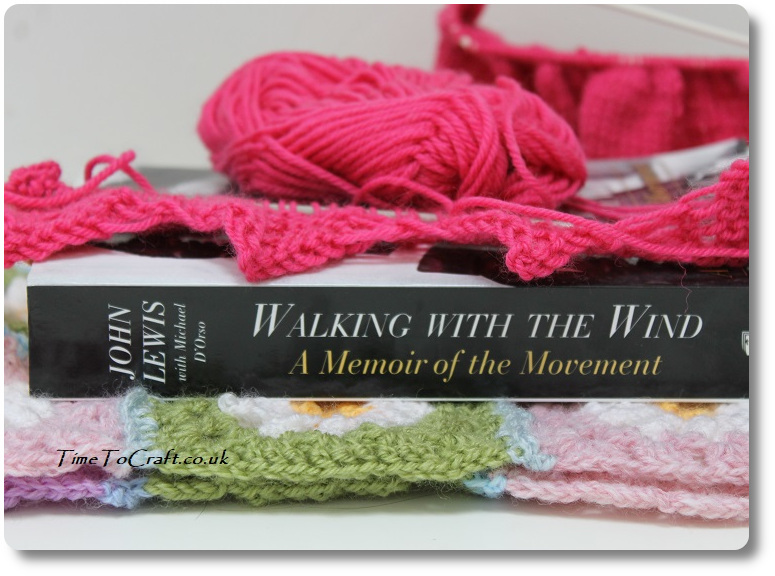 Finally, seeing as it's the first Wednesday of the month and Yarn Along time again, I'm sharing my latest book……which is the same as last month. I have been reading it. Spring means I have less time to read. Between work, the garden and different after school activities for the children, somehow reading time is squeezed and I'm asleep as soon as my head hits the pillow at night. I am enjoying the book and love the moments when I can pick it up.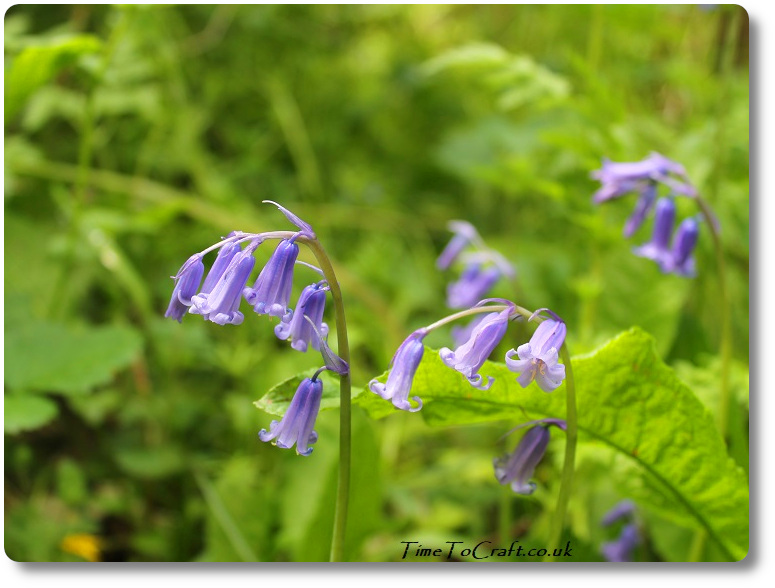 I hope May treats you well and you are able to enjoy the scent of a walk through a bluebell wood. Our bluebells will soon lose their race with the surrounding foliage and be more hidden , so I'm enjoying the sight while it lasts. See how they droop and the edges of the bells look like they have been curled. A sure sign of native bluebells and not the invasive Spanish variety.
Joining in with Ginny's Yarn Along. What are you reading at the moment? Have you anything on your knitting needles?
I've finished my jumper. Just need to block it and it's ready to wear. I played yarn chicken with this one. I really could have done with an extra ball of wool. The last seam was sewn up with a different wool, which was the closest I could find in my stash, that matched. Also I adapted a bit of the knitting. It was too close.
It took me one month and 6 days to knit. I kept a note this time, but I'm pretty sure I've not knitted something quite so big in just over a month before.
The hem is curling like crazy again. Just as it did for the cardigan version. Fingers tightly crossed that blocking will do the job. It's not a flattering feature for my shape. Reminds me of the plastic baby bibs that catch the crumbs. Believe me, it's not the look I was after. Especially round my hips. I will be blocking it with great care, to flatten it out.
Hopefully the next time I post up a photo of this jumper, I will be wearing it. Otherwise, I might hand it on to one of my daughters. Hints have already been dropped that they would happily take it off my hands. They can both wear anything and look amazing. However curly the hem might be.
Follow my blog with Bloglovin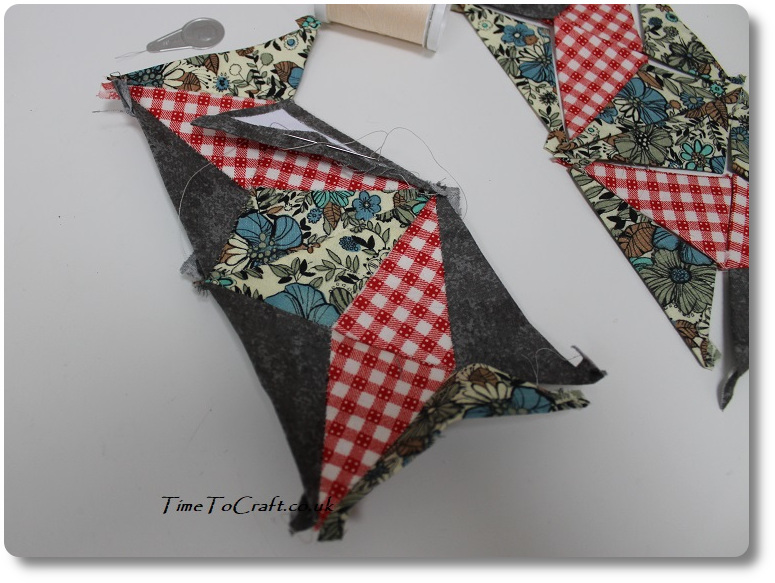 After a very busy sewing weekend (more about that at the end), I needed a small project to pick up this week. Something that didn't involve handling volumes of fabric. My current quilt really wasn't going to fit the bill. It's reached the stage where it's more than an armful and, without doubt, I needed something different, although I am itching to finish it.
Instead, I've picked up my Dear Daughter quilt, which uses the English piecing patchwork technique. Basically the shapes are made with paper and then the fabric attached to it. Eventually the paper is removed, once the fabric is all sewn together. Usually I'd tack the fabric to the paper, but I used fabric glue this time. It's quicker and washes out.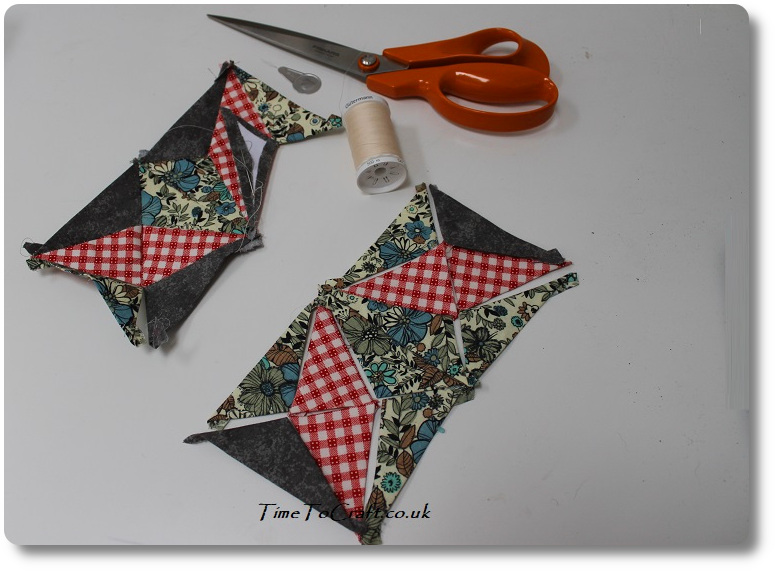 It felt strange going back to hand stitching patchwork, after a couple of projects using the sewing machine. Much slower and I felt slightly impatient and irritated at first. Once I was back in the rhythm, I remembered how it provides space and more of a mindful time. I began to enjoy it more. I love how different techniques can give such a different experience.
I think this is the last block in the quilt. I have the fabric for the sashing, so maybe I'll start piecing the blocks together this week. I'm undecided about whether to write the final letter just yet (each block has a letter). I might leave it to the end, or write this one plus one final letter for the whole quilt. Still pondering.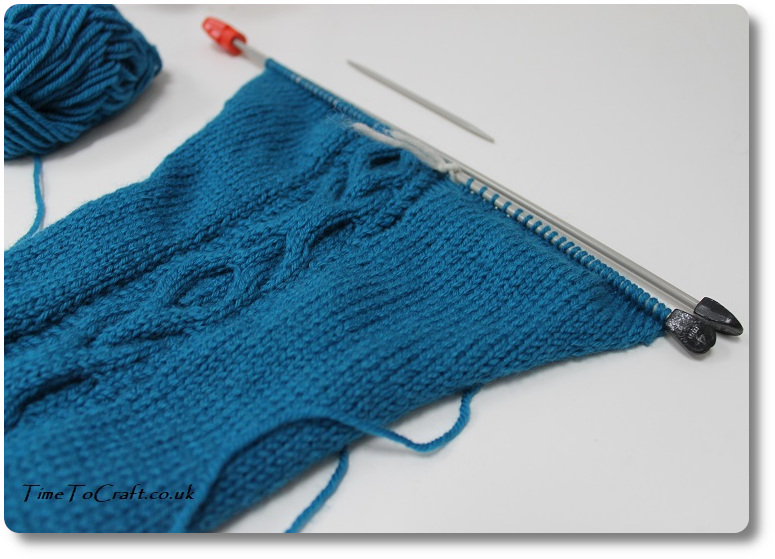 On to a knitting update next. I'm creeping up the sleeve of my blue jumper. Still at the stage of increasing the width, as I head for the shoulder. Probably the biggest news on this is that I've finally found the matching needle. Both are 4mm, but I've been using a slightly longer needle. The length gives a subtle difference to the balance, I find, but after a few rows it does make a difference. Trust me to find it after finishing one cardigan and almost finishing this one.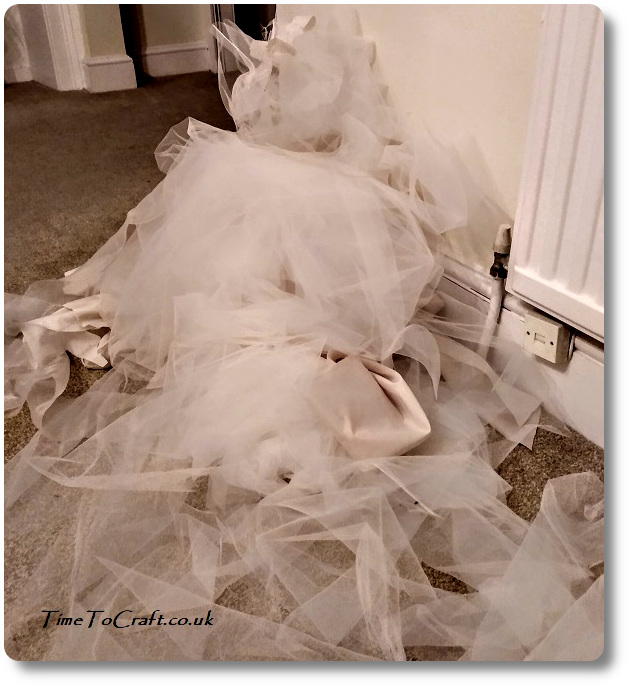 Oh and finally I need to add an explanation to this photo. I used it as my Sunday photo, but was too tired to add more. On Saturday, I spent the day with one of my nieces, who happens to be getting married this year. She found a dress that she loved and, without giving anything away, looked amazing in it. The dress although lovely had one feature that was going to prove a problem on the day.
Their reception is in a field. In the UK. If it doesn't rain on the day, the likelihood is that it will rain on the days running up to it, leaving the surface wet. Her dress had a train. It was also too long all round. By the end of their big day, sprinkling flower seeds on the dress's train might have been a totally viable option.  To cut (see what I did there) an extremely long story short and to avoid revealing any more details about the dress, the photo above is the remains of the train and length.
Watching her walk up and down her flat afterwards, wearing the dress, I could see how much easier it was for her. It will still get dirty to a certain extent, but it is now balanced. She is no longer fighting against the volumes of fabric. She was wearing the dress and not the other way round. The dress wearing her.
It was a long, long day and I wish I could have tidied up a few more bits, but she's happy. I couldn't imagine doing this for anyone else but my nieces or daughters. Full of admiration for seamstresses that make alterations for clients. It was such fun spending a whole day with her. Not sure I've ever done that before. We didn't stop talking.
So glad I could help. I feel honoured she trusted me.
I'll post up photos of the big day, so you can see the dress eventually.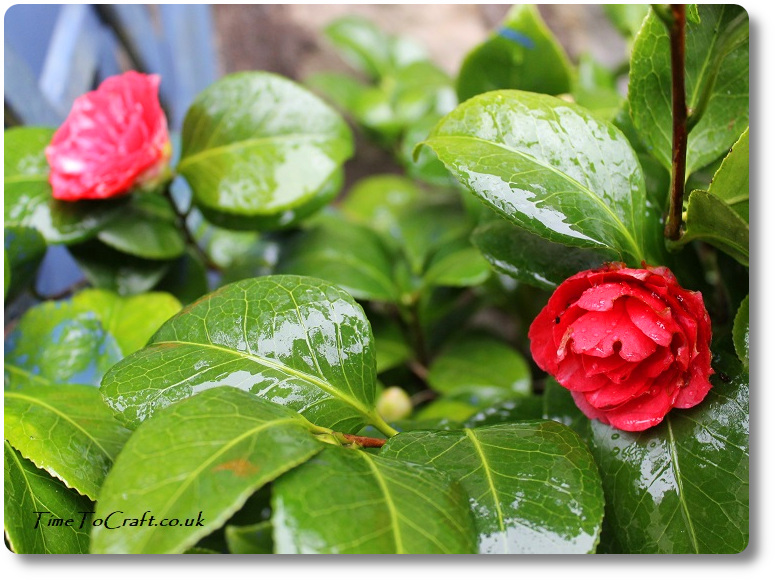 Photos
There have been cases when people lifted my photos and words, and used them without credit to me or asking permission first. Using them for their own commercial gain. I have now added a level of security to deter people from doing this. Apologies to people who do play nicely. If you would like to use any of my photos, please contact me.
Copyright notice:
All my words and photos are copyrighted to me. They cannot be used for commercial benefit by anyone else. If you would like to use any of them, then please ask me first and don't just take. Written permission only. Don't pass my words, photos or ideas off as your own. It's not nice.
Cookie Policy
Our web pages do not use cookies however this website uses Google Analytics, a web analytics service provided by Google, Inc. Google Analytics uses cookies to help us analyse how people use our site. The use of cookies by Google Analytics is subject to change.