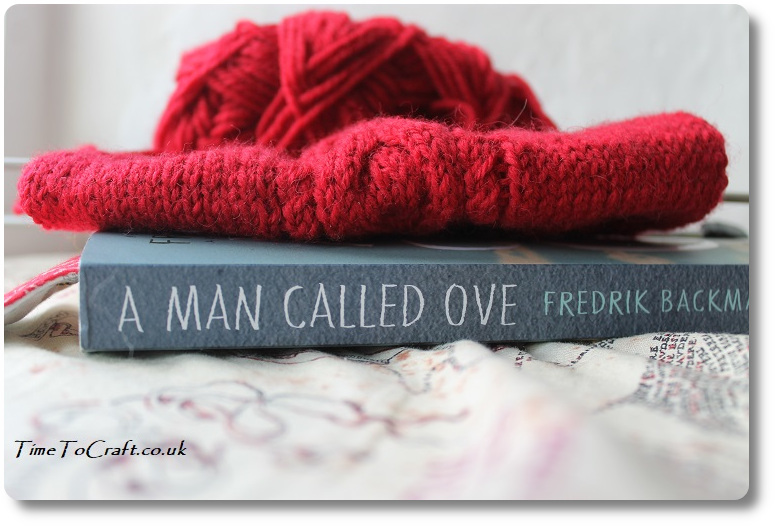 I very nearly missed my usually Yarn Along post this month. I didn't forget. No. It was totally down to making little progress with both knitting and book. Thought I'd slide on by to next month. No-one will notice. Instead I'll hope to add a few more rows, finish a book and join in next month. Then it hit me. It is not remotely honest. I'm only showing the times I make progress. How about the times I just stand still and achieve diddly squat?
So here it is. Same book. Same knitting, which in all fairness has grown but not as much as it should have done in a month.
This is the last sleeve. I'd like to finish it for Christmas. Red cardigan would tick so many boxes as I wish every one good tidings and good cheer, while enjoying a mulled wine and mince pie.
Now admittedly, I've not been twiddling my thumbs all month. I've made a couple of birthday presents, which have now been given.
First up are the gloves for my sister. This seemed to take a lot longer than usual to knit. I'm still mulling that one over.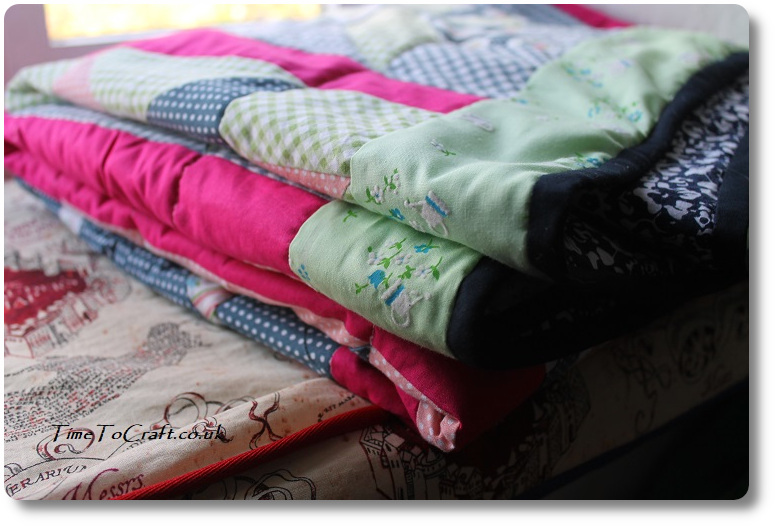 I've also finished my Middle Teen's quilt, which is gracing her bed as I write. My reading time was taken up by hand stitching this one. I love stitching just as much as reading. More about this quilt another time.
So maybe not the progress I wanted. I'm pleased with the gifts and loved the recipients' reactions. It's good to be back knitting my cable pattern again, with the end in sight.
More progress next time, I hope.
Joining in with Ginny's Yarn Along. What are you knitting at the moment?
There is something about an object with a story. A witness to the past. However humble it may be, turning it over in your hand, or stroking the surface, it has a tale to tell. Sometimes it is already known. Documented. Other times you can follow the clues. As a crafter, a real joy for me is that occasionally, I can add to its story, before setting it free to continue the journey.
These gloves are a good example.
Back in September, I picked up four balls of yarn from a charity shop. Each 1 ounce and 100% pure "new" wool.  Made in Great Britain. In other words, they had been spun and wrapped before the metric system was introduced into the UK. Before my time.
Judging by the font of the writing on the paper band around each ball, I guess that these balls of yarn had started their journey around the 1960s. Someone had bought them. Maybe there were more of them and only these four had been surplus to requirements. Were they stored away all that time, or had they jumped from one charity shop to another?
I only popped in to the shop, as I had unexpected bonus of time to kill. It was a lucky find. Priced at a level that I could never buy 100% pure wool in a modern wool shop.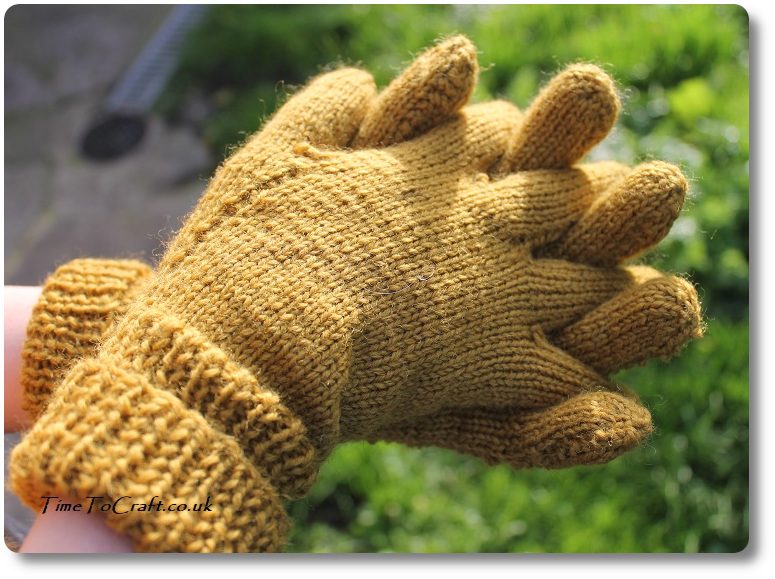 I knew straight away that they would make a perfect pair of gloves. Also, who they should be given to. I dug out my favourite vintage glove pattern, which I've knitted many times. The pattern used to belong to my grandmother. It has her notes, scribbled all over it. Anyway, it felt like the right period.
I made a mistake with the sizing. I knitted one glove and had to undo it. Second time around, I knitted both gloves at the same time. With something like gloves, it makes sure that they match.
The gloves are now finished and gifted on to my sister. I've told her that once she is finished with them, that she should send them on their journey. Set free from their paper band and their charity shop basket, they feel like they need to continue their story. She says that it won't be for a while. They are exceedingly warm to wear. I hope that they will journey with her for a bit.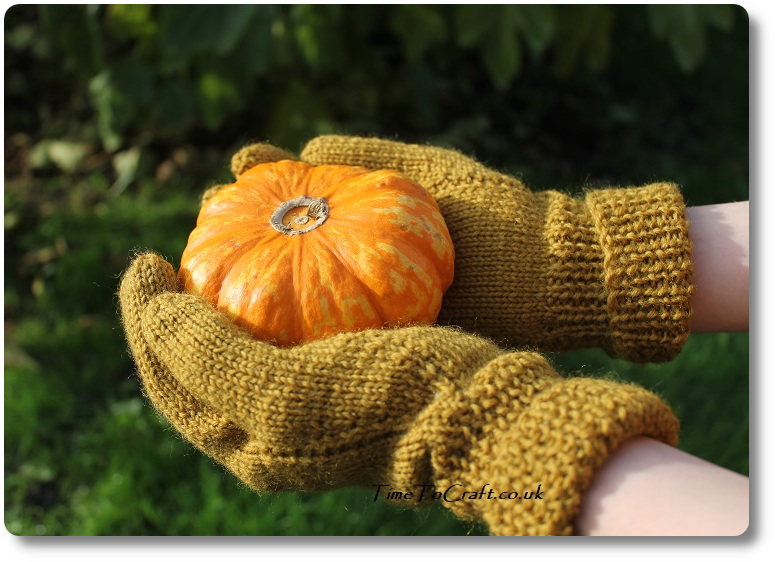 So the moral of the story is to check out the odd ball section of the charity shops. There is a chance that you might just find something that deserves a turn to be set free.
I still have two balls left. I already know what to make from them.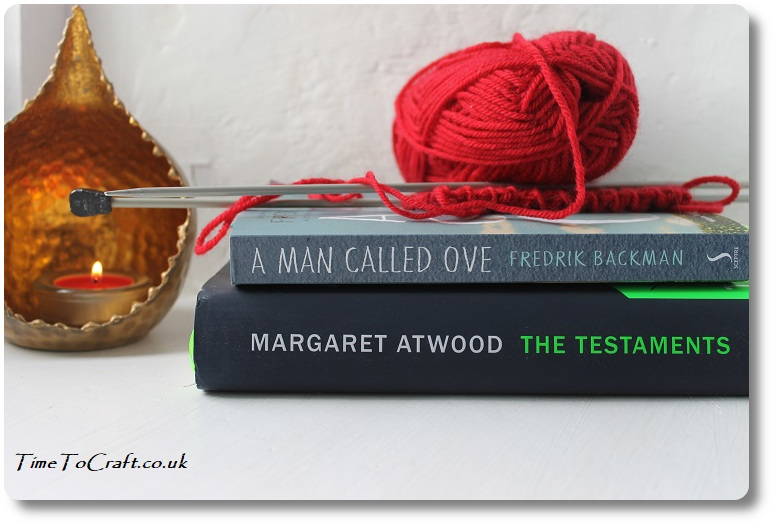 And just like that, we're back to autumn. Can you believe it? After the whirlwind of the summer months, I'm secretly grateful for the excuse of shorter days, to take it easier in the evenings. I love my kitchen garden. I really do. Pottering around at the end of the day, is such a joy, but I'm ready for a change in pace. Especially if it involves more reading and a chance to finish some of my knitting projects.
Time for my Yarn Along update.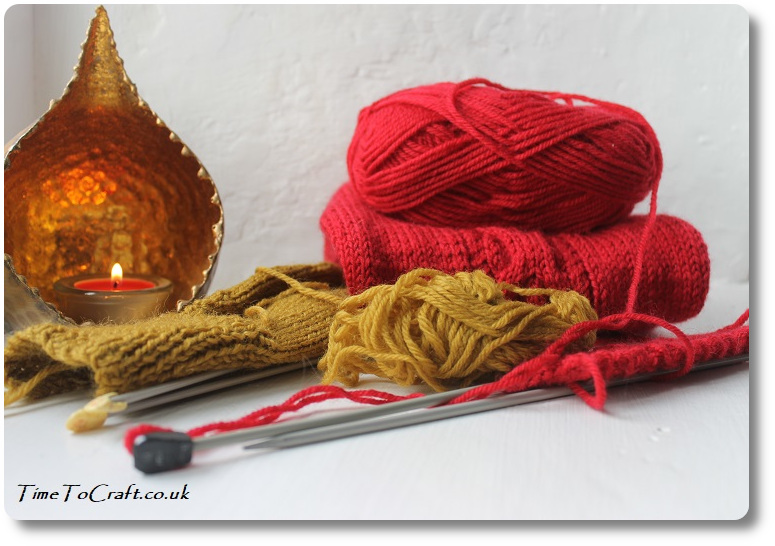 Knitting
I've made progress. Little dance of joy. My red cardigan now has a left sleeve, as well as a back and  two fronts. When I think back to knitting the purple version of this cardigan, earlier this year, it took a month. A month! The current cardigan is taking….erm…many more., but I'm OK with it. Was I really planning on wearing  it before November?
I've also knitted a dishcloth, which I love using. I'm on the look out for more cotton yarn, as I could do with a couple more. They are the best cloths ever.
Sneaking into the photo is another project. I've started my gift making. Such a gorgeous autumn colour and vintage yarn, from the 50s, I picked up in a charity shop recently. Very pleased with it. Obviously can't say more, seeing as it's intended as a gift.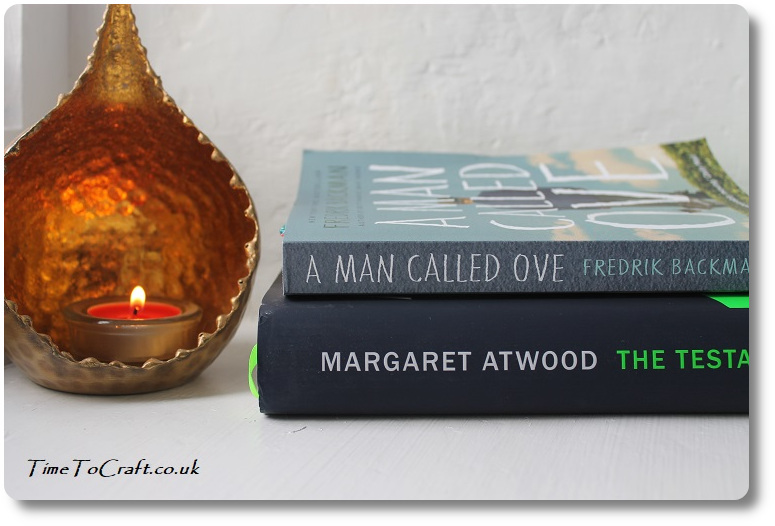 Books (some affiliated links)
Total change. I read Margaret Atwood's The Testaments. I've been looking forward to reading it, as I was completely bowled over by the Handmaid's Tale when I first read it in my 20s. I picked the Tale up one evening and couldn't put the book down until the wee hours, when I finished it. The story haunted me. Found echoes in the world around me, as the decades past by. It horrified and shocked me. I couldn't watch the TV series, as the book was enough. I didn't want to spoil it. Most definitely in my top ten books.
I may be alone in this thought, but I didn't feel that The Handmaid's Tale needed a sequel. It could stand alone. Yes, it was interesting to see what happened to the next generation and where the political system would take the nation, but it would never be able to shock me in the same way as the first book did. I was right.
The Testaments is the sort of book that you need to sit down and read the first few chapters, in order to follow the hopping around between the different characters' stories, as they are introduced, and the time shifts. I found seeing Gilead from outside the regime, was interesting and definitely added to the story. It raises interesting questions, about how would you have acted in the same circumstances. The three leading characters, who narrate the story, are gutsy and you want to see them win through.
There is a twist. I won't spoil it, but I thought it was pretty obvious soon into the story. Was that intended? Did it matter? Probably not. It is a good book. Possibly it would rate higher for me if it didn't have to be compared to the first book. Good, but not as formidable and monumental as The Handmaid's Tale.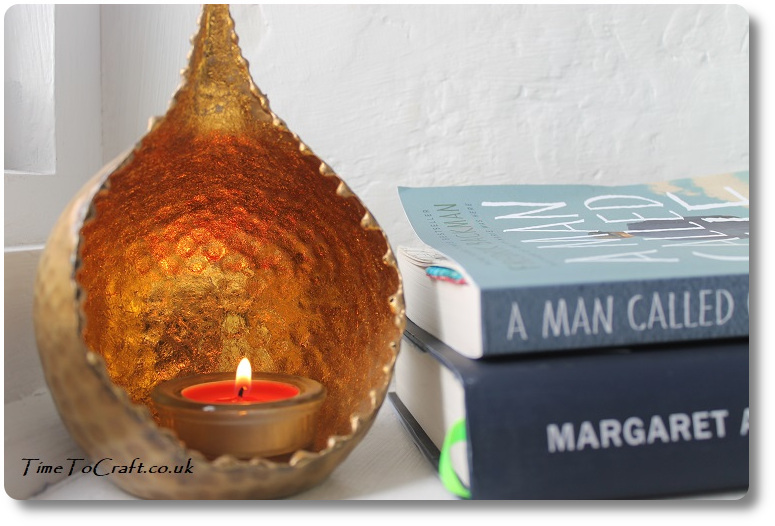 I needed something lighter next. Thank you to everyone that suggested A Man Called Ove. Early days with this one, but I think I'll enjoy it.
I'm joining in with Ginny's Yarn Along  and Anne's Bookworms Monthly. I'd love to know what you are reading. Have you read The Testaments, and if so what did you think?
Photos
There have been cases when people lifted my photos and words, and used them without credit to me or asking permission first. Using them for their own commercial gain. I have now added a level of security to deter people from doing this. Apologies to people who do play nicely. If you would like to use any of my photos, please contact me.
Copyright notice:
All my words and photos are copyrighted to me. They cannot be used for commercial benefit by anyone else. If you would like to use any of them, then please ask me first and don't just take. Written permission only. Don't pass my words, photos or ideas off as your own. It's not nice.
Cookie Policy
Our web pages do not use cookies however this website uses Google Analytics, a web analytics service provided by Google, Inc. Google Analytics uses cookies to help us analyse how people use our site. The use of cookies by Google Analytics is subject to change.