I can't believe it's July already. How did that happen? June seemed to disappear in a blink of an eye. Although, I have to admit, if I look out in the garden, it does look as if a month has passed. So much has grown.
First Wednesday of the month means that it's time for the monthly update on my knitting project and book. I have made a bit of progress this month. Unbelievable considering how much time I'm spending in the garden and keeping the children on track with their studies. Not forgetting the small matter that I have a job too.
So, with no further ado, I'll make this a speedy update.
Knitting
I've finished the back of the blue jumper. It is knitting up faster than I thought it would, which bizarrely, is not how I intended this to work out. This project is all about the journey and not the finished product. Not that I'll ignore it once it is finished. It's more about mindless knitting. Something for me to knit at odd moments, when my brain needs a rest. I'm currently working my way up the front of the jumper and progressing quickly now that I'm passed the ribbing.
Working from the cone can be deceptive. It doesn't seem to shrink, in the same way as a ball of wool. The combination of thin yarn and slowly unwinding makes it seem like a never-ending yarn cone.
Book (Affiliated links)
I've changed books. Last month, I had just started The Invention of Wings. It is a perfect pick up and read book, which fits in fine with my time at the moment. One night, I decided to read it before bedtime. Big mistake. I spent the rest of the night unable to sleep, going over what I had read. Pretty disturbing, to be honest. I have now banned the book to day time reading only. Instead in the evenings, I'm reading Oscar Wilde's Complete plays. A bit lighter and safer before I go to sleep. Thank goodness.
That pretty much wraps it up. Ending with a poppy from the garden. I love the structure and the colours. I'm really struck by how this one looks as if someone fitted it out with badly set piano keys and a fancy pudding mould.
Joining in with Ginny's Yarn Along. What's everyone else reading and knitting?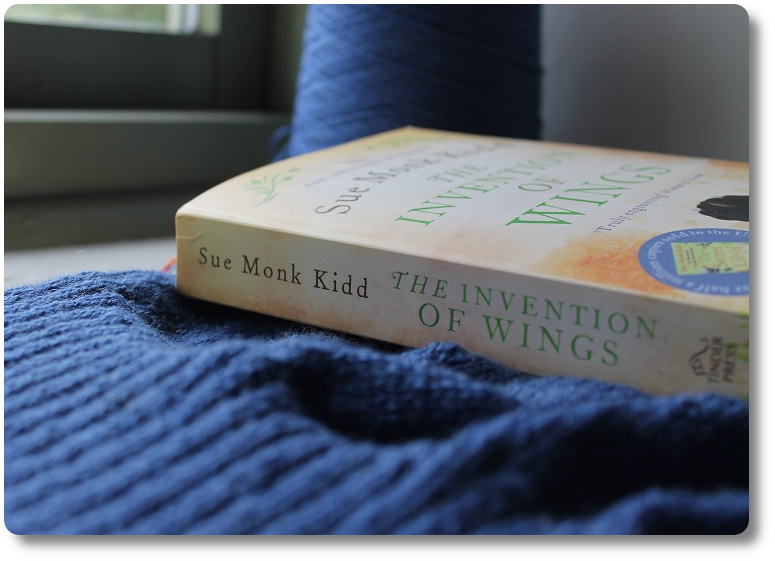 Yarn Along time again. Combining two of my favourite things. Knitting and reading.
Knitting
I've started knitting a blue jumper. I've not knitted anything big in 4 ply for a while (that's sport for US readers). I wanted a slow, non-fiddly knit, to knit in the evenings when I was about finished for the day. This one is perfect. Saying that, I've almost knitted up the front to the point I need to decrease for the raglan sleeves, so maybe it's not as slow as I thought.
The pattern is King Cole 3755. I'm using King Cole Merino blend, which comes on a cone, from The Knitting Network (not an ad). I love knitting from a cone, as there is no playing yarn chicken at the end of each ball. (translate: do I have enough yarn to finish this knitted row/garment? Should I swap to a new ball of wool now to avoid tying the new yarn in half way through the new row?)
I use the dk version of this yarn and love the merino blend. It doesn't irritate my hands as I knit and I can wash it on the wool cycle in my washing machine. I'm hoping that I can do the same for the 4ply.
Hopefully, next month I will still be knitting this one, as it requires very little thinking and that is just the type of project I need at the moment.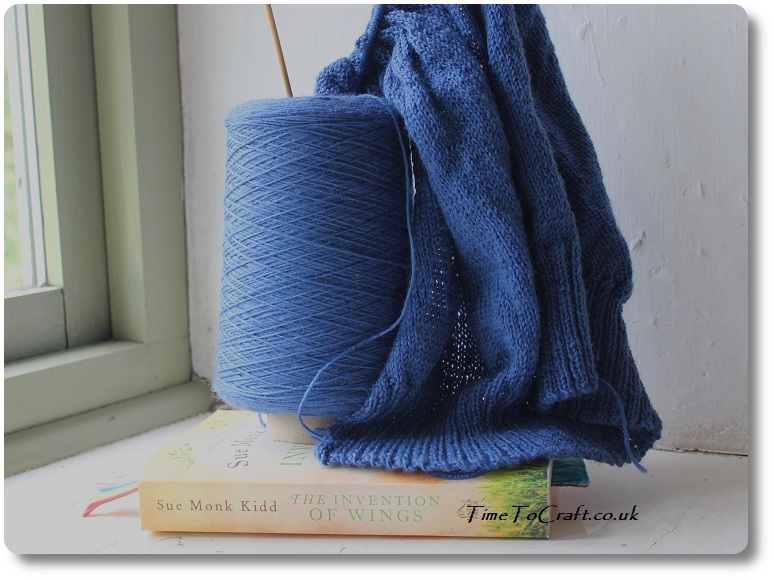 Book
I'm reading (affiliated links*) The Invention of Wings by Sue Monk Kidd. I love the Secret Lives of Bees by the same author and thought this might be good too. It's based on a true story of two sisters that fought against the slave trade in South Carolina during the 1830s. The book is broken into small chapters, with Sarah and Hetty taking turns to tell the story. Sarah, one of the sisters, is given Hetty as a slave on her 11th birthday. Sarah is unwilling to own a slave and Hetty, whose basket name is Handful, struggles to fit the role. Neither have a choice. I'm only part way through at the moment, but it certainly is interesting.
Slow progress at the moment, as I'm spending any spare time in the garden. I still have plants in the greenhouses waiting to be planted outside. Knitting and reading definitely take a back seat at this time of year.
So. What's everyone else reading and knitting?
It seems that the combination of spring and lockdown, this year, killed my crafting mojo. It just went. Even at the end of the day, when usually I'd have something keeping my fingers busy, there was diddly squat going on. Imagine tumbleweed. Actually scrub that. Imagine the dusty, deserted road without the tumbleweed tumbling. Nothing. I toyed with finishing my cardigan, but it really wasn't enough to ignite any sign of enthusiasm.
The garden is looking good and the family have found a good rhythm and are happy, so I'm not complaining. My energy and focus was elsewhere. Autopilot was off and I was flying manual for everyday tasks. Something had to give and it turned out crafting was the one.
It did feel like something was missing. An empty feeling.
Yesterday afternoon, I downed tools (or keyboard, to be more precise) and cut out a dress. I really need a new summer, everyday dress for hanging around the house. Especially with the glorious weather we have at the moment.  I've made a wardrobe of dresses, but mostly they fit into the work or going out categories. Formal. Not much call for that at the moment. If I dressed up in one of those, the neighbours might wonder what I was up to. Not my usual gardening gear.
A month ago, I picked up a couple of metres of cotton lawn. It is a light grey with small, intricate flowers. It's soft and drapey, which should be comfortable. I chose a pattern, that in retrospect, was probably influenced by all the VE day celebrations that were building up at the time. A tea dress of sorts. It is McCall's M7084 and I'm making the B version.
It was good spending the afternoon planning and plotting how to lay out the pattern pieces, as I didn't have quite enough fabric, according to the pattern envelope. I'm also counting this as exercise, as half way through cutting it out, I remembered the workout my back muscles get from bending over the table, while pinning and cutting.
I'm going to do this dress in stages. Maybe the odd hour. Just as I did with the last everyday, summer dress I made. I used the same type of fabric, but this time the pattern has a lower waist that should be more flattering.
I've also started a new knitting project, for the evenings. My pink cardigan has reached the stage of picking up stitches along the front borders, which is not easy late at night. I needed a basic, no-brainer knit to do on autopilot. Something like a scarf, but I really don't need one of those. Instead, I chose an ordinary jumper. Nothing fancy. It uses 4 ply wool, so will take ages to knit. The yarn is so thin and the needles match it. Progress will be slow, which is what I need. My fingers can be busy, while my brain is elsewhere.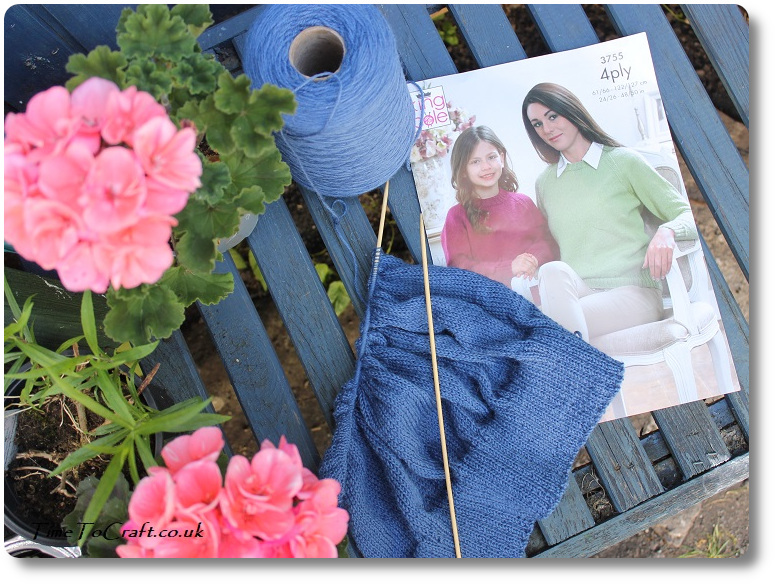 Although, this knitting is also good for picking up at other times too. Like sitting in the garden with cup of peppermint tea. Surrounded by geraniums.
I think I have a way forward. It does feel good to be working with textiles again. Hopefully I'll have a new handmade outfit, but really it's all about the journey and not the end point for me. Making pretty things is good for the soul.
I'm interested. Has anyone else found they've put their crafting aside in the last few months?
Photos
There have been cases when people lifted my photos and words, and used them without credit to me or asking permission first. Using them for their own commercial gain. I have now added a level of security to deter people from doing this. Apologies to people who do play nicely. If you would like to use any of my photos, please contact me.
Copyright notice:
All my words and photos are copyrighted to me. They cannot be used for commercial benefit by anyone else. If you would like to use any of them, then please ask me first and don't just take. Written permission only. Don't pass my words, photos or ideas off as your own. It's not nice.
Cookie Policy
Our web pages do not use cookies however this website uses Google Analytics, a web analytics service provided by Google, Inc. Google Analytics uses cookies to help us analyse how people use our site. The use of cookies by Google Analytics is subject to change.