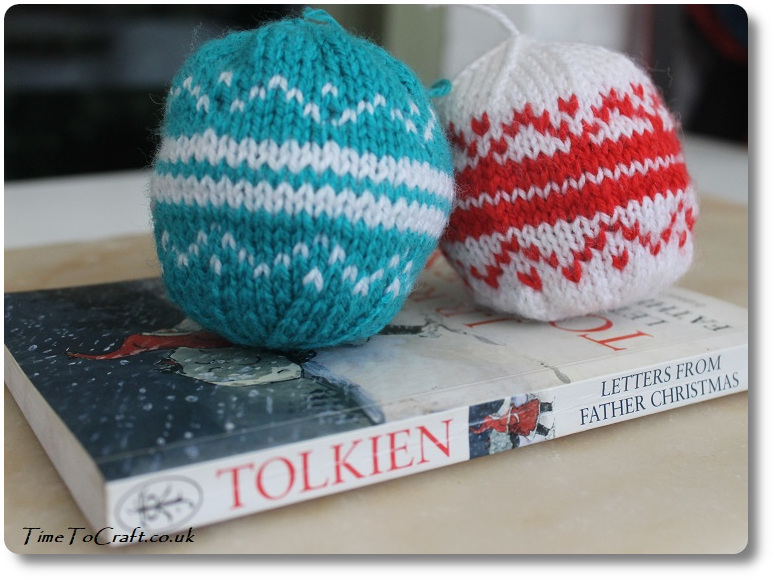 Have you ever read a book that you wish you had written? Maybe not exactly, but something along the same lines. Letters from Father Christmas (affiliated link) would most definitely be on my ever growing list. There are wild moments when I think I'd like to take a sabbatical and write a book. One for my children, I think, but hopefully enjoyed by all. It would contain hidden details, which only they would pick up on, and they'd ow and ah when they spotted them. Something only a parent could include. Most importantly it would have stories to entertain and relate to, just as Tolkien did.
Not that I could or would want to compete with Tolkien. I'd have my own stories to tell. Adding my humour, and bringing it up to date. The polar bear would undoubtedly be there, assisting Father Christmas. I'd have my own host of characters to weave into my tales.
It would be written as letters to my children, just as Tolkien did. It would be fun to write. Maybe one day. Oh, and I would ask middle teen to illustrate it. It is just her style.
Not that my children have missed out by my current lack of book writing. They used to receive beautiful letters from Father Christmas each year. The letters stopped a couple of years back, as all his communication does eventually.  The style, stories and illustrations were very similar to the ones in Letters from Father Christmas, but slightly more contemporary.
Tied up with a red ribbon, they'd appear by the fireplace on a morning, running up to Christmas Day. Sometimes sent in an envelope covered with eye catching illustrations. I found myself stopping to take in every detail. Each letter has been kept and re-read. No, they have not missed out.
I find myself dipping into Tolkien's book each year. It has become part of my Christmas tradition, and nudges me nicely into a suitable festive mood. I never read the whole book. And never in the right order. That's me.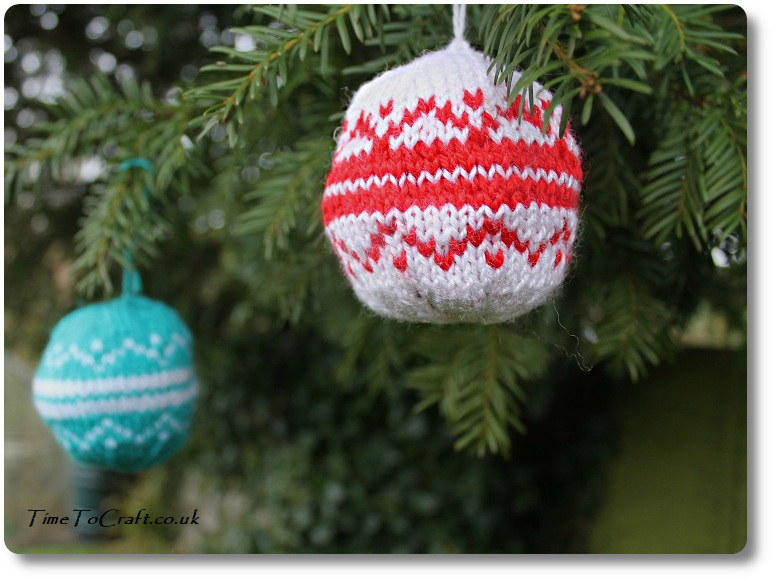 Another tradition that seems to have crept up without much of a to-do, is to knit up another clutch of tree decorations. They are quick and give me something to do in between making presents. Unlike the gifts I make, I am free to post them up here. (In other words, I can't show you my main knitting project!)
I've been working on knitted baubles. Three knitted so far, although one has not made the cut. Less said about that the better! I do like the fair isle pair. They are knitted flat and then the seam is sewn up.
My mother passed the pattern on to me. It's taken from a Yours magazine. There is no date on it. I'm going to try my own fair isle pattern on the next one.
I've stuffed them with wool, but they do lose their shape easily. I'd like to use something, like a polystyrene ball, to give them a firmer structure. I'm on the look out for something suitable that I can recycle rather than buying new.
I'm joining in with Ginny's Yarn Along. Current book and knitting. I'd love to know what you are reading. So, which books are on your stack to read?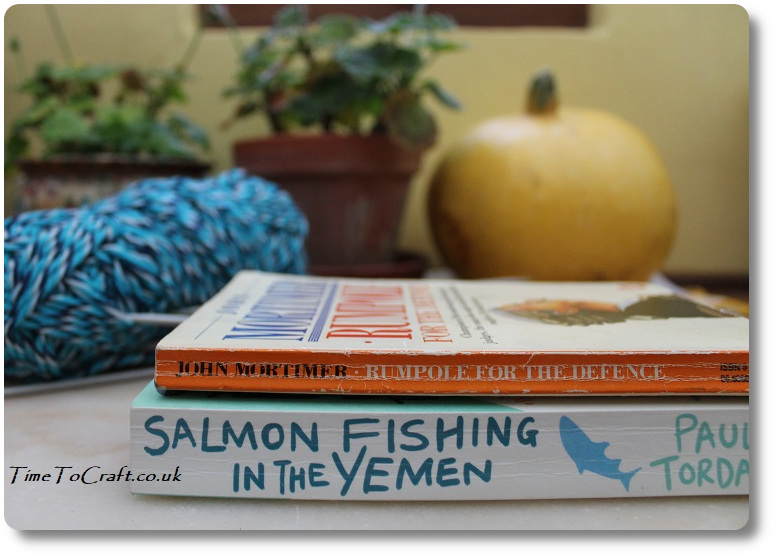 We've reached the point of the year when the fire is roaring in the wood burner most evenings. Not that it's nose tingly cold, but it does take the chill off the room. It's dark early. What a contrast to back in the summer, when I'd be out in the garden till late. Pottering around. Enjoying the extra time. I'd gladly volunteer to pop out in the car, if we needed something, or to drop one of the children off. It seemed no hardship. "It's OK. I don't mind. I'll pick up some more milk, while I'm at it", as I grabbed my car keys. It was still light.
Now the house is surrounded in darkness by five o'clock and, for all I know, the rest of the world has vanished. No streetlights or car headlights to be seen, as we're tucked away from it all. The urge to curl up in a chair, with my feet warming by the fire, is undeniable. Maybe a good book or another row of knitting, preferably with a hot chocolate on the table beside me. A marshmallow melting on the top. One thing is for sure, there is no way you'll catch me venturing forth on a whim. Not on your nelly, Miss Kelly! Not if I can help it.
It does mean I have time to concentrate on other hobbies. A lovely indulgence. It's the first Wednesday of the month, so I'm sharing my current knit and book with Ginny's Yarn Along. First up, my knitting roundup for the month.
At the end of October, I finished my purple jumper. I loved knitting it. I'm really happy with the colour. Plus it was proof that knitting a jumper, in a month or two, is perfectly possible for me to do. It was quick. The neckline is pleasing and the sleeve length just right.  I've worn it a few times now and have felt wonderfully toasty.
I wish I had knitted the body length a couple more inches longer, or maybe shorter, as the hem hits me just in the wrong place. To add insult to injury, the hem has turned out a bit flappy and looser than I'd like. This is most definitely not flattering.
The pattern is Sirdar 8067 pattern and I used Sirdar Harrap Tweed to knit it. I changed the design of the hem, which is where the problem with the flappiness stems from. The wool is gorgeous. It gives a tweedy look to the jumper. Reminds me of the heather on the moors.
I have an idea how I can save this jumper, but it will have to wait until I finish my Christmas knitting. For now I can wear it.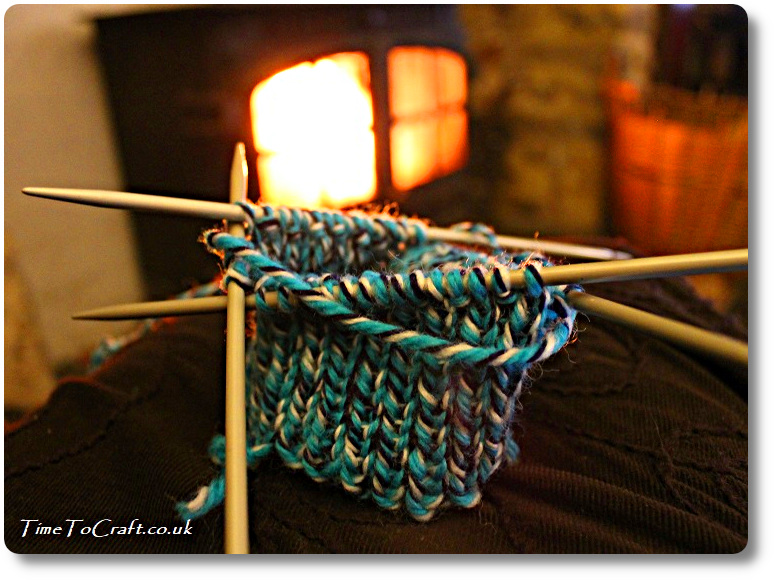 I'm busy knitting for Christmas, so I can't say too much about it, just in case the intended recipient is reading this, except the wool is Swedish, which doesn't give much away.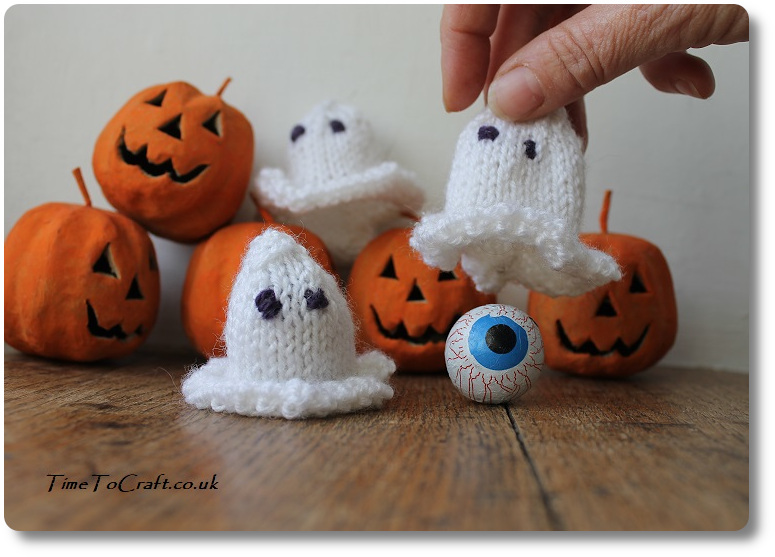 I also knitted a few ghosts for Halloween. Exceedingly quick and satisfying. By the end of Halloween, they were up on the points of our (papier mache) deer head above the inglenook. They looked just the right amount of spooky.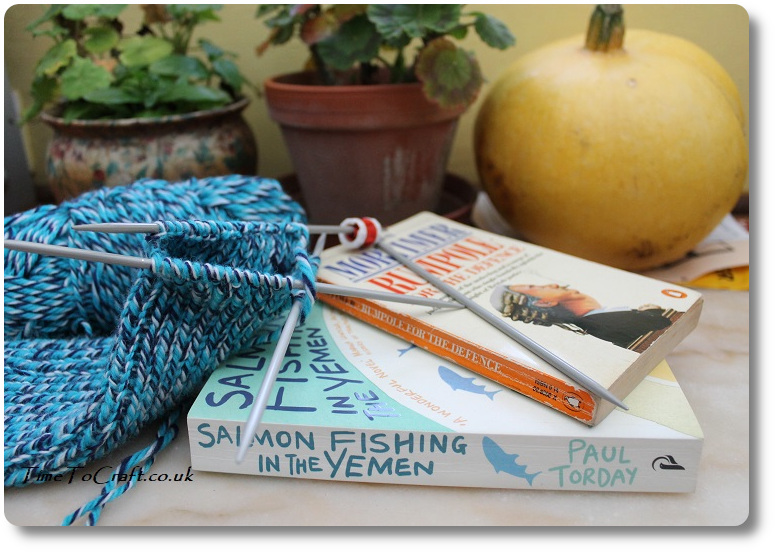 Books. I've taken to having two books on the go. One in the car and one in the house. I learnt a lesson a few months ago, when my car broke down and I was stuck for 4 hours, waiting for a tow truck big enough to rescue it. Oh, the joy. I had no book. Ever since, I have kept one in the glove compartment (and changed the car). An easy and light one to pick up and put down. I read it when I'm waiting to pick up the children from their various activities. I chose Rumpole  (affiliated link) as it never fails to make me smile. I've read it before, but it's been long enough ago for me not to remember the endings to each of the stories.
I've had Salmon Fishing in Yemen (affiliated link) on the bookshelf for a while. I bought it from a charity shop when eldest was reading books from around the world, as a reading challenge. I don't think she read it. I've seen the film and am looking forward to seeing how it differs. Not too far into it yet, so I can't add much more.
The irony of this post is that I'm actually writing it in the car, waiting for youngest to finish one of his clubs. Trampolining. It's dark and I want to be home. I'm planning to occupy the seat nearest the fire when I get home, which hopefully one of the family will have lit already, and indulge in just a bit more knitting.
(edited: the fire wasn't on, but supper was ready as we walked in the door. I did get the seat next to the unlit fire, but promptly fell asleep exhausted, so didn't miss the fire or get much knitting done! I tell you, people, I live the life.)
How about you? Have you got a knitting project on the go? What are you reading at the moment?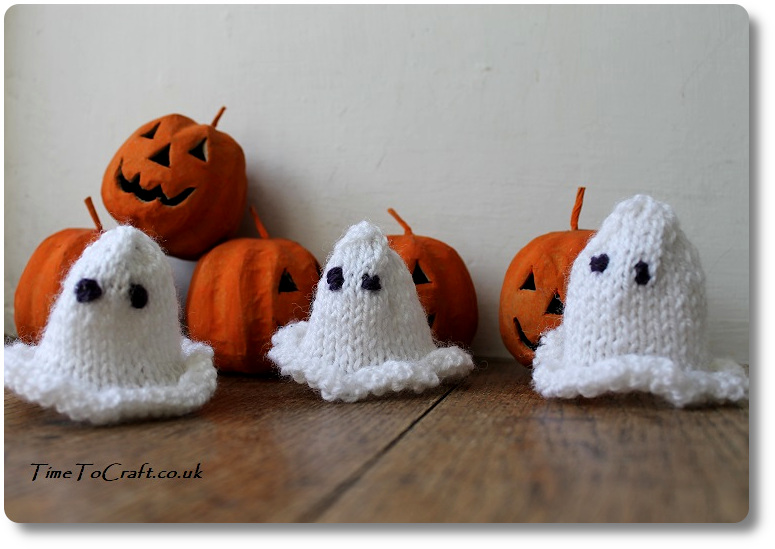 Instagram is full of smiling children posing with pumpkins in…. well, pumpkin fields. Blue sky and rosy cheeks. Absolutely gorgeous. Or slightly blurry photos of autumn leaves being kicked and waterfalling down around a small gaggle of giggling children. Dogs barking in the excitement. Oh can you hear it? The rustle and laughter. The fun!Half term is in full swing for most children in the UK.
Or so it seems.
There are still some children (about half in number) counting down the hours until their half term starts, next week. Tick, tick. Tired and unamused. Still stuck in class. Struggling to make it up in time for the morning school bus.
My three are counted in this group. Petty arguments blow in from nowhere. Jokes are taken as personal attacks. They are tired. Oh so tired. I do pity the teachers that have to make the last week survivable for everyone.
Hmm. Time to wave my magic wand. Or pointy sticks, as the case may be this time.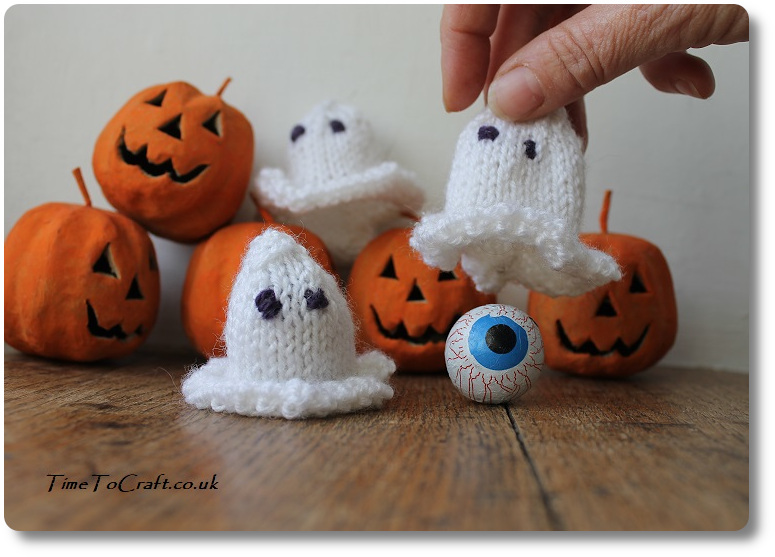 Now, I can't make time move faster. To be honest, I wouldn't even if I could. Wishing your life away is something I am not signed up for. Instead I can sugar coat it a bit. Add some nonsense. I'm good at that.
So, this week, I knitted three ghosts.  Quick and easy. A bit of nonsense at its best. Each morning, the ghosts have been waiting on the breakfast table. One for each. Under the ghosts are a Halloween themed chocolate. Varies each time. The big eyeball had popping candy in it, which I somehow forgot to mention. Always a good way to make their eyes open wide first thing. Or any time, come to think of it.
Eldest teen reached for her ghost this morning, and uttered that she was in need of chocolate, as her head hit the table again. I feel her pain. If these ghosts can help her morning go a bit sweeter, then I know I'm winning.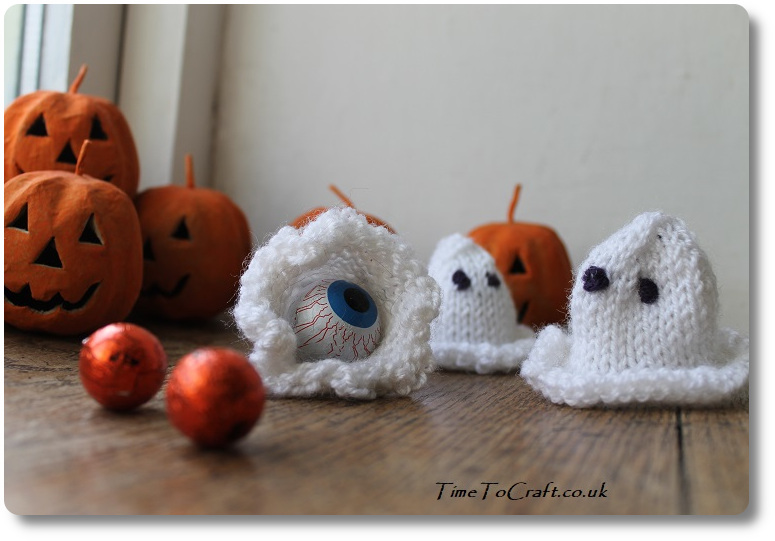 One of them did suggest that I should only put two ghosts on the table. Like musical chairs but with ghosts. One less each day. Last one down misses out, but I think this might be a step too far. Also I have images of broken arms and black eyes as they endeavour to be the first down. Not really the result I am after. Definitely not. Harmony would be nice, but I just want them up in time in the morning.
Has it worked? Well, I think it has. They were all ready in time this morning. One to me then!
victory dance around the kitchen table
Now, in case you have children struggling to get up and would like to knit your own ghost, here are the instructions. Or just fancy making a few ghosts, of course. A bit of nonsense never goes amiss.
Knitted ghost
a ball of dk wool, white
4mm needles
small amount of black yarn
cast on 50 stitches
knit 1 row
purl 1 row
knit 2 together, repeat to the end of the row (25 stitches)
stocking stitch 10 rows (knit 1 row, purl 1 row)
(knit 2 together, knit 3) repeat to end
purl 1 row
(knit 2 together, knit 2) repeat to end
(purl 2 together, purl 2) repeat to end, purl 1
(knit 2 together, knit 1) repeat to end, knit 2 together
(purl 2 together) repeat to end, purl 1
cut off yarn, leaving a couple of inches of yarn to sew with. Thread through the remaining 4 stitches and pull. Secure and sew up the seam of the ghost.
Use black wool to sew eyes
Finished, except for hiding the chocolate.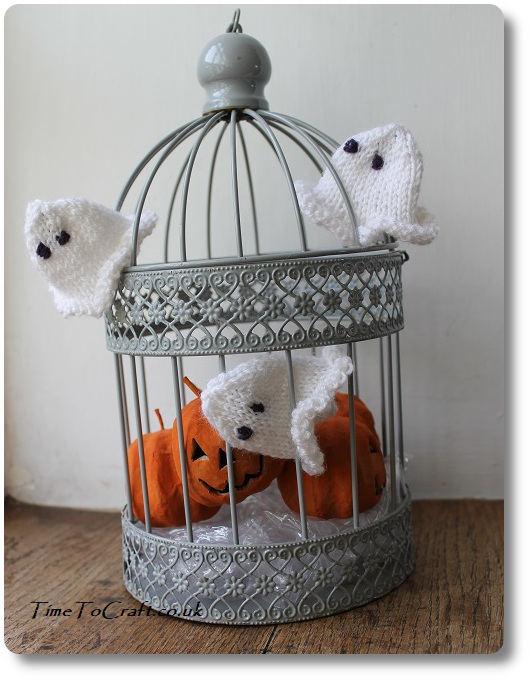 After that, I cannot be responsible for any mischief the ghosts get up to. I have my own work cut out, with these three.
Photos
There have been cases when people lifted my photos and words, and used them without credit to me or asking permission first. Using them for their own commercial gain. I have now added a level of security to deter people from doing this. Apologies to people who do play nicely. If you would like to use any of my photos, please contact me.
Copyright notice:
All my words and photos are copyrighted to me. They cannot be used for commercial benefit by anyone else. If you would like to use any of them, then please ask me first and don't just take. Written permission only. Don't pass my words, photos or ideas off as your own. It's not nice.
Cookie Policy
Our web pages do not use cookies however this website uses Google Analytics, a web analytics service provided by Google, Inc. Google Analytics uses cookies to help us analyse how people use our site. The use of cookies by Google Analytics is subject to change.