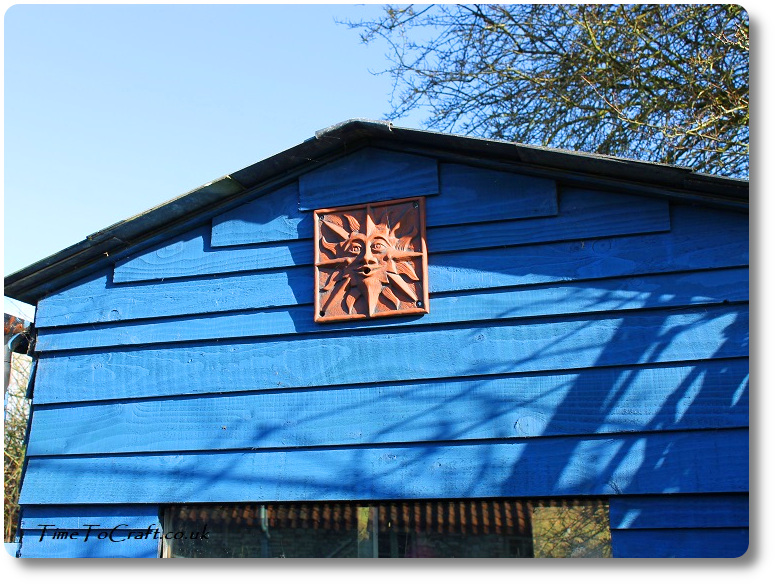 This week on the whole, has been good. OK, my car is still causing mechanics to scratch their heads in a less than pleasing way, but the rest of the week has made me smile.
We had our first 6th form parents evening for eldest. Only three teachers to see, compared to the usual 10 or 12 in previous years. Ten minute appointments instead of the five, so through in half an hour-ish. She seems to be doing well. Areas to work on, but she has coped admirably with the jump from GCSE to A levels in her usual confident style and I'm proud of her. It was also good to see where she spends her day.
She's also pleased as she's battled through the madness of online ticket buying and bought tickets for a concert she wants to go to in London. She missed out last time, so is bouncing now. Oh to be a teen! Not something I say often. I've had conversations this week with both my teens that make me happy at how they are navigating the world as teens. It is tough. They are encountering areas of life that as a parent, you just want to wrap them up from, but you can't. It prepares them for the bigger world. I'm heartened that they are trusting their instincts, holding on to their judgement and learning the right time to say no. Plus they are talking to me about it all.
All three children have come home with good test scores, this week. Another reason to smile.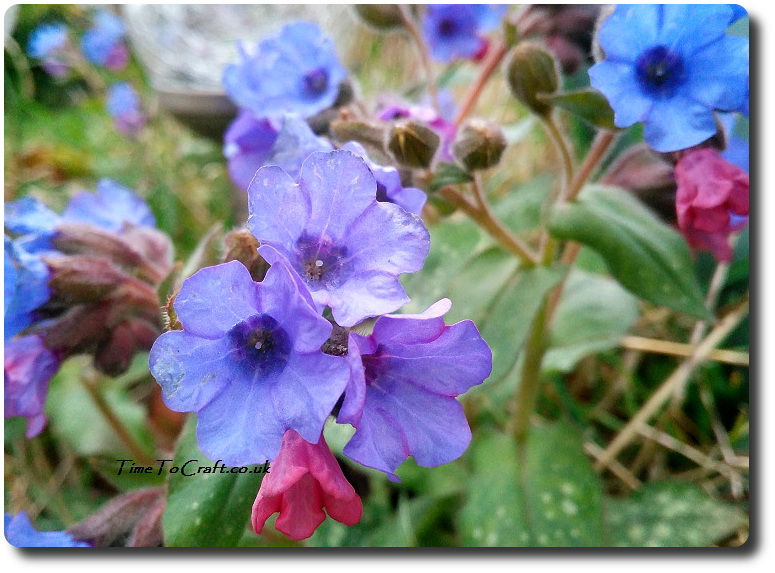 (pulmonaria aka lungwort)
I decluttered the house a bit more. We took toys and clothes down to our local Clic charity shop. Sad to see some of the well loved toys go, but they haven't played with them for years. I think they were all pleased to think other children would have fun with them and money will hopefully be raised.
My patchwork quilt is coming on. I've only a few more blocks left to do, which hopefully I'll finish over the weekend. Then it will be time to decide on the colour that goes in between the blocks. I love playing with colours.
Finally, my ultimate smile for the week, I finished knitting my cardigan. I've already written about it. After wearing it for a few days, I'm still ridiculously happy with it. Usually I'm reticent about wearing something I've just made. Especially knits. They have a tendency to make me feel, for the want of a better word, mumsy. This one I've worn every day and even to the parents evening. Unheard of! It is a winner. The hem seems to be falling into line, as I wear it, so fingers crossed I won't need to alter it.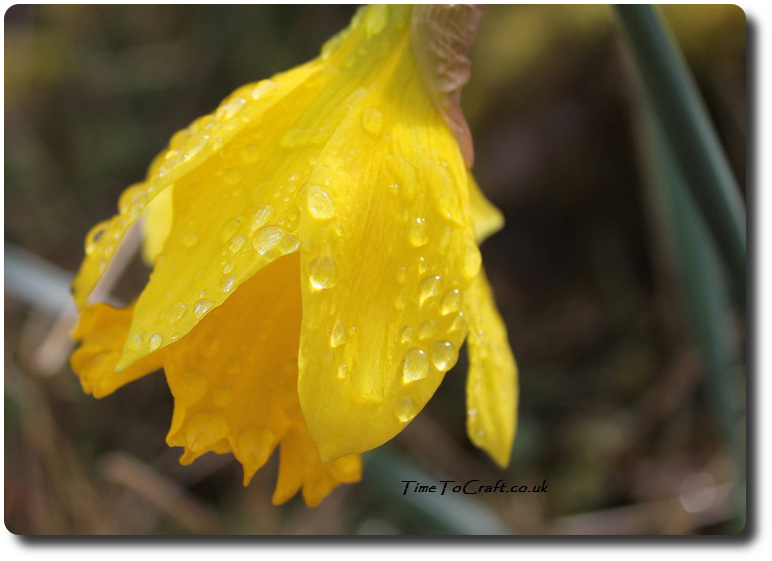 A good week, on the whole. The garden is breaking out into spring colours. As I type, I can see a small patch of grape hyacinths, pulmonaria and daffodils all huddled together through the window. Beautiful blend of pinks, yellows and blues, with a touch of purple. I'm awake each morning for the dawn chorus and to hear the newly returned geese complete their morning fly over. Spring is tantalising close.
Joining in Anne's word of the week. My word is smile. Hope you've had a week that made you smile too.
I finished knitting my purple cardigan. I love it. It could very well be the best thing I've ever knitted. I'm really happy with the fit and love wearing it. From my notes, I reckon it's taken me eight weeks to knit, which is impressive for me.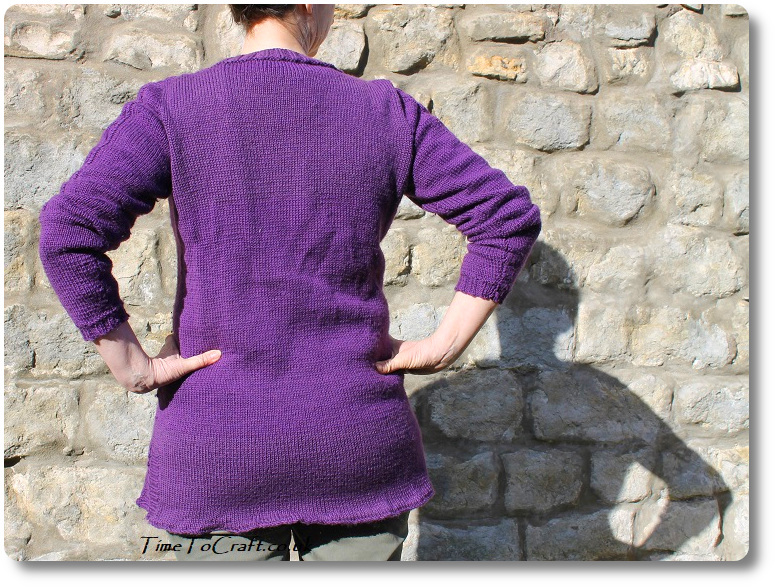 The only part I need to work on is the curling hem. I have blocked it, but not enough, it seems. If anyone has got a tried and tested method to make the hem behave, please let me know.
I used King Cole Merino blend dk. 100% wool. It is now my favourite yarn to use. A real pleasure to knit with. I've made hats with it before as it's anti-tickle, and have often thought it would be good for something bigger. I bought the yarn in the sales, which reduced the cost down to a do-able price. I've found it priced at anything between £3 to £3.79 per ball. Back in January, I bought it for £1.79 per ball making the cardigan work out at just over £25 to make, instead of the usual £42. Perfect!
The cardigan pattern is King Cole 4076. There is a choice of a cardigan or jumper. Both are long line with side vents. I found the pattern straightforward. The cable panel is easy once you get into the swing of it. After a while, I stopped referring to the instructions, as the it's obvious what to do from the previous row, if you see what I mean. Total joy to knit.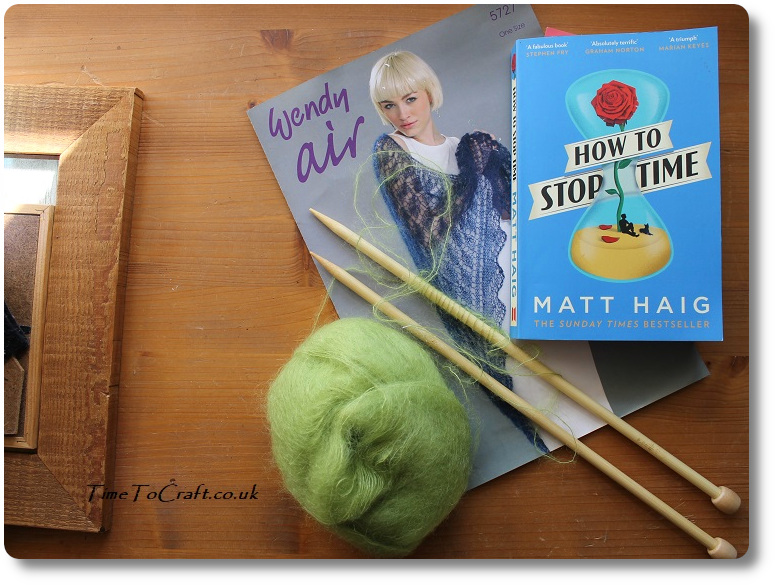 So on to the next knit. Yes, I've cast on, but the photo really doesn't give a fair representation of the amount of time it has taken. I'm using Wendy air yarn. It is wispy thin. Never underestimate how long it can take to find the start of the yarn in a ball like this. Lots. I've tried the first row a few times, but undone it. I'm not charging ahead with this one. I'm sure I'll find my way with it. Eventually. It is such a contrast from my last project.
As it's Yarn Along time again, I'm including my book, which I am loving. Matt Haig's How to Stop Time. I've nearly finished it and am dragging out the end, because I don't want to finish it yet. Savouring every last page. It is difficult to put down. It's so good, I find myself reading and preparing the evening meal at the same time. The book in one hand and a spoon in the other. Children mumbling that I'm ignoring them.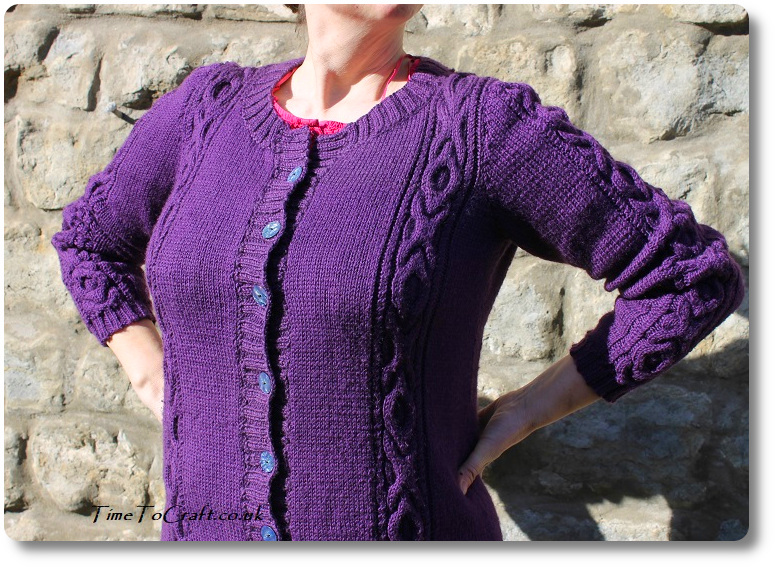 Last photo of my cardigan. I've ordered some more wool to make the jumper version next. I've found it again at the same price, so hopefully they have enough of the same dye lot, which caught me out last time. I had to change colours. Fingers crossed. It is such a good pattern.
Joining in with Ginny's Yarn Along. What have you got on the needles at the moment? Are you reading a good book? Oh, and any advise on my curling hem, would be much appreciated.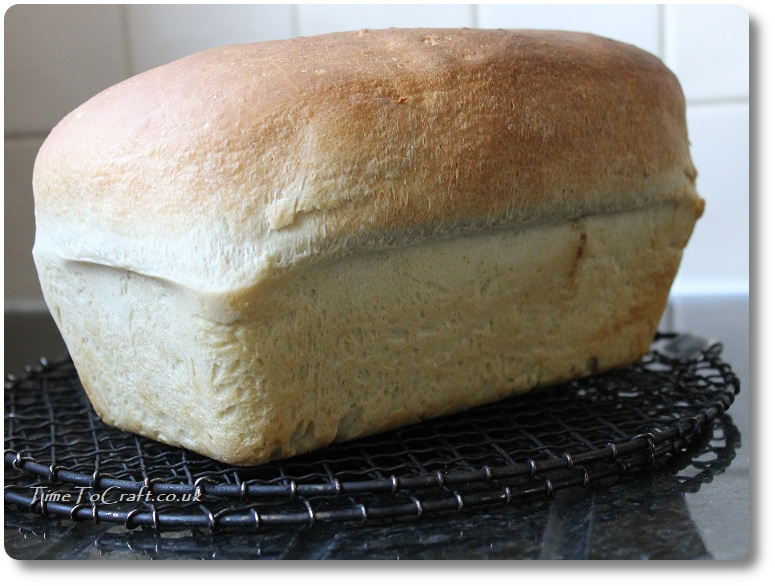 Happy St David's day! I'm making welsh cakes later, to celebrate the day and my welsh roots. I'll add fruit in one batch of cakes and chocolate chips in the other. It appeases one member of the family who wrinkles her face at the sight of dried fruit. Also, for the weekend, bara brith, which translates to spotty bread although welsh tea bread always seems a closer description, but each to their own. So long as it tastes good, I'm up for it.
I've finally opened my 16kg sack of bread flour this week. It's been looking suitably rustic and country inspired, squeezed between my wicker baskets and hand cranked sewing machine, in the kitchen. I'll be honest, I've been putting it off. I knew once I sliced into the sack, then I'm committed to baking bread on a nearly daily basis. 16kg is  a whole lot of flour.
This week, I've baked two loaves so far and they have come out as near to perfect as I can hope. The children have been digging in. They prefer it with butter. Every crumb is devoured. Even those pesty last corners of the crusts, that are usually left on the side of the plate as an unsaid offering to the bread Gods. All gone. Best part, they assure me.
I'm loving it too. I find our usual shop bought bread tastes bitter compared to my home baked offering. Even the packets of bread mixes have a taste, as if they contain something extra. I can vary the amount of salt I use too. Plus the fragrance of home baked bread is beyond words. Throw in the smell of a freshly brewed cup of coffee and, as sure as dragon eggs are eggs, I know I'm home.
On the sewing front, my Aldi fat quarter quilt is coming on a pace. I've managed to produce one square a day, although I missed yesterday. Still struggling with it being so pastel, but it does mean I'm concentrating on a plan to jazz it up. It's not me yet. So seven blocks down. Just nine more to go.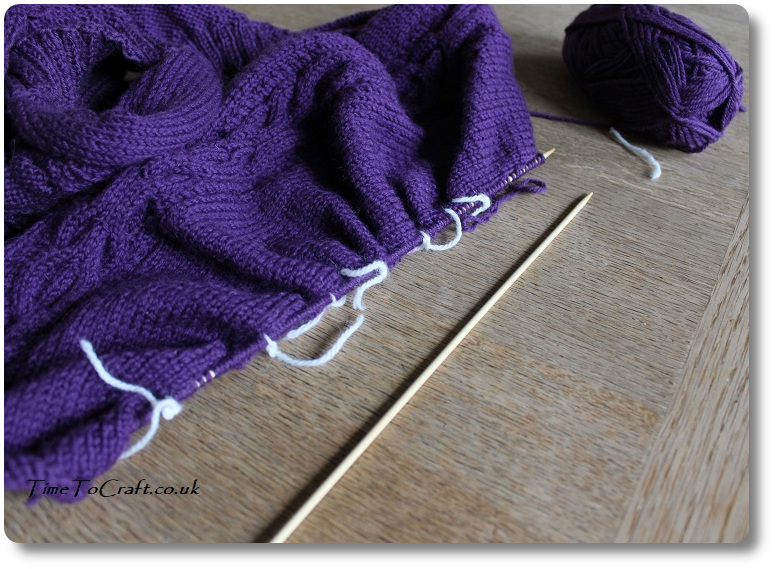 In the lovely contrast that life has a habit of throwing in to give you hope, I'm still loving the vibrant colour of my current knit. Nearly finished. I have reached my least favourite part. Picking up stitches along the front edge. Blah! I'm trying a different technique this time and I'm hopeful. Seems easier this time.
Other news
We've been making the most of the good weather. My tumble dryer is feeling neglected with all the outdoor, line, clothes drying time I've managed. Unthinkable most Februarys. Hero and I have been outside more. It's been so warm he's been seeking out the shade. Wise hound.
The car is back in the garage again being fixed. Third time lucky, I hope. I'm missing the freedom of jumping in the car and escaping running errands. My wings are clipped and I'm feeling it. I shall be so glad to get it back.
Finally found a book I can lose myself in again. I'm reading How to Stop Time. I seem to have had a run of hard to read books recently. This one I've had to pull myself away from. It's good.
Joining in with Anne's word of the week. Missed last week, due to half term. A week to be in the moment and feel no need to write about it. Felt good. Anyway, back this week with my word "make". Not that I don't make something every week, but it was the best fit this time.
What's your word?
Photos
There have been cases when people lifted my photos and words, and used them without credit to me or asking permission first. Using them for their own commercial gain. I have now added a level of security to deter people from doing this. Apologies to people who do play nicely. If you would like to use any of my photos, please contact me.
Copyright notice:
All my words and photos are copyrighted to me. They cannot be used for commercial benefit by anyone else. If you would like to use any of them, then please ask me first and don't just take. Written permission only. Don't pass my words, photos or ideas off as your own. It's not nice.
Cookie Policy
Our web pages do not use cookies however this website uses Google Analytics, a web analytics service provided by Google, Inc. Google Analytics uses cookies to help us analyse how people use our site. The use of cookies by Google Analytics is subject to change.