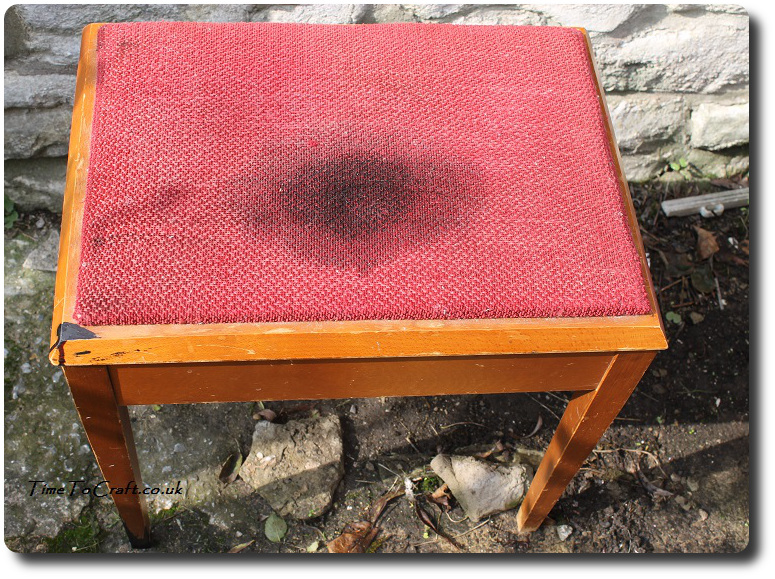 A while back, I picked up a prinker ink stained, piano stool. I found it through Freegle, which is our local free site to save items from the land fill. Someone from the village, had been storing it in her attic and she no longer wanted it. The stool is nothing special. Made purely for function. Unfortunately, the printer ink had made it totally unusable.
The ink had soaked into the seat and every time I moved or even touched it, I'd end up covered in fresh ink. Don't be fooled by that seemingly small area of black on the seat in the photo. If all that ink came from one cartridge, then I would be a monkey's uncle. There was so much of it. The cushion part was thoroughly soaked and could not be saved, or reused.
Once the cushion had been removed, the remaining stool was sanded down.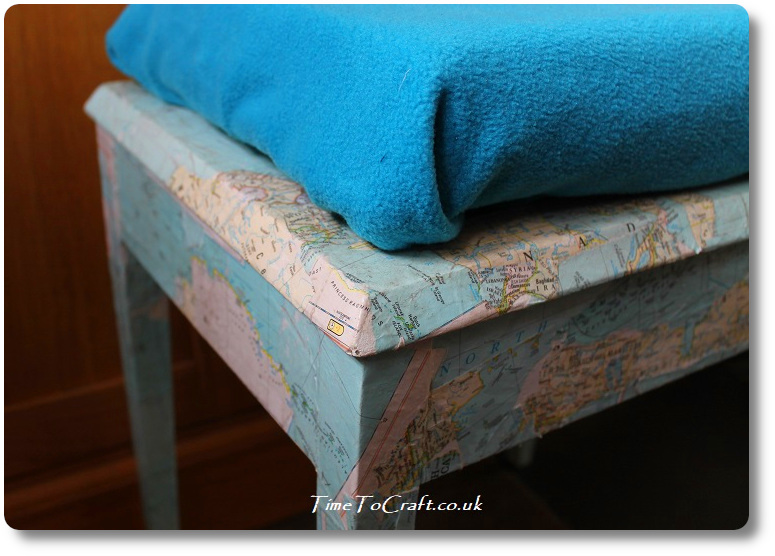 Next, I decoupaged it in an old world map. I like maps. I could spend ages looking at maps. Tearing this one into pieces, had the added advantage that I could spend even more time examining it.
Regular readers may remember the old frame I decorated with a map. I used the same method, and even the same map, for the piano stool.
Final part was to sort out the new cushion. I bought a thick piece of foam and cut it to size. Choosing the fabric was more difficult. I tried denim for a while, but then shifted to a soft, fleece fabric, which had been in my stash for years.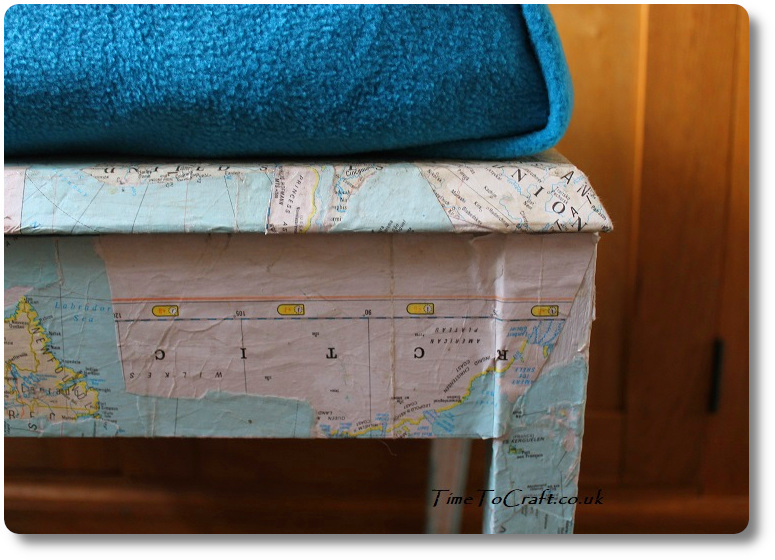 I've not fixed the fabric properly yet, as I wanted to see how it worked, but I think I will go with it. Anything that keeps the children sitting and practising their musical instruments for longer, has to be an advantage and I think this fabric does. The cushion is thick enough to be squishy comfortable, when you sit on it.
The piano stool is being used as a piano stool once more.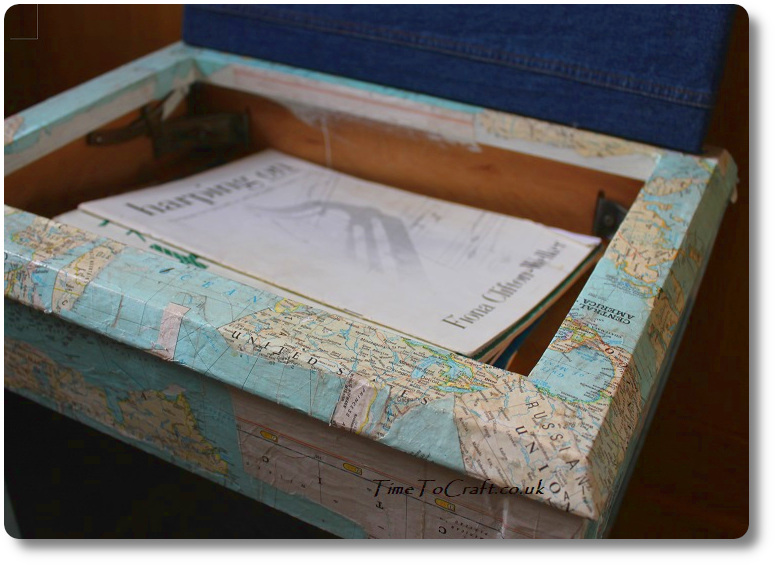 It works perfectly for anyone playing the keyboard and also stows away perfectly underneath it. Also it's the right height for my daughter playing her harp. They can store their music books in the seat too. No more "Where is my music book?" as they rush out for a lesson.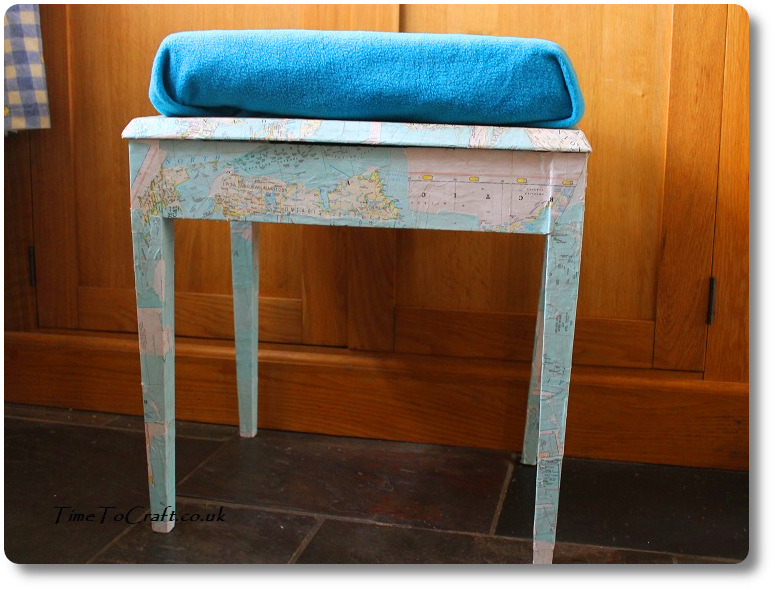 The irony is that it will probably be replaced soon, as Middle Teen really wants to get a piano, which more than likely will come with a stool of its own.
I'm sure I'll find a place for this stool, when the time comes. I spent too long with sticky fingers, arranging tiny pieces of map, to even dream of parting with this stool yet.
Maybe I could have a map room one day. Once the children leave home, of course.
(Footnote: I really like using Freegle. I passed on most of my baby stuff, including cloth nappies and maternity wear through it. We found someone who wanted an old caravan awning we had.  It saves items from being thrown away when they could have a new use.This time I was on the receiving side. I always think that systems like this work best if you can be a giver and a receiver.)
Seeing as leap day is on a Saturday this year, I thought it would be a perfect excuse to do something good and as a family. It always feels like an extra, free day to me. We had to mark it in some way.
So we packed everyone and the hound into the car and headed off to our local tree nursery. It's not too far and always has a good range. It rained and hailed and the sun came out too, as we walked down the aisles of trees. Everyone had their favourites. We'll be back for an eating cherry and pear in the near future. The children really want an ornamental cherry too.
The hound enjoyed the walk in a slightly more tamed and varied forest than we usually take him.
In the end, we bought a hornbeam, although I was really tempted by the twisted hazel, but until we landscape it would be lost in our garden.
Next job was to choose a spot and plant the tree. True to form, as the spade cut the turf, it started hailing. Never has a tree been planted so quickly, but with such care. I snapped a few photos before everyone headed back to the house. With frozen hands.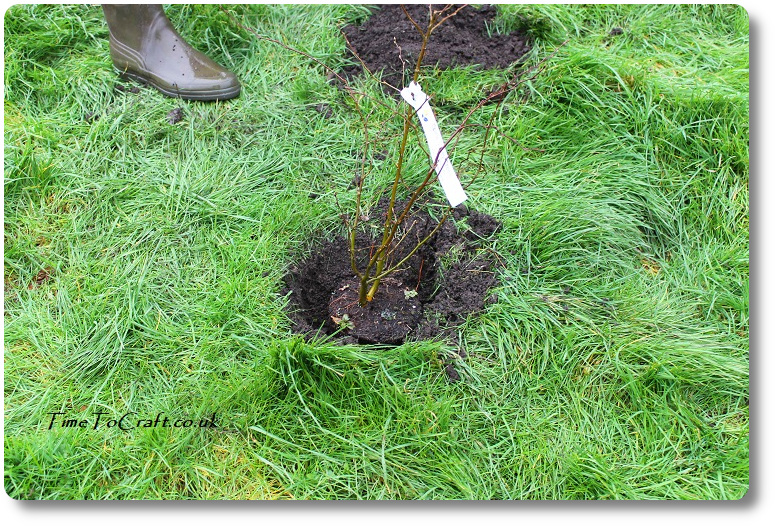 So, we now have a hornbeam. Our leap day tree. Every four years, we'll give it a little extra attention and marvel at it's growth.
And probably still be talking about how we planted it, as a family, in the freezing hail.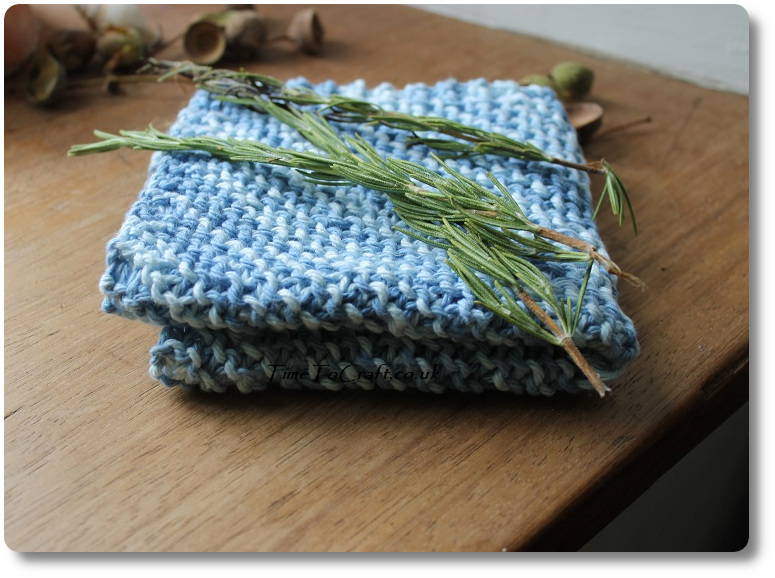 I finished knitting a cotton dishcloth. Haven't made one of these for ages, partly because they last so long. No need to replace them that often. This one is a garter stitch corner-to-corner. It is a quick knit, using 100% cotton yarn. The cotton is variegated, which I never think shows the intricate and complicated stitches up to their best. So garter stitch is perfect.
I'm not sure that knitting your own dishcloth is quite so popular in the UK, as in other countries. It certainly went through a dip. In the 80s, I remember balls of dishcloth cotton being on sale, outside the draper's shop (long since gone), in our local market town. You bought it along with your tea towels, nets and curtains. I can't remember what else the shop sold. It seemed to go back, like an Aladdin's cave. Anyway, it was a small basket for the dishcloth cotton yarn, out the front. Presumably, not a big demand for it, even then. The cotton was always the same off white colour. As dull as the dishwater it was destined to sit in. Now, at least, I can find a lot more choice.
I use my dishcloths for cleaning surfaces rather than dishes.  I mix up a homemade white vinegar and rosemary cleaning solution to wipe the surfaces. I've been refilling the same bottle for 17 years. As old as my Eldest teen, which is no coincidence. From the start, I didn't want her coming in contact with harmful chemicals. I've stuck to the same recipe ever since. I'm sure, in years to come, my children will be hurtled back to the memory of their childhood, kitchen table, at the mere whiff of rosemary. Before you ask, the smell of vinegar does not stick around for long.
Back to the cloths. Maybe it's just me, but I find the reusable cleaning clothes, on sale, a tad thin. They feel too light and flimsy. They don't feel substantial enough to stand up to the elbow grease that's sometimes needed.
Begone you congealed gunk, from last night's feast.
In contrast, the knitted cloths are much easier to scrub with. They work better than towelling or a square of fabric. It is something to do with being knitted and chunky. My knuckles are safe and don't feel like they're in direct contact with the counters. Once I've finished cleaning, they are easy to clean. Ready to be used again.
Being cotton, they don't shed microplastics every time they go in the washing machine, which is a plus. Cotton does have a down side in the environmental cost of producing it, but this cloth will long outlast its microfibre cousin. There is at least one brand of recycled cotton yarn, which I'd like to opt for next time, to cut down on the impact on the Earth's resources. Small? Yes, but it counts.
Also, I'm going to wait until the right ball of cotton yarn crosses my path, rather than dashing back to the craft shop. It is amazing how well this approach works, believe me. Someone else's clutter. Alternatively, if the right fabric comes along, I will use it to make my own knitting yarn.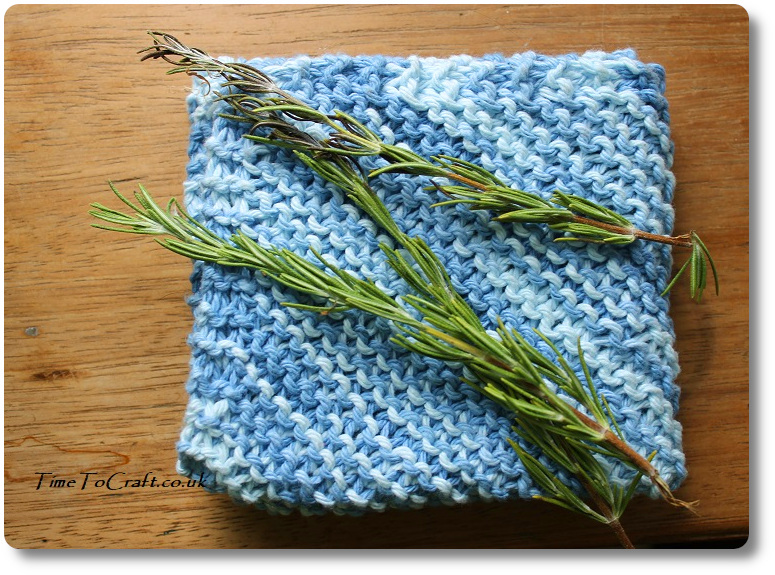 I like knitted dishcloths. I like knitting them too. It always gives a good buzz to finish something that is going to be useful. Not much more basic and functional than a cleaning cloth.
Have you ever knitted/crocheted dishcloths? Do you use them? Would you like to give it a try?
Linking up with Rosie's October Going Green Linky
Photos
There have been cases when people lifted my photos and words, and used them without credit to me or asking permission first. Using them for their own commercial gain. I have now added a level of security to deter people from doing this. Apologies to people who do play nicely. If you would like to use any of my photos, please contact me.
Copyright notice:
All my words and photos are copyrighted to me. They cannot be used for commercial benefit by anyone else. If you would like to use any of them, then please ask me first and don't just take. Written permission only. Don't pass my words, photos or ideas off as your own. It's not nice.
Cookie Policy
Our web pages do not use cookies however this website uses Google Analytics, a web analytics service provided by Google, Inc. Google Analytics uses cookies to help us analyse how people use our site. The use of cookies by Google Analytics is subject to change.