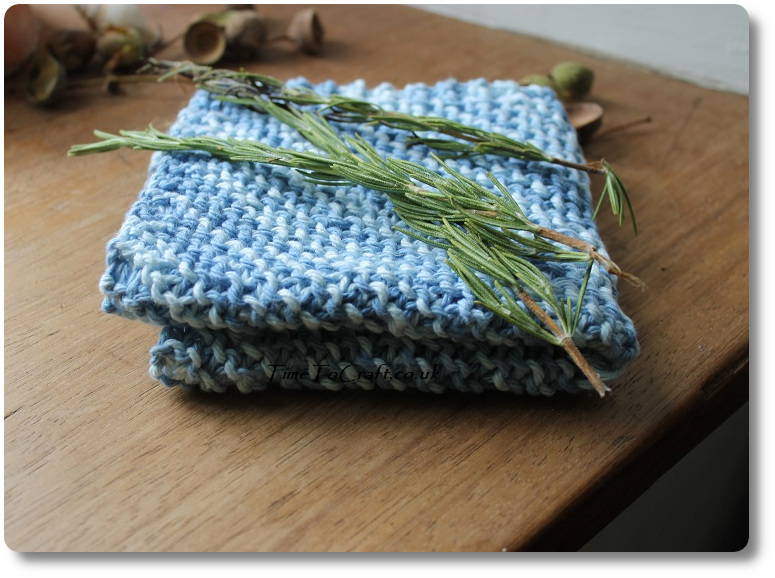 I finished knitting a cotton dishcloth. Haven't made one of these for ages, partly because they last so long. No need to replace them that often. This one is a garter stitch corner-to-corner. It is a quick knit, using 100% cotton yarn. The cotton is variegated, which I never think shows the intricate and complicated stitches up to their best. So garter stitch is perfect.
I'm not sure that knitting your own dishcloth is quite so popular in the UK, as in other countries. It certainly went through a dip. In the 80s, I remember balls of dishcloth cotton being on sale, outside the draper's shop (long since gone), in our local market town. You bought it along with your tea towels, nets and curtains. I can't remember what else the shop sold. It seemed to go back, like an Aladdin's cave. Anyway, it was a small basket for the dishcloth cotton yarn, out the front. Presumably, not a big demand for it, even then. The cotton was always the same off white colour. As dull as the dishwater it was destined to sit in. Now, at least, I can find a lot more choice.
I use my dishcloths for cleaning surfaces rather than dishes.  I mix up a homemade white vinegar and rosemary cleaning solution to wipe the surfaces. I've been refilling the same bottle for 17 years. As old as my Eldest teen, which is no coincidence. From the start, I didn't want her coming in contact with harmful chemicals. I've stuck to the same recipe ever since. I'm sure, in years to come, my children will be hurtled back to the memory of their childhood, kitchen table, at the mere whiff of rosemary. Before you ask, the smell of vinegar does not stick around for long.
Back to the cloths. Maybe it's just me, but I find the reusable cleaning clothes, on sale, a tad thin. They feel too light and flimsy. They don't feel substantial enough to stand up to the elbow grease that's sometimes needed.
Begone you congealed gunk, from last night's feast.
In contrast, the knitted cloths are much easier to scrub with. They work better than towelling or a square of fabric. It is something to do with being knitted and chunky. My knuckles are safe and don't feel like they're in direct contact with the counters. Once I've finished cleaning, they are easy to clean. Ready to be used again.
Being cotton, they don't shed microplastics every time they go in the washing machine, which is a plus. Cotton does have a down side in the environmental cost of producing it, but this cloth will long outlast its microfibre cousin. There is at least one brand of recycled cotton yarn, which I'd like to opt for next time, to cut down on the impact on the Earth's resources. Small? Yes, but it counts.
Also, I'm going to wait until the right ball of cotton yarn crosses my path, rather than dashing back to the craft shop. It is amazing how well this approach works, believe me. Someone else's clutter. Alternatively, if the right fabric comes along, I will use it to make my own knitting yarn.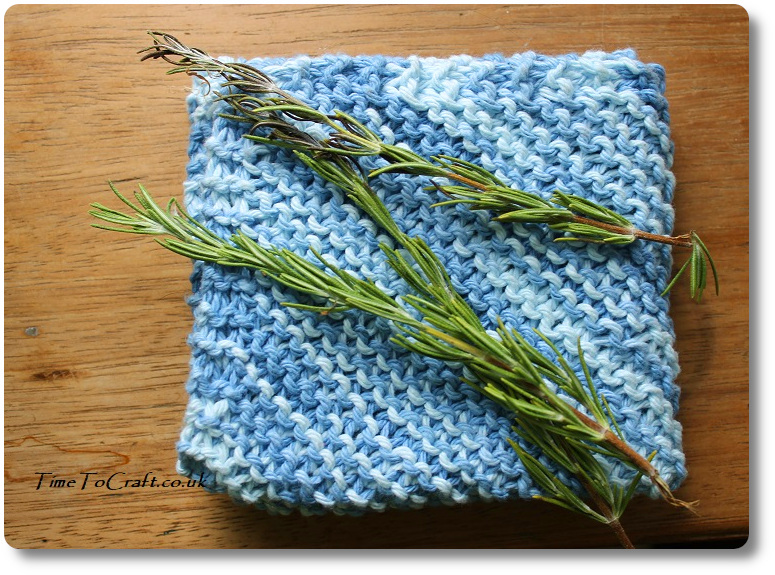 I like knitted dishcloths. I like knitting them too. It always gives a good buzz to finish something that is going to be useful. Not much more basic and functional than a cleaning cloth.
Have you ever knitted/crocheted dishcloths? Do you use them? Would you like to give it a try?
Linking up with Rosie's October Going Green Linky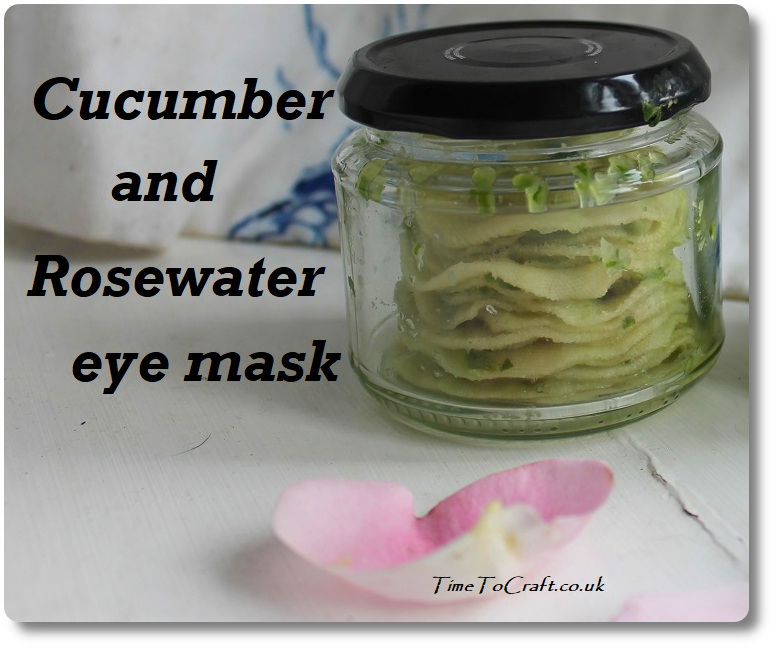 School broke up at lunchtime for the summer holidays, and we've already crossed off a craft from our summer bucket list. Whoop! Whoop! Starting out as we mean to continue. Although, I'm not kidding myself. Enthusiasm will waiver at some point and the children will head out to see their friends, leaving me holding ribbons and jam jars, wondering where everyone has got to.
I'm going to make the most of it while it lasts.
I think the secret to crafting with teenagers is to make something that they can see the point in. For example, potions are a bit more interesting as they get older. No longer the stagnant water with decaying rose petals, left out in the garden, along with the junior venturer's dashed dreams of opening a perfume store on the front drive. Now they want to make something they can use. Something beneficial to them and their skin.
Fits in nicely with my cutting back on single use plastic too. Or single use cotton pads, for that matter, as we used a beautiful, soft, organic, cotton fabric that I've had for a while. The plan is to wash these and use them again when we next do this craft. Absolutely no waste. Eventually, when they are no longer usable, they'll go into the compost bin.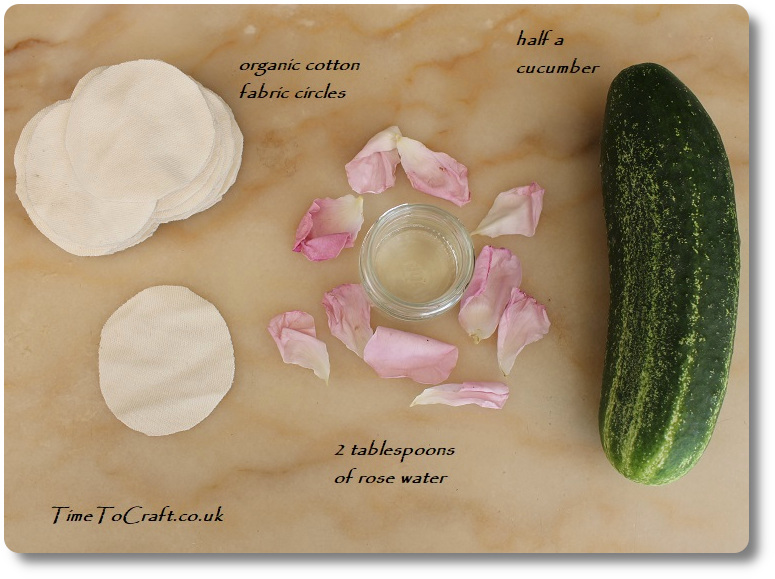 So, today's craft was to make an eye mask. Something to tackle the skin under the eyes, Reducing puffiness and dark shadows. Hopefully. It also smells amazing. Fortunately, it helps to sort out my abundance of half cucumbers that are starting to take over the greenhouse.
(Not sure they would be so excited about setting up a cucumber stall at the end of the drive, but it may come to it!)
With no further ado, this is how we made cucumber and rosewater eye mask.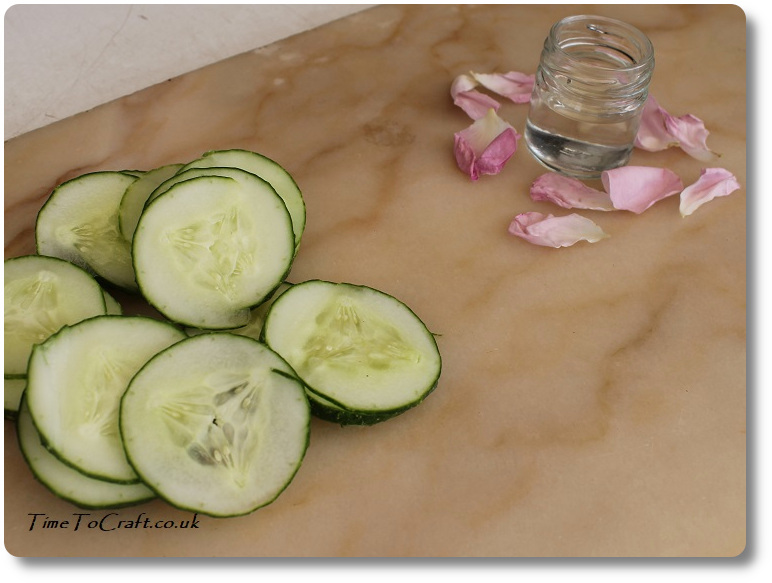 Ingredients
a small cucumber (or half a normal size one)
2 tablespoons of rosewater
soft fabric cut into circles (2″ diameter)
Method
1. Slice up the cucumber and blitz with a blender until it is smooth and watery
2. Mix the cucumber with the rosewater in a bowl
3. Soak the cloth circles in the mixture and squeeze out excess.
4. Pop the circles in a jam jar and allow to cool in the fridge.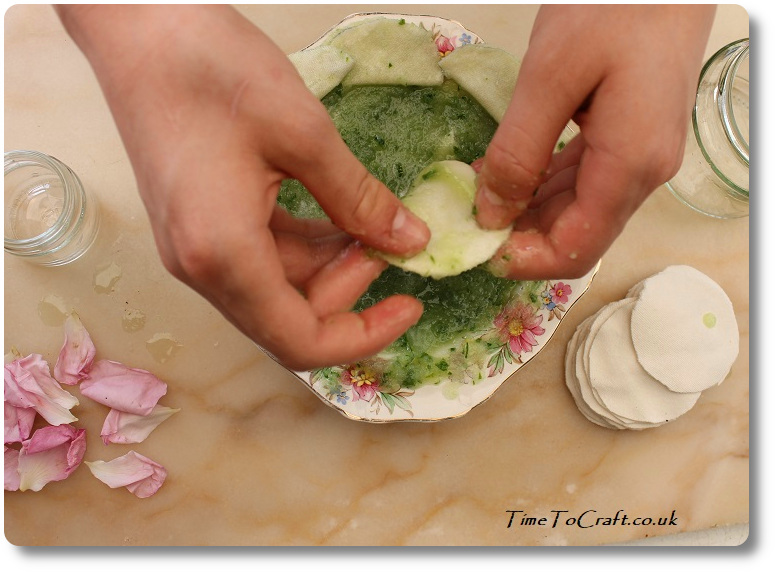 5. Use one circle per eye. Fold each one in half and place under your eye for 15 to 20 minutes
6. Remove the fabric circle and put on one side ready to wash for use again
7. Wash your face with water.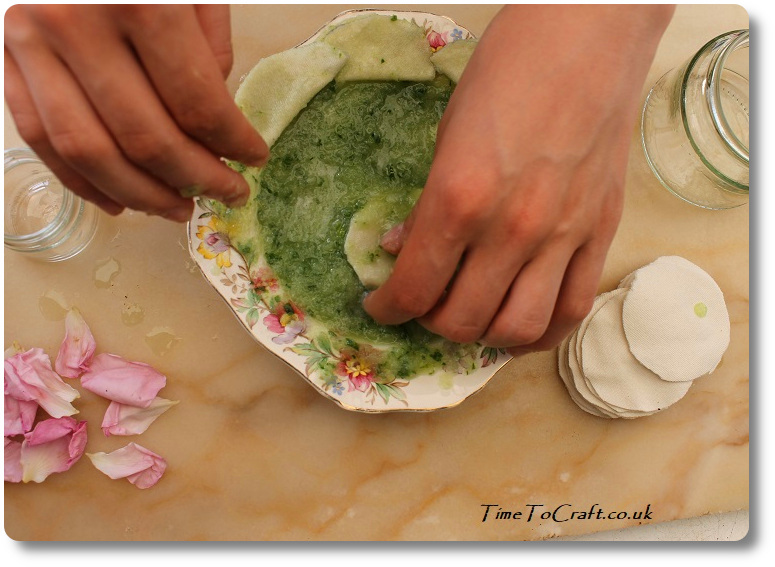 Verdict: Middle teen tried them out. She loved them and said her skin felt amazing. I'm waiting for undisturbed time to relax with my eye mask.
I'm going to flash freeze some of these, so they're easy to separate, and then store them in a jar in the freezer. They'll last longer that way. I kept the remains of the mixture in a jar in the fridge and we're going to use it as a face mask.
I can see this being a popular craft over the summer.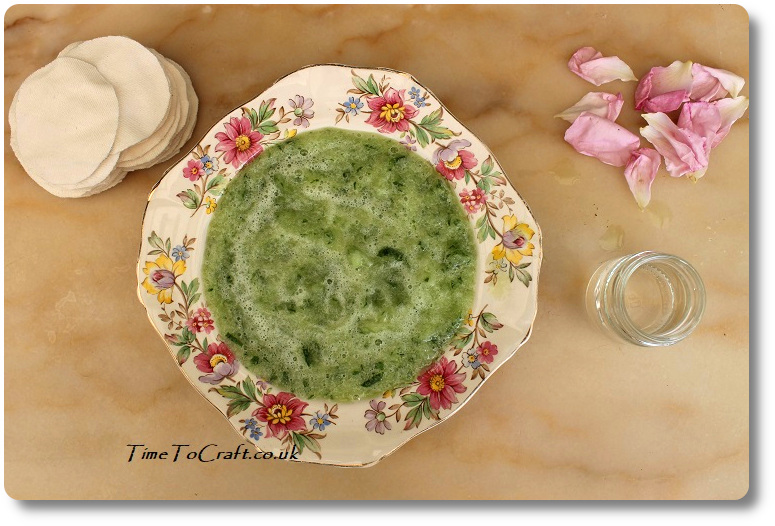 One word of warning (apart from the obvious spot testing new mixtures, before applying). After talking to Youngest tonight, as he went to bed, I think I may need to label my jam jars of the mixture in the fridge. It is made of edible ingredients, but he did point out that it looks like guacamole. I'm not sure what would be the bigger shock. Dipping bread sticks into the cucumber and rosewater or putting chilli laden guacamole under your eyes.
Best not, I think. I'll just go and add some labels.
——–
Joining in with Rosie's Going Green linky.
I hang the last sock on the line to dry and take a moment to check the kitchen garden. It's coming along nicely. I need to take the hoe out at lunchtime to sort out the weed seedlings which are beginning to appear among the sweetcorn. Let the heat of midday dry them out on the surface.
The summer raspberries are doing well. I've left three thistles to grow among them. The purple mop head flowers are in full bloom, attracting the soldier beetles. That's one diving into the purple petals. I lose count of how many beetles are among the spiky leaves and blossom. Both the larvae and adults will eat aphids. I never need to spray the garden.
I've used the three sister method of growing as usual. Sweetcorn, squash and beans. All working together. It also tickles me, as I'm one of four and the youngest of the three sisters. I wonder which plant I would be? I'd go for the sweetcorn. I love to walk among them, as they grow almost to my height.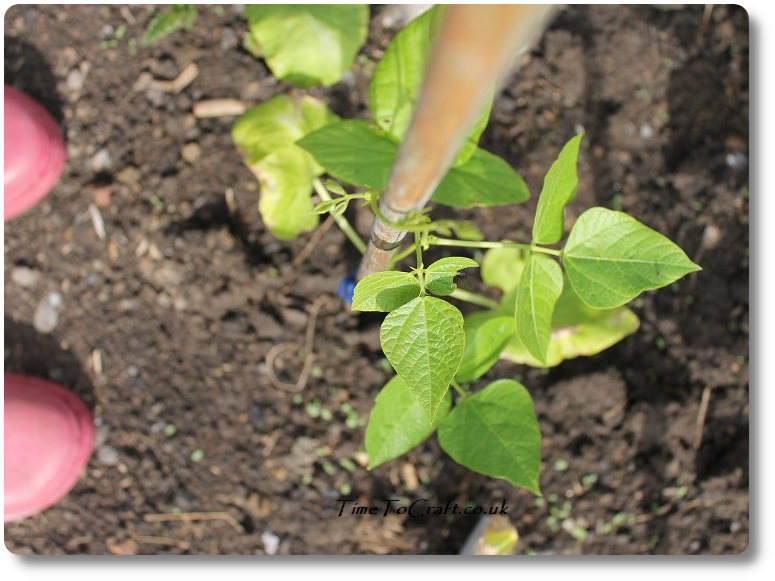 The garden is slightly behind. I was slow to plant out, but it will be what it will be.
Picking up my laundry basket, I take the long route back to the house, via the greenhouse. Passing the hazelnut trees, I can see the nuts are almost ready. Not that I'll see any, as the squirrels are faster off the mark than me, every year.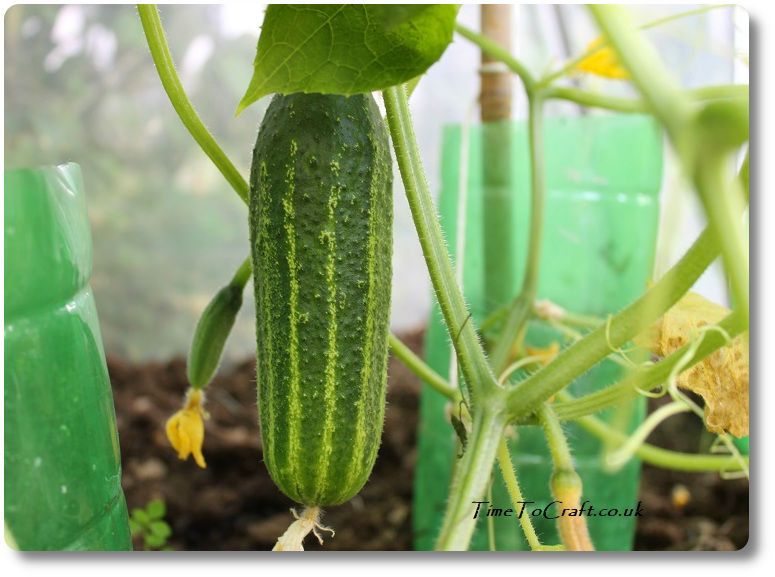 I'm pleased with the greenhouse. I've planted it well. Everything is planted in the borders. Not too many weeds, as I'm using my collection of cut off plastic bottles to water the roots and below the surface. Run off is minimalized. I grow small cucumbers. Half sized. The first one is ready to eat.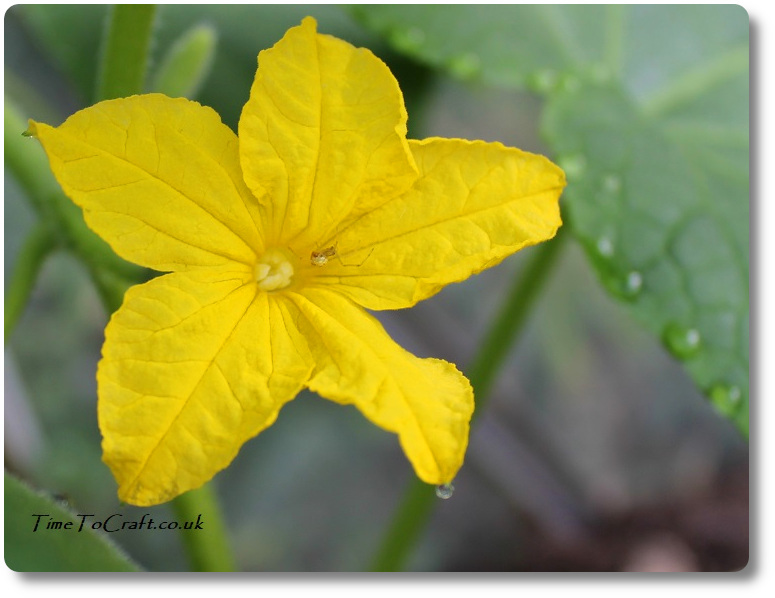 No spraying in the greenhouse either. I encourage my friendly mini beasts to visit with nasturtiums, and the cucumbers do their bit too. A spider almost hidden in a cucumber flower.
Bit of a mystery. Last time I was in the greenhouse, I noticed a dead hornet being dragged by an ant. It was fascinating. Such a small creature moving another many times its size. Like a caveman pulling a hairy mammoth, as I told my husband that night. Today I notice the hornet is in an empty seed tray, I left on the greenhouse path. Did the ant drag the hornet up and over into the tray, and if so why? Was it removing it from near the ant's nest to stop other hornets turning up?
I like to work with nature. It doesn't mean I always understand it.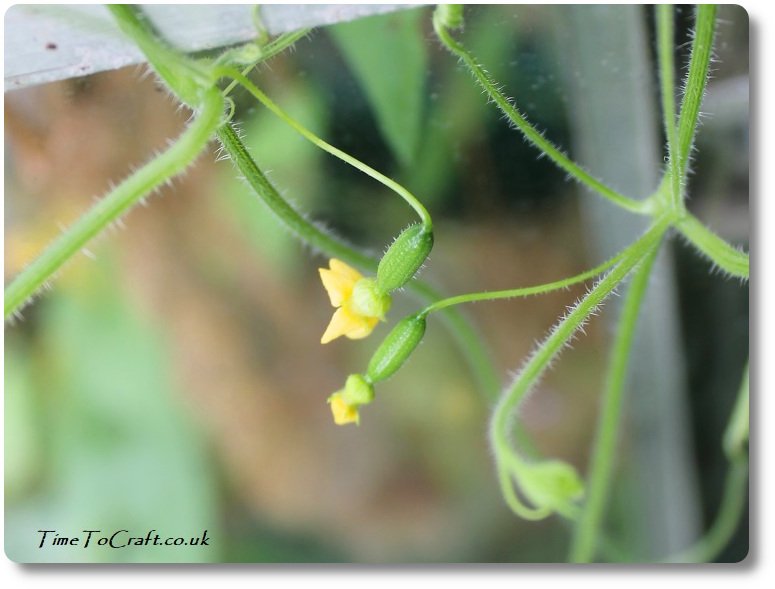 Also in the greenhouse, is one of my cucamelon plants. A new one for me. The fruit tastes of a cross between melon and cucumbers, just as the name suggests. Its vines are beginning to find their way up the wall of the greenhouse. I spot the beginnings of the fruiting bodies. The length of my little finger's nail. Maybe a week or more till we can try them.
Peppers are swelling too. The tomatoes and basil plants are bushing up.
I leave the greenhouse door open, but block it with a tray to stop the rabbits getting in.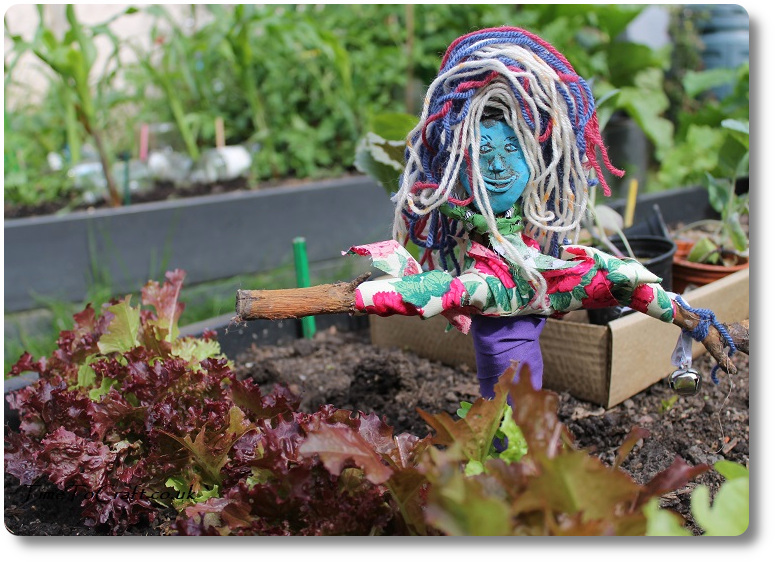 Final stop, before I go in. The raised salad beds. Guarded by two fences which keep the rabbits and their nibbling tendency away from my salad. One bed is full of lettuce, turnips and tomatoes. The other popcorn, courgette and tomatoes. Some rows have failed, but the rest is thriving.
My double fence doesn't keep the sparrows off. Oh my goodness, we have so many sparrows and they like to nibble my lettuce. No problem with slugs or snails this year, but the marauding sparrows make up for it. Brought out our last surviving garden goddess at the weekend and gave her a new outfit. She now scowls at the sparrows and shakes a bell. Go find something else to eat.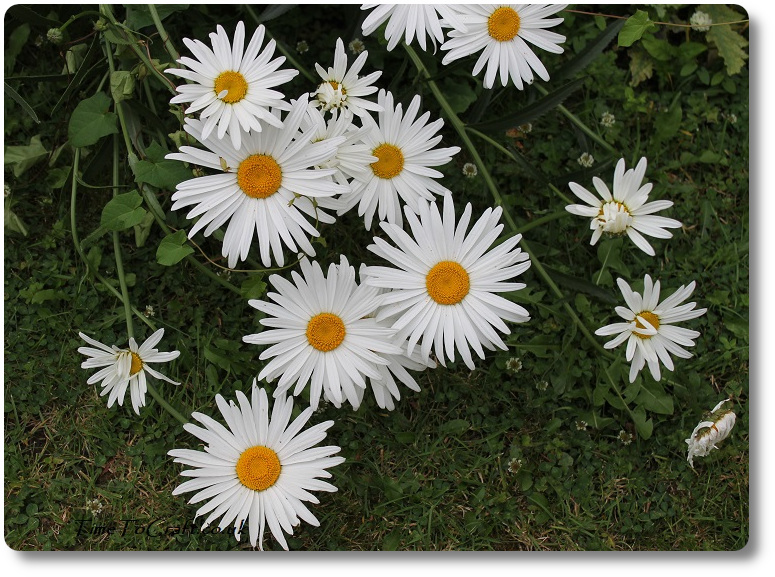 Finally back in the house. Next load of washing is ready for the line. Time to go out again. Might take the shorter route back to the house this time. It seems I'm so easily distracted. Although I didn't check the blackcurrants. I could just pick a few. Maybe take a few kitchen scraps to the hen house, while I'm there.
Photos
There have been cases when people lifted my photos and words, and used them without credit to me or asking permission first. Using them for their own commercial gain. I have now added a level of security to deter people from doing this. Apologies to people who do play nicely. If you would like to use any of my photos, please contact me.
Copyright notice:
All my words and photos are copyrighted to me. They cannot be used for commercial benefit by anyone else. If you would like to use any of them, then please ask me first and don't just take. Written permission only. Don't pass my words, photos or ideas off as your own. It's not nice.
Cookie Policy
Our web pages do not use cookies however this website uses Google Analytics, a web analytics service provided by Google, Inc. Google Analytics uses cookies to help us analyse how people use our site. The use of cookies by Google Analytics is subject to change.