Happy May 1st. I've been enjoying walks in our woods. The wildflowers are making their presence felt. Carpet of bluebells with sprinkling of wild garlic and wood sorrel, which sounds more like a recipe than anything.
I started my new yarn project last night. I'm making another King Cole pattern. In fact, it's a long cardigan again, but this time with pockets and a zigzag hem. Pockets make me feel like I'm giving in to my sensible side, while the yarn colour is a riot and makes me smile. I do love bright, strong colours. The yarn is called raspberry and is probably a closer match to the contents of an Angel Delight or Kool Aid packet, than anything I'd grow in my fruit garden, but that's OK.
I'm using King Cole Merino Blend again, because, quite frankly, it's my favourite wool at the moment. I love knitting with it. I love wearing it. I can't think of a better reason to use it on this latest project.
The pattern is King Cole 4750. I've knitted the pocket linings and the start of the left front hem. I'm not sure about it yet. It is a little bit loopy in parts. I'm tempted to start the right side and see if I can get it tighter. If I can then, the left side can be unravelled and started again. If you look at the photo of the finished cardigan, it does look a lot tighter, compared to mine. Hmm.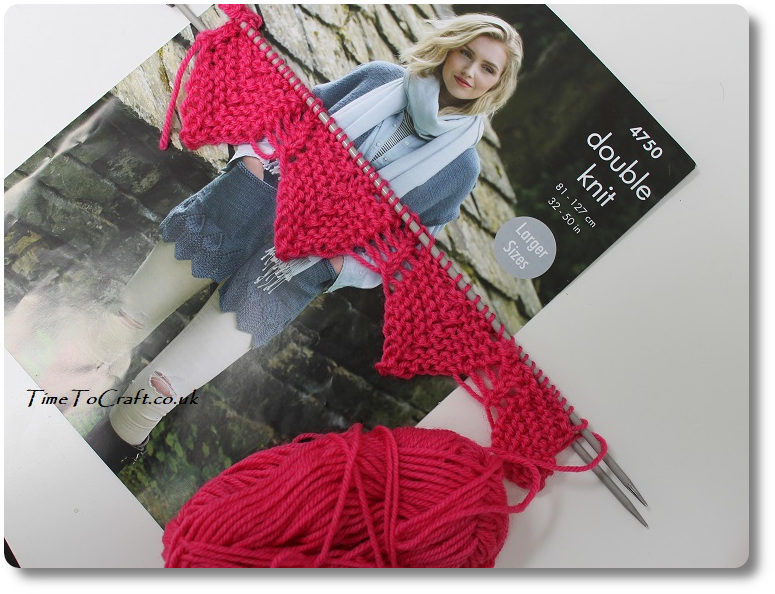 Still with the yarn projects. I finished the front of my daisy cushion (top photo). Just need to sew on the fabric back and it can join the other one at the kitchen table. The is a scrap buster and I've finished the white and the blue balls of yarn. I'm tempted to do another cushion cover, but this time just use the green as a background for the daisies. So long as I can find another ball of white skulking around.
I have finished my jumper, since last Yarn Along. Reblocking as the hem is still curling. Makes me appreciate a ribbed hem, at times like this.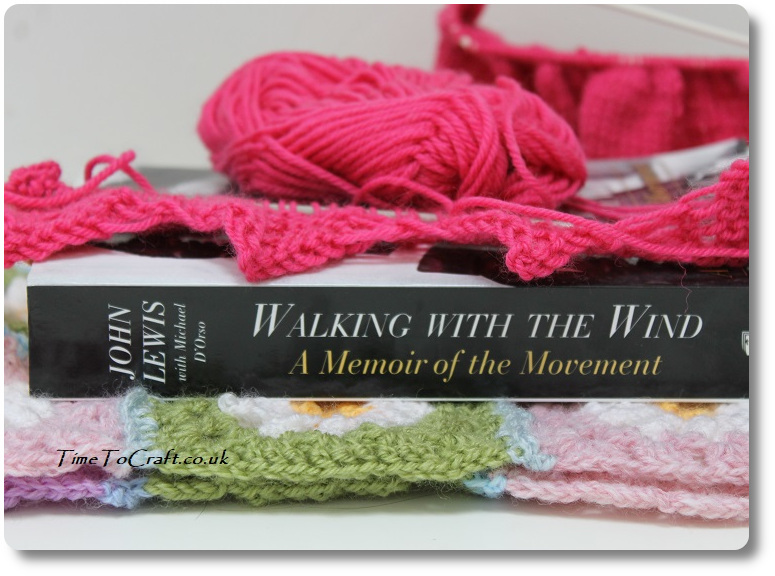 Finally, seeing as it's the first Wednesday of the month and Yarn Along time again, I'm sharing my latest book……which is the same as last month. I have been reading it. Spring means I have less time to read. Between work, the garden and different after school activities for the children, somehow reading time is squeezed and I'm asleep as soon as my head hits the pillow at night. I am enjoying the book and love the moments when I can pick it up.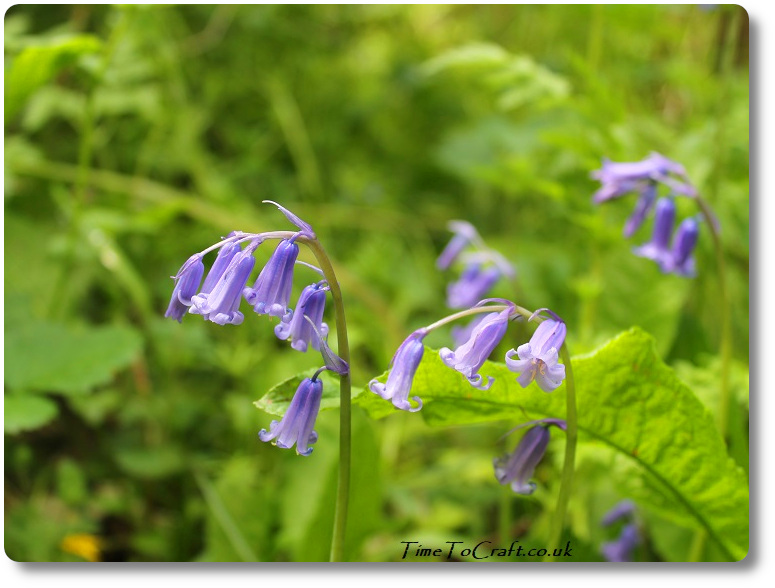 I hope May treats you well and you are able to enjoy the scent of a walk through a bluebell wood. Our bluebells will soon lose their race with the surrounding foliage and be more hidden , so I'm enjoying the sight while it lasts. See how they droop and the edges of the bells look like they have been curled. A sure sign of native bluebells and not the invasive Spanish variety.
Joining in with Ginny's Yarn Along. What are you reading at the moment? Have you anything on your knitting needles?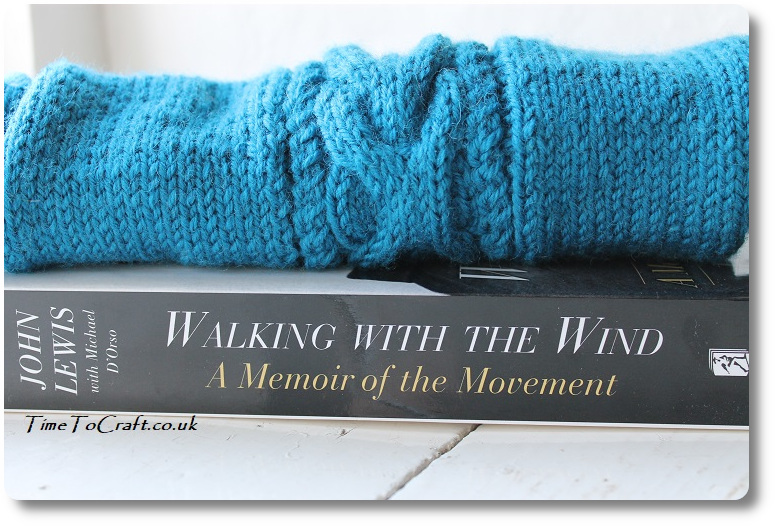 I'm not sure when I became aware of the US Congressman and civil rights leader John Lewis. It may have been around the time I started following the other "not-a-retail-shop" John Lewis on Twitter, who incidentally you should check out too. People were often confusing the pair. In comparison, if you mention John Lewis over here in the UK, we all instantly think about the well known department store, of the same name, that is peppered around the country, rather than US politics or Twitter. Confused? Many are. It seems John Lewis is a popular name.
Back to the point.
Being a Brit, the names we connect with the US civil rights movement are Martin Luther King and Rosa Parks. The politician John Lewis is not as well known on this side of the Pond or for the part he played, but his name kept on cropping up for me. Americans seemed to love and respect him in a way that our UK politicians can only dream about. In all fairness, and to provide balance, I also came across views of people that did not, but I'd have been surprised if they were missing.
I saw a review for his story told through the March in comic book style, but decided to go for his memoir. I had to order it from the US and wait a couple of weeks. I read a few pages via Amazon and liked the easy style of writing. The book has not disappointed. (*affiliated links)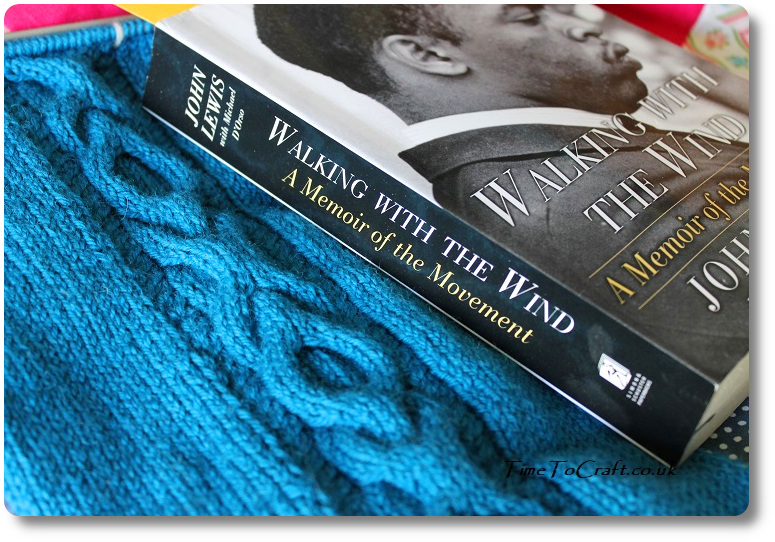 I've always loved books told as if you are sitting down with the person and just listening as they tell their tale. Their life story. I love listening to life stories. Pull up a chair. No need to interrupt or nudge for more, as one story leads seamlessly on to the next. I like the social history. To be sunk into a world that may bear little reference to your own life experiences. I've always tried to read books that open my eyes to the rest of the world. To understand more.
I know I'm going to enjoy it. It certainly provides an escape from the chaos of our own political system, at the moment. Less said the better.
Anyway, now on to the knitting part of my post. After all it is April's Yarn-along, so knitting is required. I finished my cardigan last month and went head first in to knitting the jumper version of the same pattern, King Cole 4076. I'm using King Cole merino dk again but in the colour petrol.
I've finished the front and back. Now busy knitting up the first sleeve. Slightly nervous about the number of balls of yarn I have left. If I could knit with crossed fingers, I probably would at this stage. I'll know one way or the other by next month, as I'm flying up the rows. Shouldn't take long to finish.
OK.  Now. What are you reading? Have you any books to recommend? I might need something more fictional next to balance it all up. Or can you recommend another eye opening book?
Joining in with Ginny's Yarn Along linky (bit early). Greetings to all fellow linkers.
I finished knitting my purple cardigan. I love it. It could very well be the best thing I've ever knitted. I'm really happy with the fit and love wearing it. From my notes, I reckon it's taken me eight weeks to knit, which is impressive for me.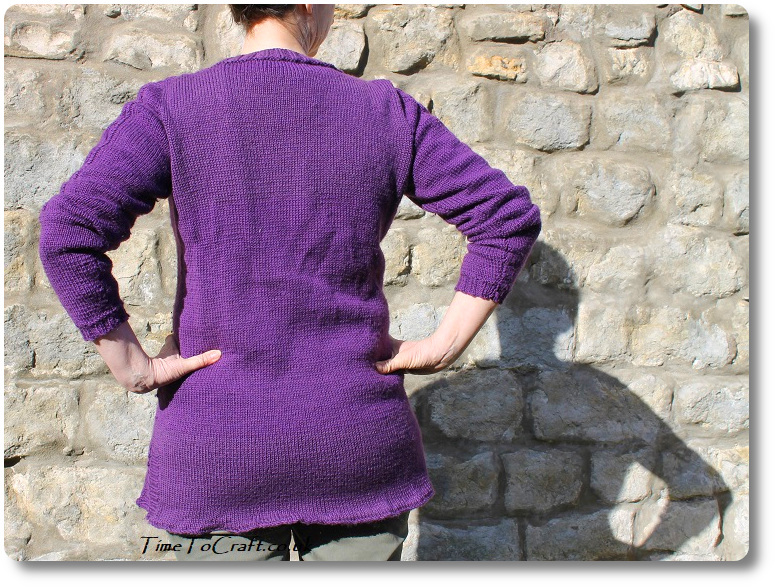 The only part I need to work on is the curling hem. I have blocked it, but not enough, it seems. If anyone has got a tried and tested method to make the hem behave, please let me know.
I used King Cole Merino blend dk. 100% wool. It is now my favourite yarn to use. A real pleasure to knit with. I've made hats with it before as it's anti-tickle, and have often thought it would be good for something bigger. I bought the yarn in the sales, which reduced the cost down to a do-able price. I've found it priced at anything between £3 to £3.79 per ball. Back in January, I bought it for £1.79 per ball making the cardigan work out at just over £25 to make, instead of the usual £42. Perfect!
The cardigan pattern is King Cole 4076. There is a choice of a cardigan or jumper. Both are long line with side vents. I found the pattern straightforward. The cable panel is easy once you get into the swing of it. After a while, I stopped referring to the instructions, as the it's obvious what to do from the previous row, if you see what I mean. Total joy to knit.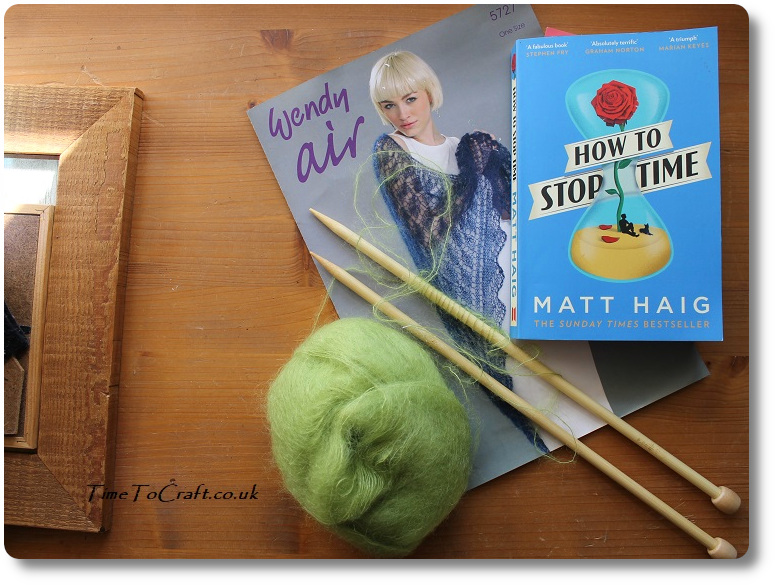 So on to the next knit. Yes, I've cast on, but the photo really doesn't give a fair representation of the amount of time it has taken. I'm using Wendy air yarn. It is wispy thin. Never underestimate how long it can take to find the start of the yarn in a ball like this. Lots. I've tried the first row a few times, but undone it. I'm not charging ahead with this one. I'm sure I'll find my way with it. Eventually. It is such a contrast from my last project.
As it's Yarn Along time again, I'm including my book, which I am loving. Matt Haig's How to Stop Time. I've nearly finished it and am dragging out the end, because I don't want to finish it yet. Savouring every last page. It is difficult to put down. It's so good, I find myself reading and preparing the evening meal at the same time. The book in one hand and a spoon in the other. Children mumbling that I'm ignoring them.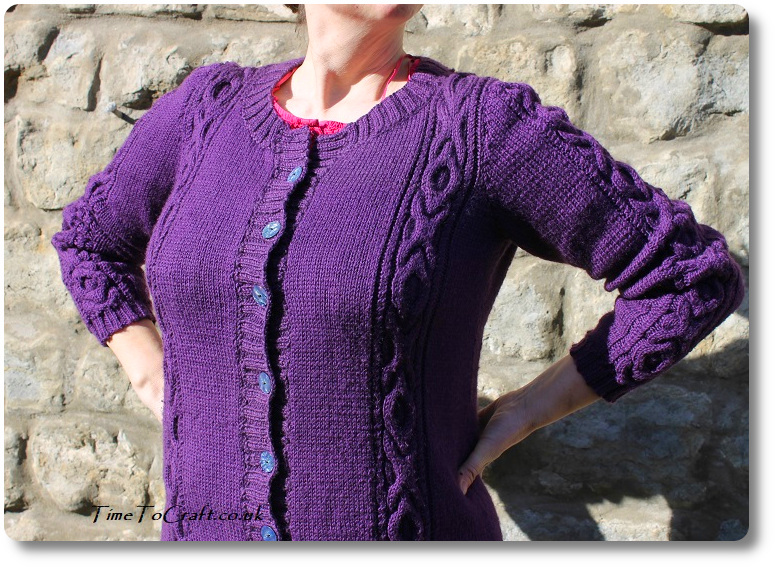 Last photo of my cardigan. I've ordered some more wool to make the jumper version next. I've found it again at the same price, so hopefully they have enough of the same dye lot, which caught me out last time. I had to change colours. Fingers crossed. It is such a good pattern.
Joining in with Ginny's Yarn Along. What have you got on the needles at the moment? Are you reading a good book? Oh, and any advise on my curling hem, would be much appreciated.
Photos
There have been cases when people lifted my photos and words, and used them without credit to me or asking permission first. Using them for their own commercial gain. I have now added a level of security to deter people from doing this. Apologies to people who do play nicely. If you would like to use any of my photos, please contact me.
Copyright notice:
All my words and photos are copyrighted to me. They cannot be used for commercial benefit by anyone else. If you would like to use any of them, then please ask me first and don't just take. Written permission only. Don't pass my words, photos or ideas off as your own. It's not nice.
Cookie Policy
Our web pages do not use cookies however this website uses Google Analytics, a web analytics service provided by Google, Inc. Google Analytics uses cookies to help us analyse how people use our site. The use of cookies by Google Analytics is subject to change.