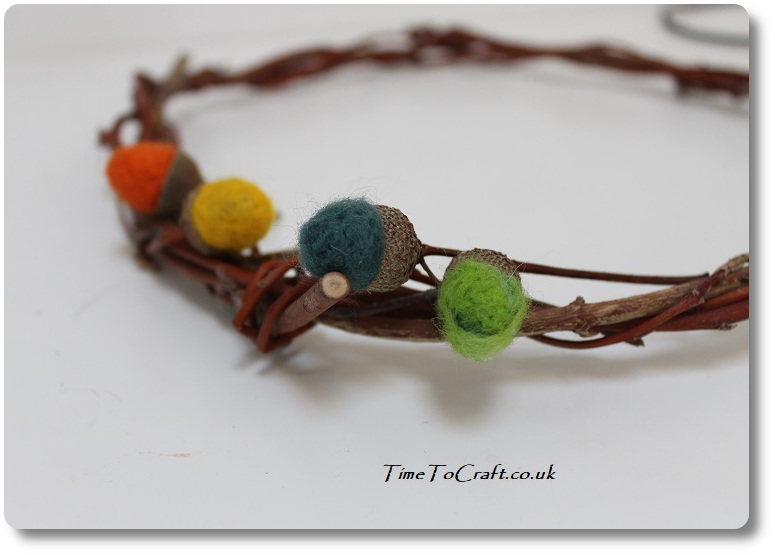 Hands up who wants to make a felted acorn or 10?
Aren't they adorable? The perfect nature craft, using natural materials. Most of it can be picked up for free. I used sheep's fleece for the base and needle-felted dyed merino wool over the top, for a splash of colour. Added a dab of glue to hold it in place, inside the acorn cup, and I soon had a handful of felted acorns.
These are going to be added to an autumnal wreath, but they could be used anywhere as decorations. Maybe a string of them above a fireplace, or individually hanging from a twig as a table centre decoration. I like to put a few on our nature table, among the real acorns. These are purely decorative and must not be used as toys.
Want to make some?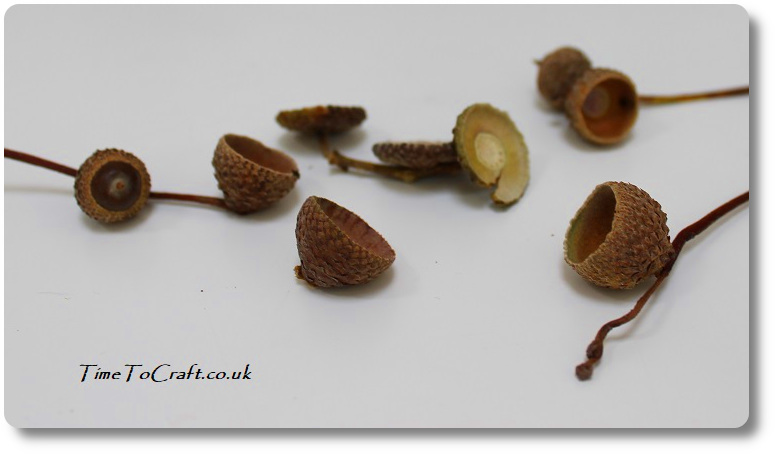 What do you need
wool scraps (merino, sheep's wool)
acorn cups
felting needle
glue
soap (Any soap will do. I use olive soap or wool soap, but that's me.)
hand hot water (needs to be hot to start the felting process)
To start with, you may be surprised to realise that not all acorns and their cups are the same. Different oak trees produce different size and shape cups. On our dog walk, each morning, we pass several oak trees and the lane is sprinkled with acorns, at the moment. I can pick up small acorns from one tree, big ones from others and, further on, I'll find a tree with acorn cups which are more like pancakes, or flat plates. There are so many different variations.
The oak trees I pass, are growing in hedgerows and would originally have been planted as hedge oaks. While the rest of the hedge was controlled by cutting or hedge laying, these trees would be left to grow to their full potential. They were harvested eventually as building materials.
Fun fact: oak trees have to be about 20-30 years old before they produce acorns, but they don't reach peak production until about 50 years of age.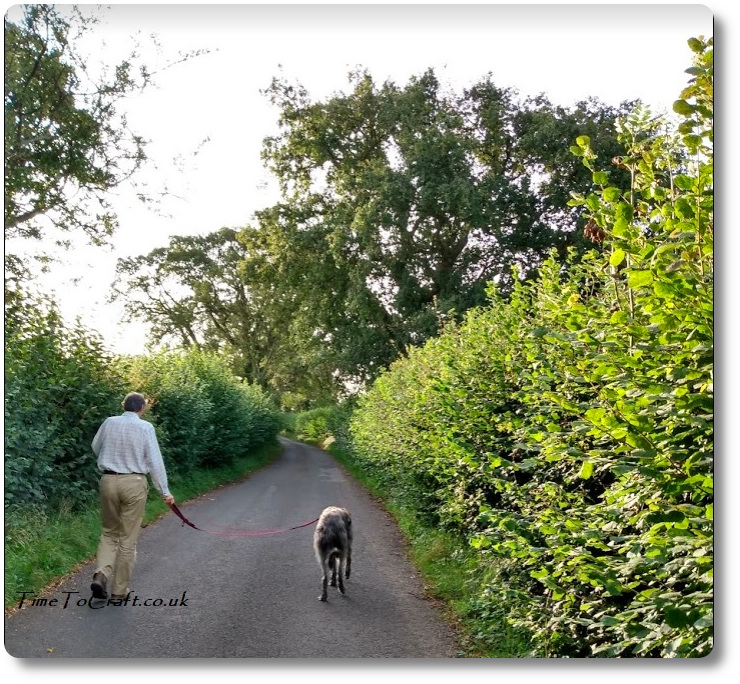 Oak trees are fairly easy to find in the UK, otherwise various craft shops do sell the cups, including online ones. I've seen them on Etsy too.
I like to use a tougher fleece as the base. You can use the coloured merino for the whole project, but it does cut down the cost if you use the plain fleece underneath. I find lots of wool snagged on barbed wire in sheep fields, when we're out walking. You need to ask permission of the farmer before you take it, but in my experience of rescuing sheep (a fairly regular occurrence), it can be near on impossible to find the owner when you need them.
Once home, give the snags of fleece a very gentle hand wash, remove any debris and leave to dry.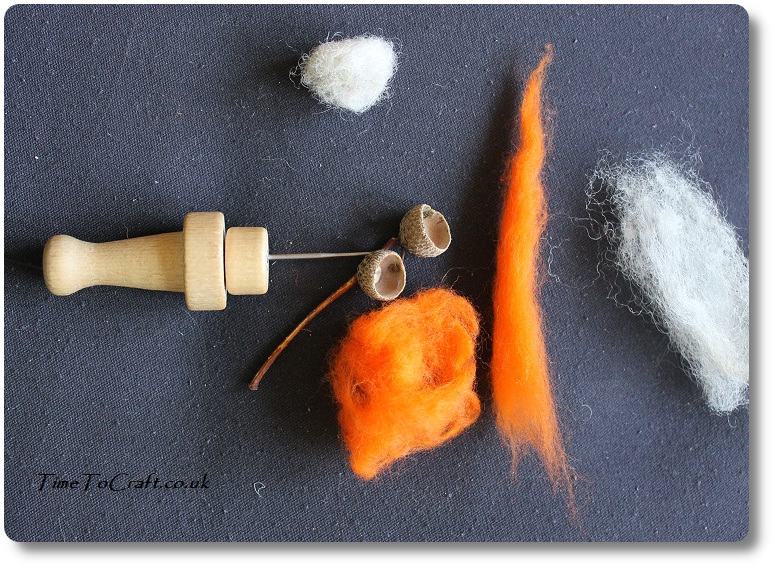 I use merino dyed rovings for the top layer. I have a collection of odd scraps from previous spinning and felting projects. It's much easier to find these in craft shops now, as more shops stock felting materials. Alternatively, I buy online from Wingham Wool Work.
How to make the acorns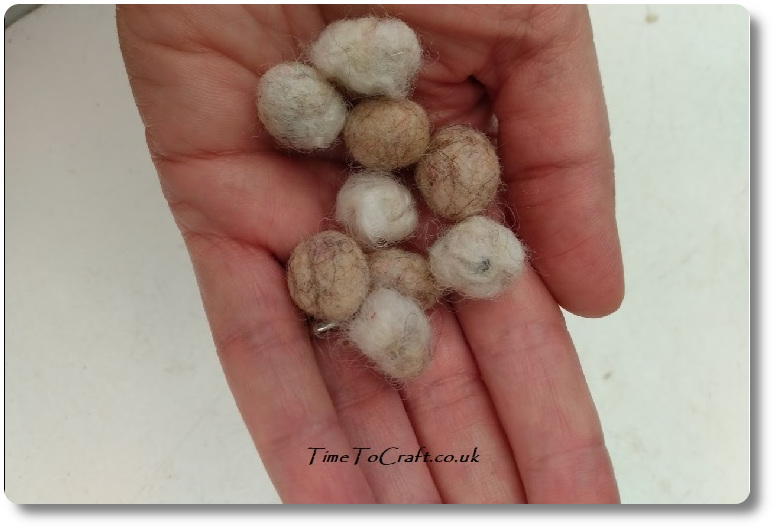 To start with, the base acorns are made. There are two ways to make it. Either using wet felting or needle felting.
Wet felting –
Take a clump of the sheep's wool and dip it in soapy, hand hot water. To start with, roll the wet wool gently, in a circular motion, between your palms to make a slightly, elongated ball. Like when you make a ball out of clay or plasticine. As it takes shape, increase the pressure as you roll it between your hands. Keep going until it feels firm and is acorn shape. Your hands will get quite soapy.
It may be necessary to work the wool between your finger tips of both hands, to start it off.
If the acorn is not big enough, wrap more wool around it and repeat the hot, soapy water and rolling. Remember, this is the base layer. The top layer will make it bigger again, so do check that the base acorn will rattle in the acorn cup and is not snug.
Wash the soap out with cold water and let the acorn dry.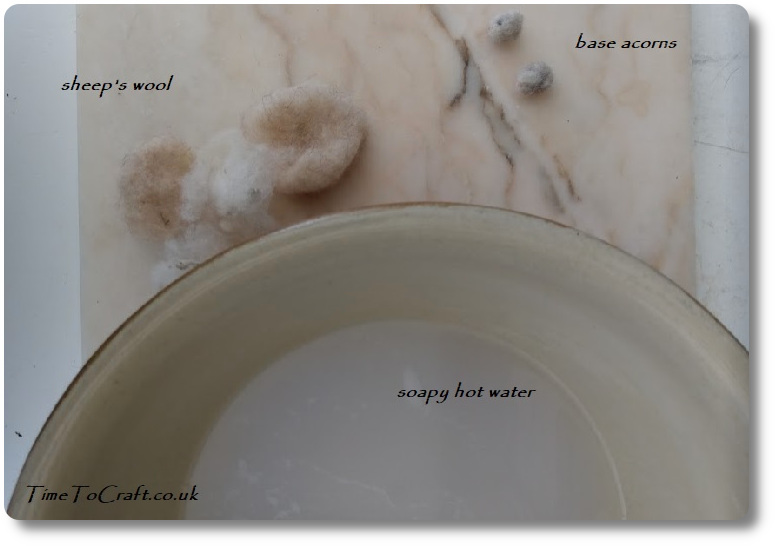 Or needle felting –
Use a single needle felting needle to stab a clump of sheep's wool into an acorn shape. Bunch it up into a ball to start it off. Mind your fingers as you use the needle. Move the acorn around, as you work, to cover all the surface, fixing it in place. Here again, keep going until the acorn is firm. Add more wool if you need it.
I roll it briskly in my hand at the end. It helps to give it more shape and firmness, as well as smoothing out any puncture marks.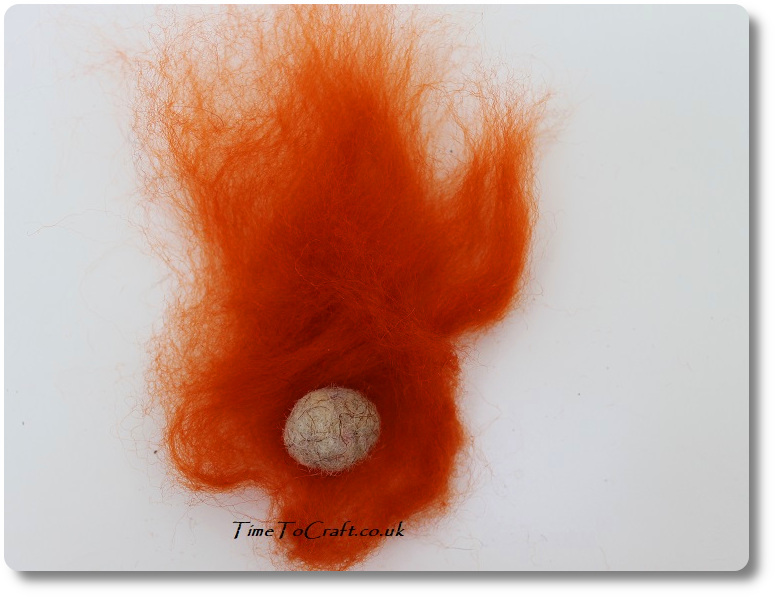 Add the colour
Take the merino and spread it out flat. Wrap the base acorn up in the merino.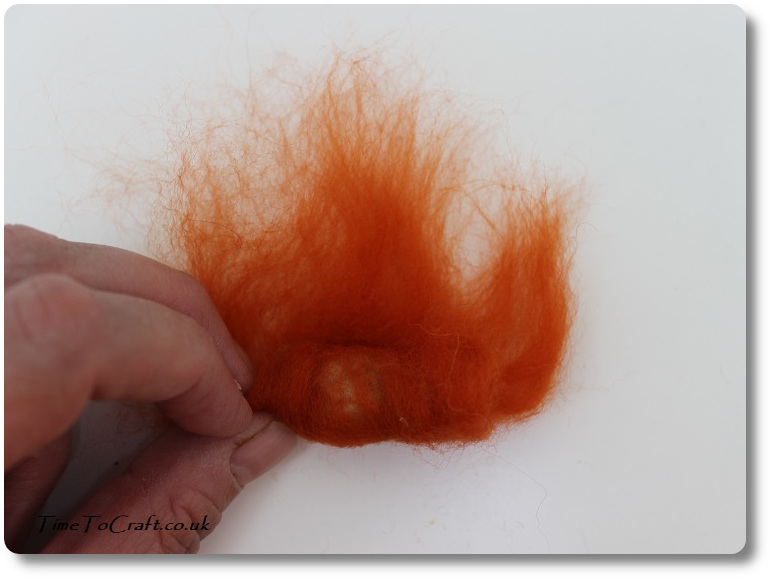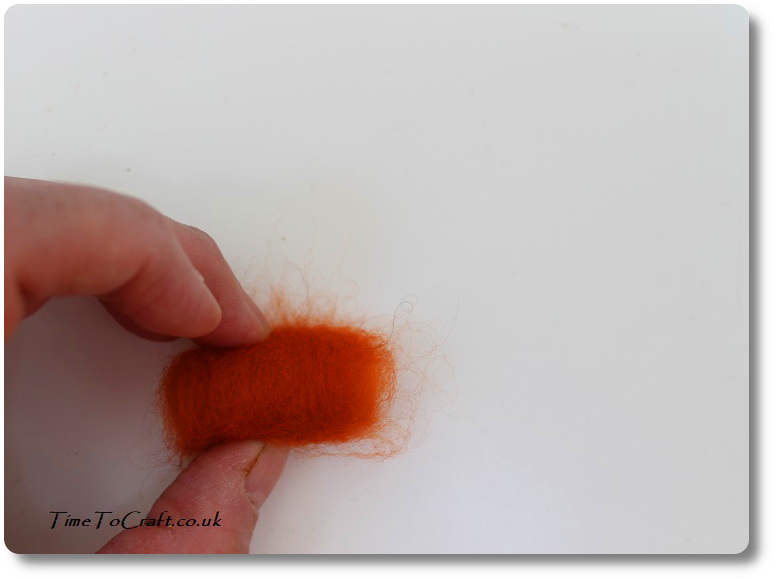 Use the needle to work the acorn into shape. Or you can use the wet felting method again.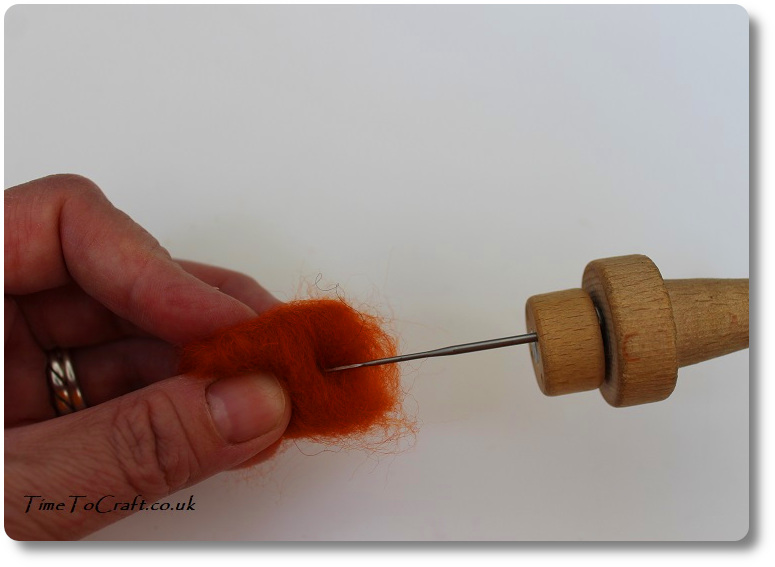 Both methods
Fix the acorn into one of the acorn cups, using a spot of glue to keep it in place.
Repeat until you have all the felted acorns you can handle.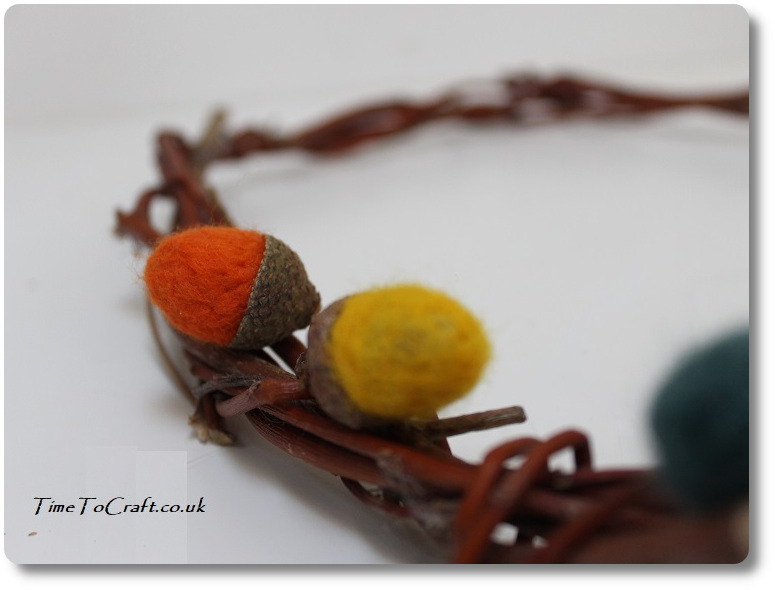 These make great gifts. Add a clutch of three as decoration to a pot of homemade jam, as an autumn gift. It can be fun to blend different colours together. I've blended yellow and orange, also blue and green, in my latest batch.
I'm adding my acorns to a willow wreath I made a few years ago from our willow tree. It's lasted well. My next step is to make oak leaves. The question is whether to knit, felt or some other method.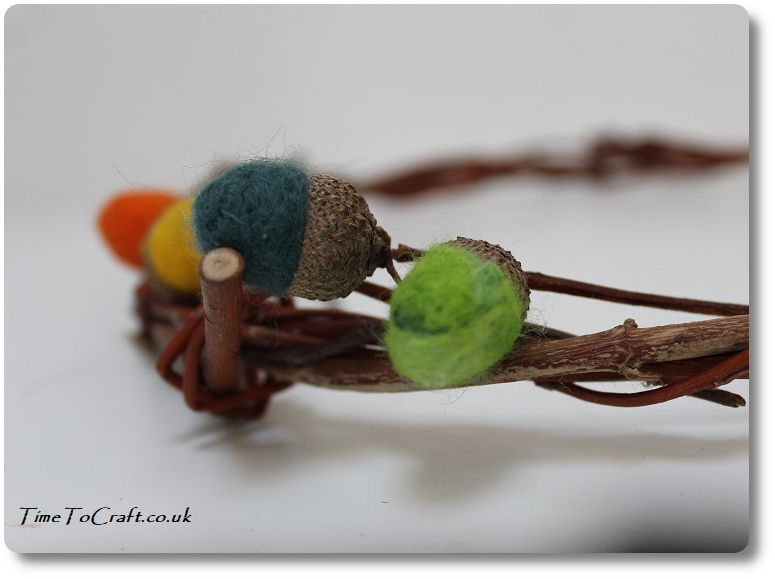 I hope you give the felted acorns a go. Please remember that these are not toys and shouldn't be given to children to play with. I have used the wet felting method to make the acorns with older children and they've all loved making them. Added bonus is that their hands are perfectly clean and ready to make bread afterwards.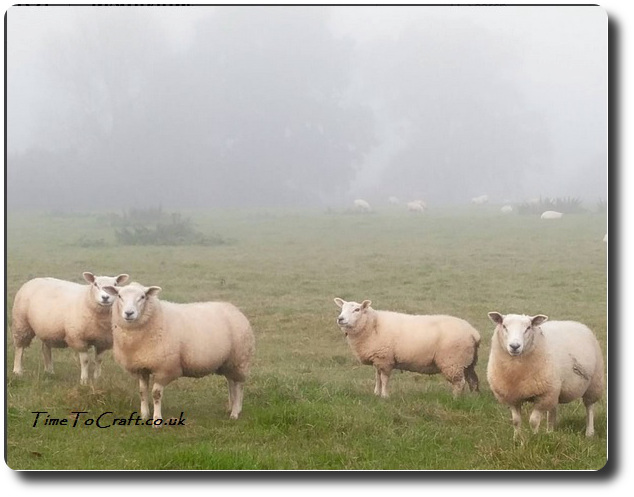 From little sheep, great acorns grow. 😀
If you have any questions, leave a comment and I'll get back to you.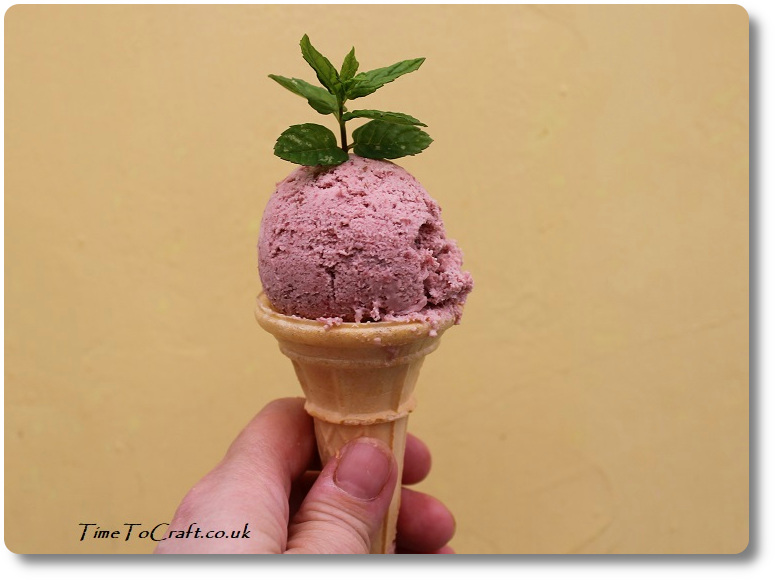 One of the joys of summer, for me, is fresh figs on a daily basis. They're picked straight from our tree, which is just outside the kitchen door.  The taste is truly divine. Every time I go outside, I can't resist picking a couple more. One day last week, I was in and out more than usual and ended up with a growing mountain of figs on the kitchen table.
This might surprise you, but not everyone in our household is crazy about figs. This left me with a dilema. I had a mountain of figs and there was no way the rest of us could eat them all before they went off, so I got creative. I gave some away and made the rest into fig ice cream.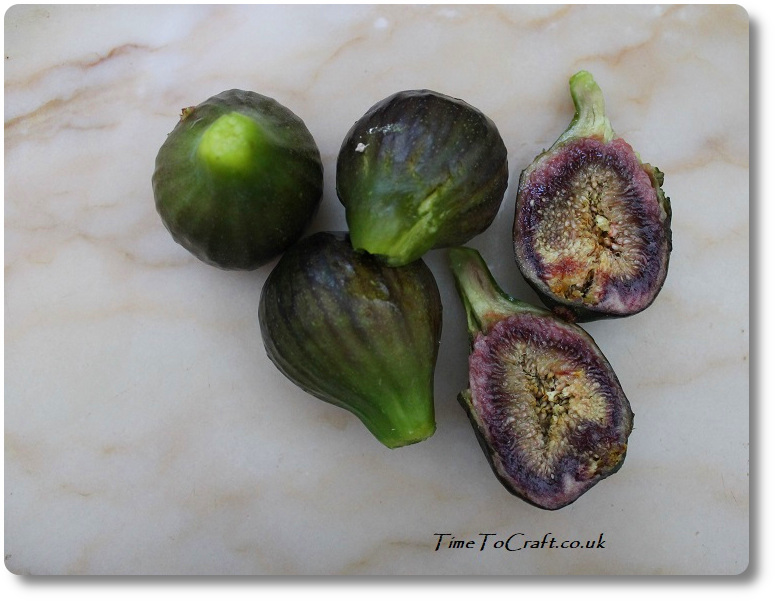 Chilling a gorgeous taste, like fig, down can be a mistake. When I tried making plum ice cream, the subtle taste was lost, leaving a fairly bland ice cream. I've never sampled fig ice cream before. I had no idea if it would be a hit or not. After some research, I decided the best way forward was to make a kind of fig jam and add it to the cream mixture. I didn't have time to make and cool an egg custard as well, so I went for an eggless ice cream.
Cutting a long story short and going straight to the punchline, the result was amazing. It was a serious taste bud tingling moment. It was fruity and fragrant with a hint of sophistication.
Took me right back to being a ten year old, in London, when I was taken along to an ice cream parlour, for the first time. I'd never seen a whole counter of different ice cream flavours. Was it Baskin Robbins? I don't remember. It certainly claimed a large number of varieties, which none of us could believe until we saw it.
Anyway, up to then I'd not seen more than vanilla, strawberry and chocolate ice cream. Or tasted any other flavours, for that matter. I stood there mesmerized by the unusual, fun and exotic combinations, all set out in tubs before me. It took up one, whole side of the shop. Not surprising, the experience stayed with me.
I suspect there wasn't a fig option, but it would have fitted right in.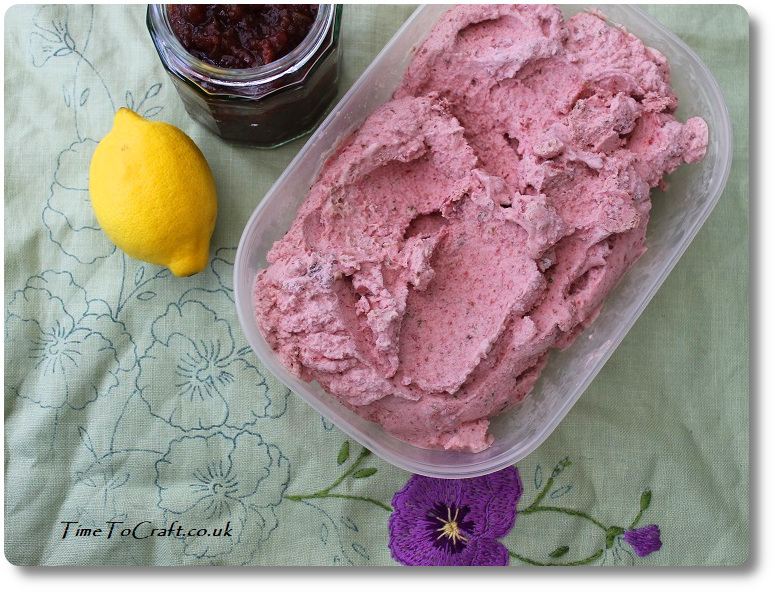 Roll on several decades and here we are with my offering.
The amount of lemon can be varied. It makes a perfect taste combination with the fig. It also transforms the colour. Like magic. The mixture goes from deep ruby red to a sumptuous pink, when it's added.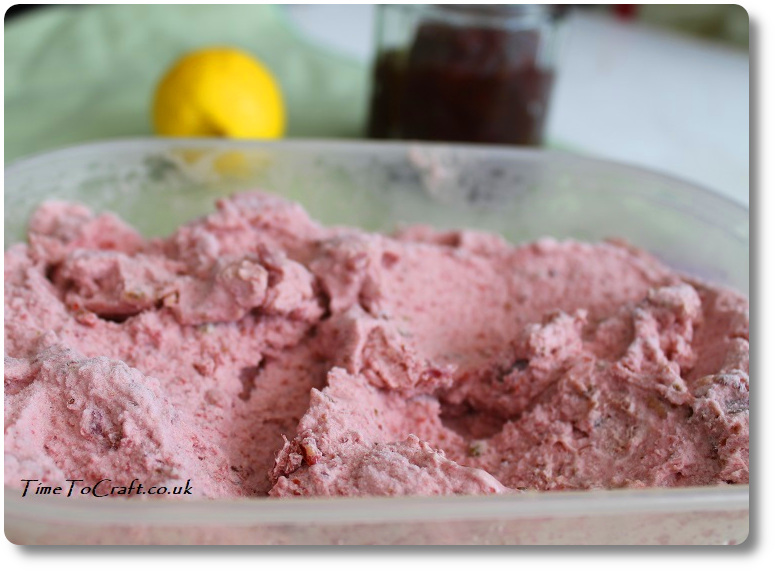 Did I mention that it tastes amazing?
Want to have a go at making it? Here's the recipe.
Fig Ice Cream
Ingredients
Steps
Makes 1.5 pints

10-15       ripe figs
1/2         small lemon, juice and zest
75ml      water
75g        sugar
250ml    double cream

1. Cut figs up into small bits and discard the stalk.
2. Put figs, water and lemon zest in a saucepan and simmer until the fruit is soft.
3. Add in sugar. Stir until the sugar has dissolved and the mixture becomes like jam.
4. Take off the heat and allow to cool.
5. Use either a potato masher or a hand blender to puree the mixture.
6. Stir in cream and lemon juice. Chill in fridge ready for ice cream machine.
7. Follow the instructions of your ice cream machine
Will I be making fig ice cream again? You bet I will. It is so easy to make. I can see it being a summer staple from now on. Too delicious to miss out on. I might try it with an egg custard base next time, to make it a little less like a sorbet, but that is the only part I might change.
I can't help thinking that some one out there has been keeping their cards close to their chest where fig ice cream is concerned. Secret squirrel scenario. Maybe I should have sworn you all to secrecy before I started. Too late now.
Best advice I can give you is to go plant a fig tree in your garden, or else make friends with someone who has one. You won't regret it. Fresh figs for a summer breakfast takes some beating. Added bonus is that the rest can be made into ice cream. Now that is, if I say it myself, a good idea.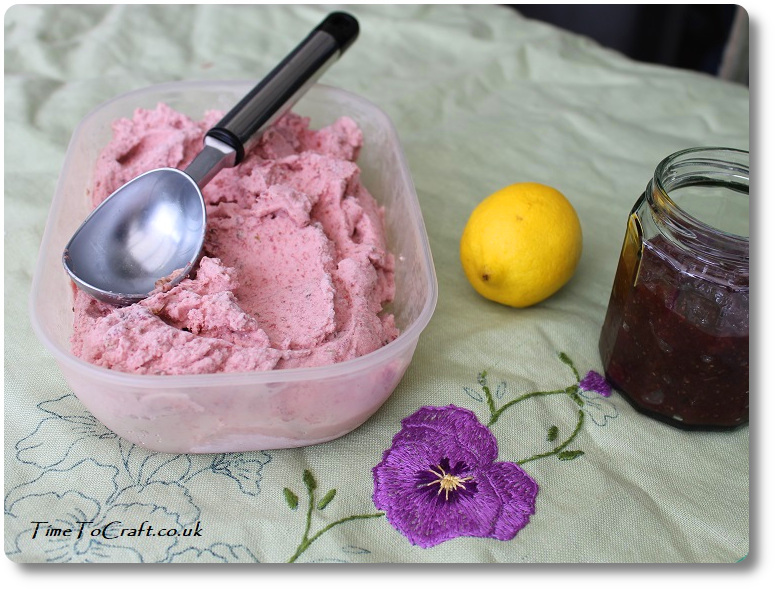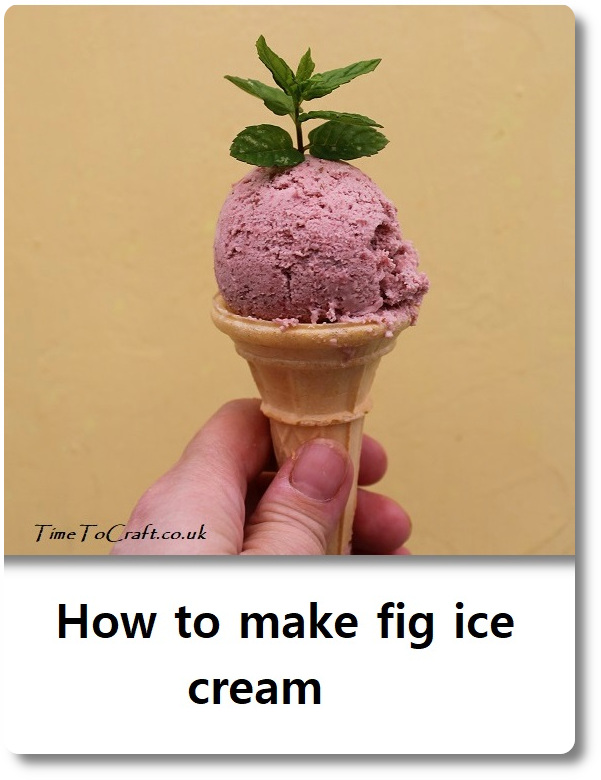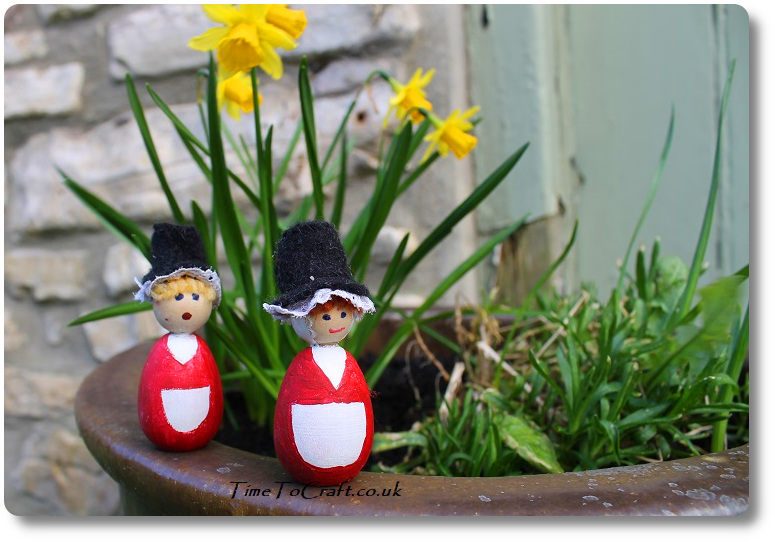 Nerys decided not to tell Blodwen that it was her that made the chocolate chip welsh cakes for the village get together. Well, not until they got home, at least.
———–
We'll be celebrating with the traditional dried fruit welsh cakes (recipe), as well as a small batch of chocolate chip ones for the fussy members of the family. Blodwen would never approve. (How to make a welsh peg doll)
Happy St David's Day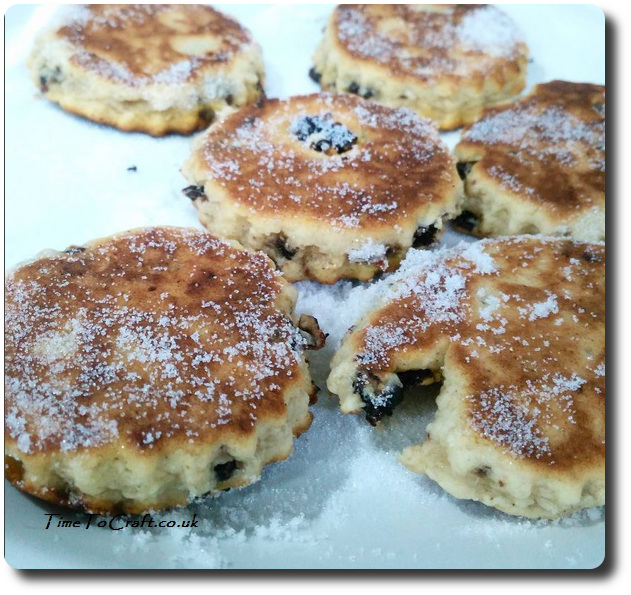 Photos
There have been cases when people lifted my photos and words, and used them without credit to me or asking permission first. Using them for their own commercial gain. I have now added a level of security to deter people from doing this. Apologies to people who do play nicely. If you would like to use any of my photos, please contact me.
Copyright notice:
All my words and photos are copyrighted to me. They cannot be used for commercial benefit by anyone else. If you would like to use any of them, then please ask me first and don't just take. Written permission only. Don't pass my words, photos or ideas off as your own. It's not nice.
Cookie Policy
Our web pages do not use cookies however this website uses Google Analytics, a web analytics service provided by Google, Inc. Google Analytics uses cookies to help us analyse how people use our site. The use of cookies by Google Analytics is subject to change.