With two teen daughters in the house, it was only a matter of time before skincare and makeup products would become the major occupants of our bathroom cupboard. Heck. It got so bad, I even contemplated a second cupboard to cope with the invasion. Could I squeeze one in without making it feel too crowded? Maybe two?
Fortunately, as so often happens, it sorted itself out. Makeup was eventually herded into bedrooms to prevent one sister using the other one's collection. Peace was restored. Skincare tubs and bottles were still in residence, but there was room. Plans for future cupboards were abandoned.
It feels like a long, long time ago that I wrote a letter to my 11 year old daughter about the use of makeup. I'm pleased to say, neither of them are over the top in their use. They go for the natural look. This is a good time to experiment, as far as makeup is concerned.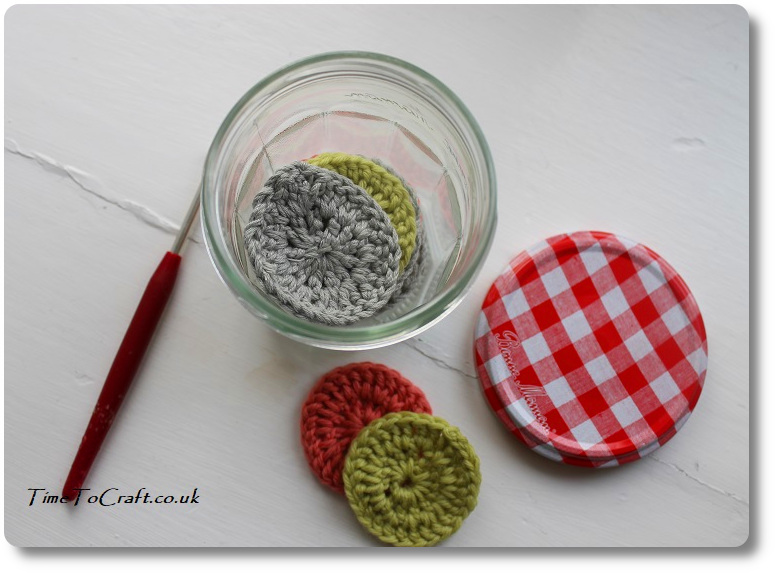 Anyway, the next looming issue was tied up with the removal of said makeup. What goes on, has to come off.  I eliminated single-use wet wipes and cotton wool pads from the house, by a ready supply of flannels. I made a clutch of bamboo flannels. These have been a bit of a success, I'm mighty glad to say.
Just one niggly problem. Teeny tiny one, at that. They found the flannels too absorbent. The makeup remover glugged away into the fluffy fibre, never to be seen again. Same with toner. As good as gone. They were resorting to using tissues instead with the remover and toner.
Neither solution was good. Apart from the waste of the remover with the flannel, the tissue wasn't a good alternative to a cotton wool pad either and it was adding to our waste. We only have a tiny bin in the bathroom and I was emptying it far more frequently. All heading for the landfill.
I've had reusable cotton pads on my radar for a while. Crochet in cotton. There are so many different designs but most boil down to a small circle. Usually 12 half crochet stitches in a circle. Then 24 on the next round. Digging through my stash, I had a few odd balls of cotton yarn. I wanted three different colours, so each of us skin care/make up users could have our own colour.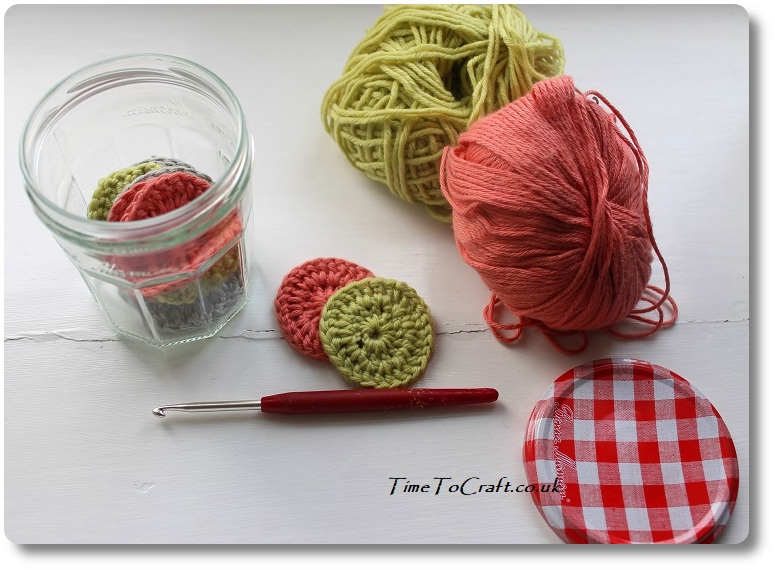 I made three trial sets. Three of each colour. If they work out, I'll make more. They take no time to crochet up. The plan is to store them clean in one jar and put the used ones in another jar. Once there are enough to wash, I'll put them in a small, drawstring mesh bag I have in the cupboard. Then into the washing machine they will go.
I've tried one with toner and it is so much better than a tissue or fluffy flannel. Thick enough to hold the liquid, but thin enough not to hide it. Fingers crossed. It looks hopeful.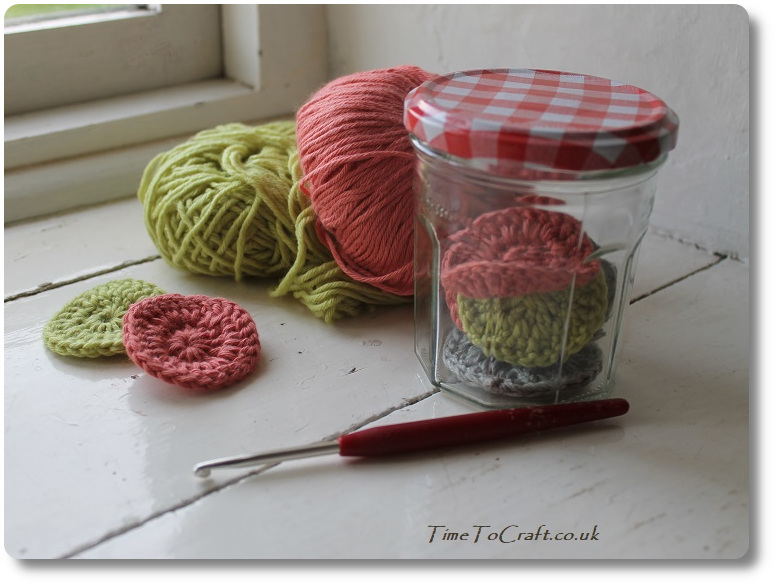 If nothing else they are so darn pretty. I did look at buying a ball of recycled cotton yarn, but hard to justify when I already have cotton in my cupboard. Another time.
First make of 2019.  So simple and satisfying. Thrifty and frugal. Also a warm, fuzzy feeling that it is an eco friendly solution to boot. Cutting waste. Cutting water and chemical use in the production of single use cotton wool. Happy dance.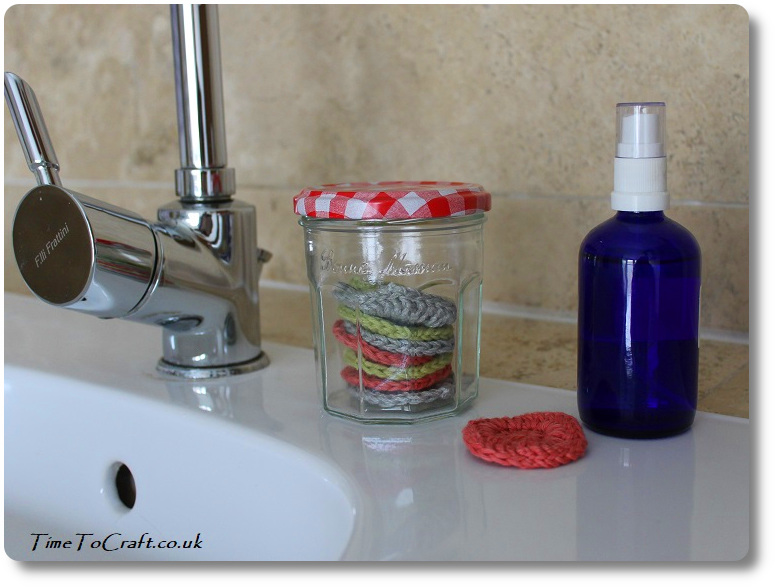 And, even though I say it myself, I think they look rather good in their jar by the sink. Like little rounds of candy. Irresistible. Encouraging all to give them a go. Some projects are win-win, I'd say.
Linking up with #GoingGreen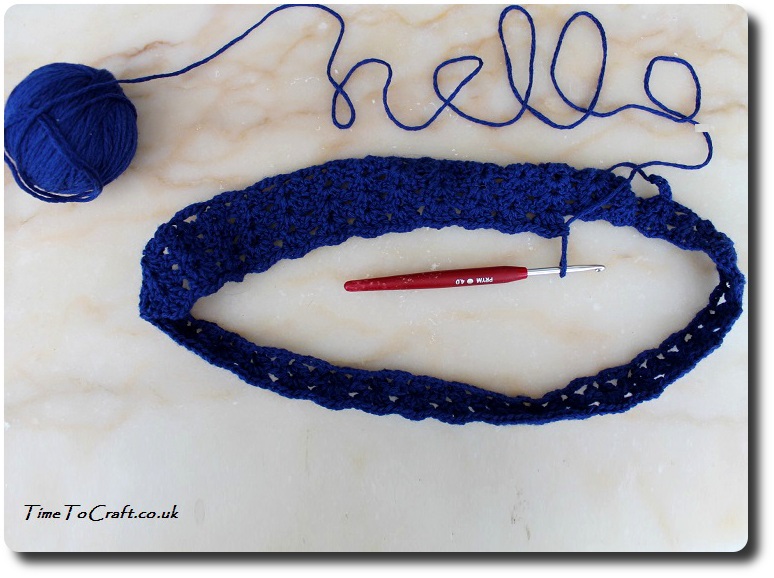 I finally unravelled my crocheting. Is it just me, but I have to leave a few days between deciding to unravel and actually pulling the yarn? The wool was in the odd balls basket at our local wool shop. Turns out, it wasn't quite enough to make my yoke, but with a few alterations to the pattern, it will.
I love this stitch. It has the quick and ease of a granny square, but is less clunky to look at. Perfect for my needs. It's called a shell pattern – split double. I might make a video showing how to do it, if only so I don't forget.
Altering the design of the yoke should make it more interesting to look at too, so another silver lining.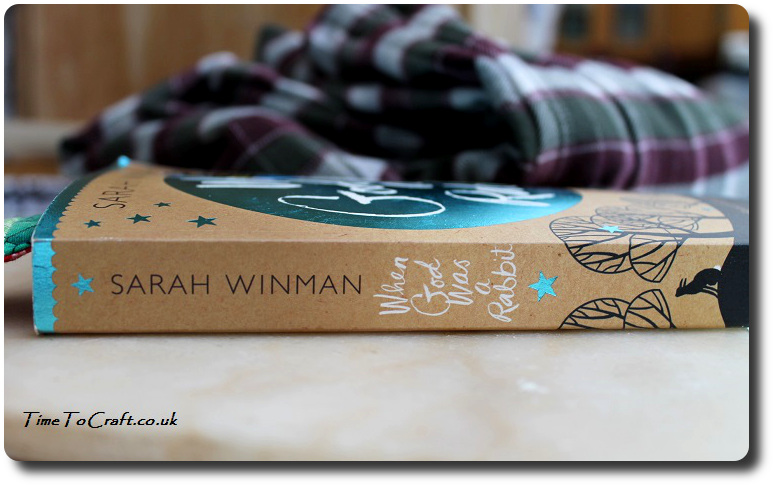 Reading wise, I've not been able to settle into a book. Pick up a book, read a few pages and then abandon it in a pile of sewing. I was quite relieved when I found a copy of When God was a Rabbit  in a local charity shop. It is quirky and, far more importantly, has kept me reading. Only a few chapters in, but at least it hasn't ended up languishing in the sewing pile. (Not sure why it's always the sewing pile. Maybe "not great" books inspire me to sew.)
While we're on the subject of stitching, I have almost finished my latest sewing project. It's squeezing into the back of the photo. Just too soon for a ta-dah moment. Gardening has definitely delayed this project. I find that if the weather is nice, I can't waste time inside. No knowing how long it will last, and seeds wait for no-one.
(Technically not true, of course. Poppy seeds, for a start, have been known to lie dormant for 50 years, waiting for the right conditions to germinate and grow. That's why a slight change in the farmer's methods can result in an unplanned dash of red in fields, after years of none. They are there, waiting for their chance.)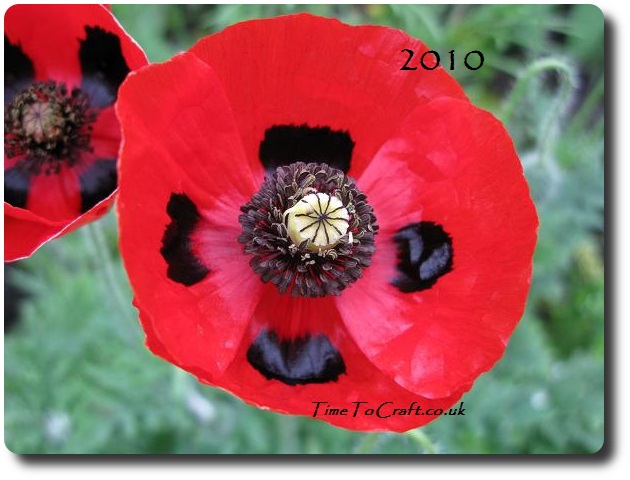 (ladybird poppy from 2010. Current poppies are just leaves at the moment.)
The point is that, I need to get cucumber seedings potted up and sweetcorn planted out, otherwise I'm losing growing time. I fool myself that I'll sew later in the day, but then I'm too tired/needed for homework/taxi duties. Sigh. So the sewing has waited. Hopefully I'll be able to take photos soon and share here.
That's me. How about you? What have you been making? Have you read a book recently that you couldn't put down? I'd love to know.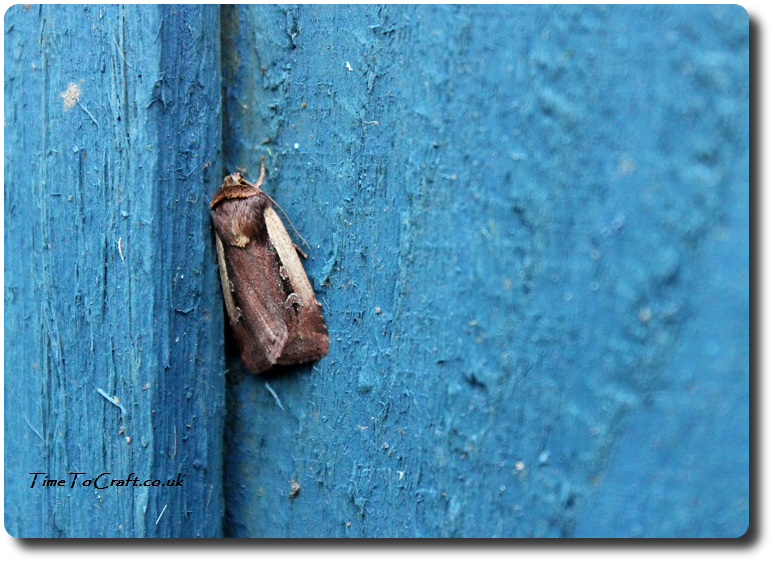 This time of year seems to be full of rediscovering. Plants pop up that I had forgotten. Spring cleaning leads to lost treasures seeing the light of day again. Insects* appear in the garden and for a few seconds I have to remind myself what they are called.
So it is always fun when I discover something new. Last night, as I put my garden tools away, I found a brown moth on my shed door. I thought it was a leaf. I can imagine in the right setting, its markings would be a perfect camouflage, but on my blue shed door, it stuck out like a sore thumb. I'm on a mission to find out the type of moth.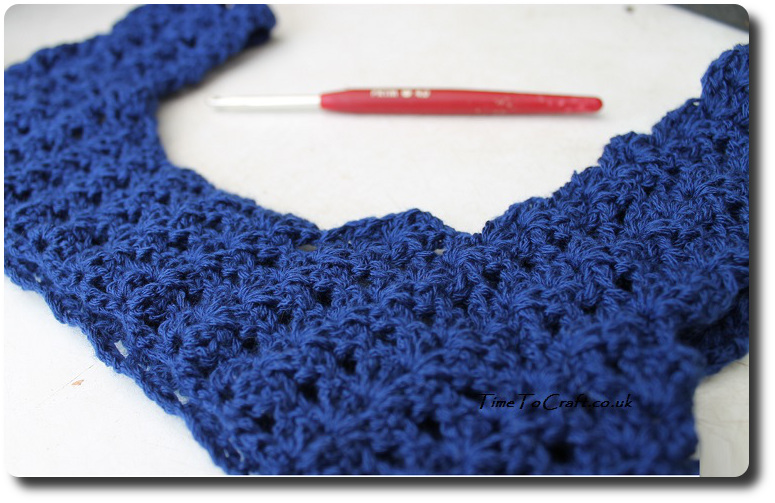 I discovered a new crochet stitch . It works perfectly for a yoke I'm working on. Unfortunately, the yarn has run out, so I may need to adapt my design a bit. It is so quick that it won't take long to crochet it up again.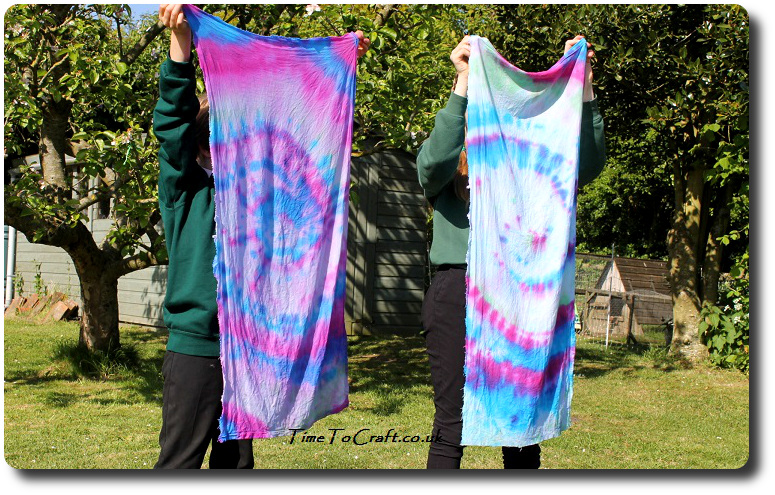 We discovered that when the instructions say that something stops working after 45 mins they might be right. Our test piece of tie dye, using dye 4 years old (not 45 mins) didn't take as well as it could, but the results were still pleasing. Better than throwing the dye away. Hopefully this weekend we will break open the new dye and set work on our big project.
Biggest discovery this week is that the bats are back. Regular readers will know I love bats, and each year we host a maternity roost in our attic. I'm convinced that they like our chimney which encases the Aga's flue. Nice and warm. When the babies are born, they fly each night with them hanging onto the mother's body. When they get bigger, but not ready to fly, the babies are left in the roost. So our chimney keeps them warm.
I was worried that they wouldn't return. Last year, we had to fix part of the roof. Our poor builder had very precise instructions from me about how it should be done. No exit points to be sealed and nature friendly wood preservative, with the lowest odour possible. Luckily he understood.

This is from last year. Best time to see them as they come home.
I have been watching the roost and last week they still weren't back. Then two nights ago, I watched about 40 fly out, before I lost count, so it looks like our careful repair worked. Phew.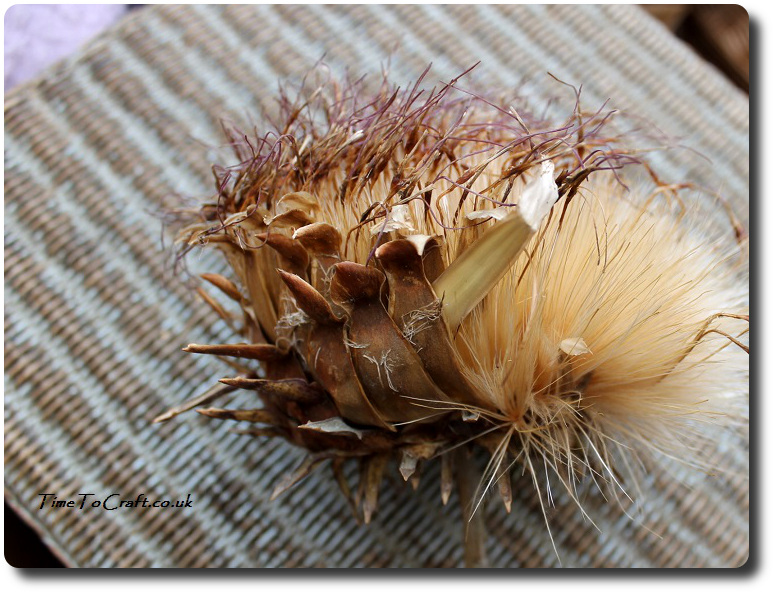 Finally, while visiting my parents this week, I discovered the perfect plant for one of our borders. Next time I visit, I'll dig up a seedling. In the meantime, I have the seed head, so we will have fun trying to grow a few. Artichoke. I've grown it before, but this is a different type. Isn't the transition of the seed head beautiful?
Linking up to Word of the Week #wotw
(*When I grow up I'd like to be an entomologist.)
Photos
There have been cases when people lifted my photos and words, and used them without credit to me or asking permission first. Using them for their own commercial gain. I have now added a level of security to deter people from doing this. Apologies to people who do play nicely. If you would like to use any of my photos, please contact me.
Copyright notice:
All my words and photos are copyrighted to me. They cannot be used for commercial benefit by anyone else. If you would like to use any of them, then please ask me first and don't just take. Written permission only. Don't pass my words, photos or ideas off as your own. It's not nice.
Cookie Policy
Our web pages do not use cookies however this website uses Google Analytics, a web analytics service provided by Google, Inc. Google Analytics uses cookies to help us analyse how people use our site. The use of cookies by Google Analytics is subject to change.