Happy May 1st. I've been enjoying walks in our woods. The wildflowers are making their presence felt. Carpet of bluebells with sprinkling of wild garlic and wood sorrel, which sounds more like a recipe than anything.
I started my new yarn project last night. I'm making another King Cole pattern. In fact, it's a long cardigan again, but this time with pockets and a zigzag hem. Pockets make me feel like I'm giving in to my sensible side, while the yarn colour is a riot and makes me smile. I do love bright, strong colours. The yarn is called raspberry and is probably a closer match to the contents of an Angel Delight or Kool Aid packet, than anything I'd grow in my fruit garden, but that's OK.
I'm using King Cole Merino Blend again, because, quite frankly, it's my favourite wool at the moment. I love knitting with it. I love wearing it. I can't think of a better reason to use it on this latest project.
The pattern is King Cole 4750. I've knitted the pocket linings and the start of the left front hem. I'm not sure about it yet. It is a little bit loopy in parts. I'm tempted to start the right side and see if I can get it tighter. If I can then, the left side can be unravelled and started again. If you look at the photo of the finished cardigan, it does look a lot tighter, compared to mine. Hmm.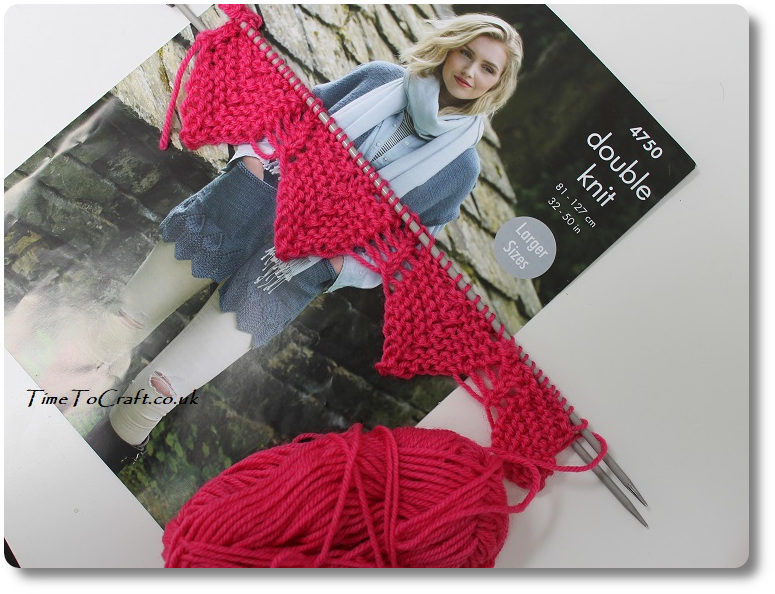 Still with the yarn projects. I finished the front of my daisy cushion (top photo). Just need to sew on the fabric back and it can join the other one at the kitchen table. The is a scrap buster and I've finished the white and the blue balls of yarn. I'm tempted to do another cushion cover, but this time just use the green as a background for the daisies. So long as I can find another ball of white skulking around.
I have finished my jumper, since last Yarn Along. Reblocking as the hem is still curling. Makes me appreciate a ribbed hem, at times like this.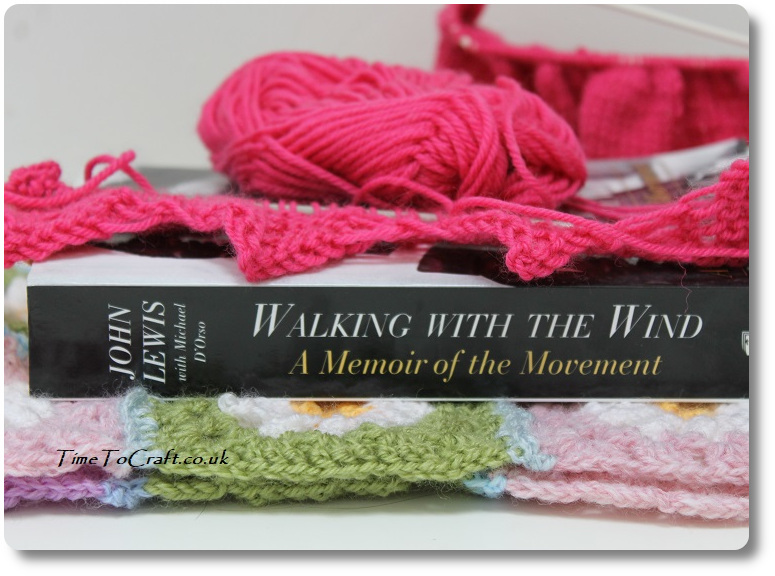 Finally, seeing as it's the first Wednesday of the month and Yarn Along time again, I'm sharing my latest book……which is the same as last month. I have been reading it. Spring means I have less time to read. Between work, the garden and different after school activities for the children, somehow reading time is squeezed and I'm asleep as soon as my head hits the pillow at night. I am enjoying the book and love the moments when I can pick it up.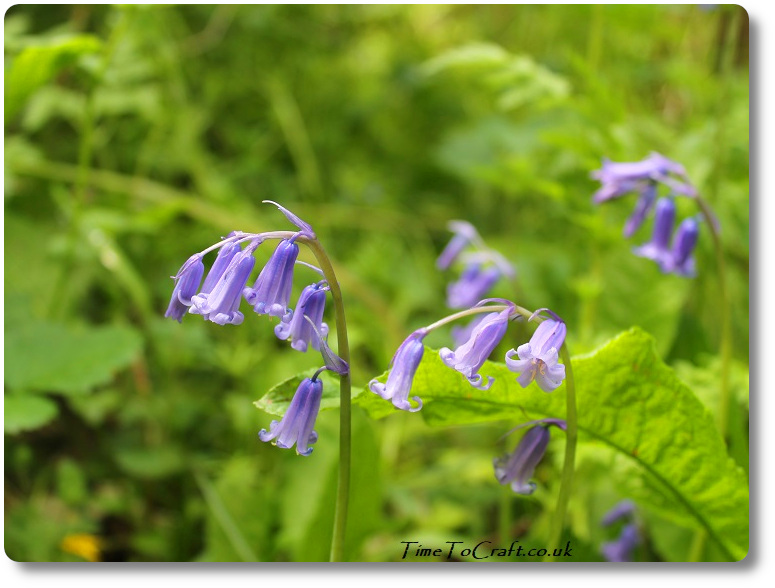 I hope May treats you well and you are able to enjoy the scent of a walk through a bluebell wood. Our bluebells will soon lose their race with the surrounding foliage and be more hidden , so I'm enjoying the sight while it lasts. See how they droop and the edges of the bells look like they have been curled. A sure sign of native bluebells and not the invasive Spanish variety.
Joining in with Ginny's Yarn Along. What are you reading at the moment? Have you anything on your knitting needles?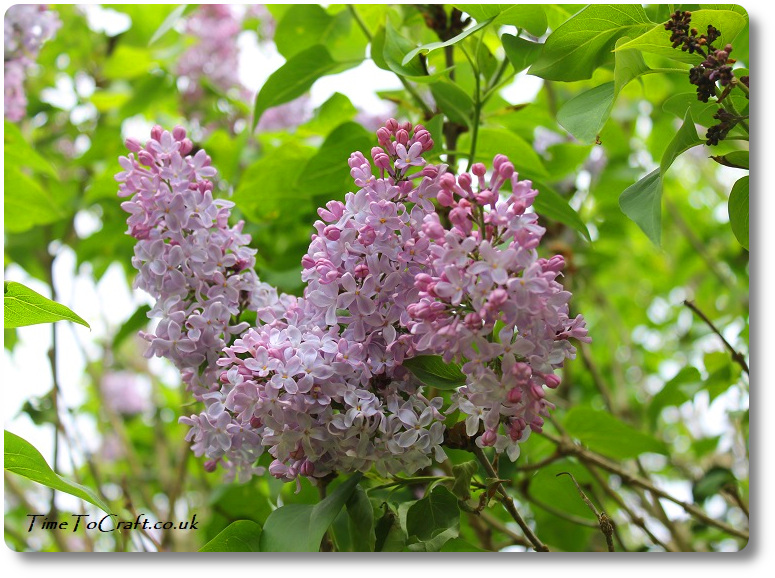 I woke up on Saturday and tip toed downstairs. The rest of the house were still sleeping. A lovely greeting from the hound, as usual. He is generous with his kisses, almost to a fault. I opened the door to let him out. Standing out on the path, in my nightie, I listened to the birds. Admired the freshly cut grass my husband had cut the day before. Picking up the milk bottles from the door step, I couldn't help counting my lucky stars that I could open the door and walk straight out into a green space all of my own.
I think spring does that to me. Reminds me how beautiful the world is as soon as I open the door. (Also highlights the dust in the house, with its sunbeams, but let's not dwell on that part.)
I find nature really influences the colours I want to work with. The pastel pinks and blues, that are around at the moment, are perfect. I can't imagine using them in the colder months. I've been stuck for a yarn project since finishing my jumper. Nothing tempted me. Then I was washing my daisy crochet cushion cover and it hit me. Why not crochet another one? The first one makes me smile every time I see it. I can make another one for the kitchen chairs.
We visited relations yesterday. I crocheted another four squares in the car. I'll need 16 in total. An easy project to take with me. I'm still trying to find the blue yarn in my stash, but I'm sure it's there. Somewhere.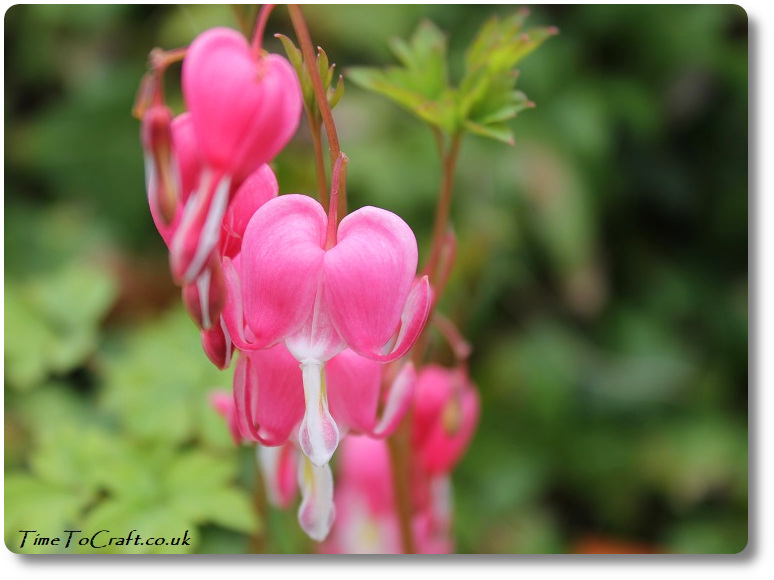 Spring, flowers and crochet. A lovely indulgence. Also split today between enjoying the quiet and missing the bustle and noise of the children. Everyone's back to school.
With two teen daughters in the house, it was only a matter of time before skincare and makeup products would become the major occupants of our bathroom cupboard. Heck. It got so bad, I even contemplated a second cupboard to cope with the invasion. Could I squeeze one in without making it feel too crowded? Maybe two?
Fortunately, as so often happens, it sorted itself out. Makeup was eventually herded into bedrooms to prevent one sister using the other one's collection. Peace was restored. Skincare tubs and bottles were still in residence, but there was room. Plans for future cupboards were abandoned.
It feels like a long, long time ago that I wrote a letter to my 11 year old daughter about the use of makeup. I'm pleased to say, neither of them are over the top in their use. They go for the natural look. This is a good time to experiment, as far as makeup is concerned.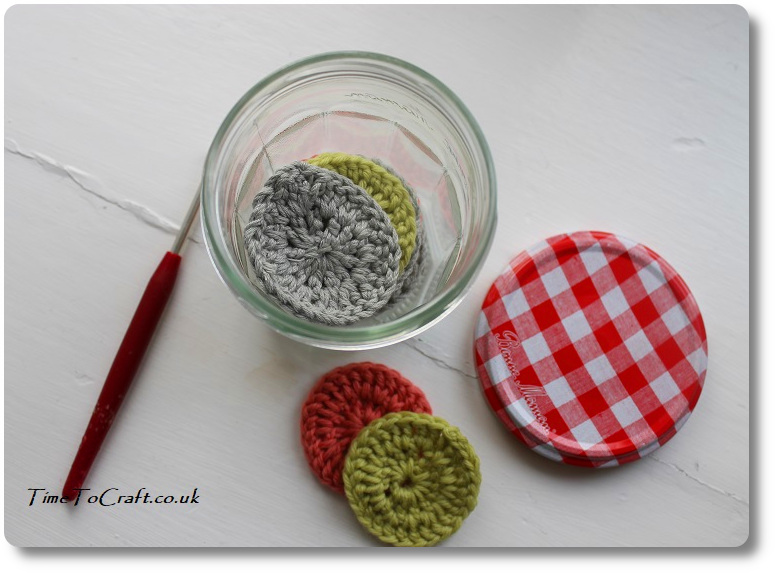 Anyway, the next looming issue was tied up with the removal of said makeup. What goes on, has to come off.  I eliminated single-use wet wipes and cotton wool pads from the house, by a ready supply of flannels. I made a clutch of bamboo flannels. These have been a bit of a success, I'm mighty glad to say.
Just one niggly problem. Teeny tiny one, at that. They found the flannels too absorbent. The makeup remover glugged away into the fluffy fibre, never to be seen again. Same with toner. As good as gone. They were resorting to using tissues instead with the remover and toner.
Neither solution was good. Apart from the waste of the remover with the flannel, the tissue wasn't a good alternative to a cotton wool pad either and it was adding to our waste. We only have a tiny bin in the bathroom and I was emptying it far more frequently. All heading for the landfill.
I've had reusable cotton pads on my radar for a while. Crochet in cotton. There are so many different designs but most boil down to a small circle. Usually 12 half crochet stitches in a circle. Then 24 on the next round. Digging through my stash, I had a few odd balls of cotton yarn. I wanted three different colours, so each of us skin care/make up users could have our own colour.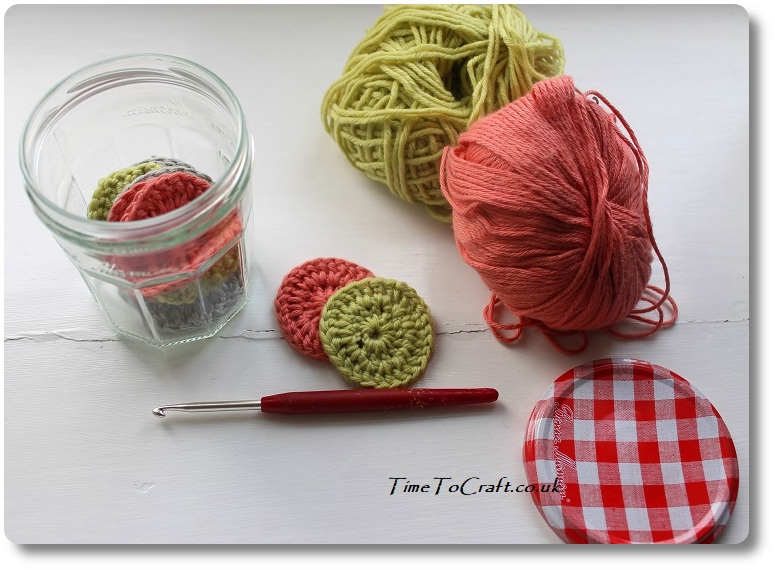 I made three trial sets. Three of each colour. If they work out, I'll make more. They take no time to crochet up. The plan is to store them clean in one jar and put the used ones in another jar. Once there are enough to wash, I'll put them in a small, drawstring mesh bag I have in the cupboard. Then into the washing machine they will go.
I've tried one with toner and it is so much better than a tissue or fluffy flannel. Thick enough to hold the liquid, but thin enough not to hide it. Fingers crossed. It looks hopeful.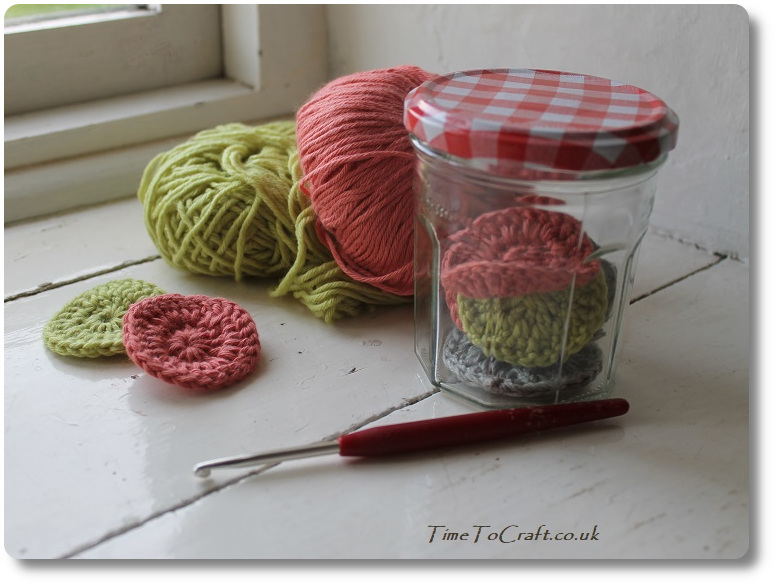 If nothing else they are so darn pretty. I did look at buying a ball of recycled cotton yarn, but hard to justify when I already have cotton in my cupboard. Another time.
First make of 2019.  So simple and satisfying. Thrifty and frugal. Also a warm, fuzzy feeling that it is an eco friendly solution to boot. Cutting waste. Cutting water and chemical use in the production of single use cotton wool. Happy dance.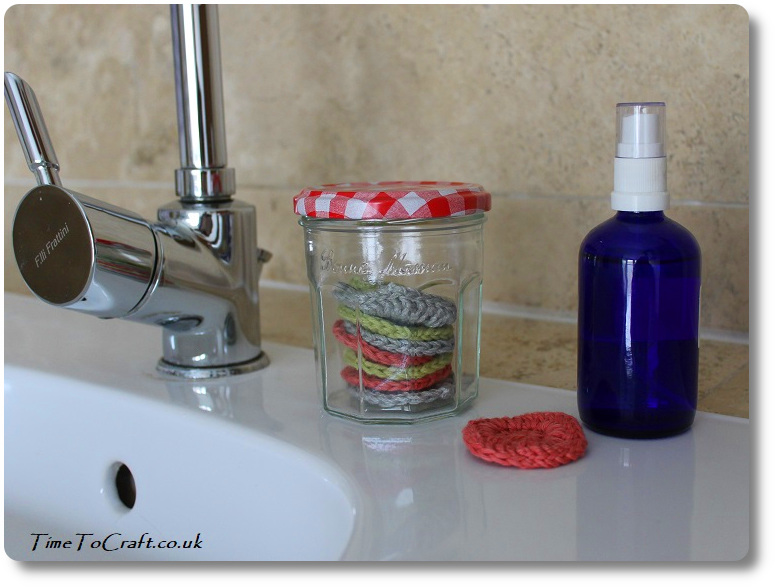 And, even though I say it myself, I think they look rather good in their jar by the sink. Like little rounds of candy. Irresistible. Encouraging all to give them a go. Some projects are win-win, I'd say.
Linking up with #GoingGreen
Photos
There have been cases when people lifted my photos and words, and used them without credit to me or asking permission first. Using them for their own commercial gain. I have now added a level of security to deter people from doing this. Apologies to people who do play nicely. If you would like to use any of my photos, please contact me.
Copyright notice:
All my words and photos are copyrighted to me. They cannot be used for commercial benefit by anyone else. If you would like to use any of them, then please ask me first and don't just take. Written permission only. Don't pass my words, photos or ideas off as your own. It's not nice.
Cookie Policy
Our web pages do not use cookies however this website uses Google Analytics, a web analytics service provided by Google, Inc. Google Analytics uses cookies to help us analyse how people use our site. The use of cookies by Google Analytics is subject to change.