Crochet an alternative to cotton wool
With two teen daughters in the house, it was only a matter of time before skincare and makeup products would become the major occupants of our bathroom cupboard. Heck. It got so bad, I even contemplated a second cupboard to cope with the invasion. Could I squeeze one in without making it feel too crowded? Maybe two?
Fortunately, as so often happens, it sorted itself out. Makeup was eventually herded into bedrooms to prevent one sister using the other one's collection. Peace was restored. Skincare tubs and bottles were still in residence, but there was room. Plans for future cupboards were abandoned.
It feels like a long, long time ago that I wrote a letter to my 11 year old daughter about the use of makeup. I'm pleased to say, neither of them are over the top in their use. They go for the natural look. This is a good time to experiment, as far as makeup is concerned.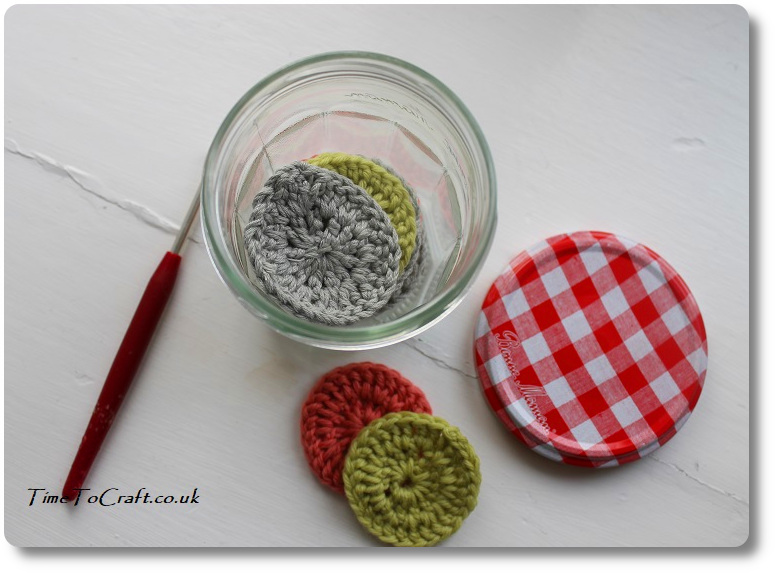 Anyway, the next looming issue was tied up with the removal of said makeup. What goes on, has to come off.  I eliminated single-use wet wipes and cotton wool pads from the house, by a ready supply of flannels. I made a clutch of bamboo flannels. These have been a bit of a success, I'm mighty glad to say.
Just one niggly problem. Teeny tiny one, at that. They found the flannels too absorbent. The makeup remover glugged away into the fluffy fibre, never to be seen again. Same with toner. As good as gone. They were resorting to using tissues instead with the remover and toner.
Neither solution was good. Apart from the waste of the remover with the flannel, the tissue wasn't a good alternative to a cotton wool pad either and it was adding to our waste. We only have a tiny bin in the bathroom and I was emptying it far more frequently. All heading for the landfill.
I've had reusable cotton pads on my radar for a while. Crochet in cotton. There are so many different designs but most boil down to a small circle. Usually 12 half crochet stitches in a circle. Then 24 on the next round. Digging through my stash, I had a few odd balls of cotton yarn. I wanted three different colours, so each of us skin care/make up users could have our own colour.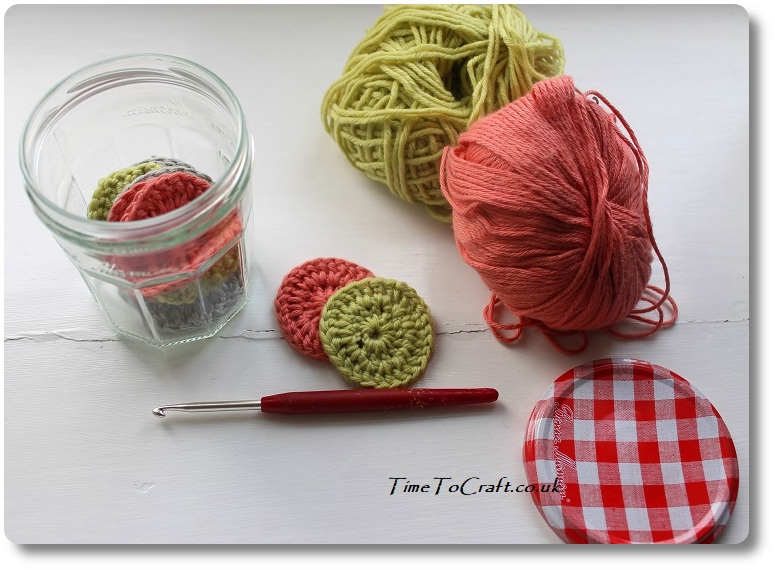 I made three trial sets. Three of each colour. If they work out, I'll make more. They take no time to crochet up. The plan is to store them clean in one jar and put the used ones in another jar. Once there are enough to wash, I'll put them in a small, drawstring mesh bag I have in the cupboard. Then into the washing machine they will go.
I've tried one with toner and it is so much better than a tissue or fluffy flannel. Thick enough to hold the liquid, but thin enough not to hide it. Fingers crossed. It looks hopeful.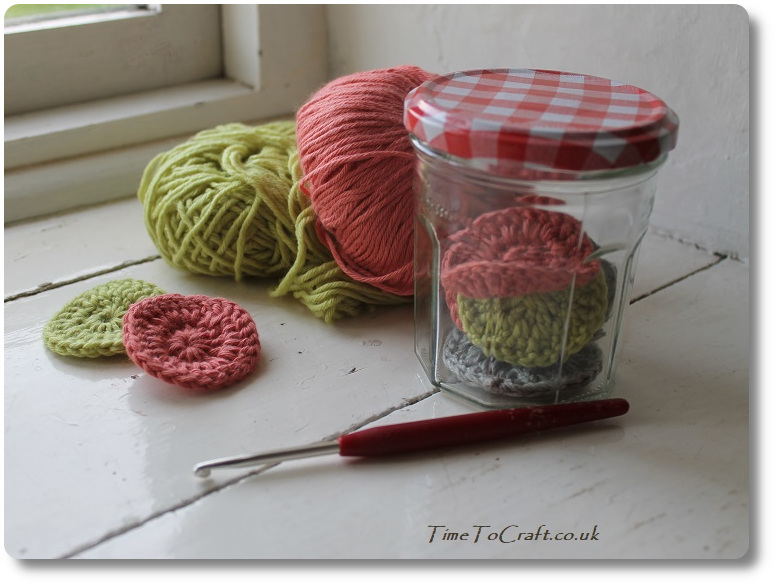 If nothing else they are so darn pretty. I did look at buying a ball of recycled cotton yarn, but hard to justify when I already have cotton in my cupboard. Another time.
First make of 2019.  So simple and satisfying. Thrifty and frugal. Also a warm, fuzzy feeling that it is an eco friendly solution to boot. Cutting waste. Cutting water and chemical use in the production of single use cotton wool. Happy dance.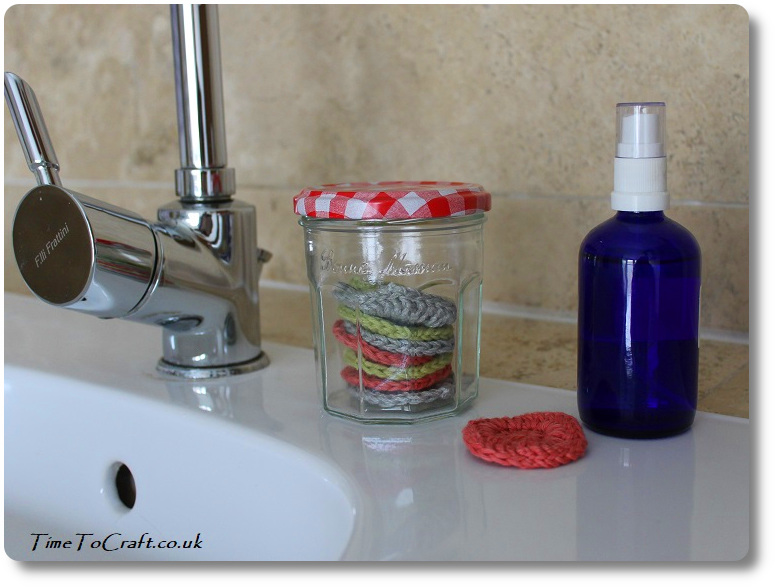 And, even though I say it myself, I think they look rather good in their jar by the sink. Like little rounds of candy. Irresistible. Encouraging all to give them a go. Some projects are win-win, I'd say.
Linking up with #GoingGreen