I'm very much still on my eco friendly living journey. Little changes where I can, with my eye on the bigger ones I can make at some point. Every now and again, I give myself a review, to see how it's going and what I can do. A nudge.
One area that I know I need to look at closer is my crafting area. I've cut out buying any more man-made materials. Partly to cut down on the micro fibres I might be adding to the environment. With other natural textiles, I use what I have, before I buy anything new.  I source second hand. Sustainable when I can. Even then, I know I could do better. I worry about the production of the materials I use. Polluting dyes, toxic fumes, pesticides and water grabbing practises.
It's not pretty.
Giving up?
Crafting is my therapy. The repetitive act of small sewing stitches, knitting rows or spinning fibres, grounds me. Concentration overriding all. I'm sure my breathing must change and chemicals are released. Wrongs are righted. In my head at least. I can cope. The world is a better place when I craft.
I will not be giving up crafting, anytime soon. So, that is not an option.
Source
I'd like to delve more into its source.
For instance, I love when I buy wool and the name of the sheep is printed on the label. I have a fleece, at the moment, waiting to be spun, grown by a sheep called Nicola from Hampshire. I like that. I imagine her skipping off after being shorn, feeling lighter and ready to munch more grass. No dye involved.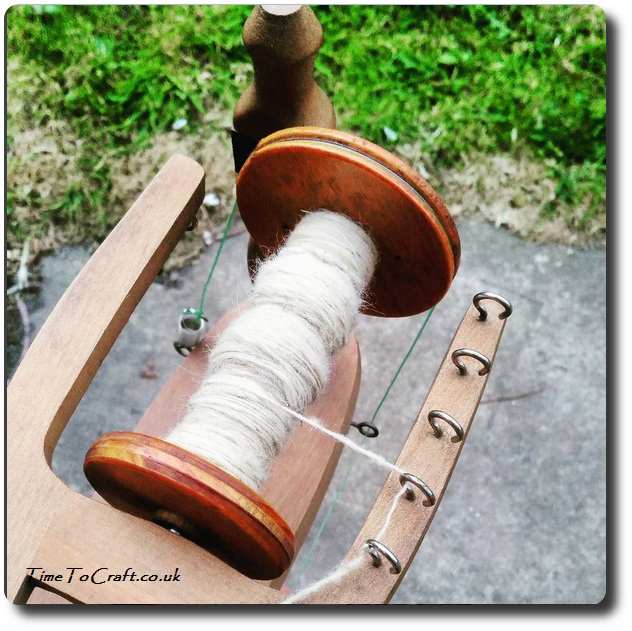 Packaging
Another area that I have been looking at is the packaging. It is cheaper and less polluting if I buy on line. I like to buy in real shops or straight from the producer, but I don't often get the chance, living in the country (unless it is a sheep's fleece, of course). Plus, searching for the right yarn or material could lead me to several shops which are usually in different towns. If I buy on line, the postman brings it, cutting out any journey I would make. He was delivering my letters anyway. I can shop around for the best price too.
The only downside is that my house is inundated with packaging. Most yarn or fabric is sent in a plastic bag. I understand. I get it. Who wants to receive potentially wet or otherwise damaged fabric through the post? I re-use the bags as I can, but I'd prefer not to. I'd prefer not to receive them.
The thing is, I remember parcels before they were sent in plastic bags. Brown paper, knotted string and sealing wax. Hugely exciting, as a child, when a parcel like that was waiting for you after school. With your name on it! Yes, some did get damaged, but my childhood was not blighted by the memory, so I'm guessing it didn't happen often.
What's more, Amazon seem to be managing quite fine to send books and so on, in cardboard. They send out millions of boxes and doing quite well for themselves. So, why can't others?
I've started to check the delivery details on line, before I order. How it will be packaged. This is not an ad, but a heads up for anyone else who buys yarn on line. I've had two deliveries now from The Knitting Network. Each time they have arrived in a cardboard box (shown in first and last photo), with brown paper inside to pad it out. No damage. No plastic. Yarn is perfect.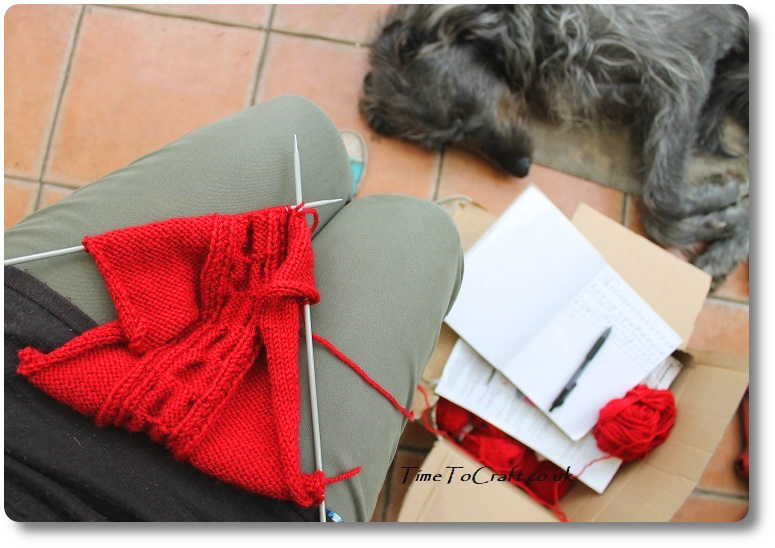 Question now is, which other companies are doing the same? Please let me know if you've had any craft materials delivered in eco friendly packaging. Also, have you any other eco friendly crafting tips? I'd really love to know.
With two teen daughters in the house, it was only a matter of time before skincare and makeup products would become the major occupants of our bathroom cupboard. Heck. It got so bad, I even contemplated a second cupboard to cope with the invasion. Could I squeeze one in without making it feel too crowded? Maybe two?
Fortunately, as so often happens, it sorted itself out. Makeup was eventually herded into bedrooms to prevent one sister using the other one's collection. Peace was restored. Skincare tubs and bottles were still in residence, but there was room. Plans for future cupboards were abandoned.
It feels like a long, long time ago that I wrote a letter to my 11 year old daughter about the use of makeup. I'm pleased to say, neither of them are over the top in their use. They go for the natural look. This is a good time to experiment, as far as makeup is concerned.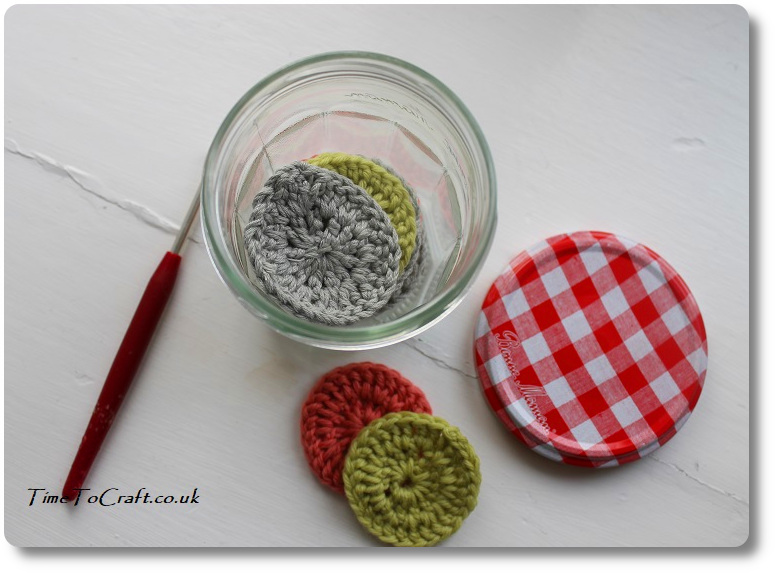 Anyway, the next looming issue was tied up with the removal of said makeup. What goes on, has to come off.  I eliminated single-use wet wipes and cotton wool pads from the house, by a ready supply of flannels. I made a clutch of bamboo flannels. These have been a bit of a success, I'm mighty glad to say.
Just one niggly problem. Teeny tiny one, at that. They found the flannels too absorbent. The makeup remover glugged away into the fluffy fibre, never to be seen again. Same with toner. As good as gone. They were resorting to using tissues instead with the remover and toner.
Neither solution was good. Apart from the waste of the remover with the flannel, the tissue wasn't a good alternative to a cotton wool pad either and it was adding to our waste. We only have a tiny bin in the bathroom and I was emptying it far more frequently. All heading for the landfill.
I've had reusable cotton pads on my radar for a while. Crochet in cotton. There are so many different designs but most boil down to a small circle. Usually 12 half crochet stitches in a circle. Then 24 on the next round. Digging through my stash, I had a few odd balls of cotton yarn. I wanted three different colours, so each of us skin care/make up users could have our own colour.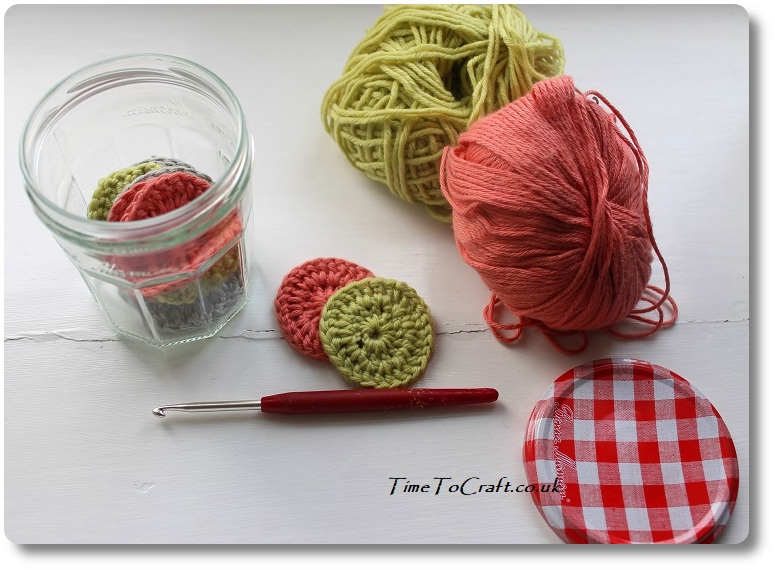 I made three trial sets. Three of each colour. If they work out, I'll make more. They take no time to crochet up. The plan is to store them clean in one jar and put the used ones in another jar. Once there are enough to wash, I'll put them in a small, drawstring mesh bag I have in the cupboard. Then into the washing machine they will go.
I've tried one with toner and it is so much better than a tissue or fluffy flannel. Thick enough to hold the liquid, but thin enough not to hide it. Fingers crossed. It looks hopeful.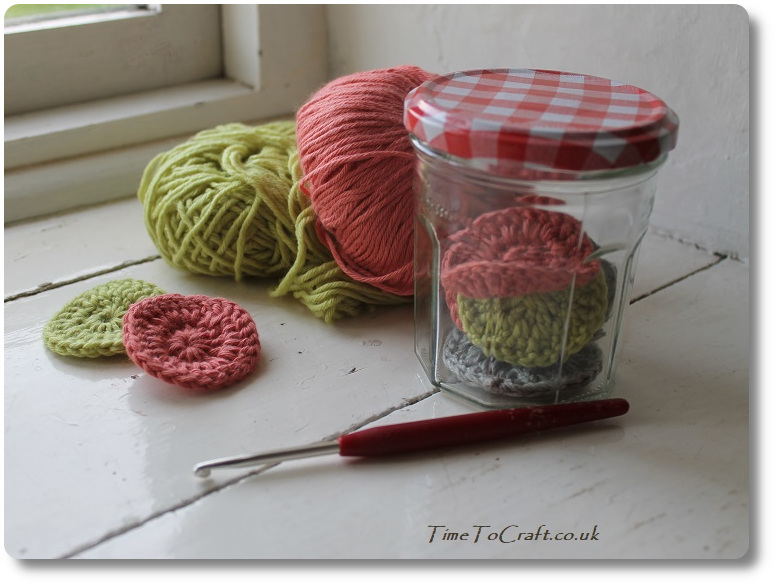 If nothing else they are so darn pretty. I did look at buying a ball of recycled cotton yarn, but hard to justify when I already have cotton in my cupboard. Another time.
First make of 2019.  So simple and satisfying. Thrifty and frugal. Also a warm, fuzzy feeling that it is an eco friendly solution to boot. Cutting waste. Cutting water and chemical use in the production of single use cotton wool. Happy dance.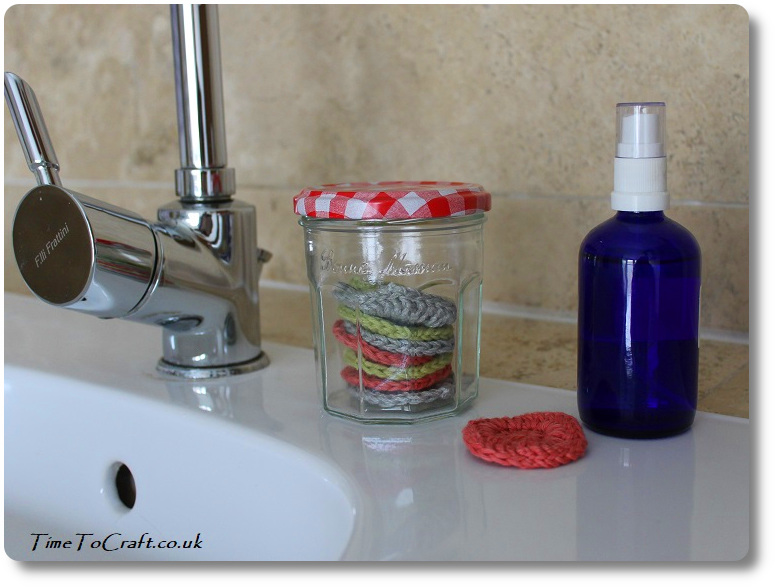 And, even though I say it myself, I think they look rather good in their jar by the sink. Like little rounds of candy. Irresistible. Encouraging all to give them a go. Some projects are win-win, I'd say.
Linking up with #GoingGreen
As sure as eggs are eggs, plants need water. The ones I grow in our kitchen garden, are no exception. Some are more greedy than the rest, like cucumbers and squashes. I can't miss a day watering them if I want a decent crop and my hard work to pay off.
But water is precious. Some years, even in the wet UK, we don't have enough rain. If rainfall is down in the winter, we can take bets on which water company will be first to issue a hosepipe ban.
To add to the issue, using the chemically treated tap water is a less than ideal option. For those in the UK with a water meter, it adds to the household bills, but also the cost of the treatment is an unnecessary expense to shower on our plants. We all pay in the end. Better to use rainwater as it costs nothing and is as nature intended.
How we water the garden is an issue.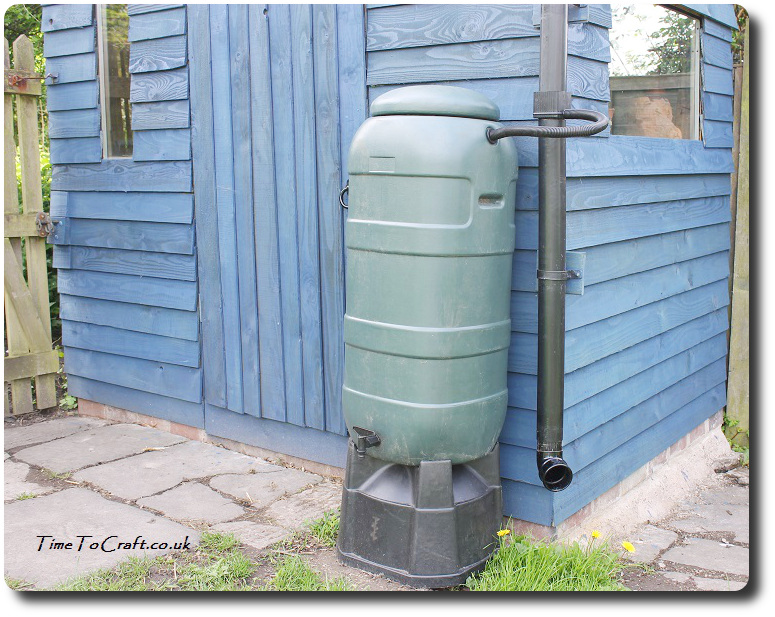 When I first started gardening on a bigger scale, there was an annual licence to use sprinklers. I don't know anyone that actually paid it. A quick look at the advice given by different water companies, seems to suggest that this still happens, but only during droughts. They'd rather you conserved water by manning hoses and had a trigger gun on it.
A quote from Southern Water:
"A sprinkler uses as much water in one hour as a family of four in a day. Outdoor taps use about 15 litres of water each minute with a hosepipe In hot spells, garden watering uses up to 70 per cent of a home's water use"
I'd add that a sprinkler is also likely to water more than the intended ground, which seems an inefficient way to water.
A good alternative is a drip hose. Our neighbour has a brilliant system of drip hoses and timers on the tap. They have a number of greenhouses and this works fantastically for them. It is something I would love to set up in our garden, at some point. Maybe with a hose from one of my bigger water butts.
In the meantime, here are the ways I currently save water: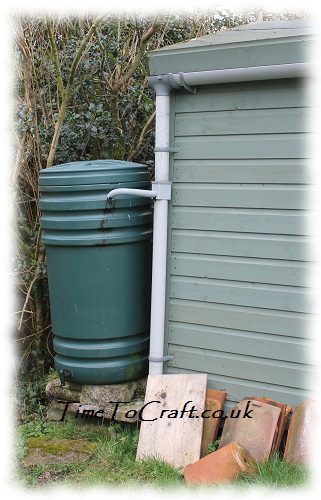 1. Water butts
We have lots of water butts around the garden, catching the rainwater. The bigger, the better. Everytime I see an offer, I buy a batch more. It is worth keeping an eye on the water companies as they have great deals occasionally.
2. Watering cans
I have a number of watering cans around the garden. I keep filled watering cans in the green house. Three reasons:
a. It makes more room in the water butts for the next downpour.
b. It warms the water up to the temperature of the greenhouse and is less of a shock to the plants when watered.
c. On a hot day, it evaporates and helps to control the greenfly, by making it humid.
3. Water pump
I have a water pump, that I can use to transfer water from full water butts to others. The ones on the house collect more, so it makes sense to transfer water to the water butts attached to smaller buildings, if they are empty and closer to my latest plantings.
I could use it to empty baths, but in the summer we tend to have showers anyway, which uses way less water.
4. Individual plant reservoirs
When I plant, I use plastic bottles and pots to create an individual water reservoir for each plant. While the plants are settling in, they are given more water. I can focus the water in the area of the plant and it releases the water slowly.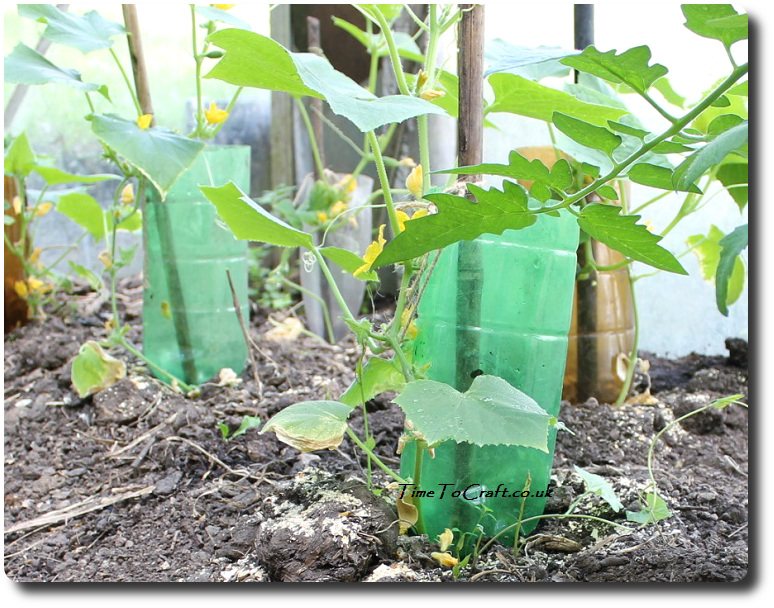 I have a collection of 1 and 2 litre plastic drink bottles, with the bottoms cut off. I've collected them over the years. When I plant the tomatoes, cucumbers and peppers in the green house, I sink a bottle, neck first, into the ground beside it. Preferably up hill from the plants. I put a bean pole in the bottle and push it firmly into the ground. The plant is then tied to the pole. Each evening, I use a watering can to fill the bottles a few times.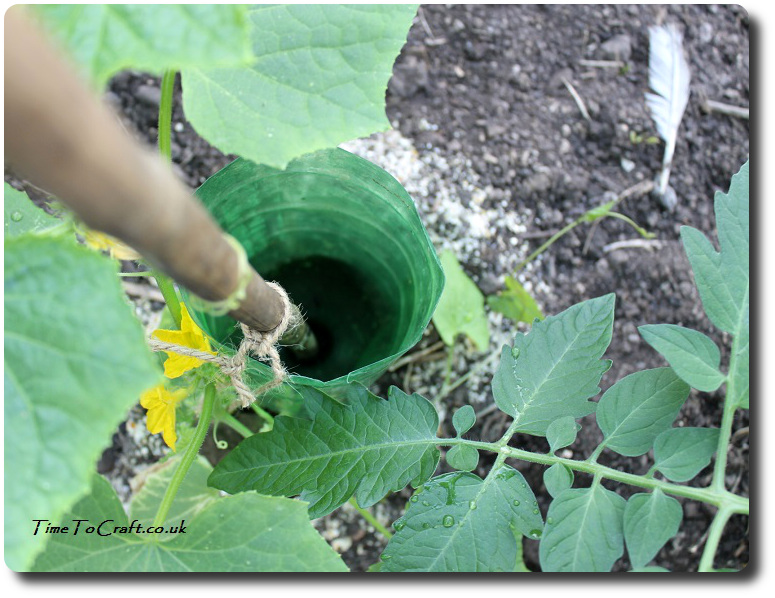 Two advantages. The water is focused on the plant. Its roots will naturally grow in the direction of the bottle and I don't end up watering the path or optimistic weeds. Secondly, it doesn't encourage the snails, as the top soil is dry.
For plants outside, such as lettuce and squashes, I sink a pot beside them, when first planted. I can water them in the same way as the others, until they are established.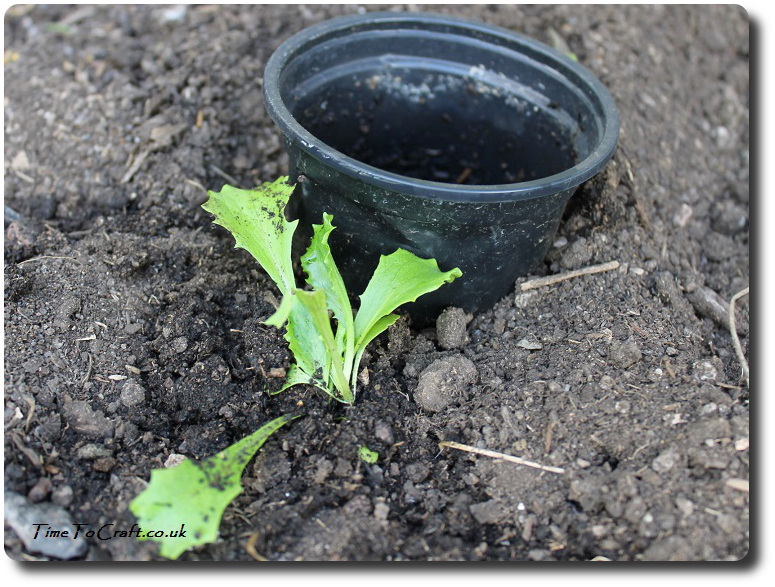 Which leads on to my next tip…
5. Limit watering
If I continued to water each outdoor plant its roots would grow near the surface, missing out on the moist soil below. Once established, unless we have a very dry spell, I don't water. This way, I encourage the roots to grow down and not rely on me.
6. Plant in the ground
I plant as much as possible in the ground, rather than pots. The plants grow bigger and better, and can tap more water in the ground. Especially good if I have a few days away. All my plants in the greenhouse are planted straight in the borders. No pots or grow bags, and I've found my harvest is more successful that way.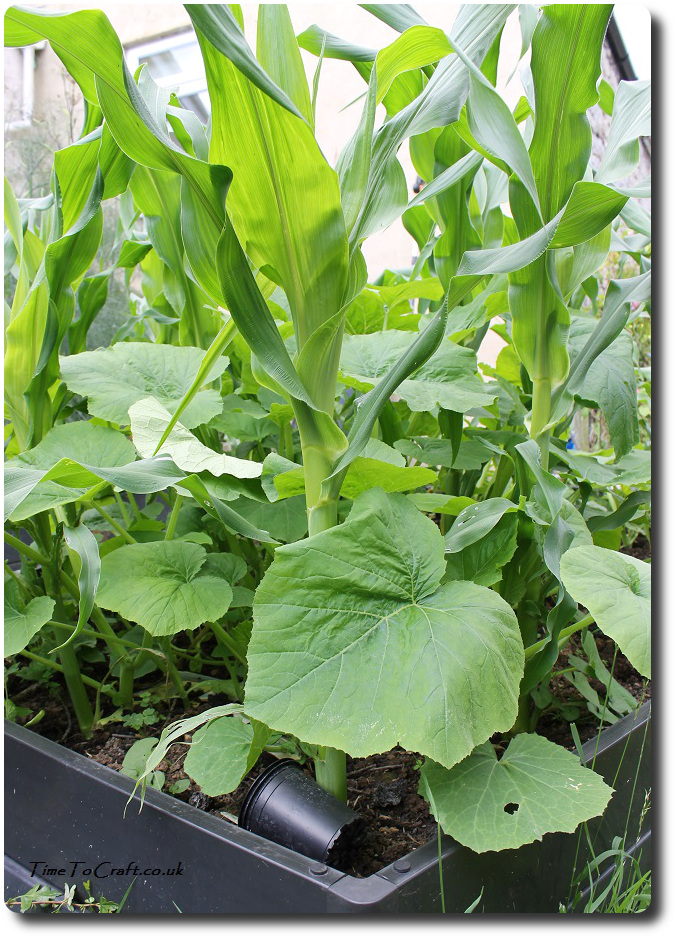 7. Grow your own ground cover
If you are a regular reader of my blog, you'll know I use the three sister planting method: bean, corn and squash. I cannot recommend this method enough. My crops have improved. In terms of water conservation, the squash plants grow through the corn and beans providing ground cover and reducing water evaporation.
They don't compete for soil resources. The squash plants are planted a few feet away from anything else.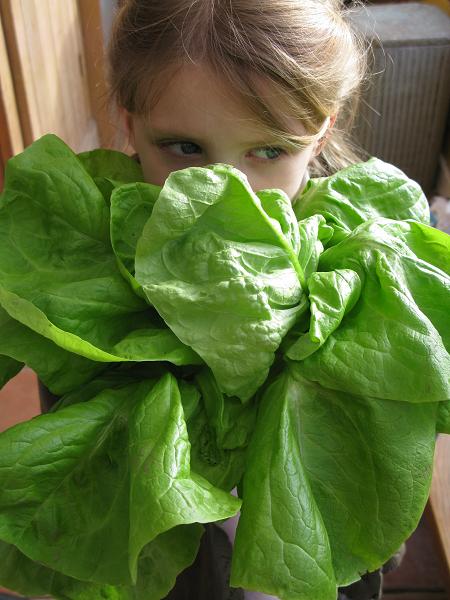 I also grow fast cropping plants like lettuce between plants, for the same reason. Mainly in my raised beds which can get a bit baked. Provides cover and I have a useful crop to harvest.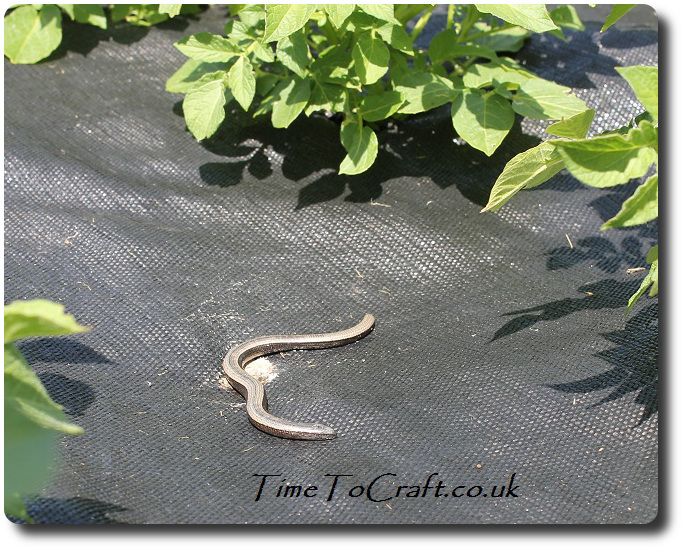 (Yes, that is a slow worm, but that is another story)
8. Plant through sheeting
There are various ways you can do it. I have friends that use cardboard between their plants to reduce weeds and water loss, but there are other choices. My neighbour uses layers of straw, which is chopped up and mixed with the soil to improve moisture retention for the next year.
One year, we had building work going on. As the builders left, I rescued some of the black plastic woven sheeting they were about to throw out. That year, I covered the kitchen garden with it, which surpressed the weeds. I then planted my potatoes through it. No need to earth them up. No need to water lots. I had a great crop.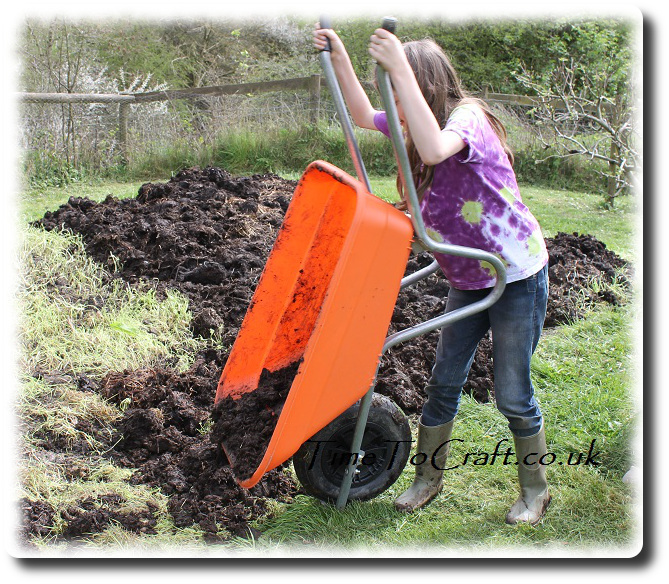 9. Improve soil
Last but not least, improving the soil can improve the water retention. We added a foot or more of rotted horse manure to the kitchen garden, one year. We dig in our composted kitchen waste into the raised beds. Theory is that if the soil holds more water, then less extra watering is required. It works for us.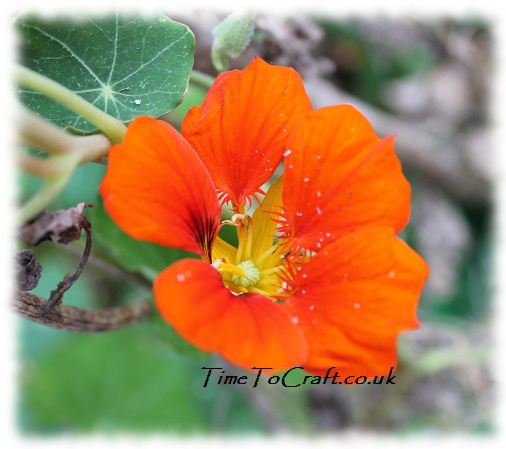 Right. There are my nine tips. It may be raining today, but there is no better time to sort out the watering for your garden, I think.
I'd love to hear if you have any other ways to optimize water usage in your garden. Preferably low cost. Any tried and tested methods that you'd like to share?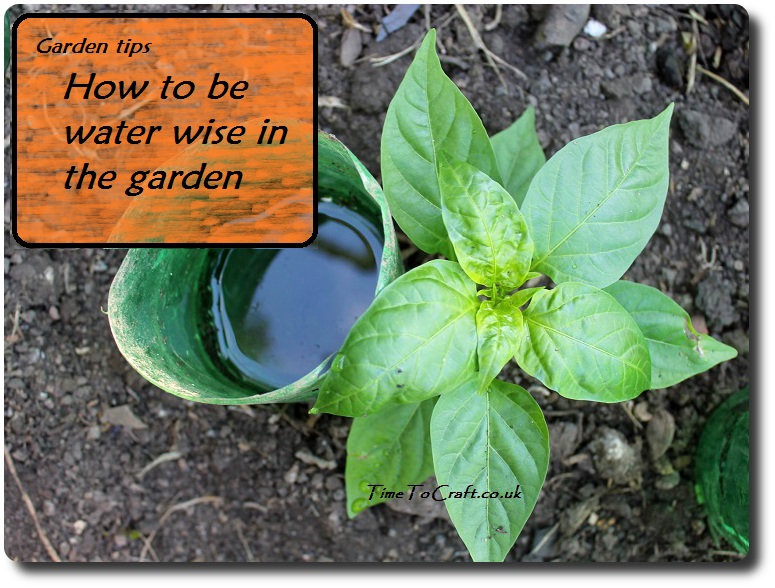 Photos
There have been cases when people lifted my photos and words, and used them without credit to me or asking permission first. Using them for their own commercial gain. I have now added a level of security to deter people from doing this. Apologies to people who do play nicely. If you would like to use any of my photos, please contact me.
Copyright notice:
All my words and photos are copyrighted to me. They cannot be used for commercial benefit by anyone else. If you would like to use any of them, then please ask me first and don't just take. Written permission only. Don't pass my words, photos or ideas off as your own. It's not nice.
Cookie Policy
Our web pages do not use cookies however this website uses Google Analytics, a web analytics service provided by Google, Inc. Google Analytics uses cookies to help us analyse how people use our site. The use of cookies by Google Analytics is subject to change.