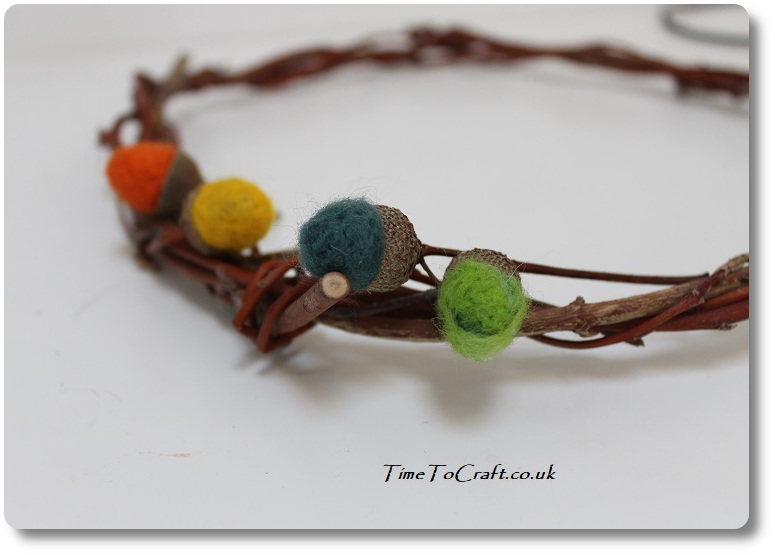 Hands up who wants to make a felted acorn or 10?
Aren't they adorable? The perfect nature craft, using natural materials. Most of it can be picked up for free. I used sheep's fleece for the base and needle-felted dyed merino wool over the top, for a splash of colour. Added a dab of glue to hold it in place, inside the acorn cup, and I soon had a handful of felted acorns.
These are going to be added to an autumnal wreath, but they could be used anywhere as decorations. Maybe a string of them above a fireplace, or individually hanging from a twig as a table centre decoration. I like to put a few on our nature table, among the real acorns. These are purely decorative and must not be used as toys.
Want to make some?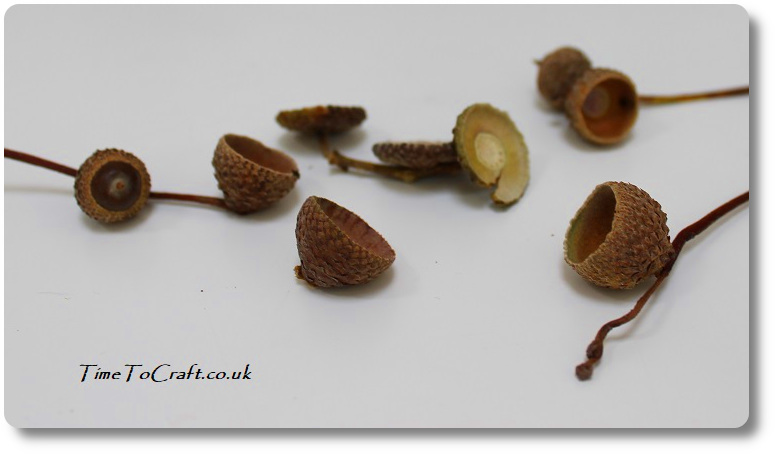 What do you need
wool scraps (merino, sheep's wool)
acorn cups
felting needle
glue
soap (Any soap will do. I use olive soap or wool soap, but that's me.)
hand hot water (needs to be hot to start the felting process)
To start with, you may be surprised to realise that not all acorns and their cups are the same. Different oak trees produce different size and shape cups. On our dog walk, each morning, we pass several oak trees and the lane is sprinkled with acorns, at the moment. I can pick up small acorns from one tree, big ones from others and, further on, I'll find a tree with acorn cups which are more like pancakes, or flat plates. There are so many different variations.
The oak trees I pass, are growing in hedgerows and would originally have been planted as hedge oaks. While the rest of the hedge was controlled by cutting or hedge laying, these trees would be left to grow to their full potential. They were harvested eventually as building materials.
Fun fact: oak trees have to be about 20-30 years old before they produce acorns, but they don't reach peak production until about 50 years of age.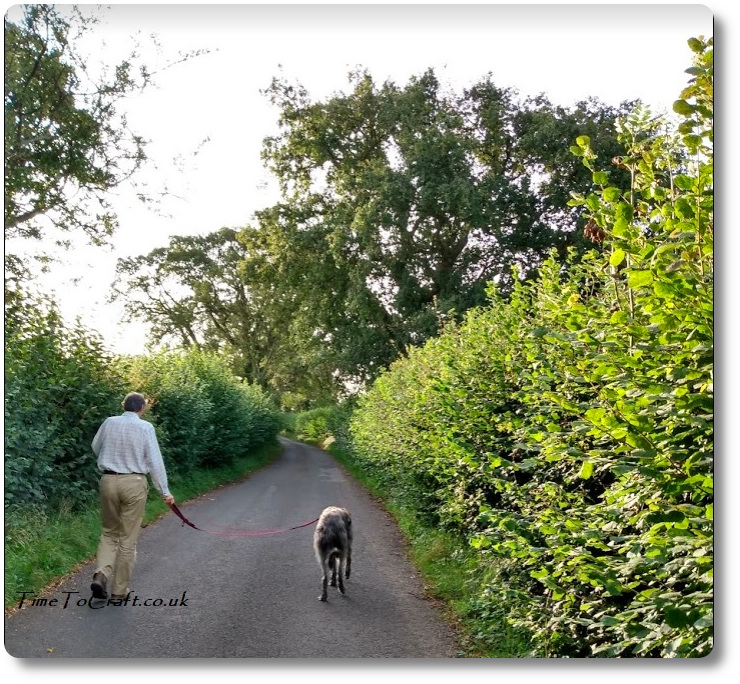 Oak trees are fairly easy to find in the UK, otherwise various craft shops do sell the cups, including online ones. I've seen them on Etsy too.
I like to use a tougher fleece as the base. You can use the coloured merino for the whole project, but it does cut down the cost if you use the plain fleece underneath. I find lots of wool snagged on barbed wire in sheep fields, when we're out walking. You need to ask permission of the farmer before you take it, but in my experience of rescuing sheep (a fairly regular occurrence), it can be near on impossible to find the owner when you need them.
Once home, give the snags of fleece a very gentle hand wash, remove any debris and leave to dry.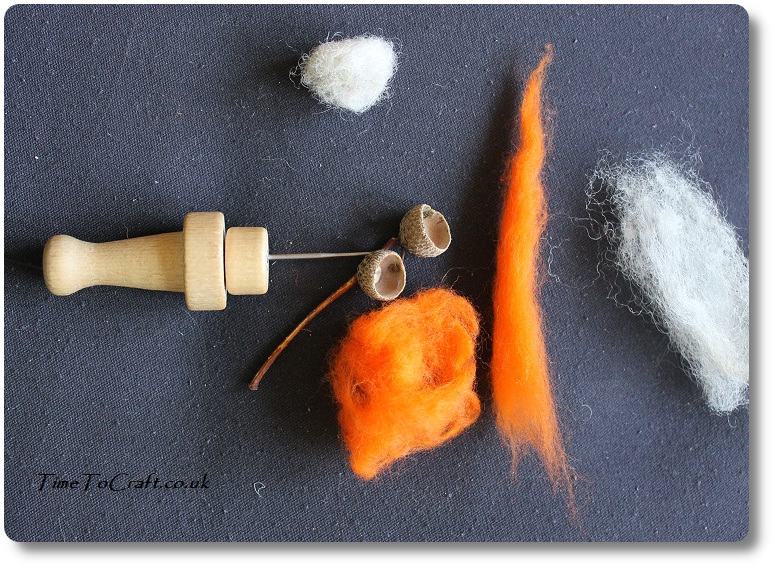 I use merino dyed rovings for the top layer. I have a collection of odd scraps from previous spinning and felting projects. It's much easier to find these in craft shops now, as more shops stock felting materials. Alternatively, I buy online from Wingham Wool Work.
How to make the acorns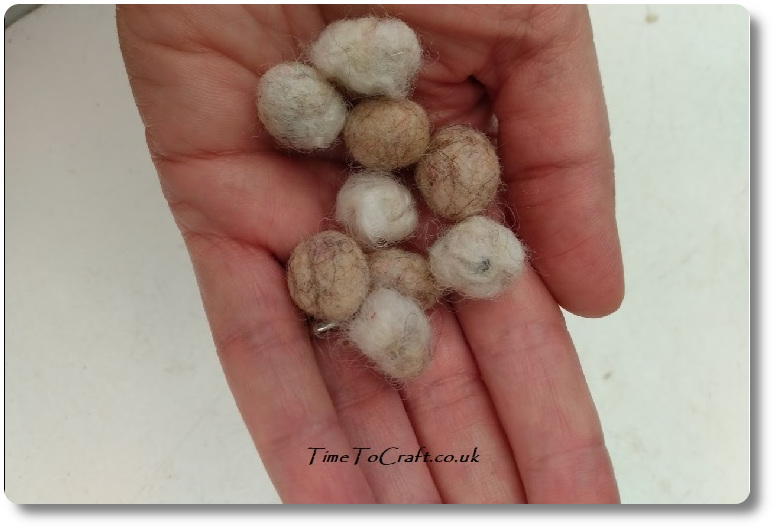 To start with, the base acorns are made. There are two ways to make it. Either using wet felting or needle felting.
Wet felting –
Take a clump of the sheep's wool and dip it in soapy, hand hot water. To start with, roll the wet wool gently, in a circular motion, between your palms to make a slightly, elongated ball. Like when you make a ball out of clay or plasticine. As it takes shape, increase the pressure as you roll it between your hands. Keep going until it feels firm and is acorn shape. Your hands will get quite soapy.
It may be necessary to work the wool between your finger tips of both hands, to start it off.
If the acorn is not big enough, wrap more wool around it and repeat the hot, soapy water and rolling. Remember, this is the base layer. The top layer will make it bigger again, so do check that the base acorn will rattle in the acorn cup and is not snug.
Wash the soap out with cold water and let the acorn dry.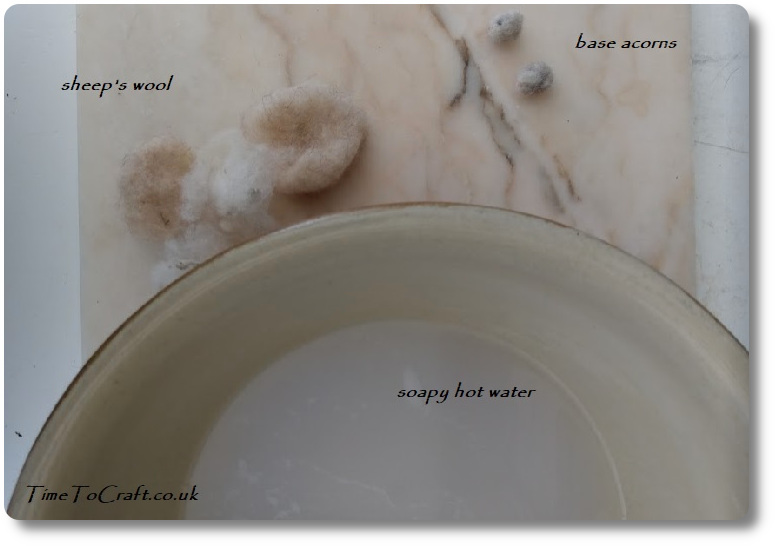 Or needle felting –
Use a single needle felting needle to stab a clump of sheep's wool into an acorn shape. Bunch it up into a ball to start it off. Mind your fingers as you use the needle. Move the acorn around, as you work, to cover all the surface, fixing it in place. Here again, keep going until the acorn is firm. Add more wool if you need it.
I roll it briskly in my hand at the end. It helps to give it more shape and firmness, as well as smoothing out any puncture marks.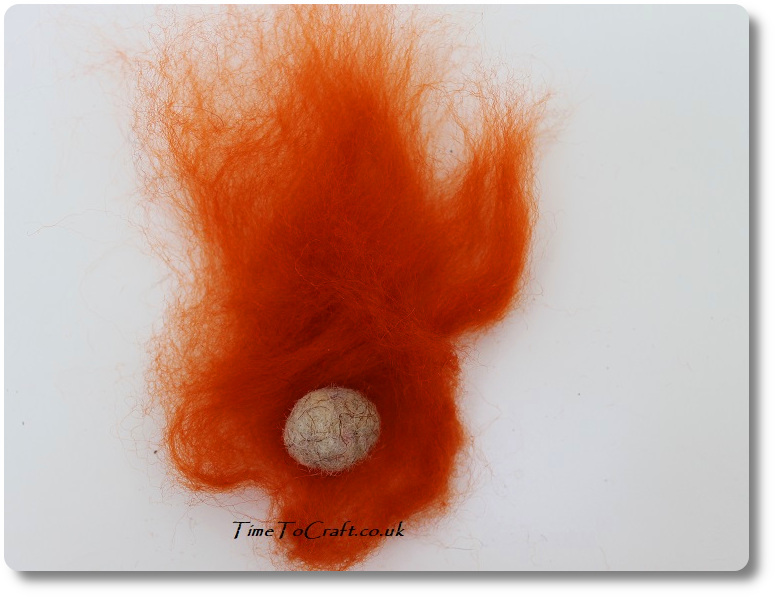 Add the colour
Take the merino and spread it out flat. Wrap the base acorn up in the merino.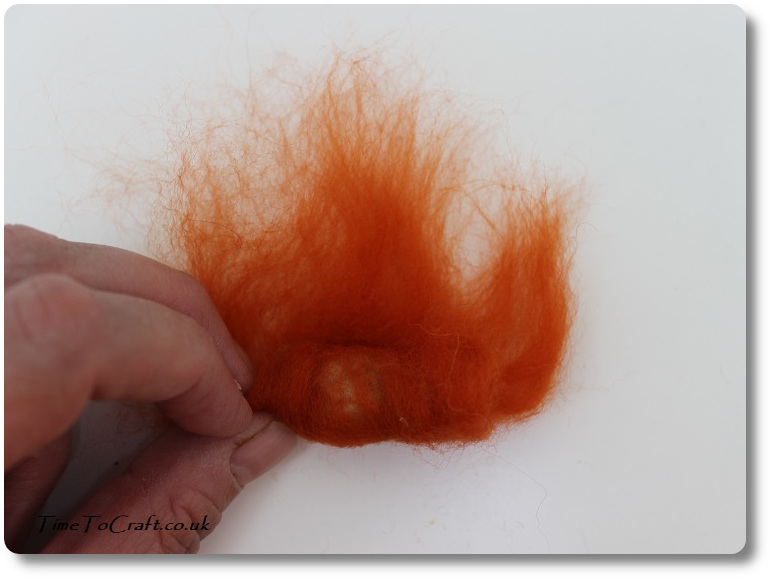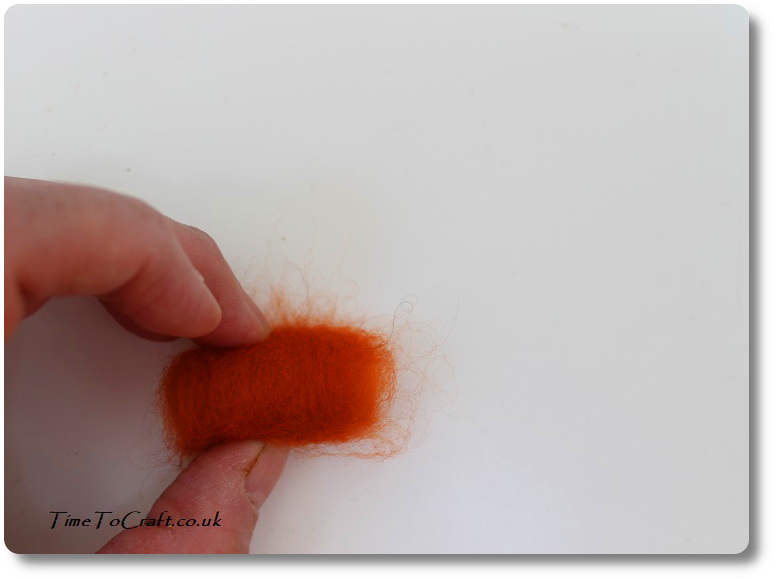 Use the needle to work the acorn into shape. Or you can use the wet felting method again.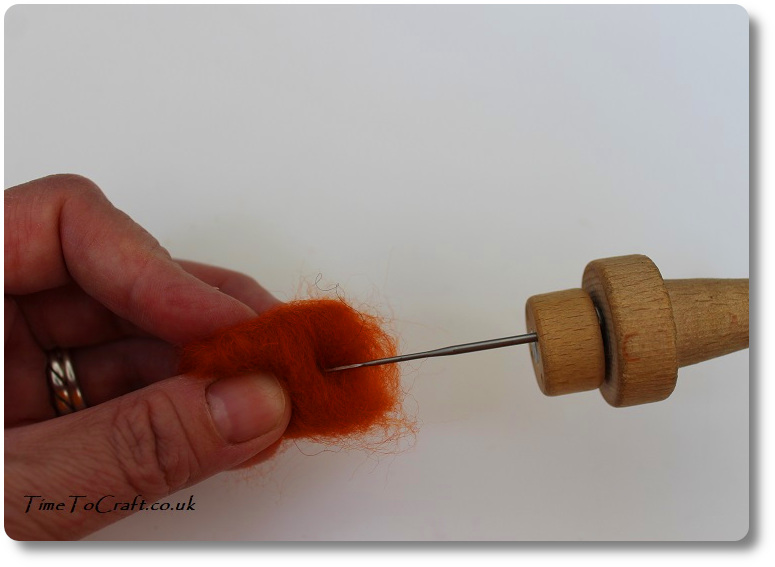 Both methods
Fix the acorn into one of the acorn cups, using a spot of glue to keep it in place.
Repeat until you have all the felted acorns you can handle.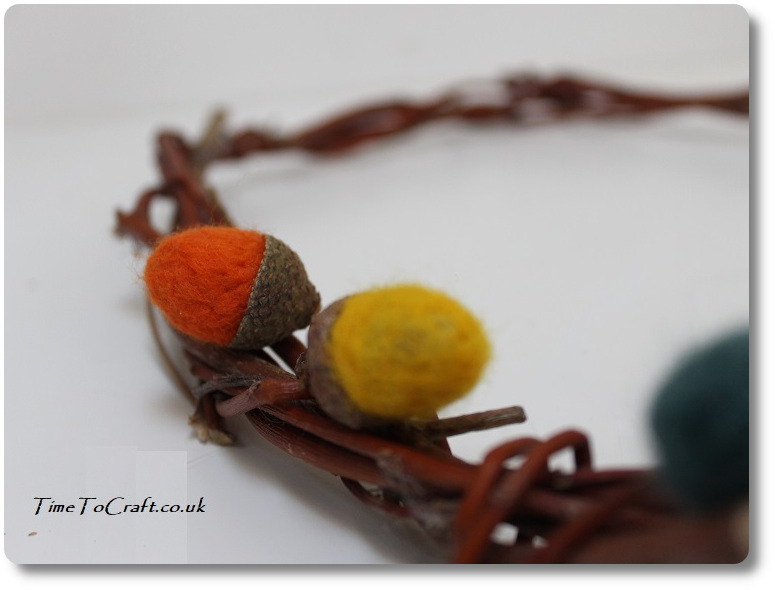 These make great gifts. Add a clutch of three as decoration to a pot of homemade jam, as an autumn gift. It can be fun to blend different colours together. I've blended yellow and orange, also blue and green, in my latest batch.
I'm adding my acorns to a willow wreath I made a few years ago from our willow tree. It's lasted well. My next step is to make oak leaves. The question is whether to knit, felt or some other method.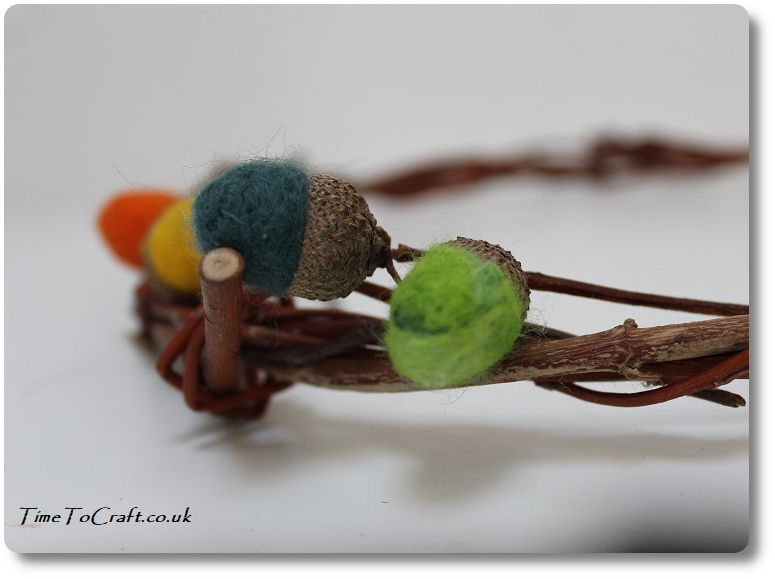 I hope you give the felted acorns a go. Please remember that these are not toys and shouldn't be given to children to play with. I have used the wet felting method to make the acorns with older children and they've all loved making them. Added bonus is that their hands are perfectly clean and ready to make bread afterwards.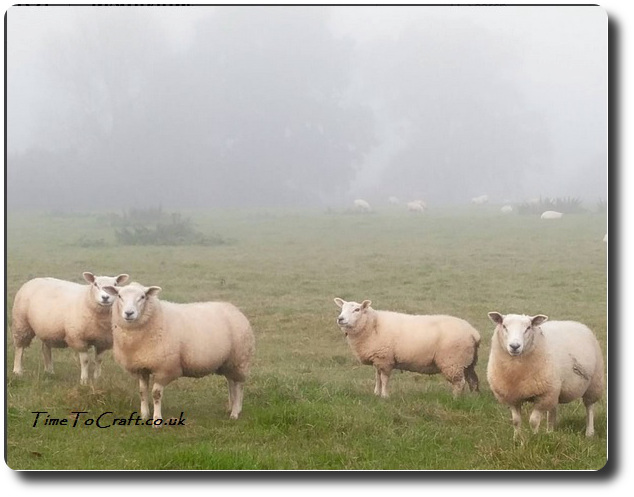 From little sheep, great acorns grow. 😀
If you have any questions, leave a comment and I'll get back to you.
Mistletoe. I love spotting mistletoe in trees. There is one particular tree that we pass, which is almost more mistletoe than tree. Especially now the leaves have fallen. The bundles of mistletoe look like baubles, strung up on a rather sad looking tree. High up and out of reach.
I still get excited when I see mistletoe.
Yesterday, as we took a family walk, a sprig had fallen. Half had been crushed by a passing car, but the rest was good.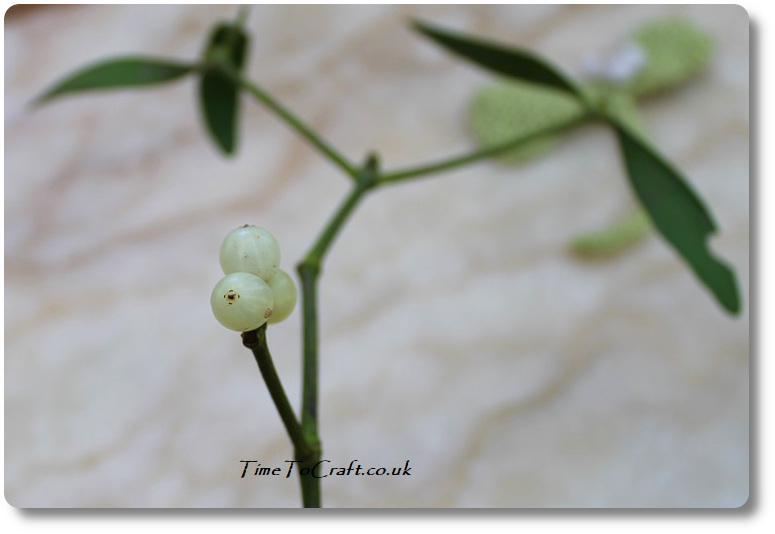 It really is a spindly, but elegant plant. The berries are a perfect off white. I can see why it is wrapped up in folklore and tradition. Over the years, I've knitted mistletoe. Producing a cartoon yarn version of the leaves and berries, rather than anything more accurate.
Nature really does do it best.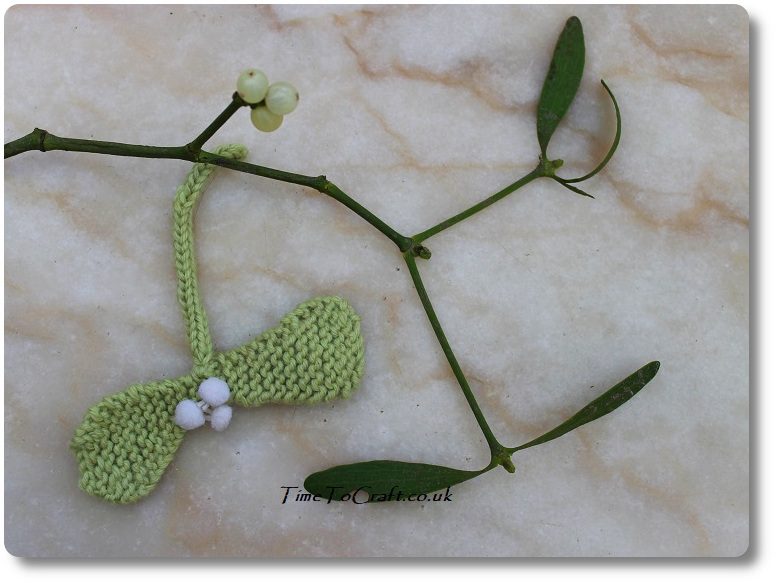 The real mistletoe will dry and curl before long. Unlikely to last until the festive season. To give it more life, I'm going to add the berries to our trees to see if we can grow our own, which would be fun. I've tried so many times, so who knows, maybe this time it will work. I'm planning to get out my felting needles and see if I can make something that looks a little more realistic than my knitted versions, to hang inside, above the door.
My children have grown so used to me educating them about plants that we pass. They walk passed, pointing at the tree now, confirming identification, then they continue talking to each other. Oh well. I guess my job is done, then.
I spotted these beauties, yesterday, in the garden. It was raining and dull. No good for photos, but they did stand out. Vibrant purple flashes in the grass. Like crocuses appearing in the spring. They are up where we cut the logs down to the right size to fit into the wood burner. I suspect the spores were transported on a log or sole of a boot, and found a good place to thrive.
They are covering an area of about metre and a half in diameter. Don't be fooled by my photos. These toadstools are tiny. About 5cm across. Maybe 30 or more fruiting bodies. It's the first year I've noticed them, although I'm sure they've been there longer. I'm always cautious about identifying fungi. I suspect I know what they are, but toadstools and misinformation are not a good combination.
This morning, I flattened a cardboard box to sit on and took photos of these little gems. Clocks have gone back today, and that's how I spent my extra hour. On my tummy. Taking photos. In the frost. At first it was to identify them, but after a while I was chasing the light bouncing off them and the dew drops on the grass. Fascinated by the toadstools' fur like texture, as I focused in.
If ever there was a magic moment in our garden, I'm sure this would be it.
Photos
There have been cases when people lifted my photos and words, and used them without credit to me or asking permission first. Using them for their own commercial gain. I have now added a level of security to deter people from doing this. Apologies to people who do play nicely. If you would like to use any of my photos, please contact me.
Copyright notice:
All my words and photos are copyrighted to me. They cannot be used for commercial benefit by anyone else. If you would like to use any of them, then please ask me first and don't just take. Written permission only. Don't pass my words, photos or ideas off as your own. It's not nice.
Cookie Policy
Our web pages do not use cookies however this website uses Google Analytics, a web analytics service provided by Google, Inc. Google Analytics uses cookies to help us analyse how people use our site. The use of cookies by Google Analytics is subject to change.