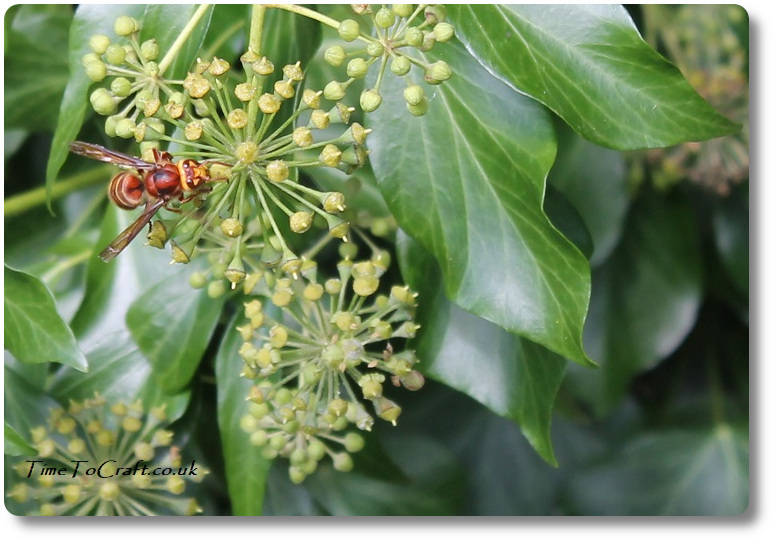 I have a love/hate relationship with hornets. Every year they visit our garden, with their characteristic droning signature tune announcing their arrival. They grab other insects, even wasps, and have penchant for the apples from one of our trees.
They fly at night, gathering up the moths in our nocturnal garden. Last year was unusual. They took it one step further and bashed against any lit up window. Sometimes five or six of them fighting  between themselves to get in. When a hornet bashes against a window, you know it. There is a thud like a small stone hitting the window.
Fortunately this year, they haven't tried.
These little creatures seem to be as curious of us as we are of them. Sometimes flying level with our faces, looking us straight in the eyes. They are unlikely to attack, unless we are foolish enough to approach their nest, which is always a long way away. I've fed exhausted ones sugar in water, after being trapped in the house.
They don't take kindly to being photographed. Usually I'll shot and run, because even after all these years, I still find them intimidating. The hornet on the flowering ivy was more intent on feeding.
I still didn't linger.
Photos
There have been cases when people lifted my photos and words, and used them without credit to me or asking permission first. Using them for their own commercial gain. I have now added a level of security to deter people from doing this. Apologies to people who do play nicely. If you would like to use any of my photos, please contact me.
Copyright notice:
All my words and photos are copyrighted to me. They cannot be used for commercial benefit by anyone else. If you would like to use any of them, then please ask me first and don't just take. Written permission only. Don't pass my words, photos or ideas off as your own. It's not nice.
Cookie Policy
Our web pages do not use cookies however this website uses Google Analytics, a web analytics service provided by Google, Inc. Google Analytics uses cookies to help us analyse how people use our site. The use of cookies by Google Analytics is subject to change.