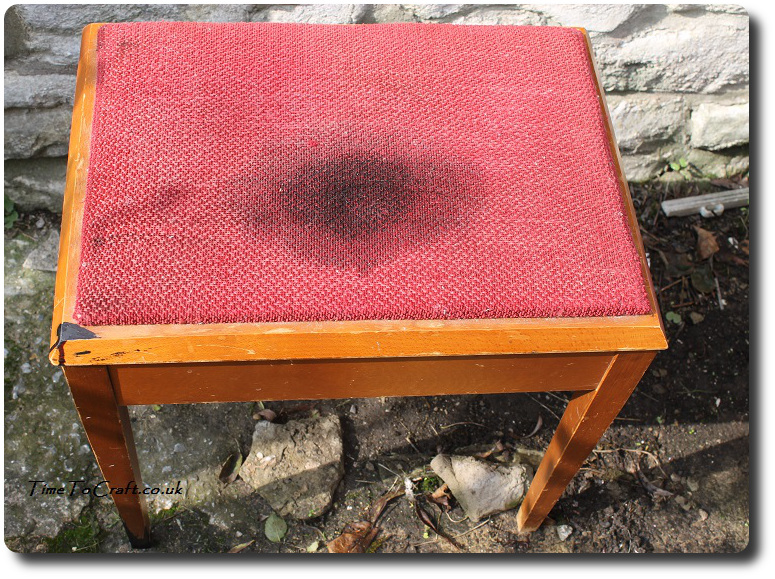 A while back, I picked up a prinker ink stained, piano stool. I found it through Freegle, which is our local free site to save items from the land fill. Someone from the village, had been storing it in her attic and she no longer wanted it. The stool is nothing special. Made purely for function. Unfortunately, the printer ink had made it totally unusable.
The ink had soaked into the seat and every time I moved or even touched it, I'd end up covered in fresh ink. Don't be fooled by that seemingly small area of black on the seat in the photo. If all that ink came from one cartridge, then I would be a monkey's uncle. There was so much of it. The cushion part was thoroughly soaked and could not be saved, or reused.
Once the cushion had been removed, the remaining stool was sanded down.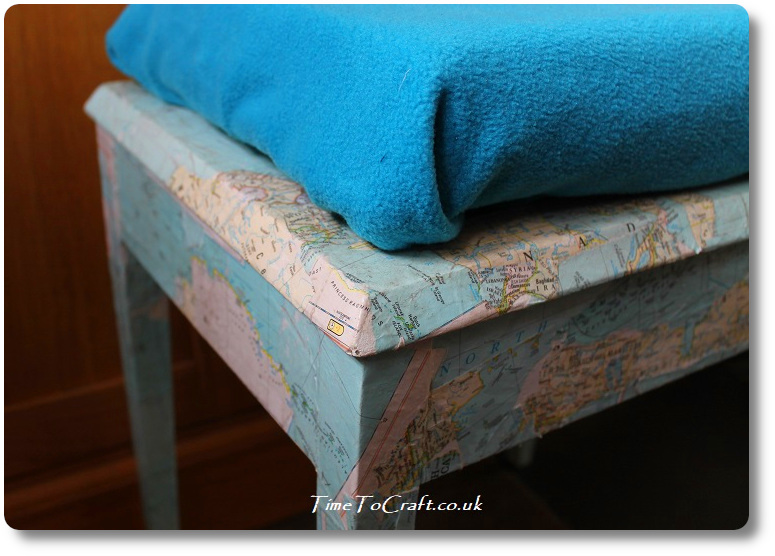 Next, I decoupaged it in an old world map. I like maps. I could spend ages looking at maps. Tearing this one into pieces, had the added advantage that I could spend even more time examining it.
Regular readers may remember the old frame I decorated with a map. I used the same method, and even the same map, for the piano stool.
Final part was to sort out the new cushion. I bought a thick piece of foam and cut it to size. Choosing the fabric was more difficult. I tried denim for a while, but then shifted to a soft, fleece fabric, which had been in my stash for years.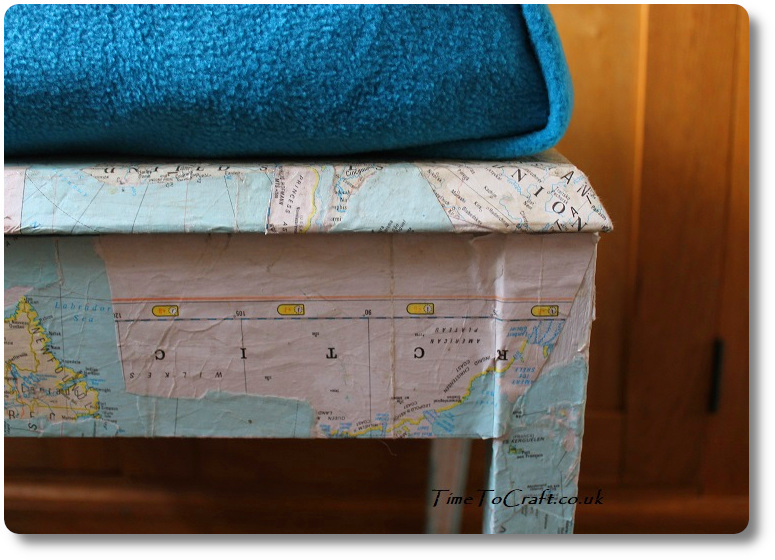 I've not fixed the fabric properly yet, as I wanted to see how it worked, but I think I will go with it. Anything that keeps the children sitting and practising their musical instruments for longer, has to be an advantage and I think this fabric does. The cushion is thick enough to be squishy comfortable, when you sit on it.
The piano stool is being used as a piano stool once more.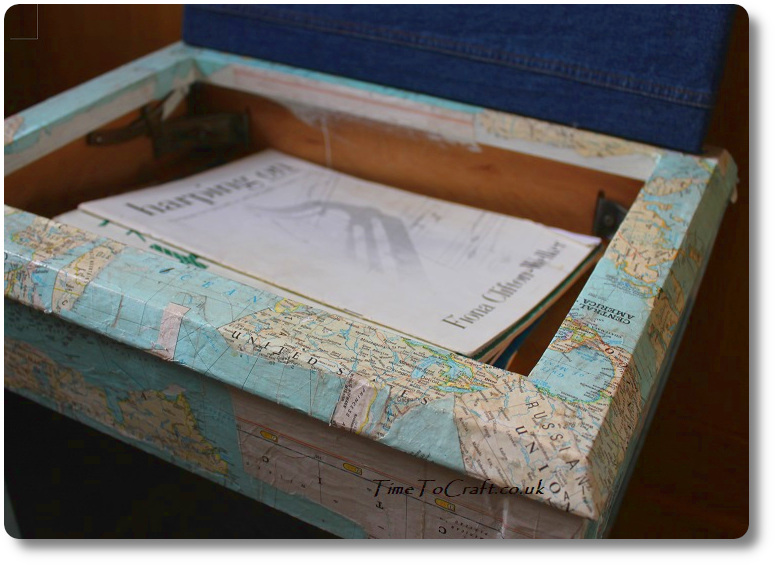 It works perfectly for anyone playing the keyboard and also stows away perfectly underneath it. Also it's the right height for my daughter playing her harp. They can store their music books in the seat too. No more "Where is my music book?" as they rush out for a lesson.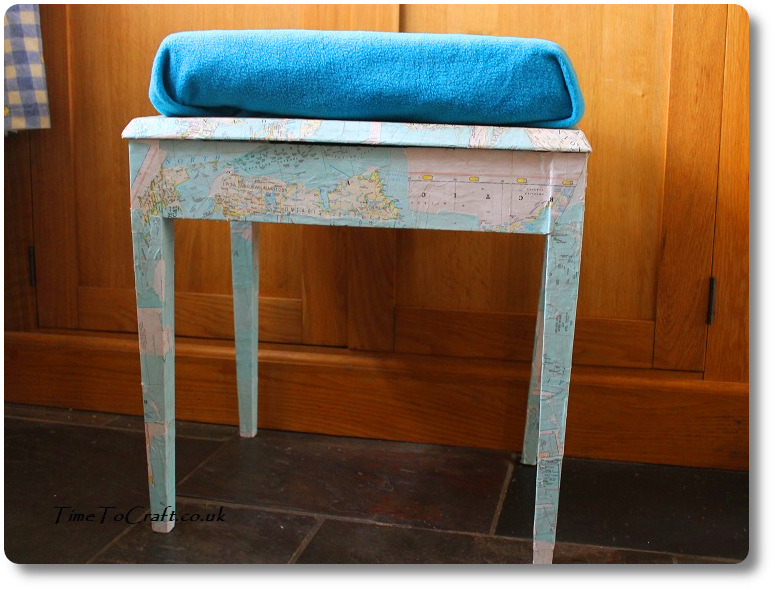 The irony is that it will probably be replaced soon, as Middle Teen really wants to get a piano, which more than likely will come with a stool of its own.
I'm sure I'll find a place for this stool, when the time comes. I spent too long with sticky fingers, arranging tiny pieces of map, to even dream of parting with this stool yet.
Maybe I could have a map room one day. Once the children leave home, of course.
(Footnote: I really like using Freegle. I passed on most of my baby stuff, including cloth nappies and maternity wear through it. We found someone who wanted an old caravan awning we had.  It saves items from being thrown away when they could have a new use.This time I was on the receiving side. I always think that systems like this work best if you can be a giver and a receiver.)
Anyone else trying to cut back on their single use plastics? It's an ongoing process for me, but #PlasticFreeJuly is this month and it's encouraging me. I'm under no illusions that I can eliminate all the single use overnight. It will take longer. One item at a time.
Today, I checked reusable produce bags off my list. Instead of using the plastic or paper bags when I buy fruit and veg, I can use my produce bag. A drawstring bag, made from light weight fabric. It's not transparent, but see through enough for a shop's checkout staff to see how many peaches are in the bag.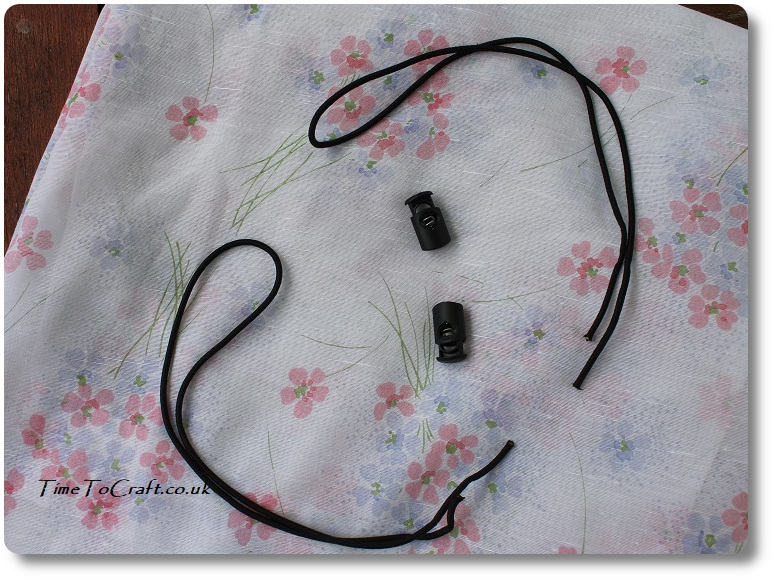 I used a toggle and elastic rescued from a small bag that held one of the children's waterproof coats. The fabric is a net curtain from when we lived in Italy, when I was a child. I call them net curtains, but they were more cosmetic. All the windows had fixed mosquito nets and heavy metal roller venetian blinds, blocking the view. These nets used to hang at the side to soften the look, especially in the bedrooms. Thinking back, I'm not sure it worked.
(One summer, I remember a swarm of bees taking up residence in the box casing for the blinds, in one of the bedrooms, making it unusable. The bees rather objected to their hive being invaded by a clanking metal structure, every morning. If memory serves me right, that bedroom was out of action for a while. No-one went in there. I don't remember what happened in the end.)
Anyway. Not your classic British net curtains. The fabric is more lightweight chiffon. Like a scarf.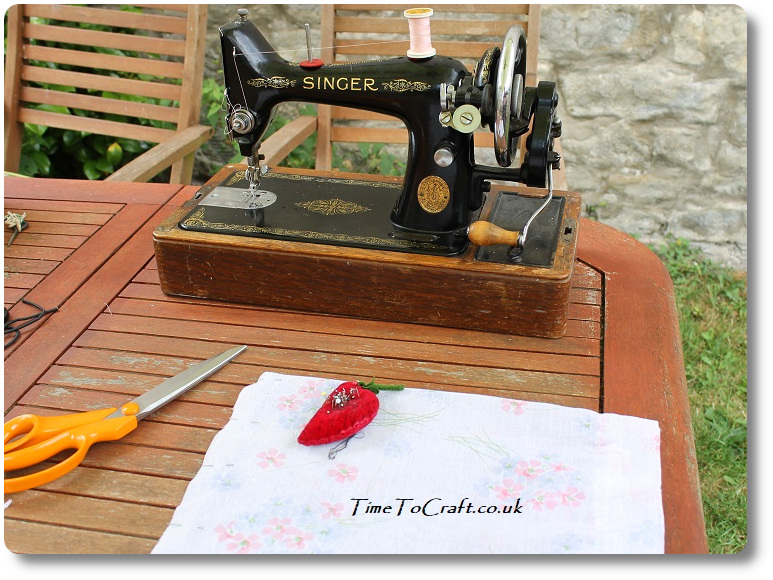 The curtains had a channel at the top for the pole or elastic that it used to hang from. I re used that part for the drawstring. Fortunately, the elastic I had, was just a little bit shorter than the width of the curtain, giving the final bag a bunched opening, which doesn't flop. I cut the fabric to make a square bag and sewed around, leaving the top open.
It was lovely weather, this weekend, and I took my hand cranked Singer machine outside to sew. I used French seams. The fabric tends to fray and is see through, so I wanted to hide the edges. I also think it makes the join stronger and less likely to break. An advantage to making your own. I know it will hold a good number of apples and not split as I put it in my basket. Chasing renegade apples, making a break for freedom around a market floor, is not top of my list of things to do.
The bag was quick to make. Works a dream for the peaches I tried it out with. I have enough fabric left to make several bags. I plan to make one for a baguette too, rather than the long plastic bags that they use in shops. When did they stop wrapping them with a small square of paper for handling purposes? (Showing my age?)
This bag is on a mission today. Youngest is making fruit crumble in food tech at school. The fruit is measured out and, in the bag, waiting to be taken in. No single use bags. After that, I'll roll it up and keep it in my bag, so I don't forget it when I'm shopping. Added bonus, it will be easy to wash.
This is not the only single use plastic I've swapped this month, but the list can wait to a later time. I'm pleased with my home made bags. I've recycled fabric and fixings that could easily have been thrown out as their original use had long since gone. They are pretty too. A win-win all round!
The proof will be the eating of the pudding, as they say. Do you use re-usable produce bags?
——–
Joining in with Rosie's Going Green linky.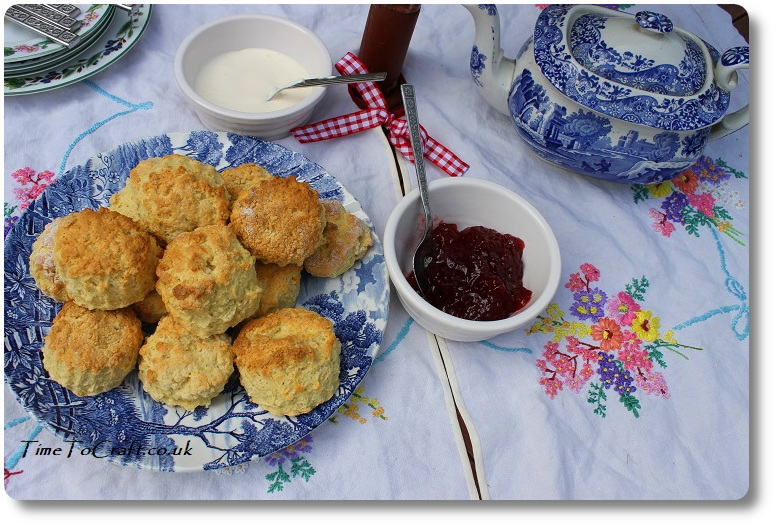 Almost to the day, two years ago, I found a hand embroidered tablecloth in a local charity shop. The stitches were beautiful. Clusters of flowers, joined by ribbons and bows. I cannot imagine how long it took the stitcher to stitch the whole cloth. It looks like love has been poured into the piece. All those little, precise stitches sewn in colourful threads. It hadn't faded either.
I could be over romanticizing it, of course. It has been known. The embroiderer might have hated it. Completing it under duress. Stabbing the linen with each stitch, but I don't think so. Something made them finish it. The stitches are too good. I can't believe they didn't feel some joy while making it. That's good enough for me. I'm going with the love.  Just look at those flowers. I'd be proud to make it.
Needless to say, I wasn't going to allow it to languish on the charity shop shelf any longer. It needed to be used and admired.
So I brought it home. Washed it. Used it once. Then put it away in the cupboard and there it stayed.
Sigh.
Part of the problem was that I wanted to use it outside. Now we tend to use a parasol for the tables outside, to provide extra shade. Any cloth we use would need a hole slap bang in the middle, which my rescued table cloth did not have.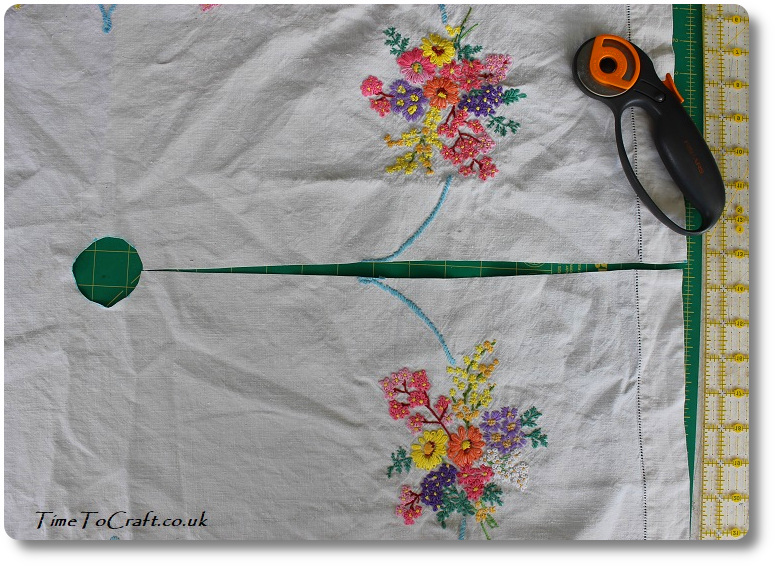 A couple of days ago, inspiration struck. I'd make a hole. Not a big light bulb moment, admittedly, but maybe I needed the two years to realise I wasn't going to use the table cloth for anything else, and it wasn't going to be used unless a hole was cut.
Deep breath. Scissors out. Snip.
To tidy the cut edges and stop it fraying, I encased them in bias binding. I had just enough off-white coloured binding for the straight edges. I used a dark red to go round the hole. I hand stitched most of it, as I wanted to keep it true to its original making style.
Diving into my ribbon drawer, I found two pieces of red gingham ribbon. Different widths, but I decided the smaller one would look good at the table cloth edge without overpowering the surrounding flowers and the wider one would work in the centre.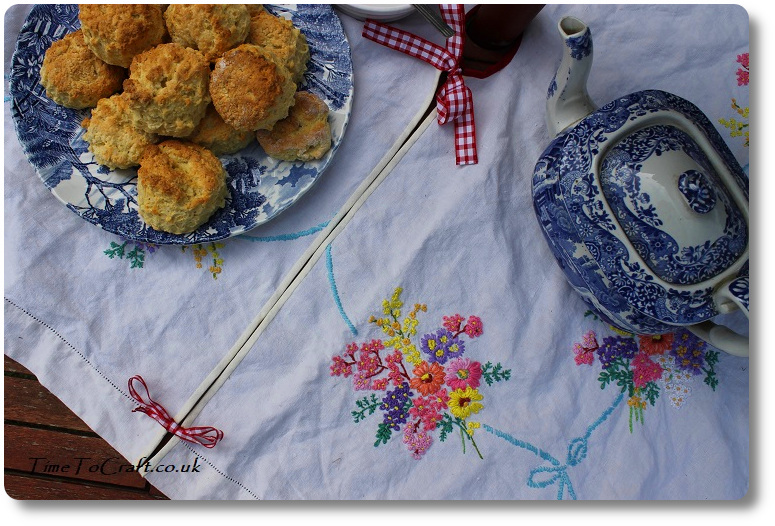 They don't distract from the embroidered flowers.
Final touch was to make a cream tea and serve it outside today. (Scones, with jam and cream, and tea.) I think it was a bit of a surprise for the children when they got in from school. Fine china and cream teas is not an every day occurrence.  Never to miss out on a good thing, the children seemed to take the change of routine in their stride. Scones soon disappeared. Let's hope they don't expect this every day from now on.
I'm so glad I gave the table cloth a new lease of life. It should stay on more times out of ten, against the wind too. I don't know the story behind the cloth and how it ended up in a charity shop, but I hope the person who made it would appreciate the care I've taken and the use it will now get.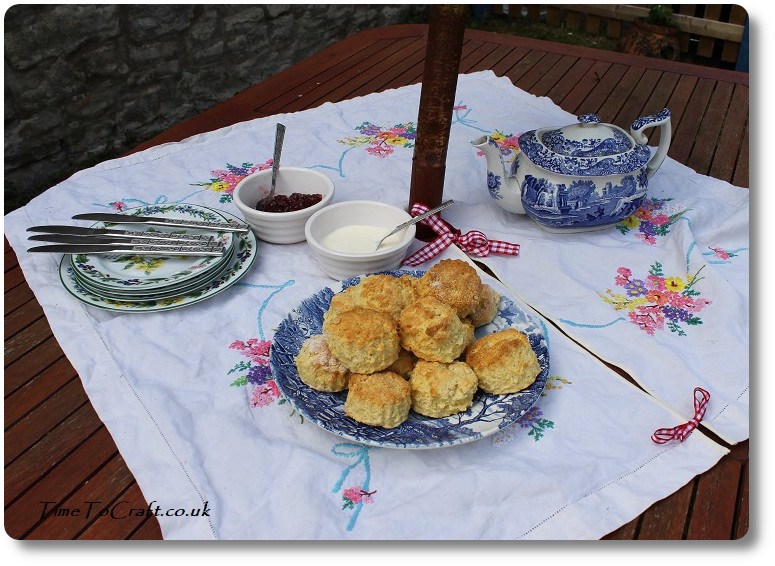 Photos
There have been cases when people lifted my photos and words, and used them without credit to me or asking permission first. Using them for their own commercial gain. I have now added a level of security to deter people from doing this. Apologies to people who do play nicely. If you would like to use any of my photos, please contact me.
Copyright notice:
All my words and photos are copyrighted to me. They cannot be used for commercial benefit by anyone else. If you would like to use any of them, then please ask me first and don't just take. Written permission only. Don't pass my words, photos or ideas off as your own. It's not nice.
Cookie Policy
Our web pages do not use cookies however this website uses Google Analytics, a web analytics service provided by Google, Inc. Google Analytics uses cookies to help us analyse how people use our site. The use of cookies by Google Analytics is subject to change.