How can it be the start of seed planting time again? Admittedly, January is more about planning than committing seeds to soil. Unless it's a tomato seed, then, let's face it, that's fair game.
I love gardening. It's something I'm passionate about handing on to my children. When they leave home, I want them to have the skills to grow their own food. It is a life skill
Good news is, that after 17 years of gardening with my children, I think I've picked up a few tricks to ignite their enthusiasm and keep them coming back for more each year. Both teenagers and my tween will join in.
Here are my tips:
 Start now
It doesn't matter how old or young they are, or the season, jump on in and start gardening, with your children. There is always something you can grow or prepare. No garden, no problem. Contact your local council and apply for an allotment. Or else, use containers. It doesn't have to be expensive either. They could be tins or pots out of your recycling bin. A packet of seeds from the supermarket. Given the right conditions, seeds will grow. Start small and build it up.
Make a list
Make a list of the vegetables, salads and fruit you like to eat and flowers to enjoy. Cross out the ones which are not practical. Each January, we sit round the table together and make our list. I also bring out a few cookery books for inspiration. This was an absolute game changer. Courgettes, once banned, are now (almost) top of the list, thanks to a favourite recipe we found.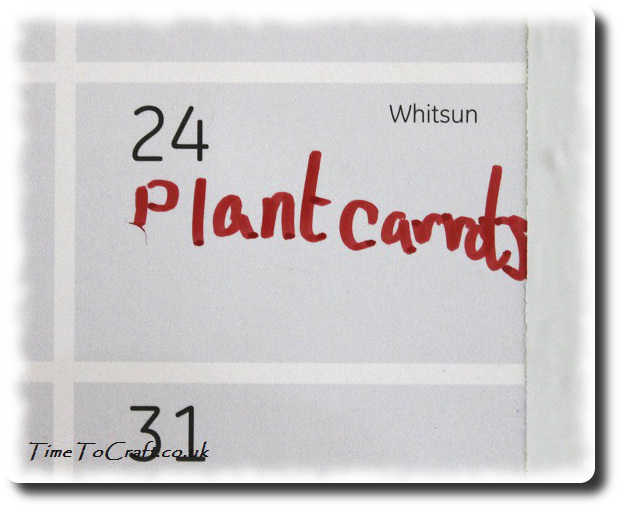 Make your annual plan
We found that a garden journal works for us. Double page spread for each month. First page includes all the jobs for that month, including what to sow. Second page is for notes. Children love turning over the new page, each month.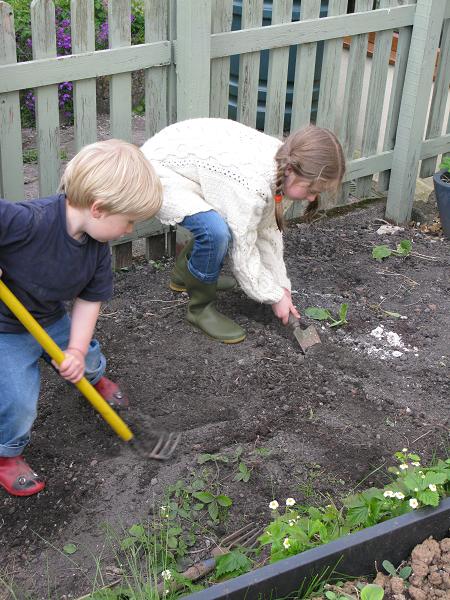 Take photos
This one is a winner. My children love seeing photos of themselves. Sharing photos of them gardening in the previous years, helps to inspire them. They remember the fun. They remember the rewards.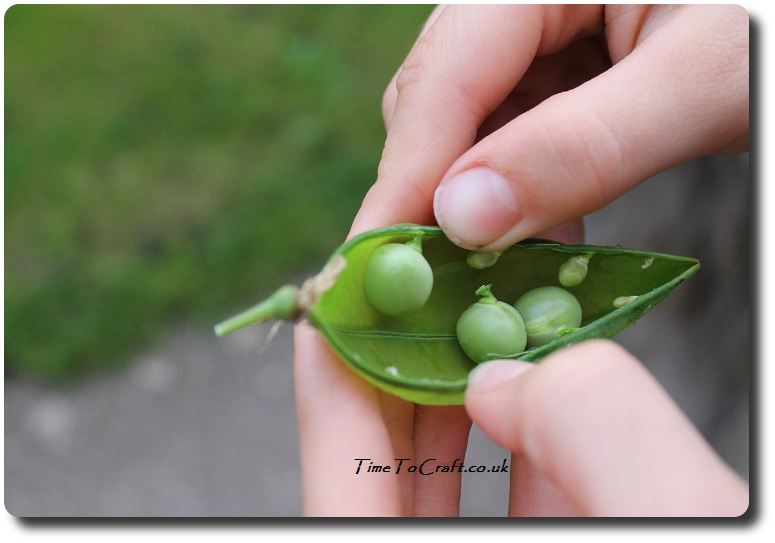 Give them their own patch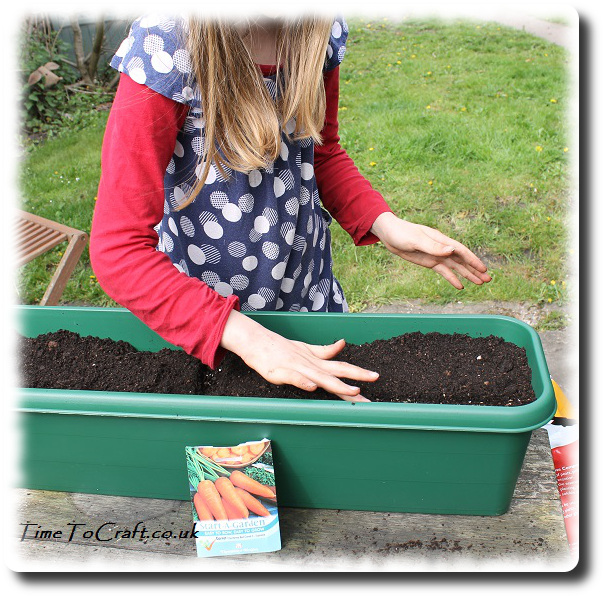 As soon as they start asking for a patch of their own, make it happen. One year, they each had a long trough that they could plant whatever they liked. It was a big success. The next year, I gave them a bigger area. There is nothing like sitting round the lunch table knowing everyone is eating the carrots you grew.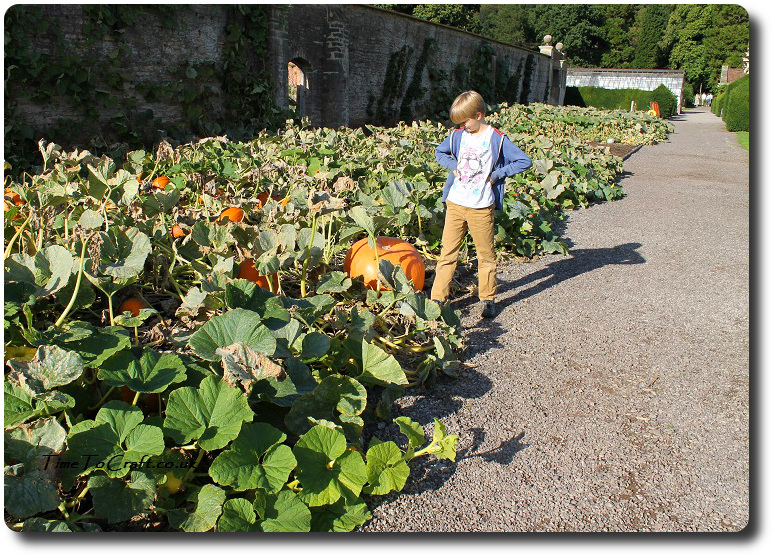 Visit other kitchen gardens
I'll admit, this one surprised me. I thought I was dragging them around the gardens, but turns out, they were picking up ideas too. Lots of "we can do this", as we weaved our way through the neatly laid out patches of veg. They have fallen in love with flowers and different varieties of vegetables on these visits, as well as clever ideas.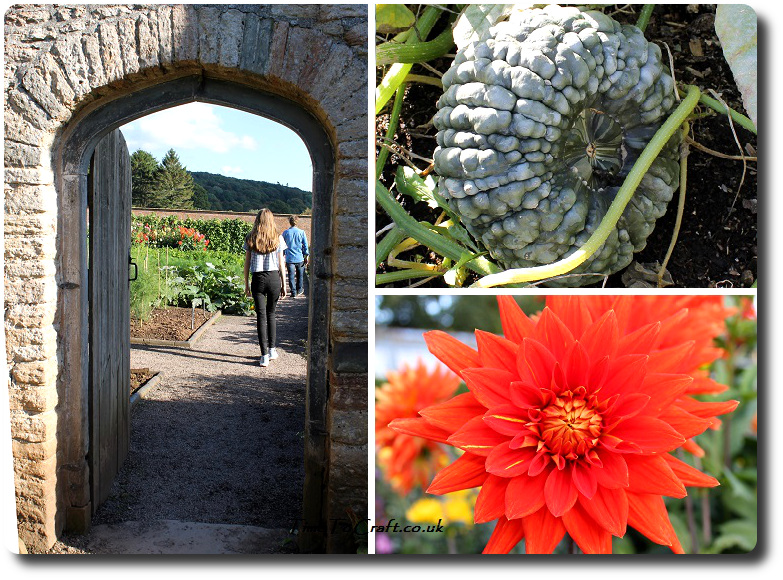 Fun projects
There are so many fun projects to ignite their interest in gardening. We've grown seeds in little bags and jars, built runner bean houses and had our own pumpkin competition. They've named seeds and cared for them. As they've grown older, they've searched our varieties they like and enjoyed cooking with them. So many project ideas out there to suit all ages.
Praise
Let them know that you appreciate their efforts and gardening with you. It sounds simple, but it's as good as an invite to join you next time. There will be failures, but that's how all gardeners learn. That's how we all learn.
Time to talk
This isn't so much a tip, but an observation. Just as teens are more likely to open up when you are driving them somewhere or on a walk, I find that they often choose to join me as I'm weeding the sweetcorn. I learn more about their day at school, than if I'd sat them down and fired questions relentlessly, as soon as they walk through the door. It is often one to one time, where the gardening acts as a safe spot to share a problem.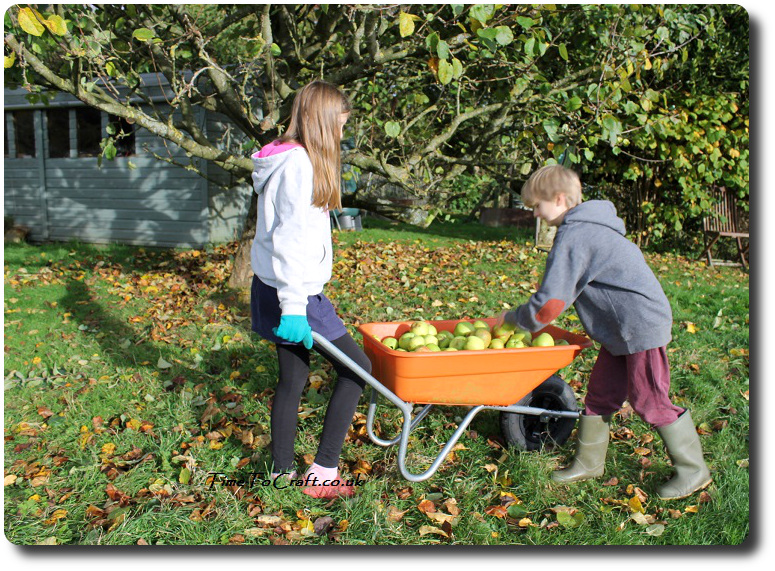 Another benefit is that they learn to love and appreciate the natural world, and also understand the worth of the food we eat. We have very little food waste or fussy eating. I put that down partly to learning how to garden.
Last tip…
Garden together
Gifting gardening themed presents is wonderful, but it can also be daunting for a beginner. Take time to help them get started and keep them interested as it grows. I still remind my youngest, every now and again, to water his rainforest plants that we gave him in the summer for his birthday. They are surviving and he is proud of them.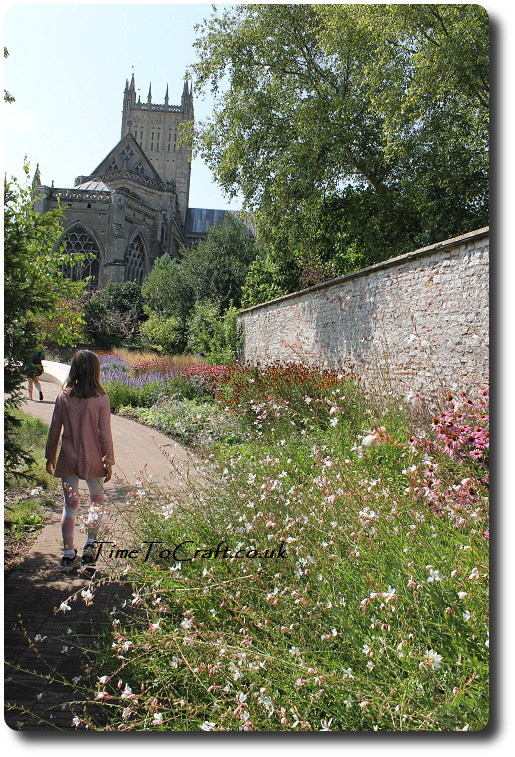 So there you are. Difficult to imagine gardening at the moment, as the rain is tipping down, but it will change. If you're in the Northern Hemisphere, then this is a good time to start planning and preparing. If you are in the Southern side, then start sowing your winter and spring crops. There is no time like the present. Your future self will thank you.
I cannot tell you how much I've enjoyed gardening with my children over the years. Sometimes, their enthusiasm has carried me along. Other times, I've been glad that I had a few tricks up my sleeve to encourage them. I can only hope that every child will have the joy of seeing a seed burst through the soil, as it germinates. Or eating something that they grew. It is so good for them. Whatever age they happen to be.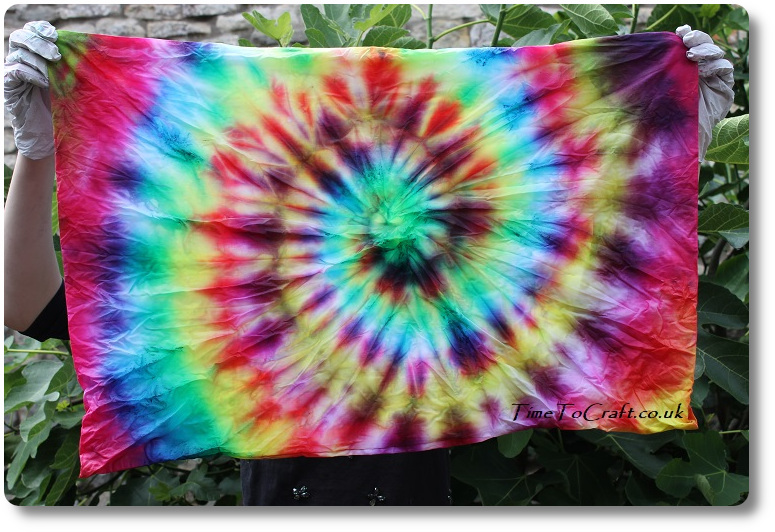 There comes a stage, when children can do a craft without help. They've been taught how to handle craft material. They know the techniques. They've probably lost count of projects completed, or half completed. Now, it's their turn.
Up to this point, they've learnt to copy the example provided. Be it a painting or a model, they've attempted to emulate it.  A carbon copy. The focus has been on following the leader, which is great as they gain confidence in their abilities, but at some point it changes. They take a leap.
No longer do they need to copy. They can take the skills, and be creative in their own right. The image they are copying may only be visible to their own mind's eye. They can fly. Anything is possible.
Also, everything can go wrong. Darn. Why does every coin have to have two sides?
If it doesn't work, then the hiccup can put them off. Confidence in themselves lost. It's easy to see why sitting in front of a screen becomes more attractive, whilst declaring that they are useless at making anything.
They are not.
As a parent of two teens and an almost teen, I don't want them to give up. It is a time to pick themselves up and dust themselves down. Find another route, maybe, but do try again. Resilience doesn't always come naturally.
What do I do? First up, my mantra is that there is no right or wrong way when craft projects are concerned. I start every project saying it. So it may not end up as you first imagined, but you have gained. Maybe it is better. Maybe a new way has been found. Maybe a personal style is growing. There is no such thing as a mistake.
The summer holiday is a great time to set up craft materials and let them flex their creative muscle. Away from the time restrictions of school, the judgement of peers and the fear of their grades being dented.
Here are my five favourite crafts for teens to do outside, because they can make as much mess as they like. I supply the materials and act as the support team.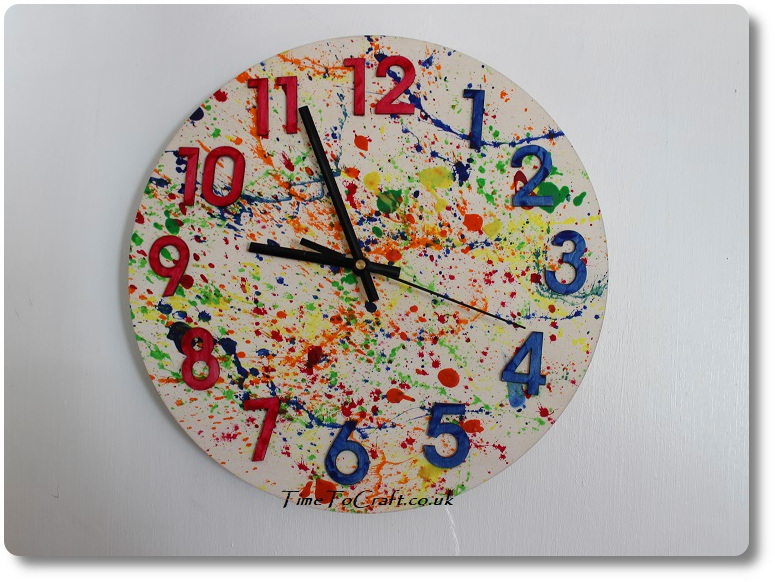 1 Object to decorate.
One year, I bought a blank wooden clock. Anything goes. Splatter paint was perfect. No two splatter clocks are ever going to look the same. No right or wrong. This project was perfect for building a wilting confidence. There is a skill in knowing when to stop. It still proudly hangs in his bedroom.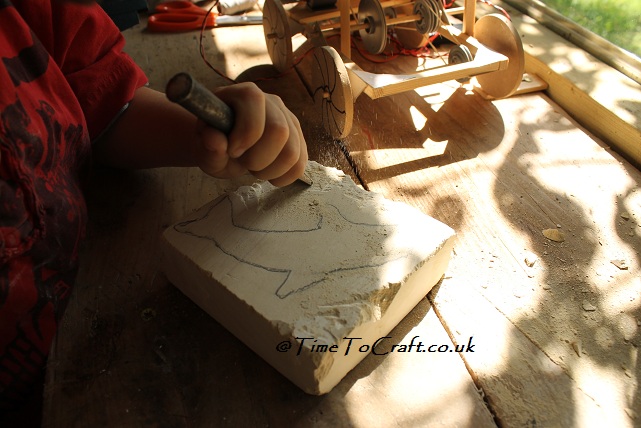 2 Carving.
We went to a country fair, where they learnt the basic skills of carving. Ended up lugging three stone blanks home, which if you know our home, is really quite hilarious, but that's not the point. The stones were theirs. That summer, they chiselled away at the stones and produced pictures they were happy with. I loved popping out into the garden and hearing the tap-tap sounds coming from the shed.
The next year. Same fair. Picked up another three stones for them. Over the years since, every now and again, they have taken themselves off to carve a little bit more. There is no hurry in this project. They are doing their own thing.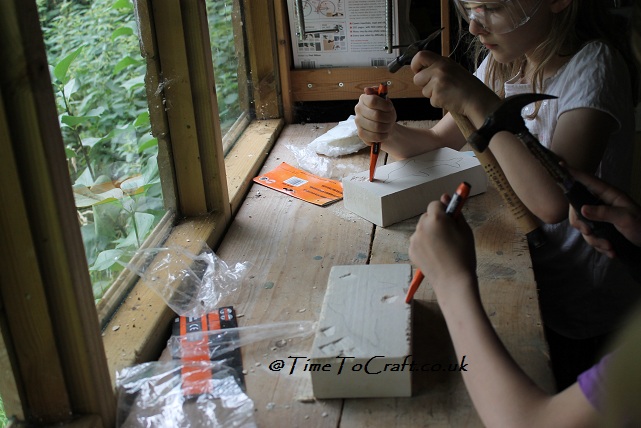 3 Tie dye.
Straight up, I do like crafts that are practical. Something that they make and then use. When they were younger, most of our projects were about making toys they could play with. Now they are older, it's more about something they can use. The tie dyed duvet and pillowcases project, last summer, is a really good example.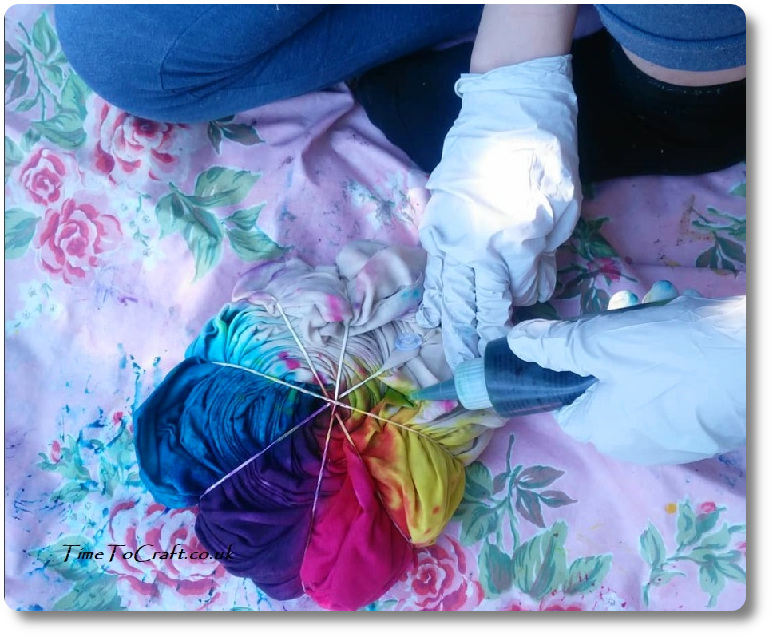 This was a real hit and something they want to do again this summer. It is messy. A project for outside, and with the added bonus of rainbow grass until the next downpour washes it away.
Each piece was different. It's difficult to attempt a carbon copy with this project. Experiment is the key. There was no right or wrong. They went back and added more dye to some of the pieces, until they were happy with it.  The duvet covers and pillowcases are on their beds now and they still love them, which, to me, spells success. We've also dyed t-shirts.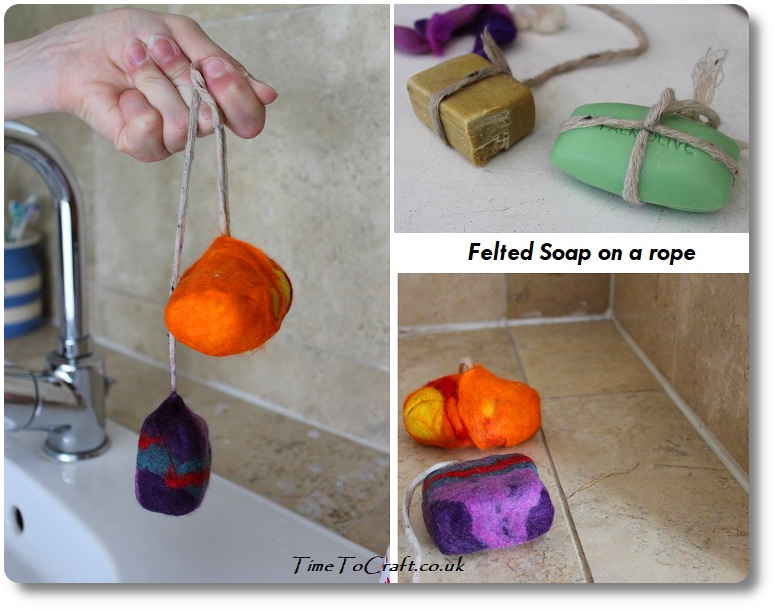 4 This is another practical craft. Felted soap.
We added a rope to hang it up with, but it is good without too. I love wet felting projects. It is very hands on, colourful and they all come out differently. It is a great project for blending colours. There is no standard felted soap, so creativity is wide open.
Here again, the felted soaps are in regular use and, I can assure you, work a dream. Especially on bare feet that have been outside all day.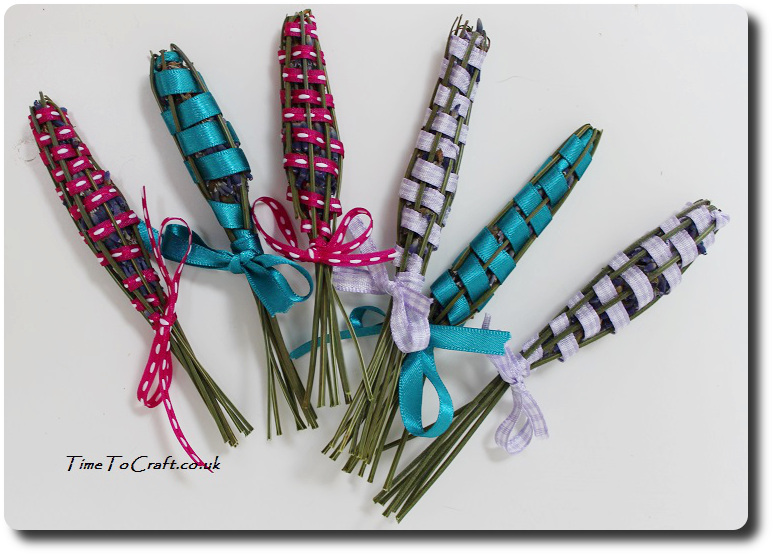 5 Wasn't sure if I should include this one, as there is a set way of doing them, but it does cover another aspect of crafting. Lavender wands.
Nimble fingers and concentration are needed to weave. The satisfaction of containing the lavender, into a natural cage, is worth the time. Working with nature can be unpredictable. No fighting it sometimes, but finding the rhythm helps, and it's a skill everyone should have to help appreciate the natural world.
It is also a wonderful project for a group to sit in the garden and craft together. Surrounded by nature. By the end, they have a sweet scented wand to put in their cupboards.
6. Last one, and an experience this time, although captured forever on film. A night light show.
The children each have their first initial shaped in wood with led lights decorating it. Looks great in their rooms lit up, but even more fun if you add a camera, with a slow setting, and a dark evening into the mix. They created letters, shapes and pictures. They worked together to make bigger more complicated displays. Until they saw the captured image on the camera, they had no idea how it would turn out.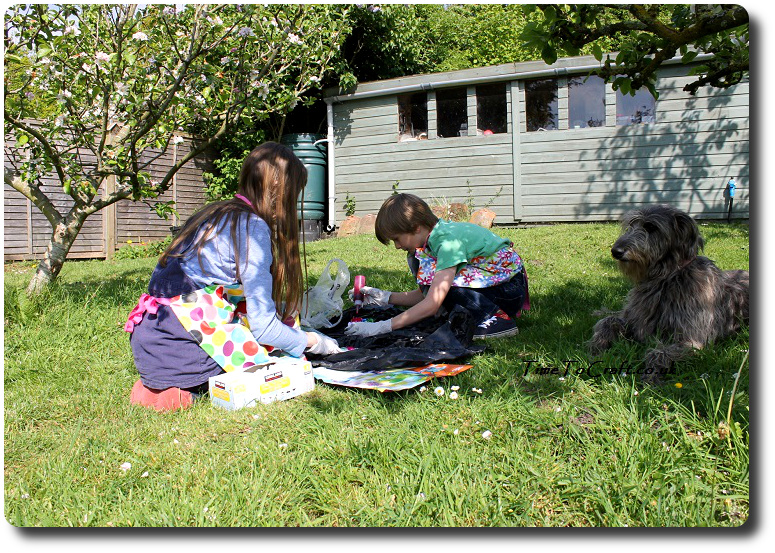 This summer, we have more craft projects lined up. I've already organized the materials, but I'm all ears to ideas as they come up with them. I love seeing where their creativity takes them. With open ended projects, like these, I'm never quite sure what will come next. Another interesting summer, I think. I'll be reminding them that there is no right or wrong way of doing it. They just need to follow their ideas.
Have you got a favourite teen craft?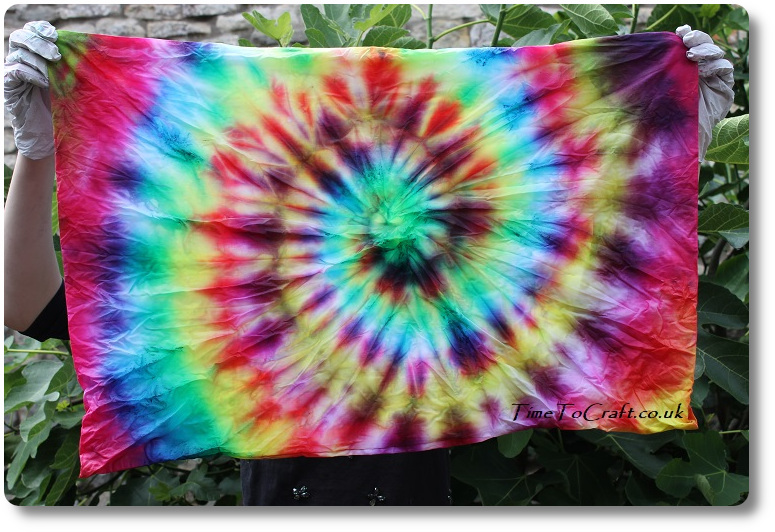 Dear summer 2018,
I just wanted to let you know that the sunshine and warm weather, you've sent our way this year, has been awesome. We've enjoyed it. Made the most of it. Drunk it up like a bumble bee in spring. No weekends spent mowing the grass. No thought of bringing jumpers when we venture out. The wet washing drying on the line within an hour. Eating alfresco and late evenings in the garden. Lots of outside time.
I'll forgive the fact that our salad garden was baked solid and not much grew, except turnips and lettuce. The green house has made up for it. (Anyone for a cucumber?) I'll even put aside the fact that you chose the one evening we attended an outdoor theatre, to summon up a sustained downpour. I may never be able to watch Oscar Wilde again without thinking of raindrops on umbrellas.
No. Seriously. It's OK. I'm over it.
Overall, we have been hugely blessed. Blue sky and sun. There is a big part of me that wants to capture that feeling. Bring it out when the first frosts bites and I most need it.
In an effort to bottle some of that sunshine, I've made strawberry jam, and have a vat of apple and mint jelly brewing as I type. We've nimbly crafted lavender wands to put among clothes in our drawers, to summon up the scent of summer, as woolly jumpers are pulled out to wear midwinter.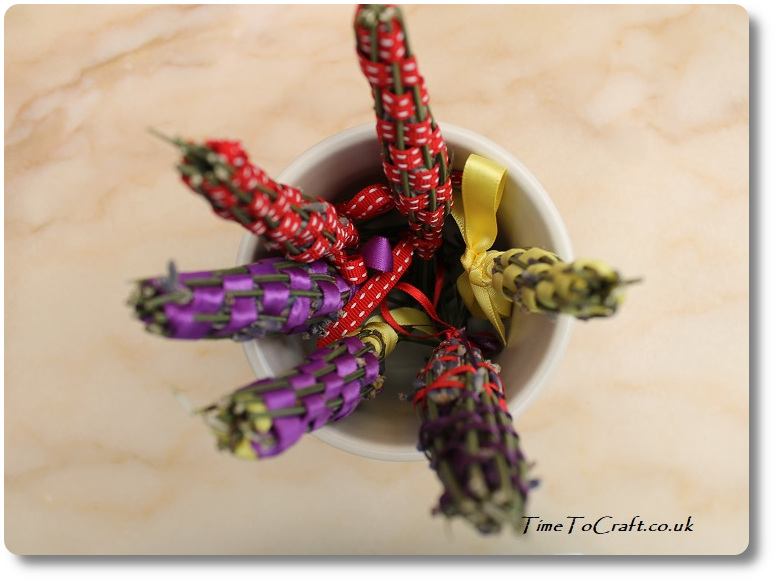 Wonderful, colourful ribbons.  I'll be transported straight back to sitting by the lavender with my two girls, weaving and twisting the stems in place. (how to here) Watching a hummingbird hawk moth visiting the flowers waiting to be picked.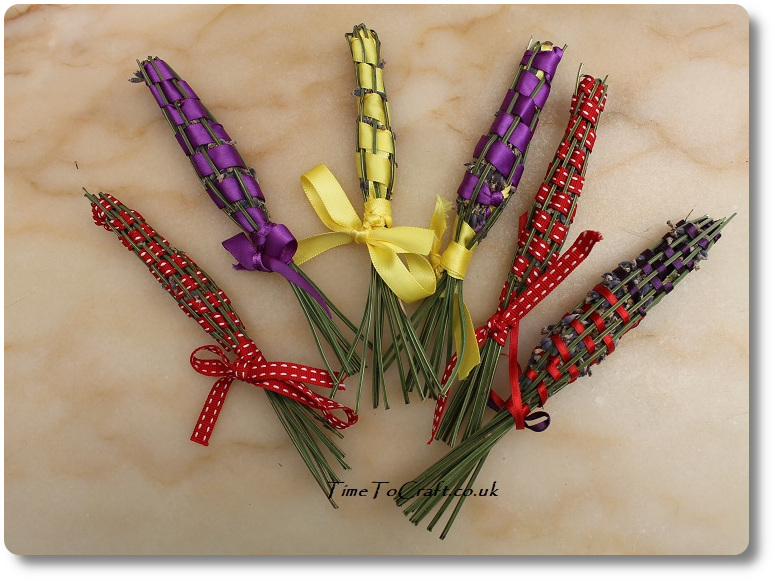 Good memories.
But, hands down, my favourite summer project, this year, has to be the tie dye bedlinen. I've had this one waiting in the wings for a few years. Looking for a summer that's not too wet, because this project was always going to be big and messy. Not a kitchen activity. Oh, no. Has to be outside.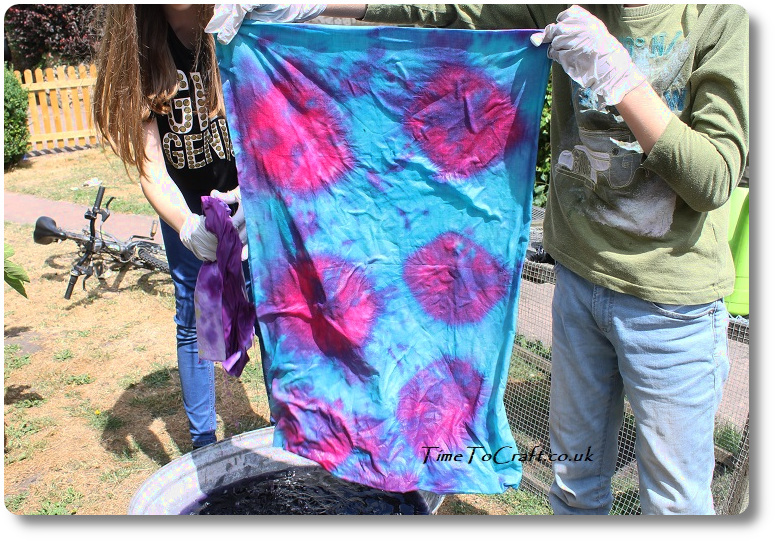 Although, I do usually count on the rain washing away the inevitable spilt dye, that runs off on to the lawn. While the rest of the grass in our garden was crunchy brown, this year, we did have one small corner that looked like a rainbow had laid down to rest. For weeks.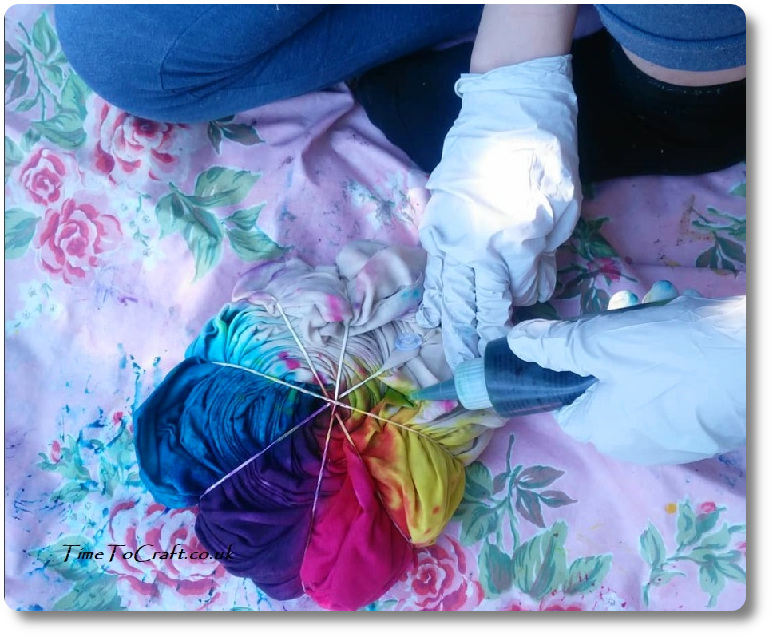 So three duvets and three pillowcases are now summer coloured. We bought more dye to top up the colour for the crumple style duvets, meaning we could dye three pillowcases, one bag and a pair of socks, at the same time.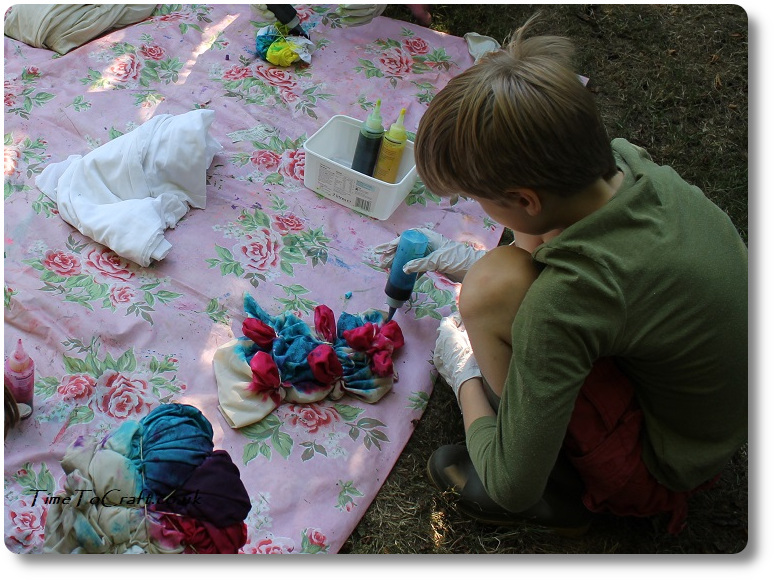 It would be true to say that we are well and truly over the urge to tie dye for a while, at least. Yep. No desire at all to dye anything. I'm not even sure we have anything left to dye.
It was worth it. They did have fun. They innovated and problem solved as they went along. The bedlinen is now on their beds. Boldly declaring that summer is being observed in this home. Some of the vibrance washed out at the rinsing stage, but it doesn't seem to matter. Enough sunshine has been captured.
Thank you, summer 2018. You have a few more weeks to run yet, but already you have proved to be a vintage year and we've captured it, not only in memories and photos, but duvet covers and pillowcases too.
Your forever friend
Cheryl
p.s. I'll be bookmarking this post. Once the jam and jelly have been eaten, and the duvet covers swapped for a winter theme, there will be days that I'll need a top up of colour and sunshine in my life. For sure.
Photos
There have been cases when people lifted my photos and words, and used them without credit to me or asking permission first. Using them for their own commercial gain. I have now added a level of security to deter people from doing this. Apologies to people who do play nicely. If you would like to use any of my photos, please contact me.
Copyright notice:
All my words and photos are copyrighted to me. They cannot be used for commercial benefit by anyone else. If you would like to use any of them, then please ask me first and don't just take. Written permission only. Don't pass my words, photos or ideas off as your own. It's not nice.
Cookie Policy
Our web pages do not use cookies however this website uses Google Analytics, a web analytics service provided by Google, Inc. Google Analytics uses cookies to help us analyse how people use our site. The use of cookies by Google Analytics is subject to change.