When I look back to my childhood, among my happiest and strongest memories are time on the beach. Most importantly, in the sea. Long after everyone else had got out and headed home, hungry for their fish and chip dinners, I'd still be there. Every time. Playing. Jumping waves. The sun heading into the horizon. My increasingly despairing parents, holding towels by the water's edge, pleading for me to come out and dry. Yes, I was that child.
I was lucky, my grandparents lived by the sea. When we stayed with them, I could enjoy the sea morning, noon and night. Walking the dogs first thing on the beach is something I still love doing. I love the emptiness and room to think. Sometimes dodging the tractor dragging the sand back into place. Before the beach towels and bucket-n-spade invasion.
I like the alone time.
We moved house a lot. I can only remember one house, where we lived close to the sea. I was a teen by then. I still loved it. I could swim for hours, given half a chance. We had a pool, too. I learnt to dive there. Later I discovered the fun of surfing  and windsurfing. First time I'd encountered wet suits, which stretched my swimming year out by a few more precious months. Then when boards made room for children, in the car, I fell back to hunting fossils and sea glass. Paddling or body surfing. Never one to sit and sunbathe.
The sea is my happy place. In particular, where the sea meets land.
I really want the children to have fond memories of the sea, with us.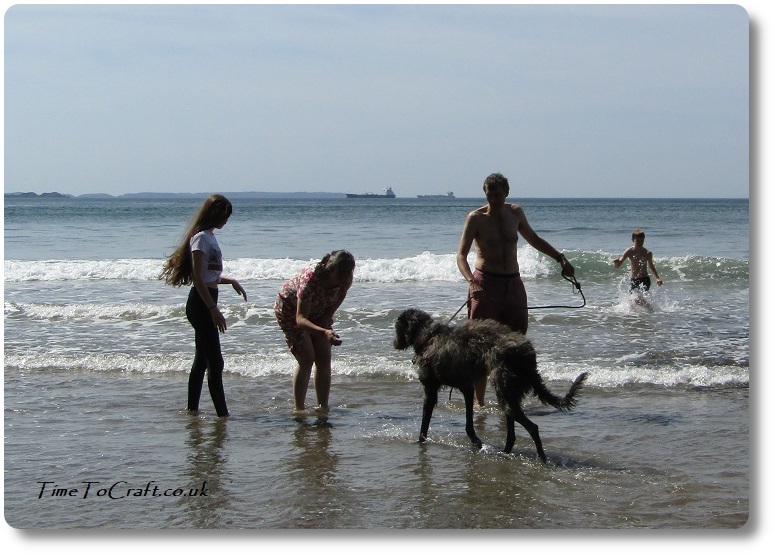 This holiday, we found a couple of beaches which were perfect. Coves all to ourselves. I could feel my body slipping back into the familiar. Being by the sea again. I forgot my swimming costume. It didn't matter. I could paddle and walk through the waves. I'd soon dry. Hero followed us into the water. Unphased, for the most, by the waves. Less forgiving of being submerging every now and again.
The children loved it.
I'm working on them to try surf lessons. Next time, I'm sure they'll let me book them in.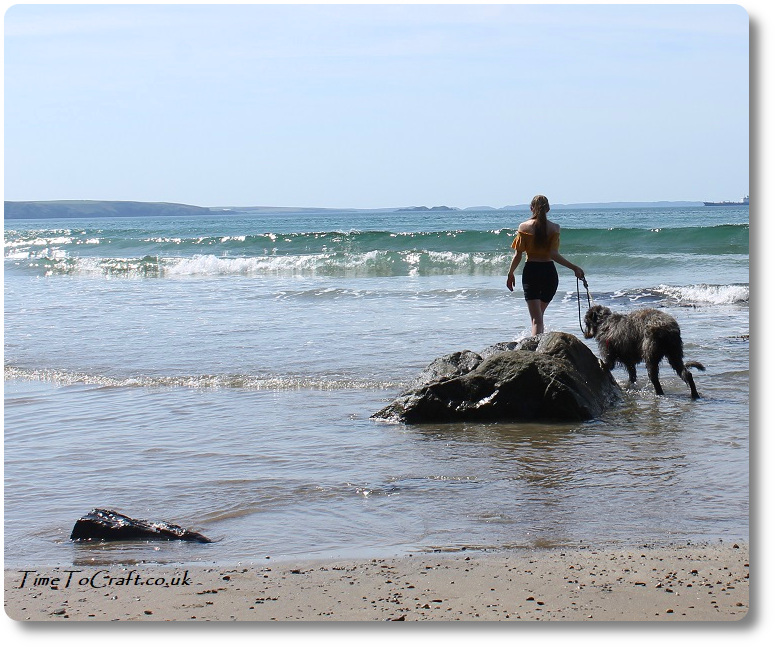 In the meantime, they enjoyed the welsh coastline.
Oh, and I got a taste of my own medicine. I have my very own "that child" now. I'm sure my parents would chuckle. Calling in Youngest when it was time to go. A deaf ear. Slipping back to the water, just as his towel was wet and he was dry. One last splash, or sea-surrounded rock to climb.
I don't mind. I understand. There is mer-people blood in our veins. This time was inevitable.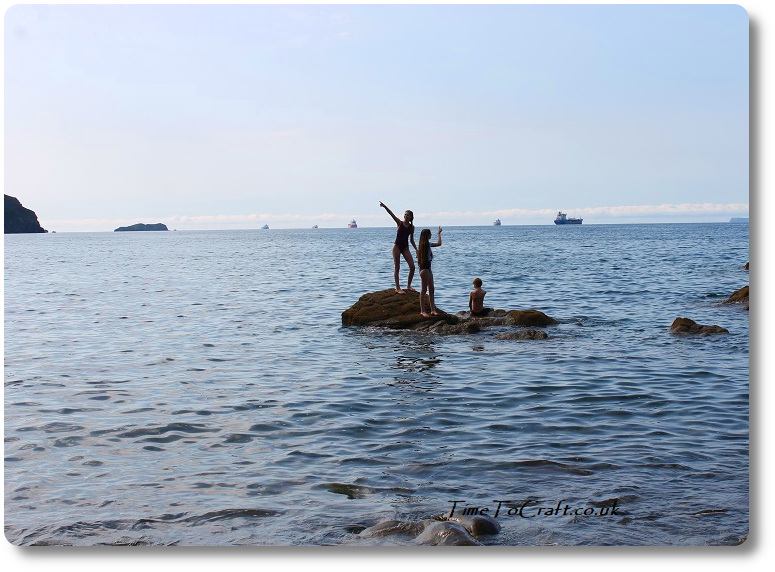 It's finished. Middle Teen has finished her first quilt. I'm so pleased with how it has turned out, but far more importantly, she loves it. It's her quilt. Apart from the odd pointer from me, she's just got on and made it all by herself. Transferring the skills she learnt while making her patchwork tote and cushion.
I love her choice of fabric. This is a girl who dreams of flying. I don't just mean that she wants to fly, but she also wakes up, on a regular basis, from dreams where she is flying. A quilt made of images of hot air balloons and space seems even more of a perfect choice to snuggle under, while dreaming her dreams.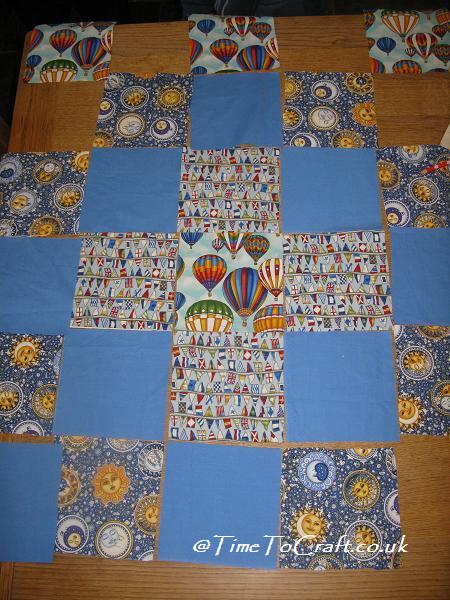 (photo from 2012)
The project
Selection of the fabric and cutting out happened back in 2012. She was eight. I took her to a local fabric shop and gave her full rein. She chose hot air balloons, cosmic images and flags fluttering in the sky, along with a blue to break it up.
After cutting out the squares, she spent ages playing with the arrangement.
Then the project was put aside to gather dust.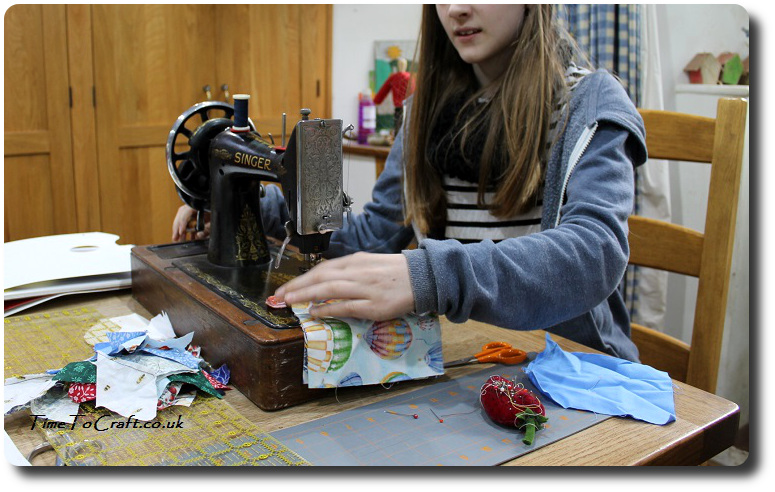 Move on to 2017 and she dug out my old hand-cranked Singer sewing machine, to sew the patches together. She was pleased with the arrangement and enjoyed stitching them. The slow rhythm of the manual sewing machine is something every person, who sews or not, should experience at least once. Good sewing therapy.
Anyway, then the project was put aside again to gather dust. (Not literally. She did store it in a box)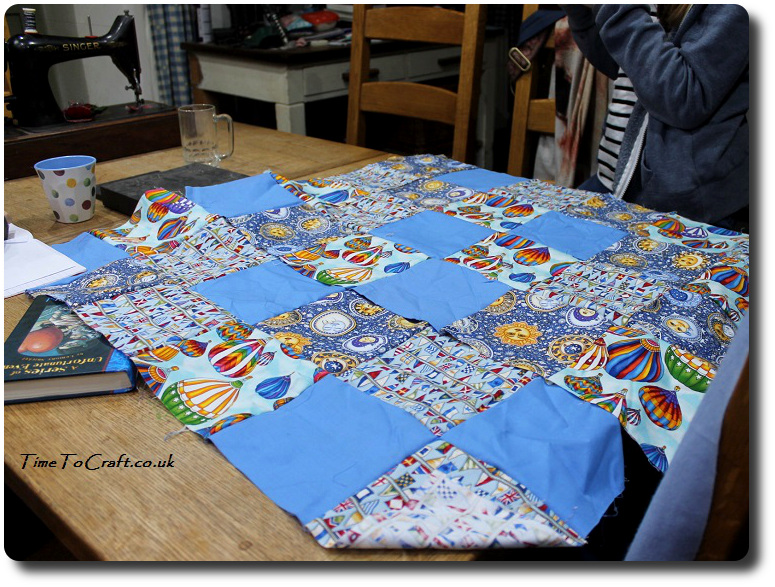 Time shift to early 2019. She's 15. I gave her a piece of wadding and an old duvet cover for a backing fabric, which she duly sandwiched together.
Slight pause. Dust bunnies formed and multiplied….
This holiday, I encouraged her to finish it. Partly because I needed my curved safety pins back which she'd used to pin it all together. Out came the old Singer sewing machine, once more. It really is a good machine for quilting. She sewed in the ditch, which basically means where two squares meet.
She was on a roll now. Using the backing fabric, folded over to the front, she made the binding. She even figured out how to do mitred edges for the corners, which I was hugely impressed by.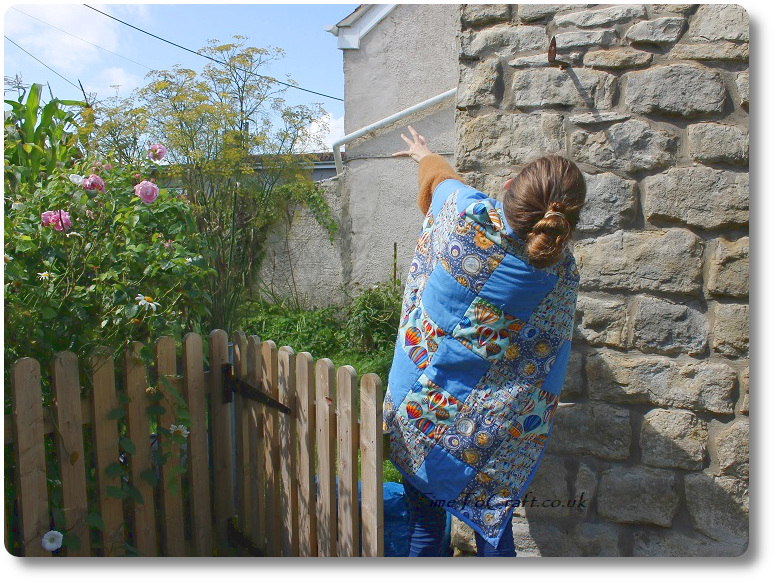 Quick, light press of the fabric and it was done. My funny, gorgeous girl had finished her quilt. Several years may have elapsed, but I really do believe she tackled each stage, when she was ready for it.
She's starting her Textiles GCSE course this September. I hope finishing this quilt will give her just that little bit more confidence to take on any project. I want her to fly. I want her to believe that she is capable of anything, because she is. Oh, yes. My girl can do it. There is no doubt.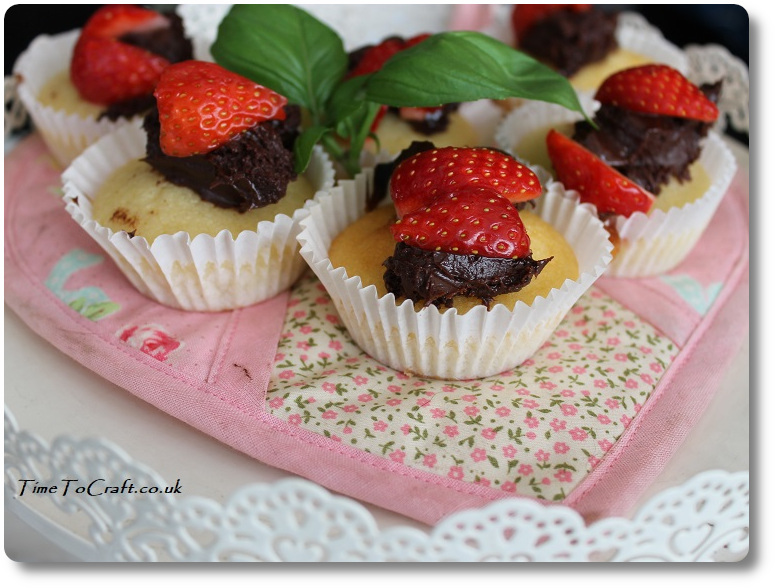 Well that was one hellava week. I'm not sure I could cram much more in. We've been busy. Coupled with it being a week where parenting has felt like an odd mix of pushing a boulder up hill, while treading carefully on egg shells. Neither lends itself to the other. All good. Just using all the skills I have ever acquired. Diplomacy and management especially.
We've clocked up a fair number of miles between us this week. On a school week too. All good. Seeing family and expanding minds is always good. A sigh of relief as we reach Friday evening. Although I do now have a household of tired teens/tween who would happily swap a nagging mother …..well, for anything, I guess…..even though they'd deny it.
Last weekend, we headed off to the Lake District, once the children were home from school. Took just under six hours with stops, which seems crazy now I write it. It was my niece's wedding. I'd sorted out suitable outfits for everyone, except Eldest Teen, who seems to revel in the roulette of ordering last minute. Fortunately, she won this time and her dress arrived just before we left.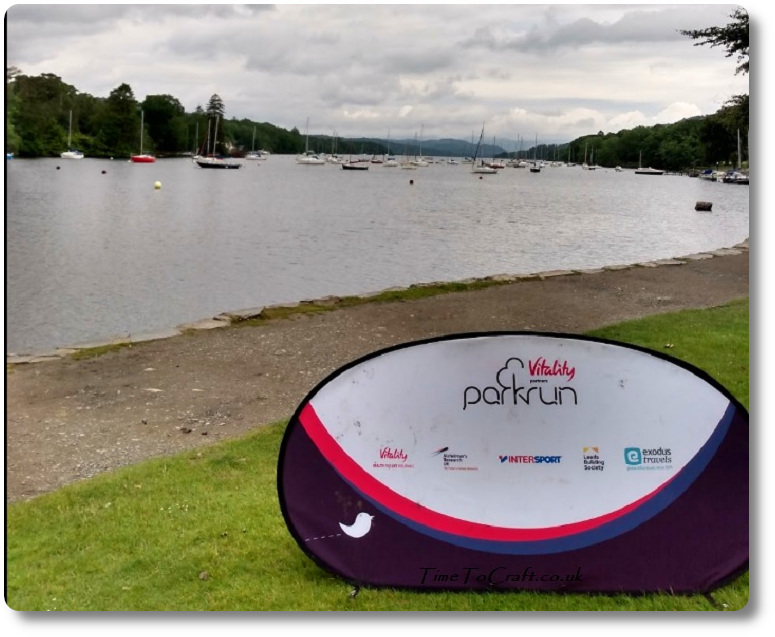 We stayed the two nights in a cottage up there. It was perfect for us. The views were wonderful and, on the morning dog walk, we could hear cuckoos and curlews. In the morning, Mr TTC went off to be a Park Run tourist. We all tagged along to watch support. I was expecting some hills on the run, seeing as we were in the Lake District, but it's more of a lake side run.
The wedding was in the afternoon. It was a lovely event. The setting was perfect. The rain took a break. The new couple looked so happy. It was lovely to see my family. My eldest sister, mother of the bride, died a number of years ago, but I know she would have loved the day and I'm quite sure she was with us.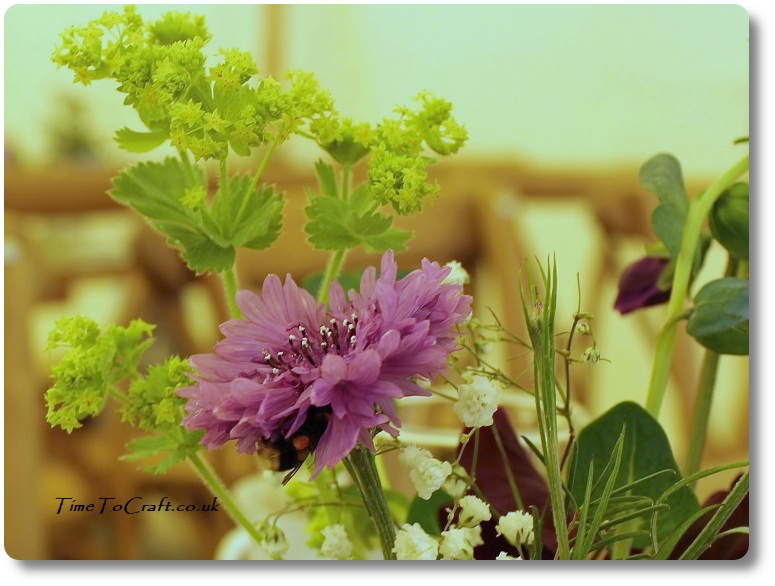 The next day, we stopped off at my brother in law's cottage. First time we've been there. He has found such a beautiful location.
A nice respite, before we hurtled back down the motorway home.
Next day, there was a flurry of packed lunches, spending money and (optimistic) sun tan  lotion added to bags as the teens headed off in different directions to Cardiff and London. It set the tone for the rest of the week. Youngest packed up and headed off to camp. There was also a day trip to Burnham on Sea for one of them and a more local trip for another. More spending money and packed lunches (and sun tan lotion). Each trip involved dropping them off and picking them up, until I felt the car should probably sport taxi plates.
Finally today, we took Eldest teen and her friend to the Bath Uni Open Day. Top tip for Uni Open days. Take a friend. One of their friends, obviously. They both definitely got more out of it. It was a really good day. She is inspired, although I don't think Bath will make the list. Mr TTC and I were ready to sign up to a Biology degree then and there. Sigh. If only. I'd quite like to go back to being a student.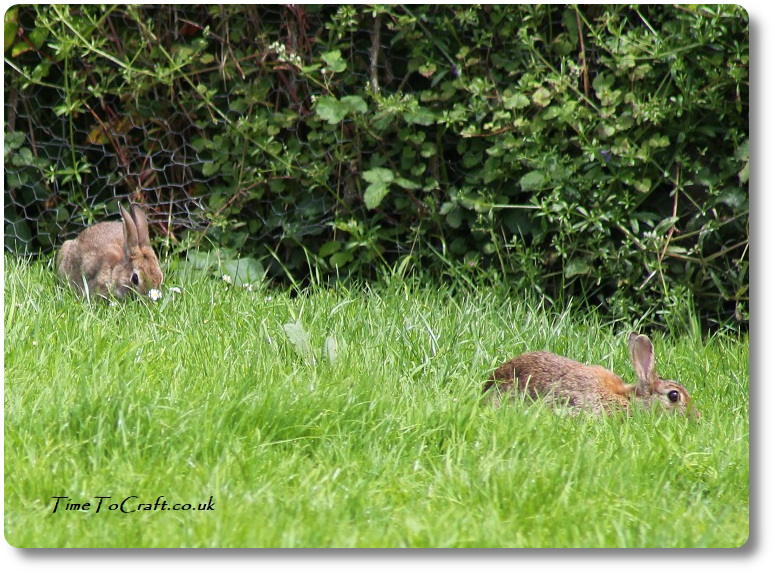 Thank goodness it is Friday. Youngest is back from camp and is tired. I think he had a good time. Judging by the state of his washing, if nothing else.
I'm up for a quiet weekend. Might need to block a few holes in the fence, as the rabbits are dangerously near my kitchen garden. I need to check the woodburner, as another hornet has found its way in there. Huge one too.
Tonight, I'm going to sit out on the swinging bench and watch the bats come out of our roof (Mr TTC counted 126 last night), as the sun goes down on the summer Solstice.
So that was our week. So busy. We even squeezed in our 21st wedding anniversary. Don't ask me how.
Happy Solstice, everyone. Blessings to you all.
Joining in with Anne's Word of the Week linky. My word has to be "miles". Oh. In case you were wondering, the sun tan lotion bottles remain resolutely unopened. Next week looks hot, so I predict the seals should be broken soon.
Photos
There have been cases when people lifted my photos and words, and used them without credit to me or asking permission first. Using them for their own commercial gain. I have now added a level of security to deter people from doing this. Apologies to people who do play nicely. If you would like to use any of my photos, please contact me.
Copyright notice:
All my words and photos are copyrighted to me. They cannot be used for commercial benefit by anyone else. If you would like to use any of them, then please ask me first and don't just take. Written permission only. Don't pass my words, photos or ideas off as your own. It's not nice.
Cookie Policy
Our web pages do not use cookies however this website uses Google Analytics, a web analytics service provided by Google, Inc. Google Analytics uses cookies to help us analyse how people use our site. The use of cookies by Google Analytics is subject to change.