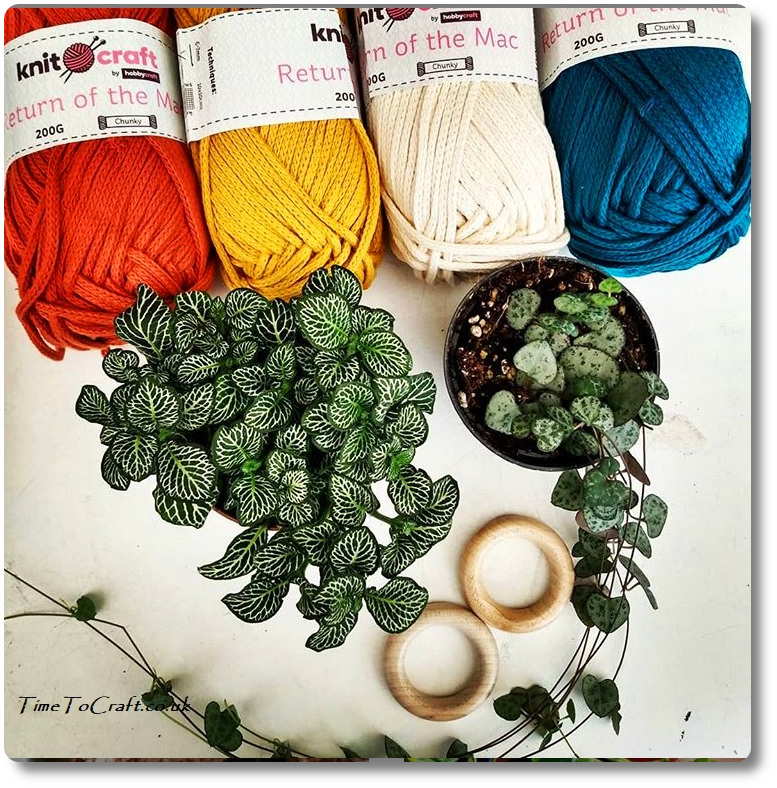 It started with a plant. Actually two, if I'm being perfectly honest, but one would have been sufficient to set the ball rolling, in this case. We're talking house plants, in case you've not guessed, which makes a change from my usual rabbiting on about vegetable plants in the greenhouse. This summer, as the windowsills were cleared of seed trays, a new, much smaller invasion happened. They multiplied in pots, but I'm talking about one particular house plant.
Let me set the scene. During lockdown, we've not needed to go out much. Apart from a roadside market stall and a pet store, I really haven't needed to face the queues. A couple of weekends ago, I ventured out to a garden centre, which felt like a more frivolous, light headed outing.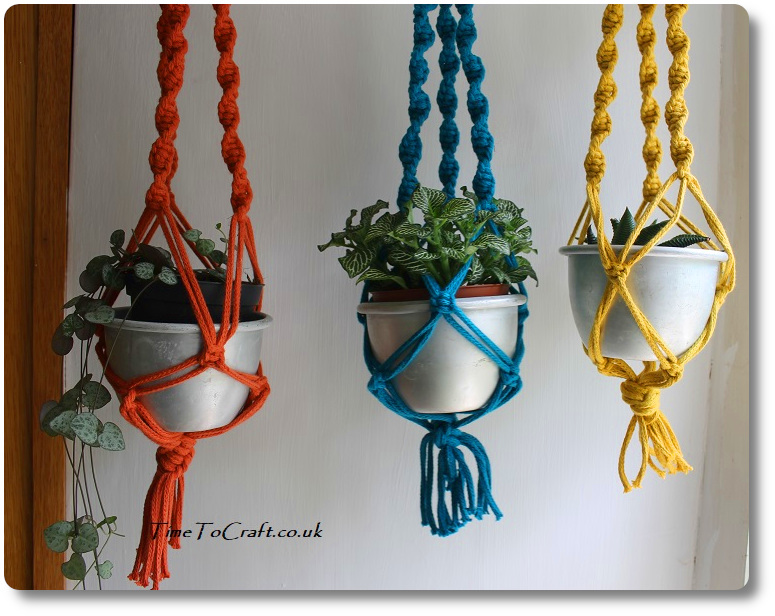 I wasn't shopping for me. I was on a mission for youngest's birthday. By total coincidence, I spied a plant that had been on my list for a while. A string of heart plant (Ceropegia Woodii). I was instantly attracted to the long, trailing stems with small heart shaped leaves peppered down the length of it. Delicate and whimsical. It really didn't take much persuading for me to pop one into the basket.
Once home, I positioned it on one of the windowsills. Its stems trailing into the room. Every time it caught my eye, it made me smile that first weekend. It still does.
There was a bit of a problem, however. It really wasn't going to flourish where it was sitting. The leaves weren't benefitting from much natural light, thanks to the small windows in our cottage. It needed to be more in the window. The only way I could see that working was either a small shelf or a hanging basket. Or move house, but that seemed extreme.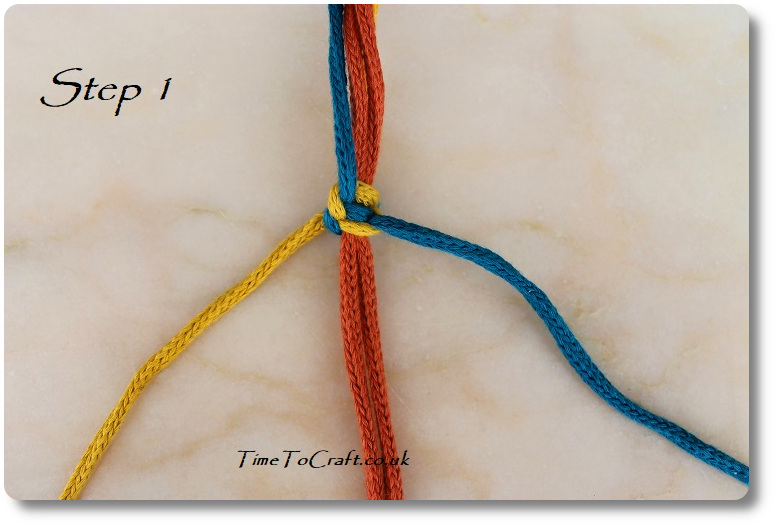 After a bit of research, I knew the perfect, and less life changing, answer would be a macrame plant pot hanger.
Many moons ago, I learnt how to macrame. I made a belt and I have a vague memory of an owl wall hanging. I could be wrong. I do remember enjoying the whole knotting experience. In the intervening years, it's not something I've picked up again. I've had no need to make anything else. In my book, you need a reason to macrame, or maybe that's just me. I still have a few of the beads, but the cord has long since gone.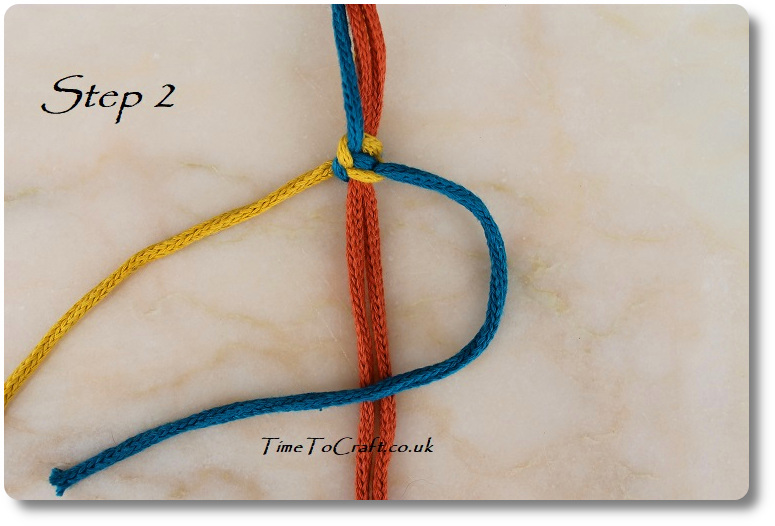 Roll on a few decades. The macrame world has moved on. No longer the browns and creams, I remember. Instead I was able to buy a blue, orange, yellow and ecru cord. So I did. Jazzy colours that sing to me.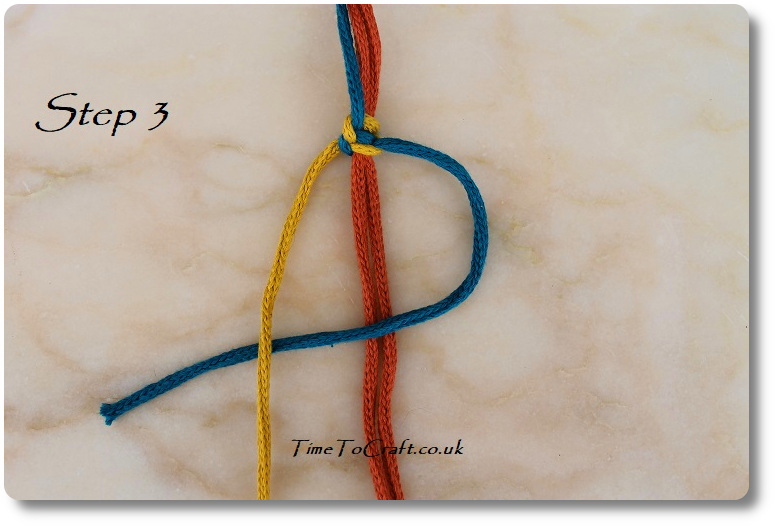 I'd forgotten how to do macrame. I checked out a few on line tutorials on the knots and set off making a plant pot hanger for my rather lovely string of hearts. I started off following a pattern, but typical for me, I changed it around. Knotting and unravelling, then knotting again, until I had the plant pot hanger that suited the intended kitchen window and the plant.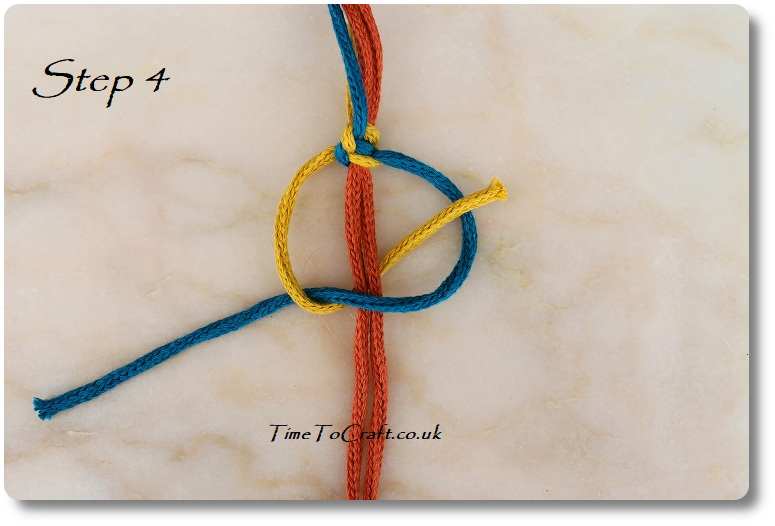 Once I'd completed one, I needed another for the other plant I had bought at the same time. The fittonia is not a trailing plant, but I knew it would look good in a plant hanger. Let's face it. I was on a roll by this stage. That was not the end of it. We all know about the odd number grouping rule. Objects look best when grouped in odd numbers. So, after two finished hangers, I had to make another. It was the rule, after all. All three can now hang together and not offend anyone.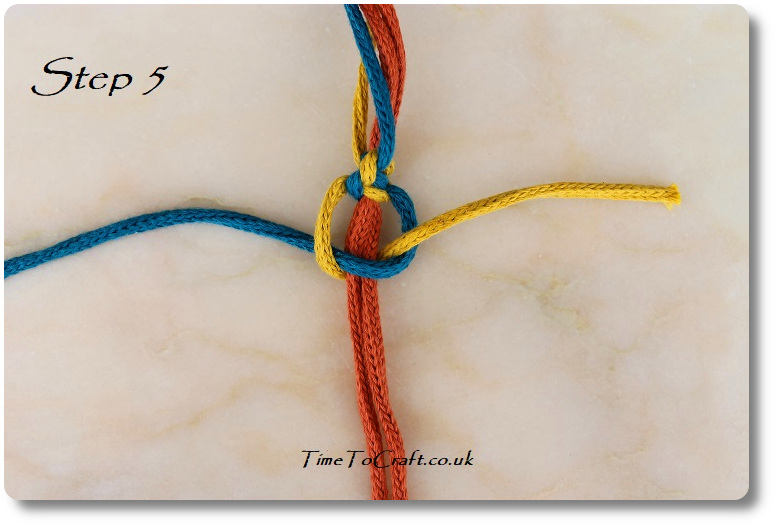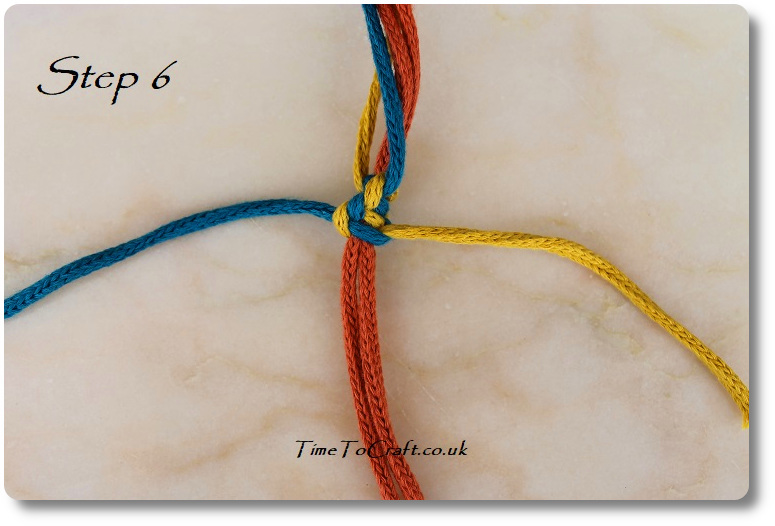 How I made the plant pot holders
1.  Cut 6 2.5m lengths of macrame cord (add more length if you are using a big pot)
2.  Holding them all together, with the ends lining up with each other, thread them through a wooden ring, so the cords hang evenly each side.
3.  Take 4 strands from either side and work a half square knot (step by step guide in the photos above). The cords will now be 3 sets of four cords.
4.  Take the first set of four and work half square knots until it measures 8″. Repeat for the other 2 sets of four cords.
Start shaping the pot part
This works as a big holed net going round the pot. Measure the pot you are going to use and mark up where you want the knots to go. You don't need to put the pot in as you work. Also I've used 2″ gaps. If you need bigger gaps, then you may run out of cord. If it's too late to cut longer lengths, miss out the second round of knots.
5. Take two of the twisted cords. Pick up two strands from the right hand cord and two from the left. Leave a 2 inch gap, from the last knots, before using these 4 strands to make 3 half square knot.
6. Move around where the pot will sit, repeating the step 5 twice more. Joining each twisted chord to its neighbour.
7.  Next level, take two cords from one grouping and two from the next door grouping and form 3 half square knots. Repeat around the pot again.
8. Leave 2 inches and tie all the cords together and trim to form a tassel.
Voila! One plant pot hanger ready for a plant.
I used HobbyCraft's Return to the Mac range. It's soft to work with. Each ball would make a few plant pot hangers or wall hangings, depending on the size, of course. I've hardly made a dent in my collection. The silver pots are steam pudding bowls from my kitchen cupboards.
Seeing as it's plastic free July, this project seems an excellent substitute for similar plastic pot hangers that you can buy. 100% cotton and should last many years. They'd even work outside, although it would shorten their lives. Alternatively, the cord could be replaced with yarn made from recycled tshirts. Upcycling at its best.
I'm working on another one for the bathroom next and I'm learning a bit more about making the most of the cord, this time. More information when I post up the finished plant pot hanger. May need to go back to the garden centre soon. For me this time.
Tell me what you think? Do you think you'll make one? If you do, let me know how you get on. Tag me on Instagram or Twitter.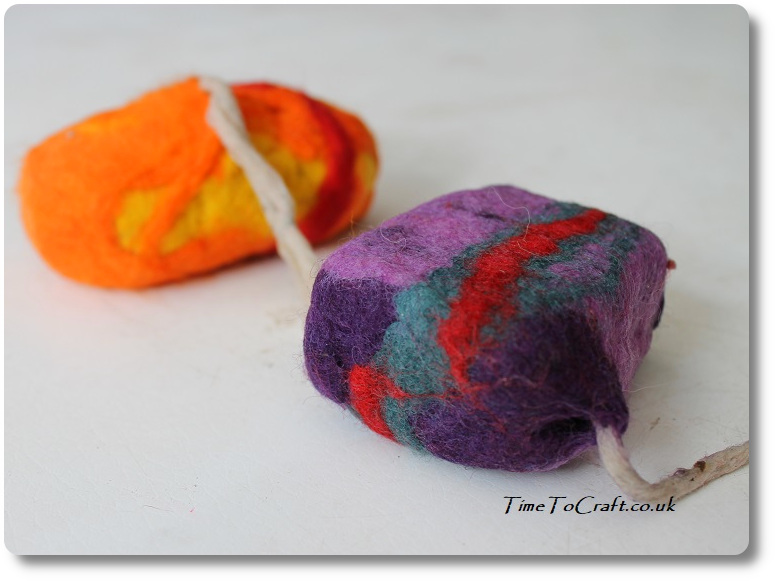 Move over shower gel and hand soap in plastic bottles. You're scrubbed off my shopping list. There's a new kid in town. One that doesn't need a pump mechanism, or leave a trail of packaging. We call it soap.  A bar of soap.
Ok. Maybe not so new. I mean, when I was growing up, a bar of soap, on the side of the sink, was a pretty common sight. That's how you got your hands clean. Public loos might have a soap dispenser on the wall, but not private homes. The humble bar dealt with the dirt.
With the tide turning, soap bars are back in favour. Rising demand as people look to cut their plastic buying habits. People are using special formulated soap bars to shampoo their hair. Removing another plastic bottle from the bathroom
There is one problem with the bars. Arguably more, but I'm thinking about the way it sits in its own wet puddle and disintegrates, if you're not careful. Imagine you're in the shower. You lather up the soap and put it down in a soap dish, or just on the side, and use the soap on your hands to wash with. The soap bar is wet. It sits there, slowly dissolving in its puddle of water, reducing its useful life. Not a good idea and it can be avoided.
(When you are a family of five, sharing one bathroom, ugly, soggy soap ends up being pushed to one side. I'm saving you from a photo of it, at this point!)
Soap needs to dry out in between uses, in order to extend its life. Lots of ingenious ways of achieving this, including special dishes and bottle tops to sit on. I'm going to suggest another way. Felted soap on a rope.
There are lots of reasons that felted soap works well.
Acts as a flannel and gentle exfoliator
Colourful
Natural material
Include scrappy bits of soap, that would otherwise be thrown away.
Allows the soap to dry out
Brilliant crafting activity to do with children of all ages (including teens)
Cleans up your hands as you make it (great after gardening)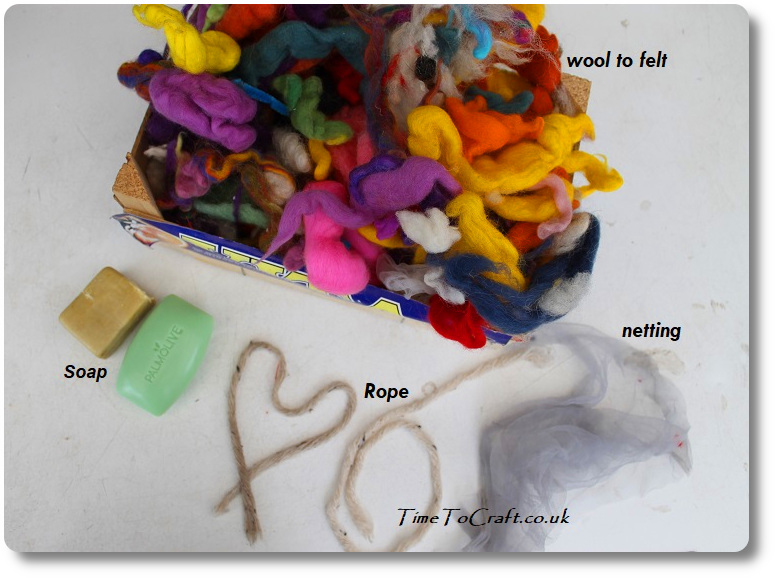 It is really easy to make. All you need is a bar of soap, wool roving, netting or pair of old tights, bit of rope and warm water. Wool roving is the fibre you get in felting kits. Felting wool, if you prefer. It is 100% wool, which felts when it's plunged in hand hot water, soap added and rubbed. Bit like when you put a wool jumper in a hot wash. It shrinks. Making it a tight fit around the soap and sealing it in. Lots of craft shops now stock felting fibre and there are also plenty of online sources too. Alternatively, make friends with a sheep farmer.
Now for the fun part.
How to make a felted soap on the rope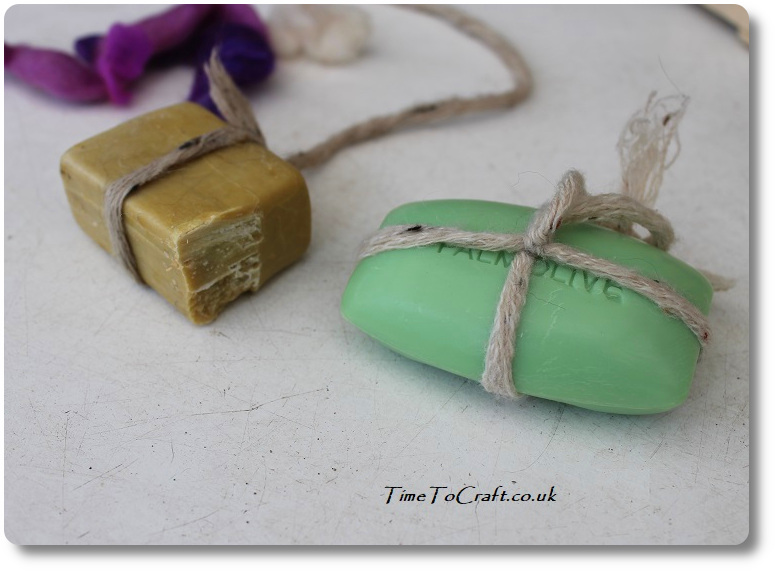 1. Tie the rope around the soap and secure with a knot. Leave a long tail for hanging up the finished soap.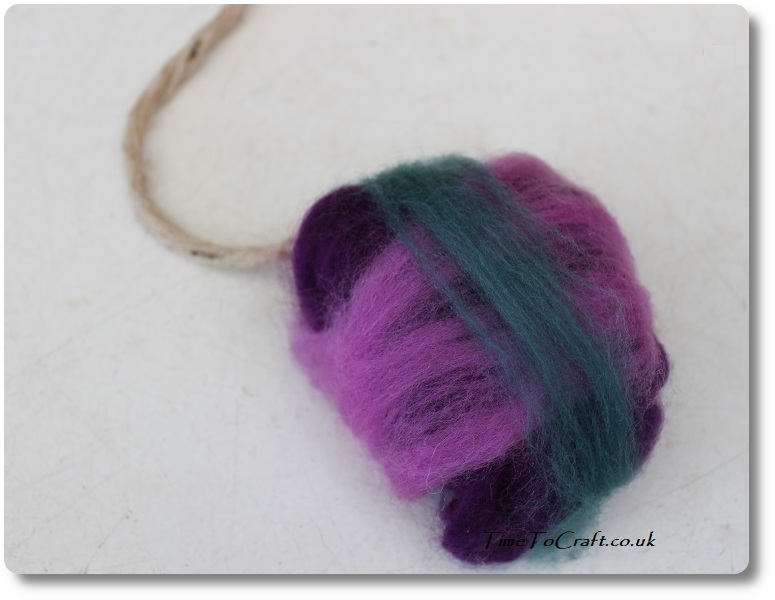 2. Take a length of the wool and tease it out into a long, wide, flat as a pancake strip. It should be wispy, like the teal strip above. The trick is to have lots of thin layers. If the layers are two thick, they will be harder to felt and you'll end up with ridges and gaps. At this stage, wispy is your friend!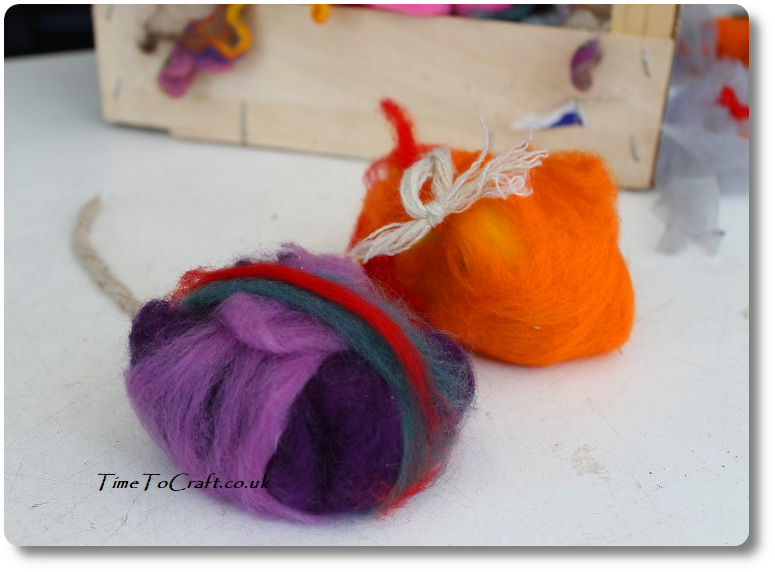 3. Wrap the wool around the soap, making sure the rope tail is not caught up. Keep adding more wool strips, in different directions each time, until the soap is covered and you can see no more soap. Add another two or more layers of wool to build up a thicker wool covering.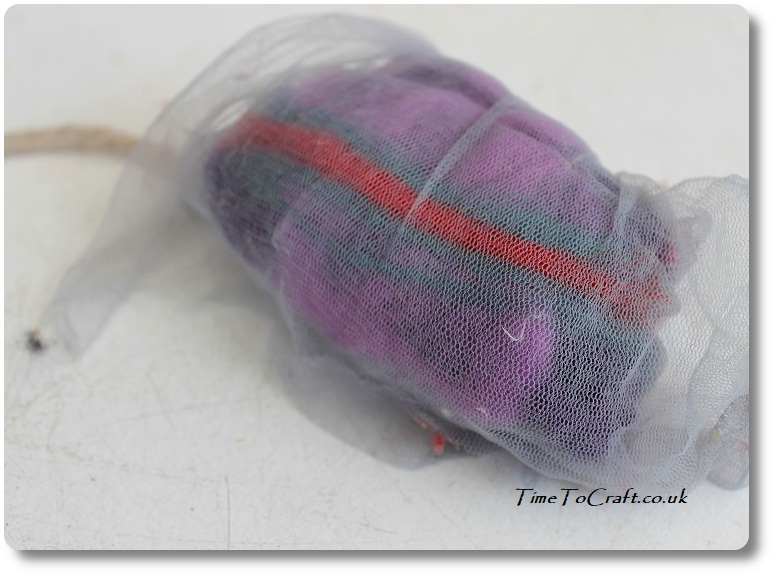 4. Wrap the wool covered soap with the netting. An easier option it to put it in the toe of a pair of old tights.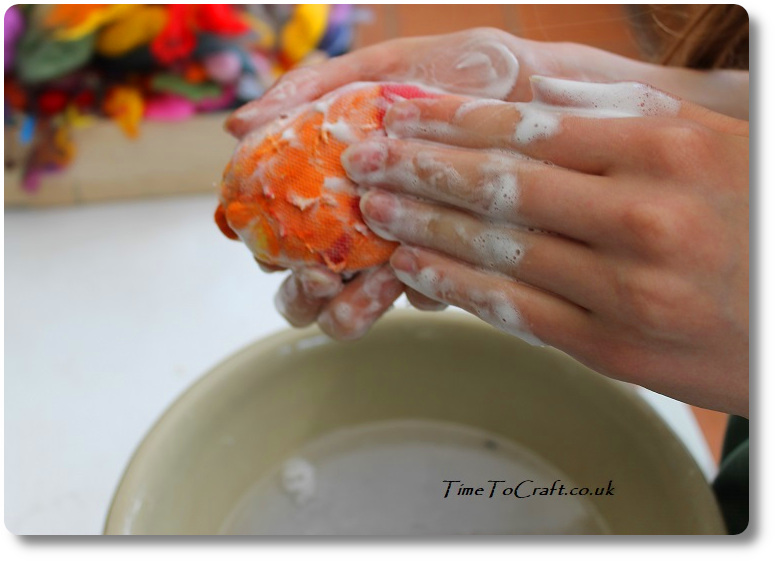 5. Briefly plunge the soap into a bowl of hand hot water and out again. Rub the wool covered soap gently in your hands. The wool will begin to felt, as the soap suds start to appear. Keep going. Allow 5 minutes. (previous child friendly soap felting activity) Test by removing part of the netting and pinching the surface. If the wool pulls away like a cobweb and doesn't look smoothly matted together, wrap the netting around again and rub the surface again.
6. Once it's felted, remove the netting completely and run under cold water to remove the suds on the surface.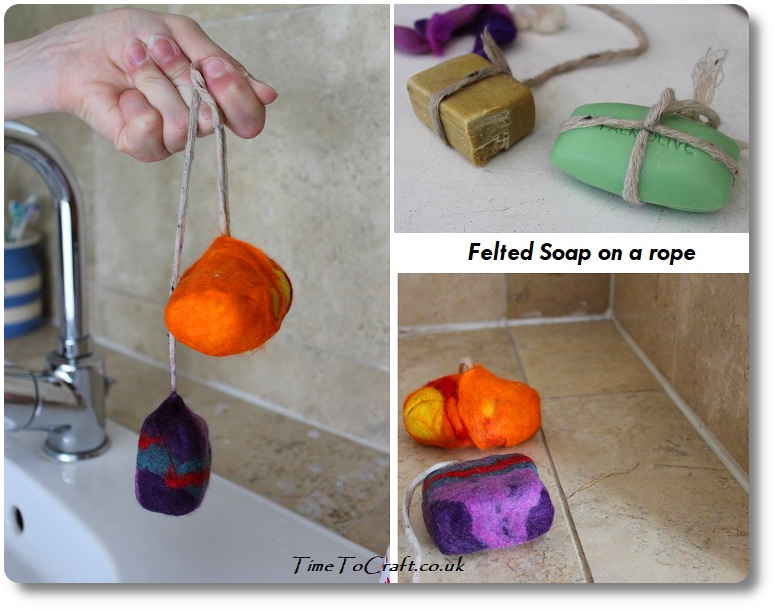 Your felted soap on the rope is ready to be hung up in the bathroom and used. Hanging it up will allow it to dry between uses. I've not tried it, but I'm sure felted soaps can be made using shampoo bars too. Once dry they can be stored away in a cupboard.
I love using felted soap. Every member of the family can have one. It cuts down on the mountain of wet flannels that grows in our bathroom. Once the soap is finished, either slice the felted wool open and add another soap (or ends of soap), or use the wool case for something else. It can be put in the compost heap once it is beyond all conceivable usefulness.
Middle teen and I made these two soaps this afternoon. She's happy to be cutting down on the plastic bottles in the bathroom , as much as I am. Can't wait to put them to use.
——–
Joining in with Rosie's Going Green linky. This month is Plastic Free July. I'd love to know if you are joining in and any tips you have.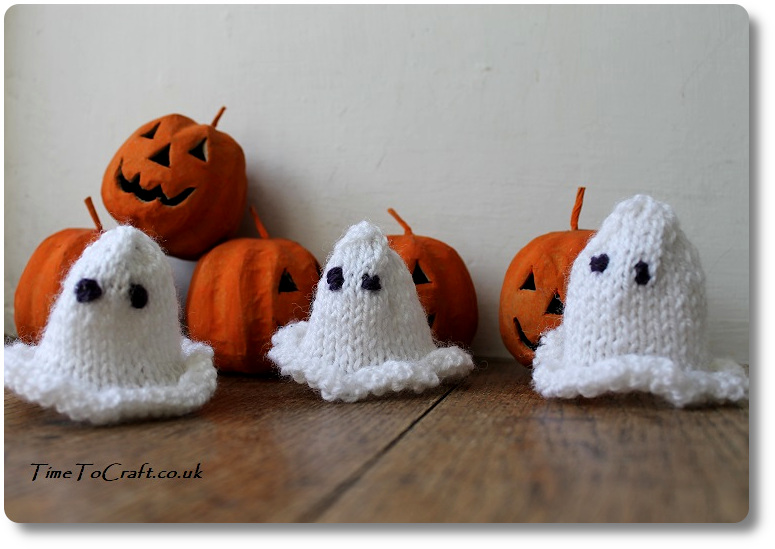 Instagram is full of smiling children posing with pumpkins in…. well, pumpkin fields. Blue sky and rosy cheeks. Absolutely gorgeous. Or slightly blurry photos of autumn leaves being kicked and waterfalling down around a small gaggle of giggling children. Dogs barking in the excitement. Oh can you hear it? The rustle and laughter. The fun!Half term is in full swing for most children in the UK.
Or so it seems.
There are still some children (about half in number) counting down the hours until their half term starts, next week. Tick, tick. Tired and unamused. Still stuck in class. Struggling to make it up in time for the morning school bus.
My three are counted in this group. Petty arguments blow in from nowhere. Jokes are taken as personal attacks. They are tired. Oh so tired. I do pity the teachers that have to make the last week survivable for everyone.
Hmm. Time to wave my magic wand. Or pointy sticks, as the case may be this time.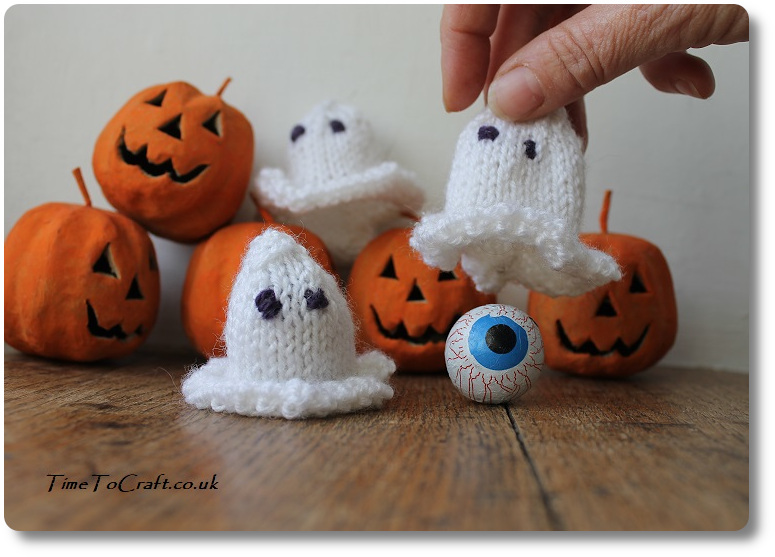 Now, I can't make time move faster. To be honest, I wouldn't even if I could. Wishing your life away is something I am not signed up for. Instead I can sugar coat it a bit. Add some nonsense. I'm good at that.
So, this week, I knitted three ghosts.  Quick and easy. A bit of nonsense at its best. Each morning, the ghosts have been waiting on the breakfast table. One for each. Under the ghosts are a Halloween themed chocolate. Varies each time. The big eyeball had popping candy in it, which I somehow forgot to mention. Always a good way to make their eyes open wide first thing. Or any time, come to think of it.
Eldest teen reached for her ghost this morning, and uttered that she was in need of chocolate, as her head hit the table again. I feel her pain. If these ghosts can help her morning go a bit sweeter, then I know I'm winning.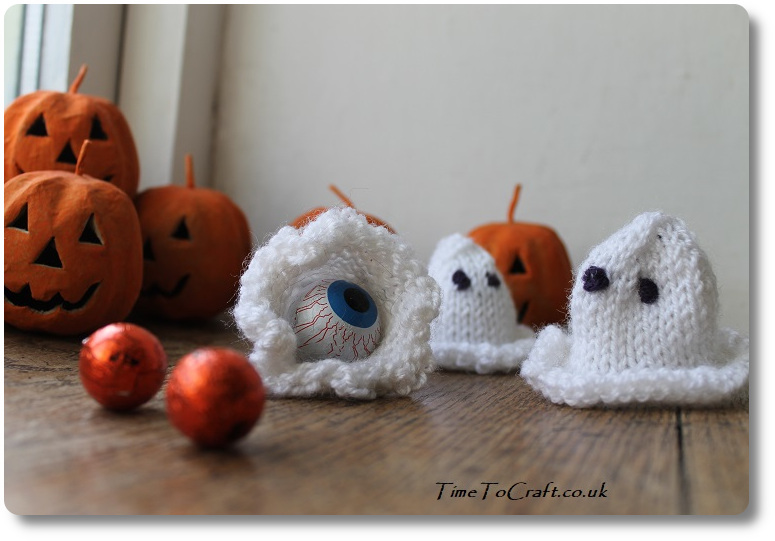 One of them did suggest that I should only put two ghosts on the table. Like musical chairs but with ghosts. One less each day. Last one down misses out, but I think this might be a step too far. Also I have images of broken arms and black eyes as they endeavour to be the first down. Not really the result I am after. Definitely not. Harmony would be nice, but I just want them up in time in the morning.
Has it worked? Well, I think it has. They were all ready in time this morning. One to me then!
victory dance around the kitchen table
Now, in case you have children struggling to get up and would like to knit your own ghost, here are the instructions. Or just fancy making a few ghosts, of course. A bit of nonsense never goes amiss.
Knitted ghost
a ball of dk wool, white
4mm needles
small amount of black yarn
cast on 50 stitches
knit 1 row
purl 1 row
knit 2 together, repeat to the end of the row (25 stitches)
stocking stitch 10 rows (knit 1 row, purl 1 row)
(knit 2 together, knit 3) repeat to end
purl 1 row
(knit 2 together, knit 2) repeat to end
(purl 2 together, purl 2) repeat to end, purl 1
(knit 2 together, knit 1) repeat to end, knit 2 together
(purl 2 together) repeat to end, purl 1
cut off yarn, leaving a couple of inches of yarn to sew with. Thread through the remaining 4 stitches and pull. Secure and sew up the seam of the ghost.
Use black wool to sew eyes
Finished, except for hiding the chocolate.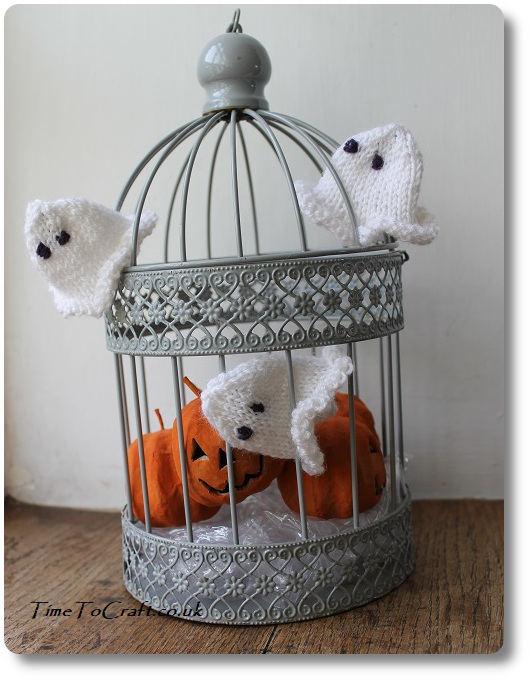 After that, I cannot be responsible for any mischief the ghosts get up to. I have my own work cut out, with these three.
Photos
There have been cases when people lifted my photos and words, and used them without credit to me or asking permission first. Using them for their own commercial gain. I have now added a level of security to deter people from doing this. Apologies to people who do play nicely. If you would like to use any of my photos, please contact me.
Copyright notice:
All my words and photos are copyrighted to me. They cannot be used for commercial benefit by anyone else. If you would like to use any of them, then please ask me first and don't just take. Written permission only. Don't pass my words, photos or ideas off as your own. It's not nice.
Cookie Policy
Our web pages do not use cookies however this website uses Google Analytics, a web analytics service provided by Google, Inc. Google Analytics uses cookies to help us analyse how people use our site. The use of cookies by Google Analytics is subject to change.