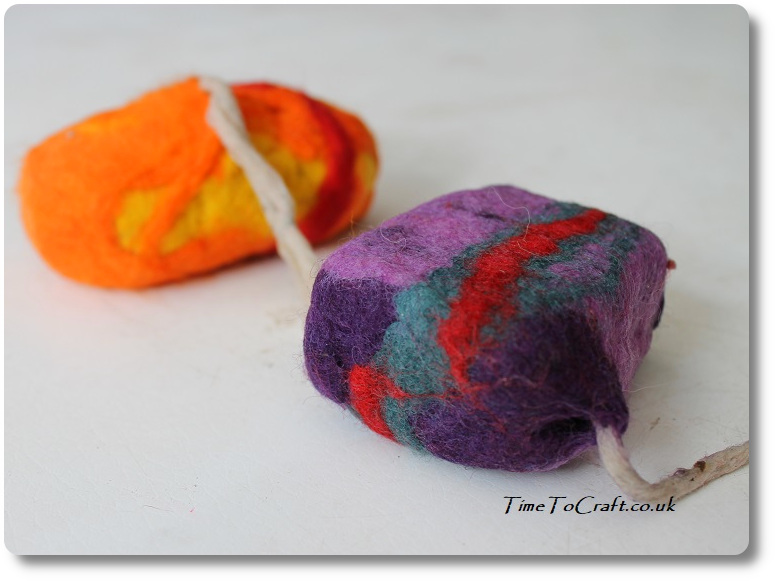 Move over shower gel and hand soap in plastic bottles. You're scrubbed off my shopping list. There's a new kid in town. One that doesn't need a pump mechanism, or leave a trail of packaging. We call it soap.  A bar of soap.
Ok. Maybe not so new. I mean, when I was growing up, a bar of soap, on the side of the sink, was a pretty common sight. That's how you got your hands clean. Public loos might have a soap dispenser on the wall, but not private homes. The humble bar dealt with the dirt.
With the tide turning, soap bars are back in favour. Rising demand as people look to cut their plastic buying habits. People are using special formulated soap bars to shampoo their hair. Removing another plastic bottle from the bathroom
There is one problem with the bars. Arguably more, but I'm thinking about the way it sits in its own wet puddle and disintegrates, if you're not careful. Imagine you're in the shower. You lather up the soap and put it down in a soap dish, or just on the side, and use the soap on your hands to wash with. The soap bar is wet. It sits there, slowly dissolving in its puddle of water, reducing its useful life. Not a good idea and it can be avoided.
(When you are a family of five, sharing one bathroom, ugly, soggy soap ends up being pushed to one side. I'm saving you from a photo of it, at this point!)
Soap needs to dry out in between uses, in order to extend its life. Lots of ingenious ways of achieving this, including special dishes and bottle tops to sit on. I'm going to suggest another way. Felted soap on a rope.
There are lots of reasons that felted soap works well.
Acts as a flannel and gentle exfoliator
Colourful
Natural material
Include scrappy bits of soap, that would otherwise be thrown away.
Allows the soap to dry out
Brilliant crafting activity to do with children of all ages (including teens)
Cleans up your hands as you make it (great after gardening)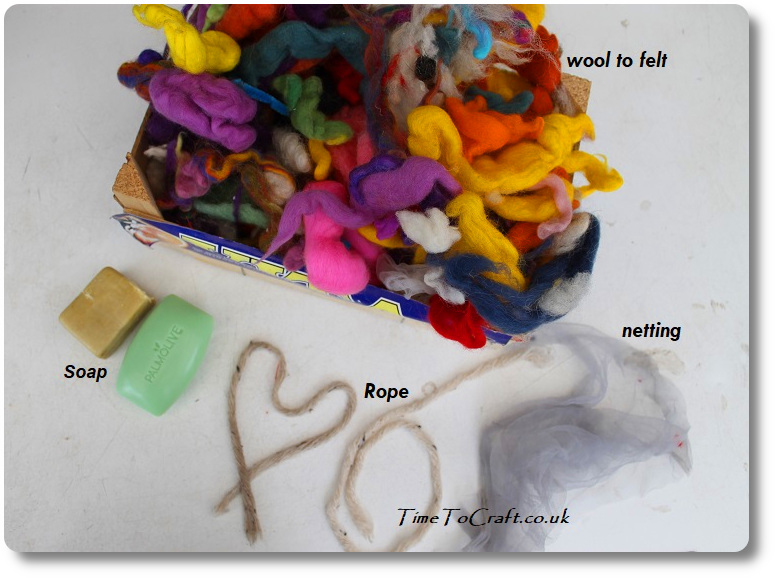 It is really easy to make. All you need is a bar of soap, wool roving, netting or pair of old tights, bit of rope and warm water. Wool roving is the fibre you get in felting kits. Felting wool, if you prefer. It is 100% wool, which felts when it's plunged in hand hot water, soap added and rubbed. Bit like when you put a wool jumper in a hot wash. It shrinks. Making it a tight fit around the soap and sealing it in. Lots of craft shops now stock felting fibre and there are also plenty of online sources too. Alternatively, make friends with a sheep farmer.
Now for the fun part.
How to make a felted soap on the rope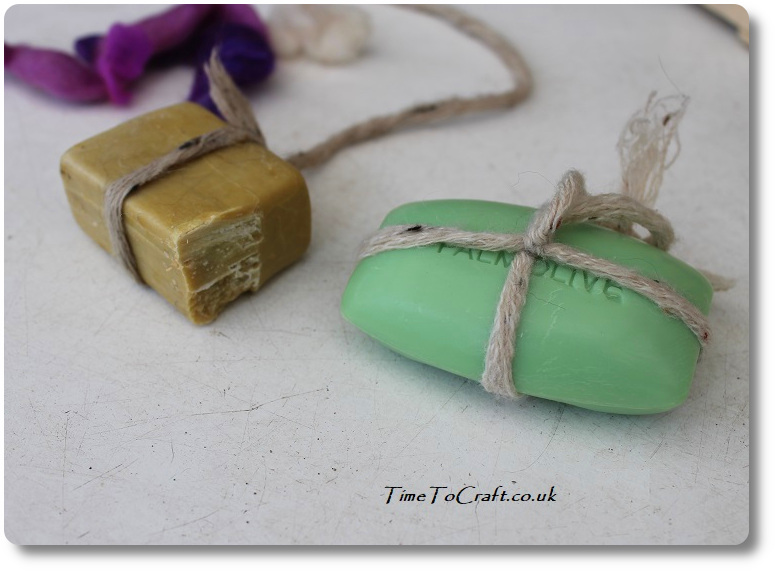 1. Tie the rope around the soap and secure with a knot. Leave a long tail for hanging up the finished soap.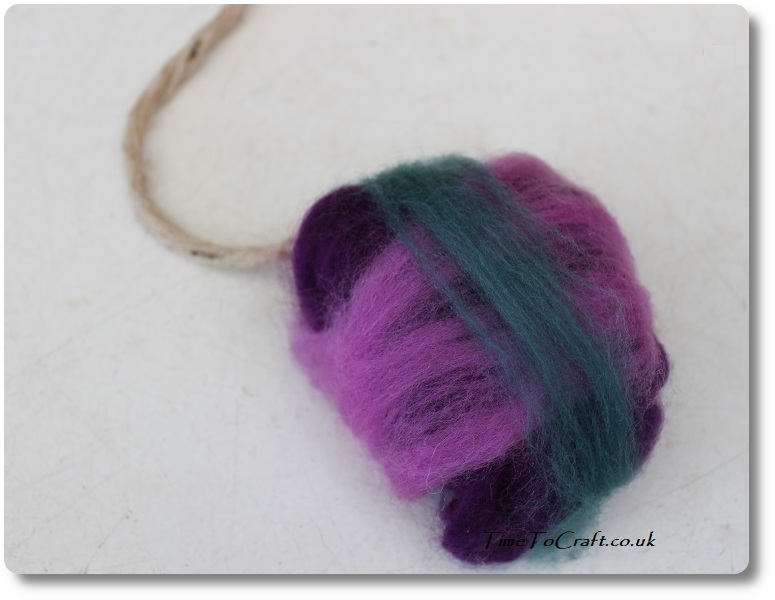 2. Take a length of the wool and tease it out into a long, wide, flat as a pancake strip. It should be wispy, like the teal strip above. The trick is to have lots of thin layers. If the layers are two thick, they will be harder to felt and you'll end up with ridges and gaps. At this stage, wispy is your friend!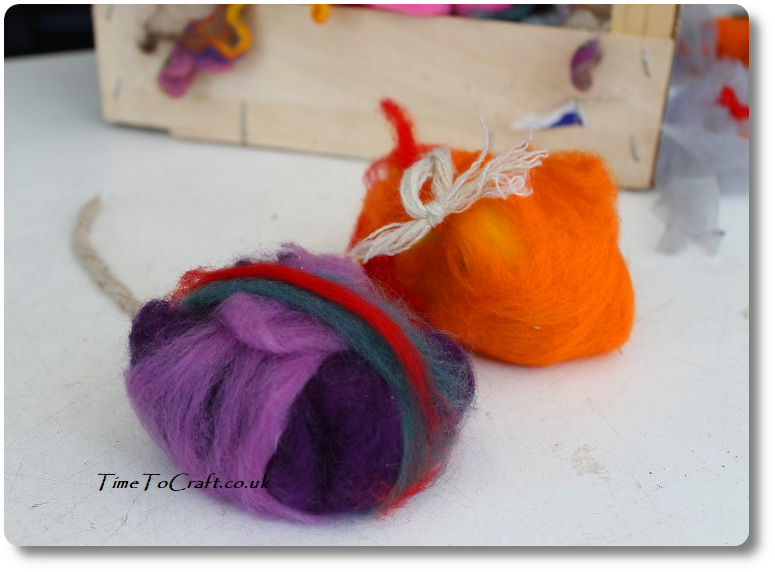 3. Wrap the wool around the soap, making sure the rope tail is not caught up. Keep adding more wool strips, in different directions each time, until the soap is covered and you can see no more soap. Add another two or more layers of wool to build up a thicker wool covering.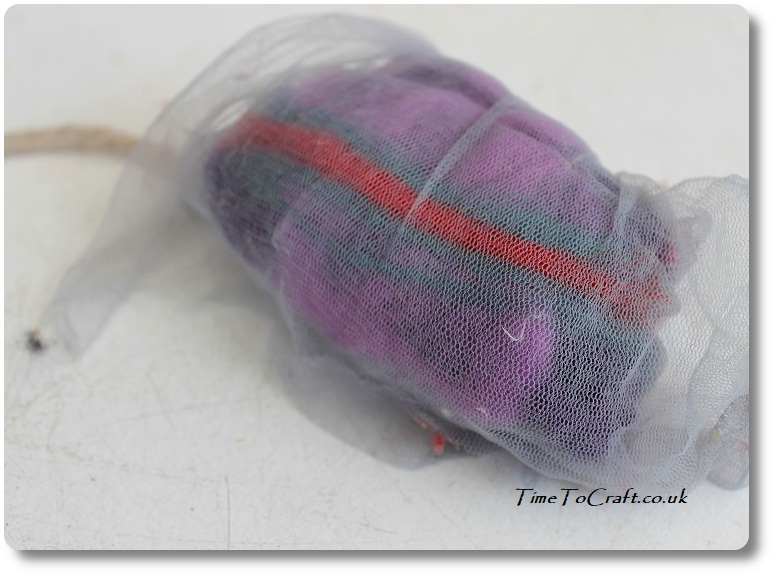 4. Wrap the wool covered soap with the netting. An easier option it to put it in the toe of a pair of old tights.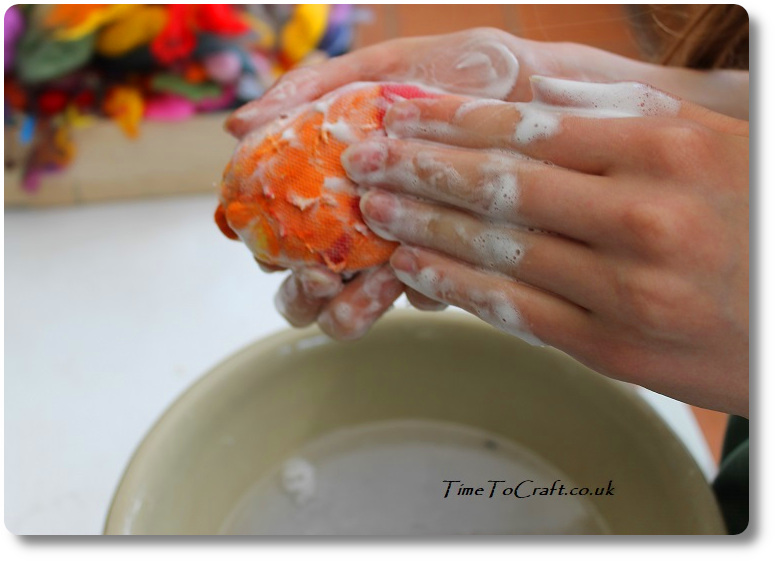 5. Briefly plunge the soap into a bowl of hand hot water and out again. Rub the wool covered soap gently in your hands. The wool will begin to felt, as the soap suds start to appear. Keep going. Allow 5 minutes. (previous child friendly soap felting activity) Test by removing part of the netting and pinching the surface. If the wool pulls away like a cobweb and doesn't look smoothly matted together, wrap the netting around again and rub the surface again.
6. Once it's felted, remove the netting completely and run under cold water to remove the suds on the surface.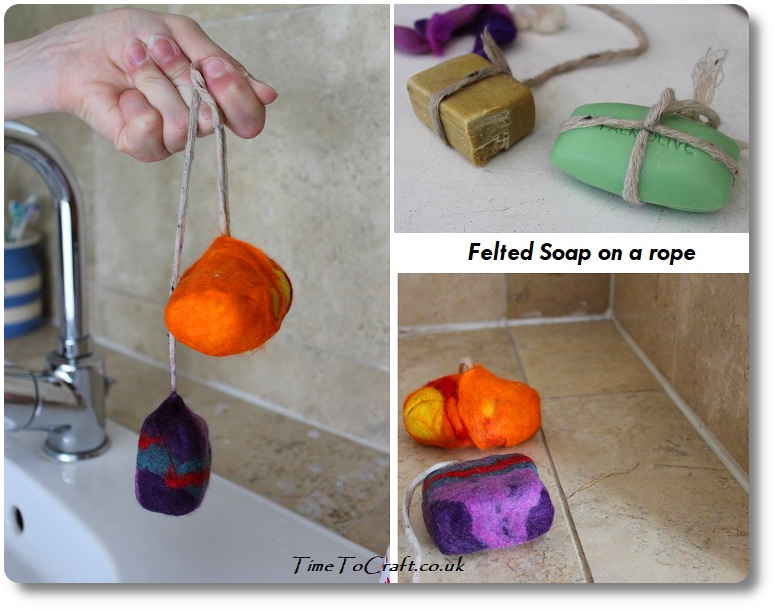 Your felted soap on the rope is ready to be hung up in the bathroom and used. Hanging it up will allow it to dry between uses. I've not tried it, but I'm sure felted soaps can be made using shampoo bars too. Once dry they can be stored away in a cupboard.
I love using felted soap. Every member of the family can have one. It cuts down on the mountain of wet flannels that grows in our bathroom. Once the soap is finished, either slice the felted wool open and add another soap (or ends of soap), or use the wool case for something else. It can be put in the compost heap once it is beyond all conceivable usefulness.
Middle teen and I made these two soaps this afternoon. She's happy to be cutting down on the plastic bottles in the bathroom , as much as I am. Can't wait to put them to use.
——–
Joining in with Rosie's Going Green linky. This month is Plastic Free July. I'd love to know if you are joining in and any tips you have.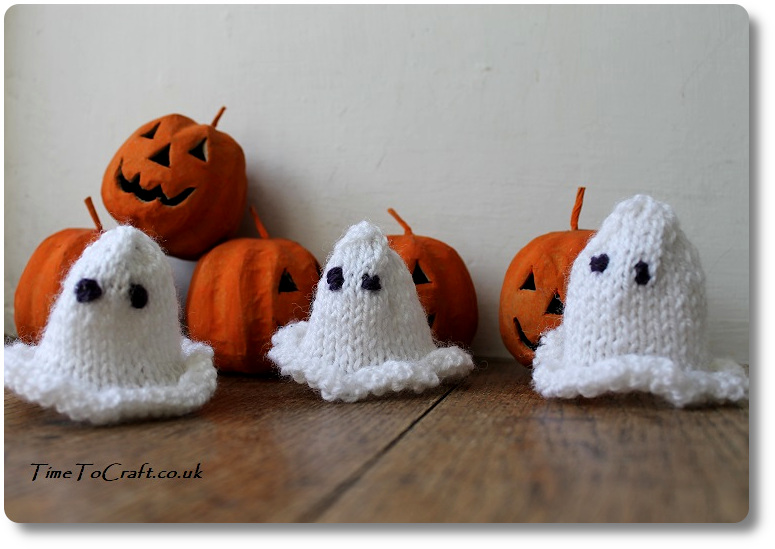 Instagram is full of smiling children posing with pumpkins in…. well, pumpkin fields. Blue sky and rosy cheeks. Absolutely gorgeous. Or slightly blurry photos of autumn leaves being kicked and waterfalling down around a small gaggle of giggling children. Dogs barking in the excitement. Oh can you hear it? The rustle and laughter. The fun!Half term is in full swing for most children in the UK.
Or so it seems.
There are still some children (about half in number) counting down the hours until their half term starts, next week. Tick, tick. Tired and unamused. Still stuck in class. Struggling to make it up in time for the morning school bus.
My three are counted in this group. Petty arguments blow in from nowhere. Jokes are taken as personal attacks. They are tired. Oh so tired. I do pity the teachers that have to make the last week survivable for everyone.
Hmm. Time to wave my magic wand. Or pointy sticks, as the case may be this time.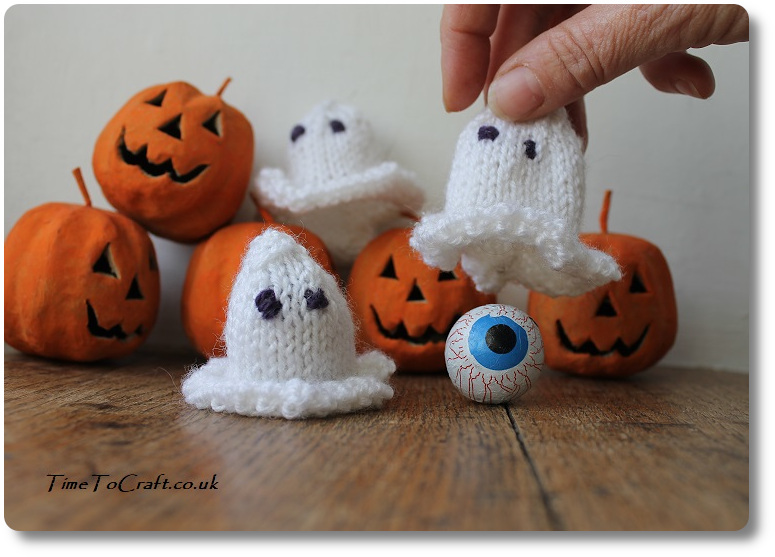 Now, I can't make time move faster. To be honest, I wouldn't even if I could. Wishing your life away is something I am not signed up for. Instead I can sugar coat it a bit. Add some nonsense. I'm good at that.
So, this week, I knitted three ghosts.  Quick and easy. A bit of nonsense at its best. Each morning, the ghosts have been waiting on the breakfast table. One for each. Under the ghosts are a Halloween themed chocolate. Varies each time. The big eyeball had popping candy in it, which I somehow forgot to mention. Always a good way to make their eyes open wide first thing. Or any time, come to think of it.
Eldest teen reached for her ghost this morning, and uttered that she was in need of chocolate, as her head hit the table again. I feel her pain. If these ghosts can help her morning go a bit sweeter, then I know I'm winning.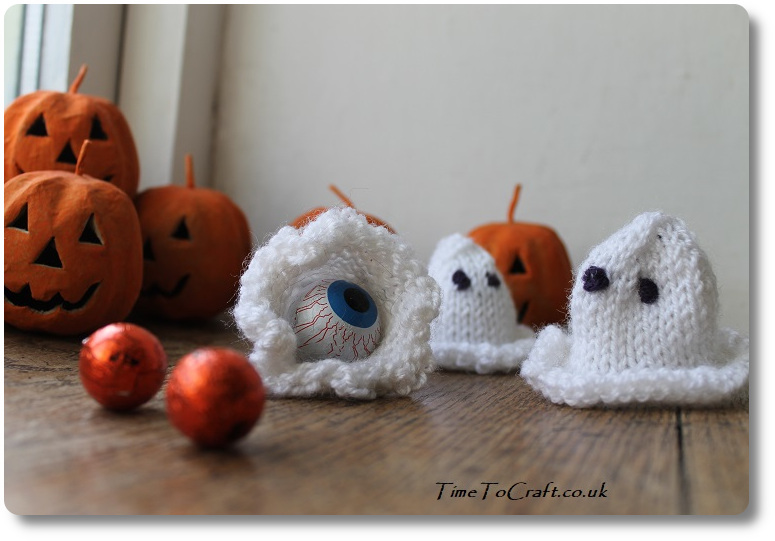 One of them did suggest that I should only put two ghosts on the table. Like musical chairs but with ghosts. One less each day. Last one down misses out, but I think this might be a step too far. Also I have images of broken arms and black eyes as they endeavour to be the first down. Not really the result I am after. Definitely not. Harmony would be nice, but I just want them up in time in the morning.
Has it worked? Well, I think it has. They were all ready in time this morning. One to me then!
victory dance around the kitchen table
Now, in case you have children struggling to get up and would like to knit your own ghost, here are the instructions. Or just fancy making a few ghosts, of course. A bit of nonsense never goes amiss.
Knitted ghost
a ball of dk wool, white
4mm needles
small amount of black yarn
cast on 50 stitches
knit 1 row
purl 1 row
knit 2 together, repeat to the end of the row (25 stitches)
stocking stitch 10 rows (knit 1 row, purl 1 row)
(knit 2 together, knit 3) repeat to end
purl 1 row
(knit 2 together, knit 2) repeat to end
(purl 2 together, purl 2) repeat to end, purl 1
(knit 2 together, knit 1) repeat to end, knit 2 together
(purl 2 together) repeat to end, purl 1
cut off yarn, leaving a couple of inches of yarn to sew with. Thread through the remaining 4 stitches and pull. Secure and sew up the seam of the ghost.
Use black wool to sew eyes
Finished, except for hiding the chocolate.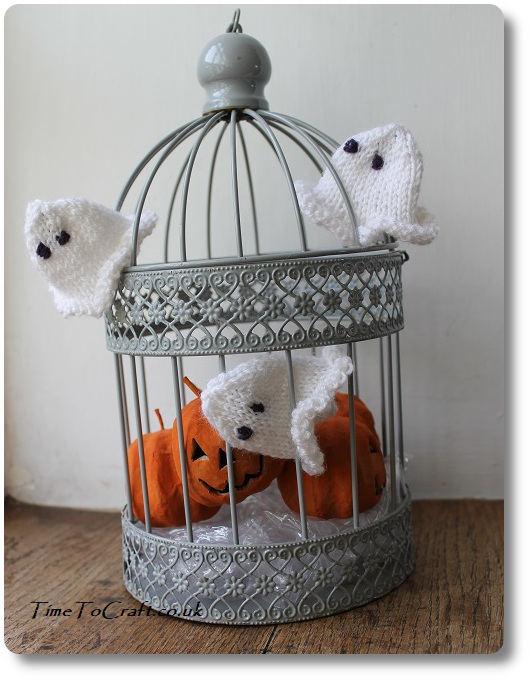 After that, I cannot be responsible for any mischief the ghosts get up to. I have my own work cut out, with these three.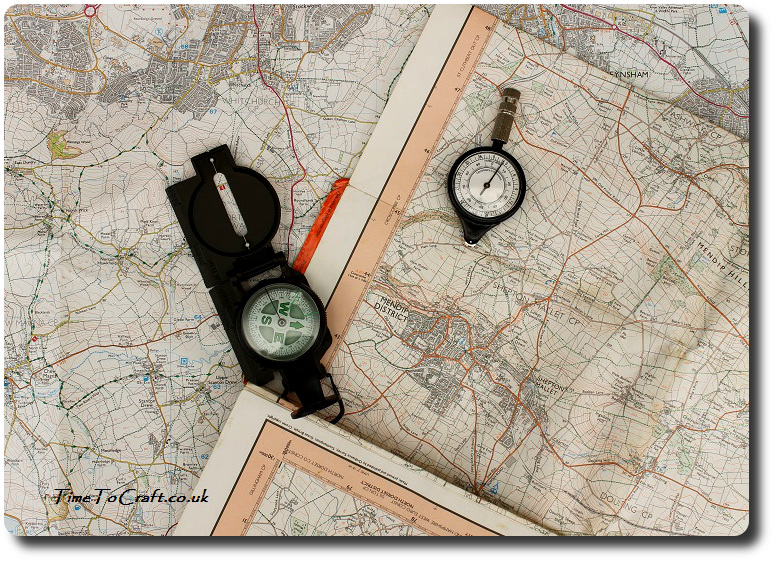 I love maps. I love opening them out on the table like a cloth. Leaning forward and scanning every inch in detail. I can quite easily lose time pouring over a map. Reading the names and studying the lay of the land. Each teasingly hint at long forgotten stories. The most tantalizing ones duly noted to be explored on foot one day.
You need to be able to read a map to fully appreciate it. The key to the symbols is found at the side, but to bring the map to life, you need to be able to turn the flat 2d representation into a 3d version in your mind. It takes practise.
The other day we were pouring over a map. The Teen was off on an expedition. Seeing as she had a heavy pack to carry, we were paying close attention to the contour lines.
Youngest joined in. What were contour lines? I explained that the closer the lines were the steeper the land would be. The further apart, then the flatter the land.
Then he gave me that "Ah" that I've heard so many times before. The one that means he kind of understands, but he doesn't. It's the same "Ah" that sent me off, a few years back, baking castle cookies to explain erosion and why castles become ruins.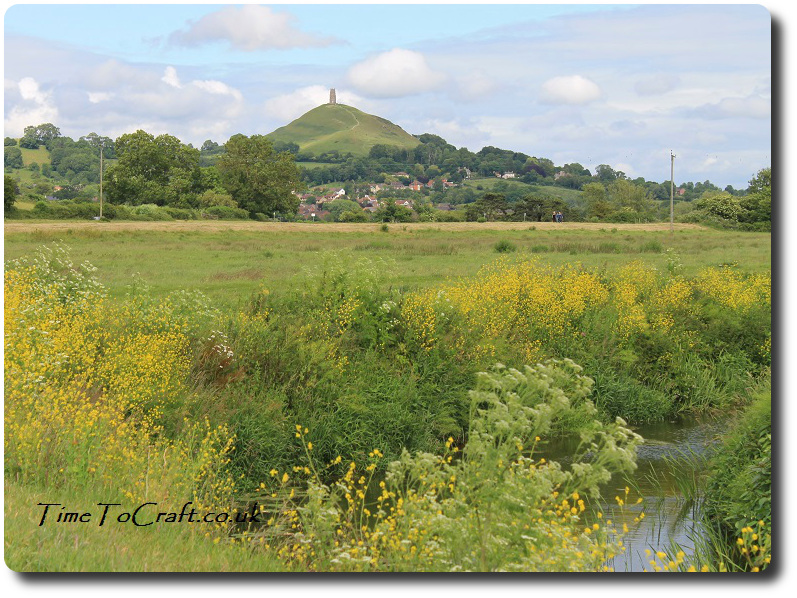 So I came up with a plan. One to make sure he truly understood map contours. I'd chose a set of map contour lines that would fit completely on a piece of A4 paper, that he would recognize and we could turn them into a 3d model. I chose Glastonbury Tor. It was ideal. A hill surrounded by flatter land. It stands out in the Somerset Levels landscape. Plus it's a landmark we often use in our local travels, so the Boy knows it well.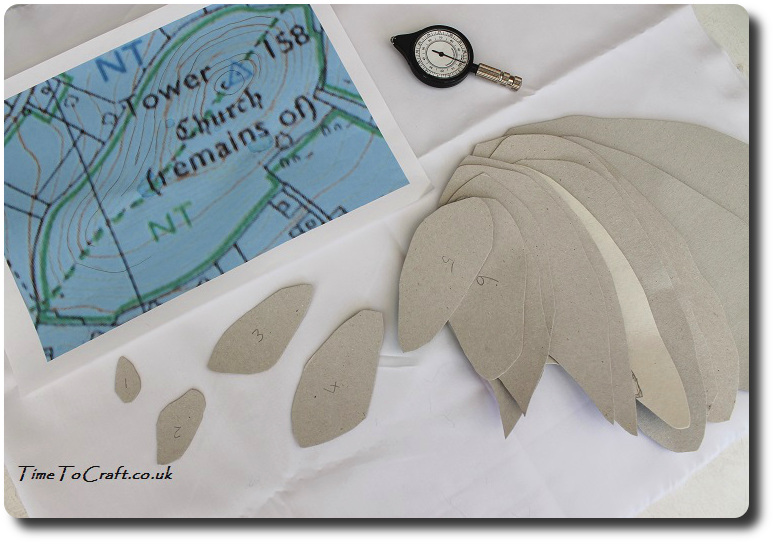 Here's how we made a 3D model from a map

Step 1. Photocopy part of a map and scale up one part of it that will be your model. We used 1:25,000 map and scaled it by 10.
Step 2. Using blue-tack, we temporarily fixed the map, face-up, to a piece of cardboard. Cut all the way round the contour line nearest the edge.
Step 3. Remove the middle part of the map and fix it to another piece of cardboard and repeat step 2 and 3 until all the contour lines have been cut around.
Step 4. You should have a pile of cardboard map sections, increasing in size. Number them now, before they have a chance to get out of order. Make sure they are flat.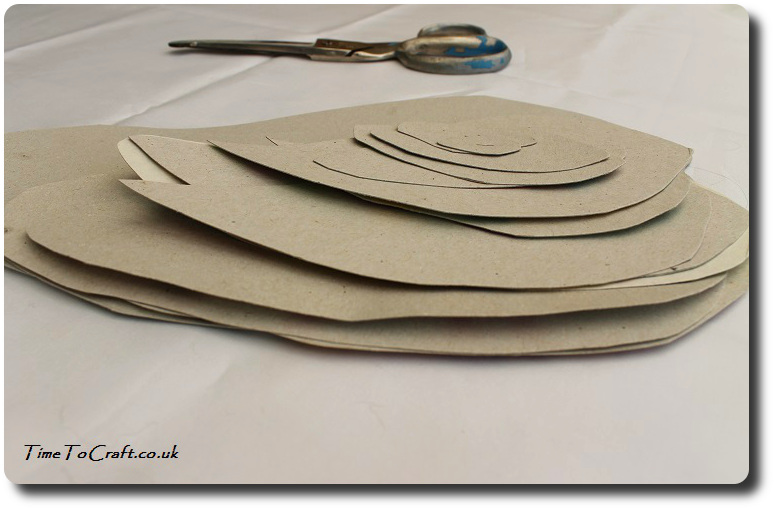 Note: You don't have to be too precise, it's up to you. If it is very steep, then contour lines run into each other and can become difficult to separate when you are cutting. This is not meant to be a perfect scale model, just a way to introduce contours.
Step 5. Check the height between each of the contour lines on the map. On our map it was 5 metres. I roughly worked out that the scale we had made, we could space our different map layers by 1cm. Youngest was sent scurrying around the house, with a ruler, to locate suitable spacers. We found jam jar lids and bottle cap were just about right.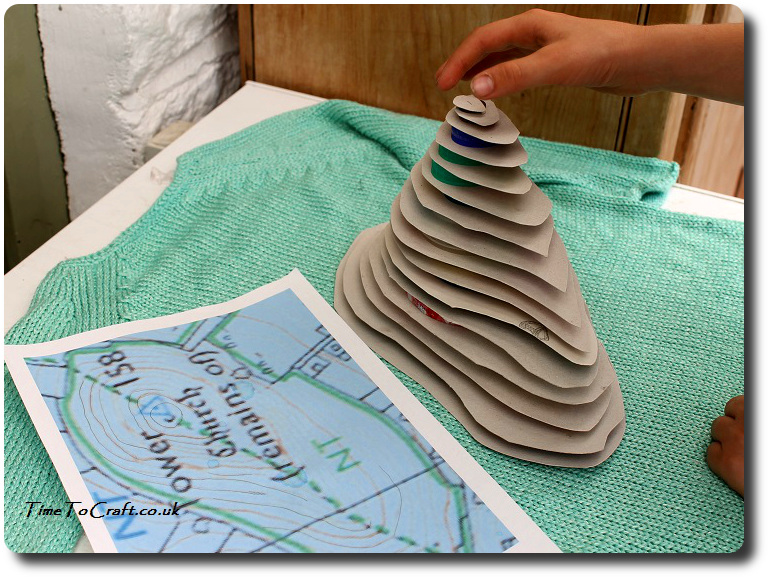 Step 6: Build up the map layers with a spacer in between each one. (The Tor doesn't look quite so tall in real life, so I think our calculations or measuring may be slightly too generous, but the Boy didn't mind. He got the idea)
3d model complete!
Extension Learning: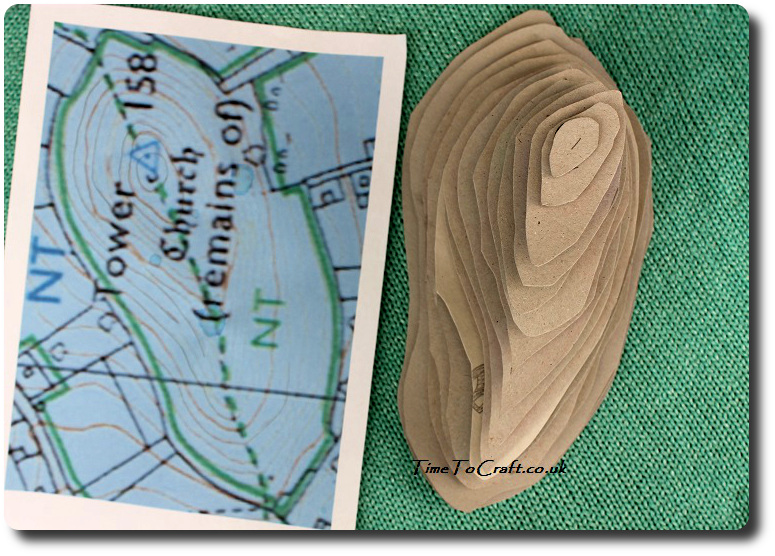 » Looking down on top, we saw how the contours of the model resembled the printed map.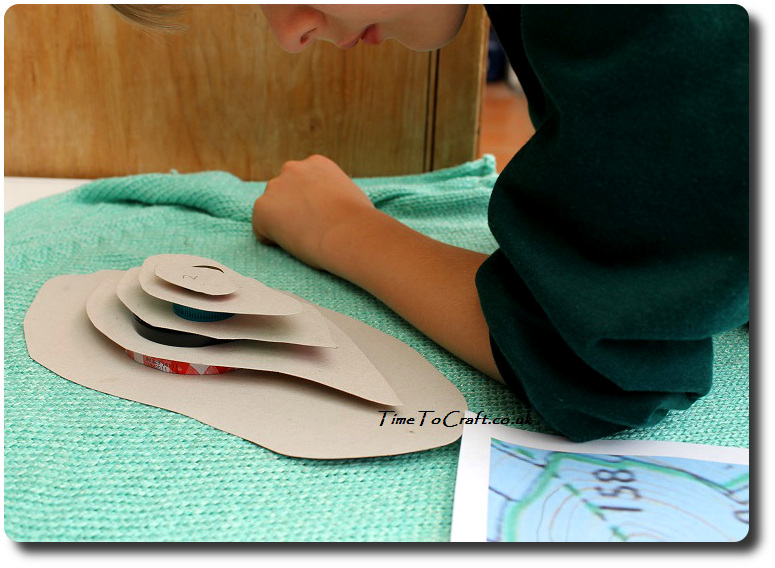 » We took out layers and left every third one. The hill has now lower, but it was also less steep. We compared it to the top five layers of the original model. Same height, but one was steeper than the other.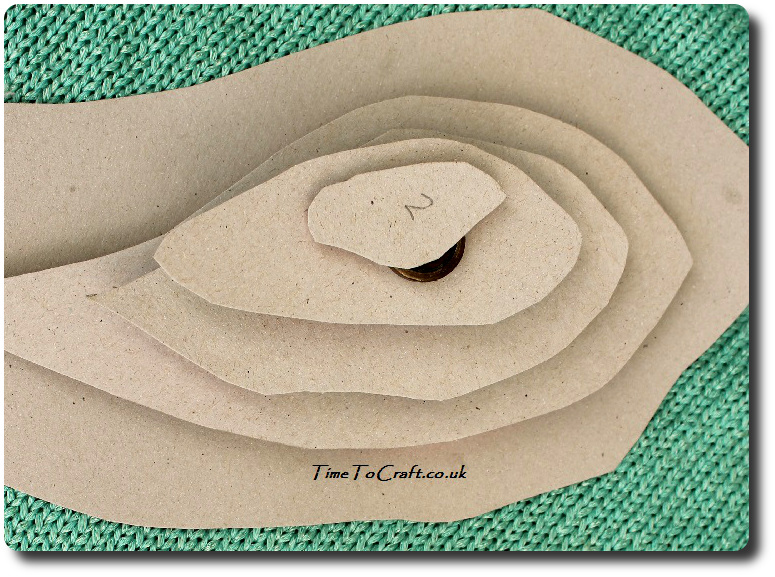 » We looked from on top to see how the contour lines were now spaced further apart.
»The Boy asked how would we know if it was going up hill or down. We looked back at the real map and saw the numbers on the contour lines. The numbers decreased as they went down hill and increased as we went up hill.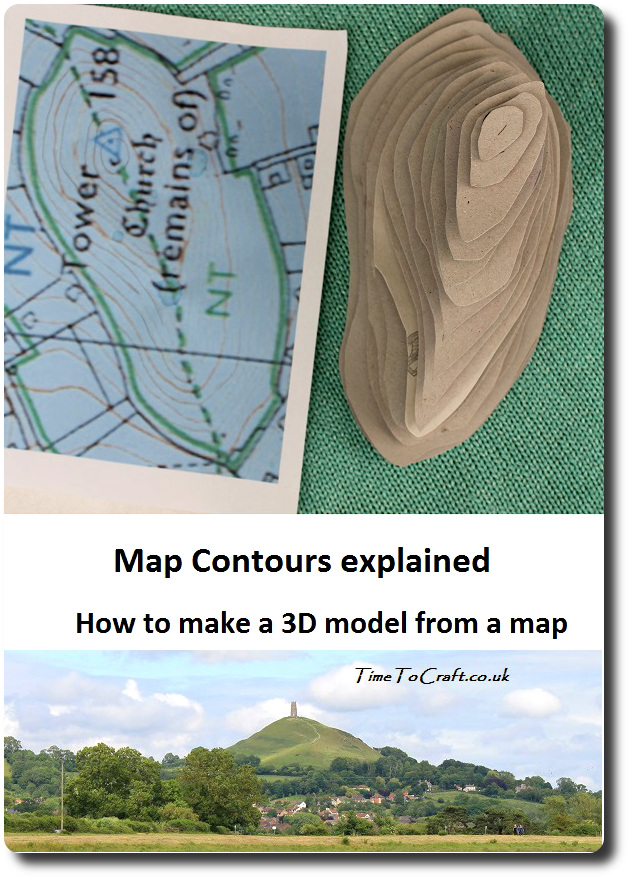 I do love a project that starts with a question. I have a feeling that next time we go walking, the Boy is going to be a lot more interested in the map.
Photos
There have been cases when people lifted my photos and words, and used them without credit to me or asking permission first. Using them for their own commercial gain. I have now added a level of security to deter people from doing this. Apologies to people who do play nicely. If you would like to use any of my photos, please contact me.
Copyright notice:
All my words and photos are copyrighted to me. They cannot be used for commercial benefit by anyone else. If you would like to use any of them, then please ask me first and don't just take. Written permission only. Don't pass my words, photos or ideas off as your own. It's not nice.
Cookie Policy
Our web pages do not use cookies however this website uses Google Analytics, a web analytics service provided by Google, Inc. Google Analytics uses cookies to help us analyse how people use our site. The use of cookies by Google Analytics is subject to change.