It started with a plant (Macrame)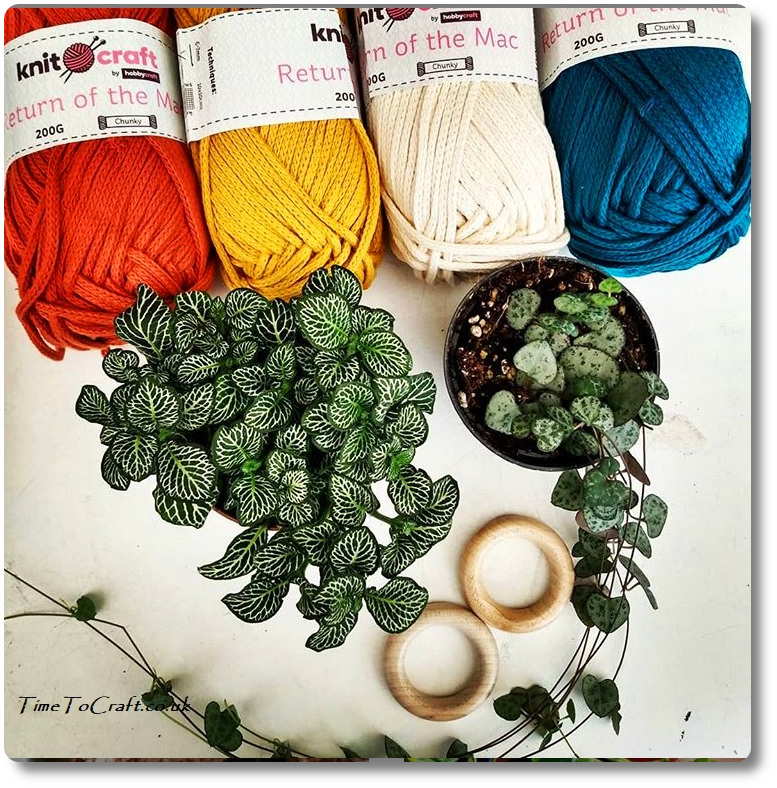 It started with a plant. Actually two, if I'm being perfectly honest, but one would have been sufficient to set the ball rolling, in this case. We're talking house plants, in case you've not guessed, which makes a change from my usual rabbiting on about vegetable plants in the greenhouse. This summer, as the windowsills were cleared of seed trays, a new, much smaller invasion happened. They multiplied in pots, but I'm talking about one particular house plant.
Let me set the scene. During lockdown, we've not needed to go out much. Apart from a roadside market stall and a pet store, I really haven't needed to face the queues. A couple of weekends ago, I ventured out to a garden centre, which felt like a more frivolous, light headed outing.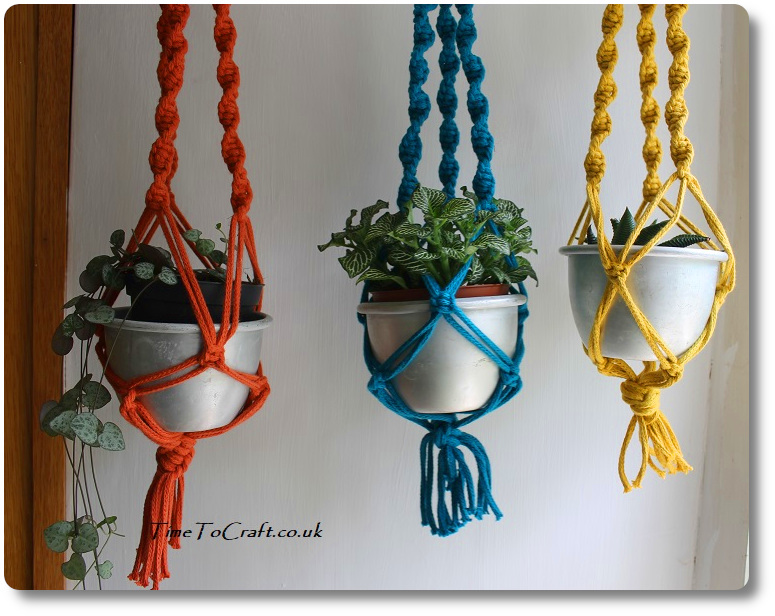 I wasn't shopping for me. I was on a mission for youngest's birthday. By total coincidence, I spied a plant that had been on my list for a while. A string of heart plant (Ceropegia Woodii). I was instantly attracted to the long, trailing stems with small heart shaped leaves peppered down the length of it. Delicate and whimsical. It really didn't take much persuading for me to pop one into the basket.
Once home, I positioned it on one of the windowsills. Its stems trailing into the room. Every time it caught my eye, it made me smile that first weekend. It still does.
There was a bit of a problem, however. It really wasn't going to flourish where it was sitting. The leaves weren't benefitting from much natural light, thanks to the small windows in our cottage. It needed to be more in the window. The only way I could see that working was either a small shelf or a hanging basket. Or move house, but that seemed extreme.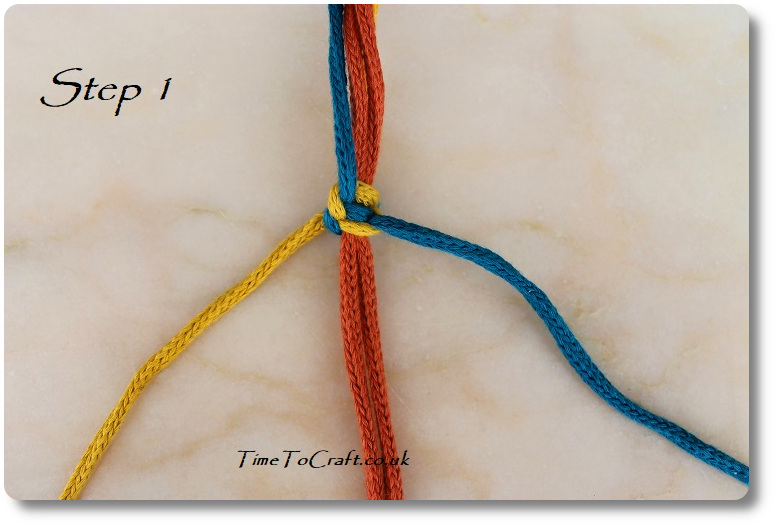 After a bit of research, I knew the perfect, and less life changing, answer would be a macrame plant pot hanger.
Many moons ago, I learnt how to macrame. I made a belt and I have a vague memory of an owl wall hanging. I could be wrong. I do remember enjoying the whole knotting experience. In the intervening years, it's not something I've picked up again. I've had no need to make anything else. In my book, you need a reason to macrame, or maybe that's just me. I still have a few of the beads, but the cord has long since gone.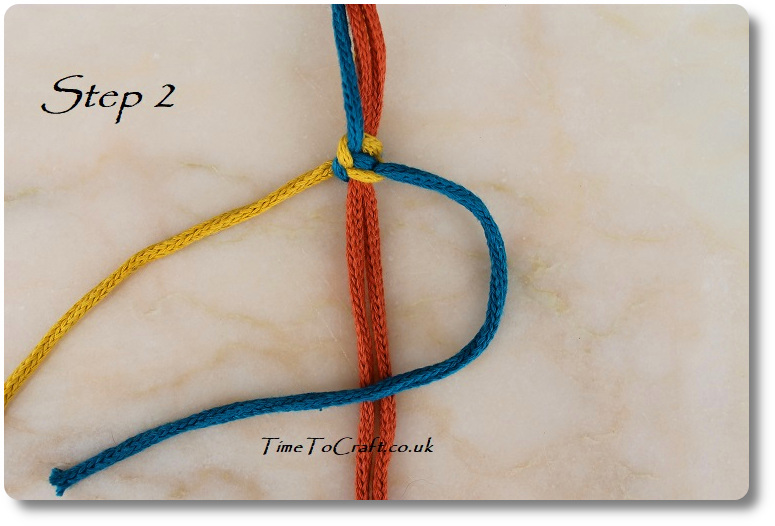 Roll on a few decades. The macrame world has moved on. No longer the browns and creams, I remember. Instead I was able to buy a blue, orange, yellow and ecru cord. So I did. Jazzy colours that sing to me.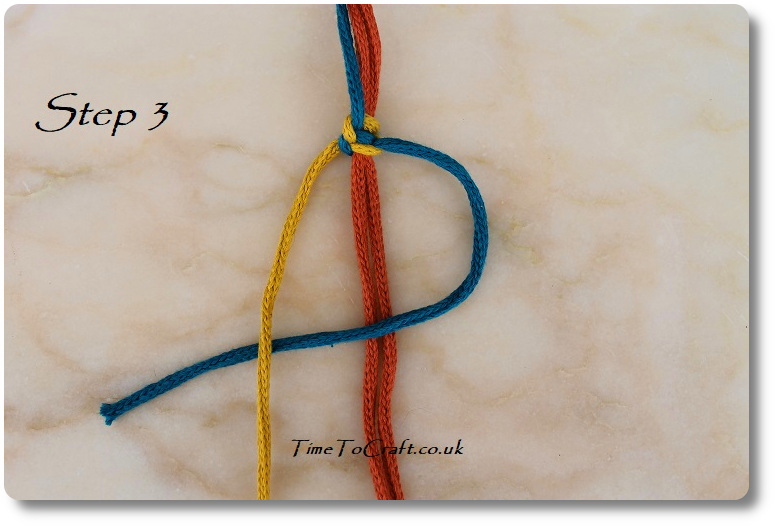 I'd forgotten how to do macrame. I checked out a few on line tutorials on the knots and set off making a plant pot hanger for my rather lovely string of hearts. I started off following a pattern, but typical for me, I changed it around. Knotting and unravelling, then knotting again, until I had the plant pot hanger that suited the intended kitchen window and the plant.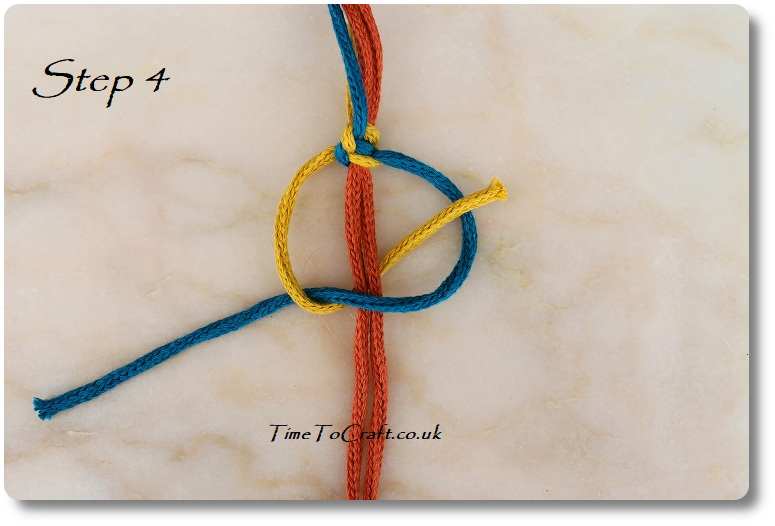 Once I'd completed one, I needed another for the other plant I had bought at the same time. The fittonia is not a trailing plant, but I knew it would look good in a plant hanger. Let's face it. I was on a roll by this stage. That was not the end of it. We all know about the odd number grouping rule. Objects look best when grouped in odd numbers. So, after two finished hangers, I had to make another. It was the rule, after all. All three can now hang together and not offend anyone.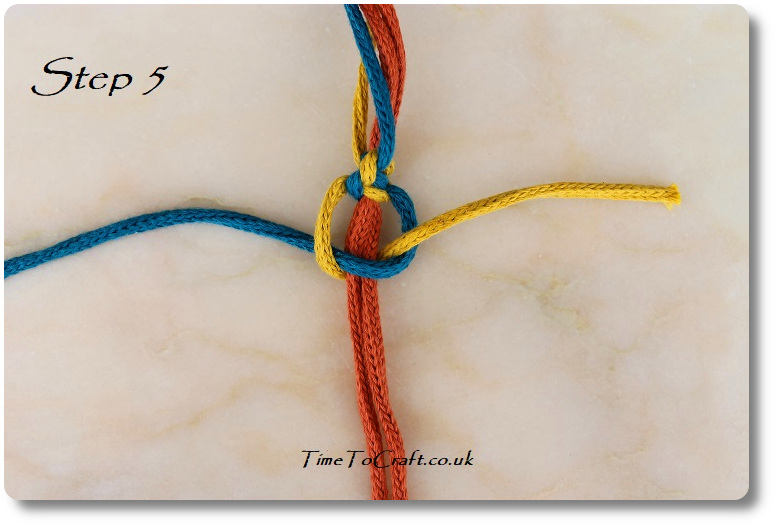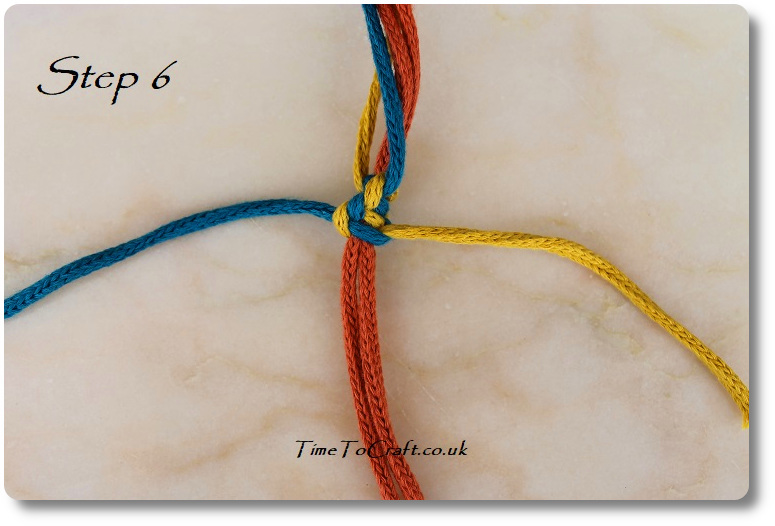 How I made the plant pot holders
1.  Cut 6 2.5m lengths of macrame cord (add more length if you are using a big pot)
2.  Holding them all together, with the ends lining up with each other, thread them through a wooden ring, so the cords hang evenly each side.
3.  Take 4 strands from either side and work a half square knot (step by step guide in the photos above). The cords will now be 3 sets of four cords.
4.  Take the first set of four and work half square knots until it measures 8″. Repeat for the other 2 sets of four cords.
Start shaping the pot part
This works as a big holed net going round the pot. Measure the pot you are going to use and mark up where you want the knots to go. You don't need to put the pot in as you work. Also I've used 2″ gaps. If you need bigger gaps, then you may run out of cord. If it's too late to cut longer lengths, miss out the second round of knots.
5. Take two of the twisted cords. Pick up two strands from the right hand cord and two from the left. Leave a 2 inch gap, from the last knots, before using these 4 strands to make 3 half square knot.
6. Move around where the pot will sit, repeating the step 5 twice more. Joining each twisted chord to its neighbour.
7.  Next level, take two cords from one grouping and two from the next door grouping and form 3 half square knots. Repeat around the pot again.
8. Leave 2 inches and tie all the cords together and trim to form a tassel.
Voila! One plant pot hanger ready for a plant.
I used HobbyCraft's Return to the Mac range. It's soft to work with. Each ball would make a few plant pot hangers or wall hangings, depending on the size, of course. I've hardly made a dent in my collection. The silver pots are steam pudding bowls from my kitchen cupboards.
Seeing as it's plastic free July, this project seems an excellent substitute for similar plastic pot hangers that you can buy. 100% cotton and should last many years. They'd even work outside, although it would shorten their lives. Alternatively, the cord could be replaced with yarn made from recycled tshirts. Upcycling at its best.
I'm working on another one for the bathroom next and I'm learning a bit more about making the most of the cord, this time. More information when I post up the finished plant pot hanger. May need to go back to the garden centre soon. For me this time.
Tell me what you think? Do you think you'll make one? If you do, let me know how you get on. Tag me on Instagram or Twitter.