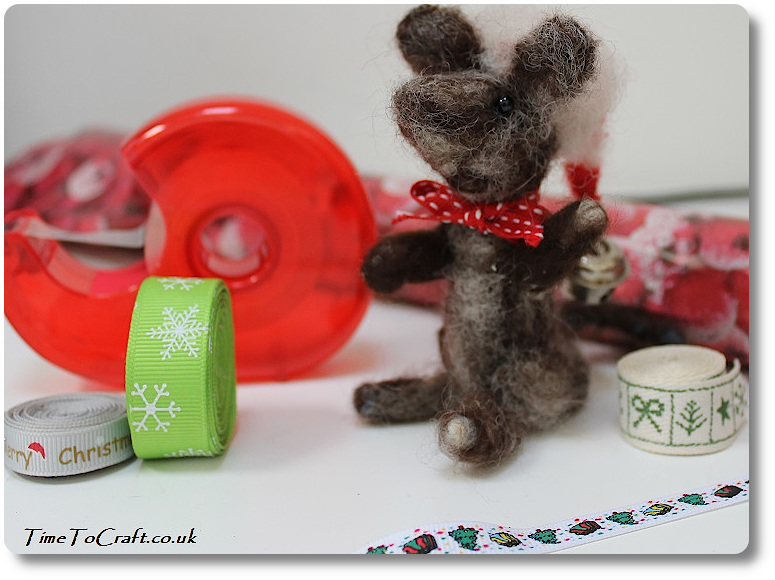 Needle felting is one of my favourite crafts. I can make something in a couple of hours. I can transfer the image in my head and turn it into something that fits perfectly in my hand. Just like magic. Like a 3d printer. It is akin to a doodle, but in felt form. Any stress vanishes somewhere between twisting up the pipe cleaners and adding the eyes.
This is my first finished Christmas project of the season. I have plans to make a mouse garland. Knitted baubles, acrobatic mice and other treats. I'm quite excited about the prospect. A fun project to squeeze in at the odd moment.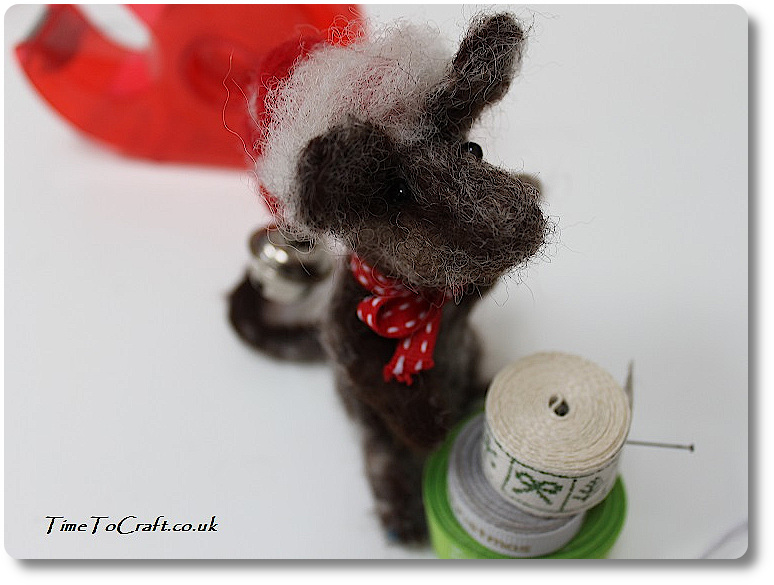 I've been asked in the past, why I don't sell some of my creations, which is a lovely sentiment. The thought that someone would want to pay money for my felted doodles, tickles me pink to be honest. I have no plans to, but it does get me thinking about why I wouldn't.
First up, I think it would mute my creativity to a degree. External expectations would influence what I made. There is fun in that, but limited. I'm also not keen on doing lots of similar projects. One after another. I like to lead from one project to the next. Following a whim. Not fitting into a brand.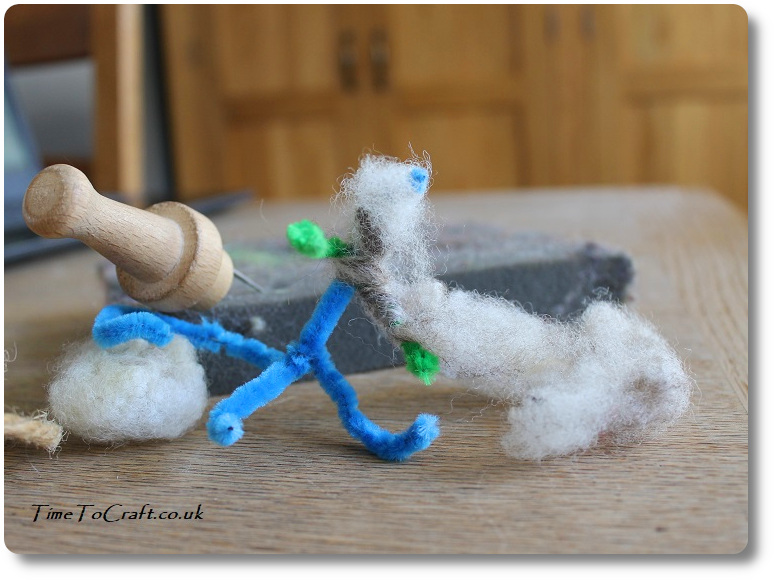 (pipe cleaner frame work, so the mouse can move.)
I'd also miss it. I've only sold one item and that was part of a charity raising experience. I still think about that piece. What happened to it?
I think the biggest problem would be, that it would not be worth it. No one is going to pay for my time, when they can buy something similar in a shop for a few pounds. If I calculated the time it took to make Sydney and multiplied it by the UK minimum wage, plus materials, I would need to charge about £20 just to break even. Less than that and I'd be paying the person to take it away. There would probably be commission fees and postage to add on top.
When you could buy a felted animal, to hang on your Christmas tree, for £3 in a garden centre.
I don't know how people do it. How they make an income.
If I was going to do anything, I'd run workshops to teach people how to make mice, reindeers and polar bears. I would market it as a form of meditation or stress relief, with something to show for your time. That would be cool to do.
(adding wool – Jacobs sheep and merino)
So, no. I won't be setting up an Etsy shop any time soon.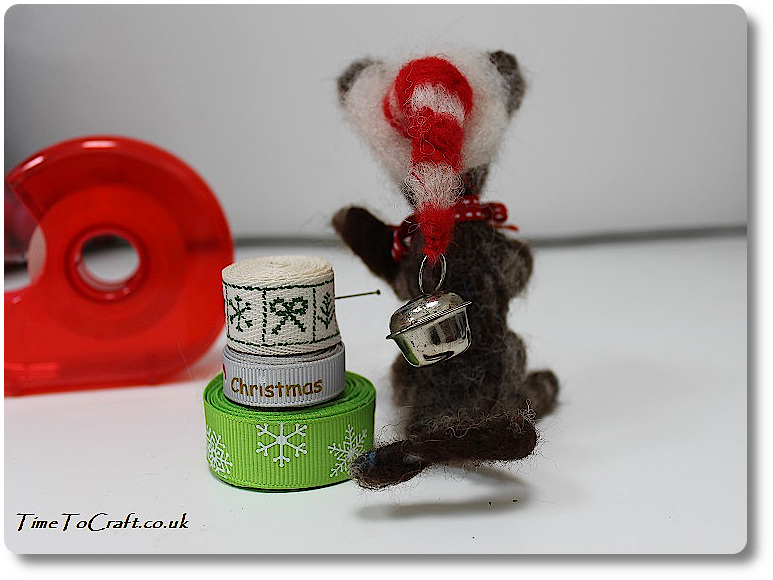 Sydney was fun to make. He's going to look good among our Christmas decorations. I like his oversized bell. While I was sewing the bell on his stripy hat, Hero the hound was sure the neighbours' cat had snuck in. Very interested.
I'm glad I included the tail in the pipe cleaner frame. I can carry on twisting it into shape. It will work well to wrap into the garland and maybe snag a few decorations too.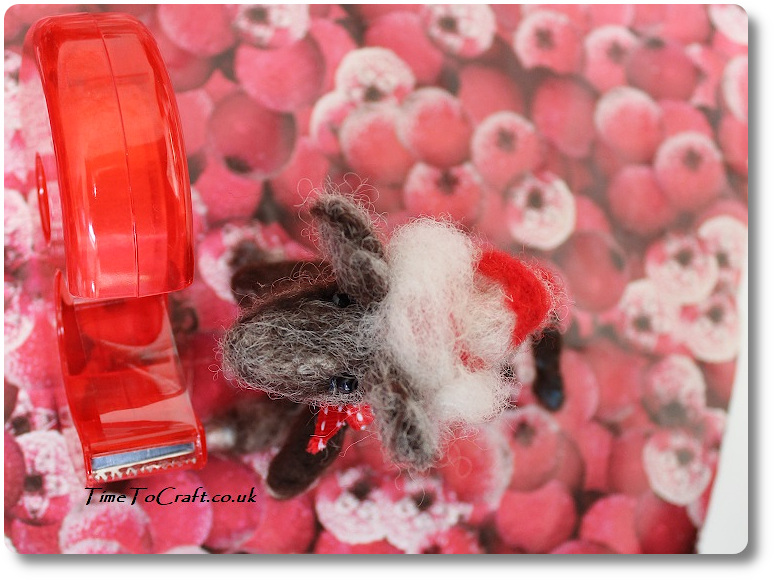 I can see that Sydney may be handy in the wrapping department too. He might find the ribbons a better choice than Sellotape though.
If you've never tried needle felting, I can recommend giving it a go.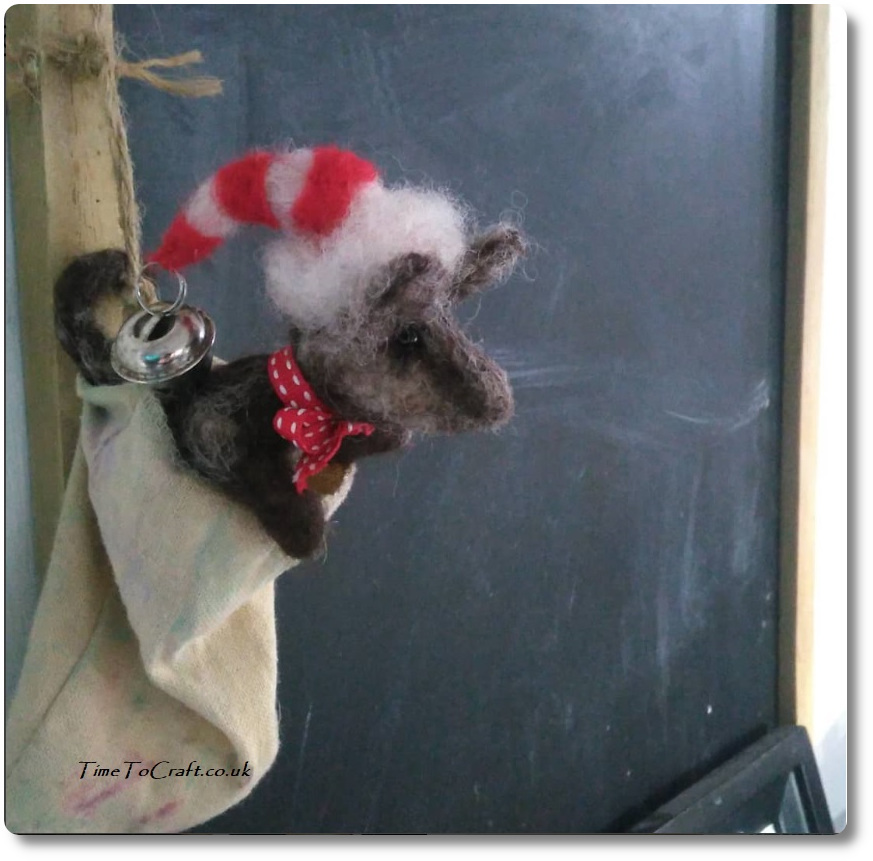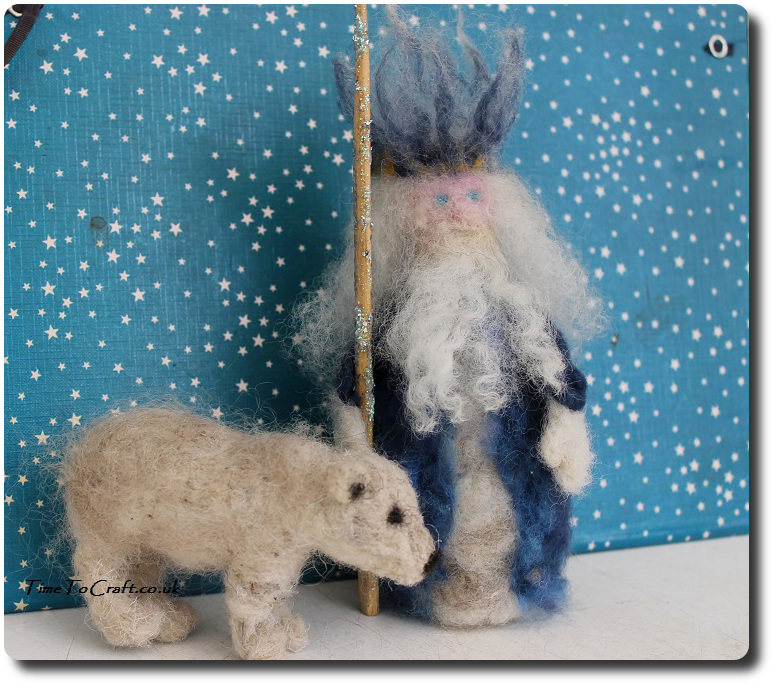 Each year, I intend to make a King Winter for our seasonal snow scene. Each year it somehow gets brushed away to one side. Not this year. Over the weekend, I pulled out my needlefelting needle and got on with it.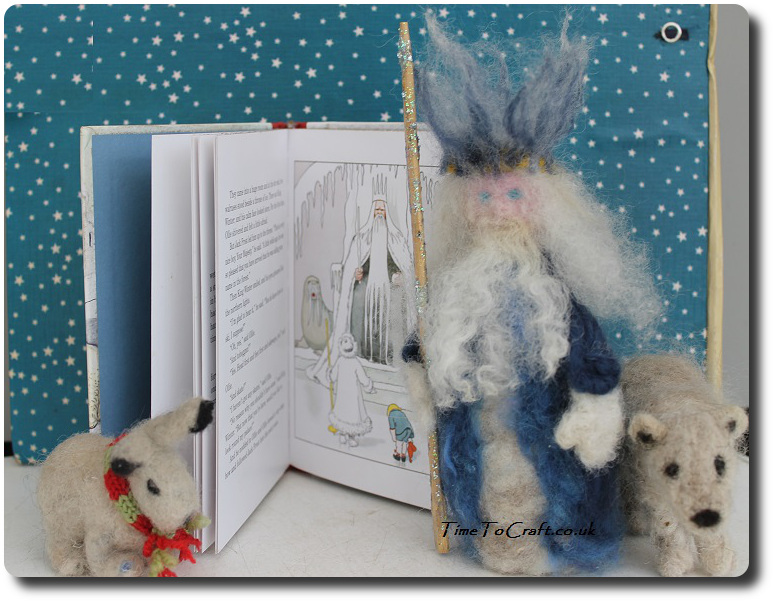 We are big fans of the Elsa Beskow books. They are sweet tales aimed at 5 to 7 year olds. The illustrations lift the translated text beautifully. In Ollie's Ski Trip there is a picture of King Winter. The contrast of Ollie in his blue suit and the white of the King and his palace, is imposing.
Avoiding a completely white version, I decided to go for a blue coat for King Winter. The sort that I think he would wear when he strides outside, to survey his wintery world. Blending in with the midnight Scandinavian sky. I mixed a few shades of blue to make it.
The polar bear and snow hare are needlefelt doodles from previous years that I made. I can see these grouped nicely on our snow scene, this winter. Another make crossed off  my list.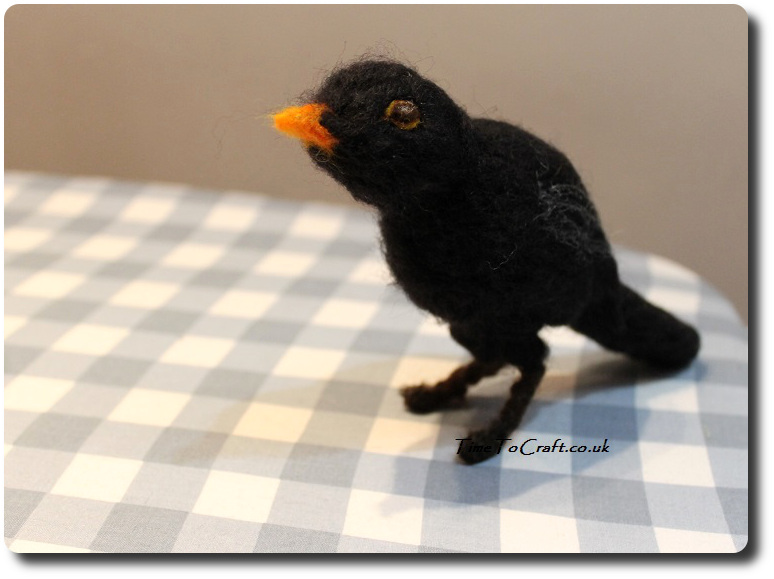 Some birds seem to just get us humans, so to speak. There will be individuals,  that interact with us on their own terms. They learn our habits, evaluate advantages and assess our risk factor. Before long, us humans give them names and a routine of interaction is established.
One of my family had just such a relationship with a blackbird. He called the bird Blackie. The bird learnt to trust his human and would come to be fed when called. He was quite a character. Every time we visited, we heard more of this blackbird's antics.
Blackie raised several clutches of little blackbirds, over the years. Always keeping his nests in close proximity to the dwelling of his human friends. Then one day, he didn't turn up. No-one knows what happened. His adult offspring are still around, but not Blackie.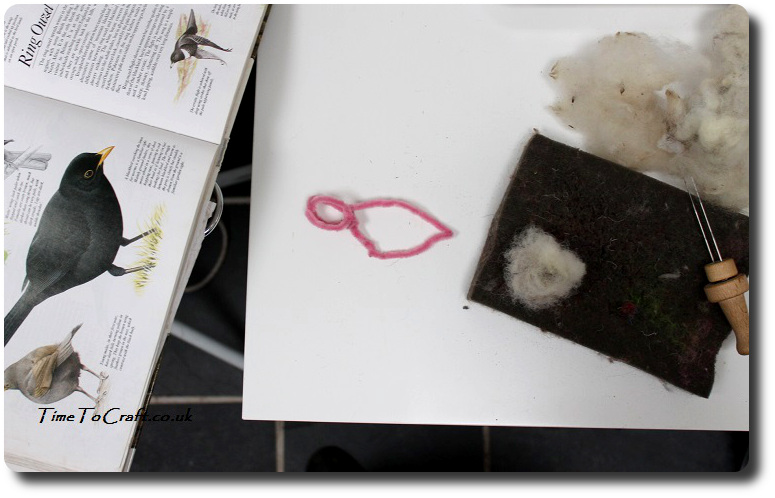 So I decided to make Blackie. A young version. Why not?
To start, I used pipe cleaners to form the frame. Makes it easier to shape and re-shape, I find. The white is from a Jacob sheep fleece which forms the base. It is springy and felts up to be a firm structure.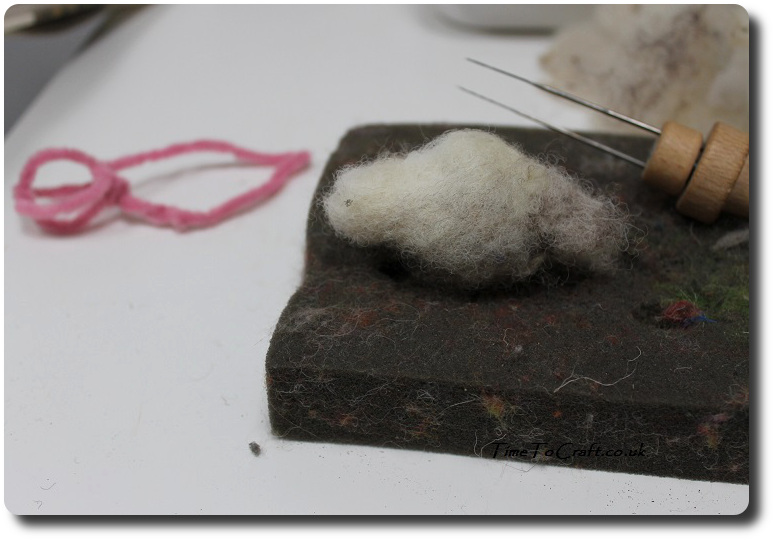 I felted the base of the body, tail and the head separately and fitted them into the pipe cleaner frame, then felted more white fleece over the top, until the pipe cleaners were hidden and I had the right shape.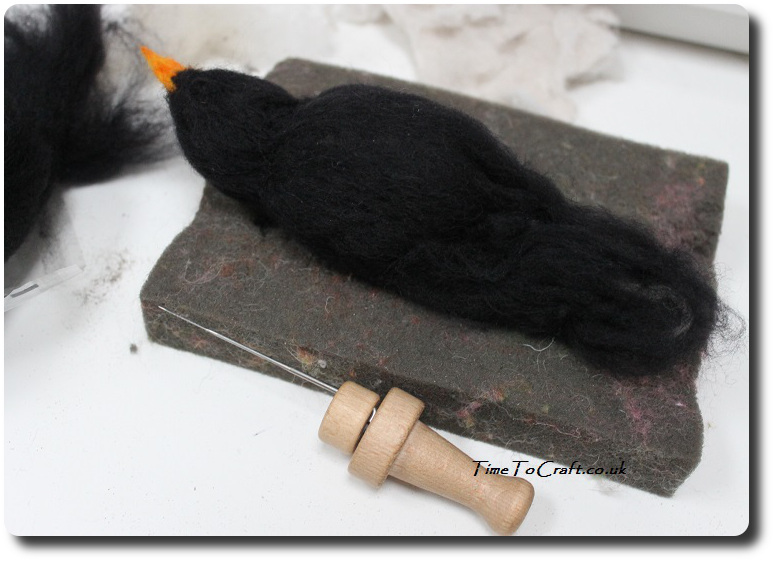 Next the black. I kept the length long, so it covered the whole length of the body. It was at this stage I knew I was getting the shape right. It's very difficult stabbing a needle into something thats starting to look like a living creature.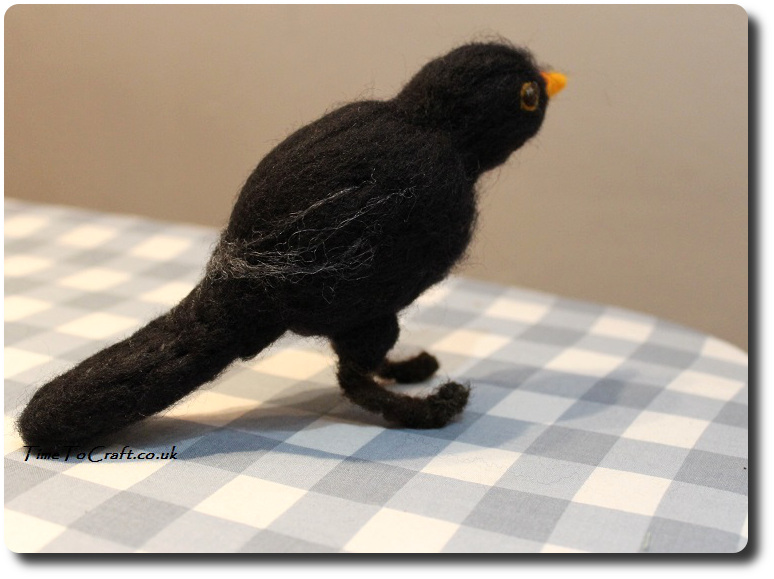 The legs are wire, covered in brown fleece. I used silk filaments to give the impression of wings folded back along the body.
The eye is a felted circle of yellow, with an inner brown circle. I added a touch of white, for a sparkle in the young blackbird's eyes. Giving him character. The beak was a mixture of orange and yellow, that I hand mixed, to avoid a solid block of orange.
I took these photos, to check the shape. Afterwards, I thinned down the tail, added shoulder definition, flattened his back and chin. Totally forgot to take a final photo.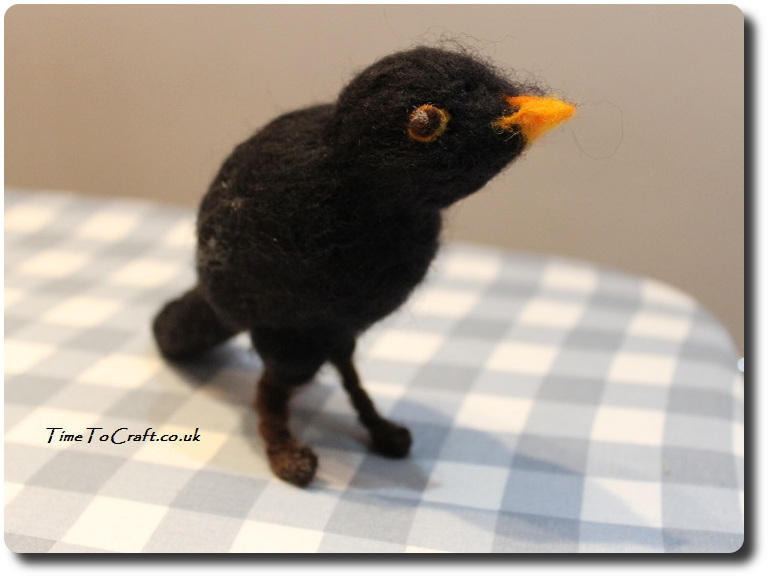 Blackie has now been gifted. I could have played with the shape for longer. I wonder if I would ever be totally happy with it. Probably best that he's gone to live somewhere else.
---
Photos
There have been cases when people lifted my photos and words, and used them without credit to me or asking permission first. Using them for their own commercial gain. I have now added a level of security to deter people from doing this. Apologies to people who do play nicely. If you would like to use any of my photos, please contact me.
Copyright notice:
All my words and photos are copyrighted to me. They cannot be used for commercial benefit by anyone else. If you would like to use any of them, then please ask me first and don't just take. Written permission only. Don't pass my words, photos or ideas off as your own. It's not nice.
Cookie Policy
Our web pages do not use cookies however this website uses Google Analytics, a web analytics service provided by Google, Inc. Google Analytics uses cookies to help us analyse how people use our site. The use of cookies by Google Analytics is subject to change.