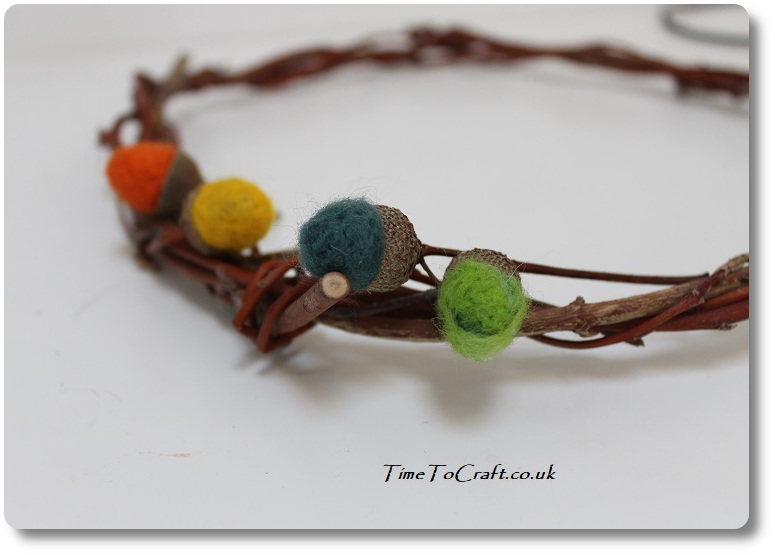 Hands up who wants to make a felted acorn or 10?
Aren't they adorable? The perfect nature craft, using natural materials. Most of it can be picked up for free. I used sheep's fleece for the base and needle-felted dyed merino wool over the top, for a splash of colour. Added a dab of glue to hold it in place, inside the acorn cup, and I soon had a handful of felted acorns.
These are going to be added to an autumnal wreath, but they could be used anywhere as decorations. Maybe a string of them above a fireplace, or individually hanging from a twig as a table centre decoration. I like to put a few on our nature table, among the real acorns. These are purely decorative and must not be used as toys.
Want to make some?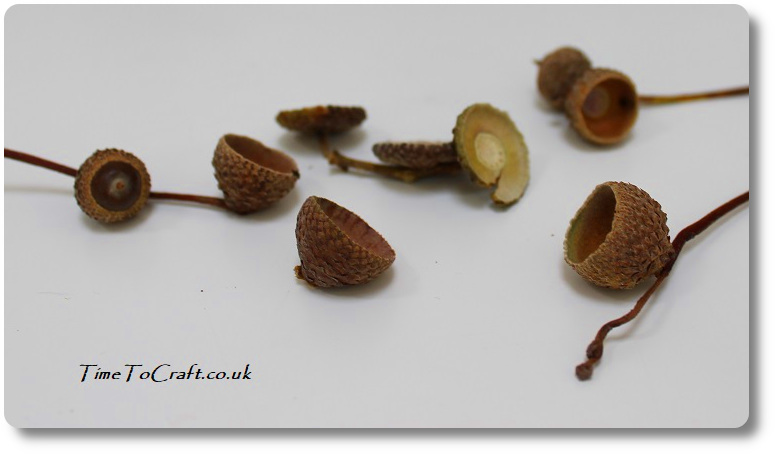 What do you need
wool scraps (merino, sheep's wool)
acorn cups
felting needle
glue
soap (Any soap will do. I use olive soap or wool soap, but that's me.)
hand hot water (needs to be hot to start the felting process)
To start with, you may be surprised to realise that not all acorns and their cups are the same. Different oak trees produce different size and shape cups. On our dog walk, each morning, we pass several oak trees and the lane is sprinkled with acorns, at the moment. I can pick up small acorns from one tree, big ones from others and, further on, I'll find a tree with acorn cups which are more like pancakes, or flat plates. There are so many different variations.
The oak trees I pass, are growing in hedgerows and would originally have been planted as hedge oaks. While the rest of the hedge was controlled by cutting or hedge laying, these trees would be left to grow to their full potential. They were harvested eventually as building materials.
Fun fact: oak trees have to be about 20-30 years old before they produce acorns, but they don't reach peak production until about 50 years of age.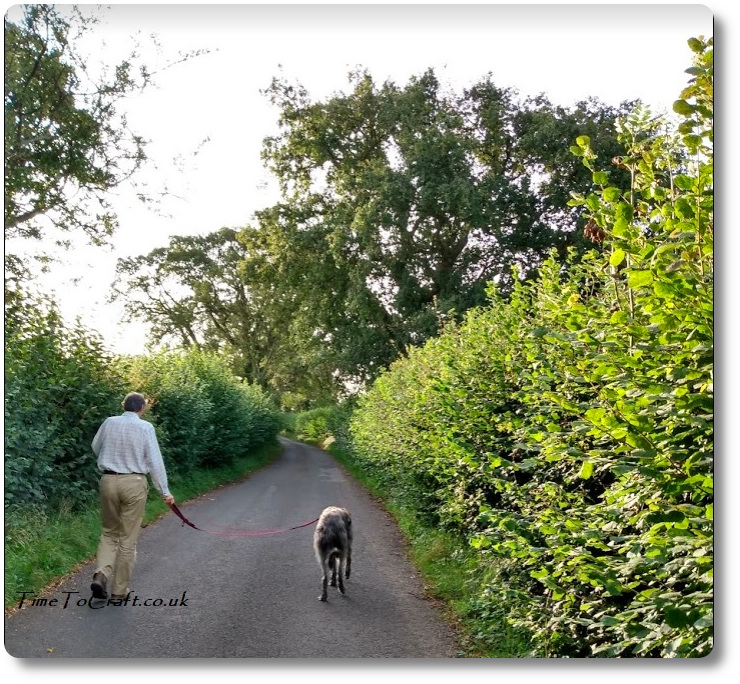 Oak trees are fairly easy to find in the UK, otherwise various craft shops do sell the cups, including online ones. I've seen them on Etsy too.
I like to use a tougher fleece as the base. You can use the coloured merino for the whole project, but it does cut down the cost if you use the plain fleece underneath. I find lots of wool snagged on barbed wire in sheep fields, when we're out walking. You need to ask permission of the farmer before you take it, but in my experience of rescuing sheep (a fairly regular occurrence), it can be near on impossible to find the owner when you need them.
Once home, give the snags of fleece a very gentle hand wash, remove any debris and leave to dry.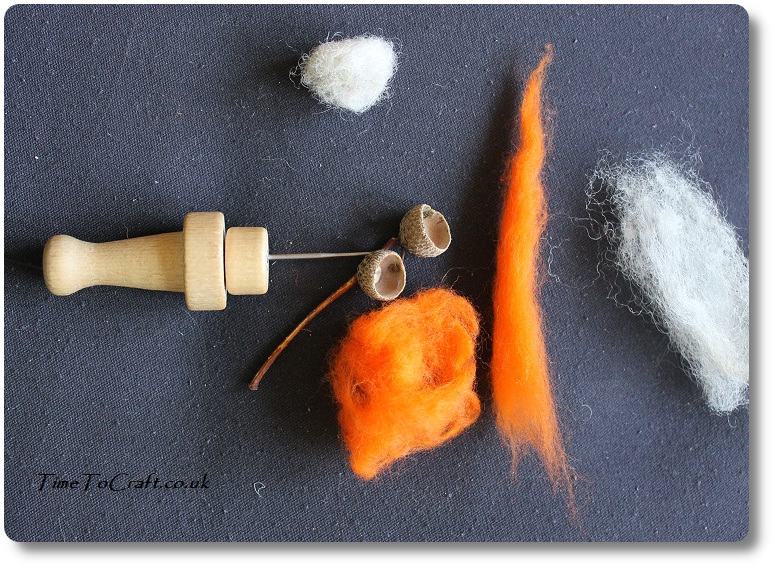 I use merino dyed rovings for the top layer. I have a collection of odd scraps from previous spinning and felting projects. It's much easier to find these in craft shops now, as more shops stock felting materials. Alternatively, I buy online from Wingham Wool Work.
How to make the acorns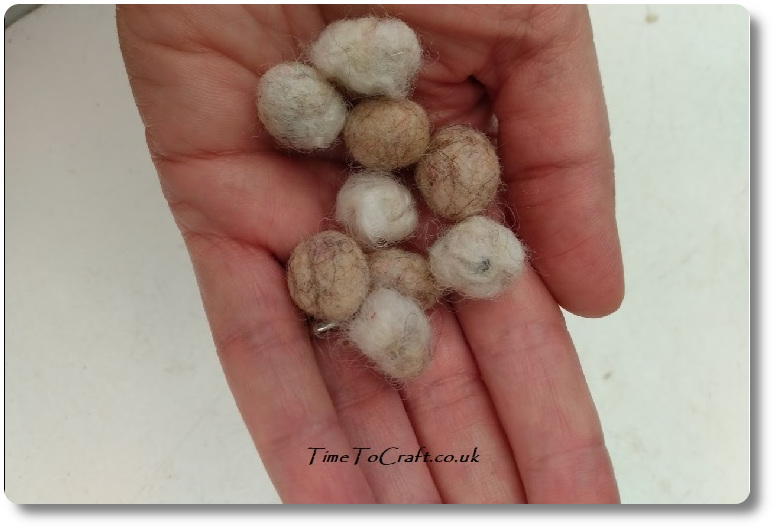 To start with, the base acorns are made. There are two ways to make it. Either using wet felting or needle felting.
Wet felting –
Take a clump of the sheep's wool and dip it in soapy, hand hot water. To start with, roll the wet wool gently, in a circular motion, between your palms to make a slightly, elongated ball. Like when you make a ball out of clay or plasticine. As it takes shape, increase the pressure as you roll it between your hands. Keep going until it feels firm and is acorn shape. Your hands will get quite soapy.
It may be necessary to work the wool between your finger tips of both hands, to start it off.
If the acorn is not big enough, wrap more wool around it and repeat the hot, soapy water and rolling. Remember, this is the base layer. The top layer will make it bigger again, so do check that the base acorn will rattle in the acorn cup and is not snug.
Wash the soap out with cold water and let the acorn dry.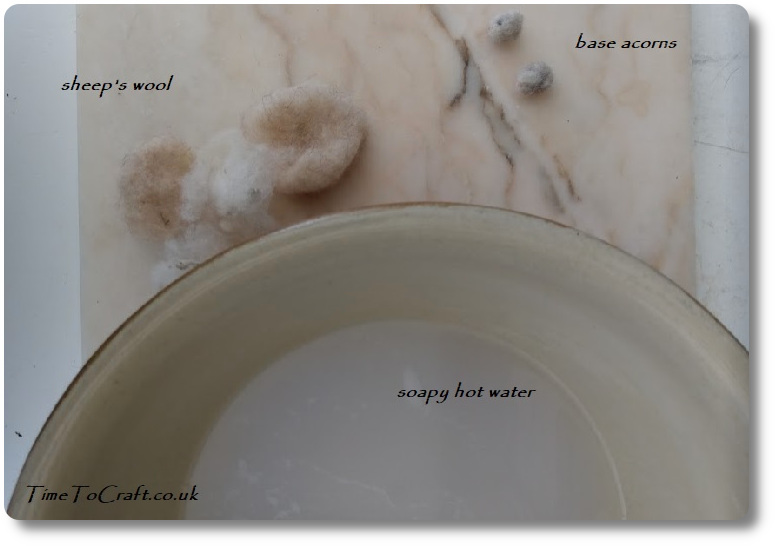 Or needle felting –
Use a single needle felting needle to stab a clump of sheep's wool into an acorn shape. Bunch it up into a ball to start it off. Mind your fingers as you use the needle. Move the acorn around, as you work, to cover all the surface, fixing it in place. Here again, keep going until the acorn is firm. Add more wool if you need it.
I roll it briskly in my hand at the end. It helps to give it more shape and firmness, as well as smoothing out any puncture marks.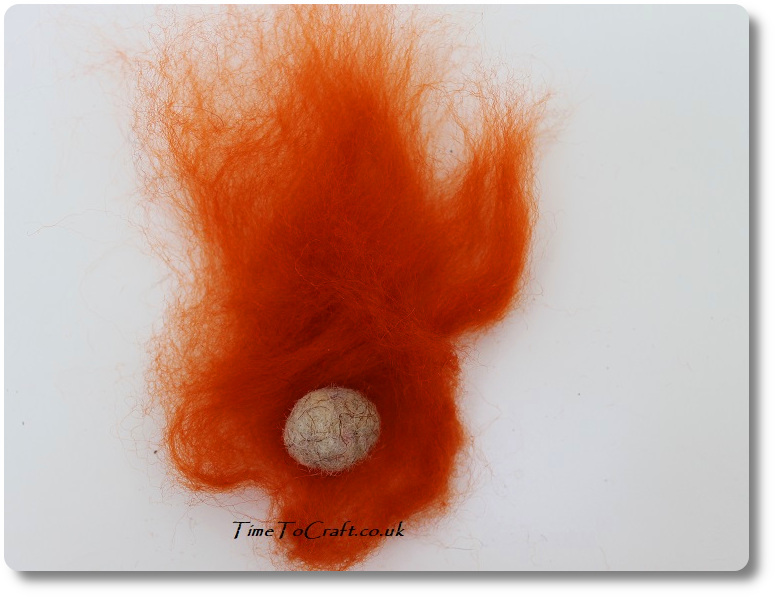 Add the colour
Take the merino and spread it out flat. Wrap the base acorn up in the merino.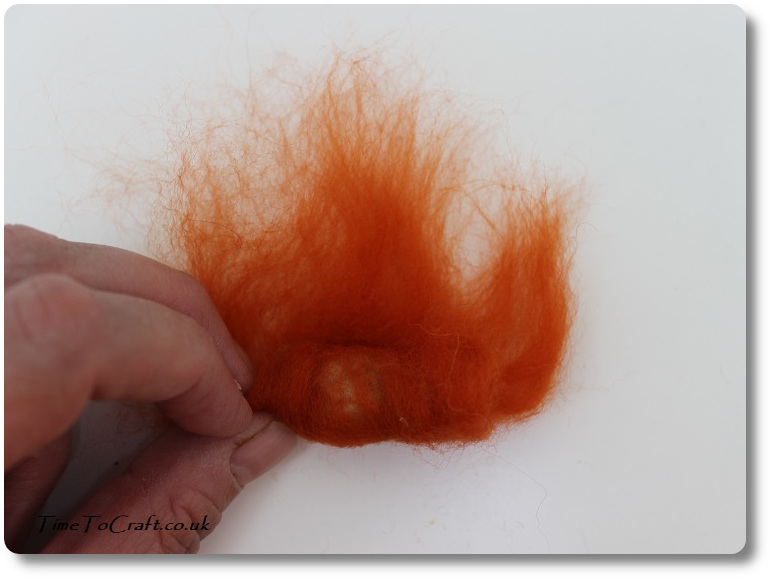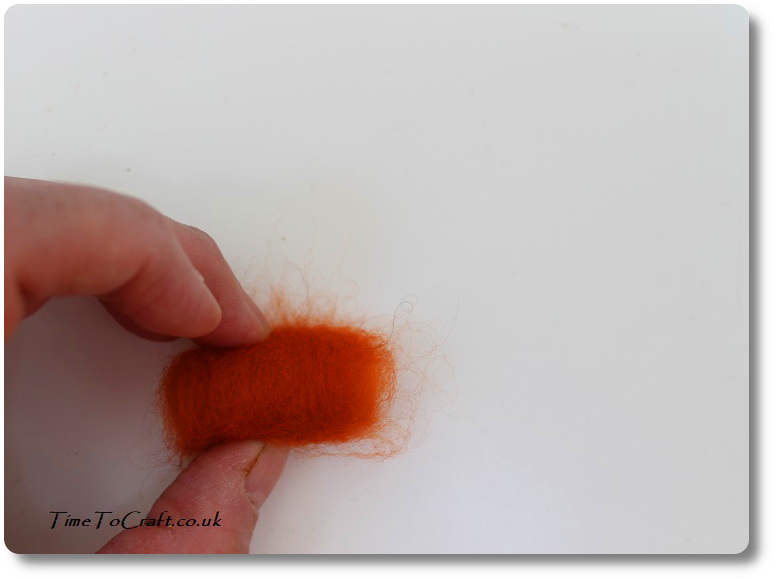 Use the needle to work the acorn into shape. Or you can use the wet felting method again.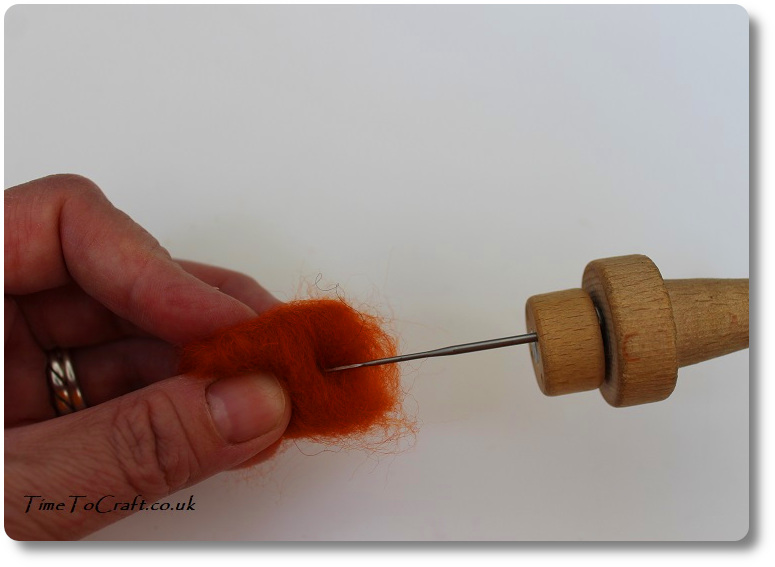 Both methods
Fix the acorn into one of the acorn cups, using a spot of glue to keep it in place.
Repeat until you have all the felted acorns you can handle.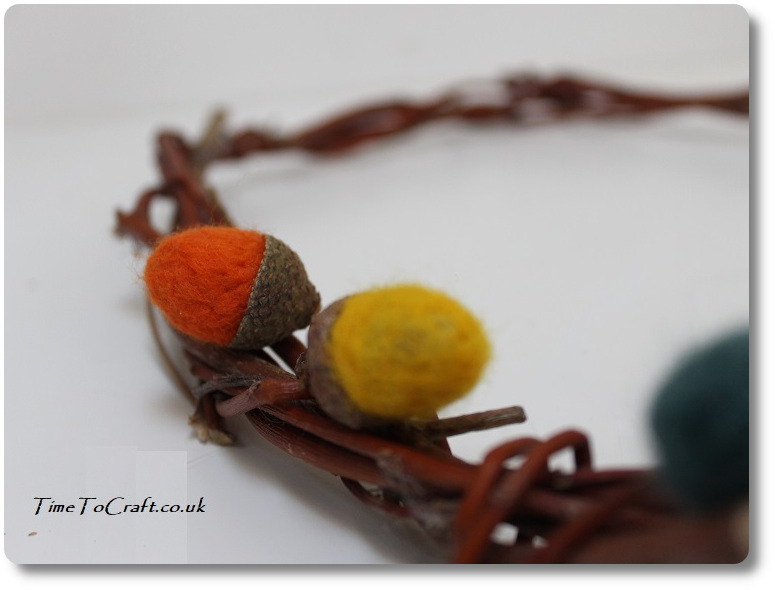 These make great gifts. Add a clutch of three as decoration to a pot of homemade jam, as an autumn gift. It can be fun to blend different colours together. I've blended yellow and orange, also blue and green, in my latest batch.
I'm adding my acorns to a willow wreath I made a few years ago from our willow tree. It's lasted well. My next step is to make oak leaves. The question is whether to knit, felt or some other method.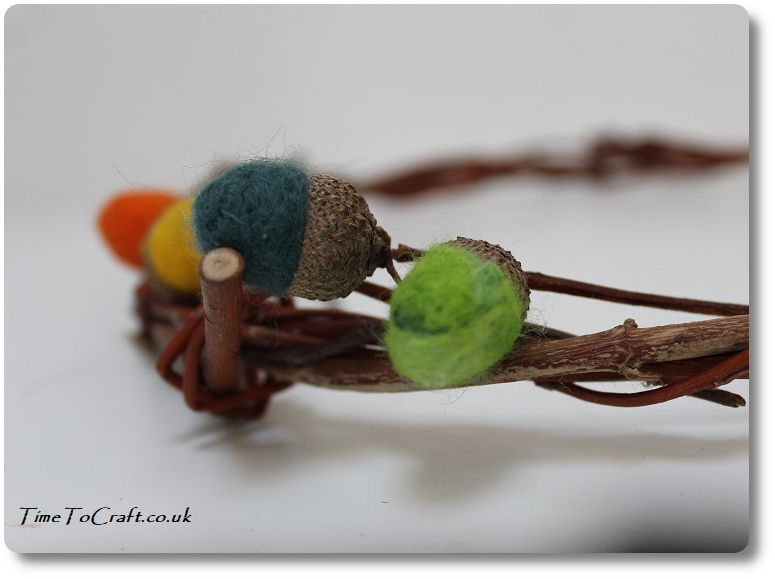 I hope you give the felted acorns a go. Please remember that these are not toys and shouldn't be given to children to play with. I have used the wet felting method to make the acorns with older children and they've all loved making them. Added bonus is that their hands are perfectly clean and ready to make bread afterwards.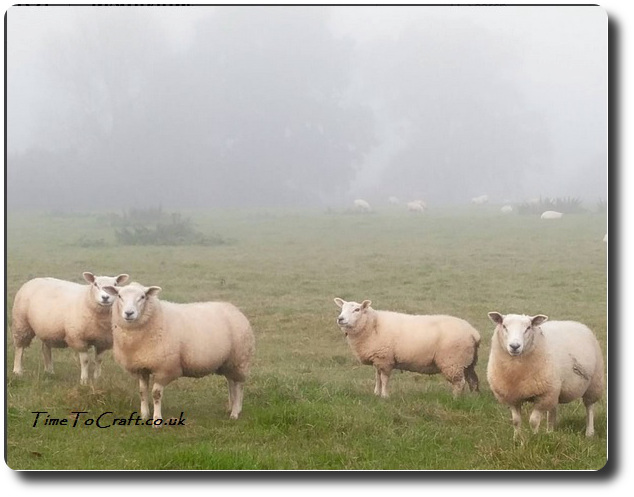 From little sheep, great acorns grow. 😀
If you have any questions, leave a comment and I'll get back to you.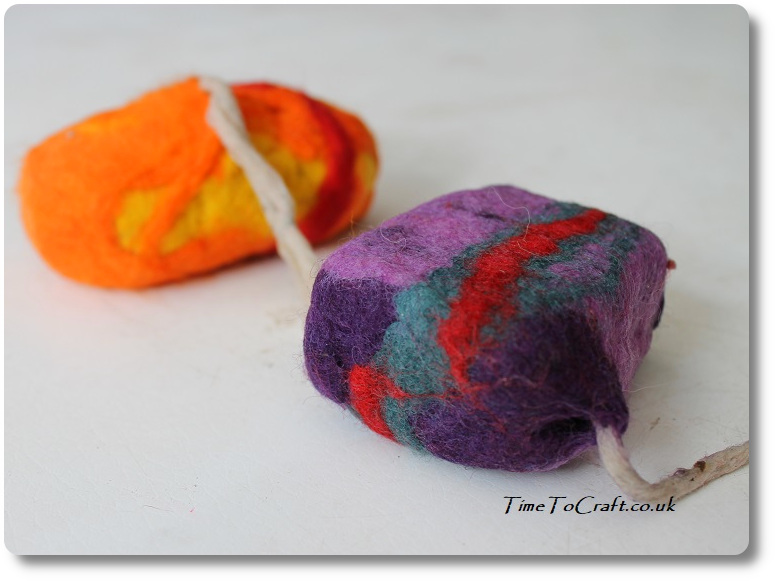 Move over shower gel and hand soap in plastic bottles. You're scrubbed off my shopping list. There's a new kid in town. One that doesn't need a pump mechanism, or leave a trail of packaging. We call it soap.  A bar of soap.
Ok. Maybe not so new. I mean, when I was growing up, a bar of soap, on the side of the sink, was a pretty common sight. That's how you got your hands clean. Public loos might have a soap dispenser on the wall, but not private homes. The humble bar dealt with the dirt.
With the tide turning, soap bars are back in favour. Rising demand as people look to cut their plastic buying habits. People are using special formulated soap bars to shampoo their hair. Removing another plastic bottle from the bathroom
There is one problem with the bars. Arguably more, but I'm thinking about the way it sits in its own wet puddle and disintegrates, if you're not careful. Imagine you're in the shower. You lather up the soap and put it down in a soap dish, or just on the side, and use the soap on your hands to wash with. The soap bar is wet. It sits there, slowly dissolving in its puddle of water, reducing its useful life. Not a good idea and it can be avoided.
(When you are a family of five, sharing one bathroom, ugly, soggy soap ends up being pushed to one side. I'm saving you from a photo of it, at this point!)
Soap needs to dry out in between uses, in order to extend its life. Lots of ingenious ways of achieving this, including special dishes and bottle tops to sit on. I'm going to suggest another way. Felted soap on a rope.
There are lots of reasons that felted soap works well.
Acts as a flannel and gentle exfoliator
Colourful
Natural material
Include scrappy bits of soap, that would otherwise be thrown away.
Allows the soap to dry out
Brilliant crafting activity to do with children of all ages (including teens)
Cleans up your hands as you make it (great after gardening)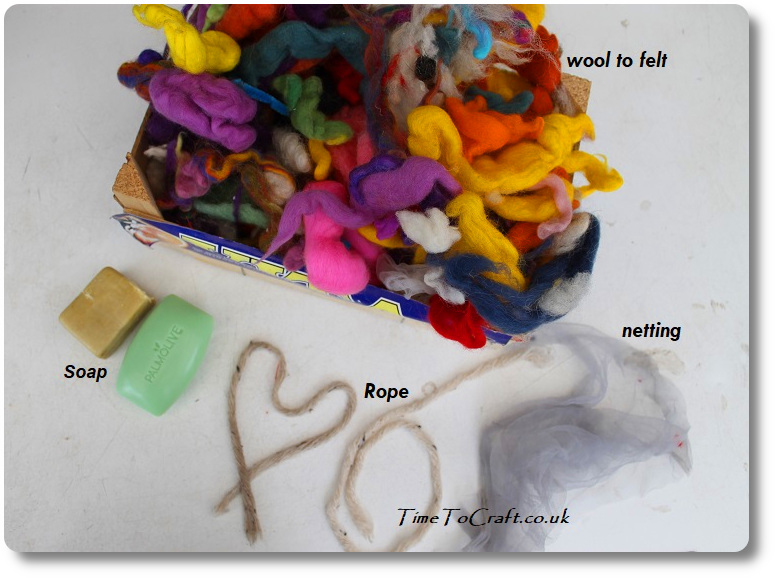 It is really easy to make. All you need is a bar of soap, wool roving, netting or pair of old tights, bit of rope and warm water. Wool roving is the fibre you get in felting kits. Felting wool, if you prefer. It is 100% wool, which felts when it's plunged in hand hot water, soap added and rubbed. Bit like when you put a wool jumper in a hot wash. It shrinks. Making it a tight fit around the soap and sealing it in. Lots of craft shops now stock felting fibre and there are also plenty of online sources too. Alternatively, make friends with a sheep farmer.
Now for the fun part.
How to make a felted soap on the rope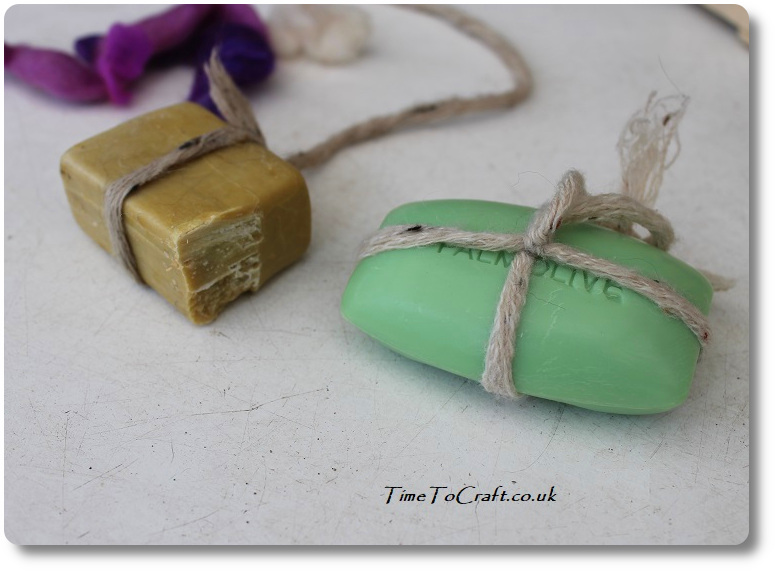 1. Tie the rope around the soap and secure with a knot. Leave a long tail for hanging up the finished soap.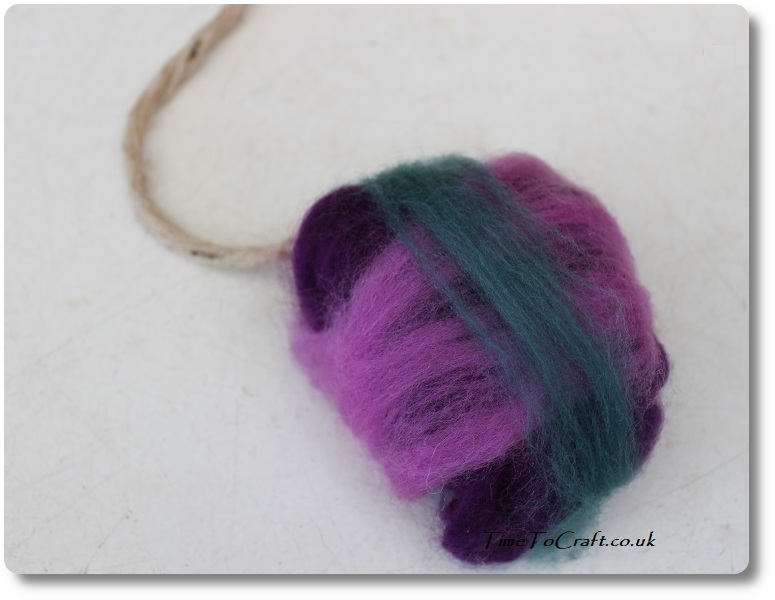 2. Take a length of the wool and tease it out into a long, wide, flat as a pancake strip. It should be wispy, like the teal strip above. The trick is to have lots of thin layers. If the layers are two thick, they will be harder to felt and you'll end up with ridges and gaps. At this stage, wispy is your friend!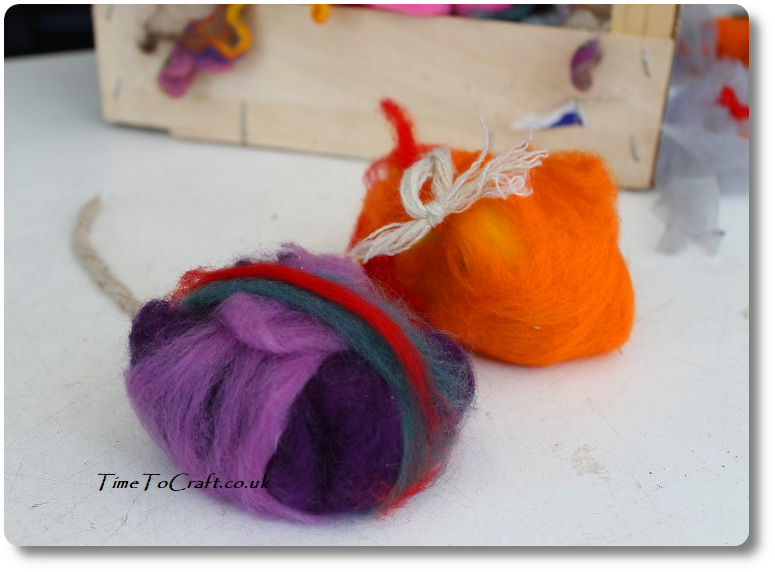 3. Wrap the wool around the soap, making sure the rope tail is not caught up. Keep adding more wool strips, in different directions each time, until the soap is covered and you can see no more soap. Add another two or more layers of wool to build up a thicker wool covering.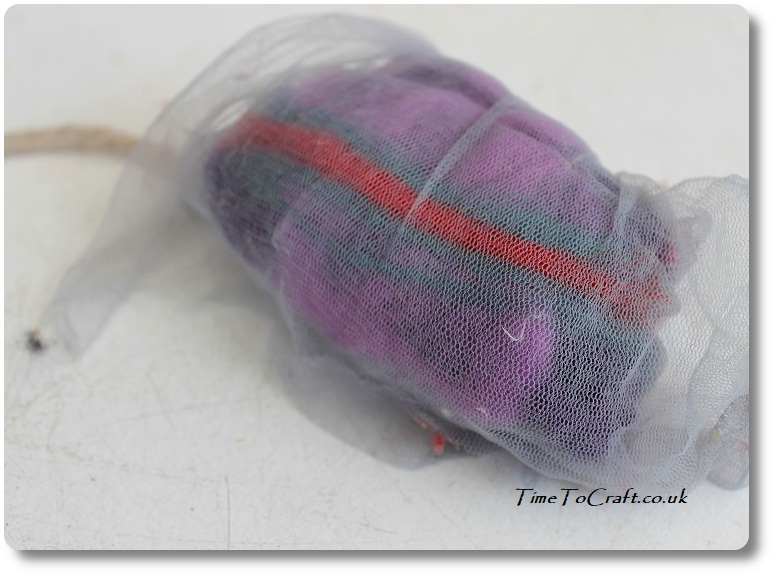 4. Wrap the wool covered soap with the netting. An easier option it to put it in the toe of a pair of old tights.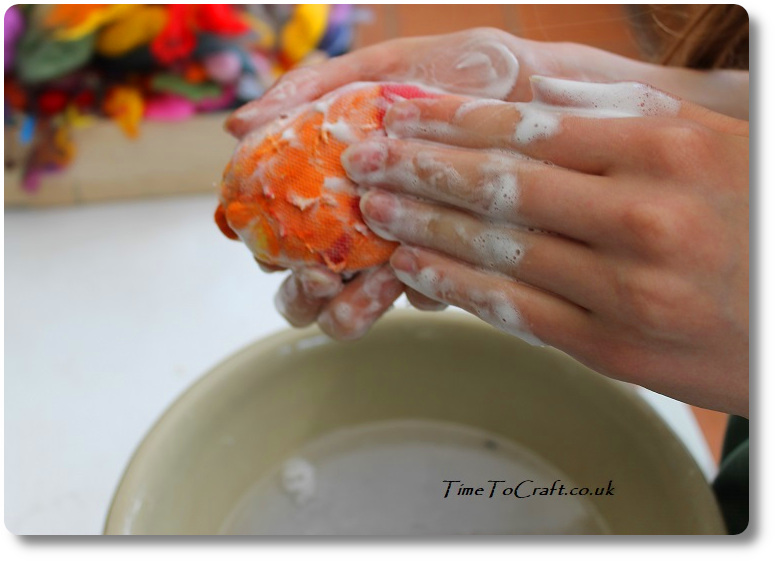 5. Briefly plunge the soap into a bowl of hand hot water and out again. Rub the wool covered soap gently in your hands. The wool will begin to felt, as the soap suds start to appear. Keep going. Allow 5 minutes. (previous child friendly soap felting activity) Test by removing part of the netting and pinching the surface. If the wool pulls away like a cobweb and doesn't look smoothly matted together, wrap the netting around again and rub the surface again.
6. Once it's felted, remove the netting completely and run under cold water to remove the suds on the surface.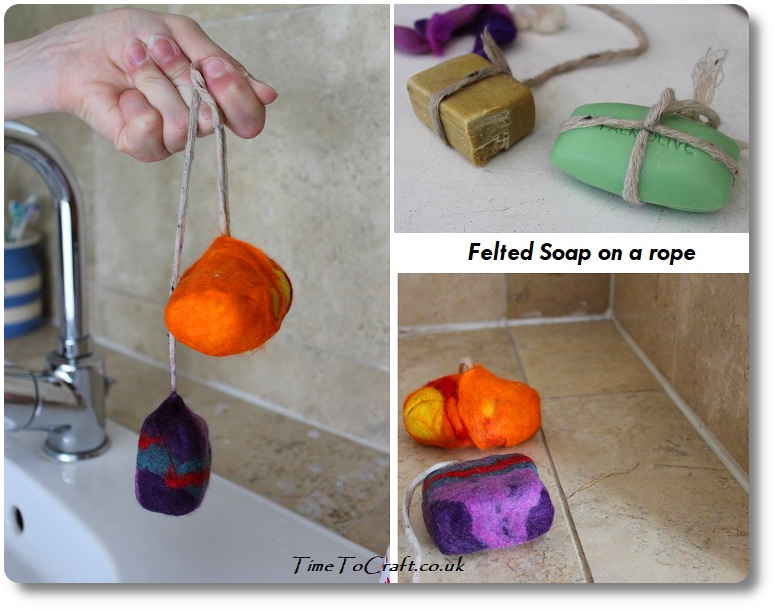 Your felted soap on the rope is ready to be hung up in the bathroom and used. Hanging it up will allow it to dry between uses. I've not tried it, but I'm sure felted soaps can be made using shampoo bars too. Once dry they can be stored away in a cupboard.
I love using felted soap. Every member of the family can have one. It cuts down on the mountain of wet flannels that grows in our bathroom. Once the soap is finished, either slice the felted wool open and add another soap (or ends of soap), or use the wool case for something else. It can be put in the compost heap once it is beyond all conceivable usefulness.
Middle teen and I made these two soaps this afternoon. She's happy to be cutting down on the plastic bottles in the bathroom , as much as I am. Can't wait to put them to use.
——–
Joining in with Rosie's Going Green linky. This month is Plastic Free July. I'd love to know if you are joining in and any tips you have.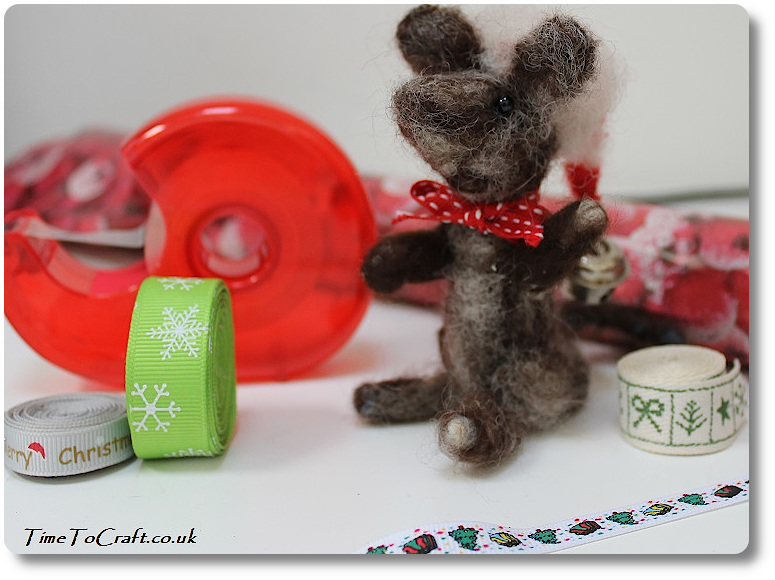 Needle felting is one of my favourite crafts. I can make something in a couple of hours. I can transfer the image in my head and turn it into something that fits perfectly in my hand. Just like magic. Like a 3d printer. It is akin to a doodle, but in felt form. Any stress vanishes somewhere between twisting up the pipe cleaners and adding the eyes.
This is my first finished Christmas project of the season. I have plans to make a mouse garland. Knitted baubles, acrobatic mice and other treats. I'm quite excited about the prospect. A fun project to squeeze in at the odd moment.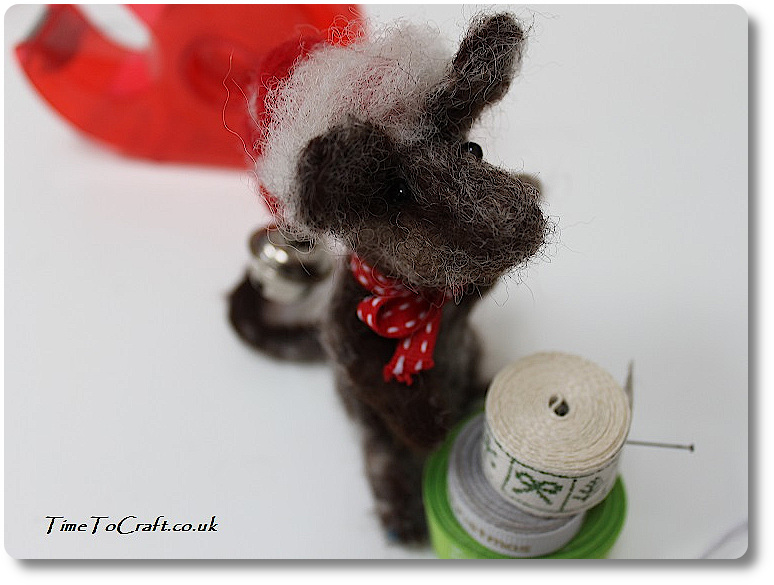 I've been asked in the past, why I don't sell some of my creations, which is a lovely sentiment. The thought that someone would want to pay money for my felted doodles, tickles me pink to be honest. I have no plans to, but it does get me thinking about why I wouldn't.
First up, I think it would mute my creativity to a degree. External expectations would influence what I made. There is fun in that, but limited. I'm also not keen on doing lots of similar projects. One after another. I like to lead from one project to the next. Following a whim. Not fitting into a brand.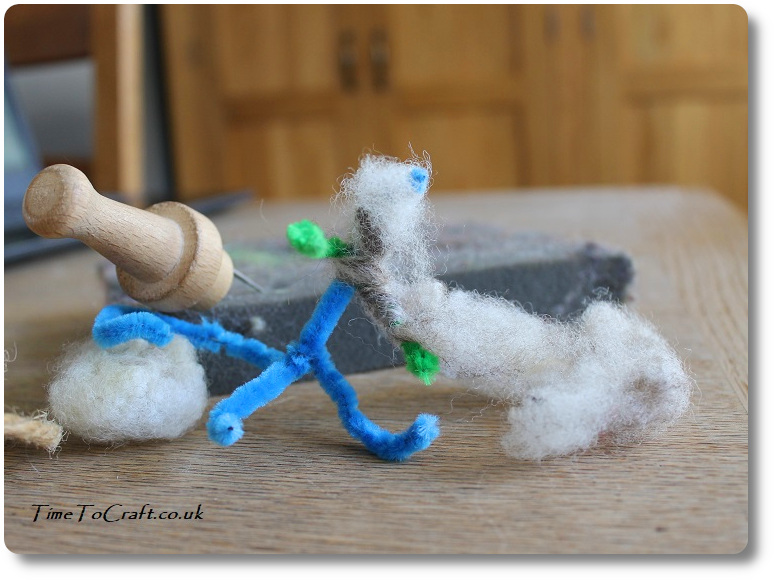 (pipe cleaner frame work, so the mouse can move.)
I'd also miss it. I've only sold one item and that was part of a charity raising experience. I still think about that piece. What happened to it?
I think the biggest problem would be, that it would not be worth it. No one is going to pay for my time, when they can buy something similar in a shop for a few pounds. If I calculated the time it took to make Sydney and multiplied it by the UK minimum wage, plus materials, I would need to charge about £20 just to break even. Less than that and I'd be paying the person to take it away. There would probably be commission fees and postage to add on top.
When you could buy a felted animal, to hang on your Christmas tree, for £3 in a garden centre.
I don't know how people do it. How they make an income.
If I was going to do anything, I'd run workshops to teach people how to make mice, reindeers and polar bears. I would market it as a form of meditation or stress relief, with something to show for your time. That would be cool to do.
(adding wool – Jacobs sheep and merino)
So, no. I won't be setting up an Etsy shop any time soon.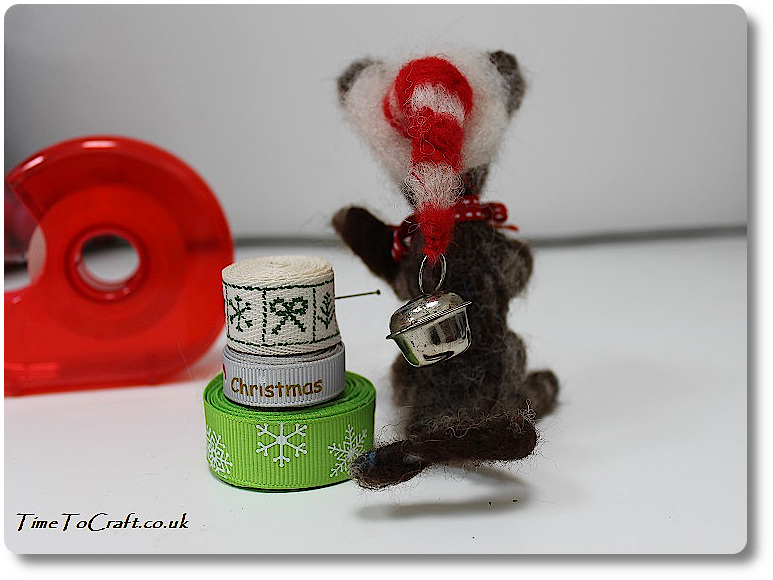 Sydney was fun to make. He's going to look good among our Christmas decorations. I like his oversized bell. While I was sewing the bell on his stripy hat, Hero the hound was sure the neighbours' cat had snuck in. Very interested.
I'm glad I included the tail in the pipe cleaner frame. I can carry on twisting it into shape. It will work well to wrap into the garland and maybe snag a few decorations too.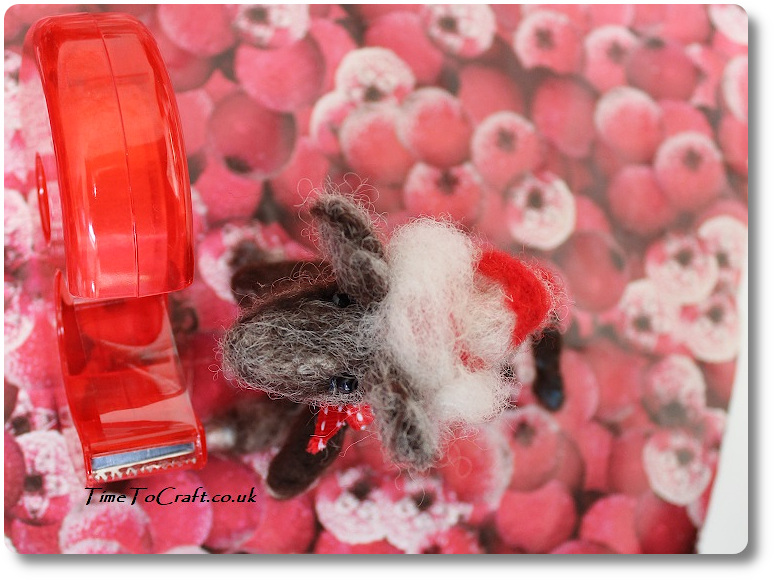 I can see that Sydney may be handy in the wrapping department too. He might find the ribbons a better choice than Sellotape though.
If you've never tried needle felting, I can recommend giving it a go.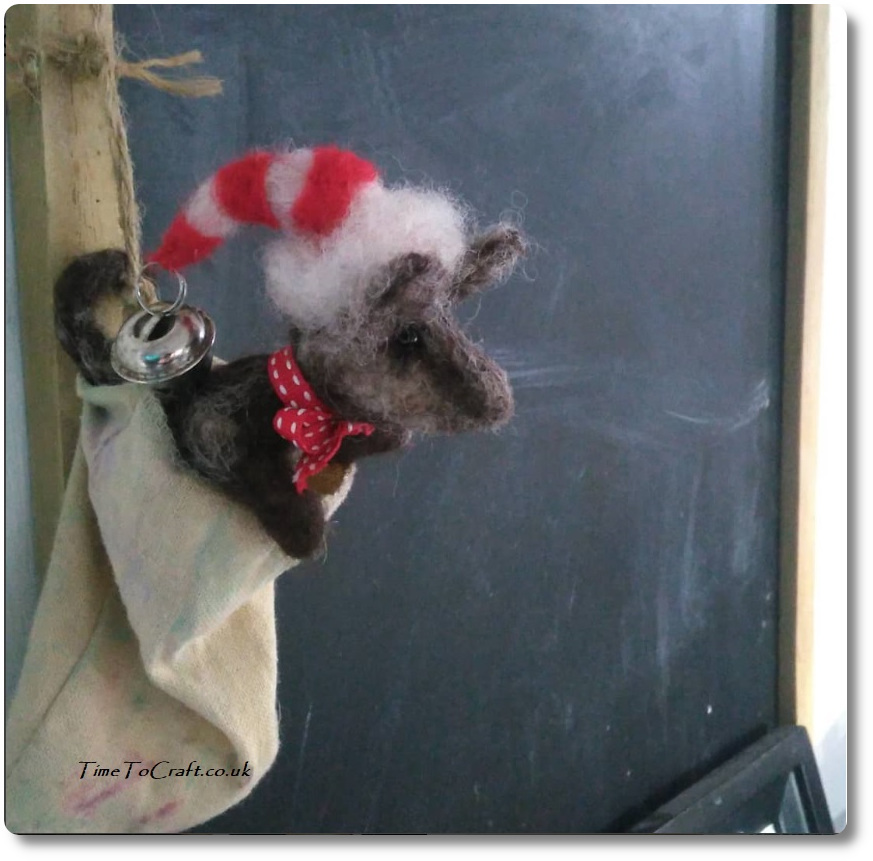 Photos
There have been cases when people lifted my photos and words, and used them without credit to me or asking permission first. Using them for their own commercial gain. I have now added a level of security to deter people from doing this. Apologies to people who do play nicely. If you would like to use any of my photos, please contact me.
Copyright notice:
All my words and photos are copyrighted to me. They cannot be used for commercial benefit by anyone else. If you would like to use any of them, then please ask me first and don't just take. Written permission only. Don't pass my words, photos or ideas off as your own. It's not nice.
Cookie Policy
Our web pages do not use cookies however this website uses Google Analytics, a web analytics service provided by Google, Inc. Google Analytics uses cookies to help us analyse how people use our site. The use of cookies by Google Analytics is subject to change.