Everyone smiles in the same language
I have got to tell you about a coincidence. Last week, Lisa left a comment about an American comedian I'd not heard of before. I was curious. I put him on my list to look up later and then forgot.
A few days later, I was looking for a quote about smiling, for a banner. I must have read hundreds in my time that I've liked, but typically, my mind went blank. I found one, which fitted in well with language learning. An on going theme in our home. Currently, I count four different languages being learnt and that is not including English.
Unsurprisingly, the quote tickled me. I searched for the original source. Blow me down if it wasn't the same comedian. The one Lisa had mentioned. George Carlin. How? Crazy, heh? This time I looked him up straight away and watched a few of his videos on line. I liked his humour. How had I not heard of him before?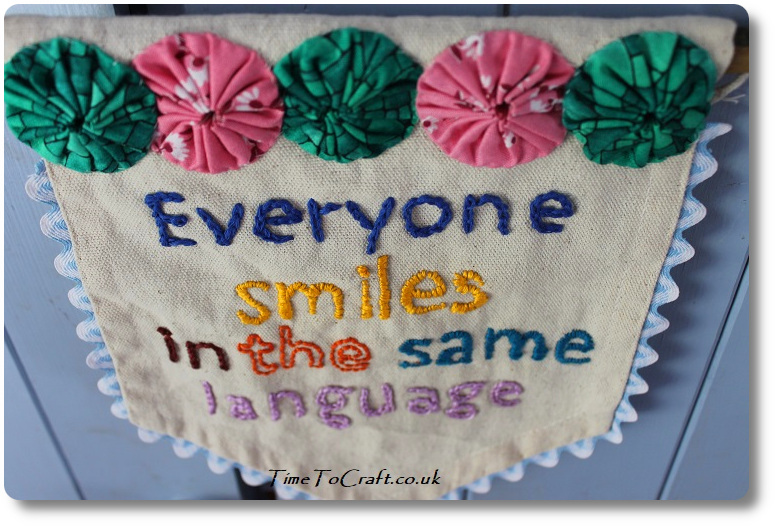 How I made the banner
Anyway, I created a document in MS Word and typed the quote. Played with the size and font, until I had an easy to read style. Then I printed it out.
I bought the banner from Hobbycraft, originally as a craft activity with the children. I'm hoping making this one will inspire them to decorate their own banners, but we'll see.
To make it easier to work on the banner, I temporarily removed the wooden baton, at the top.
I don't have a light box, so I stuck the paper template to a sun lit window and placed the banner on top, to trace the words on to the canvas. It wasn't perfect, but I didn't want it to be perfect.
The embroidery
Next, I embroidered the words using five strands of embroidery thread. I changed the colour for each word and swapped around the style of stitch. "Everyone", "in" and "language" are made using chain stitch, "the" is in a line stitch and "smiles" and "same" are in satin stitch.
The stitches are not perfect and the alignment of the letters are slightly off. I choose to do it by eye and not give it a machine exact finish. I wanted a less than perfect finish, because I wanted a human touch to the words. Somehow the words seem more real and more from the heart, when they are obviously sewn by hand.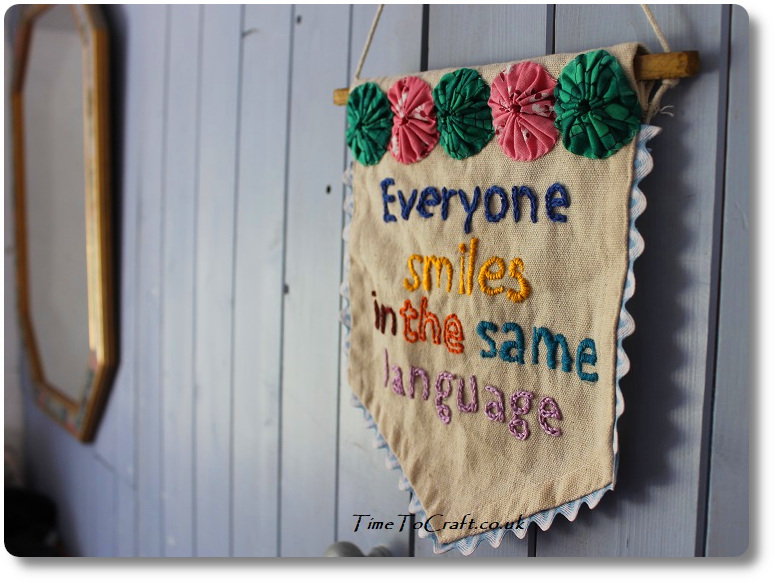 Finishing touches
Next I added the blue and white ric-rac to the back and left it to peep out past the edges. I love this effect. It breaks the edge up in such a pretty manner. I have a bag of yo-yo or suffolk puffs that are destined for a quilt one day, so I chose four from there to decorate the top, like flowers in a child's hair.
Last job was to slide the wooden baton back in and hang it up.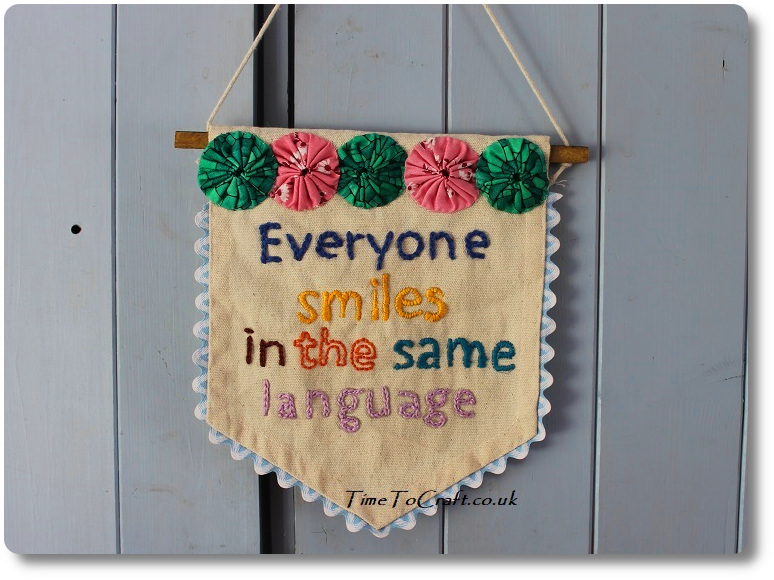 I'm very pleased with the result and tempted to commandeer the other blank canvas banners. I won't. I'm still hopeful that the children will decorate them. I've hung mine up at the bottom of the stairs, so everyone can see it as they come down.
Jessica
It was Louise and her beautiful daughter Jessica, who inspired me to put thread to canvas this week. Three years ago, Jessica died suddenly at the age of 6 years old. I remember reading Louise's blog post that day and reading it again, as it felt unreal. I'd seen Jessica grow up over the years through their blog.
Throughout the in-between years, Louise has shared her grief process. Helping her readers to understand how to help parents and families in a similar position. I particularly found a recent blogpost of hers helpful – Don't tell me how to feel
Louise and her family have turned today, the anniversary of her passing, into a positive force. They encourage us to give joy to others in Jessica's name #givejoyforJessica, which I agree is such an uplifting and wonderful way to remember her.
So here is my contribution. I hope it brings you all a little bit of joy.