I've done it. I made something for me. Little dance of joy. It has been a while. This is my Cleo and I love it, but it almost didn't happen.
I wanted to sew something that was straightforward and easy to wear. Something I could wear on an ordinary day, which, let's face it, is most of my days. It had to be quick to make without posing any potential hurdles like fancy fastenings and fittings. My tendancy to procrastinate steps in too easily. The Cleo seemed to fit the bill.
To start with, I had my doubts. I wasn't sure if a pinafore, with a bib and buckles, would be the right choice for someone cruising crazily towards…  ahem … her half century. Was it too young a look? Would I look like I should be serving tea in a tea tent? Could I expect flashbacks to the 70s?
Hmm…
As you can see, I totally ignored the nagging voice in my head and went for it. I'm old enough to care less what others think. So if I was OK with it, not much else mattered.
It was the first time I've used a pattern from an independent pattern designer. I loved the thickness of the paper, which meant I could use it as a template to chalk around, instead of pinning and cutting along the fragile tissue paper edges of my usual patterns. A definite improvement. The instructions were clear with photos showing the stages.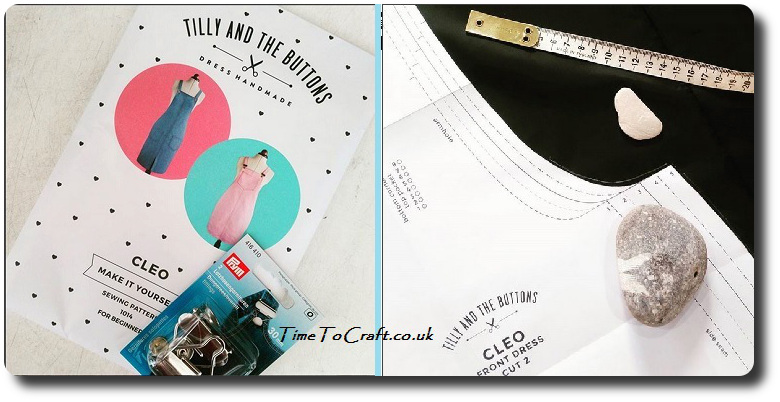 I did add a few changes. Instead of spending time pattern matching the fabric's swirly embroidered twirls on the front, I avoided a centre seam altogether and cut the front on the fold. Overlapping the paper by the same amount as the seam allowance, to avoid making the front too wide.
Instead of the split in the front hem, I added it to the back. I also added a lining to the dress, as the corduroy clung to my legs when I walked. With the lining, it hangs better too. I lengthened the knee length version by 4 inches, which suits me more.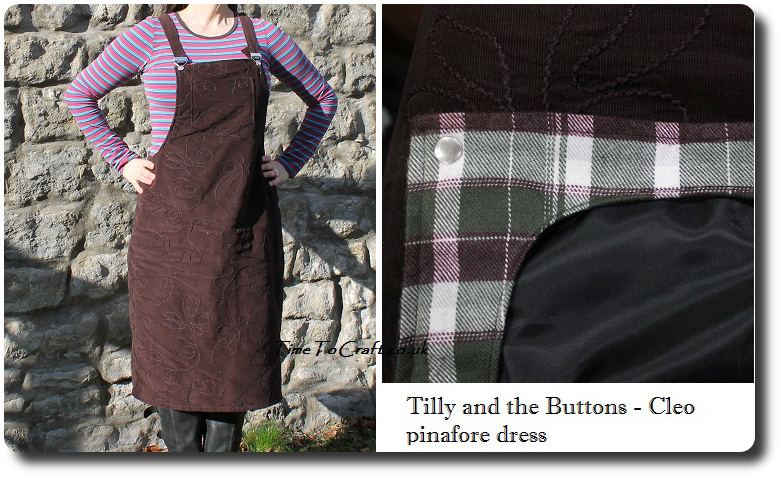 For the facing, at the top of the bib, I used an off cut from a pair of pyjamas I made a while back. Wasn't until I stepped back and looked at it that the brown cord and the plaid facing combination that I realised that it shouted Barbour waxed jacket. I guess it fits in fine for country living, not that the green chequers show.
(The split does hang straight. A moment when I could have done with someone else taking the photos rather than me.)
I'm going to have fun working out the best tops to wear under this pinafore. Don't be fooled by the sunlight on the wall behind me in the photos. Today was cold, so it was layers and boots. I'm sure I'll find some terrible combinations too. So long as it looks right to me.
I am so glad I made this dress. It is so comfortable. Easy to walk. Sit down. Dance in. The fabric has been in my stash for a couple of years. I think it cost me £1.99 per metre from Minerva Crafts, but has probably all gone by now. The pattern is Cleo by Tilly and the Buttons. At £12.50 it is more than I usually spend on a pattern, but I know I will use this again and may even make teen versions for my two teens. I've already picked out denim fabric from my stash to make another one for me.
My first make of 2018 for me. I used my old Singer sewing machine. As my youngest pointed out, it meant that I used no electricity to make this dress.
"You're right", I said as I stepped in front of my iron to block his view, "not a lot of electricity used."
I wasn't going to ruin a good observation.
(edited: I made another Cleo. This time for my teen. More info here, if you're interested.)