It seems that the combination of spring and lockdown, this year, killed my crafting mojo. It just went. Even at the end of the day, when usually I'd have something keeping my fingers busy, there was diddly squat going on. Imagine tumbleweed. Actually scrub that. Imagine the dusty, deserted road without the tumbleweed tumbling. Nothing. I toyed with finishing my cardigan, but it really wasn't enough to ignite any sign of enthusiasm.
The garden is looking good and the family have found a good rhythm and are happy, so I'm not complaining. My energy and focus was elsewhere. Autopilot was off and I was flying manual for everyday tasks. Something had to give and it turned out crafting was the one.
It did feel like something was missing. An empty feeling.
Yesterday afternoon, I downed tools (or keyboard, to be more precise) and cut out a dress. I really need a new summer, everyday dress for hanging around the house. Especially with the glorious weather we have at the moment.  I've made a wardrobe of dresses, but mostly they fit into the work or going out categories. Formal. Not much call for that at the moment. If I dressed up in one of those, the neighbours might wonder what I was up to. Not my usual gardening gear.
A month ago, I picked up a couple of metres of cotton lawn. It is a light grey with small, intricate flowers. It's soft and drapey, which should be comfortable. I chose a pattern, that in retrospect, was probably influenced by all the VE day celebrations that were building up at the time. A tea dress of sorts. It is McCall's M7084 and I'm making the B version.
It was good spending the afternoon planning and plotting how to lay out the pattern pieces, as I didn't have quite enough fabric, according to the pattern envelope. I'm also counting this as exercise, as half way through cutting it out, I remembered the workout my back muscles get from bending over the table, while pinning and cutting.
I'm going to do this dress in stages. Maybe the odd hour. Just as I did with the last everyday, summer dress I made. I used the same type of fabric, but this time the pattern has a lower waist that should be more flattering.
I've also started a new knitting project, for the evenings. My pink cardigan has reached the stage of picking up stitches along the front borders, which is not easy late at night. I needed a basic, no-brainer knit to do on autopilot. Something like a scarf, but I really don't need one of those. Instead, I chose an ordinary jumper. Nothing fancy. It uses 4 ply wool, so will take ages to knit. The yarn is so thin and the needles match it. Progress will be slow, which is what I need. My fingers can be busy, while my brain is elsewhere.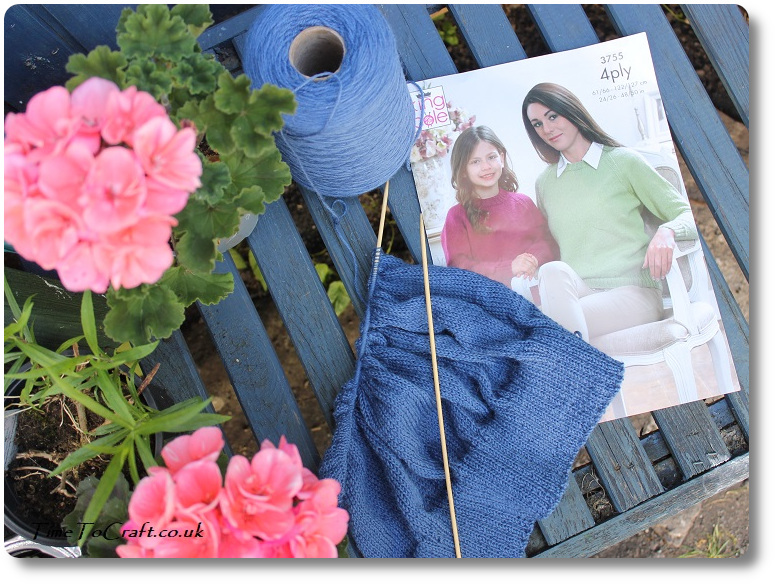 Although, this knitting is also good for picking up at other times too. Like sitting in the garden with cup of peppermint tea. Surrounded by geraniums.
I think I have a way forward. It does feel good to be working with textiles again. Hopefully I'll have a new handmade outfit, but really it's all about the journey and not the end point for me. Making pretty things is good for the soul.
I'm interested. Has anyone else found they've put their crafting aside in the last few months?
Hello again. Seems like a while since I've written a post. No apologies. Half way through the summer holidays and I'm facing the fact that it's proving a monumental task to do everything. Who knew? All work and play, leaves no time for blogging. I've also fallen into the trap that it's quicker to post a photo up on Instagram, but then I go on and gabble away, which rather undoes the quick part.
Talking of which, if you do follow me over on Instagram, you'll have seen that our summer has been filled with sun and crafting. I have so many projects to share here. Starting, as it's as good a place as any, with my latest finished knit. I finished my leafy cardigan, on one of the hottest days of the summer. It's remained too hot to wear, except in the evenings. Sirdar 9428, which is not a catchy title, so I'll stick with leafy cardigan.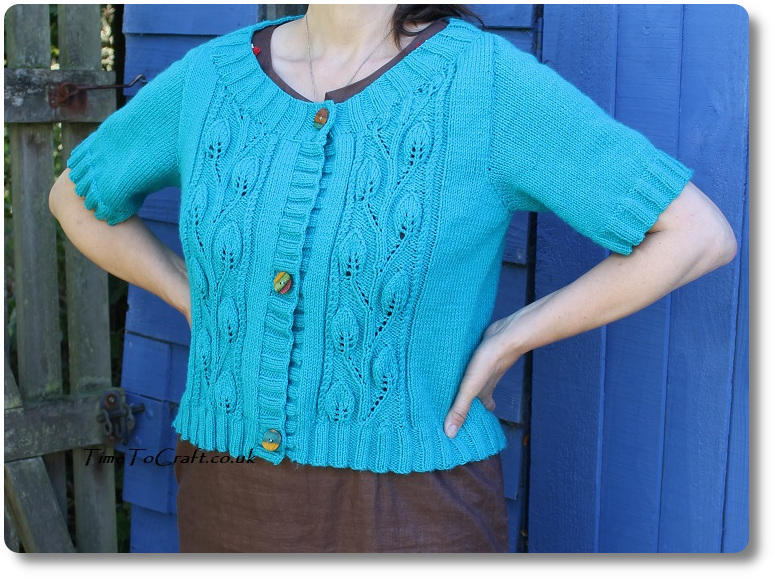 I loved this knit. The leaves only go on either side of the centre front, but I was actually bottom-lip-pouting sad when I finished the front panels. These leaves are good to knit. At the start, I wasn't sure if I'd ever get the hang of this stitch pattern, but perseverance won out, as you can see. Otherwise I'd be calling this project, my teal or modern art/abstract/slightly messy cardigan, I guess. Or not showing it at all. Anyway, here it is. It took one repeat of the rows, before I was liking it.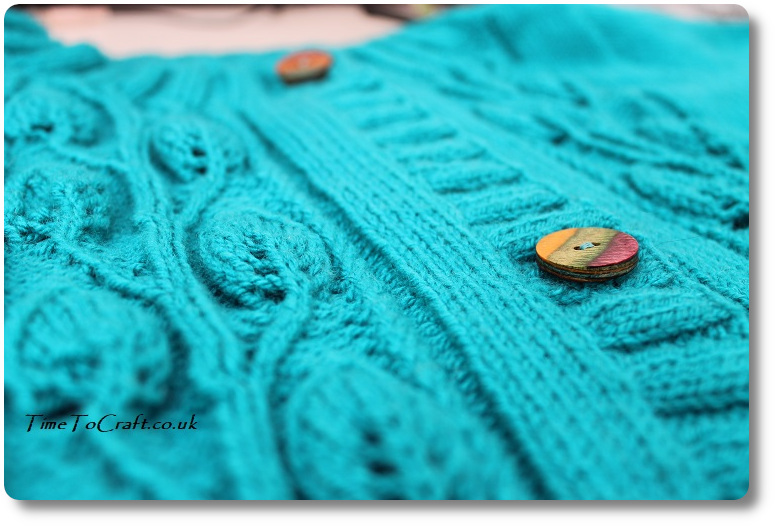 I was impressed at how the leaves almost look like they are about to grow out of the garment. One curly stem at a time. A slight breeze and they could almost flap elegantly and lazily. Eldest Teen even exclaimed that she didn't know you could make something like this with knitting, which I take as a compliment.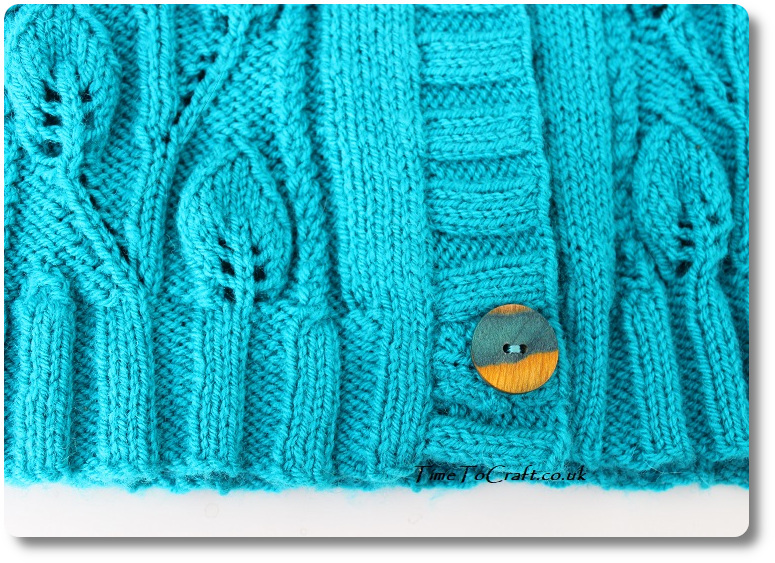 I wanted to avoid the cardigan looking too homemade. It kind of knocks my enthusiasm to wear something if I'm greeted with "Did you make that?" everywhere I go. Self doubt creeps in. Not a good feeling. I find my ribbing always gives the game away, so I purposely chose a pattern that did not use a knit one, purl one rib. This one is knit three, purl three and it does seem to give a smarter finish.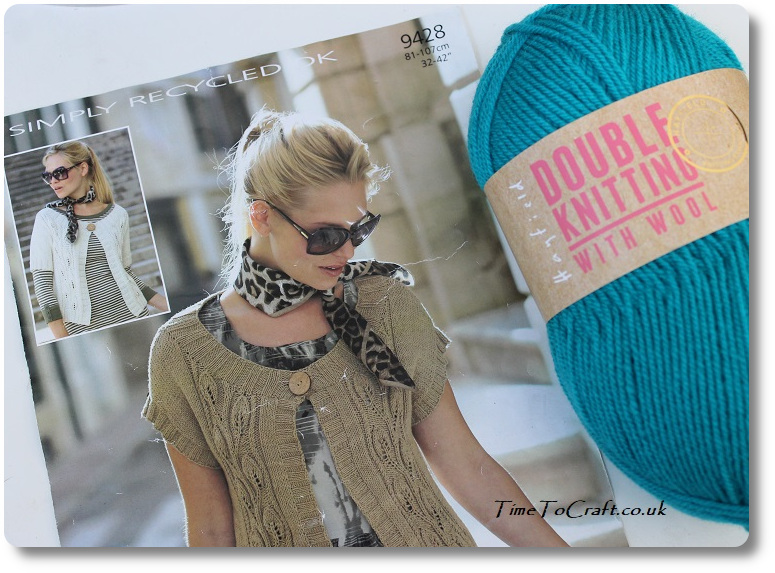 The pattern also calls for one, lone button at the top, which looked fabulous on the pattern's front cover model.  Once I tried the finished cardigan on, I realised that this style does not suit me. The front opening makes diagonal lines across my front, not almost straight down like the model. The diagonals were doing no favours to my midriff. Seriously, not a look I need.
Instead, I decided to add two more buttons. I've not added buttonholes to a finished knit before, but I've seen it done. When it came to the point of cutting into one of my stitches, I took a deep breath as there was no going back. The other fly in the ointment was that the knitted rows meant that the two new buttonholes would be vertical rather than matching the top button's horizontal alignment. No choice but to go for it and I'm not sure anyone could really tell unless they got close up and invaded my personal space.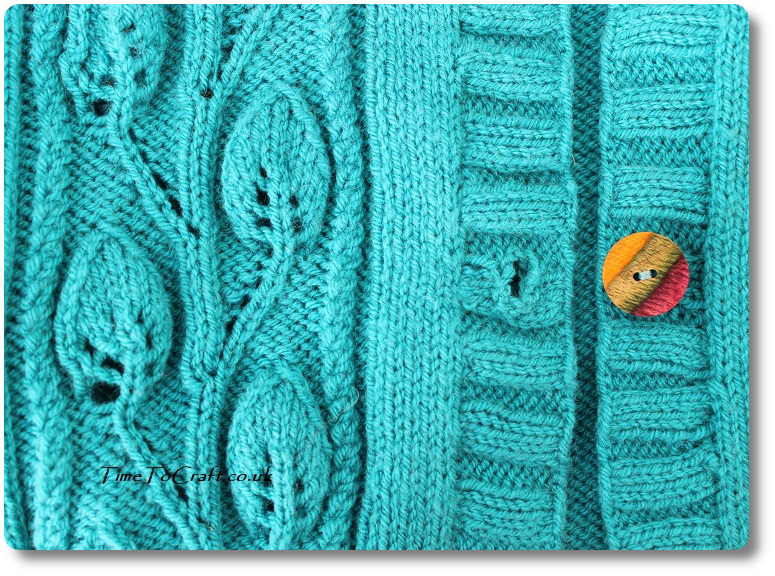 The buttons are 23mm Knit Pro wooden buttons. My sister gifted me the first one, a few years ago. Fortunately, I found two more. I love how they look against the teal wool. I used Hayfield double knit with wool, which is the same type as I used for the two hoodie's last summer. I'm not sure it shows how vibrant this colour is in the photos.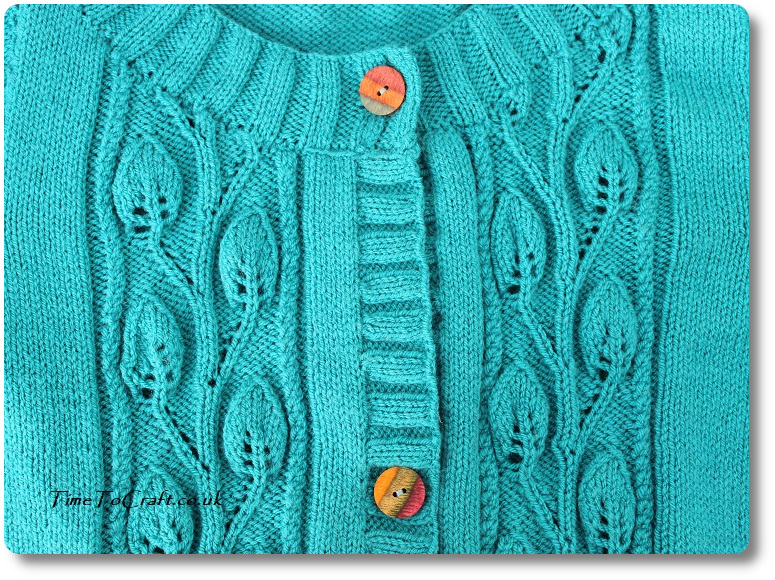 I made it in the fifth size. I wish I'd gone down to the fourth as it's a bit too big. All that running and giving up crisps since I started knitting it, has made a difference. Optimistically, I washed it straight away, but it still feels a little looser than I'd like. I've also found I prefer to wear it with more figure hugging, plain dresses, as it's more flattering if it's not competing with anything else.
I tried it on with my brown, linen, sheath dress today, for the photos, and it makes a perfect combination, I think.
Only other change I made was to make the sleeves, slightly longer. I had plenty of yarn. Ah, yes. OK. I'll admit. Between you and me, I managed to over order the yarn again. Again! When will I learn. I really don't know how I do it. I probably have enough left over to knit another in a smaller size, but I won't.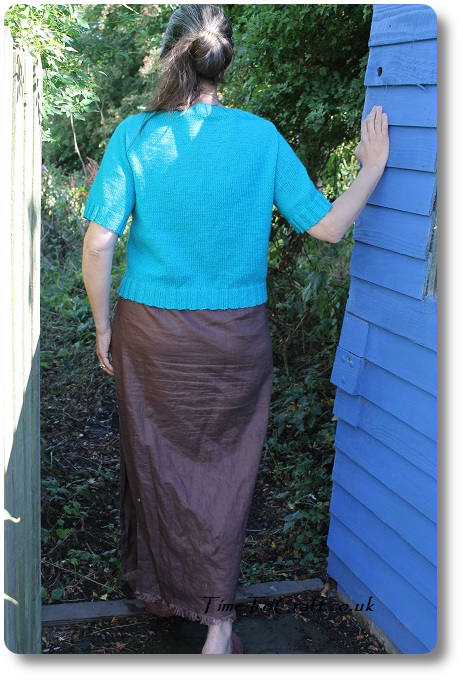 One is enough.
I'm very happy with my new leafy cardigan. It is warm and comfortable. I've cast on a different jumper already. Struggling with the first row, as the ribbing is complex, to say the least. I will get there. Just got to keep going. I've opted for a smaller size, too. And less yarn. Definitely less yarn, this time.
Right. Back soon with my next summer crafting project. It's a doozy, as they say.
I've done it. I made something for me. Little dance of joy. It has been a while. This is my Cleo and I love it, but it almost didn't happen.
I wanted to sew something that was straightforward and easy to wear. Something I could wear on an ordinary day, which, let's face it, is most of my days. It had to be quick to make without posing any potential hurdles like fancy fastenings and fittings. My tendancy to procrastinate steps in too easily. The Cleo seemed to fit the bill.
To start with, I had my doubts. I wasn't sure if a pinafore, with a bib and buckles, would be the right choice for someone cruising crazily towards…  ahem … her half century. Was it too young a look? Would I look like I should be serving tea in a tea tent? Could I expect flashbacks to the 70s?
Hmm…
As you can see, I totally ignored the nagging voice in my head and went for it. I'm old enough to care less what others think. So if I was OK with it, not much else mattered.
It was the first time I've used a pattern from an independent pattern designer. I loved the thickness of the paper, which meant I could use it as a template to chalk around, instead of pinning and cutting along the fragile tissue paper edges of my usual patterns. A definite improvement. The instructions were clear with photos showing the stages.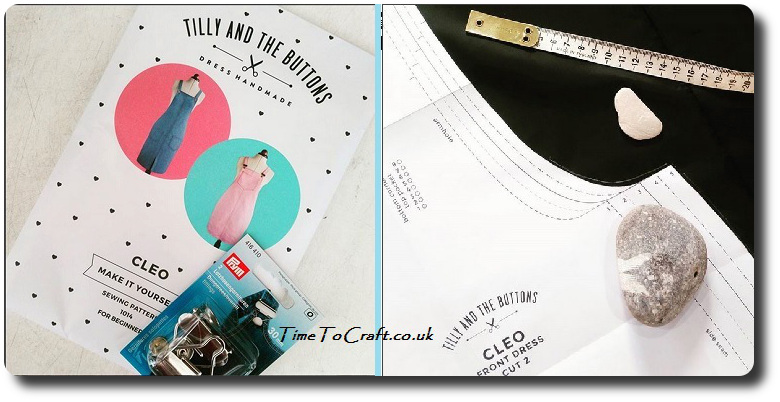 I did add a few changes. Instead of spending time pattern matching the fabric's swirly embroidered twirls on the front, I avoided a centre seam altogether and cut the front on the fold. Overlapping the paper by the same amount as the seam allowance, to avoid making the front too wide.
Instead of the split in the front hem, I added it to the back. I also added a lining to the dress, as the corduroy clung to my legs when I walked. With the lining, it hangs better too. I lengthened the knee length version by 4 inches, which suits me more.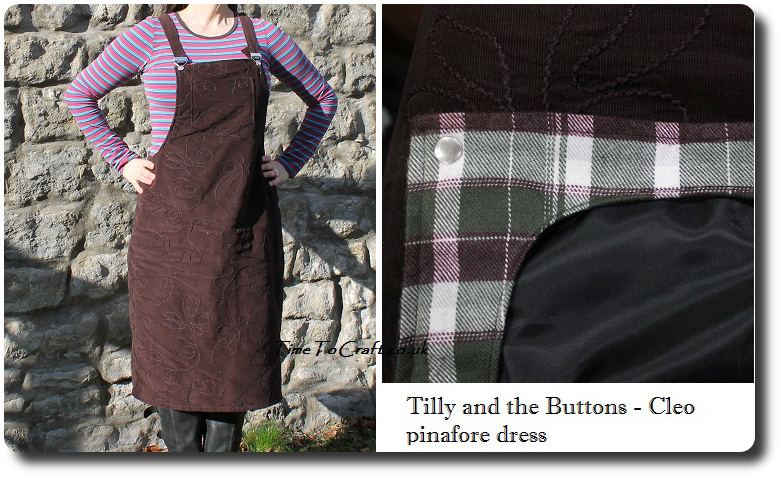 For the facing, at the top of the bib, I used an off cut from a pair of pyjamas I made a while back. Wasn't until I stepped back and looked at it that the brown cord and the plaid facing combination that I realised that it shouted Barbour waxed jacket. I guess it fits in fine for country living, not that the green chequers show.
(The split does hang straight. A moment when I could have done with someone else taking the photos rather than me.)
I'm going to have fun working out the best tops to wear under this pinafore. Don't be fooled by the sunlight on the wall behind me in the photos. Today was cold, so it was layers and boots. I'm sure I'll find some terrible combinations too. So long as it looks right to me.
I am so glad I made this dress. It is so comfortable. Easy to walk. Sit down. Dance in. The fabric has been in my stash for a couple of years. I think it cost me £1.99 per metre from Minerva Crafts, but has probably all gone by now. The pattern is Cleo by Tilly and the Buttons. At £12.50 it is more than I usually spend on a pattern, but I know I will use this again and may even make teen versions for my two teens. I've already picked out denim fabric from my stash to make another one for me.
My first make of 2018 for me. I used my old Singer sewing machine. As my youngest pointed out, it meant that I used no electricity to make this dress.
"You're right", I said as I stepped in front of my iron to block his view, "not a lot of electricity used."
I wasn't going to ruin a good observation.
(edited: I made another Cleo. This time for my teen. More info here, if you're interested.)
Photos
There have been cases when people lifted my photos and words, and used them without credit to me or asking permission first. Using them for their own commercial gain. I have now added a level of security to deter people from doing this. Apologies to people who do play nicely. If you would like to use any of my photos, please contact me.
Copyright notice:
All my words and photos are copyrighted to me. They cannot be used for commercial benefit by anyone else. If you would like to use any of them, then please ask me first and don't just take. Written permission only. Don't pass my words, photos or ideas off as your own. It's not nice.
Cookie Policy
Our web pages do not use cookies however this website uses Google Analytics, a web analytics service provided by Google, Inc. Google Analytics uses cookies to help us analyse how people use our site. The use of cookies by Google Analytics is subject to change.