A handmade pinafore for my teen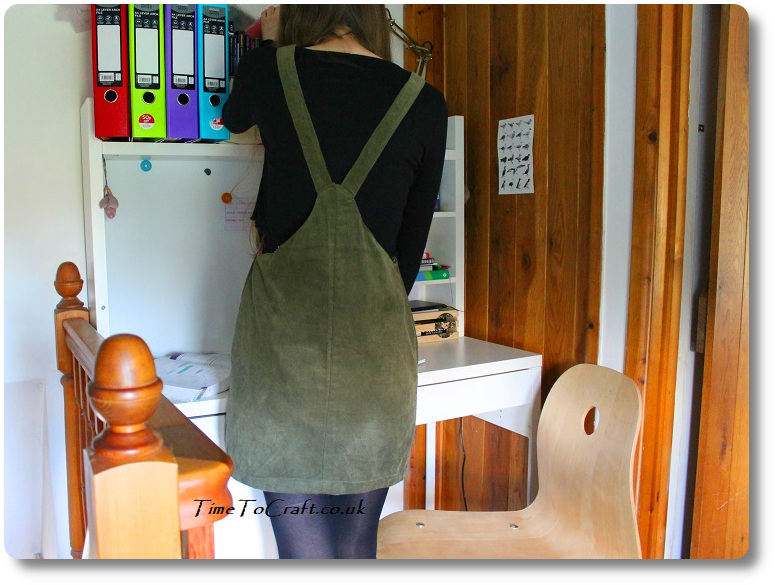 I'm not the fastest dressmaker. I procrastinate and over structure. Stretching out the end of every project by adding little extras to every sewing project. Almost as if I can't quite let it go. Strangely, I am the complete opposite in my day job, and fight even the hint of project scope creep. A signed up believer in the 80/20 rule. Then again, no stitches are involved, which probably explains the difference in my approach.
I envy people who can stitch up an outfit in a couple of hours. Not in a menacing way, you understand. Just wanted to make that clear. More in a "why can't I do that?" contemplative way. I do know. Seriously, if I can add a teeny, tiny bit more, I will. I cannot resist. Maybe one day, I'll master the quick make. In the meantime, I steadily stitch.
Latest project is no different. The first time I made a Cleo, it took me a weekend. Even then I didn't stick to the instructions. This time, it has taken longer. I put this down to the added dimension of trying to please a teenager. Boy, do I love a challenge.
I cut the project out about two weeks ago. The pinafore is for my eldest daughter. It is a Tilly and the Button's Cleo pinafore. Eldest is in sixth form now and doesn't wear uniform. This means her wardrobe is starting to bulge with outfits, as she adds more. Wearing the same favourite pair of jeans, every day, is not the way to go, I gather. When I offered to make her a pinafore, she jumped at it.
We settled on a green corduroy from my stash, with a floral facing. She wanted buckles, not button holes. I made the smallest size. After the experience of my last Cleo project, I added the lining as I constructed it, instead of retrospectively. Much less fiddly. I had enough navy lining in my cupboard, which had this project written all over it. Apart from the buckles, the project has helped me to destash my fabric stash a little bit more. All the fabric was left over from other projects, so I'm winning.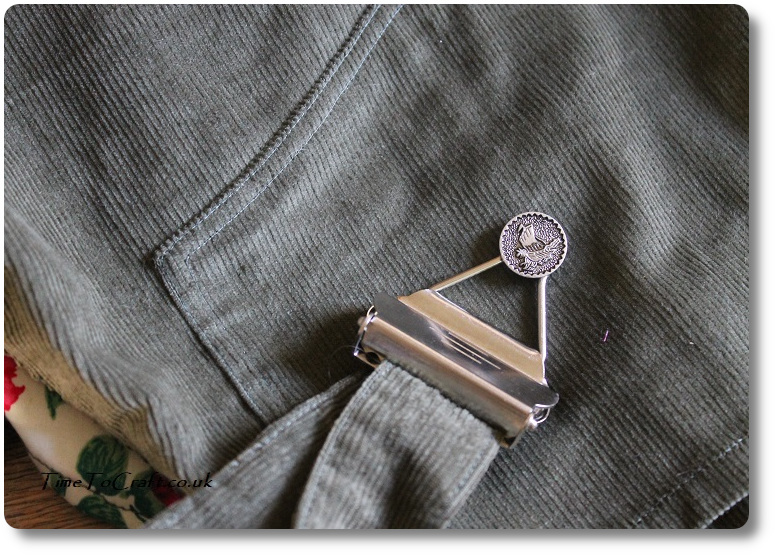 She found sweet, metal buttons, with Viking ships on them, in my button tin. They seemed to suit the buckles.
I made a tiny mistake at the cutting out stage. Instead of cutting the front as two pieces, I opted to put the centre front on the fold. Avoiding a front seam. My mistake was to forgot to take the seam allowance off, meaning the front was wider than it should be. The floral facing was cut correctly, which meant it was too small. They did not match. I couldn't cut it again as there was no more fabric. So I changed the bib width to make everything fit.
The other problem was that the top of the bib sagged. I added a band between the lining and the corduroy, which has helped. At least it sags towards her and not away.
Next challenge was that the lovely metal buttons were too small. As she moved, they would undo. Not ideal. I found slightly bigger buttons and covered them with more of the green corduroy fabric. I think they look good, and, fingers crossed, they seem to be working more as they should. No unhooked straps flaying around as she walks.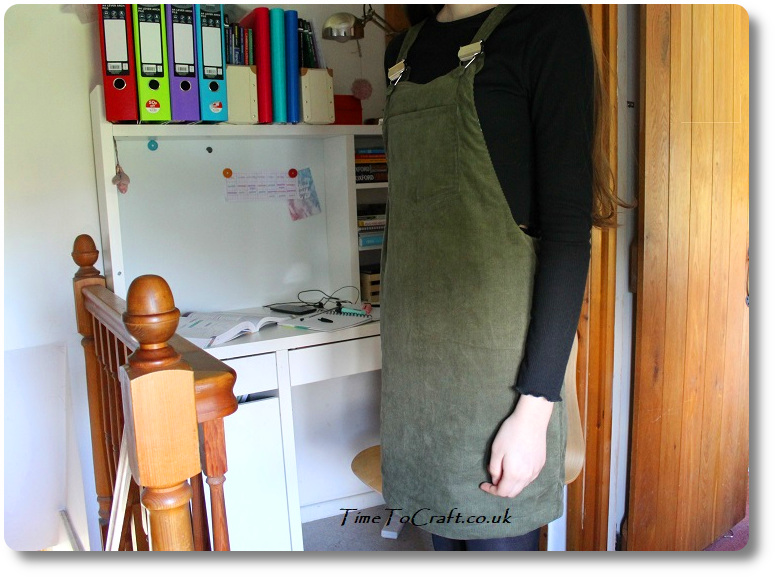 Next issue was the length. She wanted short. I wanted it longer. She wasn't going to wear it, if it was too long. So we met half way. Somewhere between agreeing the length and her trying it on again, I swear she had grown. It was shorter than either of us wanted. Luckily, I'd given it a huge hem and was able to let it down.
Everyone is happy now.
The next part is down to me having fun with the project and adding a little more detail. Stretching out the end of the project again. I'm so glad my daughter was up for a little extra, total unnecessary lace. I thought it would be frivolous fun to add trimming to the lining, making it a pretty petticoat. If it ended up on show, at least it was going to look good.
(Did anyone else grow up with the expression, "It's snowing in Paris", meaning your petticoat is showing?)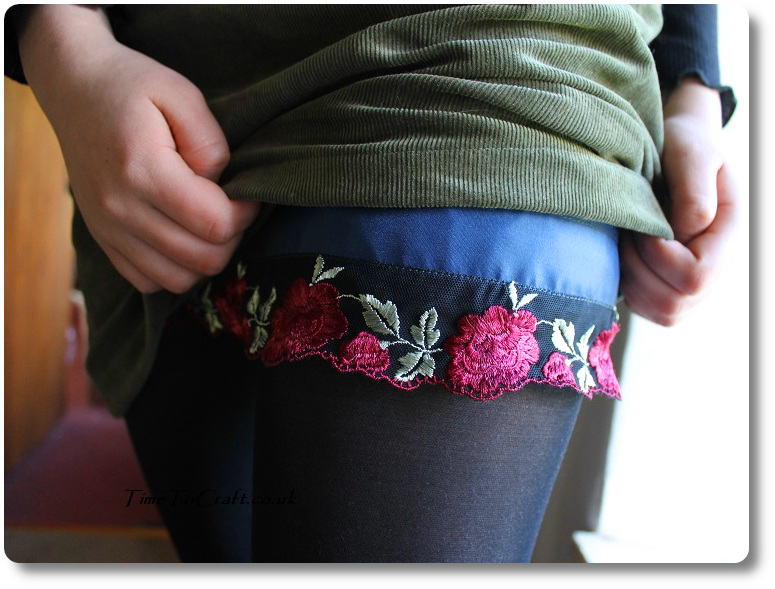 I got the floral lace in a lucky dip bag of trimmings, years ago. Every now and again, I find the right project for one of the lengths of ribbon or lace. This piece's time had come. I had a little left over once I added it to the hem of the lining/petticoat. I love it!
As eldest was showing her sister, I laughed that not many people would see it. Oh no, she told me, she'd be showing her friends. I'm still weighing up if this is a good thing.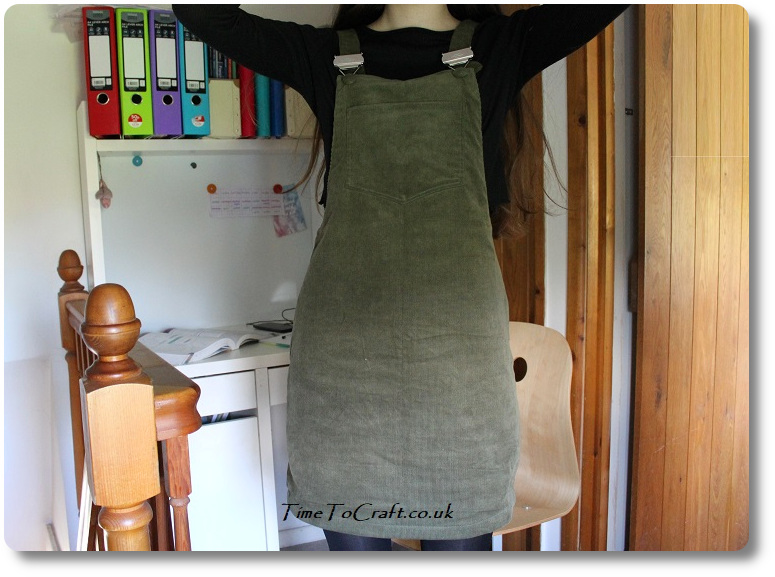 The Cleo is complete. I really love how it has turned out. Looking at the photos, it looks quite plain, so I'm glad I did add a bit more. Even if it is not on show.
She is wearing this to school today. She says that it's comfortable to wear. With all the extra structure and detail, I know it won't let her down.
Right. The next project is cut out and ready to go. I wonder how long it will take me to finish?