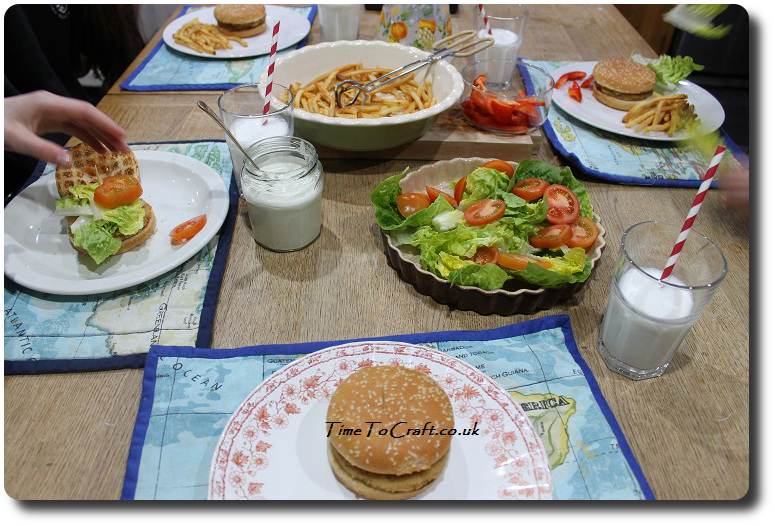 Years ago, before children, my husband and I used to go to an American diner at the top of Park Street in Bristol. It was a Saturday treat. We'd reminisce about a fabulous holiday we'd had a year previously in New England, while perching on tall stools at the counter, eating burgers, slurping our drinks through straws and listening to the likes of Buddy Holly.
We also had a favourite burger joint in Bath, where they served their burgers with the best blue cheese dressing I've ever tasted. My absolute favourite.
Roll on a decade or so, and I think the Bristol diner has transformed into a different themed eatery. The Bath burger is now a gourmet burger joint with prices to match. Not a great choice for a family of five who just want a quick burger.
I guess we all have to move with the times.
Not to be thwarted, my answer is to replicate some of those favourite memories at home, in my own style. Themed evenings are always greeted with enthusiasm by the rest of the family. Don't tell them, but it's also a perfect time to introduce something new too. Shh.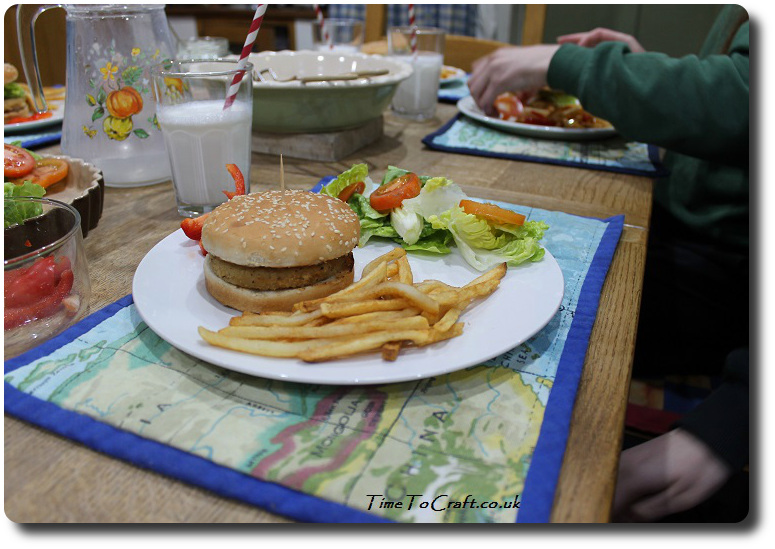 With three children, after school meals are often squeezed in between picking up one child after a club, before heading off with another to a different venue. So meals need to be either prepared before hand or be thrown together at the speed of light. Enter the chicken Rustlers burger. Ninety seconds in the microwave. Everything else can be chopped up or prepared earlier.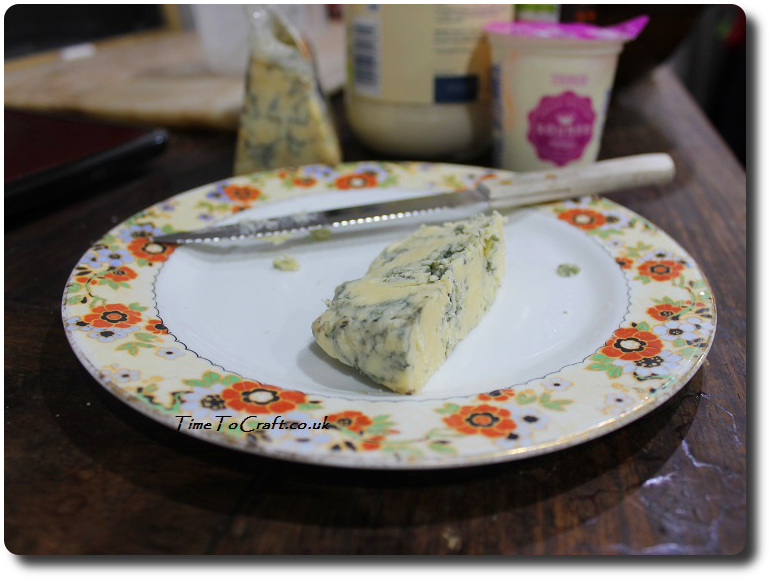 Take a day recently where I needed a quick meal for a fast turn around. I prepared the blue cheese dressing during the day. I'm still perfecting the recipe. This one was good, but I need a bigger cheese kick from it.
Recipe (so far)
60 ml sour cream
120 ml mayonaise
60 ml milk
35g to 70g stilton or blue cheese of choice
dash of worcester sauce
Combine everything together in a bowl, until thoroughly mixed. Store in the fridge and use in the next few days.
I prepared the lettuce, and sliced tomatoes and peppers at the same time. Ready to be served straight from the fridge, later on that day.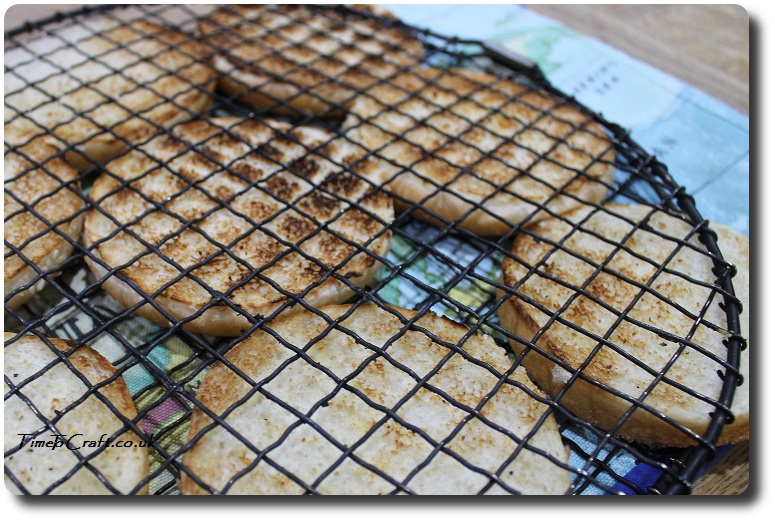 Later – One child picked up.
Next step was to pop a tray of quick french fries in the oven. These ones take 5 minutes. While they were in, I toasted one side of the buns on top of the Aga, to give them a chequered effect, and microwaved the burgers.
I made a jug of vanilla milkshake (600ml milk and 6 scoops of vanilla ice cream blended using my hand blender, to serve four)
Then Bob's your uncle, everything was ready.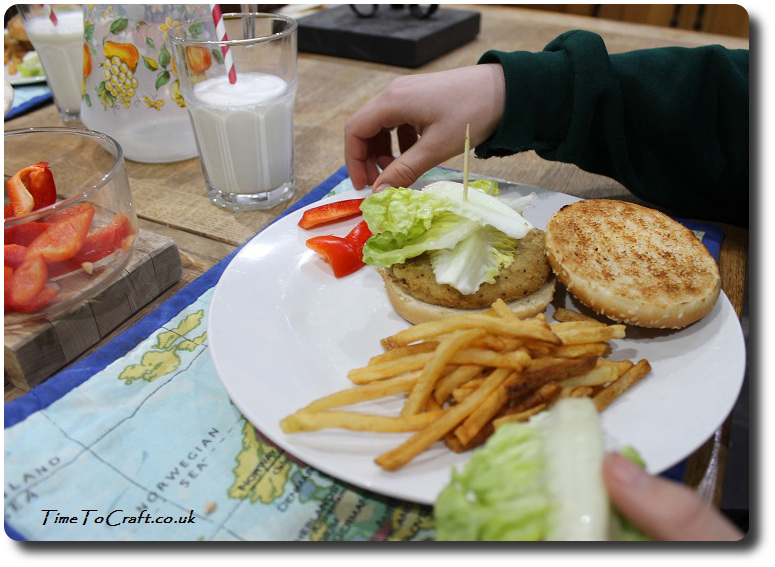 The children loved putting their own versions of the burger together, while I poured out milkshakes into glasses with stripey, paper straws. A Bing Crosby/Jerry Lee Lewis CD playing.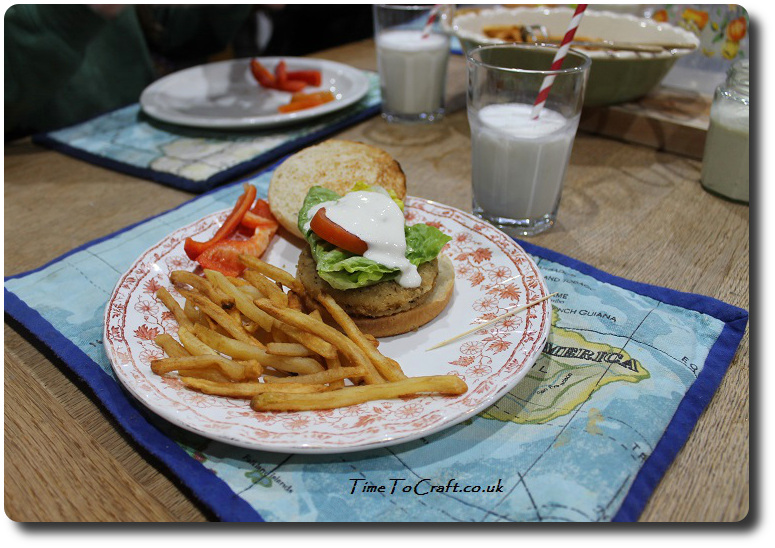 Plenty of time to eat, before heading out the door with another child.
Ever feel like you're playing out your own version of Mission Impossible? Breathe.
My tween and teens loved their burgers and enjoyed the American theme. The sesame seeded buns were greeted with squeals. I was impressed by the Rustlers Southern Fried Chicken Burgers. They tasted good and didn't feel like a compromise. At £2.50 for two, they are more affordable than a gourmet burger. The packaging is recyclable too. I can see us doing this again. Although I'll be working on that blue cheese sauce, in the meantime.
---
This post is an entry for BritMums 'Rustlers Burger Hacking Challenge', sponsored by Rustlers