The purple jumper gang
It's not often I make two things the same. If I do, it's usually something small like a cowl or mittens. Quick and easy. Even then, there will be a difference in some way. A different colour. A tweak to the pattern.
But a jumper. Two identical. No.
Except I have this time. Once my husband saw the purple hoodie I knitted youngest over the summer, he dropped hints. The strange thing was, that I had over ordered the purple yarn. It was almost as if, deep down, I'd anticipated that I wouldn't be through with this knitting pattern after the initial one had left the needles.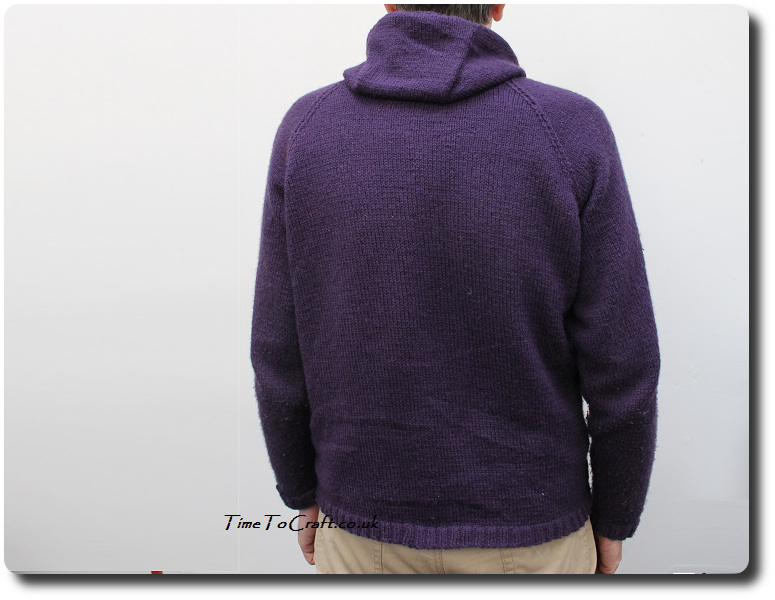 I cast on, once more. Not such a quick knit this time, due to the size. I finished slightly too late for it to be wrapped up and put under the Christmas tree, but it's done now.
My husband loves it. He says that it is surprisingly light and warm. He's worn it to the office most days this week.
The only part I'm not happy with this pattern is the hood. It looks fine down, but when worn up, it's a different story. More like a 1950s young child cocoon look, if you get what I mean. Snug around the head, with a last minute thought of an opening for the face.  In hindsight, I should have pondered why the photos on the pattern sheet, show the hood down in all four photos.
On the upside, it does look good down.
To make up for the lousy hood, I have knitted a beanie hat in purple. Again, this has gone down well, but we do disagree with how it should be worn on his head. I say pulled down. He says pointy.
So, no hat photo.
Before I finish, and just to prove that I haven't somehow stretched the first version, here are the two jumpers, because we all know that twinning is winning!
14 Responses to The purple jumper gang
There have been cases when people lifted my photos and words, and used them without credit to me or asking permission first. Using them for their own commercial gain. I have now added a level of security to deter people from doing this. Apologies to people who do play nicely. If you would like to use any of my photos, please contact me.
All my words and photos are copyrighted to me. They cannot be used for commercial benefit by anyone else. If you would like to use any of them, then please ask me first and don't just take. Written permission only. Don't pass my words, photos or ideas off as your own. It's not nice.
Cookie Policy
Our web pages do not use cookies however this website uses Google Analytics, a web analytics service provided by Google, Inc. Google Analytics uses cookies to help us analyse how people use our site. The use of cookies by Google Analytics is subject to change.