Gruesome garden creations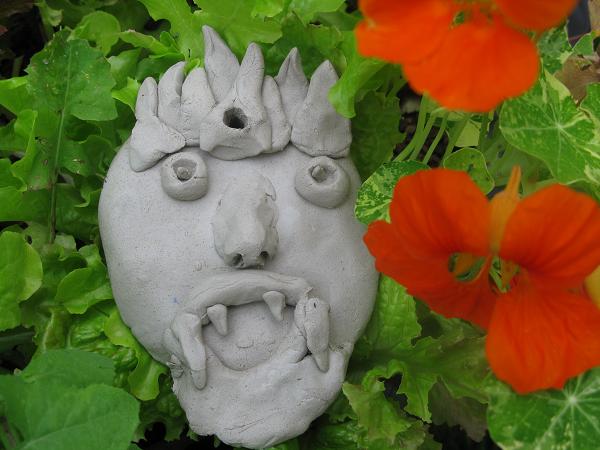 A truly scary sight to find among the nasturtiums. And I like nasturtiums too. I swear this one looks a lot like someone I used to work with. It's the goaty beard and spiky hair rather than the fangs!
We are still on our history theme. I suspect we will be for some time yet. I love that one little observed detail can span out to prompt so many diverse questions. We love to spot the little faces set high up on the outside of churches and cathedrals. Today we dragged out the air drying clay and made a few grotesques.

I love how it prompted discussions about how weather corrodes, pagan and christianity, skilled crafts people and modern politics. It was an afternoon that included art, observation and structural engineering!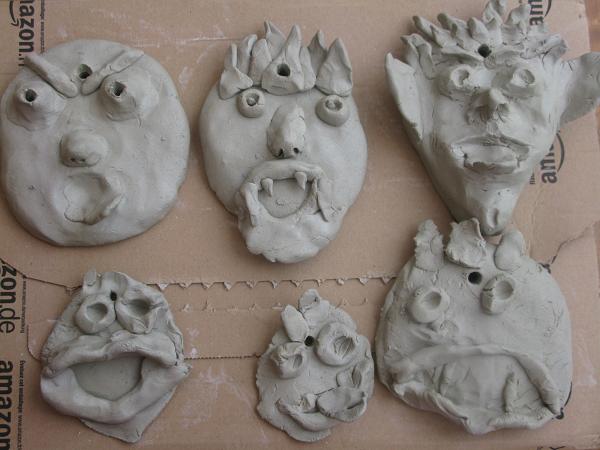 Another fun crafting activity that all of them could enjoy. No right way to do it. Everyone had a different approach. We added a hole at the top as we intend to nail these to the new shed in the garden. Sealed with varnish to prevent premature erosion. TF is worried that they might frighten the good spirits away as well as the bad, but I think they will see the funny side. What do you think?
(Actually, with all the electrical devices that have failed in the last few months in the kitchen, I might try a few in that vicinity.)
I'm linking this up to Nuture Stores Carnival of Outdoor play.