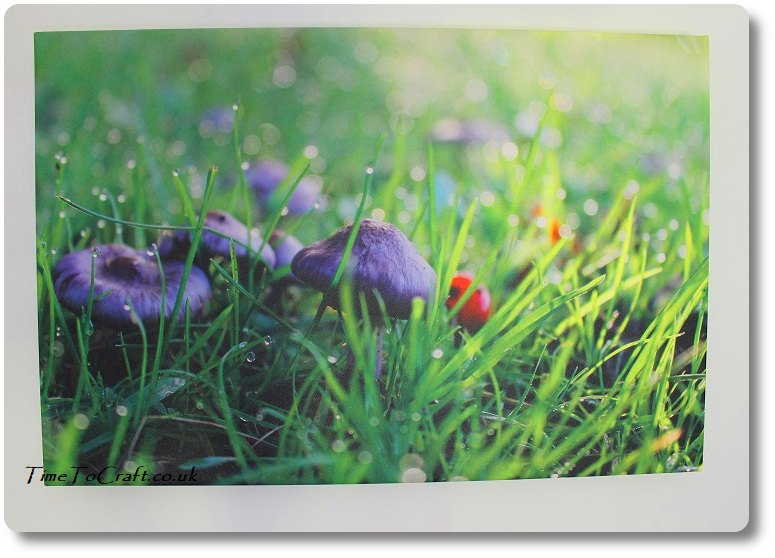 ---
*ad: this is a review post. The canvas was gifted to me by Photowall in exchange for a fair and honest review.
---
This photo was taken back in autumn. If you're a regular reader, it might just ring a bell. It was a frosty morning and I lay down in the grass for a good hour, taking photos of the patch of purple toadstools. They'd appeared in the garden almost overnight. I revelled in the changing light, as the sun came up, capturing the subtle changes. Sparkling water droplets and the burst of colour. I was happy with the results. Plus I'd taken an hour to myself. It felt indulgent.
When Photowall, who produce custom wallpaper and prints, approached me to review one of their products, this photo was the first I thought of using. They have an amazing, large collection of images that you can use, instead of your own. All grouped in themes, such as nature, vintage, maps, transport, sport. If there's not at least one image, that jumps out and sings to you, then call me surprised. It really is a fabulous collection.
They also do wallpaper and posters.
I wanted to test out how one of my photos would look on canvas. I was interested to see how true the colour would feel and also the sharpness.
It was really easy to order. You upload a photo to their website and it steps you through, finding the right size for your photo and its resolution. I went for a frameless print, as I love the way the image can be wrapped around the sides, but you can opt for framed.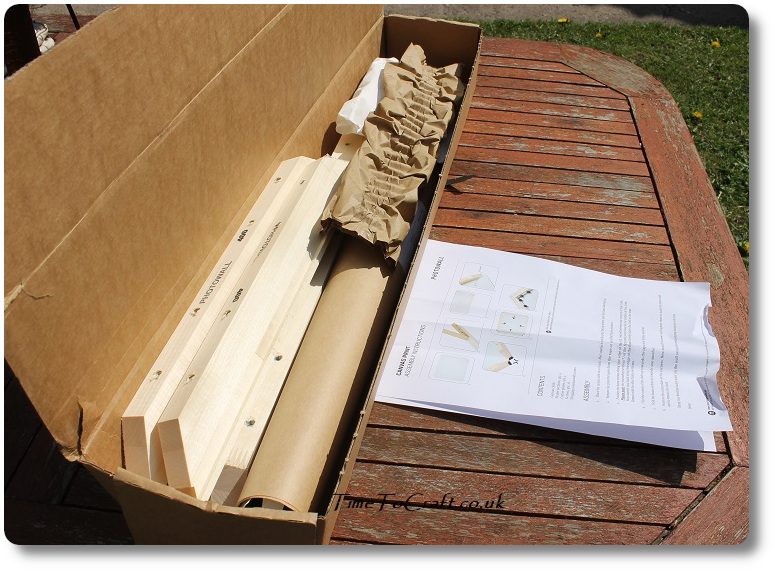 I pressed go before 9am. By lunchtime, the next day, the package had arrived from Sweden. I don't know if I hit a sweet moment, but seeing as there is a pandemic on the go, I thought it would take longer than the 1-2 working days.
It arrives as a kit, but don't be put off. It is really easy to put together. Rip off the adhesive strip cover and line it up. Even the screws don't need a screwdriver. It really is easy. I was surprised. It took less than five minutes. Everything you need comes in the box. Including a hook, screw and wall plug to hang it. (Obviously, you'll need a drill and screwdriver of your own for that bit, but you would for any picture.)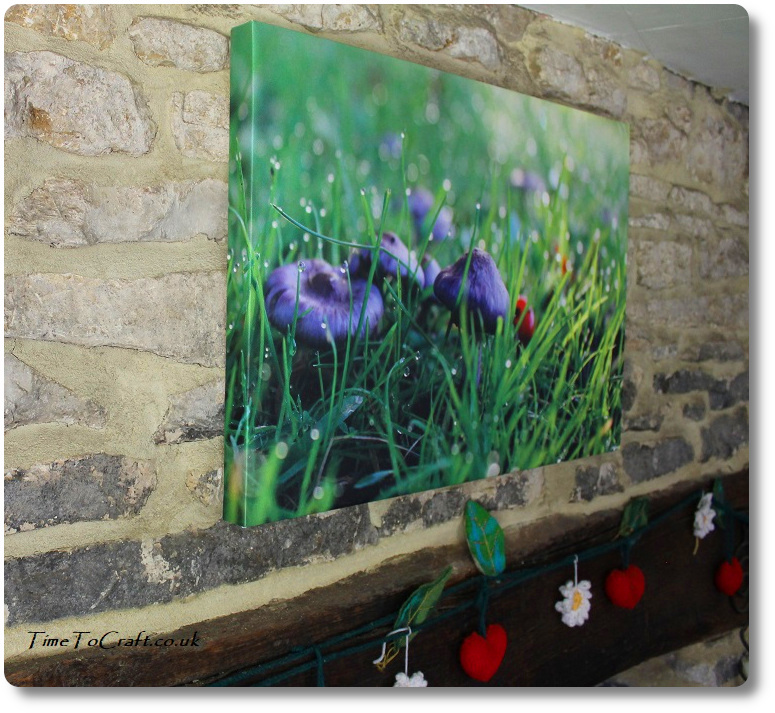 So how did it look? I know this photo well. My eyes instantly jump to the parts that should be in focus, bright with light and saturated in colour. Part of me worried that it would not scale up and might lose its intensity.
I unrolled the canvas, holding my breath.
It worked. It really did. The colours are strong. The texture of the toadstools is there and the light on the drops sparkle. The canvas gives it a matt surface, as expected. I am happy as a sand boy. It was far easier to order than I imagined.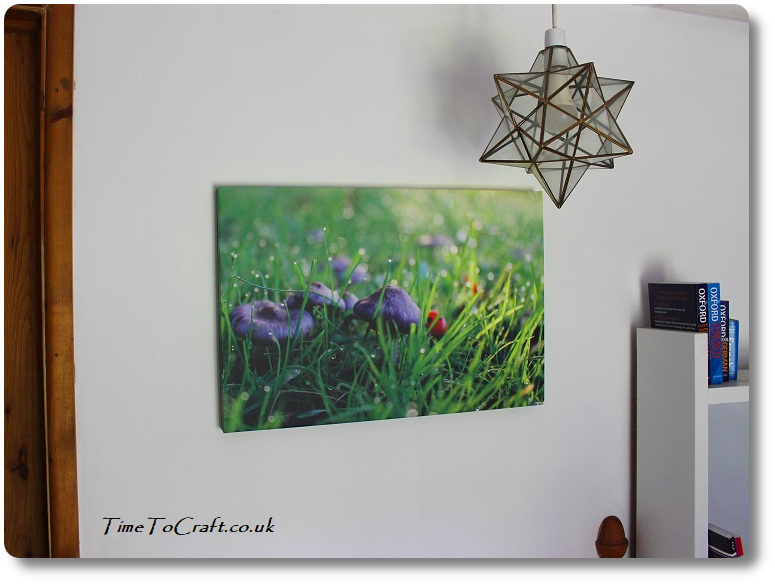 I'm going to hang it at the top of the stairs. It looks better against the white wall than the stone around our inglenook. I'll be able to see it every morning, as I start the day. Certainly a wonderful way to remind me of my indulgent, stolen hour, back last year.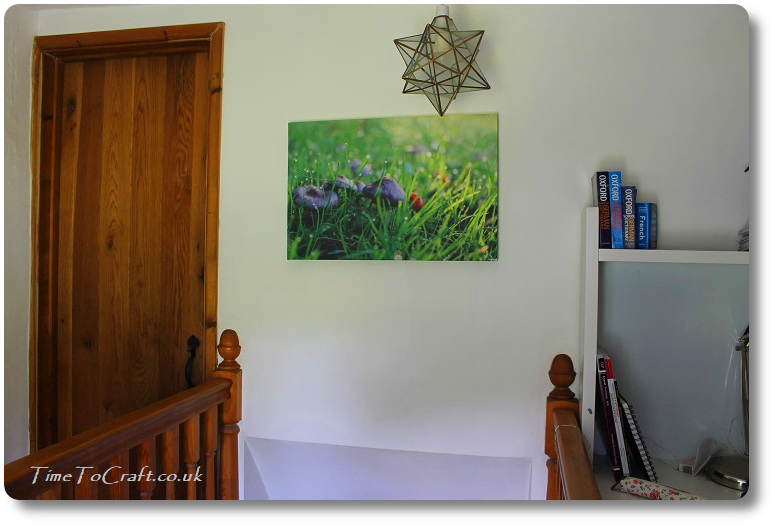 Now I've seen the results, I'm planning on ordering another print. I feel confident that a photo of Hero, the hound, would show his fur texture. I love being able to use my own photo. Receiving this one, certainly cheered me up during the current lockdown.
If you fancy livening up a space on your wall, at the moment, or maybe sending one as a present, Photowall have given me a discount code to share with you timetocraft25 which will give you a 25% discount. It's valid until June 20th 2020. The price for a canvas starts at £38 and posters are from £22. Either use your own photo or choose one of their fabulous array of images.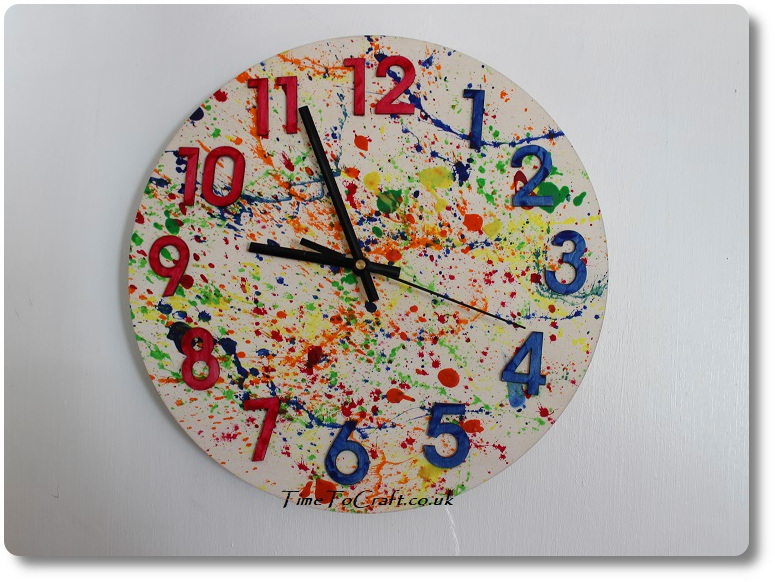 "Comparison is the thief of joy"
If you have a table of children crafting side by side, one of two things is likely to happen. Either they will inspire each other or it falls to bits, with one child slipping from their chair and declaring they "can't do it".
Cue crumpled up paper falling to floor.
It can all change in a split second. One moment they are chattering. Encouraging each other. Next pencils are downed. A glance at the work next to them, may be all it takes. The power of comparison is tangible.
Not an unfamiliar event for the youngest of the family. Sigh.
Being a youngest child, I can empathise with my last born. Somehow you forget that older siblings have several years more practise. Even then, everyone's journey is different. The older ones probably chose and lead the project. With less years under your belt, you also probably don't fully appreciate that we are all individuals and have our own style.
It can be tough.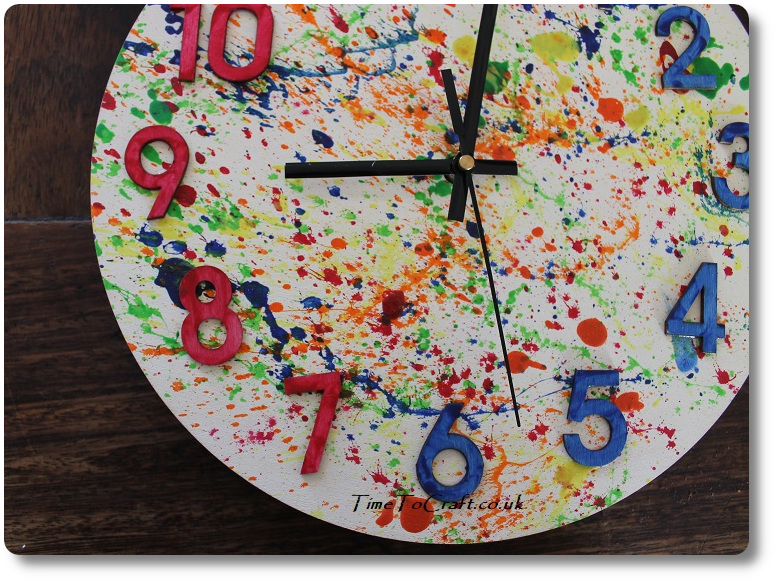 This summer, I've set up a few art and craft projects that give him a chance to succeed. No right or wrong. No comparisons. Working on his own style.
He's had the clock movement for a couple of years, but couldn't settle on a clock face. We found a basic wooden one in Hobby Craft. He loves street art and comic style. I suggested keeping it simple would keep it on the wall for longer. He pointed out that he could always change it later. I like his way of thinking.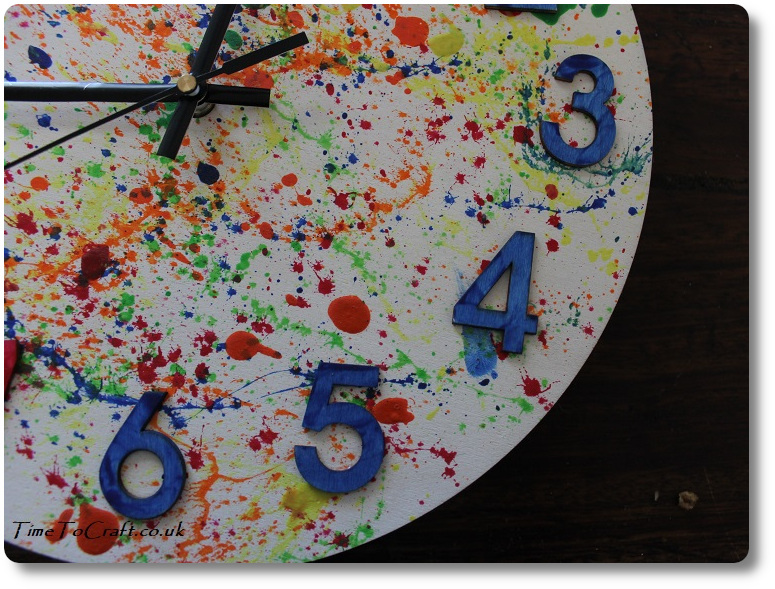 So he went for splatter paint. Boy, did he have fun. Our front path was speckled with colourful paints for days after he finished.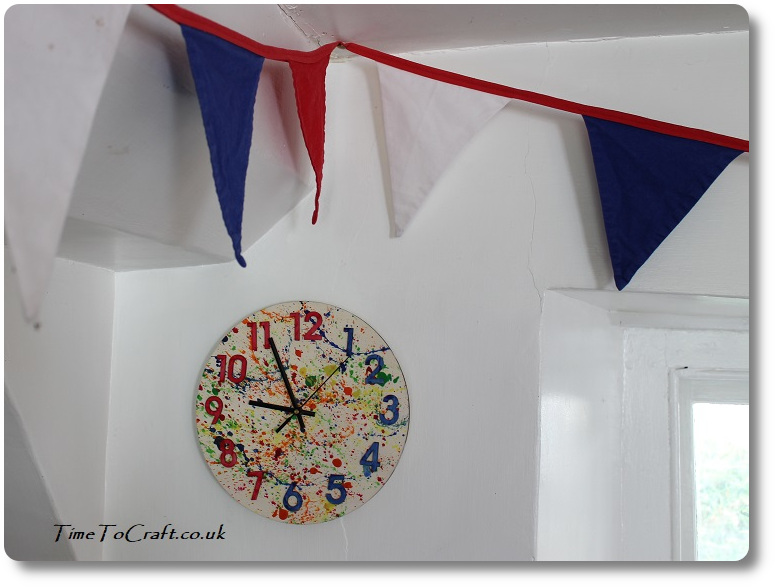 Is he happy with the results? You bet he is. He did his own thing and succeeded. His clock will hang on his bedroom wall for all to admire, and the ticks of the second hand will be a constant reminder to be himself.
Am I happy? Yes. The project was finished. That on its own is a major success. He's pleased to display it too. Not a crumpled paper moment. My heart sings. For one moment at least, I'm riding the parenting wave.
(Cue Beach Boy sound track, and sunset)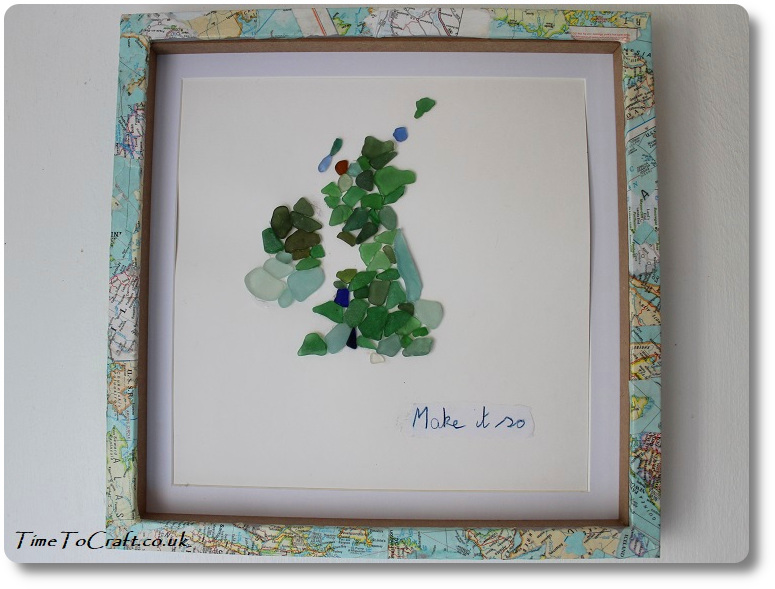 Two of my favourite things. Maps and sea glass. I mainly craft with textiles, but I could give it all up for this kind of crafting. This project was such fun and there was an unexpected twist to it too, but I'm jumping ahead as usual.
At the beginning of the holiday, I took the children down to Hobby Craft and bought a few projects to do over the holiday. It was so much fun shopping with them. OK. A few ideas I vetoed, but on the whole they chose well. Then the inevitable happened, I spotted something not on my list. I'd been so good up to that point. Anyway, there it was. A grey shadow box in the half price bin. Perfect for covering the frame with sea glass, because grey is major boring. I could add an inspirational quote in the middle.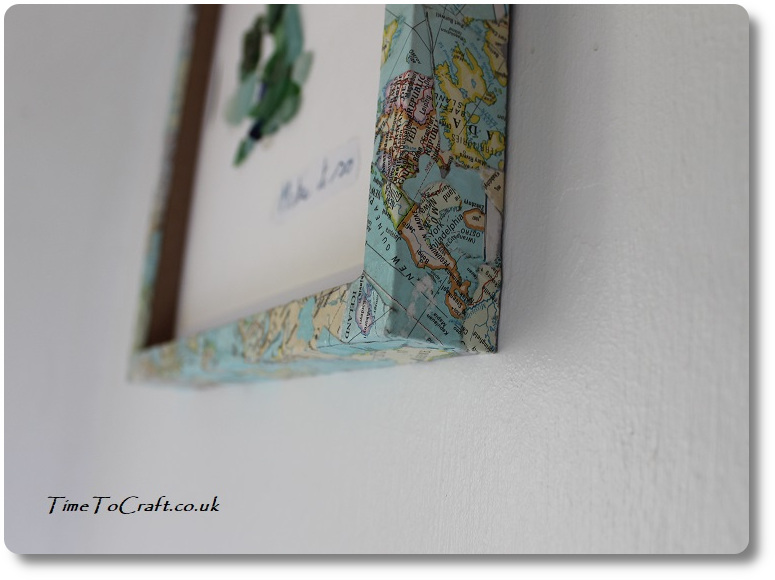 Once I got home, I realised the sea glass did not work, but world maps were the way to go. Still inspired by the map man we saw in Hay-on-Wye. Fortunately, on my list had been a large bottle of decoupage glue. I spent a happy afternoon gluing. Rather regret not wearing gloves, as I was peeling glue off  my fingers for ever. Youngest had his own sticky project (more about that another time), so we worked happily together. I love crafting with the children when they really get their teeth into a project. They chatter happily away, making them excellent company.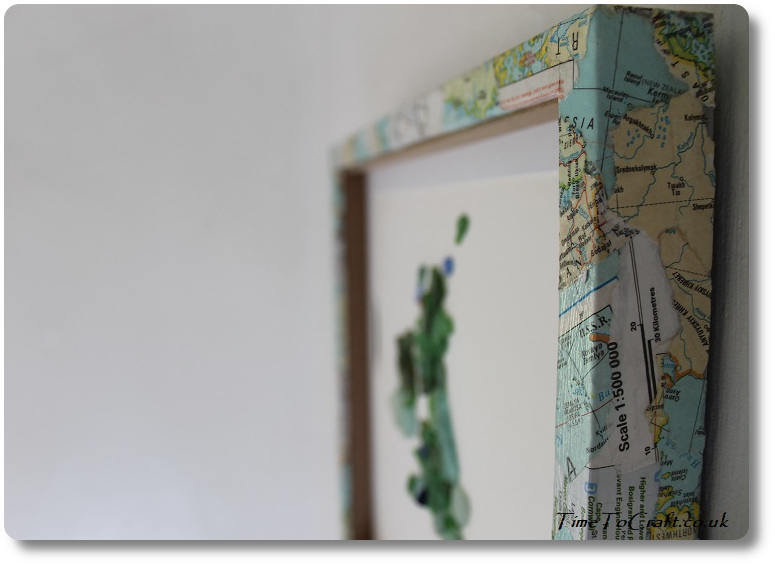 The old map was perfect. I went for the tear and stick method. A mish mash of images. Reworking the world atlas in an afternoon. Imagining how world politics would change if Syria was positioned next to Brazil, or Mexico was overlapping Canada and Germany, and so on.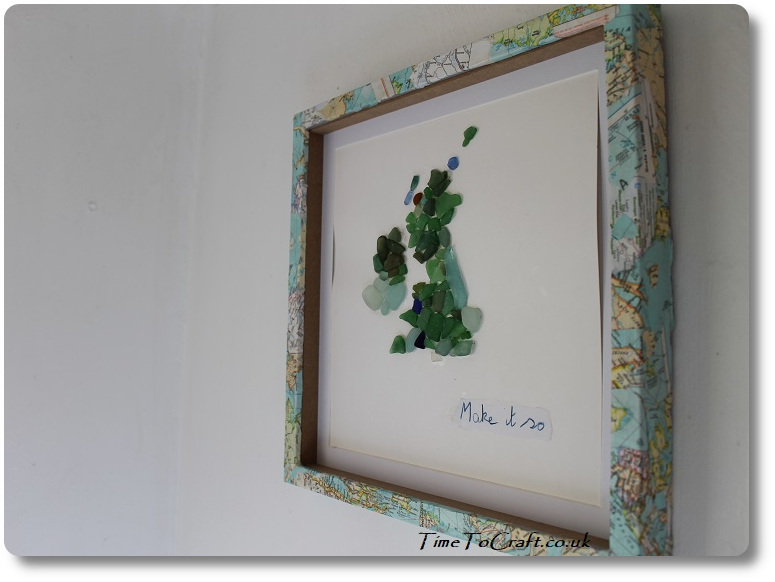 Next up, the picture. Seems a tad back to front way to do it, I'll admit. The frame before the picture, but that's how it goes. I popped the empty frame up on the wall for a few days, hoping that inspiration would hit me. I contemplated different quotes, single bird feathers and even a lone ticket. The family were beginning to wonder if I would ever put something in it. Then one breakfast, I was playing with a jar of sea glass when it hit me. A picture of the UK. Yes! Well that was it. I couldn't stop once the idea took hold. I traced the outline of Britain and Ireland (because Northern Ireland looks lonely without Southern Ireland there) and started arranging the sea glass. I kept coming back to it and moving pieces around.
Using PVA glue, I stuck the sea glass on the card stock. Even then, I removed some of the then sticky glass and swapped them around.
Once dry, I added the frame and hung it up in the downstairs loo. I added a note "Make it so", which is a reference to Star Trek and hopefully will inspire the children. Although, they don't know the connection to the Sci-fi series/film, unless they are reading this. (In which case, surprise!) My aim is to make them think.
I've finished it. No more fiddling with the position of green sea glass. Final act is to stick the picture to the backing, to eliminate the slight bulging edges of the card stock.
Now for the twist. As I prepared the photos to add to this blog post, I spotted something unexpected. Had to check it out with the real picture, to make sure it wasn't just a trick of the lens, and it isn't. Not sure why I hadn't noticed before. In fact, I seem to have positioned the glass bits as if I had done it on purpose. Apparently, my subconscious was working on a whole different project.
Take another look. Can you see it?
It's a dragon. Puffing smoke rings up into the sky. (Apologies to those who are not familiar with places in the UK, but I hope you get the gist of it.) The top of Scotland is the snout, with the Skye and Inverness/Aviemore making the eyes. Ireland is the wings and Wales are the spikes along the back. Cornwall and Devon are the tail. I could not have positioned the long thin light blue glass, to make a dragon's belly, better. Can you see it? It's a dragon, but the UK at the same time. I may never be able to look at the map again, without seeing the dragon too.
Double reason to be happy with my picture. Maybe I should try another country and see what my subconscious makes of it. Sea glass is so much fun to work with. Fun to collect too. A good excuse to head for the coast, me thinks.
What do you think? Dragon or the UK?
Hope you are having a good weekend. Till next time.
Photos
There have been cases when people lifted my photos and words, and used them without credit to me or asking permission first. Using them for their own commercial gain. I have now added a level of security to deter people from doing this. Apologies to people who do play nicely. If you would like to use any of my photos, please contact me.
Copyright notice:
All my words and photos are copyrighted to me. They cannot be used for commercial benefit by anyone else. If you would like to use any of them, then please ask me first and don't just take. Written permission only. Don't pass my words, photos or ideas off as your own. It's not nice.
Cookie Policy
Our web pages do not use cookies however this website uses Google Analytics, a web analytics service provided by Google, Inc. Google Analytics uses cookies to help us analyse how people use our site. The use of cookies by Google Analytics is subject to change.