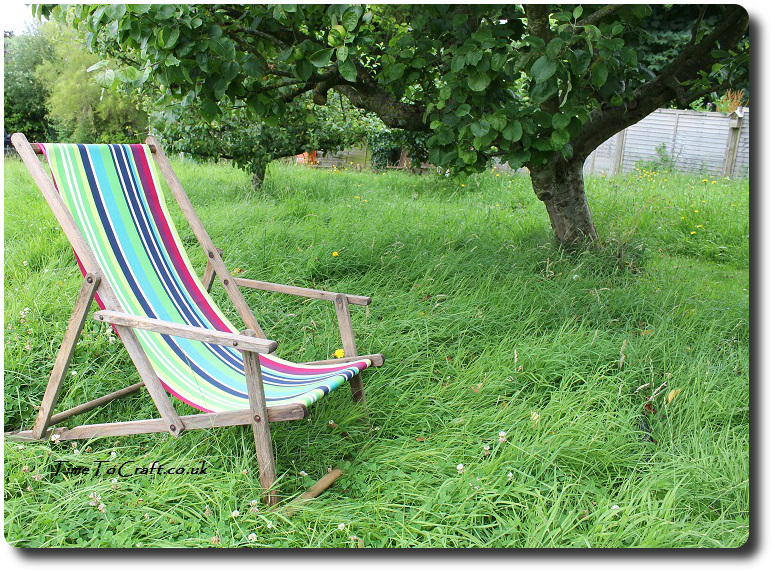 "It can go. It's too broken."
"Are you sure?"
We have a lot of conversations like this one. Mr TTC and me. After being together 23 years, we have amassed stuff, and the thing about stuff is that eventually it wears-out/breaks/is-no-longer-fit-for-purpose. It stops being stuff. It starts being a disposal issue.
This week, it was the turn of our last deckchair.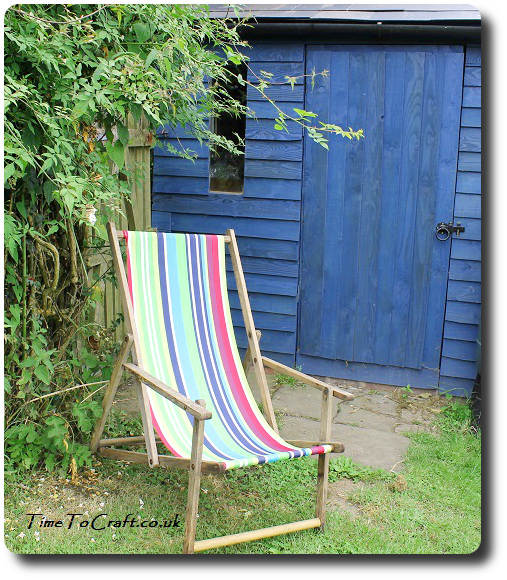 In all fairness, this chair has done well.
It first became our stuff on our wedding day. 18 years ago.
When we married, we decided that the wreck of a house we were doing up, needed a new roof more than we needed a fancy day. Mostly on the principle that, it might be better to have a water tight house to spend the rest of our lives together, than the memories of one spectacular day.
So we bought a roof, and went on to thoroughly enjoy a simple wedding reception in the back garden, on the big day. It was a wise decision.
(Look at that roof line! There were saucepans and buckets in the roof overflowing with rain water, positioned under the many holes)
Problem was we had more wedding guests than chairs, so the call went out for guests to bring a chair. What can I say? Roofs are not cheap.
My sister arrived bearing three deck chairs. They weren't new and, as she took in the state of the property, she told us to hang on to the chairs.
So we did. At least now we had somewhere to sit in the garden and ponder the wisdom of buying such a full on renovation job of a house.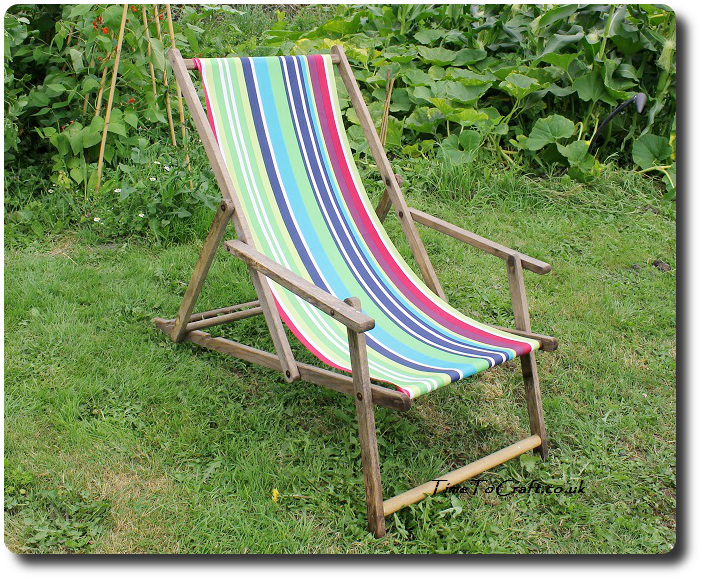 Gradually, over the intermediate years, the deckchairs slowly aged. Two fell to pieces and the frames went into the fire wood pile.
This week, it was the last chair's turn. Except this time, my husband chose to see it as a challenge. Maybe it represented something different to him this time. Maybe he saw my expression as I contemplated that this year I wouldn't be sitting in the orchard sipping Pimms, reading a book and ignoring the children enjoying five minutes peace and quiet. Who knows, but he decided to save it.
He fixed up the frame and treated the wood. He is clever at mending things. I was tasked with sourcing fabric. Fixing the fabric to the frame took a few minutes. Only task left to do, was to test it out. There were more than enough willing volunteers, as you can probably imagine.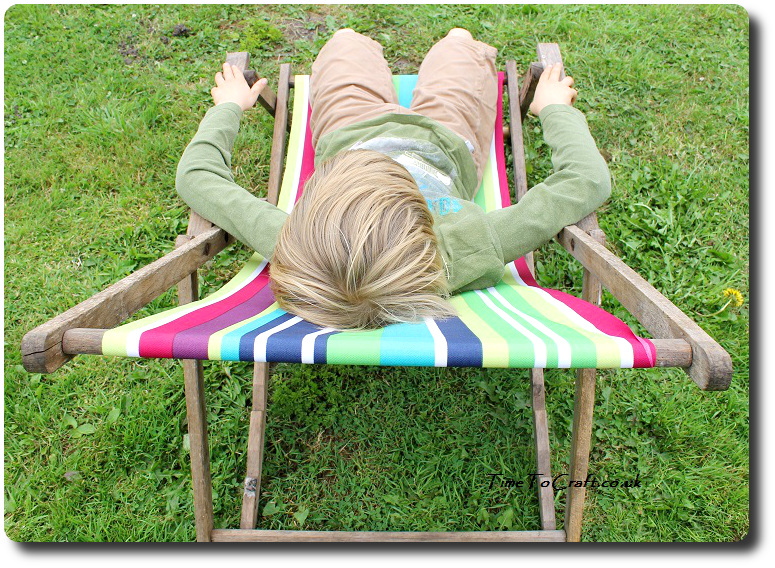 So the last deckchair remains in our stuff. I'm happy. I can continue to re-enact the front cover of a Country Living magazine. Just need the sun to come out again and I'll disappear off to the orchard. Anyone going to join me? Please bring the Pimms, if you would. Look in the fridge. Second shelf down. Already made up in a jug. Perfect.
See. Told you it wasn't about the deckchair.