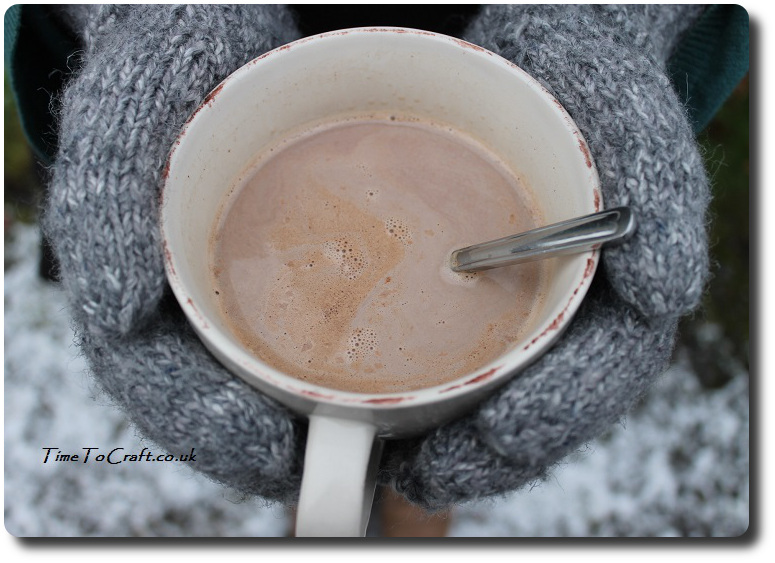 Making the most of the merest of sprinkling of snow to take my photos today. Perfect backdrop for my latest finished knitting project. Grey against the white seems to show these gloves off at their best. Although, I bet the hot chocolate takes the focus. It certainly kept my hands even warmer, during the photo shoot, and the contents soon disappeared. Brr! It sure was chilly out there.
But back to the gloves. It's been eons since I last knitted gloves. Mittens are fast and furious to knit, and easy for young children to wear. So knitting mittens have been a natural course in the last few years. I have created basketfuls of mittens since becoming a mother. Seriously. Basketfuls.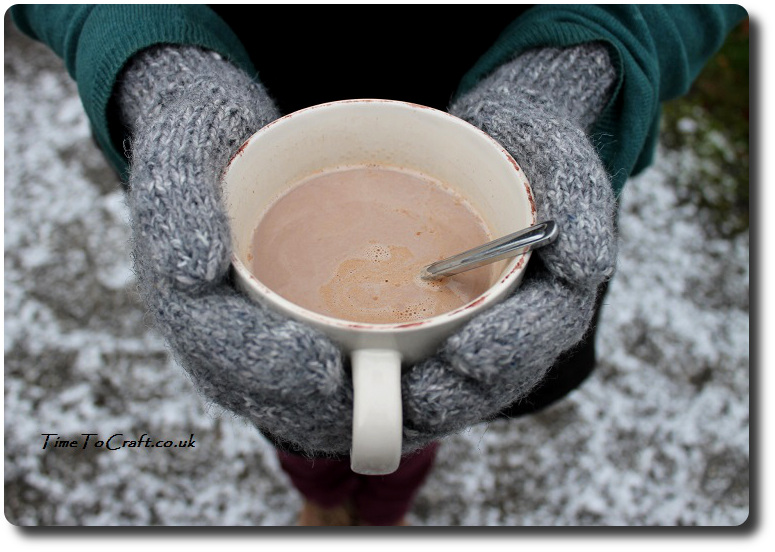 So why gloves now? Cold hands. Walking to school, last week, I had three choices: big, chunky gloves, fingerless gloves or nothing. None seemed to fit the bill exactly.
Back home, I dug out my Grandma's glove pattern. I've used it before. Also, a couple of balls of wool picked up last year from a charity shop for 50p. ( I know, 50p!) The yarn is Sirdar Freya  – short and brushed winter cotton grey. Not a yarn mixture I'd normally choose. That's true for the colour too.
Grey is not kind to my complexion, or the increasing grey in my hair. I like grey. I even like the grey in my hair, but combining too much grey, saps all the other colour out of me.
Gloves are a perfect solution. Not near my face – well not often. I'm incredibly glad I bought this wool in the end. I was surprised at how exceedingly warm it turned out. It is described as brushed, which does seem to trap the warmth, as it should. Being a cotton blend, it has less give than wool, when you're knitting it, but wonderfully luxurious when finished.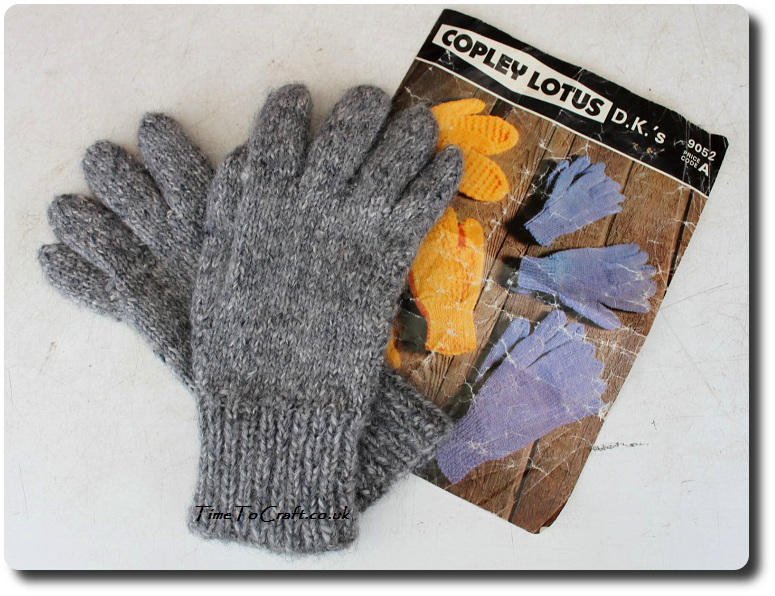 The glove pattern was printed in 1975. I like using it. Next time, I might down size the needles when knitting the cuff, as it could be a bit more snug.
Grandma has added her notes to the pattern. Judging by her numbers, she counted every other row and used it a few times. There is something comforting about using a pattern that she would have knitted on a similar cold, winter evening too.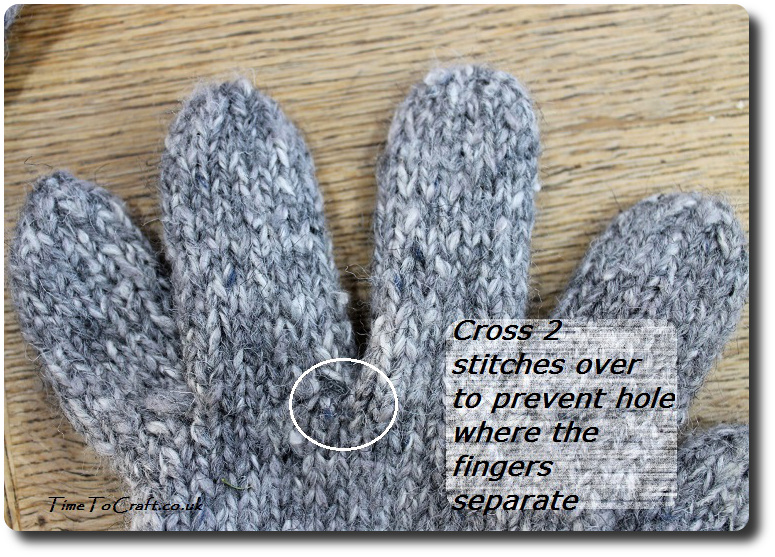 Something new. I used a tip I picked up on Pinterest to prevent holes where the glove splits into fingers. I usually end up stitching closed resulting holes. For those of you that knit gloves and have the same issue, the answer is to cross over two stitches, as you split the glove. It fixes the problem very neatly.
I love my new gloves. They are lovely to wear. Warm without being too chunky. Not itchy, in the least. For the ladies's size, it uses 60g of yarn. Three balls of 20g each, according to the instructions. I like the idea that you could walk into your local wool shop and buy a 20g ball with no problem or compromise. It makes sense. Multiples of 20. Less yarn left over, as you can buy nearer to the required quantity.
For these gloves, I started with 100g of yarn, I still have about 40g left of it. It might make a smaller pair. I know my boy hopes they do. He'd like a pair too. For the school run, of course. Can you imagine? If I manage it, I'll have made two pairs of warm, luxurious gloves for 50p. Just goes to show that sometimes those odd balls of yarn in charity shops may be a better bargain than you thought.
If that's not a good reason to learn to knit, then I really don't know a better.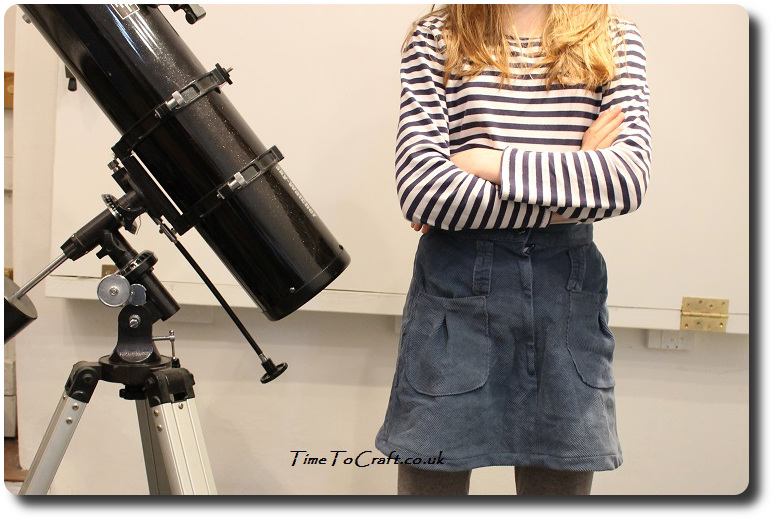 I've had a corduroy skirt put aside for a while to work on. I think it used to belong to one of my big sisters and then handed on to me for dressing up. Once I was past that stage, I left it in a box. Using it to protect the contents of the box, during the many house moves that followed. I'm not sure I meant to keep it. I can't remember feeling particularly fond of it. The skirt must date back to the 70s.
The label is faded, so I can't tell which shop it originally came from. Or what size it is. Or even the washing instructions, if I wanted to. The skirt has seen better days.
(I took this photo last week, but somehow it still looks like its the 70s)
This week, I offered it to my stargazing Middle Daughter. It fitted her perfectly, but she didn't want it. Don't be fooled by the happy photo just above. She said that there was no way she would wear it. For a moment I wondered if the skirt was about to return to it's former role as cushioning in boxes.
Ok. I understand. It was not her style. It was longer than this Tween would wear and decidedly dated. As she modelled the skirt I couldn't help thinking that if I added a bonnet, she could rock a "Little House on the Praire" look. Sweet but most definitely not her.
Her style is shorter. She loves to wear shorter skirts over leggings. Jeans are not comfortable for my gymnast, so she opts for leggings. If she wears tunics, then it looks great, but with shorter tops the leggings transform into pyjamas. As if she's just rolled out of bed. By wearing skirts over the top, it helps to show that she's sporting leggings not pjs and also adds an element of modesty.
So I offered to shorten the skirt.
I cut it down to size, which transformed it and she said she would wear it, but only at home. Not outside. Hmm. Not really a win then.
She didn't like the buckle. It wasn't adding much to function of the skirt and had left rust marks on the fabric. It seemed to be more for decoration. I agreed to remove it and add a different button. We had fun going through the button tin, selecting the perfect button. The joy of a button box. She chose an enamel style flower button which is more contemporary. It always amazes me how changing a button can transform an outfit. The same way that new handles on a cupboard can change the look completely. Taking decades off it.
Back to the skirt. The pockets now looked huge on the shorter skirt. Completely out of proportion. I removed them, which left an obvious line on the skirt where the pockets had been attached. There wasn't an easy way to remedy the marks, as they were too deeply ingrained after so many years of washing and storing. The only choice was to cover them. Using some of the fabric cut off the length, I made new patch pockets. Smaller and rounder. I suggested a bit of colour too. I also used the buckle fabric, minus the rusting buckle, to cover up the obvious line where the pocket had been connected up to the waist band.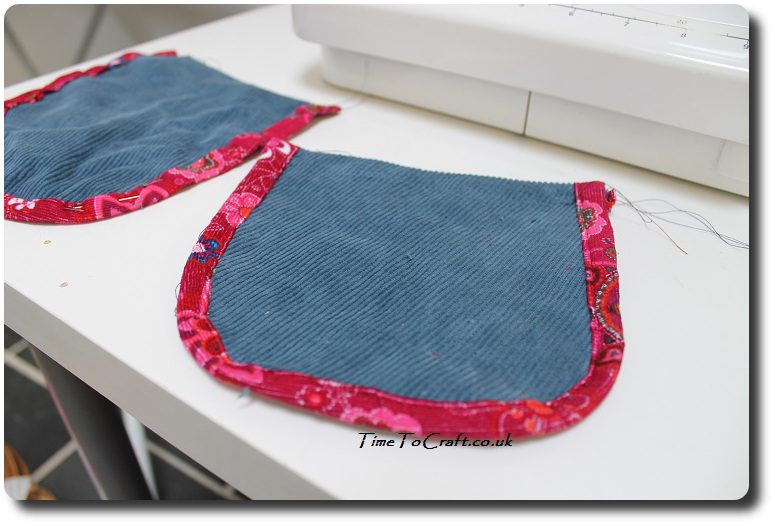 She liked the idea, but once the pockets were in place, they stood out more than the original pockets. They had to go.
I removed the colourful edging and pinched the top of the pockets to change the shape again. Then positioned them back on the skirt, covering up as much of the old stitch lines.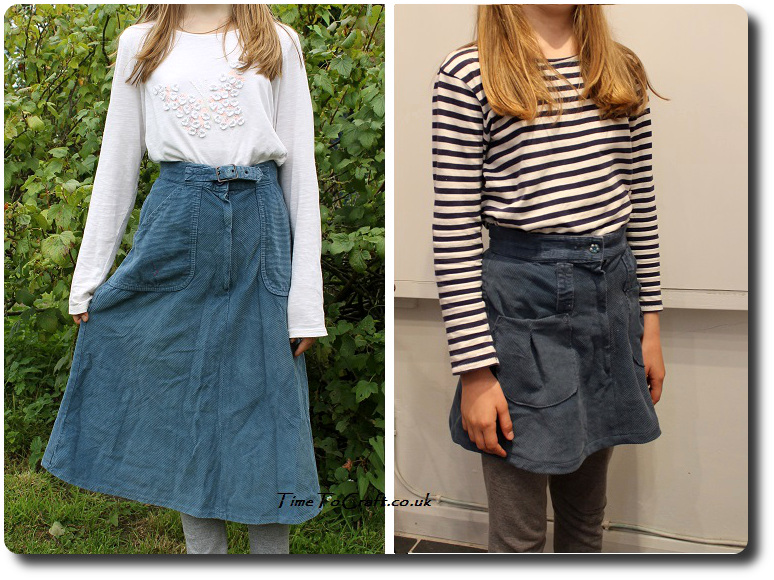 As an upcycle project goes this was fairly straightforward. A bit of extreme scissor work reminds me of my ugly jumper upcycle. It helps that the skirt was well made to start with. Threads had started to undo but apart from that it was perfectly wearable. I suspect there may be a few people that think I should have left it as it was, but then no one would have worn it. I could still improve it by playing with the position of the button and giving it a good ironing, but I may need to sneak it away from her.
She loves the new improved skirt. Apparently it is very comfortable. It does fit her in all the right places. I guess we'll have to wait to see if she wears it anywhere than home.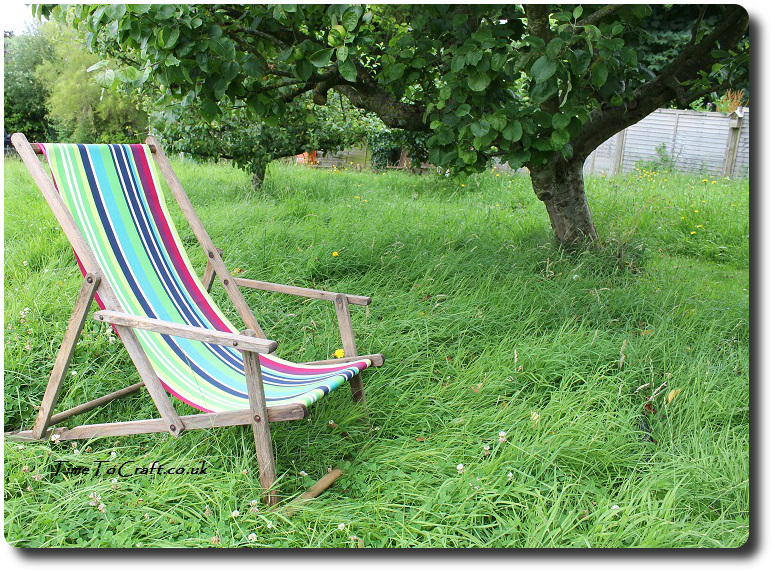 "It can go. It's too broken."
"Are you sure?"
We have a lot of conversations like this one. Mr TTC and me. After being together 23 years, we have amassed stuff, and the thing about stuff is that eventually it wears-out/breaks/is-no-longer-fit-for-purpose. It stops being stuff. It starts being a disposal issue.
This week, it was the turn of our last deckchair.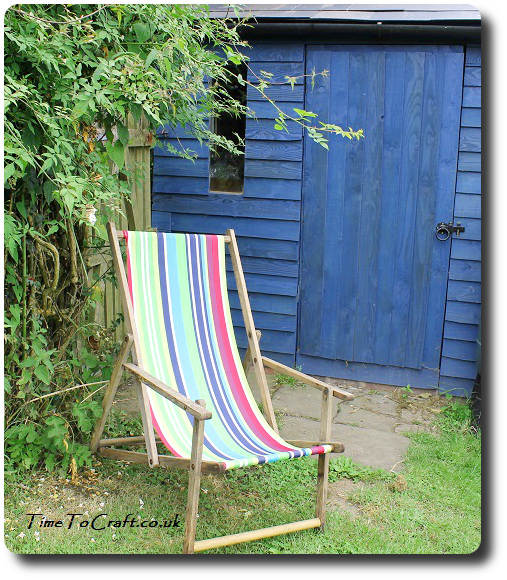 In all fairness, this chair has done well.
It first became our stuff on our wedding day. 18 years ago.
When we married, we decided that the wreck of a house we were doing up, needed a new roof more than we needed a fancy day. Mostly on the principle that, it might be better to have a water tight house to spend the rest of our lives together, than the memories of one spectacular day.
So we bought a roof, and went on to thoroughly enjoy a simple wedding reception in the back garden, on the big day. It was a wise decision.
(Look at that roof line! There were saucepans and buckets in the roof overflowing with rain water, positioned under the many holes)
Problem was we had more wedding guests than chairs, so the call went out for guests to bring a chair. What can I say? Roofs are not cheap.
My sister arrived bearing three deck chairs. They weren't new and, as she took in the state of the property, she told us to hang on to the chairs.
So we did. At least now we had somewhere to sit in the garden and ponder the wisdom of buying such a full on renovation job of a house.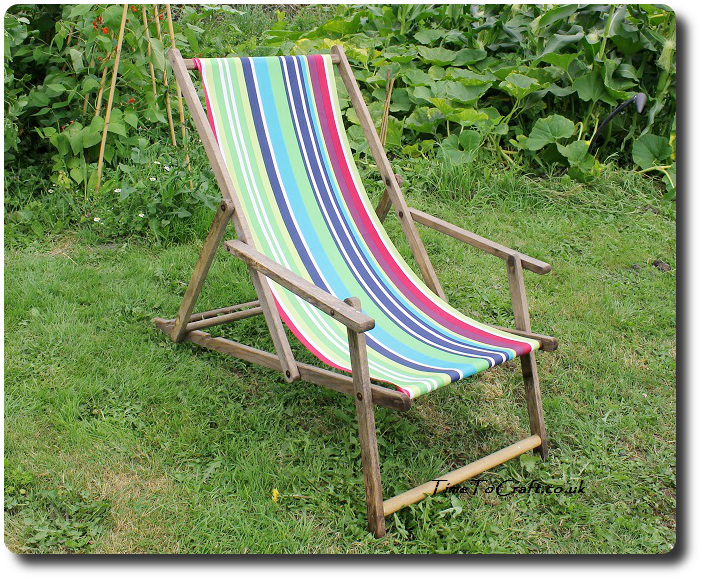 Gradually, over the intermediate years, the deckchairs slowly aged. Two fell to pieces and the frames went into the fire wood pile.
This week, it was the last chair's turn. Except this time, my husband chose to see it as a challenge. Maybe it represented something different to him this time. Maybe he saw my expression as I contemplated that this year I wouldn't be sitting in the orchard sipping Pimms, reading a book and ignoring the children enjoying five minutes peace and quiet. Who knows, but he decided to save it.
He fixed up the frame and treated the wood. He is clever at mending things. I was tasked with sourcing fabric. Fixing the fabric to the frame took a few minutes. Only task left to do, was to test it out. There were more than enough willing volunteers, as you can probably imagine.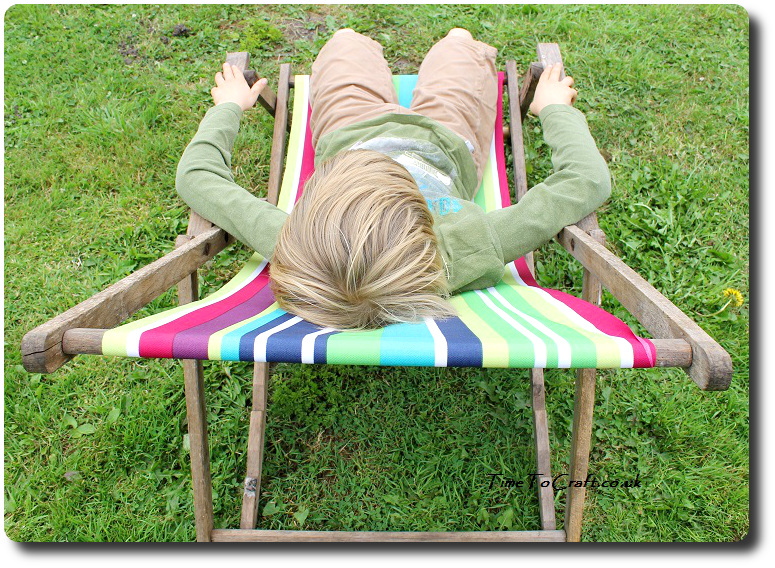 So the last deckchair remains in our stuff. I'm happy. I can continue to re-enact the front cover of a Country Living magazine. Just need the sun to come out again and I'll disappear off to the orchard. Anyone going to join me? Please bring the Pimms, if you would. Look in the fridge. Second shelf down. Already made up in a jug. Perfect.
See. Told you it wasn't about the deckchair.
Photos
There have been cases when people lifted my photos and words, and used them without credit to me or asking permission first. Using them for their own commercial gain. I have now added a level of security to deter people from doing this. Apologies to people who do play nicely. If you would like to use any of my photos, please contact me.
Copyright notice:
All my words and photos are copyrighted to me. They cannot be used for commercial benefit by anyone else. If you would like to use any of them, then please ask me first and don't just take. Written permission only. Don't pass my words, photos or ideas off as your own. It's not nice.
Cookie Policy
Our web pages do not use cookies however this website uses Google Analytics, a web analytics service provided by Google, Inc. Google Analytics uses cookies to help us analyse how people use our site. The use of cookies by Google Analytics is subject to change.