I have lost count of the number of Septembers that I've walked into the blank sheet that is to be my new study bedroom for the next year. Apart from the numerous house moves, I also went away to school, from the age of 11, and then onto University. September always meant a new and different bedroom. Always an empty bedroom, stripped clear of any personal items, ready for me to dump my first box of belongings on the bed, before heading back to pick up the rest from the car. The rooms all had the same things in them. A bed, a cupboard/drawers and a pin board. Always a pin board. After a couple of years, a desk and chair were added in to the mix. Nothing spells September louder to me, than a room like that, and the smell of new text books. Anyone else?
I didn't think I missed it until the run up to this academic year. We've been gradually freshening up the childrens' bedrooms. I say "we". More accurately, I should say Mr TTC. I just get in the way, making unhelpful suggestions and offer changes of plans, as if they always were the original idea.
He's finished Youngest's bedroom and it looks amazing. Our cottage is 270 years old this year. Happy birthday, old girl! There are layers of history in those walls. Some of the walls are two foot thick. No surface is level. There is not a single right angle in the house (ok, slight exaggeration). Walls lean. Floors slope. Don't even talk about the front door. A whole different level of leaning and tilting. A friend once described our door as feeling as if you were advancing on it in a drunken state. We're used to it and absolutely love the character of the cottage, but it does make renovation a bit of a challenge to say the least.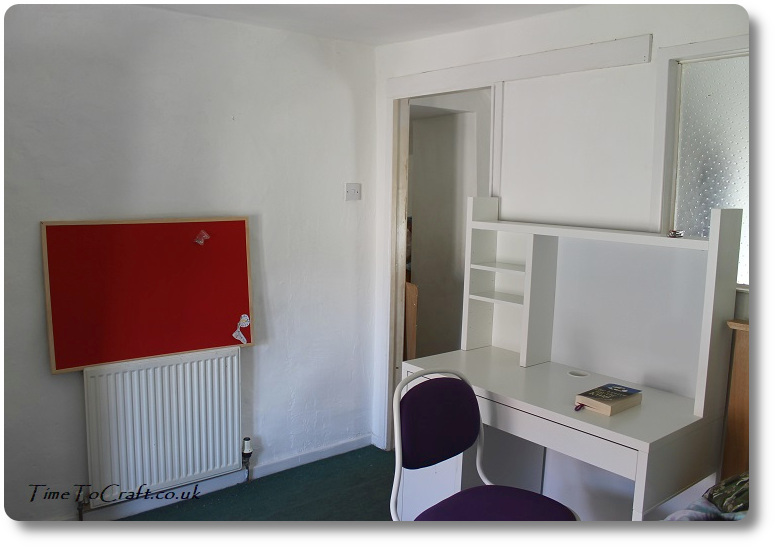 Mr TTC has done an amazing job to make this room look like something from the 21st century, rather than straight out of a period drama. Believe me, the walls are still leaning and the floor still slopes. With low ceilings and small windows, natural light is an issue. We've tried wilder paint colours, but white always wins in the end.
We've bought Youngest a new desk and chair, ready for the upcoming academic year. It's my turn now. I need to add the finishing touches. I've promised that I will make him a window seat cushion, because the window sill is perfect for a boy to sit on and lose himself in a book. I can also see the bed is calling out for a patchwork quilt, which is on my list too.
We'll probably change his bed, in due course. It has a trundle bed underneath, but it would be more practical to swap that out for big storage drawers. Also a new door. The room is missing one, at the moment. The pin board will go up, this evening, because it wouldn't be a study bedroom without one. Right? Apart from that, the room is ready for him to move his belongings back in. It's the smallest bedroom, but he does have it all to himself.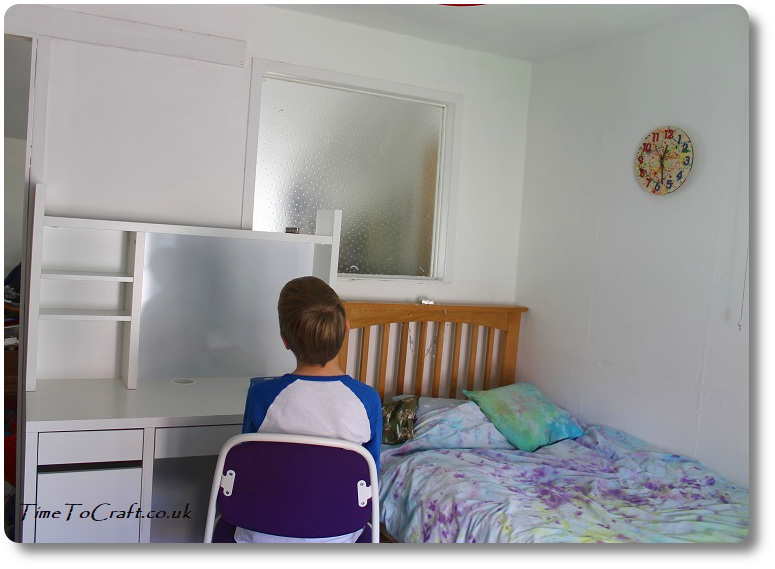 Youngest loves his decorated room and additions. Strangely, he is reluctant to move anything into it just yet. Apparently, where I see a September student room, he sees a summer, holiday cottage bedroom. This morning, he's been up there reading his book and presumably dreaming of a different view out of the window.
I can see I'll need to take more photos once it's looking less bare and more to his style. It's so nice to see the room turning into a bedroom that will see him through his teens. He is growing up.
I'm not wishing summer away, in the least, but anyone else find themselves slightly yearning for the fresh start of September?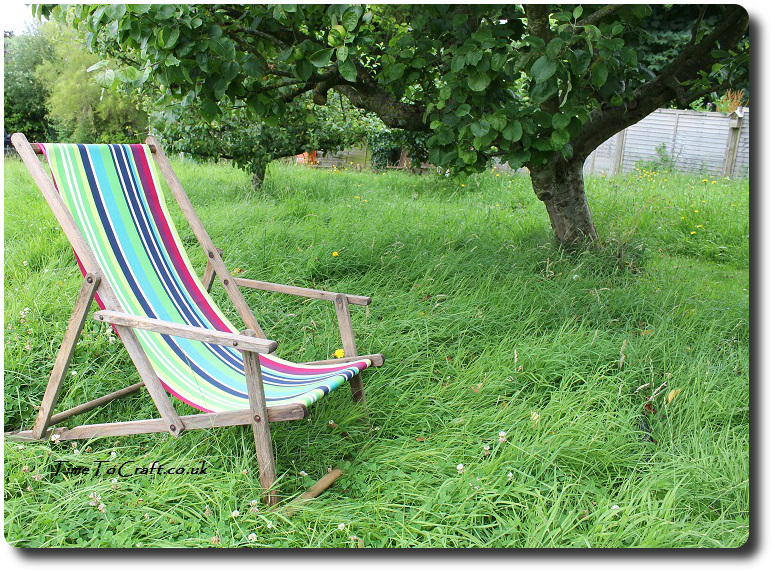 "It can go. It's too broken."
"Are you sure?"
We have a lot of conversations like this one. Mr TTC and me. After being together 23 years, we have amassed stuff, and the thing about stuff is that eventually it wears-out/breaks/is-no-longer-fit-for-purpose. It stops being stuff. It starts being a disposal issue.
This week, it was the turn of our last deckchair.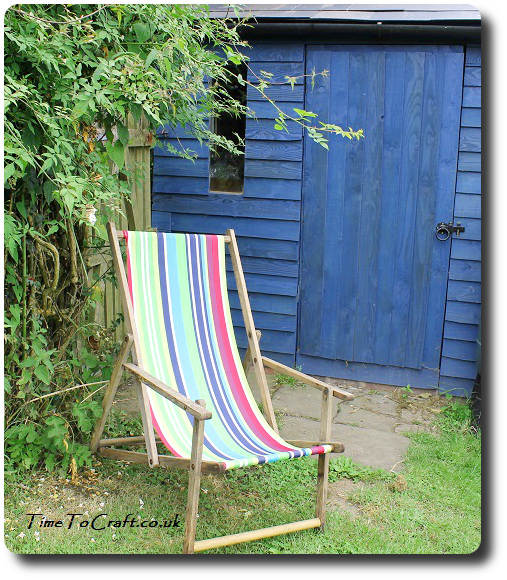 In all fairness, this chair has done well.
It first became our stuff on our wedding day. 18 years ago.
When we married, we decided that the wreck of a house we were doing up, needed a new roof more than we needed a fancy day. Mostly on the principle that, it might be better to have a water tight house to spend the rest of our lives together, than the memories of one spectacular day.
So we bought a roof, and went on to thoroughly enjoy a simple wedding reception in the back garden, on the big day. It was a wise decision.
(Look at that roof line! There were saucepans and buckets in the roof overflowing with rain water, positioned under the many holes)
Problem was we had more wedding guests than chairs, so the call went out for guests to bring a chair. What can I say? Roofs are not cheap.
My sister arrived bearing three deck chairs. They weren't new and, as she took in the state of the property, she told us to hang on to the chairs.
So we did. At least now we had somewhere to sit in the garden and ponder the wisdom of buying such a full on renovation job of a house.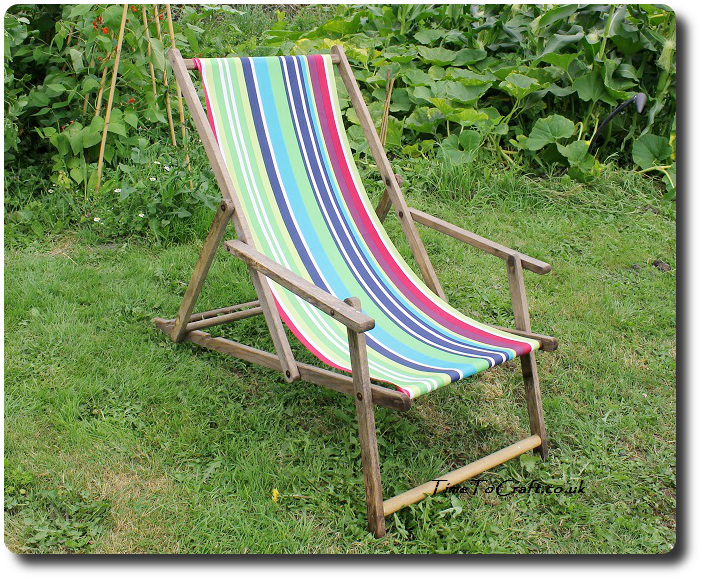 Gradually, over the intermediate years, the deckchairs slowly aged. Two fell to pieces and the frames went into the fire wood pile.
This week, it was the last chair's turn. Except this time, my husband chose to see it as a challenge. Maybe it represented something different to him this time. Maybe he saw my expression as I contemplated that this year I wouldn't be sitting in the orchard sipping Pimms, reading a book and ignoring the children enjoying five minutes peace and quiet. Who knows, but he decided to save it.
He fixed up the frame and treated the wood. He is clever at mending things. I was tasked with sourcing fabric. Fixing the fabric to the frame took a few minutes. Only task left to do, was to test it out. There were more than enough willing volunteers, as you can probably imagine.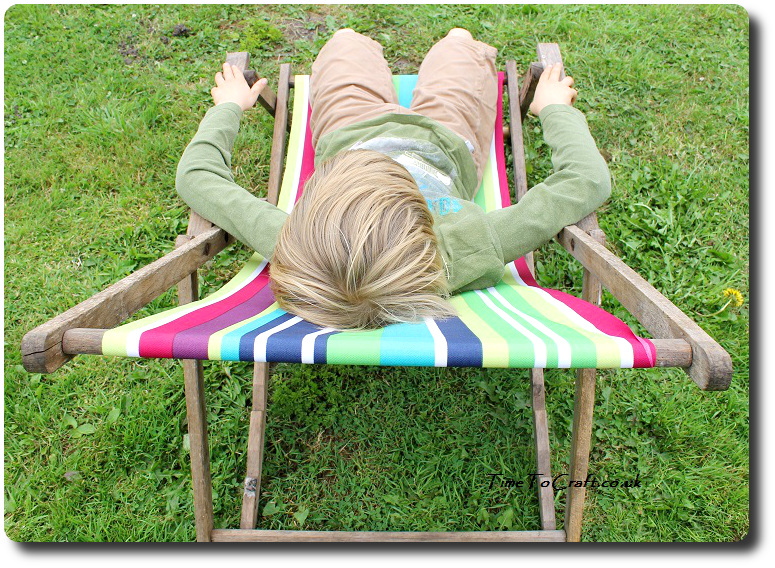 So the last deckchair remains in our stuff. I'm happy. I can continue to re-enact the front cover of a Country Living magazine. Just need the sun to come out again and I'll disappear off to the orchard. Anyone going to join me? Please bring the Pimms, if you would. Look in the fridge. Second shelf down. Already made up in a jug. Perfect.
See. Told you it wasn't about the deckchair.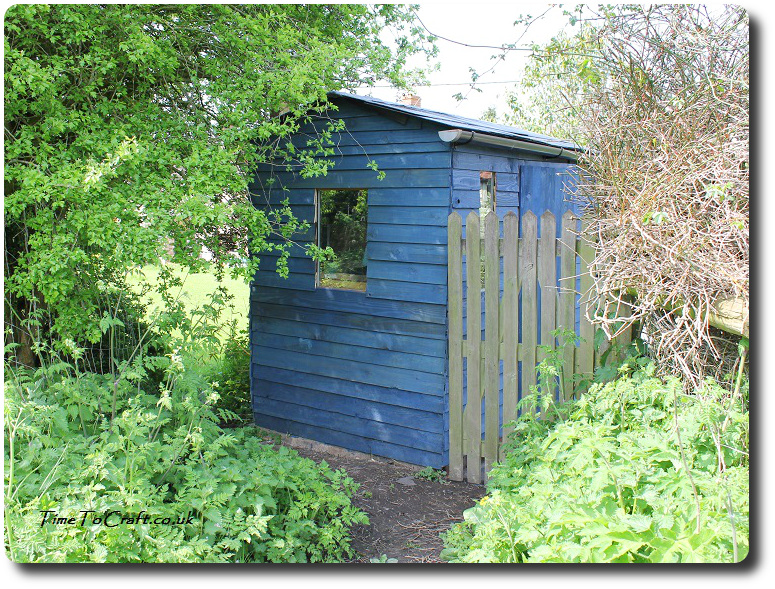 When my old potting shed was blown down in the winter storms, I just wrote off the idea of having a potting shed. We had more pressing things to spend our money on.
I would make do with a corner in one of the other sheds. No big deal.
Turns out, my husband had other ideas.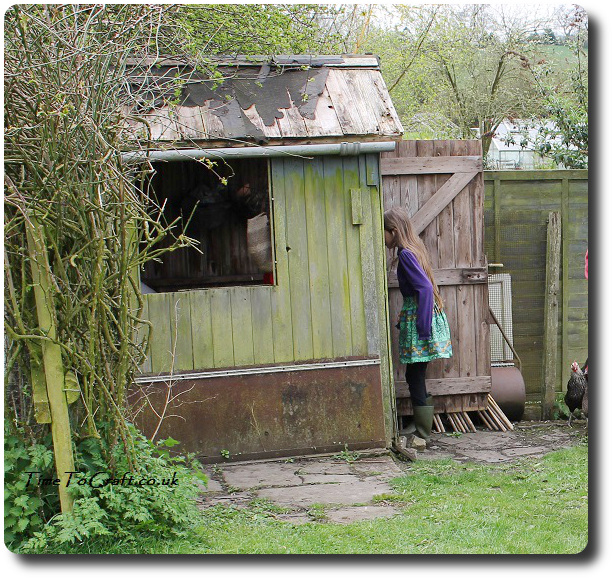 The old shed was ancient when we bought the place 20 years ago. We'd patched it up numerous times, over the two decades, but by the end only the robins made their nests in it and we used it to store the chicken food. Even the potting area was unusable, if I'm honest.
Our lovely neighbours, whose boundary the shed sat on, called it my dilapidated shed. I called it rustic. Until, of course, the day it fell down. Continue reading →
Photos
There have been cases when people lifted my photos and words, and used them without credit to me or asking permission first. Using them for their own commercial gain. I have now added a level of security to deter people from doing this. Apologies to people who do play nicely. If you would like to use any of my photos, please contact me.
Copyright notice:
All my words and photos are copyrighted to me. They cannot be used for commercial benefit by anyone else. If you would like to use any of them, then please ask me first and don't just take. Written permission only. Don't pass my words, photos or ideas off as your own. It's not nice.
Cookie Policy
Our web pages do not use cookies however this website uses Google Analytics, a web analytics service provided by Google, Inc. Google Analytics uses cookies to help us analyse how people use our site. The use of cookies by Google Analytics is subject to change.