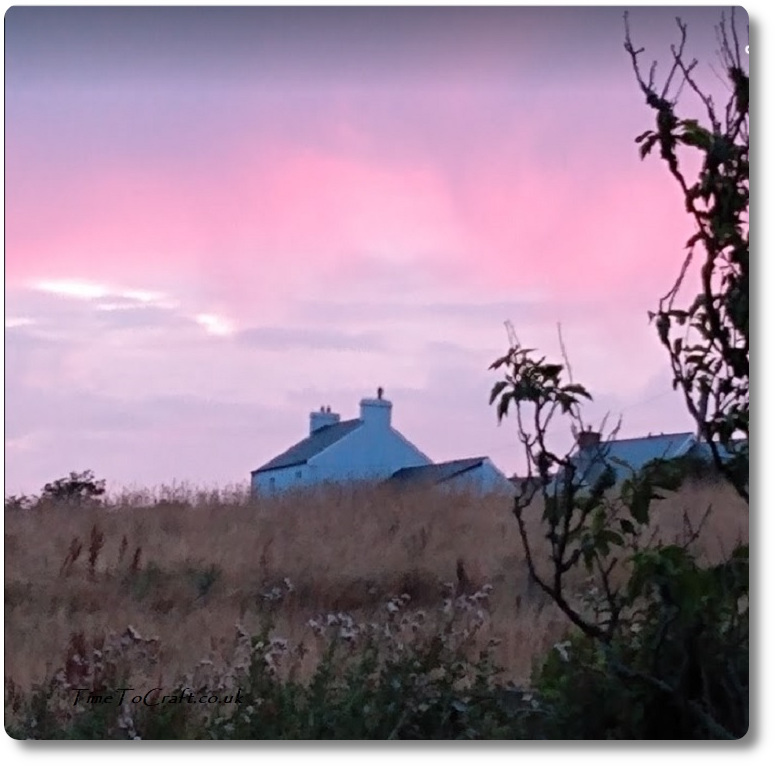 It's been a good week. Crammed full of moments to make me smile.  Adventures had. Memories made. A soul soothed. I hadn't realised how much we needed it. Isn't that often the way?
We've been away to Wales for an extra long weekend. Time spent messing around on the beach and in the water. Ambling along coastal paths and taking in the views. There was a boat trip to see seals, too.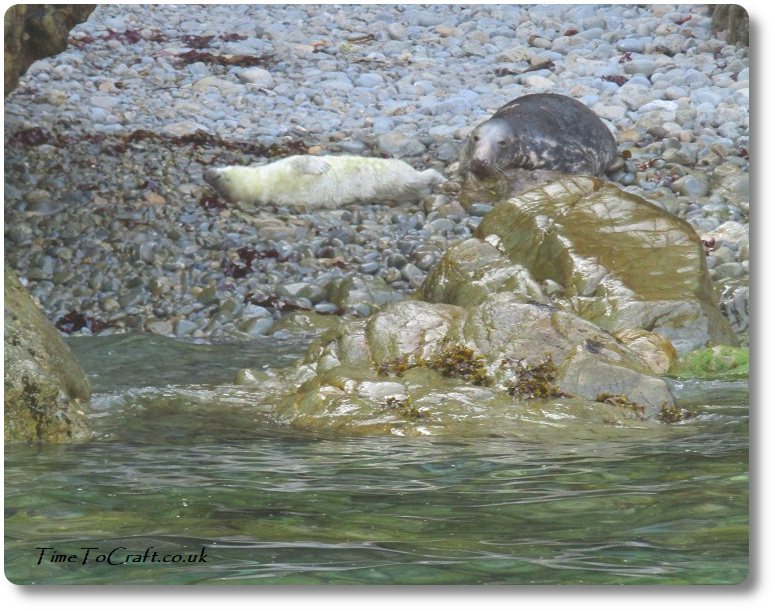 We had gourmet treats. A surprisingly good Chinese takeaway, which makes a move to Wales seem even more attractive. Also, a much looked forward to seafood meal. Not forgetting welsh cakes, of course.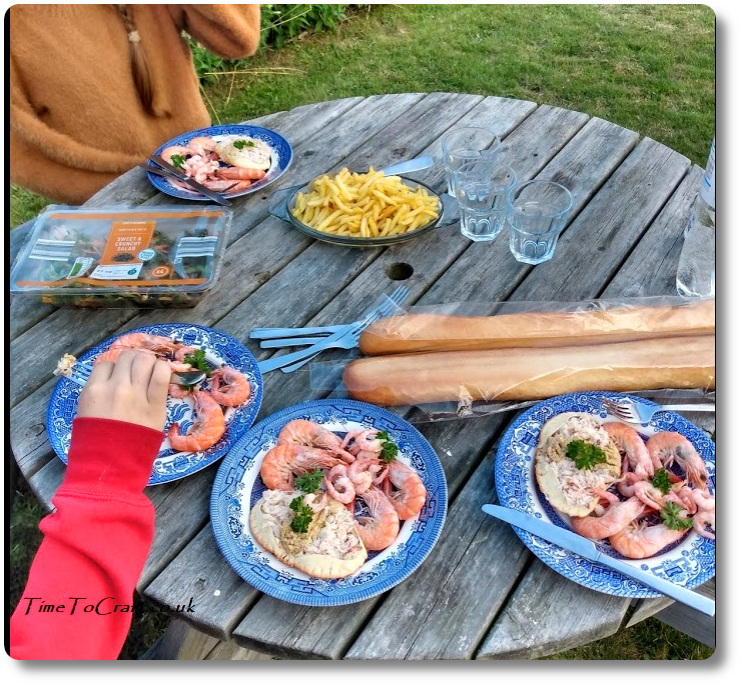 We visited a woollen mill, which pleased my geeky crafting side. Plus the water wheel from the mill, gave a chance for a discussion on clean energy with the children.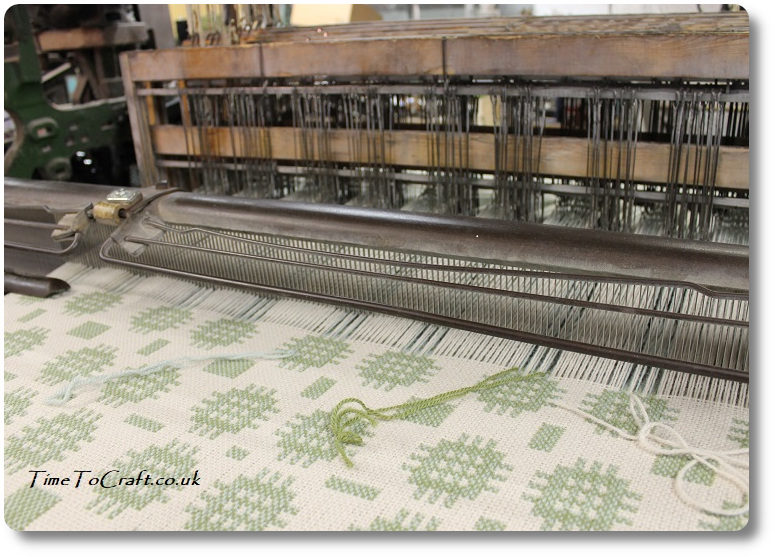 It was good to have time away. We're back now. Most of the washing is now clean, dry and folded away. Memories made and we're gearing up for school starting next week.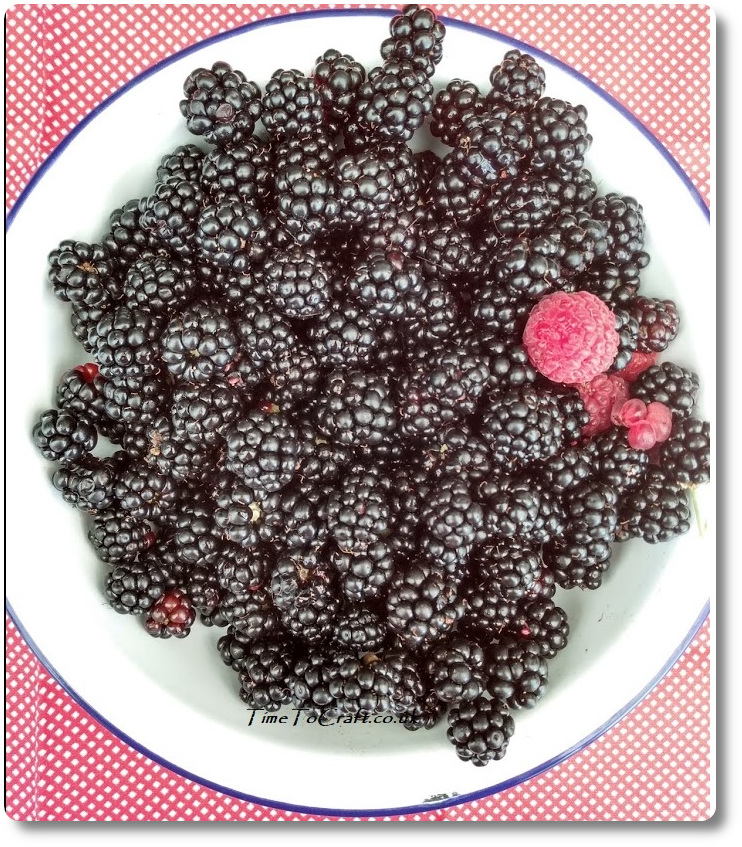 Back to reality. I can feel the shift in the garden too. We've had our first sweetcorn. Sweet and juicy, in a way that a shop-bought cob never could be. I picked a big bowl of blackberries, an apple from the orchard and made fruit crumble last night. The first crumble heralds the start of autumn for me. It was delicious.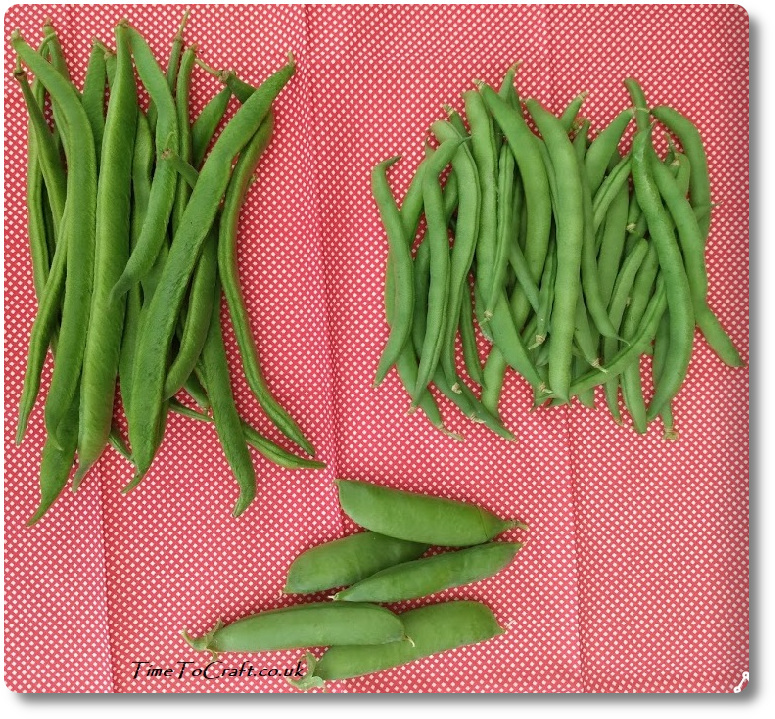 The beans have really got going. I can see meals of beans ahead. The children eat the French beans straight from the plant. So fresh. I'm not sure what ratio they work with, but must be about 5 beans in the pot, one to crunch. The blackberries are more a one-to-one set up. One in the pot. One in my mouth. I don't mind in the least. So long as they are eating them, one way or another. A nice change from salad, which has seen us through the summer.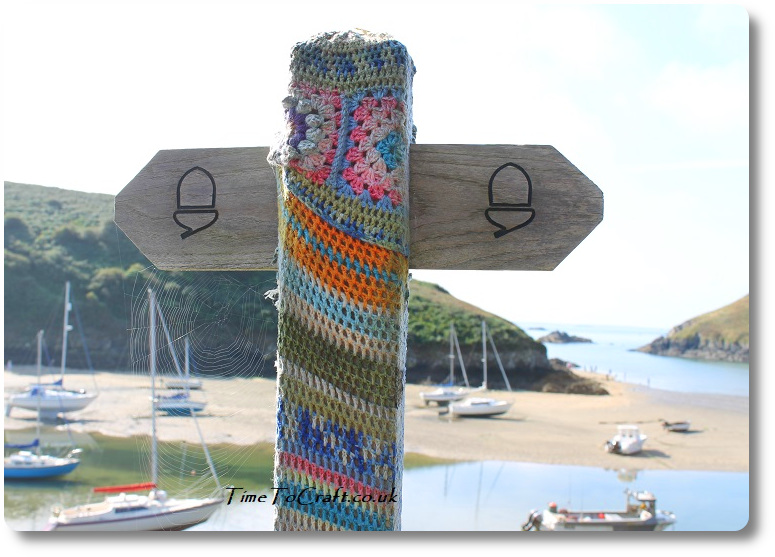 It does feel like we are tipping gently into autumn. Bringing more treats from the garden and fun times ahead. A few days left of the holidays. Just enough time to add more adventures before they go back.
Joining in the Anne's word of the week linky. I'm going for the word "Treat".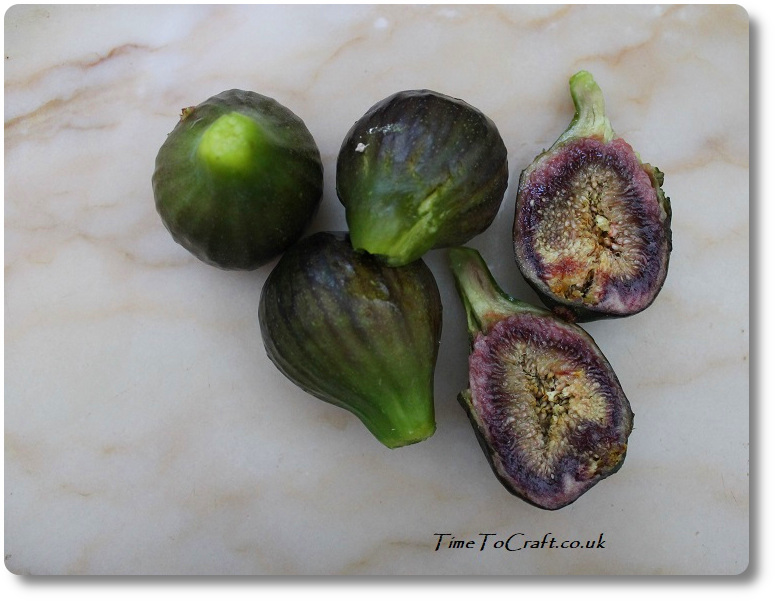 If you were to step out of our kitchen door, into the garden, you would be hit by the fragrance of fig. Fresh fig.  It is a warm and exotic flavour. A morning treat, that's only available for a few weeks from our tree. I make the most of it.
The fragrance is the tree's way of telling me, that the next fig is ready for picking. I have to be quick. I don't want the local blackbirds or wasps to cotton on. There was one notable year, when I actually had a tug of war, with a blackbird, over a fig. Neither of us could see each other through the foliage. Both believed we were pulling the fig from the tree. If memory serves me right, we both escaped with part of a fig and a story to tell.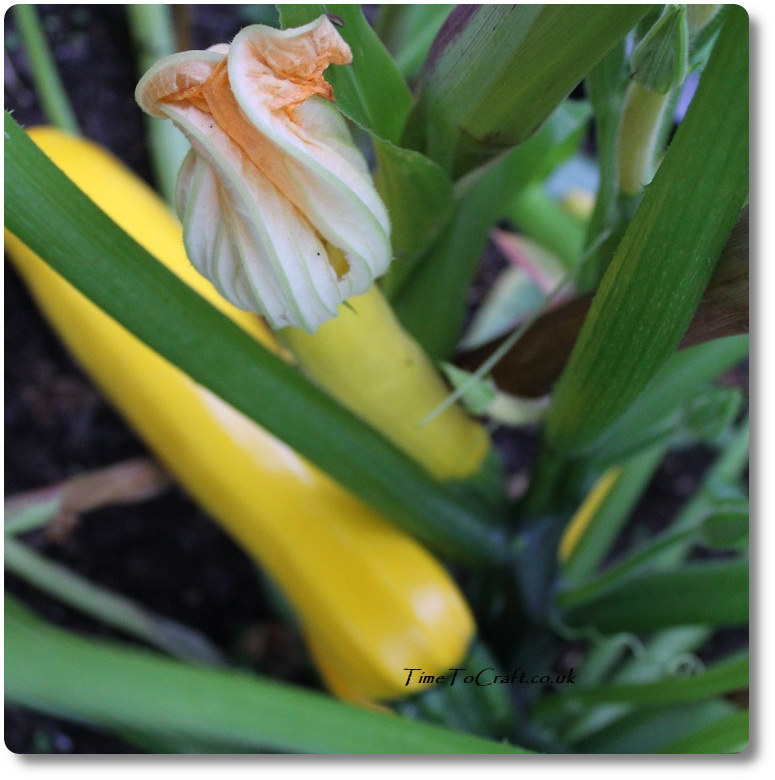 Anyway, this week, there is plenty to choose from in the garden, if fig is not your thing. Unbelievably, three out of five of our household would be with you, on that one.
The hi-vis vest courgettes are ready to pick, along with the green variety too. Our cut and grow salad leaves are being model plants and keep on providing. First peas are nearly ready too.
The popcorn was hit by the wind, this week. There was a memorable moment, when I was heard to shout, "Hold the fort, I need to stake the popcorn", as I rushed out the door.
All is fine. They are still standing. Escaped being flattened by the strong westerly.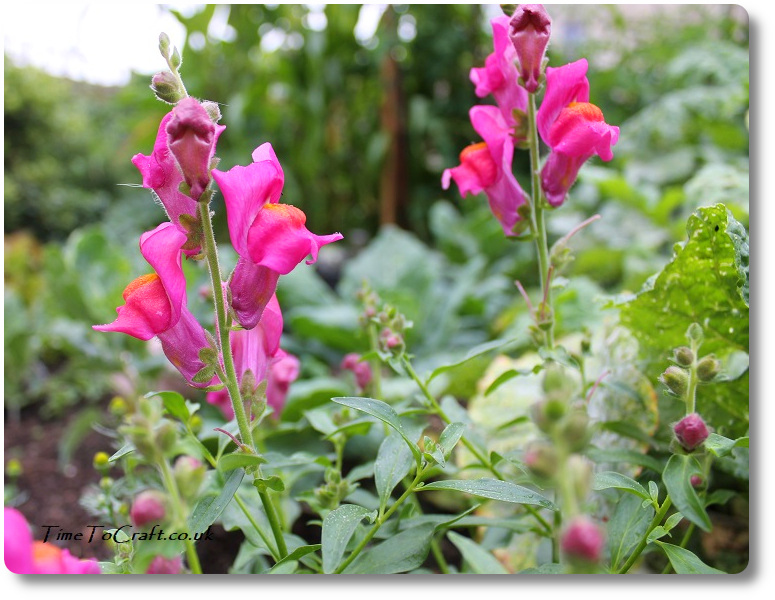 One disaster I've had, is my cucumbers. Attack of the red spider mites. First time I've had this pest. They were killing the plants. I've taken action and cut back. Spraying with water and crossed my fingers. I'm hoping the plants will spring back and produce more in a month's time. Usually we are awash with cucumbers. Not this year. I hope the rest of the plants escape the web spinning pests.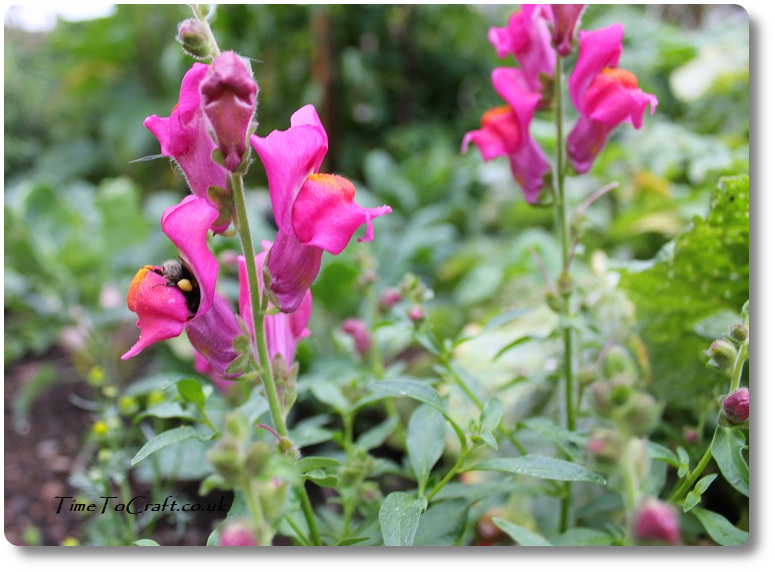 (bee escaping snapdragon)
Back in the house, we've had fun too. One birthday, this week. Eldest teen, this time. We went to an Escape room, as a birthday treat. First time any of us have been to one, so we weren't sure what to expect. It had a Dr Who theme and was so much fun. We solved the puzzles and escaped in good time. The children are 12, 14 and 17, and are the perfect mix of age for this kind of activity now. Needless to say, they all want to go again.
I made another spinning card. A butterfly and nature theme. If you follow me on Instagram, then you might have caught a clip of it spinning as the card is opened. I've put it in my Craft tab on my Instagram profile now. All the materials were recycled.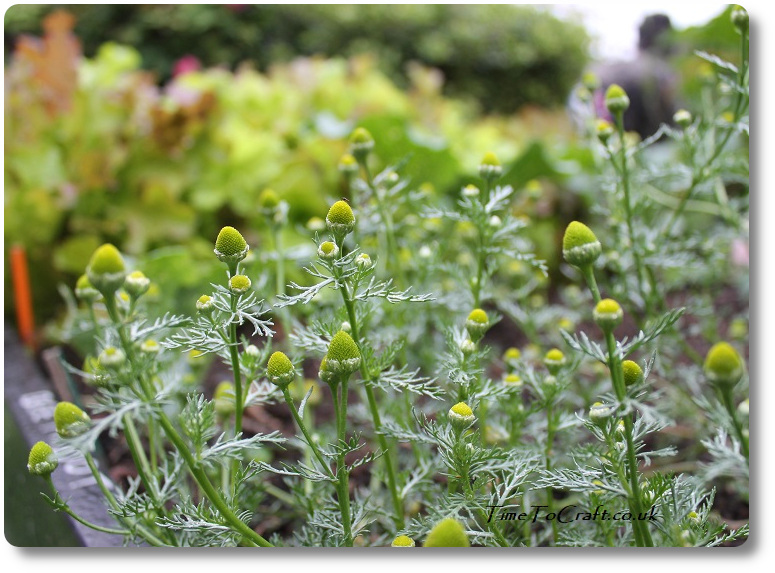 Right. If anyone wants me I've escaped the mayhem of the summer holidays. I'll be lying down on my chamomile lawn. Unexpected bonus in the garden this year, but very welcome. Oh the scent is heavenly.
Joining in with Anne's Word of the week. My word of the week is Escape. Not the type that involves suitcases, but more to do with being kept on my toes. Unless I'm in the chamomile.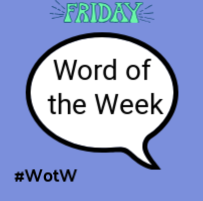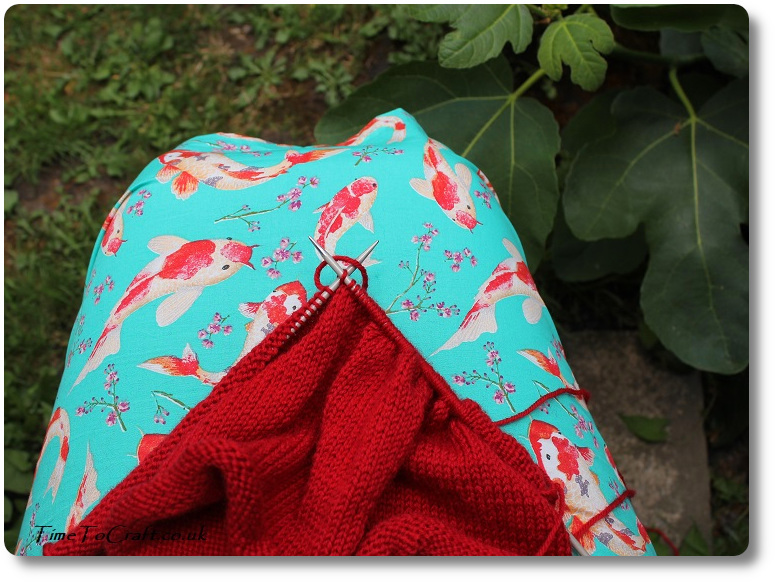 They used to say that if you wanted to meet the locals, don't go to Rome in August. Certainly used to be true. Everyone, who could, would head for the cooler climes of the countryside and hills. Those that stayed, adapted to a different way of living, until the heat dropped. A different pace. I don't remember seeing a single air conditioner. I use the same cooling techniques, I saw then, even now. I love the hot weather, to be honest.
This week has been hot in the UK. Soaring temperatures, especially in London and the South East of the country. I've done hot summers in the Capital. They have my sympathy. Over in the South West, we've fared better. The temperature has been bearable. I think our highest was just over 33, but I wasn't checking. Numbers are not important. It is how it feels to you. Living and working in the countryside has its advantages. The ability to adapt and carry on.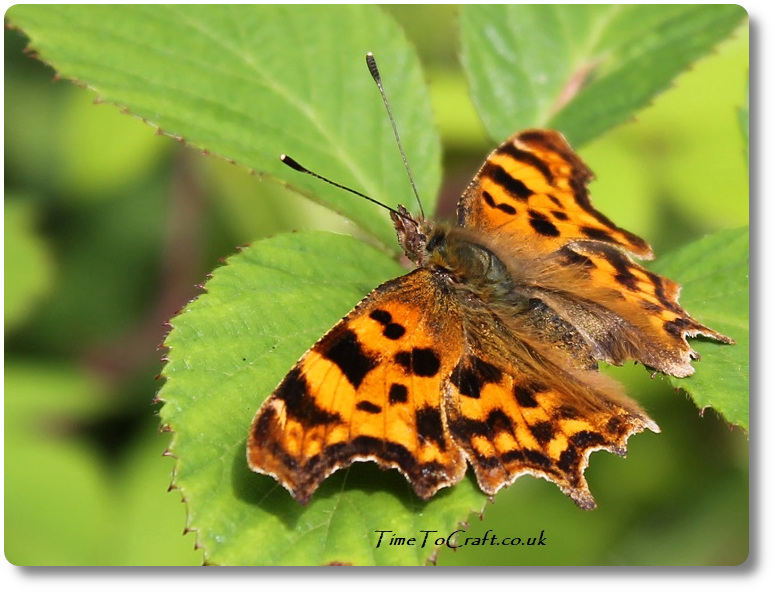 Life does go on. Dog walks still have to happen, whatever the weather. We just go earlier. Had a beautiful, butterfly walk with all the family, over the weekend, in a local wood. Plenty of Commas, Gatekeepers and Silver Washed Fritillary butterflies. We took part in the Butterfly count while we were there, taking 15 minutes to count all the butterflies we could see.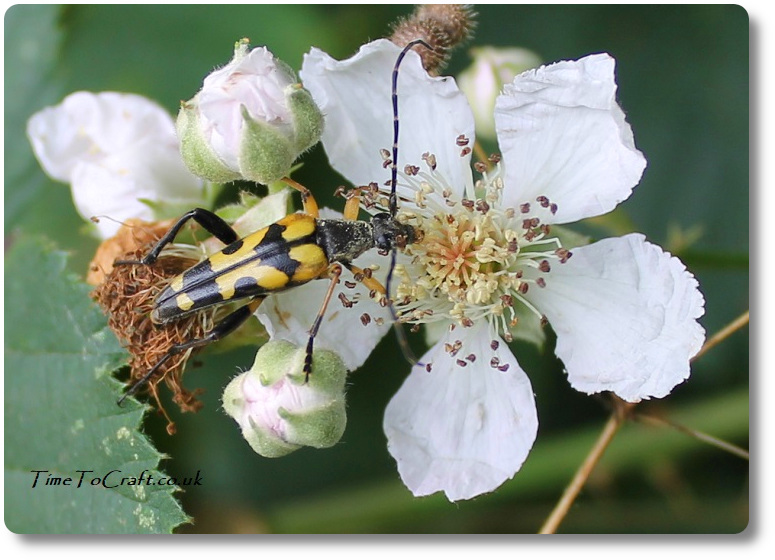 We've been eating outside and later, which has helped with the heat. Now the children are home from school, and not rushing off to activities, I'm enjoying trying a few new recipes. No worries about overheating as our summer kitchen is almost like cooking outside. Problem is that I get distracted and end up weeding. Timers have gone off unheard.
Our neighbours must be blessing us. By the evening, it's cool enough to be outside and more energetic. Current favourite is badminton. While I water the garden, the rest of the family battle it out on the back lawn.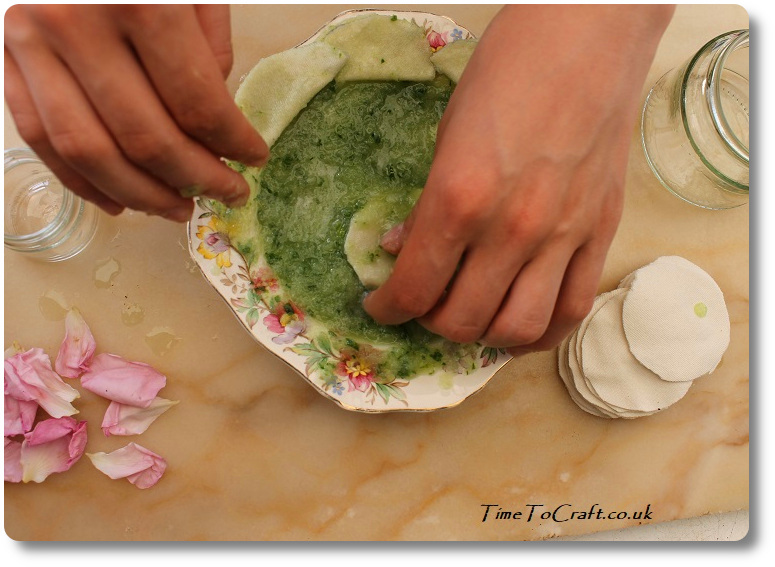 My dedicated and targeted watering is working. The greenhouse is over flowing with cucumbers. Luckily I grow half sized ones, although I'm beginning to suspect that this means each plant grows twice as many to make up for it. Cucumber recipes galore. Including beauty remedies. We've made a cooling cucumber and rosewater eye mask, this week. I've used some of the mixture as a cooling forehead mask, during the day, and it's done the job. I love how nature naturally supplies the right food, at the right time. Cucumber is naturally cooling and hydrating, and it grows now.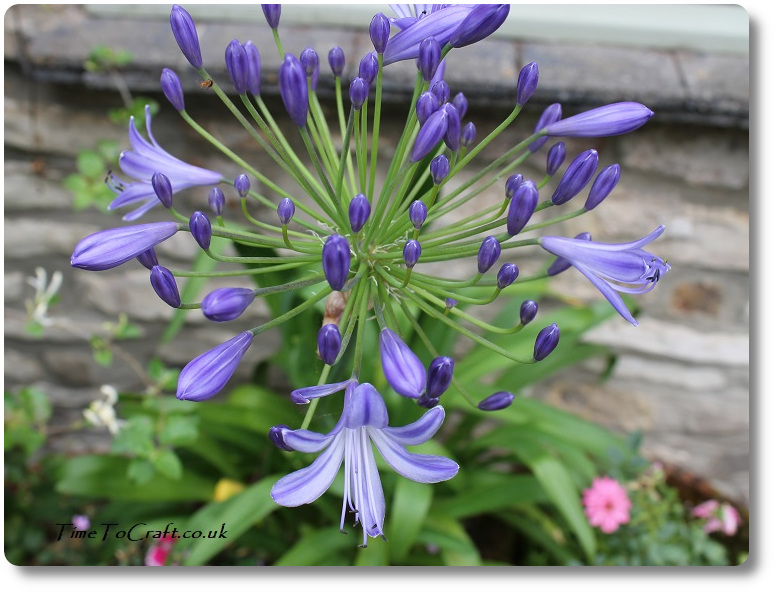 A lovely week of summer dresses and cooling treats too. We've made more homemade ice lollies than ever before. There is always a watermelon on the go in the fridge too.
The agapanthus is slowing opening. In the evenings, I treat myself to a few rows of knitting in my quiet hideaway in the garden, where I can see the flowers gradually open a bit more each evening.
First photo shows my progress. I'm knitting the back of my cardigan. It is a little bit tedious, to say the least, as it's plain knitting (stocking stitch). If the agapanthus and my knitting were in a race, the flower would be winning, and that is saying something. Incidentally, I'm wearing a me-made dress in that photo too, which I made a couple of years ago. Lovely and cool to wear.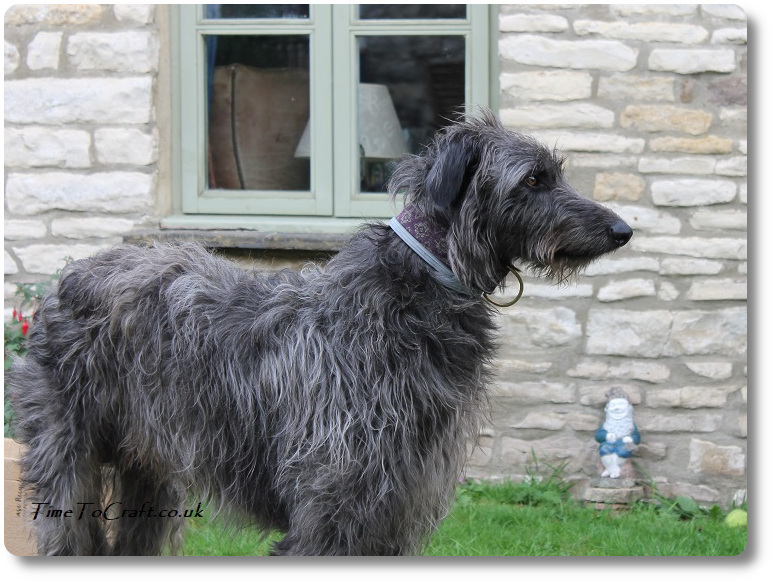 Hero has wisely being playing it cool. All our downstairs is tiled and he makes the most of the coolness. Positioning himself so the drafts from the open windows keep him cool. It's an old cottage with small windows and walls thick enough to build a cathedral, so the temperature stays pretty much the same all year round. Makes it easier for me to work during the heat of the day. He still loves to be close, so no quick chair movements, as he tends to be near the wheels of my office chair.
Joining in with Anne's Word of the Week linky. Hope everyone has stayed cool this week. My word? Cool.
Photos
There have been cases when people lifted my photos and words, and used them without credit to me or asking permission first. Using them for their own commercial gain. I have now added a level of security to deter people from doing this. Apologies to people who do play nicely. If you would like to use any of my photos, please contact me.
Copyright notice:
All my words and photos are copyrighted to me. They cannot be used for commercial benefit by anyone else. If you would like to use any of them, then please ask me first and don't just take. Written permission only. Don't pass my words, photos or ideas off as your own. It's not nice.
Cookie Policy
Our web pages do not use cookies however this website uses Google Analytics, a web analytics service provided by Google, Inc. Google Analytics uses cookies to help us analyse how people use our site. The use of cookies by Google Analytics is subject to change.