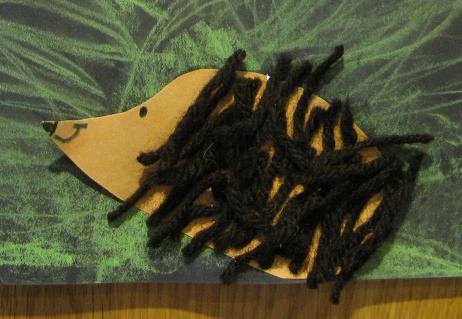 When we first moved to our house, there was a reasonable population of hedgehogs in the garden. I remember going out, one night, and hearing the strangest growling/grinding noise at my feet. Turned out I was been challenged by a hedgehog. Probably along the lines of "This is my garden and what are you doing in it." In the autumn especially, we were bound to come across at least one in the garden at night. We liked them. Then a few years after moving here, we realised that they had gone. A whole year without a sighting. We checked with the neighbours and they reported the same. The hedgehogs had gone.
I would like to think my garden is fairly wildlife friendly. At the time all our surrounding neighbours were organic gardeners and loved our prickly night time visitors. Around the same time, we all noticed more badger activity. Somewhere, deep down in my memory, I remember hearing that badgers and hedgehogs don't mix. Whatever the cause of their disappearance, I miss the little critters and their slug eating ways.
Tuesday is TF's and my craft day and, even though it is half term, I still wanted it to be his special time. I chose a craft that would interest them all. It gave the girls enough time to put as much detail into it, but TF could move from one step to the next, without really noticing what the others were doing. First we read One Winter's Day. It is about a hedgehog whose home is blown away. On the way to badger's house, out of kindness, he gives various animals his hat, scarf and mittens. Bit early for winter, but we have been discussing hibernation as the bats have taken to their winter homes. Plus it was wet and windy today. (My least favourite weather. Wet or windy is OK, I just don't like them combined)
First we used chalk to draw the scenery on black construction paper. Next I put a box of leaves and other nature finds on the table, with pots of glue. TF decided that he didn't want to stick leaves. The last time he had stood outside, in the dark, we had watched fireworks. He was enormously taken by the display, so his heart was set on replicating "shooting star rockets" in his picture. Out came the glitter. The girls could not resist the glitter so added movement and stars to their pictures. Last stage was to cut out a hedgehog and stick wool on for its prickles.
I find it interesting that all the hedgehogs face the same way, except one. I gave no guidance on the direction. The only left hander faced the hedgehog the other way round.
For me, the sign of a good crafting session is when at least one of them wants to do it all again tomorrow. Exactly the same? No, can we include flowers next time!