If it is good enough for the Owl and the Pussy Cat…..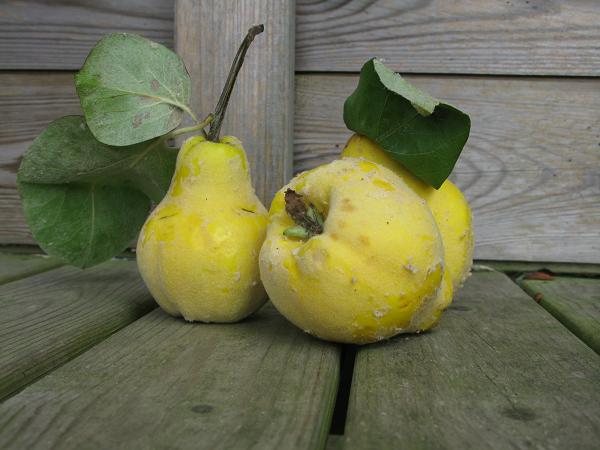 I love quinces. I love the taste and I love the fragance. I first properly encountered quince when we rented a house with a tiny garden. The garden was dominated by a large and very productive quince tree. I made pots of jelly and jam that year.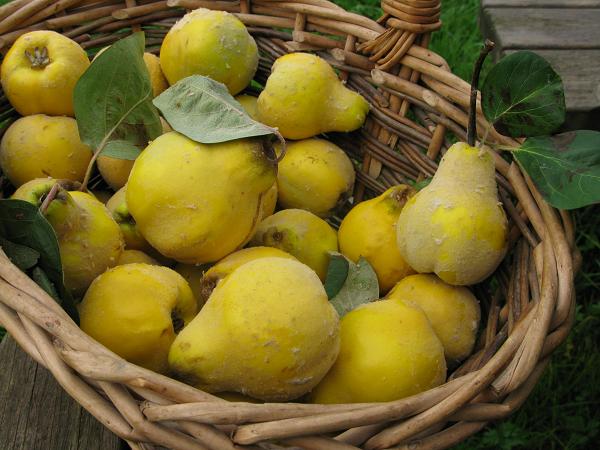 When we moved to our current house, I planted a quince tree, but it didn't flourish. It developed rust on its leaves and didn't receive enough energy to grow, let alone produce fruit. Fortunately, my parents planted one at the same time, and their tree is very productive. I popped round last weekend, and left with a big bag of quince. (Happy little dance of joy!).  The fragrance of quince is wonderful. Forget fresh flowers. One quince will scent a room, no problem. I wish I could share the heady aroma with you.
Trivia on Quince:
there is evidence that quince was cultivated and being grown before apples

quince marmalade was the choice preserve centuries before orange marmalade was developed


some people believe that Eve's apple was really a quince

its rumoured that if a pregnant woman eats quince, then her child will be highly intelligent. (before you ask, yes I did. More by accident than by intention)

"The Owl and the Pussy Cat" dined on it.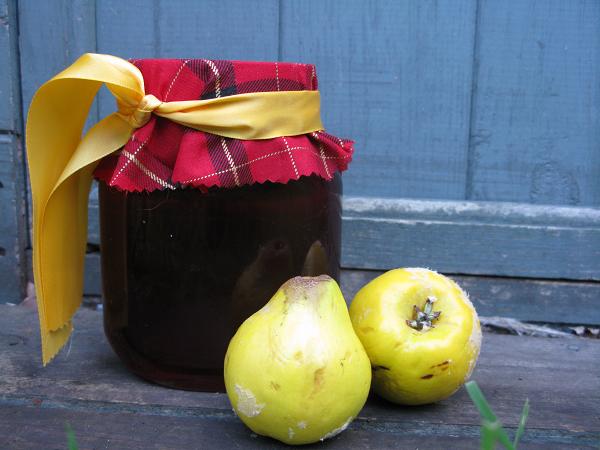 I made quince jelly. Pots of it. I have made quince jam in the past, but I wasn't keen on the grainy texture. Jelly on the other hand is the nectar of the Gods. I'm tempted to try the Quince and Marrow jam this year. The above jar does not do credit to the lovely rosy colour of quince jelly. Below captures it better.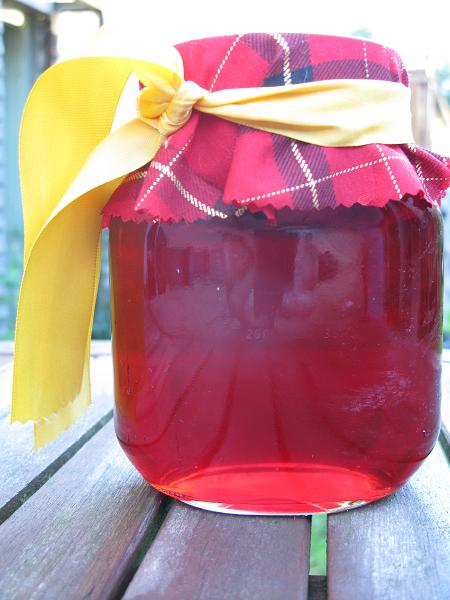 The quince flesh is creamy, yet it cooks up pink. When I make any fruit jelly or jam, I always make sure I bake bread rolls beforehand.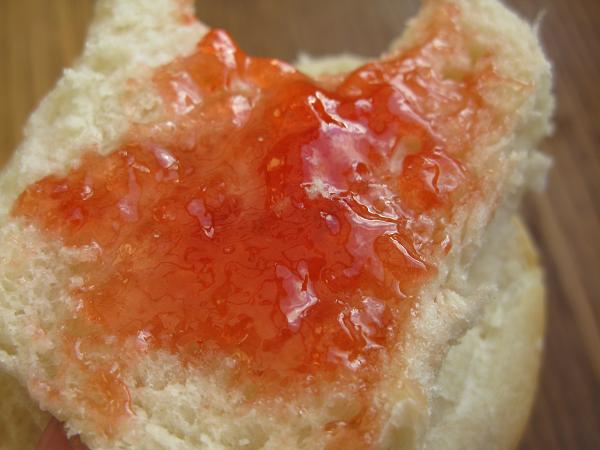 Tell me, is there a better way to taste warm jelly, but on fresh homemade bread?
(AJ disagrees. She just scraped it straight out of the cooling preserve pan once I'd finished potting up, declaring it as her very favourite jelly. Hmm. Maybe I need to make a few more pots.)
Recipe for quince jelly
Put 4lb of washed and roughly chopped quince (all of it) and the grated rind and juice of 3 lemons (or just roughly chop) into a preserve pan with 4 pints of water. Simmer for about an hour until the fruit is truly squashy.
Strain through a jelly bag overnight.
(optional) Put the contents of the jelly bag back into pan with 2 pints of water, simmer for half an hour and repeat stage 2.
Put both strained juices back in the pan, with 1 lb of sugar for ever pint of juice.
Heat gently until the sugar dissolves, then boil until setting point reached. Scoop scum out and pot as usual.

Enjoy!