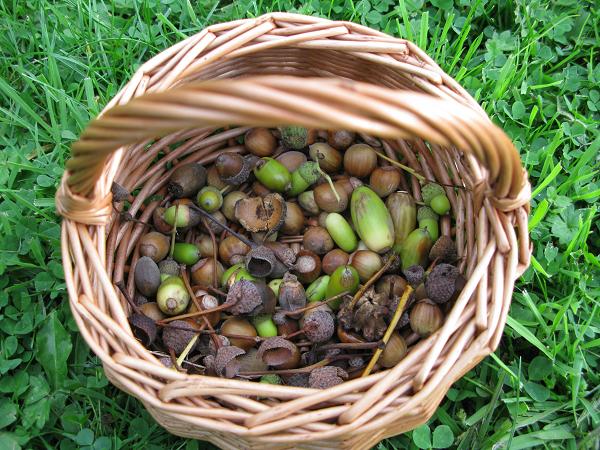 We are so fortunate to have a number of interesting trees in our garden. At the moment it is the hazelnuts and oak that are fascinating the children. They are a great source of nature finds. The children (OK, me too) eagerly collect nuts, seeds and leaves on our walk home from school too, which they then squirrel away in their individual collections of nature finds. Today, I took a little basket, when I picked them up, and asked if they would collect the nuts for me, this time, as I had an idea for a crafting project.
In all fairness, its not my idea. I read about it on GreeningSamandAvery.
Due to no acorns, Abbie and her children didn't have the chance to make the paintings. From Abbie's description, it sounded similar to rolling marbles through blobs of paint on a tray. Mostly, I loved the idea of painting the acorns at the same time.
I set all three children up with a box, brown construction paper, blobs of paint and a selection of things to roll. I gave them acorns, pine cones and hazelnuts. Then I stood back and watched. I should have known it would end up messy, when our dog made a hasty retreat from the room. How do they know?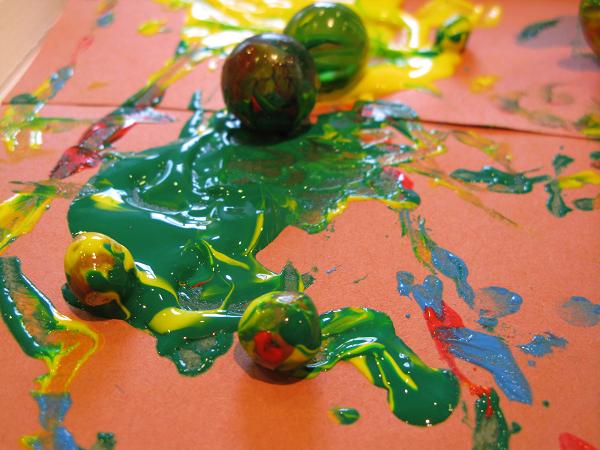 The problem was that the nuts and cones were too light to build up enough momentum to make it through the gluppy paint. So we added a couple of marbles to spice it up.
It added speed, but not enough, so the children decided to quit rolling the box and start using their hands. I still do not know how, or why, TF ended up with such a good covering of paint on his hands. They all loved this activity. I wish I had captured the giggles when they started spinning the longer acorns in the paint. I had to plead for them to stop in the end, as I needed to start supper. They were still asking for more paint when I was serving up.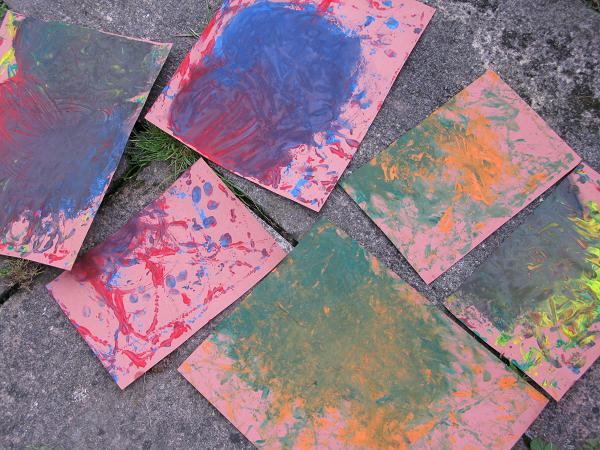 The paper had more coverage than I expected.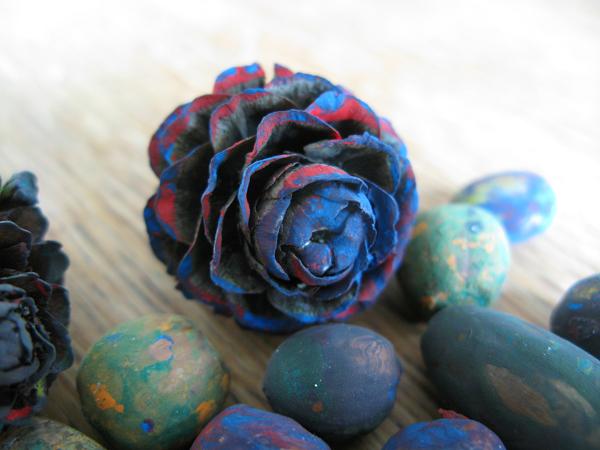 As did the nuts and cones. I think the pine cones turned out the best. So pretty. The acorns and hazelnuts look more like plasticine after all the colours are mixed together. I might experiment with some oil or wax and see what happens.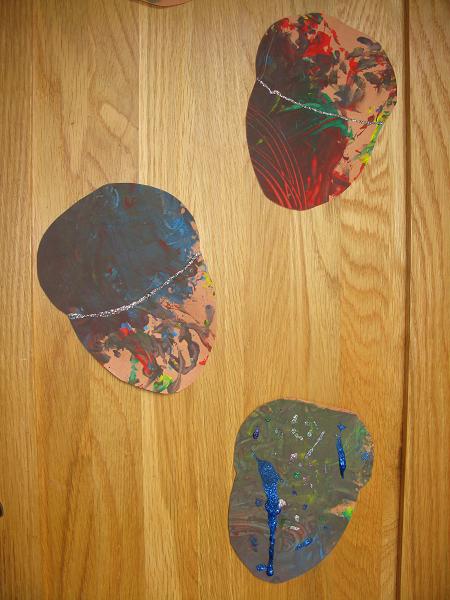 Pretty as the sheets were, I cut them up into the shapes of acorns. TF and I used glitter glue to add a hint of magic. TF's acorn had more magic than most. We have blue tacked them to one of the kitchen cupboards. I hope we add more to this collage, as our Autumn banner, in the same way that we added to our insect mobile back in the summer.
Fun? Yes.
Objective met? Yes. And more.
In terms of messiness? Around the 12 out of 10 mark. (You should have seen the sink after they had washed their hands. On the other hand, maybe not.)
Did the children enjoy it? Most definitely!
I'm linking this up to The Magic Onion's Friday Nature Table. Go and have a look at more nature inspiration.