I've been busy crafting this week, but I can't show you anything. I have four birthdays and one swap that I've been working on, but at the risk of spoiling surprises, I can't post them up here yet. Frustrating for me! So I thought I'd show you a crafting something I spotted on holiday, which uses a new technique to me. This is not my work and I have no idea who made it, but I like it.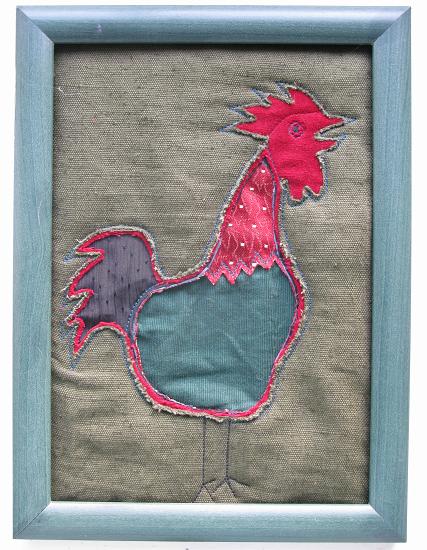 The picture appealed to me straight away, as we have chickens. When I looked closer, I realised that it is made almost like a reverse applique. I'm sure there is a proper name for this technique. Basically it looks like several layers of fabric are machine sewn together, where the sewing line makes the outline of the cockerel. Next layers of fabric are cleverly cut away.
The frayed edges give a rustic, feathery feel to the cockerel. I think I'd like to give this method a go sometime. It would be a fun decoration for the front of a bag. Maybe using preloved fabric. I now want to go and play with some scrap material and see what I can do. No, I mustn't. Time to get back to my current projects, unless……..
P.S. Additional cockerel is still with us. He is now called Benjamin, as the children were upset when I kept calling him Dispensable rather than Spencer. Whoops! Easy mistake.