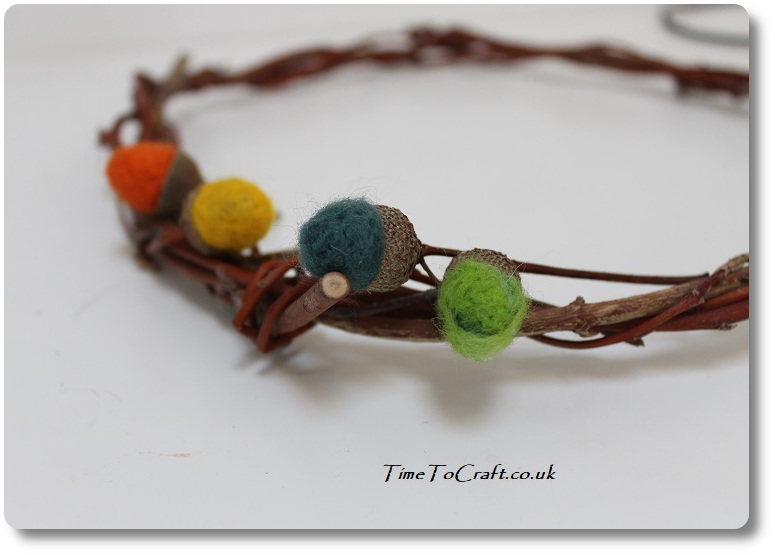 Hands up who wants to make a felted acorn or 10?
Aren't they adorable? The perfect nature craft, using natural materials. Most of it can be picked up for free. I used sheep's fleece for the base and needle-felted dyed merino wool over the top, for a splash of colour. Added a dab of glue to hold it in place, inside the acorn cup, and I soon had a handful of felted acorns.
These are going to be added to an autumnal wreath, but they could be used anywhere as decorations. Maybe a string of them above a fireplace, or individually hanging from a twig as a table centre decoration. I like to put a few on our nature table, among the real acorns. These are purely decorative and must not be used as toys.
Want to make some?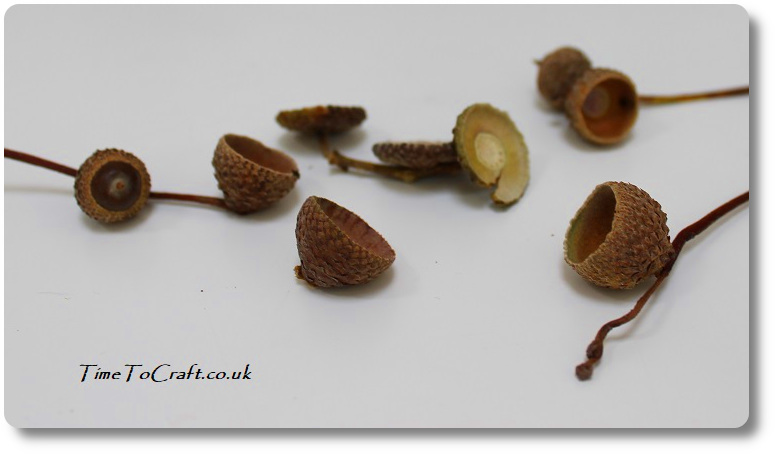 What do you need
wool scraps (merino, sheep's wool)
acorn cups
felting needle
glue
soap (Any soap will do. I use olive soap or wool soap, but that's me.)
hand hot water (needs to be hot to start the felting process)
To start with, you may be surprised to realise that not all acorns and their cups are the same. Different oak trees produce different size and shape cups. On our dog walk, each morning, we pass several oak trees and the lane is sprinkled with acorns, at the moment. I can pick up small acorns from one tree, big ones from others and, further on, I'll find a tree with acorn cups which are more like pancakes, or flat plates. There are so many different variations.
The oak trees I pass, are growing in hedgerows and would originally have been planted as hedge oaks. While the rest of the hedge was controlled by cutting or hedge laying, these trees would be left to grow to their full potential. They were harvested eventually as building materials.
Fun fact: oak trees have to be about 20-30 years old before they produce acorns, but they don't reach peak production until about 50 years of age.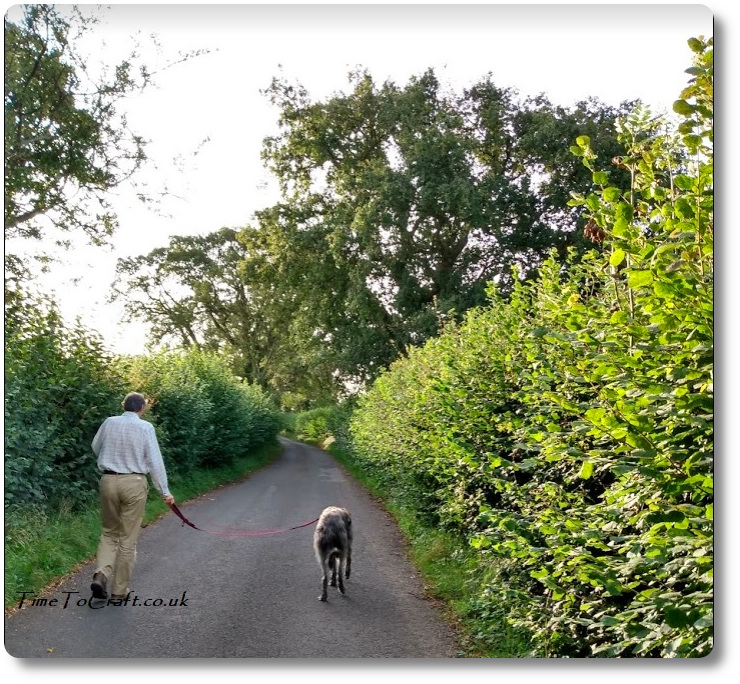 Oak trees are fairly easy to find in the UK, otherwise various craft shops do sell the cups, including online ones. I've seen them on Etsy too.
I like to use a tougher fleece as the base. You can use the coloured merino for the whole project, but it does cut down the cost if you use the plain fleece underneath. I find lots of wool snagged on barbed wire in sheep fields, when we're out walking. You need to ask permission of the farmer before you take it, but in my experience of rescuing sheep (a fairly regular occurrence), it can be near on impossible to find the owner when you need them.
Once home, give the snags of fleece a very gentle hand wash, remove any debris and leave to dry.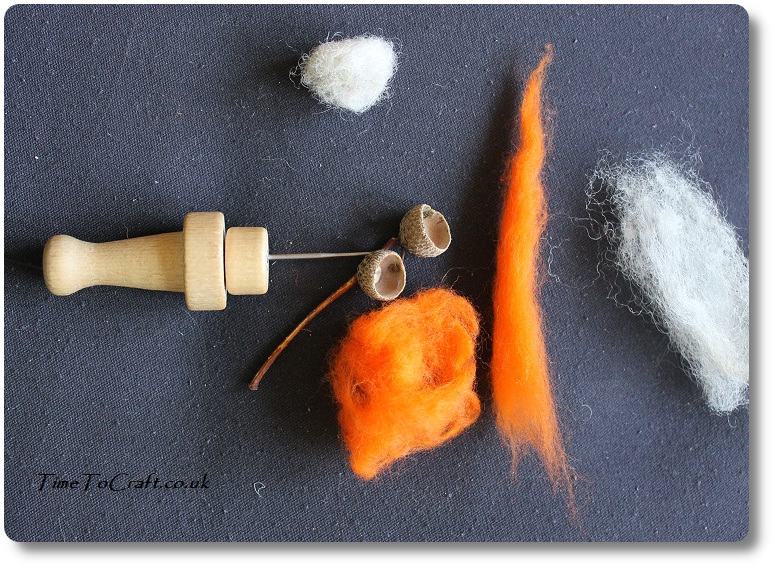 I use merino dyed rovings for the top layer. I have a collection of odd scraps from previous spinning and felting projects. It's much easier to find these in craft shops now, as more and more shops stock felting materials. Alternatively, I buy online from Wingham Wool Work.
How to make the acorns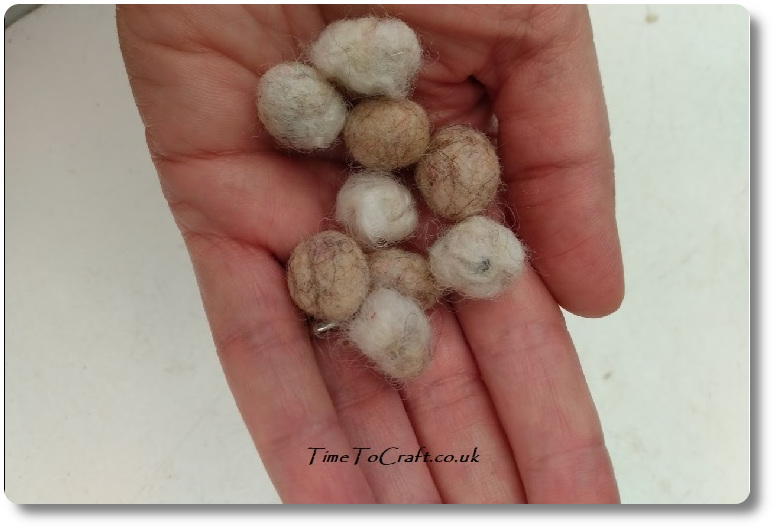 To start with, the base acorns are made. There are two ways to make it. Either using wet felting or needle felting.
Wet felting –
Take a clump of the sheep's wool and dip it in soapy, hand hot water. To start with, roll the wet wool gently, in a circular motion, between your palms to make a slightly, elongated ball. Like when you make a ball out of clay or plasticine. As it takes shape, increase the pressure as you roll it between your hands. Keep going until it feels firm and is acorn shape. Your hands will get quite soapy.
It may be necessary to work the wool between your finger tips of both hands, to start it off.
If the acorn is not big enough, wrap more wool around it and repeat the hot, soapy water and rolling. Remember the top layer will make it bigger again, so do check that the base acorn will rattle in the acorn cup and is not snug.
Wash the soap out with cold water and let the acorn dry.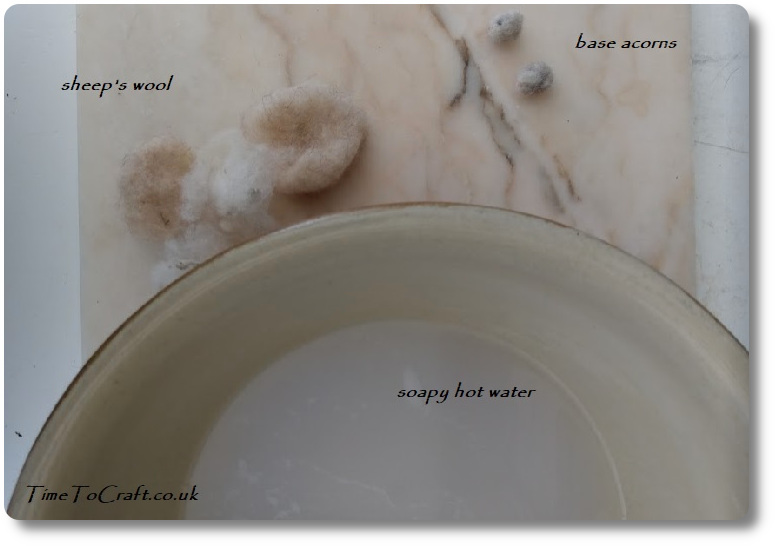 Or needle felting –
Use a single needle felting needle to stab a clump of sheep's wool into an acorn shape. Bunch it up as into a ball to start it off. Mind your fingers as you use the needle. Move the acorn around, as you work, to cover all the surface, fixing it in place. Here again, keep going until the acorn is firm. Add more wool if you need it.
I roll it briskly in my hand at the end. It helps to give it more shape and firmness, as well as smoothing out any puncture marks.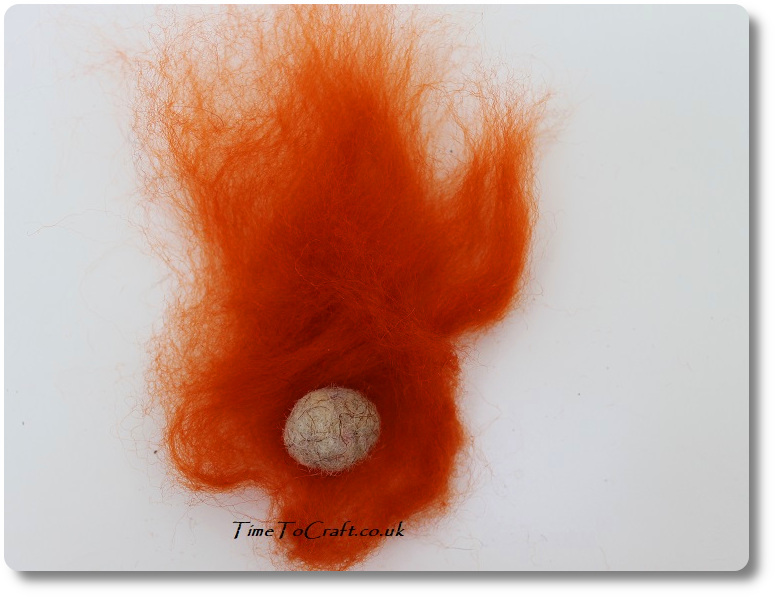 Add the colour
Take the merino and spread it out flat. Wrap the base acorn up in the merino.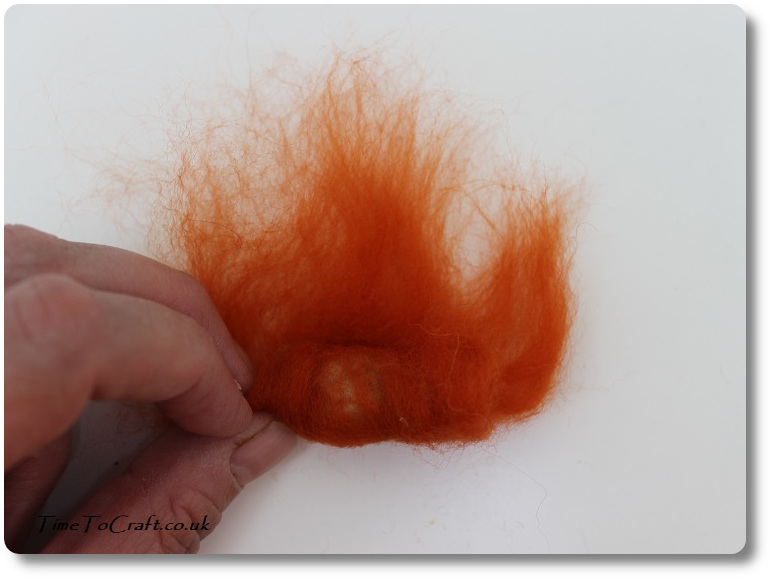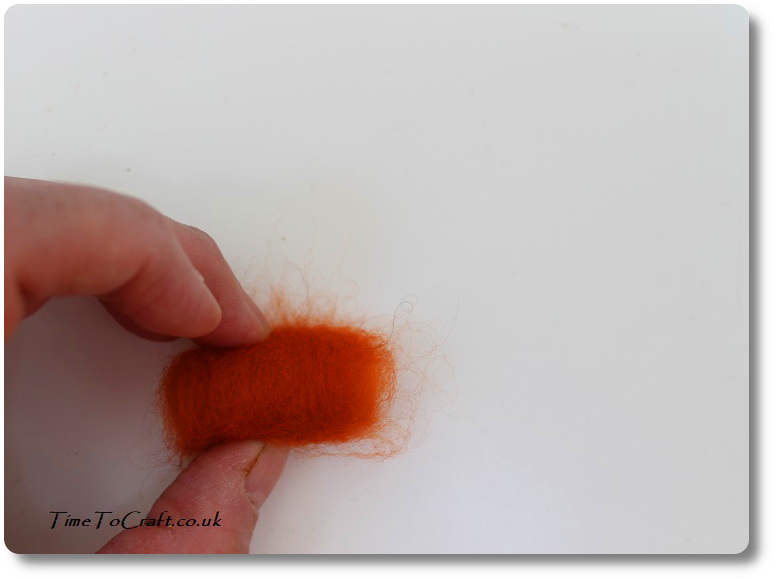 Use the needle to work the acorn into shape. Or you can use the wet felting method again.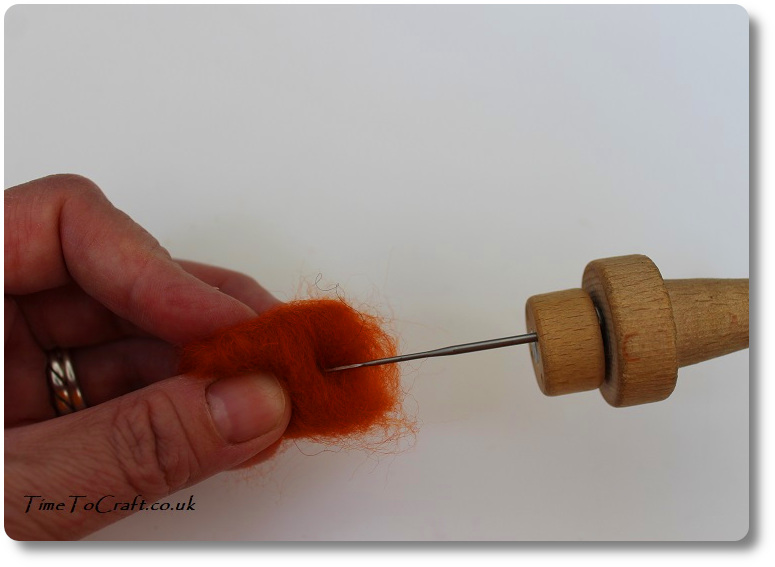 Fix the acorn into one of the acorn cups, using a spot of glue to keep it in place.
Repeat until you have all the felted acorns you can handle.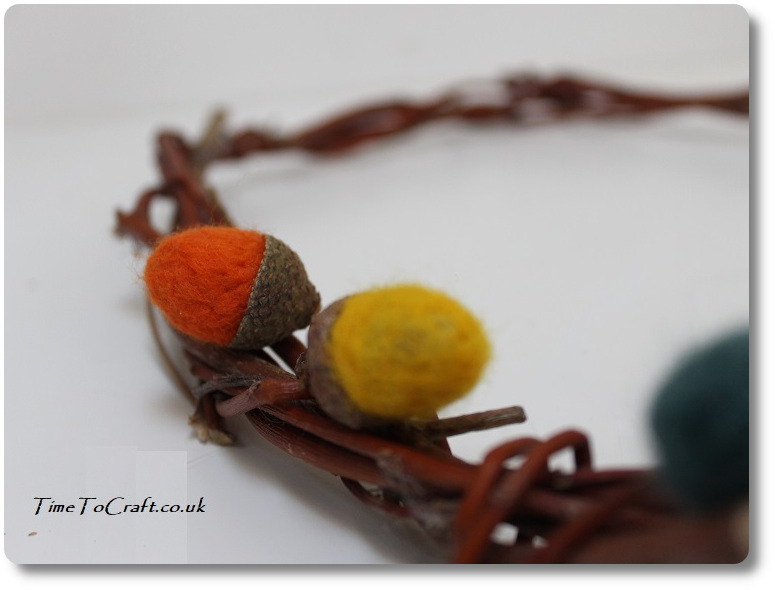 These make great gifts. Add a clutch of three as decoration to a pot of homemade jam, as an autumn gift. It can be fun to blend different colours together. I've blended yellow and orange, also blue and green, in my latest batch.
I'm adding my acorns to a willow wreath I made a few years ago from our willow tree. It's lasted well. My next step is to make oak leaves. The question is whether to knit, felt or some other method.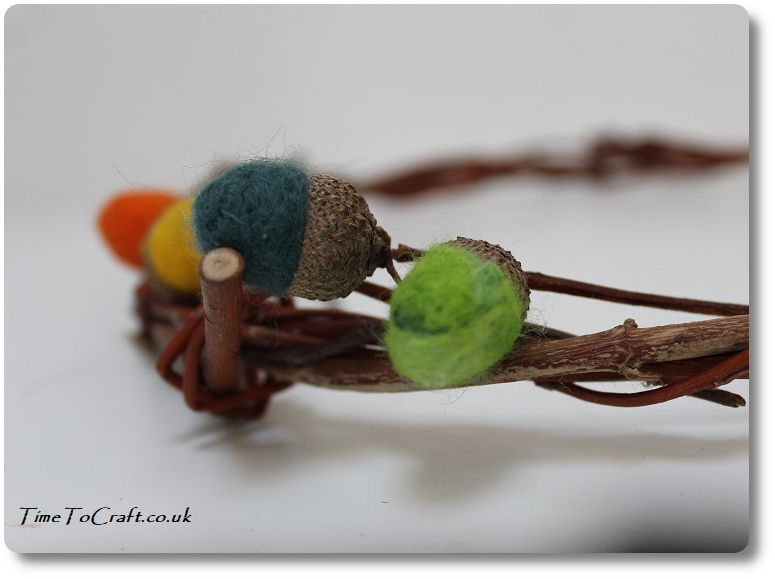 I hope you give the felted acorns a go. Please remember that these are not toys and shouldn't be given to children to play with. I have used the wet felting method to make the acorns with older children and they've all loved making them. Added bonus is that their hands are perfectly clean and ready to make bread afterwards.
If you have any questions, leave a comment and I'll get back to you.
I learnt to knit in Scotland, so I always feel my knitting spirit has a scottish accent, so to speak. Not that you can see it in my knitting, but trust me, it is there. Possibly wearing a kilt, but I could be making that up.
At the time, I was a teen and we were on holiday on the Isle of Mull. On a whim, I picked up knitting needles, a pattern and a cone of aran wool from a local woollen mill. My mother showed me how to knit and purl, and I spent the rest of the holiday knitting an aran jumper with several cable panels. I was so pleased with it. I still have the jumper, but as this was … ahem…several decades ago, it is only fit for gardening now. It has had a lot of wear.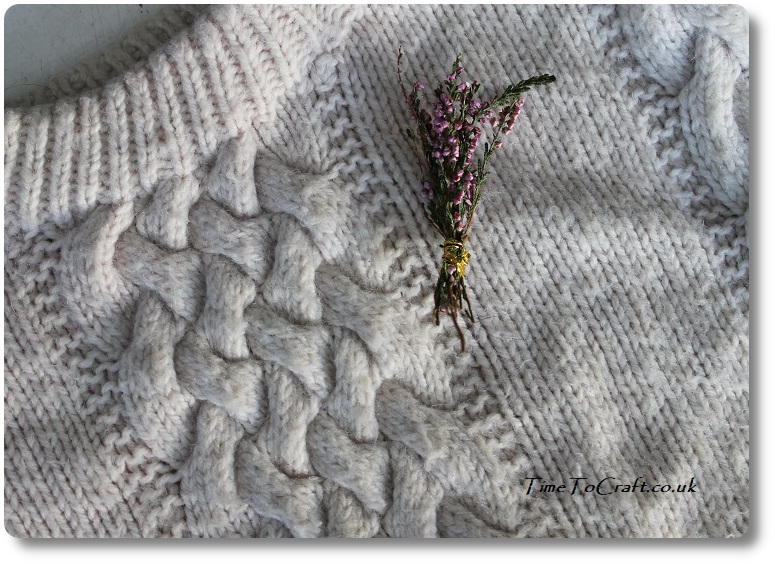 (first knitting project – an aran jumper)
After that experience, all family holidays to Scotland, seem to be punctuated by visits to woollen mills. The mills often stood alone on the side of the road. No big commercial set up. The signs would be modest and sometimes easily missed. I used to nag my father to stop at each and every one.
I loved seeing the wool on cones and handknitted garments. Amazing stitch patterns and colour work knitting. Some particular to the area and traditions. Rooms fragrant with the mixture of sheep's wool and dye. Wood and dust caught by shafts of light from the small windows of the traditional buildings. Often they'd have a relic of tools from the past, like looms and spinning wheels. That's how I remember it.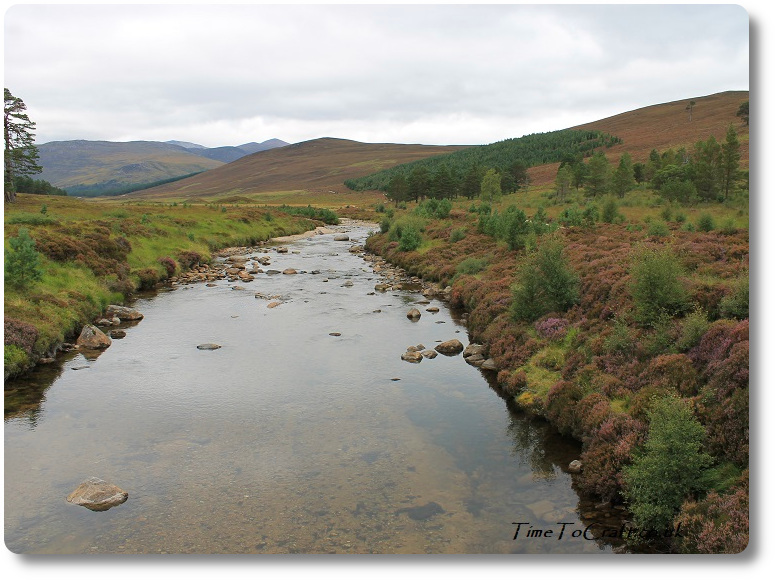 Unsurprisingly, when we go away now, I'm keen to visit local crafts people. For a start, you steal a glimpse of how they see their surroundings. The colours of the landscape and seasons. The purpose of the item. If we spot a local art exhibition, we'll make a beeline for it. There is always a different perspective.
This summer, we went up to the Cairngorms area of Scotland. In the cottage where we stayed, there was a tourist leaflet for Heathergems in Pitlochry. I popped this to the top of the pile of possible places to visit. It did not disappoint.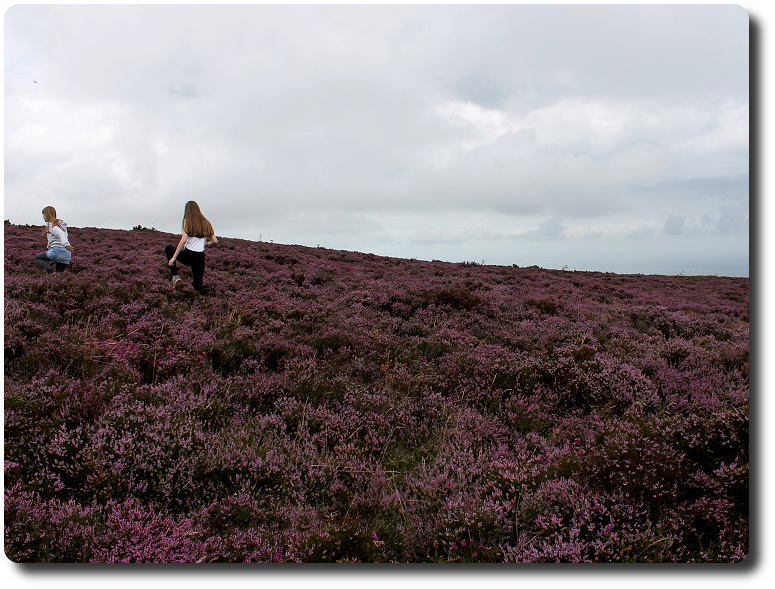 (Heather from a previous year – we were too early to see them in flower)
I'd not heard of heather gems before and was fascinated to see how they were made. The Heathergem centre has a film running in their entrance lobby, explaining the process, before you can peer through windows into the workshops to see the gems being made.
They take the heather stems off the moor and prepare them by removing the last of the foliage and bark. Then they dye them. Squeeze them together with epoxy resin and dry them. Next cut into slices and shapes, to reveal the colours and the grains. Final part is to lacquer each gem. The result is beautiful and unique. I've added the video at the bottom of the post if you'd like to see the whole process.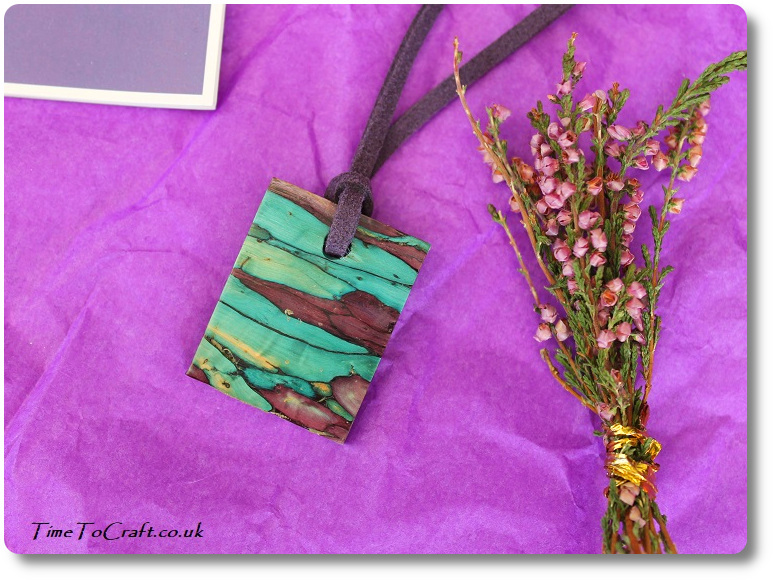 This was a new craft for me. The raw material of heather stems is sustainable, which interests me. I love the patterns that each gem produces. I let the children choose a simple pendant each as a souvenir. I couldn't resist picking this one for me, as it reminded me of the landscape we had been walking through.
If you are interested, here's a video below which shows how heather stems are transformed into gems. This post is not an advert or sponsored post. I wanted to share a craft that I've not seen before. They do have an on-line shop here.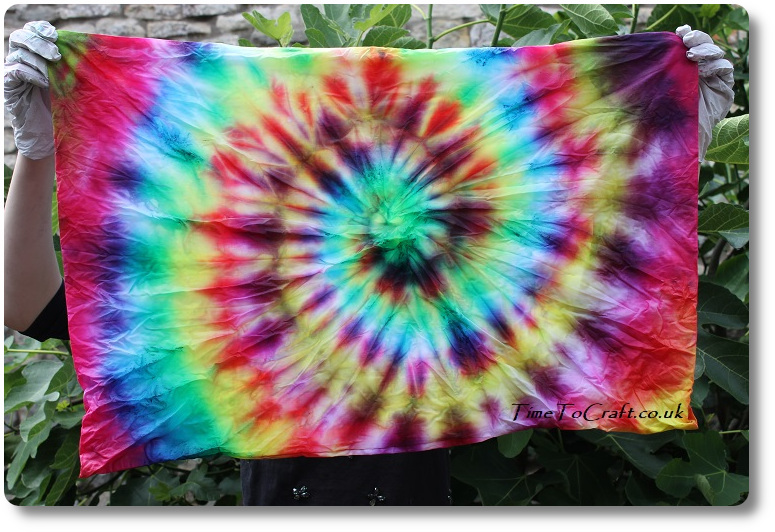 Dear summer 2018,
I just wanted to let you know that the sunshine and warm weather, you've sent our way this year, has been awesome. We've enjoyed it. Made the most of it. Drunk it up like a bumble bee in spring. No weekends spent mowing the grass. No thought of bringing jumpers when we venture out. The wet washing drying on the line within an hour. Eating alfresco and late evenings in the garden. Lots of outside time.
I'll forgive the fact that our salad garden was baked solid and not much grew, except turnips and lettuce. The green house has made up for it. (Anyone for a cucumber?) I'll even put aside the fact that you chose the one evening we attended an outdoor theatre, to summon up a sustained downpour. I may never be able to watch Oscar Wilde again without thinking of raindrops on umbrellas.
No. Seriously. It's OK. I'm over it.
Overall, we have been hugely blessed. Blue sky and sun. There is a big part of me that wants to capture that feeling. Bring it out when the first frosts bites and I most need it.
In an effort to bottle some of that sunshine, I've made strawberry jam, and have a vat of apple and mint jelly brewing as I type. We've nimbly crafted lavender wands to put among clothes in our drawers, to summon up the scent of summer, as woolly jumpers are pulled out to wear midwinter.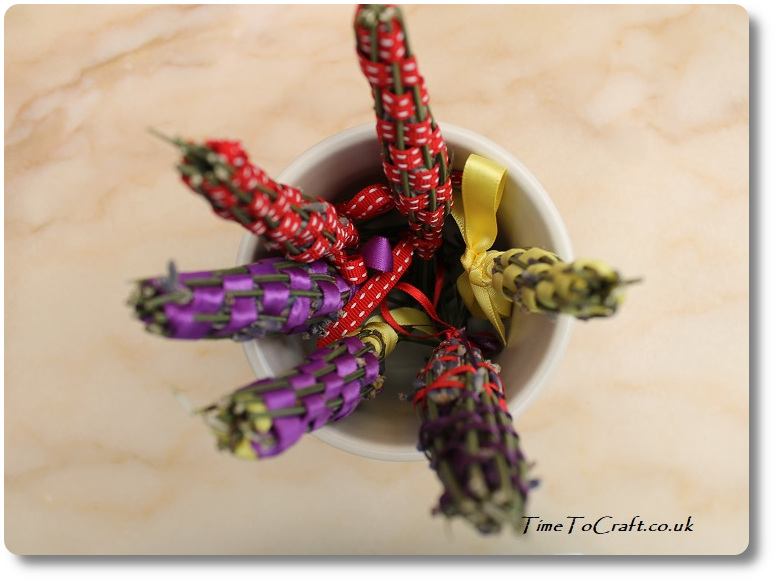 Wonderful, colourful ribbons.  I'll be transported straight back to sitting by the lavender with my two girls, weaving and twisting the stems in place. (how to here) Watching a hummingbird hawk moth visiting the flowers waiting to be picked.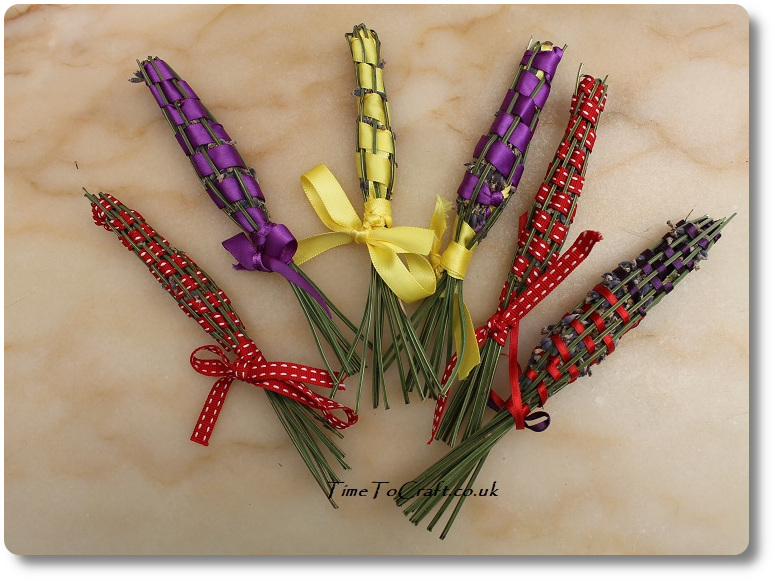 Good memories.
But, hands down, my favourite summer project, this year, has to be the tie dye bedlinen. I've had this one waiting in the wings for a few years. Looking for a summer that's not too wet, because this project was always going to be big and messy. Not a kitchen activity. Oh, no. Has to be outside.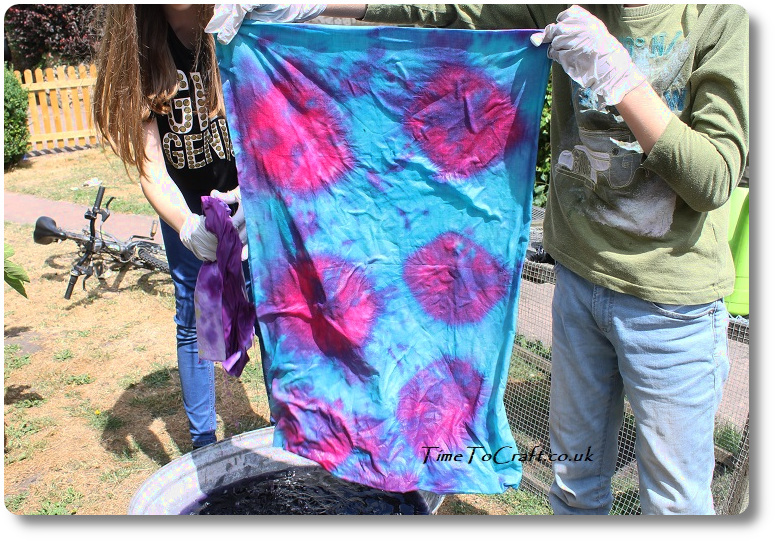 Although, I do usually count on the rain washing away the inevitable spilt dye, that runs off on to the lawn. While the rest of the grass in our garden was crunchy brown, this year, we did have one small corner that looked like a rainbow had laid down to rest. For weeks.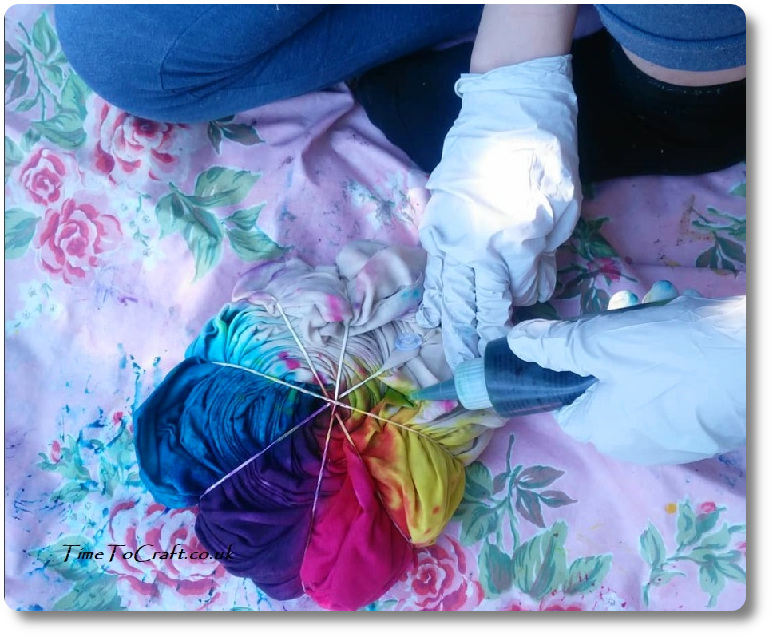 So three duvets and three pillowcases are now summer coloured. We bought more dye to top up the colour for the crumple style duvets, meaning we could dye three pillowcases, one bag and a pair of socks, at the same time.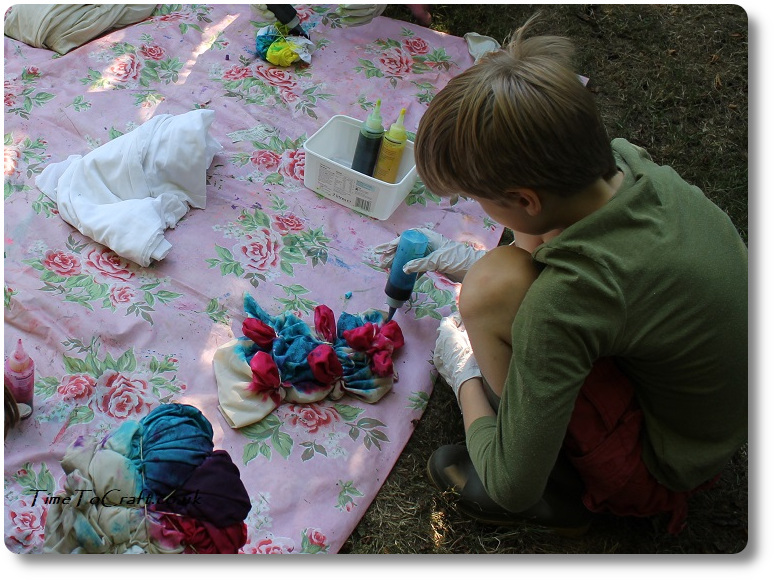 It would be true to say that we are well and truly over the urge to tie dye for a while, at least. Yep. No desire at all to dye anything. I'm not even sure we have anything left to dye.
It was worth it. They did have fun. They innovated and problem solved as they went along. The bedlinen is now on their beds. Boldly declaring that summer is being observed in this home. Some of the vibrance washed out at the rinsing stage, but it doesn't seem to matter. Enough sunshine has been captured.
Thank you, summer 2018. You have a few more weeks to run yet, but already you have proved to be a vintage year and we've captured it, not only in memories and photos, but duvet covers and pillowcases too.
Your forever friend
Cheryl
p.s. I'll be bookmarking this post. Once the jam and jelly have been eaten, and the duvet covers swapped for a winter theme, there will be days that I'll need a top up of colour and sunshine in my life. For sure.
Photos
There have been cases when people lifted my photos and words, and used them without credit to me or asking permission first. Using them for their own commercial gain. I have now added a level of security to deter people from doing this. Apologies to people who do play nicely. If you would like to use any of my photos, please contact me.
Copyright notice:
All my words and photos are copyrighted to me. They cannot be used for commercial benefit by anyone else. If you would like to use any of them, then please ask me first and don't just take. Written permission only. Don't pass my words, photos or ideas off as your own. It's not nice.
Cookie Policy
Our web pages do not use cookies however this website uses Google Analytics, a web analytics service provided by Google, Inc. Google Analytics uses cookies to help us analyse how people use our site. The use of cookies by Google Analytics is subject to change.