Red cardigan is finished – Yarn Along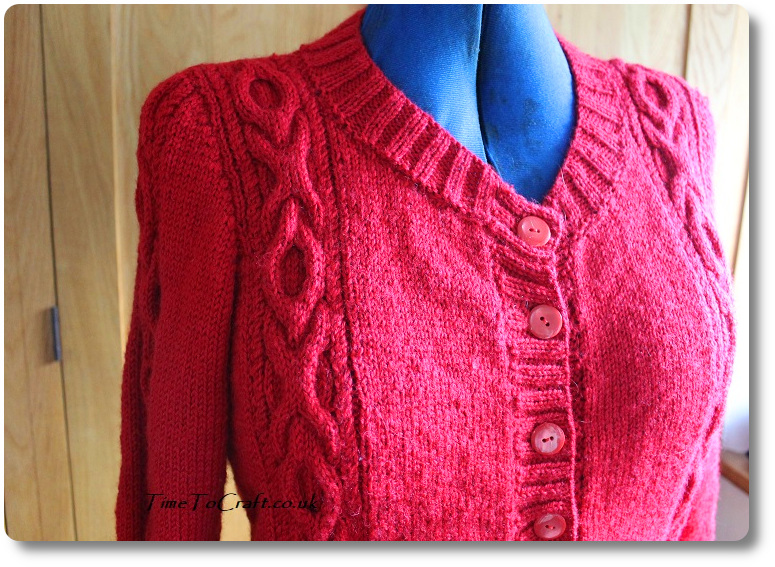 I've finished my red cardigan. Final stitch completed last night. Needs to be blocked to stop the hem curling and sort out the shaping, but it is done. If you can hear the hint of weariness in those words, then you are spot on. This cardigan has started to zap my enthusiasm.
Previous two versions of King Cole 4076 (jumper and cardigan) have taken a matter of weeks to do. They were straight forward. No frogging (unravelling) required. With this one, I've had to redo the whole of the left side, the collar and the button band. Silly mistakes. I don't know why. It is the same pattern. I knew what I was doing. Maybe knitting three items in a row was just too much.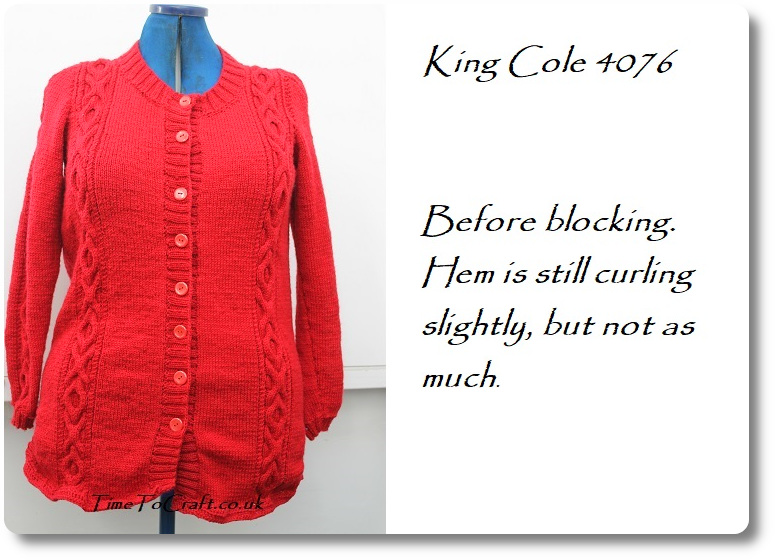 With this one, I did want to sort out the problem with my curling hem, that the others both had. They were missing the weight that ribbing gives at the bottom of a jumper or cardigan. In all fairness, blocking and wearing them, has reduced the curl over the months, but I remembered a tip that I received years ago from a blogger in the know.
It was for a different cardigan and she suggested adding crochet stitches at the bottom of each seam to give it weight. At the time, I couldn't crochet, so I didn't test out the tip. Roll on several years, to this red cardigan. I can now crochet. Could I add weight by crocheting a few rows of single crochet? Like a retrospective ribbing.
So I gave it a go.
It does seem to work. The back, if anything, curls inwards, which is perfect. I'm sure blocking will give this cardigan the shape I need. Slightly kicking myself that I didn't go the whole hog and add 2×2 ribbing to start with.
The only other adaption I made, if you can call it that, was adding a piece of ribbon down the button band. I'd noticed that my previous purple version of this cardigan, kept on losing buttons. It also might help with the shaping, in a small way. I love the ribbon. If I had more of the same ribbon, I would have added it to the buttonhole border too.
I have built up a good collection of odd lengths of ribbons and it is rather pleasing to find a good permanent use for one of them.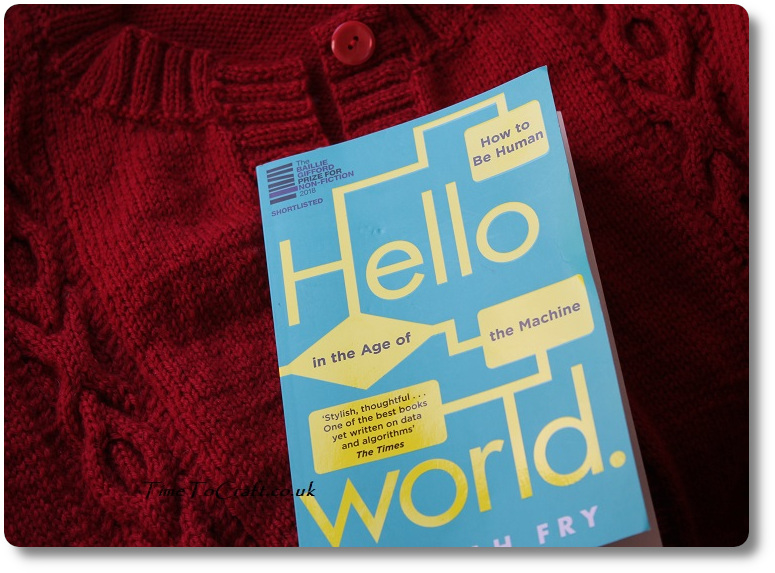 Today is Ginny's Yarn Along, so here is my current read. (affiliate link)  Hello World by Hannah Fry. I've watched several TV programmes presented by her and have liked her approach. She also happened to present The Royal Institute's Christmas Science Lectures, this Christmas, which is a must watch for our household.
I bought the book last year. I have a background in Artificial Intelligence and maths, so this book sounded good. The first program I wrote, printed "Hello World" on the screen, just like every other programmer I've ever met. I am a geek.
Saying that, this book is not just for geeks. The author writes in a very easy style. Yes, there are techy bits, but it is not a stodgy read. It is fascinating to see her take on the data gathered on us, every time we use a computer, and how it is used. How machine learning is being applied. I was banned from reading out loud anymore bits about data and marketing. It is relevant to everyone and she is challenging some of my ideas.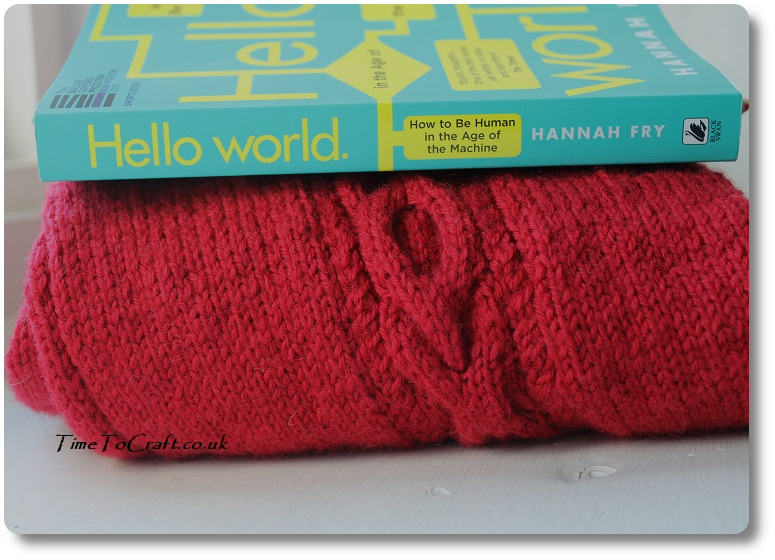 Nothing on my needles now, as I finished the cardigan last night. I think I'm going to do myself a favour and knit something simple like a pair of socks. I need a gap before I tackle anything jumper related again.
Joining in with Ginny's Yarn Along. What are you making at the moment?