She believed she could – motivational embroidery
(affiliated links included)
There is something very natural about embroidering, for me. It's something I don't do often, as it feels slightly indulgent. Not for a practical purpose. I do love doing it. Hundreds of tiny stitches, positioned precisely spelling out motivational embroidery or creating a picture. In this case, they are spelling out something that I hope will be inspirational.
Occasionally, that is good thing and all I need.
Materials
Last week, I was browsing for an enamel cleaner on Amazon. Don't ask me how I ended up looking at embroidery templates. I've inherited a lot of unfinished embroidery, but I don't think I've ever started one from step one.
Cut a long story short (and yes, I did find the enamel cleaner I was after), I ended up buying a width of beige linen and a pack of ten inspirational embroidery templates. They are so easy to use. Using a hot iron, I pressed the paper print on to the linen. Bit light at the bottom of the print, as I didn't press it hard enough, but enough to follow.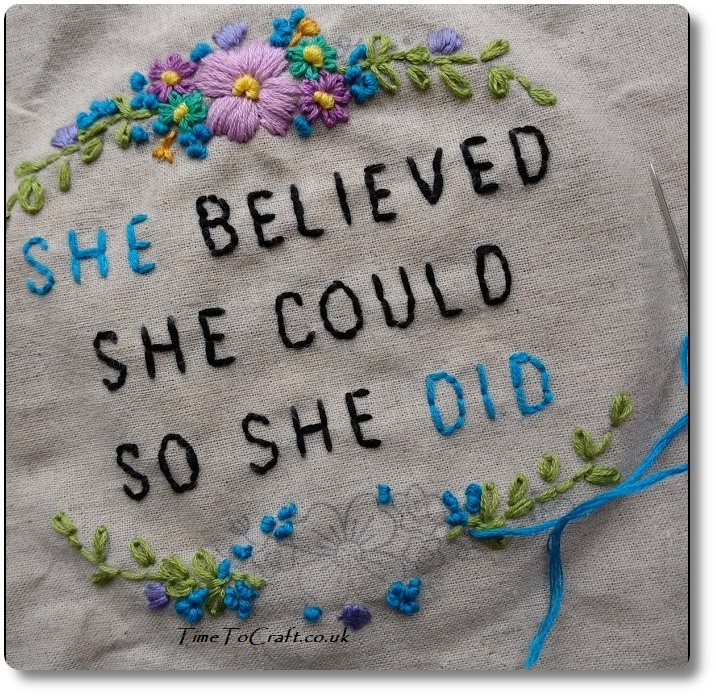 I have a good size collection of silks to sew with. Draping them over the print and deciding the colour scheme is always fun. This one and this one, but not that. Too garish. Too much pink. It is fun to find the right balance of colours.
I used daisy stitch, French knots and satin stitch. I was taught by my grandmother and I can still hear her nudging me in the right direction. Telling me to move my needle point a little to the left.
The embroidery template doesn't come with a guide to colours or the stitches to use. It is absolutely up to you. I wouldn't say it is suitable for beginners who may need a helping hand, unless you put in a bit of research.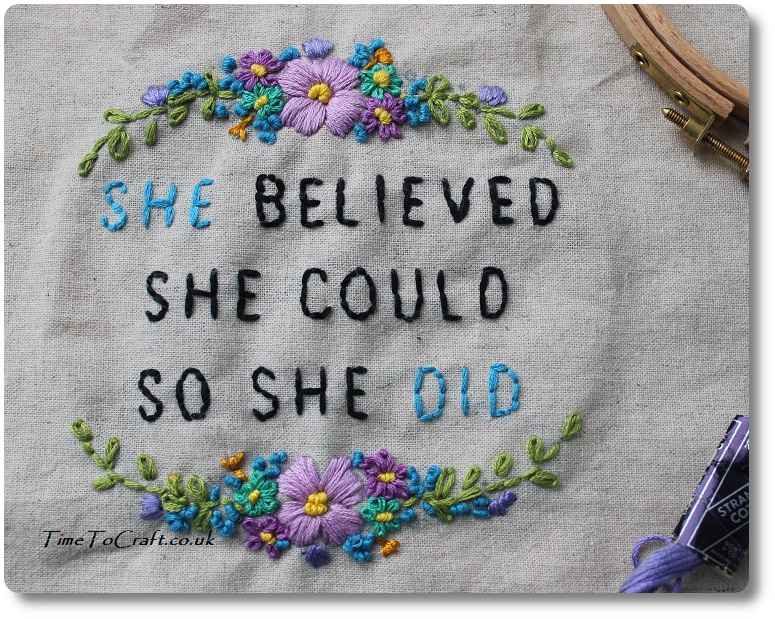 Finished
My embroidery is all finished now. I didn't plan on using two colours for the lettering. That happened as I stitched.
I don't know what I'm going to do with this piece yet. For now I'll put it in a hoop and display it. The right sized hoop has been ordered and is on its way. I might eventually make it into a little bag or pencil case. We'll see.
It needs a stretch in the hoop first, to make it lay flat.
What next? Well, the pack came with nine other motivational embroidery designs. I just need to decide which one. (Spoiler: this one)