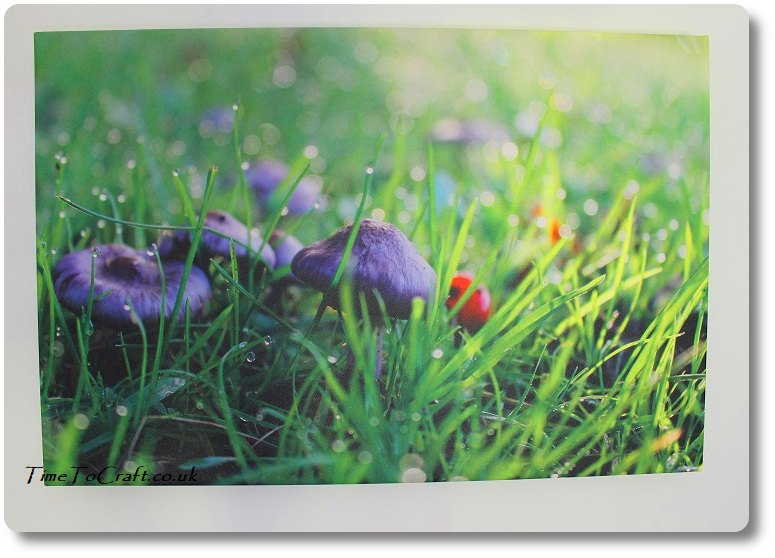 ---
*ad: this is a review post. The canvas was gifted to me by Photowall in exchange for a fair and honest review.
---
This photo was taken back in autumn. If you're a regular reader, it might just ring a bell. It was a frosty morning and I lay down in the grass for a good hour, taking photos of the patch of purple toadstools. They'd appeared in the garden almost overnight. I revelled in the changing light, as the sun came up, capturing the subtle changes. Sparkling water droplets and the burst of colour. I was happy with the results. Plus I'd taken an hour to myself. It felt indulgent.
When Photowall, who produce custom wallpaper and prints, approached me to review one of their products, this photo was the first I thought of using. They have an amazing, large collection of images that you can use, instead of your own. All grouped in themes, such as nature, vintage, maps, transport, sport. If there's not at least one image, that jumps out and sings to you, then call me surprised. It really is a fabulous collection.
They also do wallpaper and posters.
I wanted to test out how one of my photos would look on canvas. I was interested to see how true the colour would feel and also the sharpness.
It was really easy to order. You upload a photo to their website and it steps you through, finding the right size for your photo and its resolution. I went for a frameless print, as I love the way the image can be wrapped around the sides, but you can opt for framed.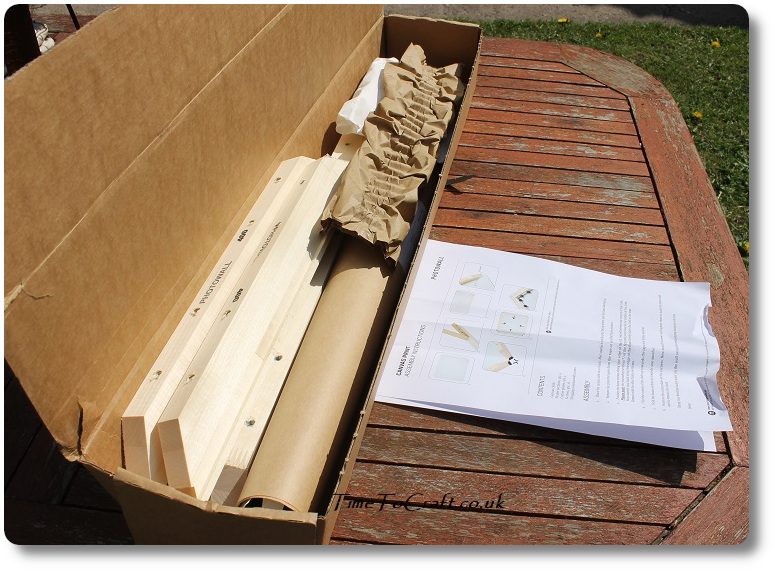 I pressed go before 9am. By lunchtime, the next day, the package had arrived from Sweden. I don't know if I hit a sweet moment, but seeing as there is a pandemic on the go, I thought it would take longer than the 1-2 working days.
It arrives as a kit, but don't be put off. It is really easy to put together. Rip off the adhesive strip cover and line it up. Even the screws don't need a screwdriver. It really is easy. I was surprised. It took less than five minutes. Everything you need comes in the box. Including a hook, screw and wall plug to hang it. (Obviously, you'll need a drill and screwdriver of your own for that bit, but you would for any picture.)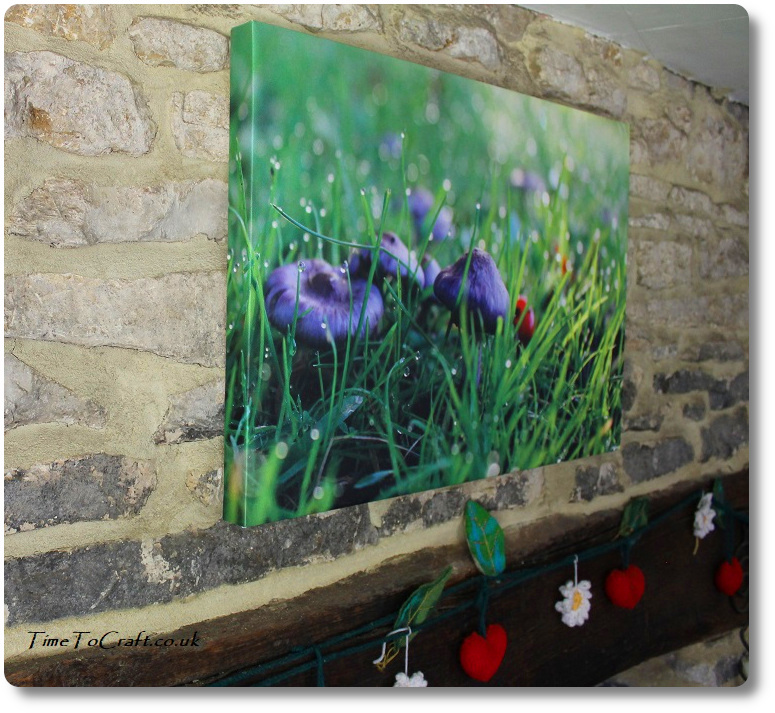 So how did it look? I know this photo well. My eyes instantly jump to the parts that should be in focus, bright with light and saturated in colour. Part of me worried that it would not scale up and might lose its intensity.
I unrolled the canvas, holding my breath.
It worked. It really did. The colours are strong. The texture of the toadstools is there and the light on the drops sparkle. The canvas gives it a matt surface, as expected. I am happy as a sand boy. It was far easier to order than I imagined.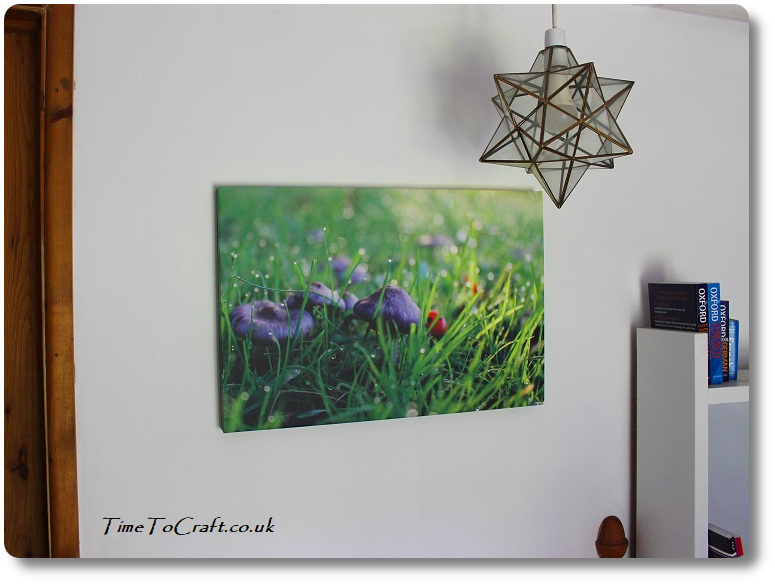 I'm going to hang it at the top of the stairs. It looks better against the white wall than the stone around our inglenook. I'll be able to see it every morning, as I start the day. Certainly a wonderful way to remind me of my indulgent, stolen hour, back last year.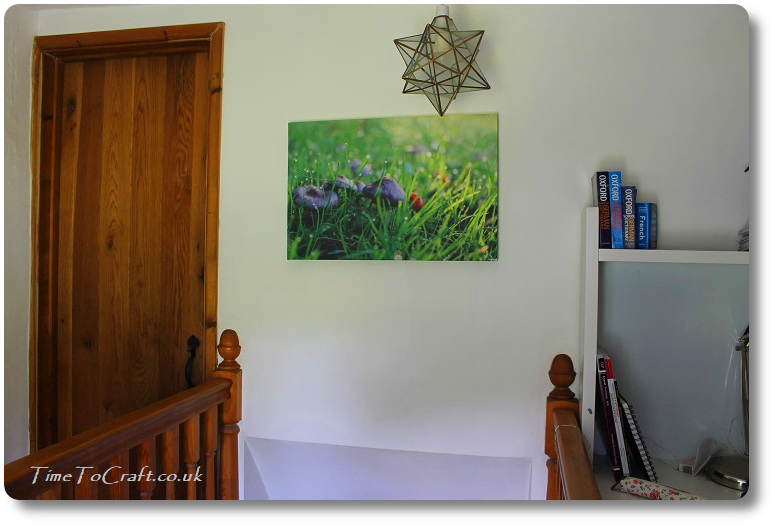 Now I've seen the results, I'm planning on ordering another print. I feel confident that a photo of Hero, the hound, would show his fur texture. I love being able to use my own photo. Receiving this one, certainly cheered me up during the current lockdown.
If you fancy livening up a space on your wall, at the moment, or maybe sending one as a present, Photowall have given me a discount code to share with you timetocraft25 which will give you a 25% discount. It's valid until June 20th 2020. The price for a canvas starts at £38 and posters are from £22. Either use your own photo or choose one of their fabulous array of images.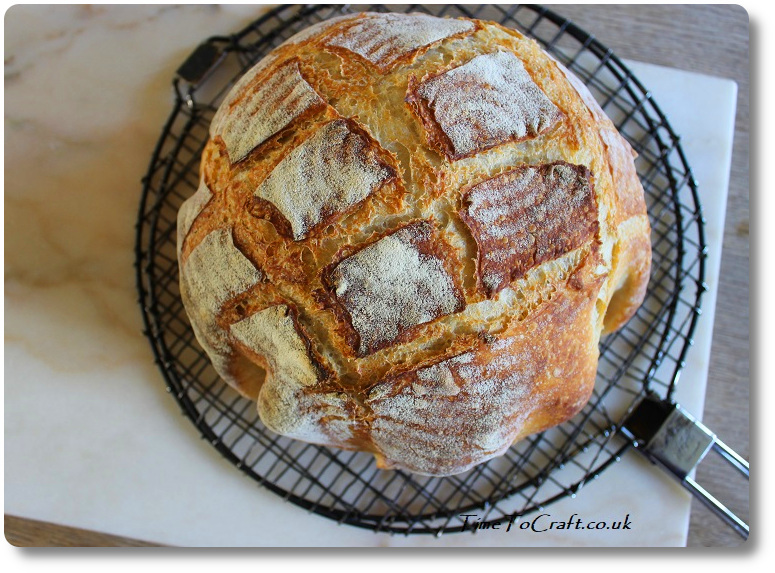 If I looked back at my photos from this time last year, or the year before, they would pretty much match today. Gardening, dog walk in the woods, baking bread and sowing seeds. A leisurely Sunday.
I almost forgot how this year it is different.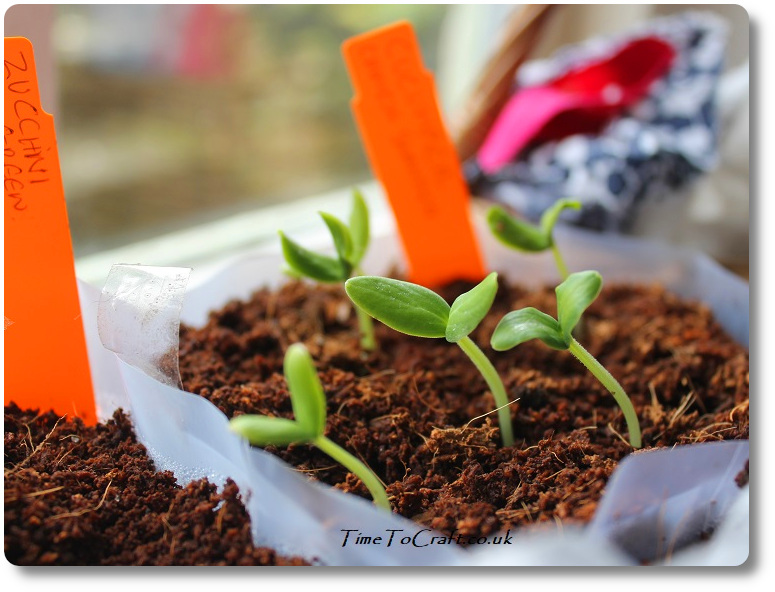 True story. While everyone was buying up toilet rolls and pasta, at the supermarket last week, I bought vegetable seeds and a cherry/custard pie. What can I say? It's my favourite pie. And I'd run out of cucumber seeds.
A week later, the cucumber and courgette/ zucchini seedlings are up. The cherry pie has sadly already been eaten.
I totally get the panic buying. In a time when we feel like we have less control over what is going on around us, buying and storing is our way of pulling back control. That is OK. It is an initial reaction and natural. We just all need to know when enough is enough, and stop. To remember that there are other people too. I have faith that the craziness will grind to a halt soon.
Back to the seeds. It was a kit, with coconut growing compost, which means it is 100% peat free. I'm intrigued to see how they do. Looking promising so far.
For anyone thinking of giving vegetable growing a go, this year, you don't need a big area. They can grow on a windowsill or doorstep. No need for a fancy container. Even an old food bag can double as a plant pot. Also there is no such thing as green thumbs. Or green fingers, for that matter. Don't let that put you off.
I'm looking forward to sharing my surplus vegetables with friends and neighbours eventually too, as the growing season rolls on. If nothing else, slow food and slow living seems to be a good antidote to the panic buying, at the moment.
Time to sow some seeds.
(edited: tomatoes seedlings are starting to pop through now, which is relevant to my last blog post. Not counting my tomatoes yet, though.)
Photos
There have been cases when people lifted my photos and words, and used them without credit to me or asking permission first. Using them for their own commercial gain. I have now added a level of security to deter people from doing this. Apologies to people who do play nicely. If you would like to use any of my photos, please contact me.
Copyright notice:
All my words and photos are copyrighted to me. They cannot be used for commercial benefit by anyone else. If you would like to use any of them, then please ask me first and don't just take. Written permission only. Don't pass my words, photos or ideas off as your own. It's not nice.
Cookie Policy
Our web pages do not use cookies however this website uses Google Analytics, a web analytics service provided by Google, Inc. Google Analytics uses cookies to help us analyse how people use our site. The use of cookies by Google Analytics is subject to change.