It's pumpkin time again.
Runs around, hugging pumpkins.
I've been very self controlled up to now. I've mostly held off until mid October, but I'm just going to cut loose and enjoy everything pumpkin for a few weeks.  When else can I get away with it? Cooking, baking and making. I do love this time of year.
So. With no further ado, my first pumpkin themed activity to share is homemade pumpkin spice. A quick simple make. I use it in baking and drinks. It warms you up. Makes you smile. Although, I have to admit, that those last two are probably just me.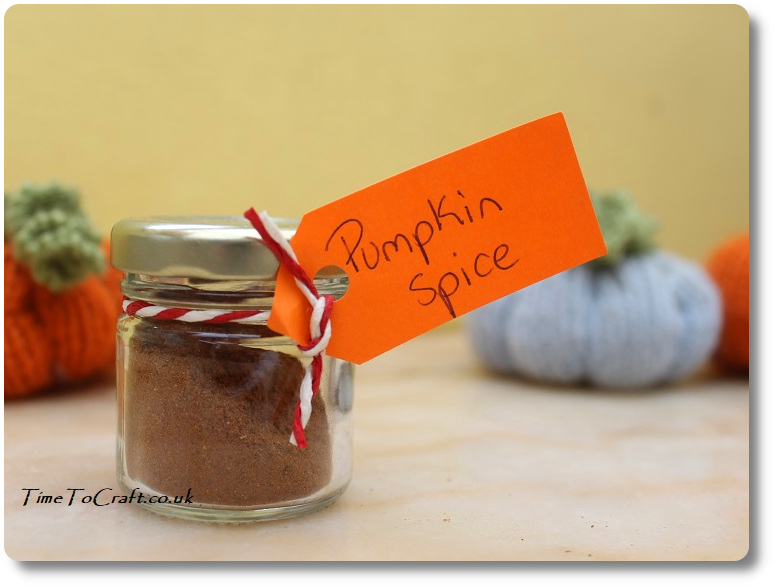 First up, because apparently this does confuse people, pumpkin spice does not contain pumpkin. Not a splodge. Think of it more as a spice you add to pumpkin, or something else, to bring pumpkins to mind.
Secondly, it is easily mistaken, on this side of the Pond, for Christmas spices. For a good reason. It uses pretty much the same spices. I use a similar mix for my Christmas pudding. The same spices. Maybe not in the same quantities. My top tip is not to mix it with citrus, otherwise it feels more like a Christmas spice than a pumpkin spice.
Thirdly, like Christmas spice, everyone has their favourite recipe. This is my go to recipe.
As you can probably tell, from the photo, I don't have a preferred place to pick up spices. I do like to buy the unground versions, when I see them. I think they hold the taste and fragrance more.
Also I can cackle away and channel my inner potion maker, as I grind them with my mortar and pestle. For this recipe, the spices need to be ground.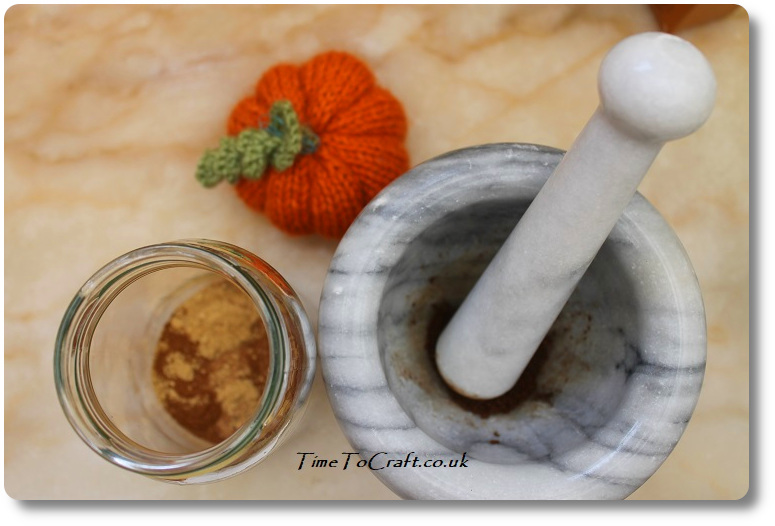 How to make pumpkin spice
Ingredients
2 tsp ground cinnamon
1/2 tsp ground ginger
1/2 tsp ground nutmeg
1/8 – 1/4 tsp ground allspice
1/8 – 1/4tsp ground cloves
Mix the spices in a jam jar, with the lid on, then decant into a smaller jam jar, to reduce the air in the jar. Store in a cool place, along with your other spices.
This little jar should last me to the end of the month, I hope. I don't need much each time. I like to make smaller quantities, otherwise it's left to sit on the shelf until next October. I'd prefer to make fresh. Same applies to buying. As lovely as pumpkin spice is, I can't see myself using it all year round and the jars you buy are more than I need.
The pumpkin spice can be added to all sorts of different recipes and even crafts. I have a few in mind, but I'll leave the first one until next time.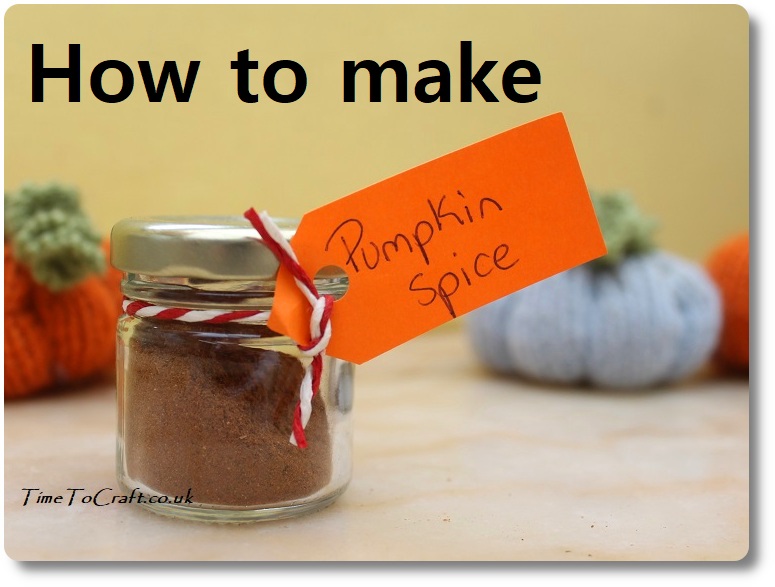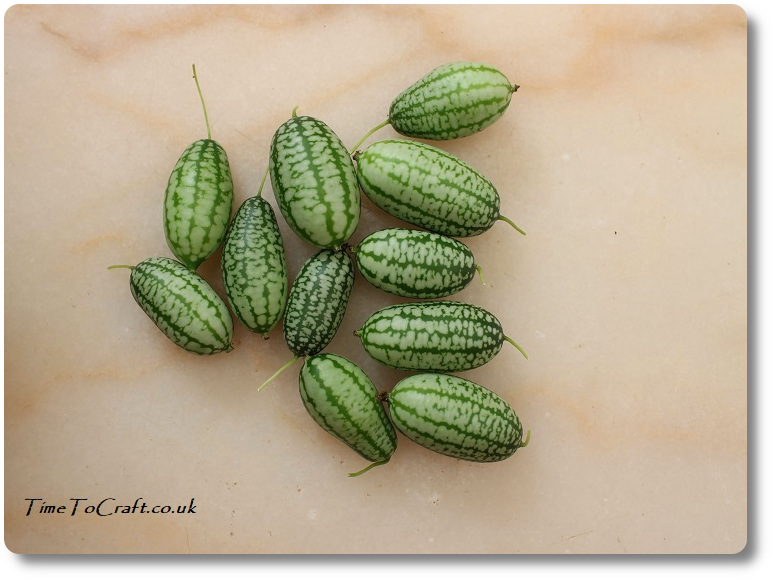 Life is certainly sent to try us, isn't it? Yes, one of those weeks. Although it takes with one hand and gives back, in basketfuls, with the other. A couple of blah! moments this week concerning cars and sheds, but also lots of joy-in-the-heart times, that keep the balance. Life is good. On the whole. I do like that caveat. I tell the children that it's not about the cards you are dealt in life, but how you choose to play them.
So I choose positive. The get-on-and-deal-with-it-all. Weekend plans changed. Opportunities elsewhere.
The rain has definitely brought freshness. The garden is swelling in goodies. First of the garden peas, this week, as well as the cucamelons, from the greenhouse. They are refreshing to eat. A burst of cucumber, with a twist of lime/lemon, when you crunch into one.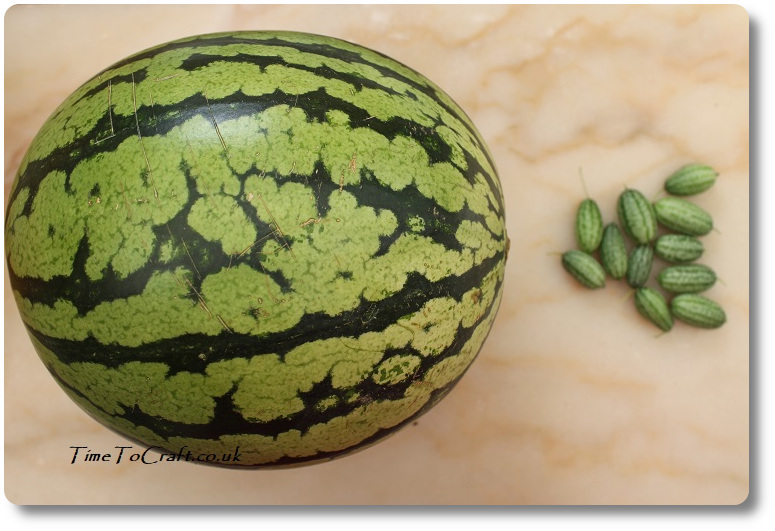 I didn't grow the watermelon, but it does give an idea of the size and likeness to the cucamelons. In Mexico, they call cucamelons, little mouse melons. It's just how they look.
Also been cooking with courgette. Courgettes are so easy to grow. They give and they give, but I've really struggled to find recipes that the whole family will eat. This weekend, I made courgette fritters, which always goes down well. Next day, I tried a courgette and pesto pasta sauce also. Clean plates all round. Always a good test of a successful recipe, and good to have another option. My mission to find the collection of best courgette dishes continues. I feel encouraged.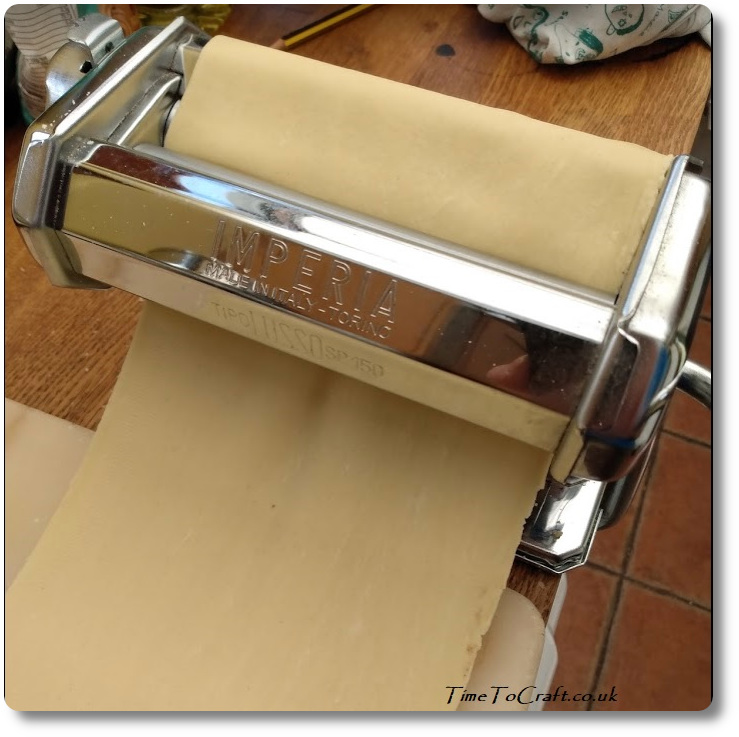 It might have helped that I made the pasta from scratch too, to go with the sauce. I love making pasta, but it is time consuming. I find the trick, to good pasta, is to run the pasta through the machine on the lowest setting a few times. Folding and turning each time, until it's smooth. Don't rush it. Anyway, the meal went down well.
(good job as I have more courgettes lined up and ready to eat)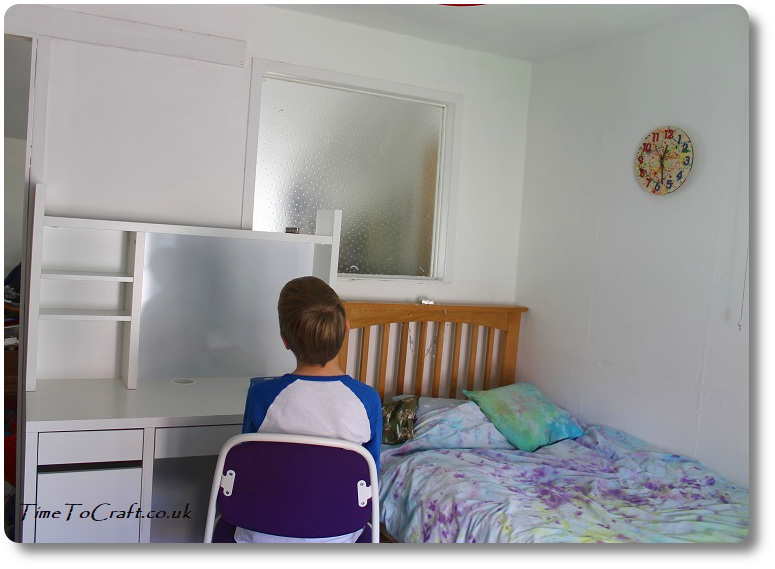 Finished Youngest's bedroom, this week, and he's moved everything back in. Fresh and light. It's looking more like his room now, than it does in the photo above. He's kept the floor uncluttered, by storing everything away. I still have soft furnishings to do, which means I have sewing time to look forward to.
Middle teen has finished making her quilt. She started it a few years ago. I'll write more about it another time, because it certainly deserves it. (edited: quilt write up is here) Folded up in the photo, so it gives no indication of the size. It is a generous lap quilt.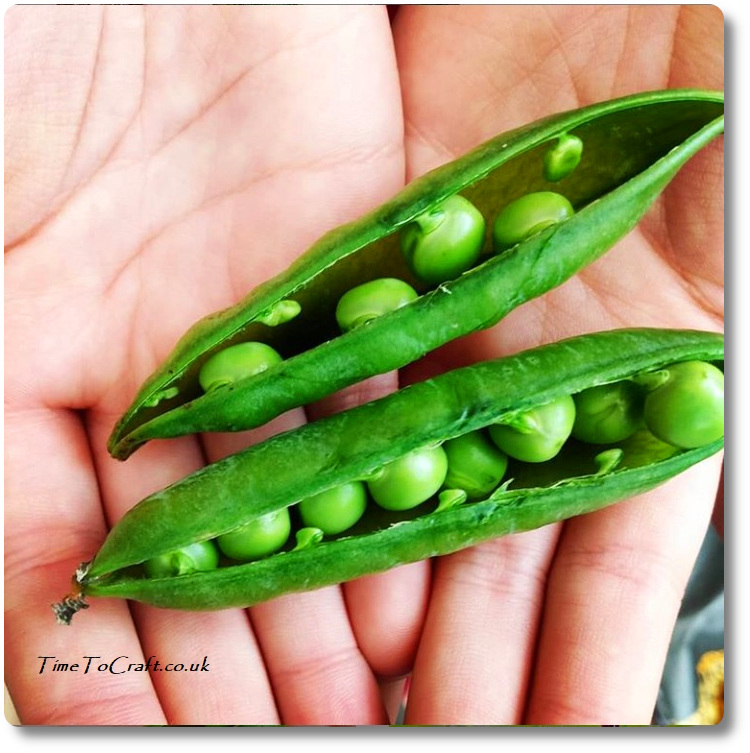 Also had a visit from grandparents. Rain held off, so I could give them the garden tour.
Another week gone of the holidays. Over half way now, which always seems strange when the US and Scotland have already gone back. Planning to make the most of the time left. It goes too fast.
Joining in with Anne's Word of the week linky. I'm going with the word "fresh".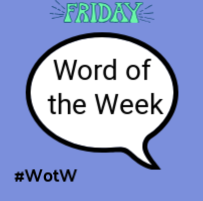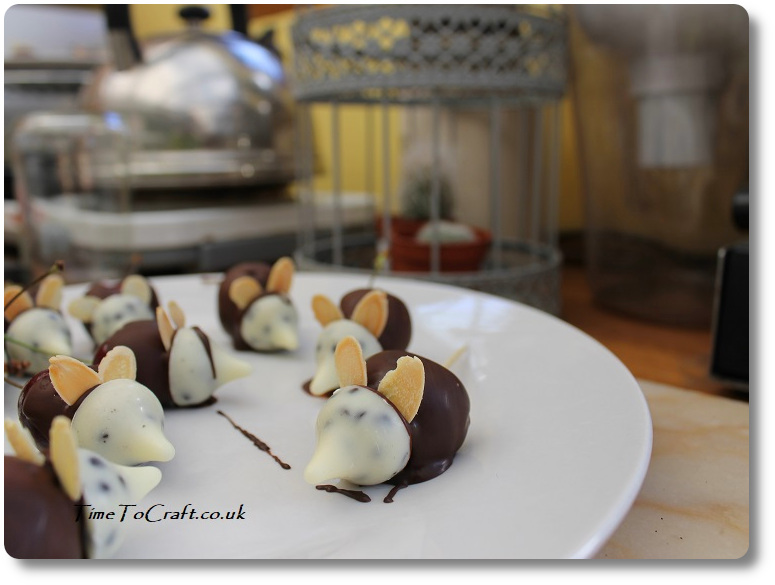 I'll be honest. I go through stages of being organized and, without a doubt, September is the month of choice. Not surprising really, as the children go back to school, which gives me more time, and, just as crucial, it's all about new. New teachers, new subjects, new interests. The word "new" litters every sentence they utter. I'm surrounded.
This September is no different, so I'm getting organized.
To start with I have been getting my weekday routine set up. I've started to follow a tidying and cleaning routine (again, she cries), so when I sit down to work, there are no nagging things to distract me.
Three weeks ago, I started following the Organised Mum Method (#teamTomm). Simple routine, with reminders on Instagram, and it's working. I'm not someone that generally has a tidy house, but I am loving going into a room and finding it looking presentable. Really makes me smile. The family love it too. It only takes 15 minutes to do the usual daily tidy/cleaning and then 30 minutes a day to target one area, on rotation.
And no cleaning at the weekend. Let's get real. You have got to love a system that gives you the weekend off.
More crafting time for me!
I also organized my eldest Teen's desk. She can now sit there and study. Last couple of nights she's done just that and seems happy with her progress. Success!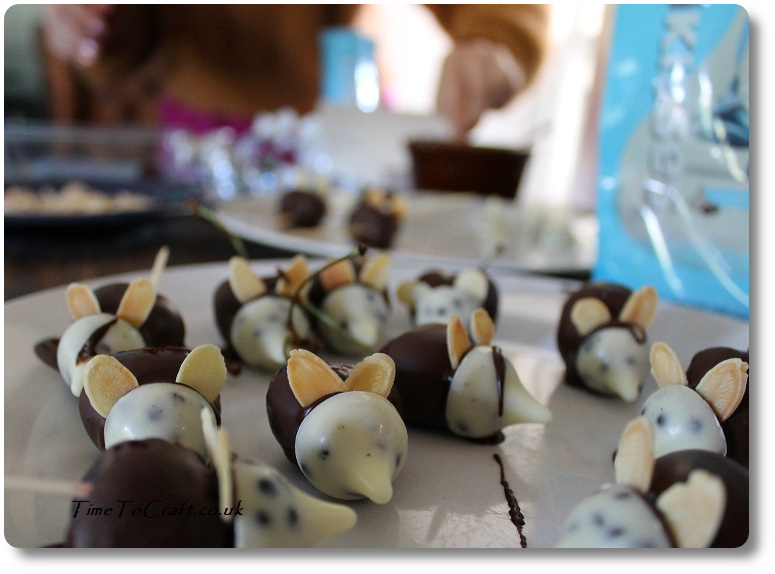 So will it stick, this new routine of mine? I know why I usually fail to keep my organization vibe going once September slips by. I set myself unrealistic targets. I feel the fail. Once that happens, it's easy to let one day missed turn into a week, and then more, until it drizzles out completely. I'm pretty sure I'm not alone.
The penny has dropped that I must stop beating myself up about not crossing everything off my to-do list. Or lifting the same items from today's list to tomorrow's and then the next. It's not about doing it all, but doing my best.
Lists are there to help me, not to rule me.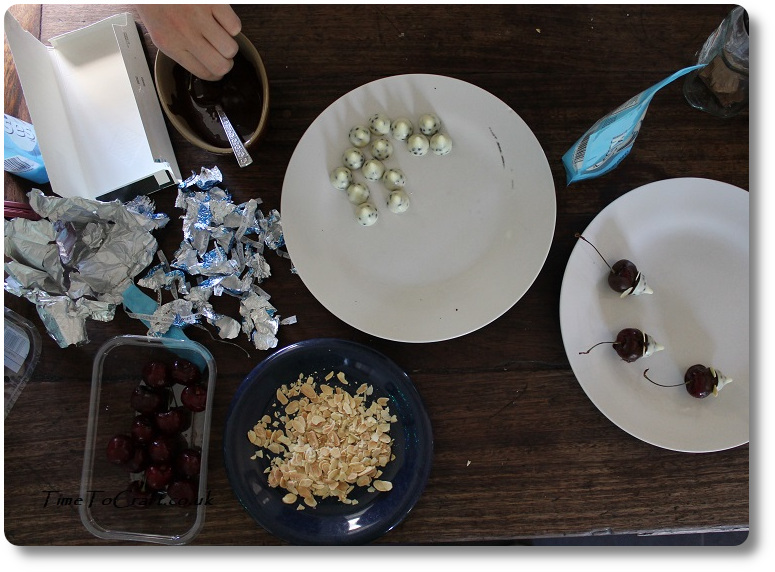 Now the wonderful thing about getting organized is that I have extra pockets of time to spend in different ways.  My week has not been all about cleaning or list making. No. It's been about me having room and time to do the things I really love doing. More time to read, knit and spend time with my family.
Three wins from this week:
I tend to read while waiting in the car for one of my children, and also last thing at night. I've won myself some extra time this week and finished my book "The Memory Keeper's Daughter". It is slow, but captivating. Real struggles and emotional turmoil. Glad I read it. Now for the next. Any suggestions?
At the weekend, we went out as a family to the small, independent cinema in Wells to see  Jack Black in "The House with a Clock in Its Walls." A fun film. Thank you, organized-me.
Also with my extra time and organization at its peak, I spent a happy time making chocolate cherry mice after school, with my middle teen. Partly helped by me working my lists and adding the ingredients to my shop last week. It is quick and everyone loves them. Unorganized-me hardly recognizes herself.
Dead easy to make.
Chocolate cherry mice
Ingredients:
small punnet of fresh cherries, preferably with stalks
100g dark chocolate
pack of Hershey Kisses (I found them in Waitrose)
handful of toasted almond flakes
cocktail sticks (if cherries are missing stalks)
How to make:
1. Melt the chocolate in a small bowl in the microwave until it runny.
2. Unwrap enough Hershey Kisses, so you have one for every cherry.
3. Hold the cherry by the stalk (or cocktail stick) and dip it into the chocolate until the cherry is covered.
4. Push the flat end of the Kiss onto the cherry to make the head, and put the mouse on a plate.
5. Slip two almond flakes between the Kiss and the cherry, to make ears.
6. Leave to set.
Eat and enjoy. If these are to be kept a while, then store them in the fridge, but only for a few days. Not that I would know. These pesky mice were gone in two seconds flat.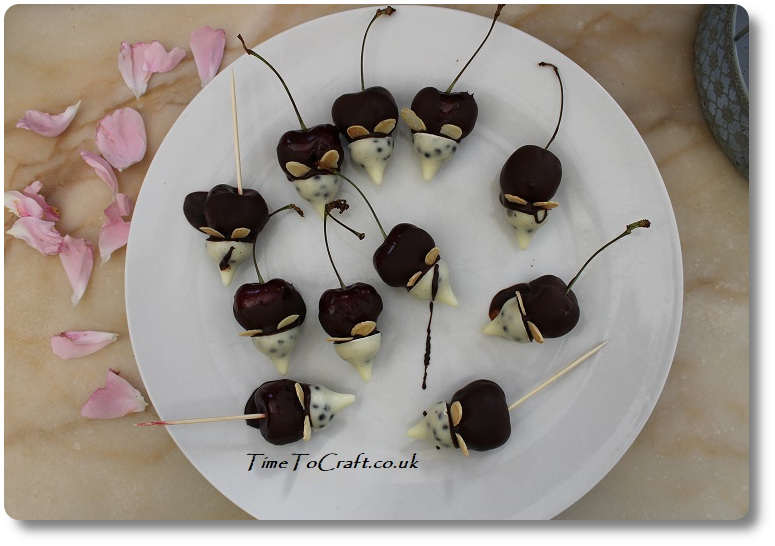 I am so enjoying the extra time and space to do what I love to do. A little bit of organization and I can have that time. Joining in with #wotw with my word organized.
Photos
There have been cases when people lifted my photos and words, and used them without credit to me or asking permission first. Using them for their own commercial gain. I have now added a level of security to deter people from doing this. Apologies to people who do play nicely. If you would like to use any of my photos, please contact me.
Copyright notice:
All my words and photos are copyrighted to me. They cannot be used for commercial benefit by anyone else. If you would like to use any of them, then please ask me first and don't just take. Written permission only. Don't pass my words, photos or ideas off as your own. It's not nice.
Cookie Policy
Our web pages do not use cookies however this website uses Google Analytics, a web analytics service provided by Google, Inc. Google Analytics uses cookies to help us analyse how people use our site. The use of cookies by Google Analytics is subject to change.