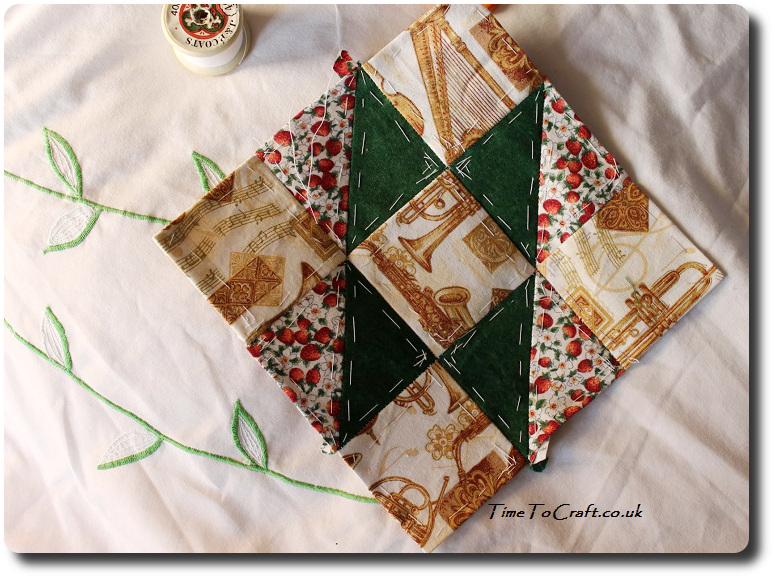 Dear Daughter
This quilt block (Contrary Wife) very nearly escaped being made. After the last block, I had enough patchwork pieces to make up your Dear Daughter quilt. Albeit, as a square, but a chance to finish the quilt. Hooray, I thought. Then I remembered a letter I wanted to include, which meant another block had to be made. Continue reading →
Dear Daughter,
Another quilt block and letter for your Dear Daughter quilt. I've had this one sewn up and ready for awhile, but mislaid it. Along with all the other finished blocks. I turned my craft room upside down looking for it. Finally found the pack between two cookery books. Not my best filing decision.
I'm not the most organized person, as I'm sure you know. More spontaneous. I have moments of pure whirlwind efficiency, which keeps everything ticking along fairly smoothly, but most of the time I tend towards chaos. Organized chaos, as I can usually find whatever is needed. It's not something I rattle on about on-line, partly as I don't think people would turn up to read about it.
Far better to write about finished dressmaking projects, rather than the mound of washing that has so far been ignored. Take photos of the places we've been, than the areas of the garden yet to be weeded. The dust bunnies multiplying under the table. Seriously, does anyone want to read about the more disorganized side of my reality? Do they really need to be burdened by a photo of my quilt blocks hiding between Mary Berry and Nigella? More to the point, do I want to write and take the photos of it? Heck. No. Continue reading →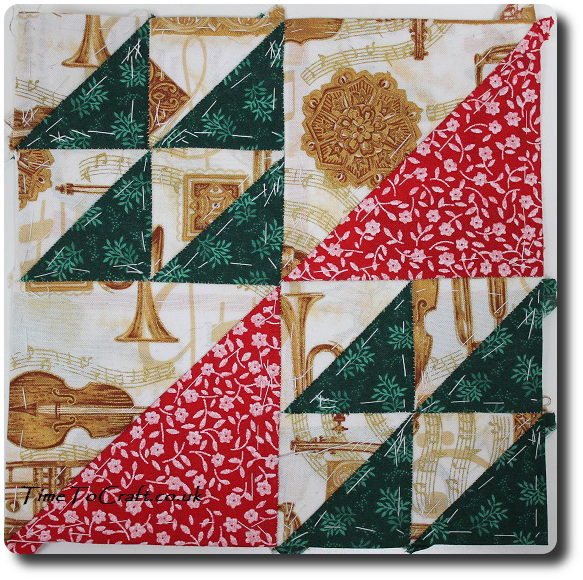 Dear Daughter
I realised today that my pile of quilt blocks for your Dear Daughter quilt is growing, while the number of letters is not keeping up. I have four newly finished blocks, and another almost sewn up, with no letters of their own. Hmm. Time to write another letter.
This quilt block is called "Flock". It has an interesting effect that I wasn't expecting. It shows up better from a distance and may not work as well in the photos.
As if by magic, the reds and greens almost seem to hover above the musical instrument print. I think the solid red and greens combine well, but the gold and white images trick the eye into thinking it's a separate layer, further away. Like looking down on a flock of birds flying over a landscape, which is far down below. I'm sure that this block is meant to have the effect, but it only shows ups when you actually make it.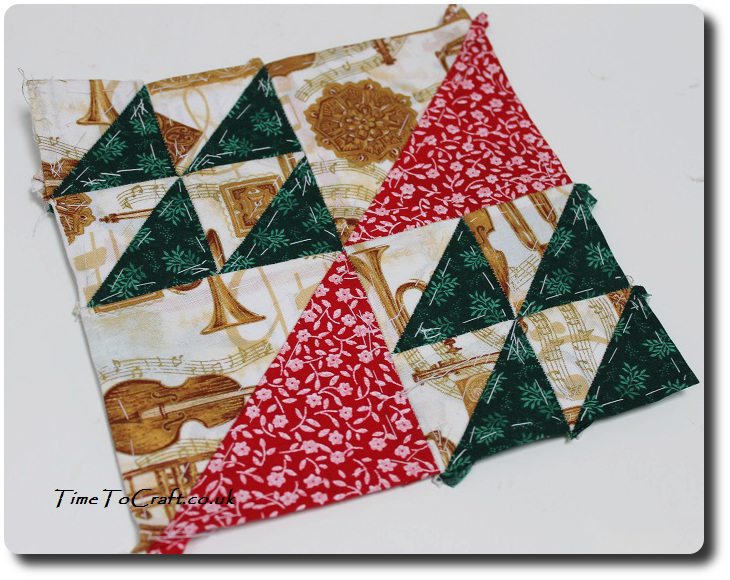 As I sorted the washing this morning, I mulled over the effect. I wish I had used smaller print for the lighter fabric to make it more distant.
Then I was distracted. I noticed yet again that you have less school socks than your siblings. This is not possible. I seem to buy socks for you all, every month or two. Yet they have many and you don't. Continue reading →
Photos
There have been cases when people lifted my photos and words, and used them without credit to me or asking permission first. Using them for their own commercial gain. I have now added a level of security to deter people from doing this. Apologies to people who do play nicely. If you would like to use any of my photos, please contact me.
Copyright notice:
All my words and photos are copyrighted to me. They cannot be used for commercial benefit by anyone else. If you would like to use any of them, then please ask me first and don't just take. Written permission only. Don't pass my words, photos or ideas off as your own. It's not nice.
Cookie Policy
Our web pages do not use cookies however this website uses Google Analytics, a web analytics service provided by Google, Inc. Google Analytics uses cookies to help us analyse how people use our site. The use of cookies by Google Analytics is subject to change.