It's finished. Middle Teen has finished her first quilt. I'm so pleased with how it has turned out, but far more importantly, she loves it. It's her quilt. Apart from the odd pointer from me, she's just got on and made it all by herself. Transferring the skills she learnt while making her patchwork tote and cushion.
I love her choice of fabric. This is a girl who dreams of flying. I don't just mean that she wants to fly, but she also wakes up, on a regular basis, from dreams where she is flying. A quilt made of images of hot air balloons and space seems even more of a perfect choice to snuggle under, while dreaming her dreams.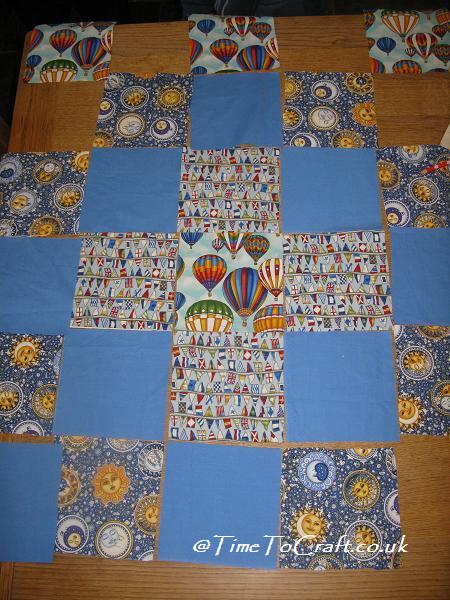 (photo from 2012)
The project
Selection of the fabric and cutting out happened back in 2012. She was eight. I took her to a local fabric shop and gave her full rein. She chose hot air balloons, cosmic images and flags fluttering in the sky, along with a blue to break it up.
After cutting out the squares, she spent ages playing with the arrangement.
Then the project was put aside to gather dust.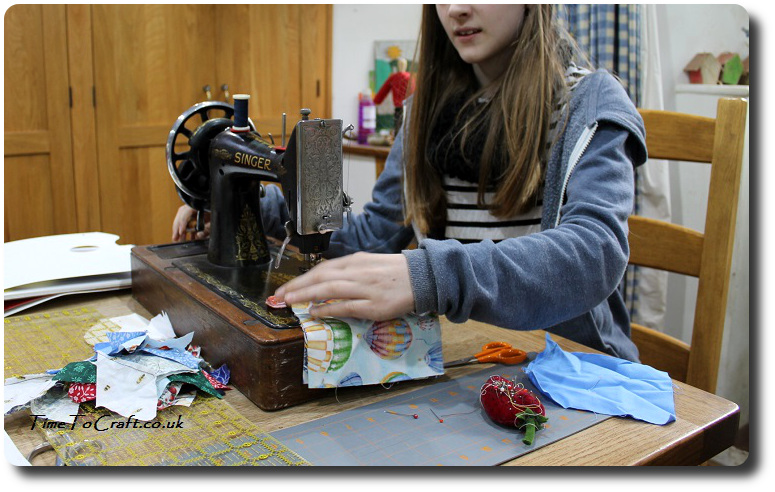 Move on to 2017 and she dug out my old hand-cranked Singer sewing machine, to sew the patches together. She was pleased with the arrangement and enjoyed stitching them. The slow rhythm of the manual sewing machine is something every person, who sews or not, should experience at least once. Good sewing therapy.
Anyway, then the project was put aside again to gather dust. (Not literally. She did store it in a box)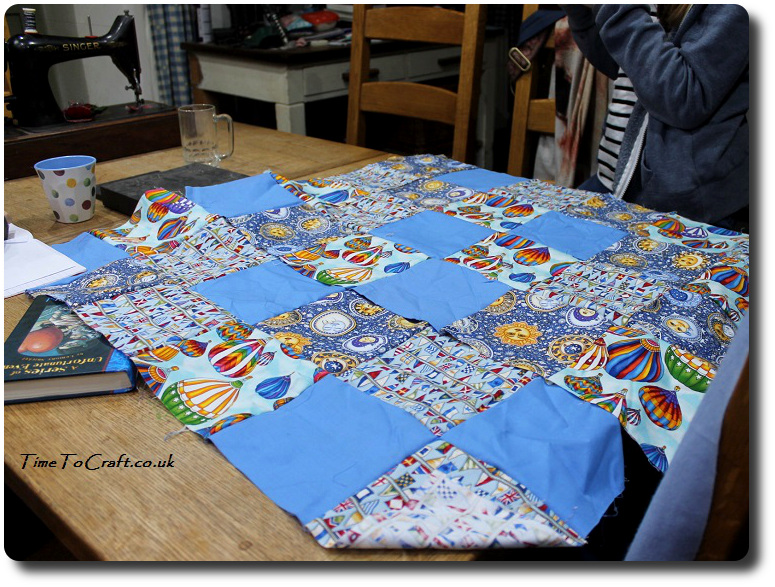 Time shift to early 2019. She's 15. I gave her a piece of wadding and an old duvet cover for a backing fabric, which she duly sandwiched together.
Slight pause. Dust bunnies formed and multiplied….
This holiday, I encouraged her to finish it. Partly because I needed my curved safety pins back which she'd used to pin it all together. Out came the old Singer sewing machine, once more. It really is a good machine for quilting. She sewed in the ditch, which basically means where two squares meet.
She was on a roll now. Using the backing fabric, folded over to the front, she made the binding. She even figured out how to do mitred edges for the corners, which I was hugely impressed by.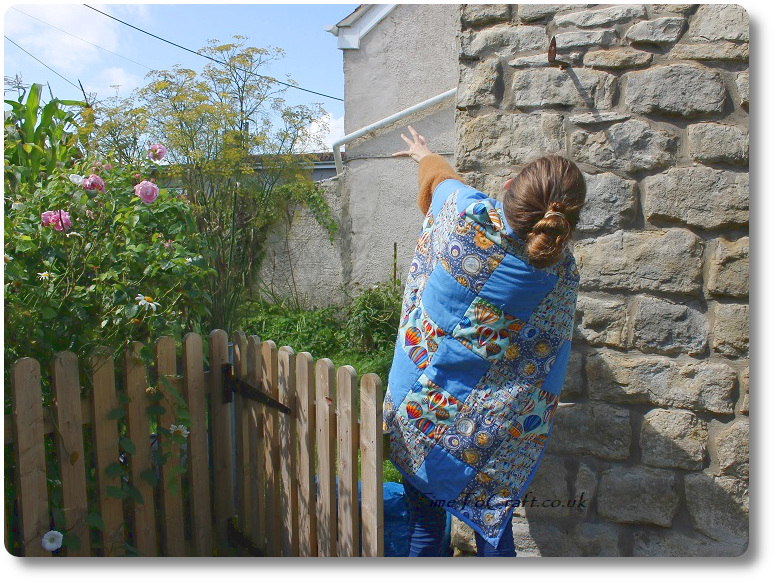 Quick, light press of the fabric and it was done. My funny, gorgeous girl had finished her quilt. Several years may have elapsed, but I really do believe she tackled each stage, when she was ready for it.
She's starting her Textiles GCSE course this September. I hope finishing this quilt will give her just that little bit more confidence to take on any project. I want her to fly. I want her to believe that she is capable of anything, because she is. Oh, yes. My girl can do it. There is no doubt.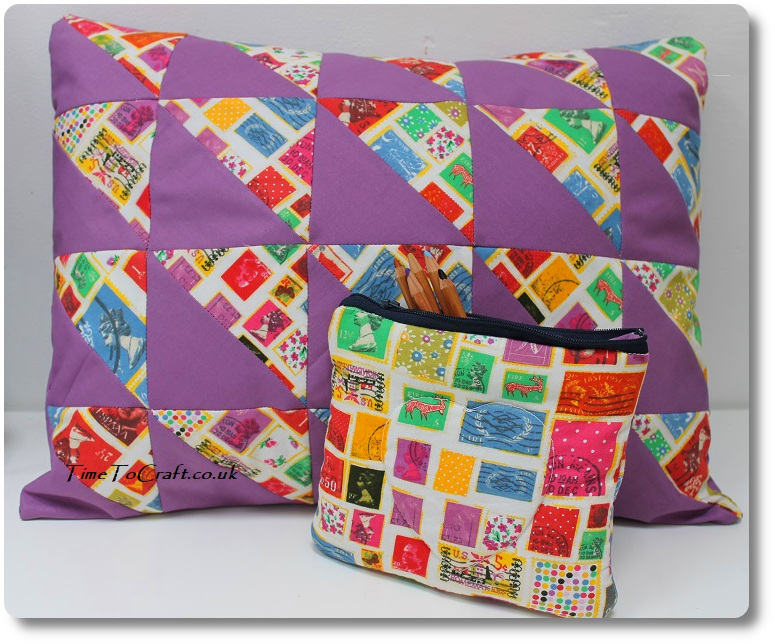 I'm over on Minerva Crafts blog today, with a cushion cover and zipper pouch. I'm talking about how easy it is to make the half square triangles and explaining how I make them. A bit of a "how-to".
Please pop over and let me know what you think.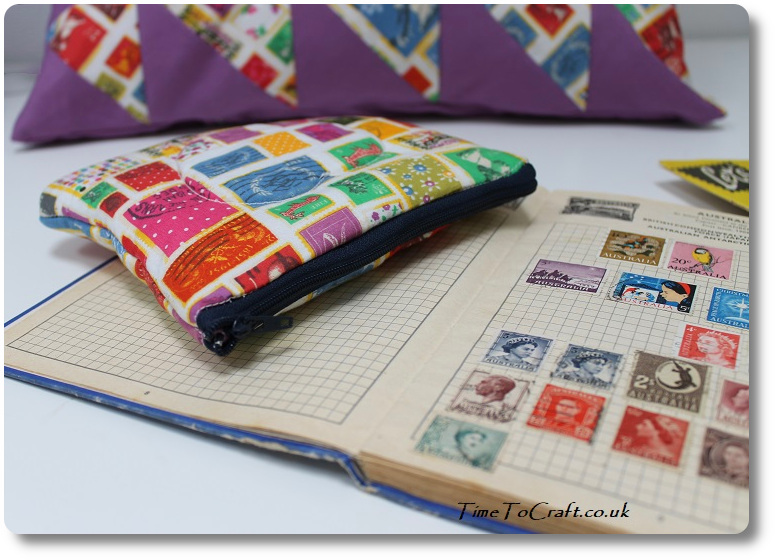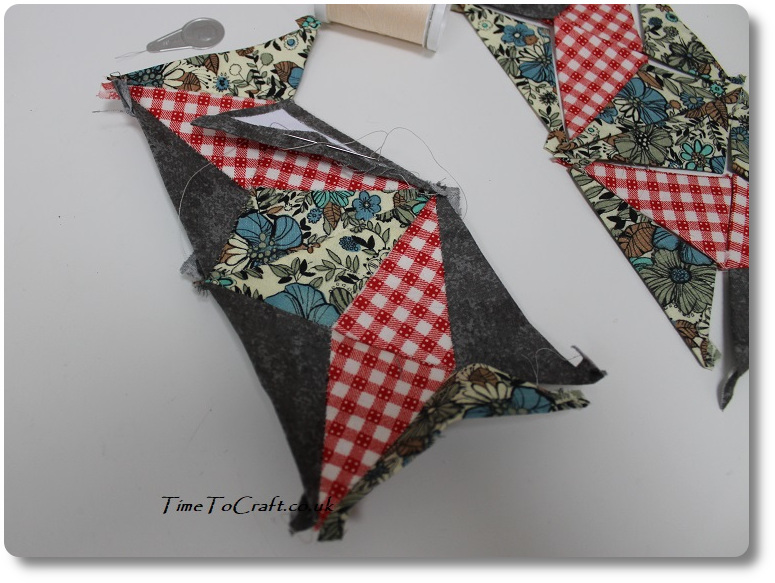 After a very busy sewing weekend (more about that at the end), I needed a small project to pick up this week. Something that didn't involve handling volumes of fabric. My current quilt really wasn't going to fit the bill. It's reached the stage where it's more than an armful and, without doubt, I needed something different, although I am itching to finish it.
Instead, I've picked up my Dear Daughter quilt, which uses the English piecing patchwork technique. Basically the shapes are made with paper and then the fabric attached to it. Eventually the paper is removed, once the fabric is all sewn together. Usually I'd tack the fabric to the paper, but I used fabric glue this time. It's quicker and washes out.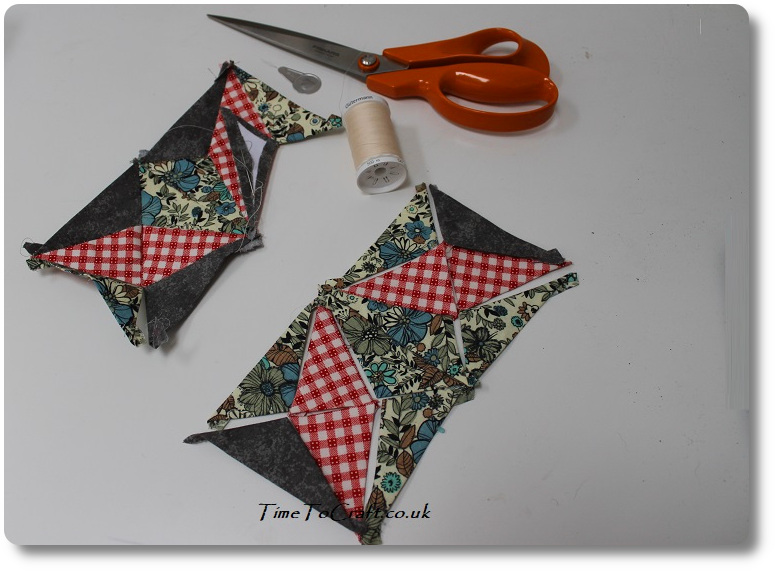 It felt strange going back to hand stitching patchwork, after a couple of projects using the sewing machine. Much slower and I felt slightly impatient and irritated at first. Once I was back in the rhythm, I remembered how it provides space and more of a mindful time. I began to enjoy it more. I love how different techniques can give such a different experience.
I think this is the last block in the quilt. I have the fabric for the sashing, so maybe I'll start piecing the blocks together this week. I'm undecided about whether to write the final letter just yet (each block has a letter). I might leave it to the end, or write this one plus one final letter for the whole quilt. Still pondering.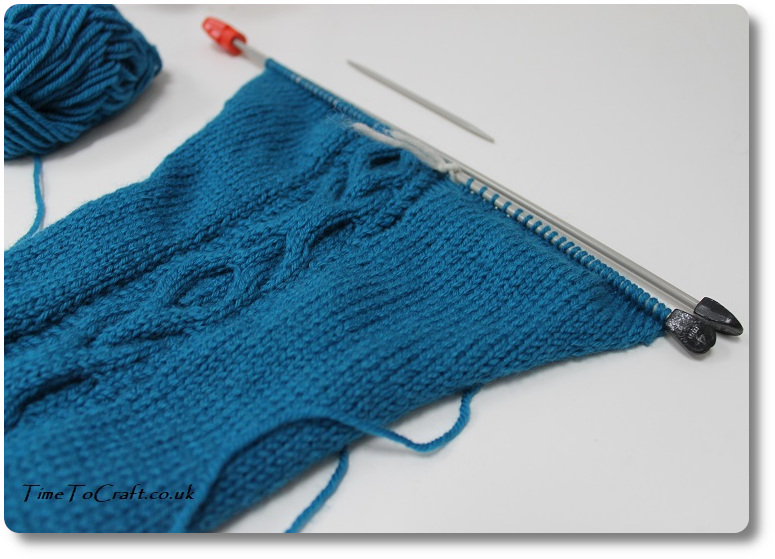 On to a knitting update next. I'm creeping up the sleeve of my blue jumper. Still at the stage of increasing the width, as I head for the shoulder. Probably the biggest news on this is that I've finally found the matching needle. Both are 4mm, but I've been using a slightly longer needle. The length gives a subtle difference to the balance, I find, but after a few rows it does make a difference. Trust me to find it after finishing one cardigan and almost finishing this one.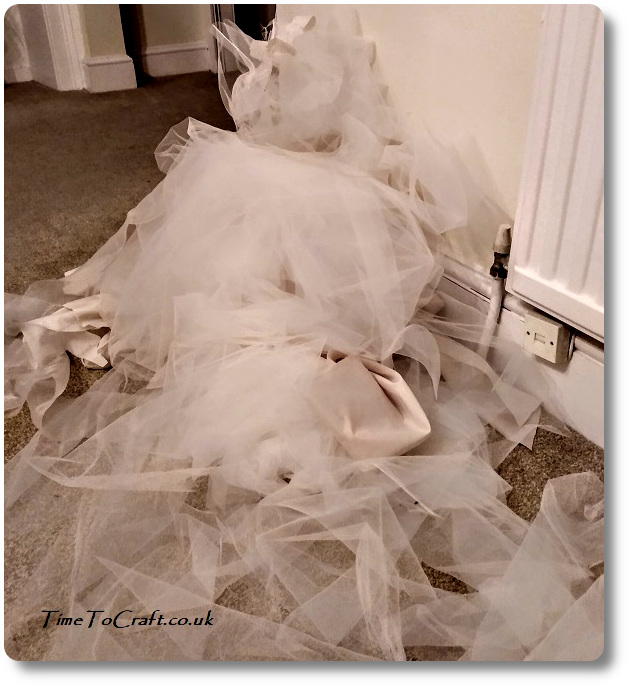 Oh and finally I need to add an explanation to this photo. I used it as my Sunday photo, but was too tired to add more. On Saturday, I spent the day with one of my nieces, who happens to be getting married this year. She found a dress that she loved and, without giving anything away, looked amazing in it. The dress although lovely had one feature that was going to prove a problem on the day.
Their reception is in a field. In the UK. If it doesn't rain on the day, the likelihood is that it will rain on the days running up to it, leaving the surface wet. Her dress had a train. It was also too long all round. By the end of their big day, sprinkling flower seeds on the dress's train might have been a totally viable option.  To cut (see what I did there) an extremely long story short and to avoid revealing any more details about the dress, the photo above is the remains of the train and length.
Watching her walk up and down her flat afterwards, wearing the dress, I could see how much easier it was for her. It will still get dirty to a certain extent, but it is now balanced. She is no longer fighting against the volumes of fabric. She was wearing the dress and not the other way round. The dress wearing her.
It was a long, long day and I wish I could have tidied up a few more bits, but she's happy. I couldn't imagine doing this for anyone else but my nieces or daughters. Full of admiration for seamstresses that make alterations for clients. It was such fun spending a whole day with her. Not sure I've ever done that before. We didn't stop talking.
So glad I could help. I feel honoured she trusted me.
I'll post up photos of the big day, so you can see the dress eventually.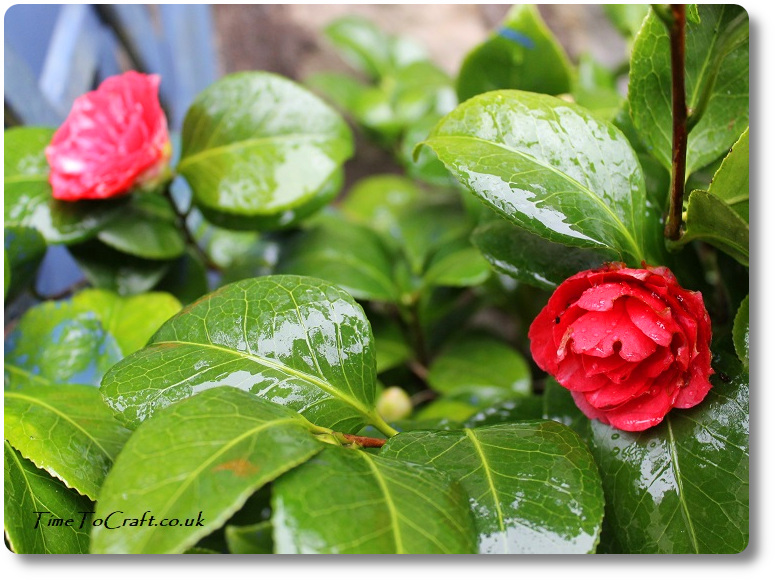 Photos
There have been cases when people lifted my photos and words, and used them without credit to me or asking permission first. Using them for their own commercial gain. I have now added a level of security to deter people from doing this. Apologies to people who do play nicely. If you would like to use any of my photos, please contact me.
Copyright notice:
All my words and photos are copyrighted to me. They cannot be used for commercial benefit by anyone else. If you would like to use any of them, then please ask me first and don't just take. Written permission only. Don't pass my words, photos or ideas off as your own. It's not nice.
Cookie Policy
Our web pages do not use cookies however this website uses Google Analytics, a web analytics service provided by Google, Inc. Google Analytics uses cookies to help us analyse how people use our site. The use of cookies by Google Analytics is subject to change.