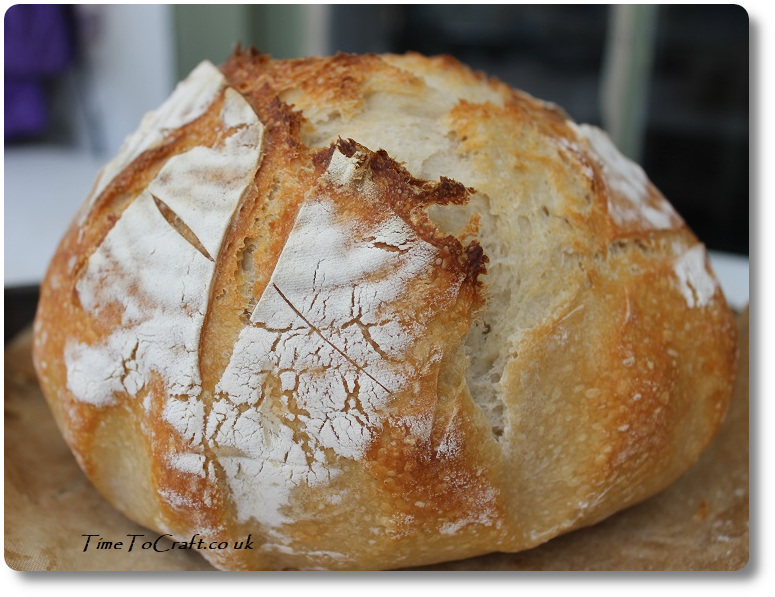 There are few pleasures in life, that are more wonderful than the fragrance of freshly baked bread. The scent spreads and comforts the soul. Greeting and hugging all who venture through the kitchen door. It's no wonder that supermarkets pipe the scent into their entrance lobbies.
When I made this loaf, no-one was home. I ended up sending a photo to my husband, who thought, at first, it was a stock photo. I'm taking that as a complement, but my point is that no-one was home to appreciate the aroma.
This is my first (successful) attempt at sourdough. I'm pretty pleased with it. Bit salty, so I'll cut that ingredient back next time. My starter, Mildred, is bubbling nicely which bodes well for some more baking today.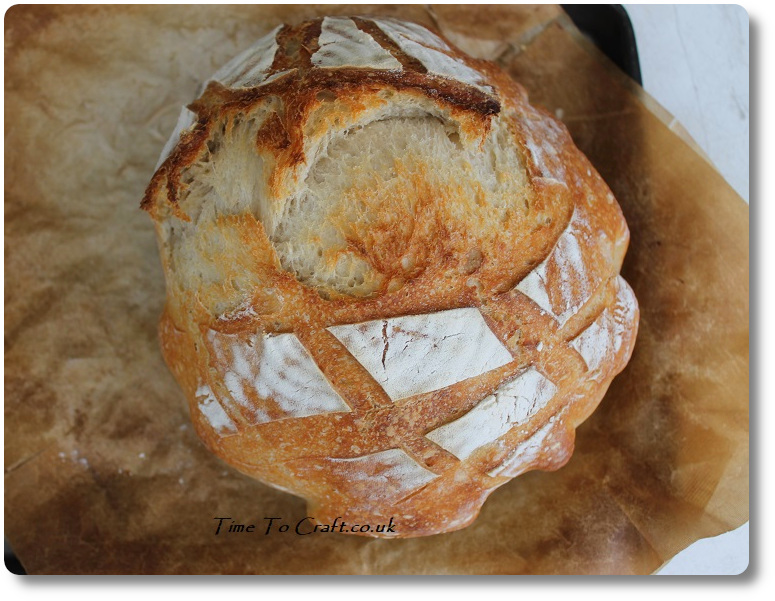 It's been a week of baking. Middle teen turned 15 this week. She's taller than me now, but only just. Anyway, a birthday is always an excuse for a special cake. Red velvet is her favourite.
I made her a patchwork quilt and we ate out at TGI Friday as a treat, that evening. Although we were all solemnly sworn not to divulge that it was her birthday, while we were there. She wanted to escape the restaurant staff singing their version of Happy Birthday to her. There was a moment, when she saw the staff gathering near us, that she might have thought I'd gone back on my word. It turned out that there was another birthday at the next table to us.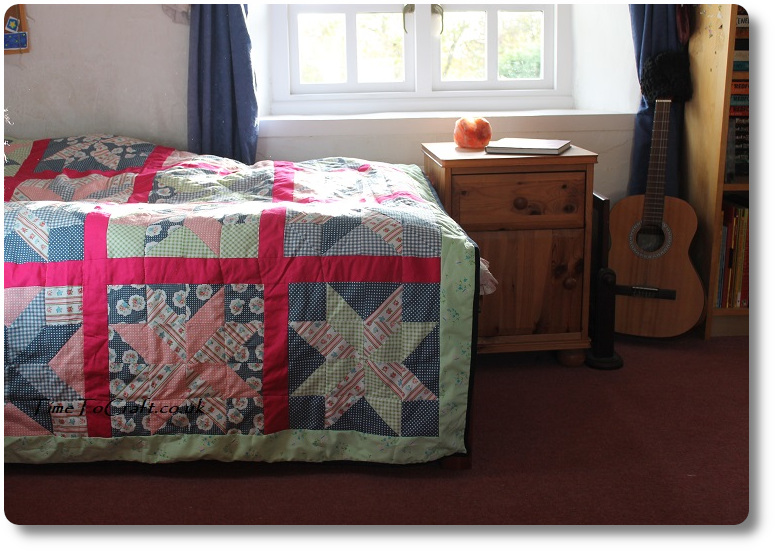 The rest of the week has been about settling back into school after the half term break. They've had a four day week, which has felt no different from a five day one. We had a parents evening. Middle Teen again. It was obviously her week.
The teachers all had lovely things to say about her. When pushed, they told her what she needed to do to move up a grade. She is doing well, but I can see that she is beginning to believe she has a limit, as outlined by school. She doesn't. She's in top sets for most classes, for crying out loud.
The school's grading system annoys the hell out of me, as I feel it demotivates too often and adds a perceived, fake ceiling. It uses benchmarks that are rubbish, for want of a better word. Garbage in, garbage out. As someone who eats statistics for breakfast, I've gone through it. I have attended the school's "consultation" meetings, to no avail. Grr!
Anyway, still channelling my inner tiger mum, I have a plan to encourage my girl and show her that there are no limits. Only she can decide what her best is going to be.
And breathe.
(jumps off soap box and kicks it to the side)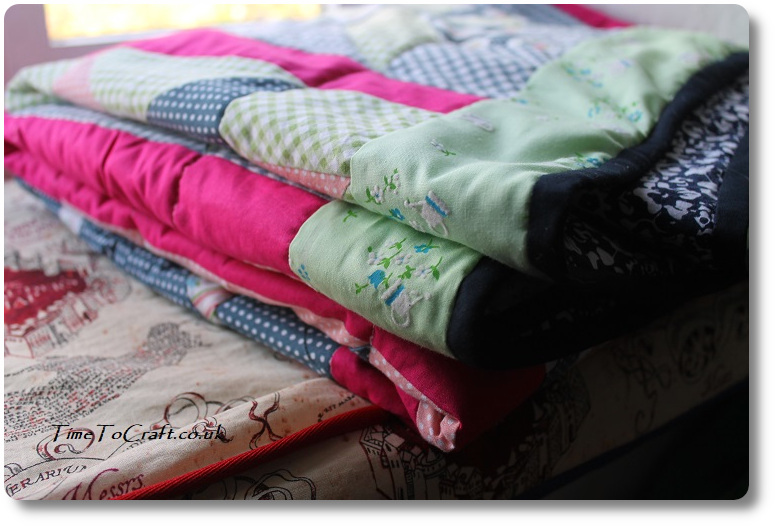 Right, I'm off to bake some more sourdough. That is the great thing about baking. It rewards the senses and provides time out.
Joining in with Anne's word of the week linky. A lovely bunch of friendly bloggers. If you are a blogger and fancy joining in, I can definitely recommend the link up.
I'm all ears. What have you been up to this week?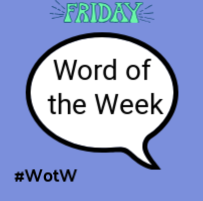 It's finished. Middle Teen has finished her first quilt. I'm so pleased with how it has turned out, but far more importantly, she loves it. It's her quilt. Apart from the odd pointer from me, she's just got on and made it all by herself. Transferring the skills she learnt while making her patchwork tote and cushion.
I love her choice of fabric. This is a girl who dreams of flying. I don't just mean that she wants to fly, but she also wakes up, on a regular basis, from dreams where she is flying. A quilt made of images of hot air balloons and space seems even more of a perfect choice to snuggle under, while dreaming her dreams.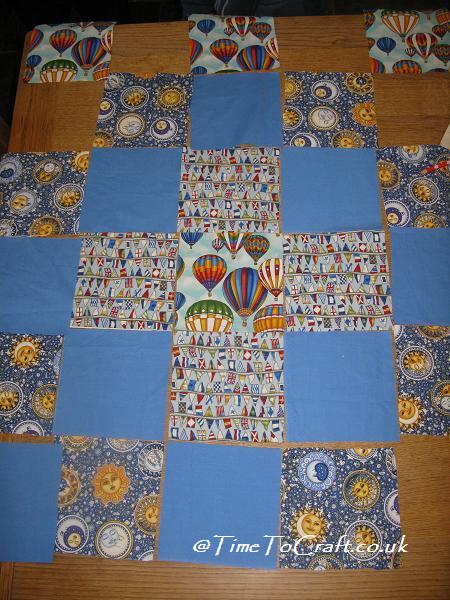 (photo from 2012)
The project
Selection of the fabric and cutting out happened back in 2012. She was eight. I took her to a local fabric shop and gave her full rein. She chose hot air balloons, cosmic images and flags fluttering in the sky, along with a blue to break it up.
After cutting out the squares, she spent ages playing with the arrangement.
Then the project was put aside to gather dust.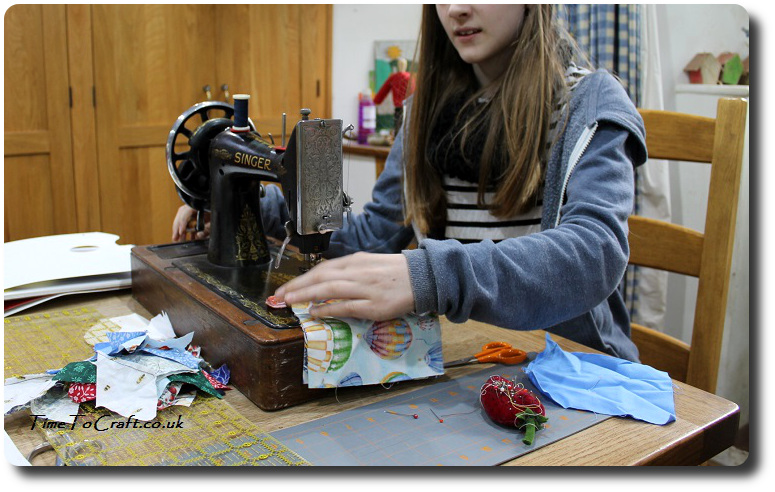 Move on to 2017 and she dug out my old hand-cranked Singer sewing machine, to sew the patches together. She was pleased with the arrangement and enjoyed stitching them. The slow rhythm of the manual sewing machine is something every person, who sews or not, should experience at least once. Good sewing therapy.
Anyway, then the project was put aside again to gather dust. (Not literally. She did store it in a box)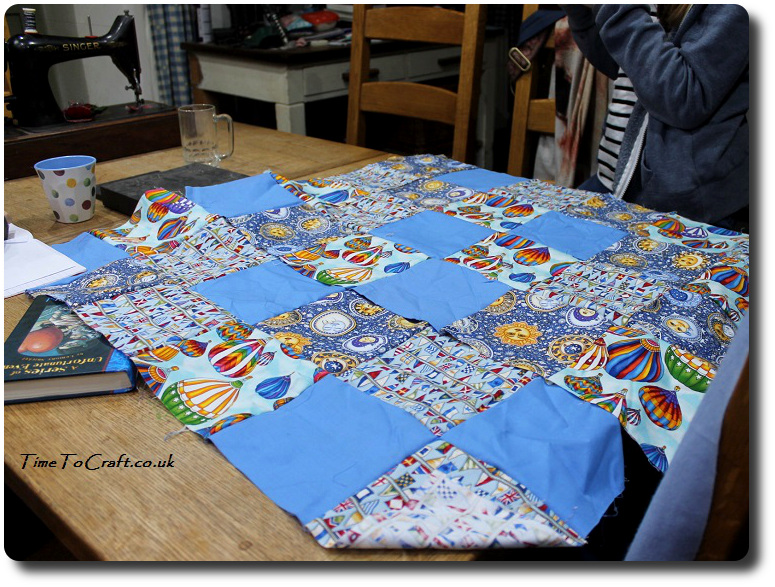 Time shift to early 2019. She's 15. I gave her a piece of wadding and an old duvet cover for a backing fabric, which she duly sandwiched together.
Slight pause. Dust bunnies formed and multiplied….
This holiday, I encouraged her to finish it. Partly because I needed my curved safety pins back which she'd used to pin it all together. Out came the old Singer sewing machine, once more. It really is a good machine for quilting. She sewed in the ditch, which basically means where two squares meet.
She was on a roll now. Using the backing fabric, folded over to the front, she made the binding. She even figured out how to do mitred edges for the corners, which I was hugely impressed by.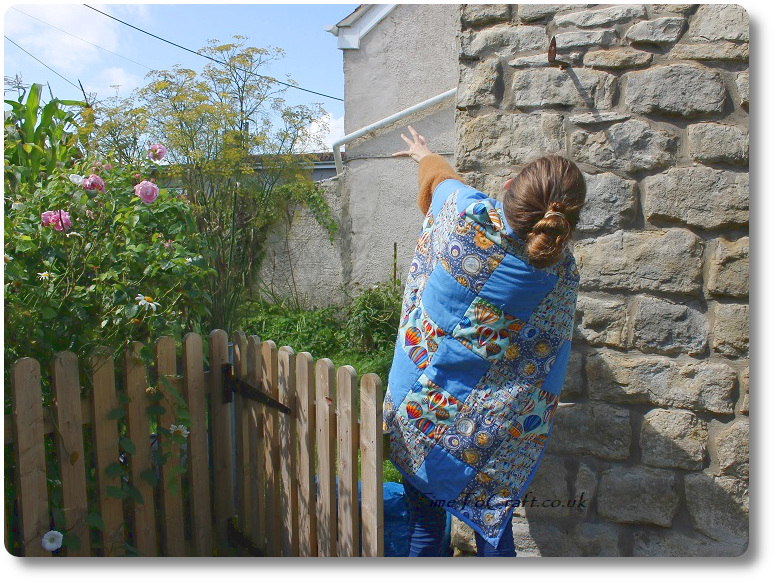 Quick, light press of the fabric and it was done. My funny, gorgeous girl had finished her quilt. Several years may have elapsed, but I really do believe she tackled each stage, when she was ready for it.
She's starting her Textiles GCSE course this September. I hope finishing this quilt will give her just that little bit more confidence to take on any project. I want her to fly. I want her to believe that she is capable of anything, because she is. Oh, yes. My girl can do it. There is no doubt.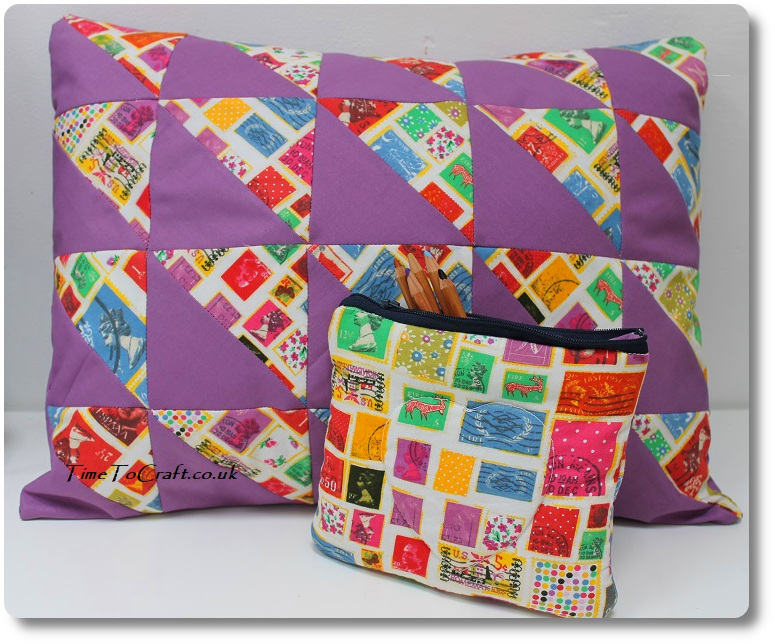 I'm over on Minerva Crafts blog today, with a cushion cover and zipper pouch. I'm talking about how easy it is to make the half square triangles and explaining how I make them. A bit of a "how-to".
Please pop over and let me know what you think.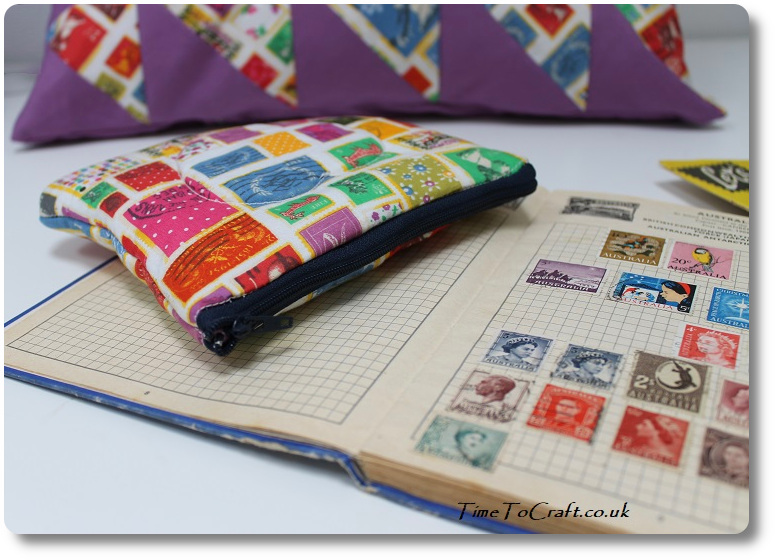 Photos
There have been cases when people lifted my photos and words, and used them without credit to me or asking permission first. Using them for their own commercial gain. I have now added a level of security to deter people from doing this. Apologies to people who do play nicely. If you would like to use any of my photos, please contact me.
Copyright notice:
All my words and photos are copyrighted to me. They cannot be used for commercial benefit by anyone else. If you would like to use any of them, then please ask me first and don't just take. Written permission only. Don't pass my words, photos or ideas off as your own. It's not nice.
Cookie Policy
Our web pages do not use cookies however this website uses Google Analytics, a web analytics service provided by Google, Inc. Google Analytics uses cookies to help us analyse how people use our site. The use of cookies by Google Analytics is subject to change.