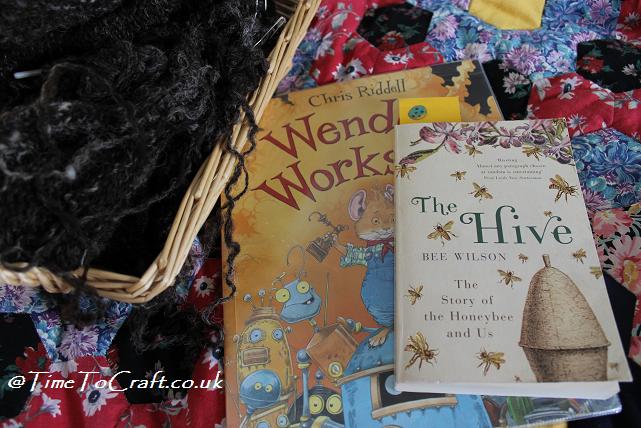 Joining in Ginny's Yarn Along today. Books and yarn.
With all the rain that we have had in the last few days, I've made good progress on my cardigan. I have to stop calling it a shrug, as it is too long to fit most people's ideas of a shrug and it is going to have lots more buttons. So I'm calling it a cardigan.
I decided to rip out a couple of inches at the hem and re-knit it with a curve. Looks much softer and I'll be happy to wear it. I'm just finishing the crochet border. It has quite a unique look about it.
I'm still reading The Hive. It is an intriguing book and will take me some time to read. I love that it brings in the everyday world history. Always with the bees as the common theme. I've just finished reading about the introduction and spread of honey bees into the US. Just moved onto the early hives in Poland, which were shaped as human beings.
Just as an aside, but there is so much in this book, that I can't help wondering how the media can sum it up in one word. As common in so many books, inside the front cover are quotes from various magazines and newspapers. I know that there is not much room to print a whole critique on a book for all possible publications, but I can't help wondering if some journalists have actually read the book, when they can sum it up in one word. Makes me question their opinion, when they use just one word. What have they not said?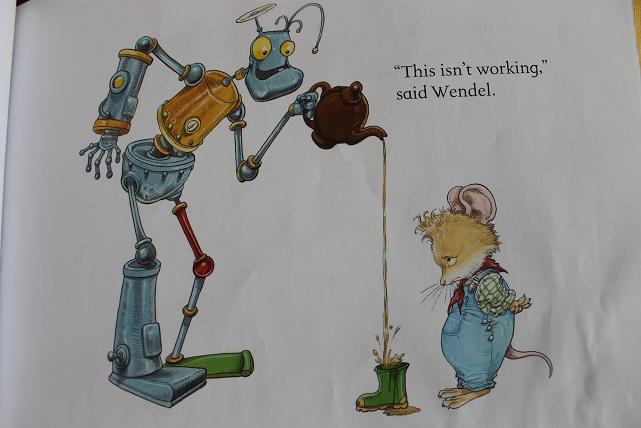 On a lighter note, I'll include TF's book recommendation of the week. Wendel's Workshop is a big hit. As a little chap, who enjoys making and construction, the antics of Wendel really appeal to TF. I love the illustrations as well. Apart from Wendel being a sweet looking mouse, its fun to try and spot the scrap being turned into robots.
Hello to all fellow Yarn-Alongers. I'll be over later to catch up on your yarn creations and books. I'd love to know that you dropped by.