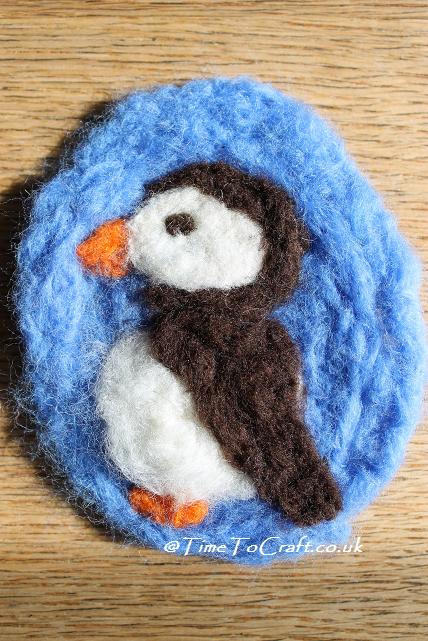 I really meant to join in Eskimimi makes' Knitting and Crochet blog week. I've had the button in my sidebar for quite some time. I've even half prepared a few of the posts ready for this week. Instead I have hit a creative curve. I have so many creative ideas buzzing in my head that I need to attend to. Instead I'll do my best to visit some of the blogs that are joining in.
One creative distraction involves the little needlefelt puffin picture. I blame my daughter. Due to her weekend homework, we stumbled across Puffincam, up in Shetland. I can now sit at my desk working, while puffins and guillemots sun themselves on the rocks, hundreds of miles away, and I can see  them. Love it. Another place that I would love to go one day. Naturally I felt (hee, hee) inspired to make a puffin.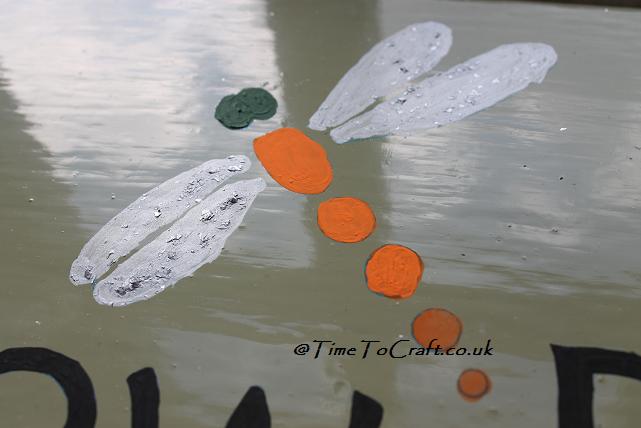 Other distraction is the much needed new sign for the house. Delivery men complained that they couldn't read the old one anymore. They're right. It is a bit weather battered now. I would never class myself as a painter, but I do love crafting the house sign. Still work in progress, but I'm adding glitter to the dragonfly wings. I will varnish the whole surface, so hopefully the glitter will not be washed away by the rain, as two members of the family suggested.
Also started a new knitting project, which is almost finished. More about that later.
I'm off to watch the puffins. If you are posting as part of knit and crochet week, let me know, so that I can pop over and see what you are up to.