Wednesday. Its time to report on all things book and yarn related, as I join in with Ginny's Yarn-Along.
I finished the Quilters book from last week. To be honest, I did what I do with books that I've started but am not into. I know this might outrage some avid book readers but I jumped to the last chapter. Sometimes this makes me go back and read the book properly, but this one didn't stand up to the test. It is now in the pile to go back to the library.
I did pick up a copy of The Bad Beekeepers Club and really enjoyed it. It is light hearted, which truly suits me. I like to see the funny side of life and this style of writing is perfect (although I found the repeated references to "Bad Beekeeper" a little annoying. I know its in the title, so I should be more forgiving.). I learnt a bit more about bee keeping, which is still on my list of things to do. In the meantime, I watch the bees in the garden.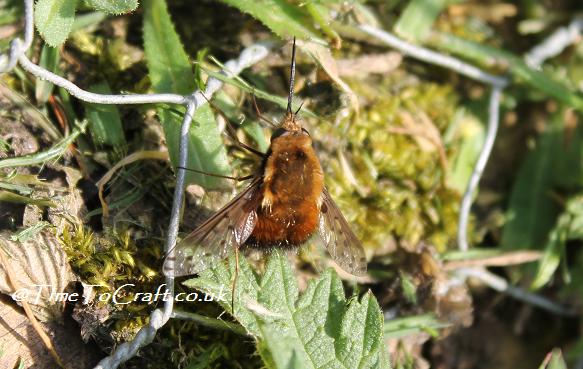 (This is not a bee, just a fascinating bee fly. I have found nothing else in the garden that has such a long, fixed proboscis relative to its body. It has the most wonderful jabbing action as it finds an interesting plant. Like a miniature fencer.)
I'm now on to the next book in my pile which is another Diana Wynne Jones and am thoroughly immersed in the story again. My kind of escapism.
Must mention the books that the children are reading. AJ has just finished The Time and Space of Uncle Albert. She waded through George's Secret Key to the Universe, but found it too full of lectures. Too many quarks, she said, but she did finish it. At nine years old, the Uncle Albert series seems to be a better fit and she is loving it.  She is also enjoying dipping into It's Elementary!: Putting the crackle into chemistry. BL is enjoying The Philosopher's Stone as a bedtime story. TF loved Zog, last night. We love all the Julia Donaldson books.
Not quite so much yarn progress to report. I've added a few inches to my blanket border. Half way through I remembered that doing a knit stitch at the start and end of a purl row would help with the attaching stage. It also seems to be making it flatter, but that could just be wishful thinking.
So what are you reading and knitting/crocheting this week? If you've not checked out the yarn-along, I will warn you that your book list will grow exponentially and, if you have a queue in Ravelry, it will take up several pages. Or is that just me?