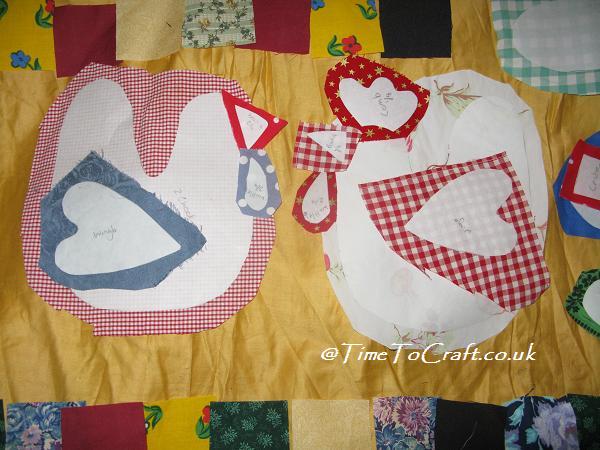 Time to shake the dust from a half finished patchwork quilt or use the fabric scraps put aside. Stitching bits of textile together, whether it involves quilting, patchwork or applique. Taking time to document my progress. Hoping to finish and not hide it away, half done. Would you like to join in?
Continuing with my Easter quilt, I arranged all the little pieces. I don't have a place to leave the quilt laid out while I'm making it. I know little people might rearrange a few bits if I did, so I took photos as reference. The hens were easy to arrange. I need to cut a few more combs and flower stalks. I tried arranging the squares randomly, but turns out  I really wanted to follow a sequence. The squares are now all sewn together.
I cut out the yellow background fabric, only to find that the pattern I'm following, had forgotten to include two bits of it. I need to figure out the size for them. Otherwise they'll be two big holes in this quilt.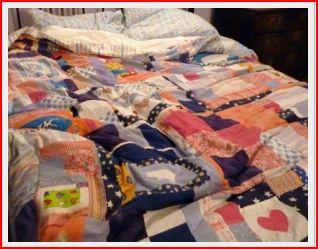 Anne is joining in the Patchwork Along today. She has revisited two old quilts and joined them into one. So much detail to look at. I love it. Thanks for joining in, Anne.
If you would like to join in and be featured in the next Patchwork Along then leave a comment, send me an email or pop a photo up on the Flickr group of your patchwork. Patchwork can be in progress or finally finished. Share the inspiration. Next post in a fortnight.
Had to include a lovely quilting giveaway that I won…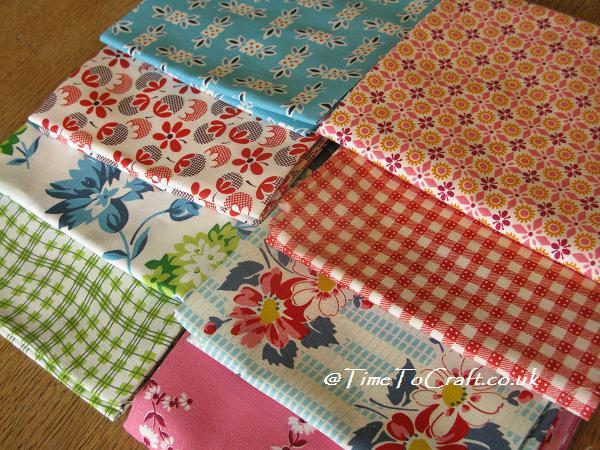 These fabulous fabrics arrived yesterday morning from Hazelnut (She who created the wonderful bunny template). The bundle proved very popular with my two girls. In fact, I was lucky to take the photo before the fabric disappeared upstairs. It's no good girls. I know where you've hidden them. I have plans for these beautiful textiles. Thank you, Hazelnut. I love these fabrics.