As I write this post, the kitchen is sweetly scented with tomatoes and garlic, slowly roasting in the oven. Bathed in a delicate blend of olive oil and herbs. Warm and comforting.
I cannot begin to tell you how hungry it is making me.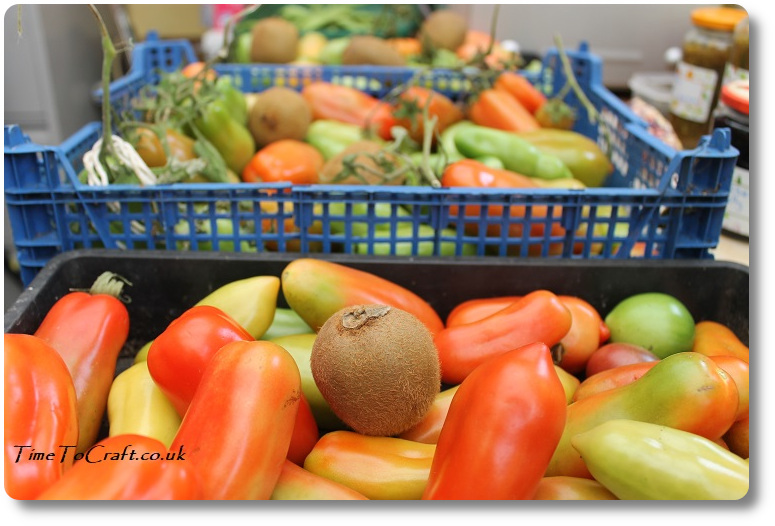 (Top tip: ripen green tomatoes using a kiwi fruit. Really seems to work. Three crates in and more to follow.)
It is the one teeny, tiny blip with preserving the summer. It smells too good. Good enough to eat. If I'm not cooking something, then I'm often researching possible new dishes to best deal with all the garden produce. Thinking about food. Imagining the combination of different flavours. Stomach growling in anticipation of the promised feast, thanks to the constant stream of food thoughts.  Sigh. It is truly the one time of year, I slightly pity food writers.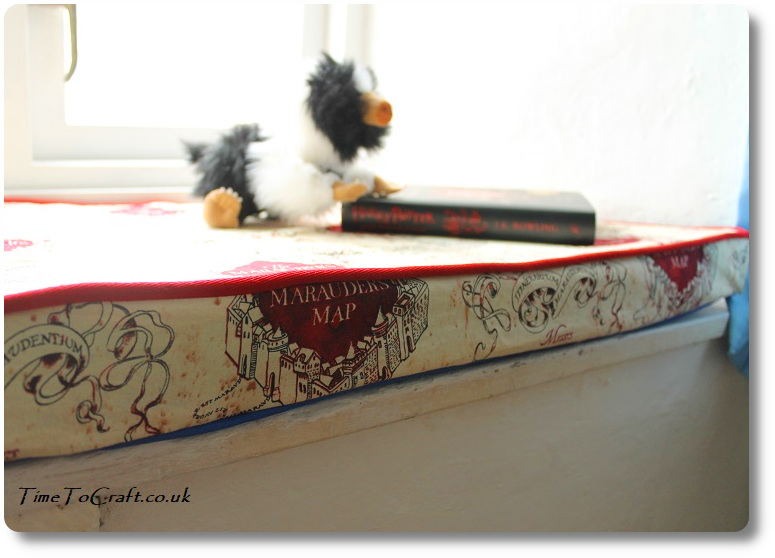 To escape the temptation, because it really is one, I have been distracting myself with fabric and yarn too. I made a windowsill cushion for Youngest. Also started altering a pinafore for Eldest. So few off the peg outfits fit her. This latest one, I'm having to take in and lengthen, which is the most bizarre combination of the lot. Basically she is too tall and small for it.
I've also started my gift making. I knitted something this week and then frogged it. Unravelled, in other words. From knitted object back to ball of yarn again. It was too small, which is puzzling as I've followed the pattern a good number of times. Not one to give up, I've started again.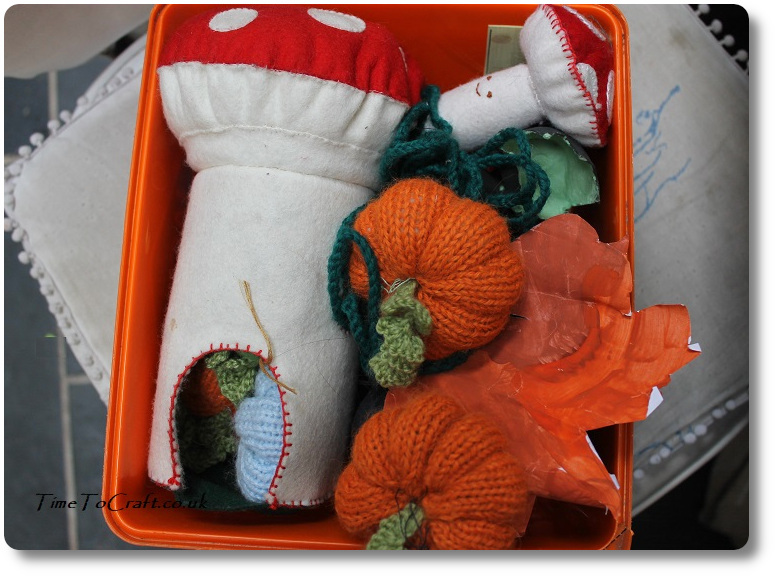 I've got the autumn decorations out, ready for the children to help me put them up, after they've done their homework today. Love seeing the seasonal boxes coming out. This one is full of knitted pumpkins and felted toadstools. All homemade. We had the first fire in the wood burner, last night. I can see the real pumpkin leaves, in the kitchen garden, beginning to wilt with the colder nights. It is definitely feeling like autumn this week. It won't be long till I get the 5 homegrown pumpkins in, that I've found so far.
Right. Can't put it off. Venturing back into the kitchen to get the latest batch of tomatoes out of the oven. Wish my waist line luck.
Joining in with Anne's Word of the Week linky. I'm going to choose "make" as it seems to be pretty much my week.