A study bedroom in the making
I have lost count of the number of Septembers that I've walked into the blank sheet that is to be my new study bedroom for the next year. Apart from the numerous house moves, I also went away to school, from the age of 11, and then onto University. September always meant a new and different bedroom. Always an empty bedroom, stripped clear of any personal items, ready for me to dump my first box of belongings on the bed, before heading back to pick up the rest from the car. The rooms all had the same things in them. A bed, a cupboard/drawers and a pin board. Always a pin board. After a couple of years, a desk and chair were added in to the mix. Nothing spells September louder to me, than a room like that, and the smell of new text books. Anyone else?
I didn't think I missed it until the run up to this academic year. We've been gradually freshening up the childrens' bedrooms. I say "we". More accurately, I should say Mr TTC. I just get in the way, making unhelpful suggestions and offer changes of plans, as if they always were the original idea.
He's finished Youngest's bedroom and it looks amazing. Our cottage is 270 years old this year. Happy birthday, old girl! There are layers of history in those walls. Some of the walls are two foot thick. No surface is level. There is not a single right angle in the house (ok, slight exaggeration). Walls lean. Floors slope. Don't even talk about the front door. A whole different level of leaning and tilting. A friend once described our door as feeling as if you were advancing on it in a drunken state. We're used to it and absolutely love the character of the cottage, but it does make renovation a bit of a challenge to say the least.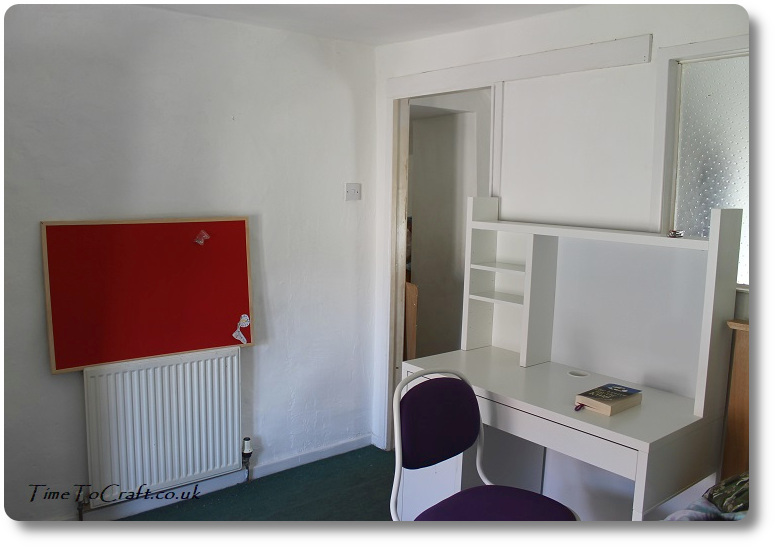 Mr TTC has done an amazing job to make this room look like something from the 21st century, rather than straight out of a period drama. Believe me, the walls are still leaning and the floor still slopes. With low ceilings and small windows, natural light is an issue. We've tried wilder paint colours, but white always wins in the end.
We've bought Youngest a new desk and chair, ready for the upcoming academic year. It's my turn now. I need to add the finishing touches. I've promised that I will make him a window seat cushion, because the window sill is perfect for a boy to sit on and lose himself in a book. I can also see the bed is calling out for a patchwork quilt, which is on my list too.
We'll probably change his bed, in due course. It has a trundle bed underneath, but it would be more practical to swap that out for big storage drawers. Also a new door. The room is missing one, at the moment. The pin board will go up, this evening, because it wouldn't be a study bedroom without one. Right? Apart from that, the room is ready for him to move his belongings back in. It's the smallest bedroom, but he does have it all to himself.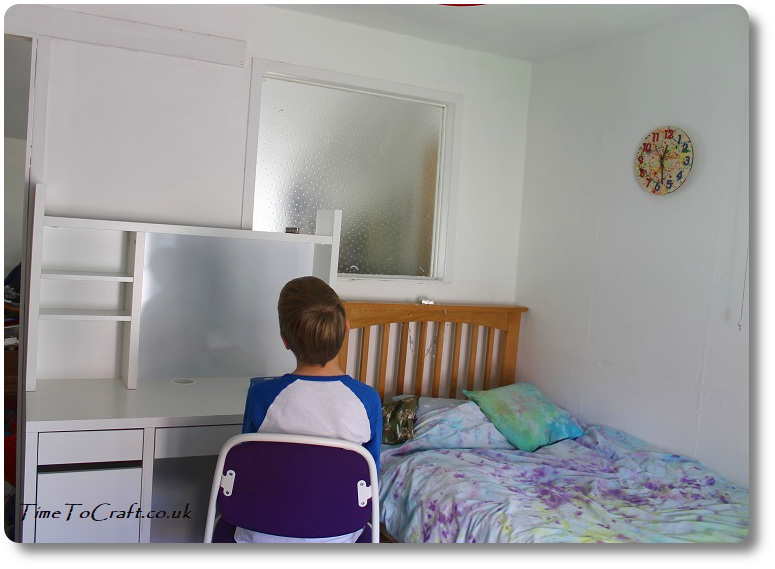 Youngest loves his decorated room and additions. Strangely, he is reluctant to move anything into it just yet. Apparently, where I see a September student room, he sees a summer, holiday cottage bedroom. This morning, he's been up there reading his book and presumably dreaming of a different view out of the window.
I can see I'll need to take more photos once it's looking less bare and more to his style. It's so nice to see the room turning into a bedroom that will see him through his teens. He is growing up.
I'm not wishing summer away, in the least, but anyone else find themselves slightly yearning for the fresh start of September?