Quilt top complete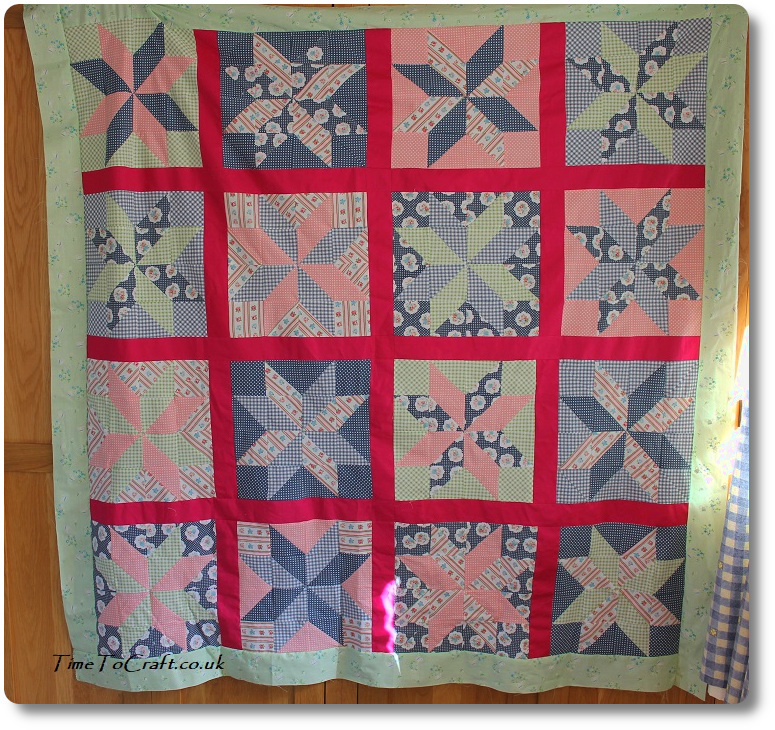 Quick quilt progress update.
Busy weekend, but I fitted in time to finish the top of my quilt. More to do before I can call this project done and dusted. Quilts are such a big project. If I thought how much work they take, I probably would never start. One block at a time and the rest seems to follow on. Anyway, good time to show my progress.
This weekend, I used a pomegranate plain cotton to join up the 16 quilt blocks. It is more like a fuchsia pink and lifts the lighter colours. Not sure if it shows it in my photos, but it does work.
Next, I used the light green fabric that has been in my stash so long that I can't remember where it came from. I think it was passed on to me. It has tiny white watering cans that stand out and have a velvety texture.
I've cut out my bias binding, using a continuous method. Basically turning a square of cloth into several metres of bias binding. Always feels like alchemy, but probably nearer to trigonometry. Just need to run it through my folding device and iron. It's dark navy. Should frame the quilt beautifully.
I've found backing fabric that works and a cotton wadding, which is thin enough. I'm pondering how I'm going to quilt it. Options are to machine or hand stitch. What pattern? Just not sure yet.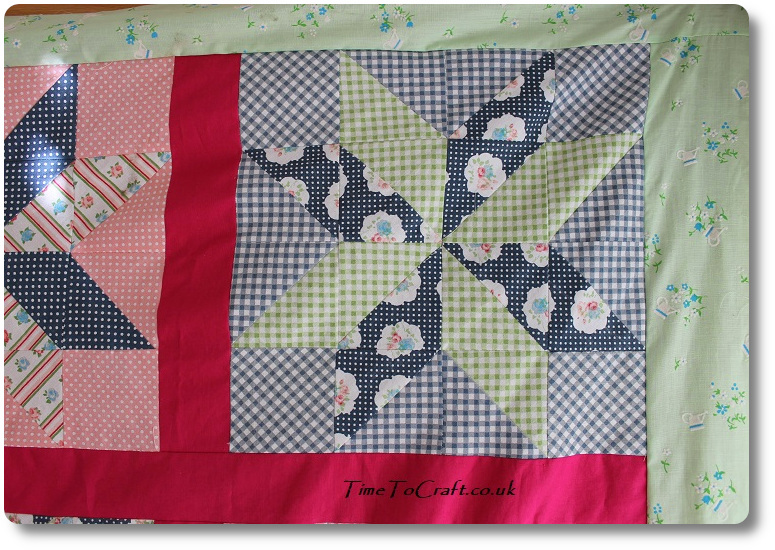 Also now appreciate why quilters have tall friends with long arms or tall fences. Quilts are so big to photograph.
The sun was streaming through the velux windows in my sewing room this weekend, warming the room up. I've been moving my sewing machine into the kitchen, because, quite honestly, it is a lot warmer in the winter. It felt good to leave it set up in my sewing room and pop in whenever I could. Easier to iron too, as I could leave it set up, close the door and not worry about anyone knocking it over.
Right, next quilt update, hopefully will show the finished piece. Just a question of finding the time.
6 Responses to Quilt top complete
There have been cases when people lifted my photos and words, and used them without credit to me or asking permission first. Using them for their own commercial gain. I have now added a level of security to deter people from doing this. Apologies to people who do play nicely. If you would like to use any of my photos, please contact me.
All my words and photos are copyrighted to me. They cannot be used for commercial benefit by anyone else. If you would like to use any of them, then please ask me first and don't just take. Written permission only. Don't pass my words, photos or ideas off as your own. It's not nice.
Cookie Policy
Our web pages do not use cookies however this website uses Google Analytics, a web analytics service provided by Google, Inc. Google Analytics uses cookies to help us analyse how people use our site. The use of cookies by Google Analytics is subject to change.