Unintended Garden Camouflage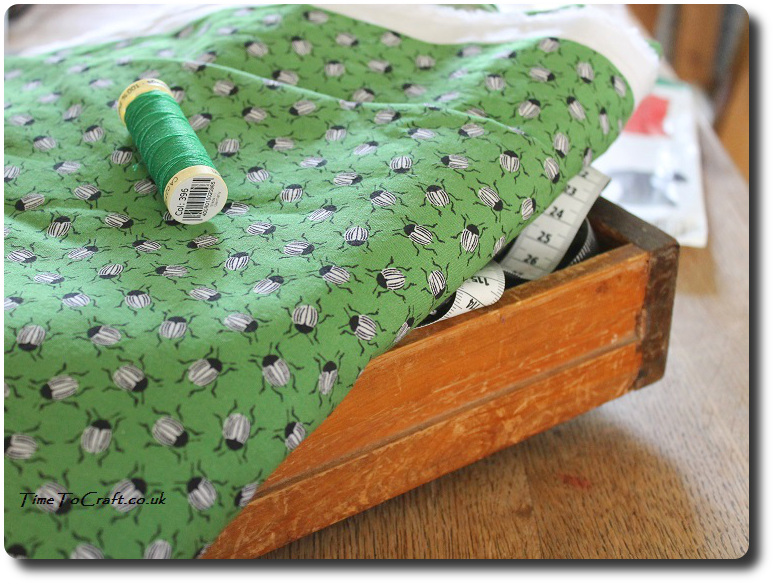 As every parent, I'm absolutely sure, will confirm, there are times when you could do with a few moments of time alone. (I sense nodding heads) A brief pause in the relentless questions/demands/refereeing. It doesn't matter how much you love the little ones, (or not so little in my case), and how grateful you truly are for their existence, we all need a few minutes when the only voice we can hear is our own. Peace. Quiet. Once accomplished, we can brave the world again. A slightly better person, and parent, hopefully.
This weekend I accidently hit on an unusual solution.
Gardening with children
Let me set the scene. It was Earth Day on Sunday and the children were keen to do something meaningful to mark the day, as we usually do. They wanted to make it a whole weekend activity. We started on Saturday and gardened. Creating wildlife happy areas and saving food miles by setting up the kitchen garden. Even the puppy helped. If the level of laughter correlates in any way to the final harvest, we will be in for a bumper season this year.
The children and I have been gardening together ever since they could each hold a trowel in one hand and dandelion in the other.
(14 years ago. This one has grown up and is doing her GCSE french speaking exam today. Eek)
Starting them young is now paying dividends. I will always look fondly at sunflower seedlings in pencil coloured tubs, cress growing in broken egg shells and runner bean houses in gardens. That's how future gardeners and ecologists are made.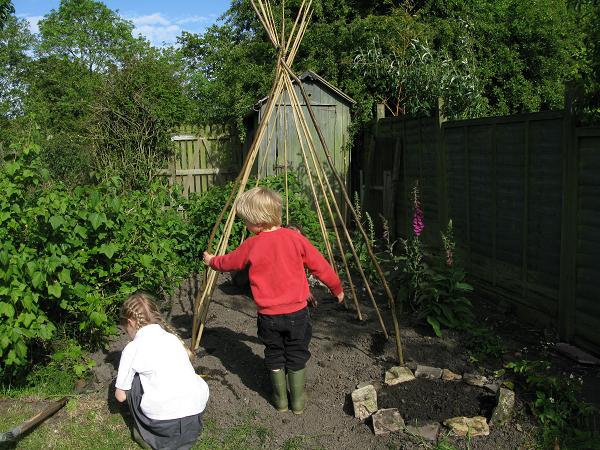 (7 years ago)
By the end of the weekend, my raised beds were clear of weeds and the planting out had begun. The kitchen garden is half cleared too. The windowsills are covered in seed trays. The children were having fun gardening. At one point, one even asked me if I was OK with them doing it all. Taking over. Did I feel like I was missing out?
Did I heck? I'd be a fool not to welcome such help. There is always so much to do. I've passed on my skills and enthusiasm. Job done.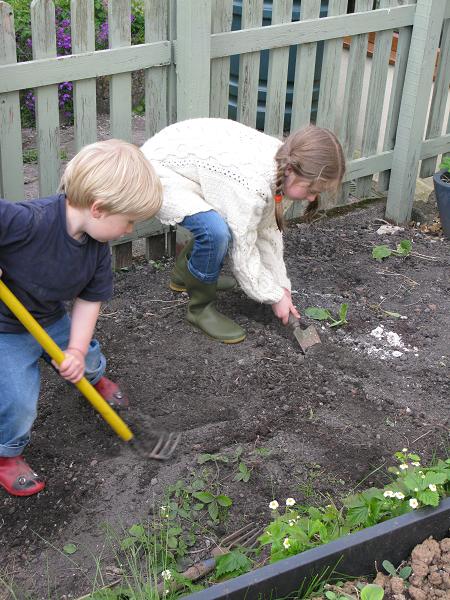 (Eight years ago)
Although I might keep the greenhouse to myself.
Camouflage
Now for the camouflage part. As part of the weekend gardening, the young gardeners put seeds in dirt filled pots. My handmade potting shed is perfect for me when it comes to such a task. Maybe one other could work happily beside me, but four of us and the puppy? No. So I decamped my equipment and supplies to the nearby picnic bench, while the children went in to grab gardening gloves and jumpers.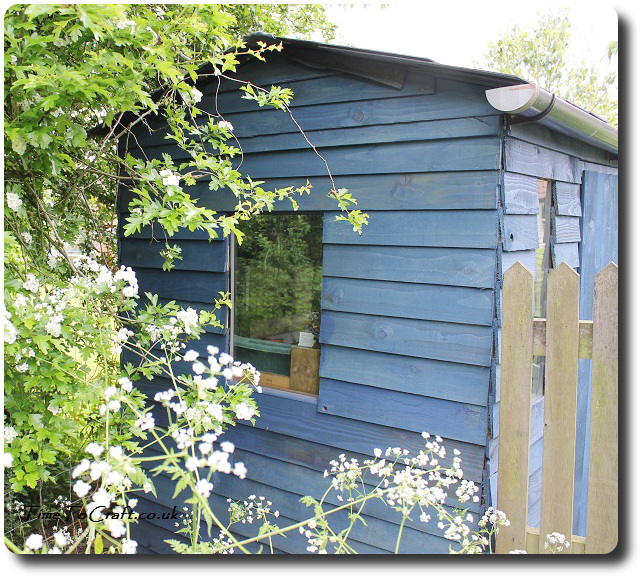 Our garden is big enough and shaped in such a way that it's impossible to see all of it. No matter where you stand. Losing sight of people is relatively easy. Busying myself in sorting seed packets, I waited for them to return.  First one, followed shortly by another. I could see them, so assumed they'd spotted the change of venue. Slightly surprised when they raced off again, but hey ho, they are children.  Then all three of them returned searching for something. Looked at me and disappeared again. I was hardly hidden. Sitting in plain sight. I didn't feel lost. Must be searching for something else. They'll join me when they're ready.
"There you are. Did you know you're camouflaged?"
Bewildered look from me.
"It's that top."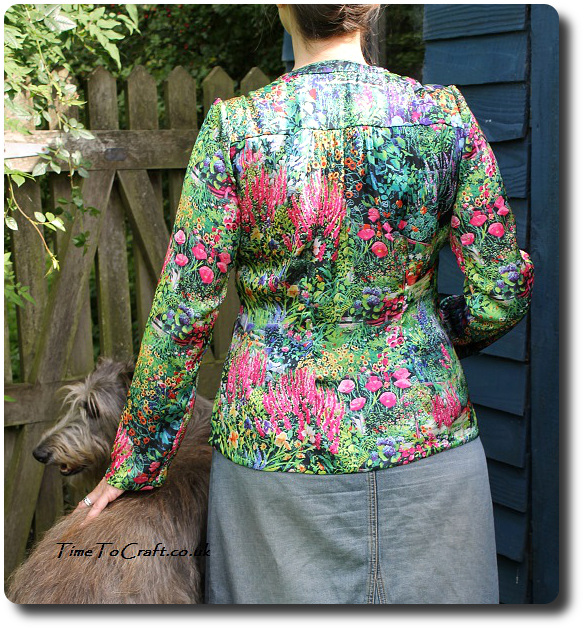 (last year)
I made the top last year and it has become a firm favourite of mine ever since. I don't really give it a second thought, although I haven't quite got over how slippy it was to sew and silky it is to wear. The point is that I wear it a lot and the family see me in it probably most weeks.
By this stage, even my husband was getting in on the act. Seemingly independently. Telling me that if I was in the garden, I'd disappear wearing the blouse. Hmm. I suspected I was being wound up. Our garden is hardly full of flowers at the moment. Except dandelions. Plenty of those for the bumble bees.
Then the next day, the so called camouflage blouse was washed and drying on the line outside. Gently blowing in the breeze. As I stood there watching, I saw a goldfinch fly into my blouse. Trying to land in it. It even had a second go. Confused. It tried so many times that I even had long enough to call my husband to watch.
Let me get this straight. Not only does the fabric print hide me from children, but it fools the local wildlife. Who needs one of those fancy camouflage hides to photograph birds? Apparently not me. Not when I'm wearing my invisibility cloak blouse.
So next time I need a small break from the hustle and bustle of family life, I know what to do. Two words. Garden and blouse.
I've said too much.
Next step
At this point you are probably wondering why I shared this rather rambling nugget. Quite simply, once you have experienced an invisibility piece of clothing, there is no stopping. One blouse is not enough. I'm cutting out a slightly different one next, but I have high hopes.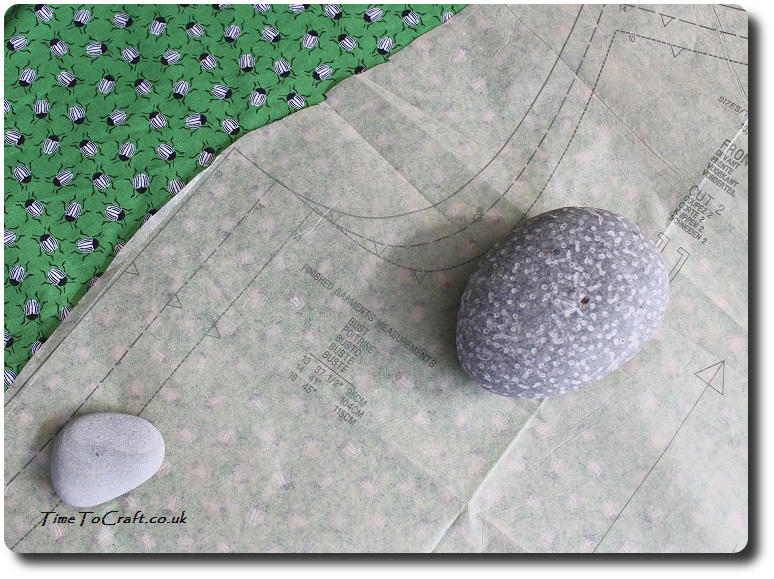 Who knows? Now you see me. Now you don't.
---