A Hoodie for the Boy – Hayfield 7256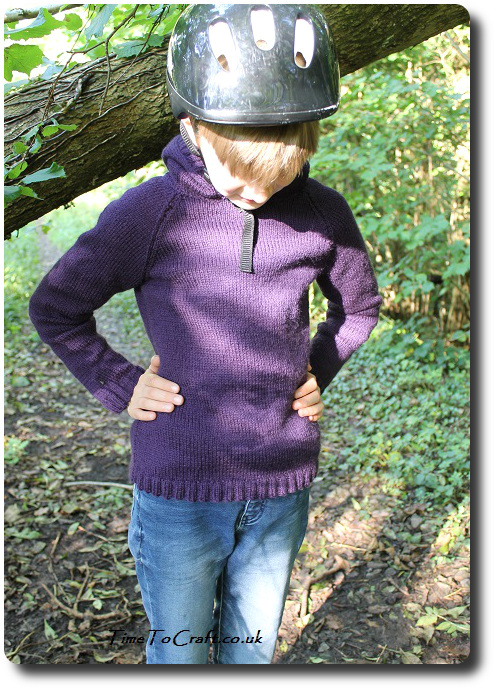 When my children were little, I knitted them jumpers and cardigans a plenty. The cutest designs that just made me want to hug and cuddle them even more. Certainly I felt a sense of satisfaction, as I kept them warm in something knitted by my own hands.
Then, round about the time they started school, it began to change. It was no longer cool to wear hand knitted clothes. Over the next few years, there was still an underlining desire for me to knit for them, but not to make it obvious. Not in front of friends. Same goes for hand holding. No kissing either. Ruffling hair was acceptable, so long as they could pretend they were just putting up with it.
It's OK. I knew it would happen.
I got away with knitting hats, mittens and gloves. Somehow, they were acceptable in a way I never quite fathomed. Best not to question. Just go for it.
Then last month, the stars aligned. Maybe a blueish coloured moon was bobbing around too. I don't know, I was moving too fast to notice. The day had come. I was allowed to knit again. The Boy was after a hoodie and he was happy for me to knit him one. So long as he agreed the design.
Have you seen how fast a knitting mama can move when she is on a mission? Patterns researched and colours agreed. My wool was on order before he finished his sentence.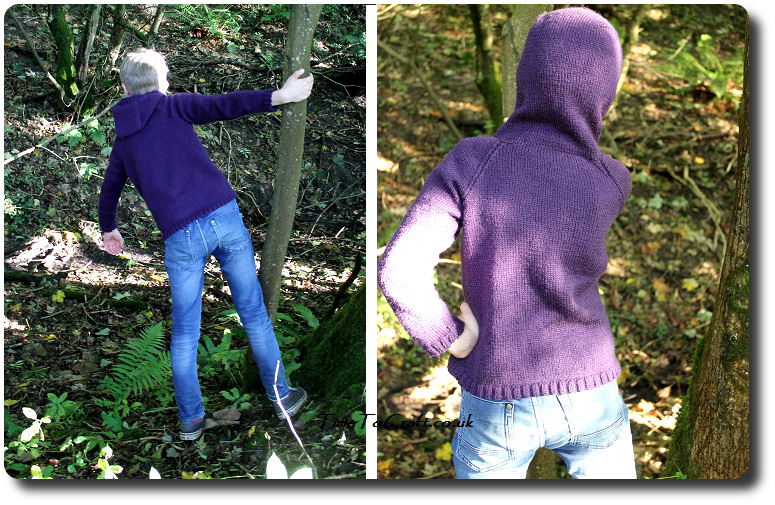 I wasn't going to chance a change of mind.
Although, I'm not unrealistic. As any mother of a tween will testify, I'm sure, knitting for this age group comes with risks. They have definite ideas, which may involve a change of mind about handmade. Half way through the manufacturing process.
It's not always easy being a child of a crafter.
We went for the Hayfield 7256. At first, he liked the idea of the striped version, but eventually settled on the plain jumper in the same colour as one of the jumpers featured on the front cover. I couldn't find any reviews of this pattern. Not even on Ravelry. I had to trust the photos.
I wanted to get this knit as perfect as I could. I went for the suggested wool, in the blackberry colour he had chosen. It is a dark purple. I even checked my tension before hand, by knitting a sample square.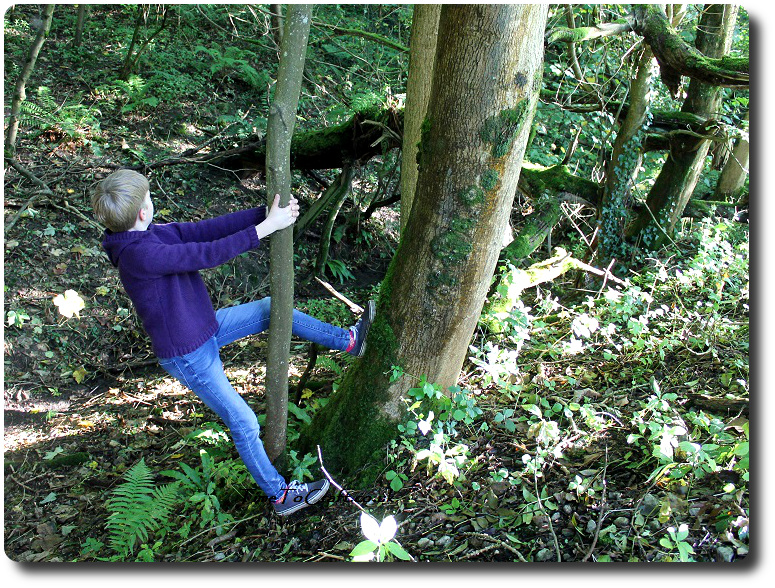 Knitting details
It knitted up very quickly. Only 3 and a half weeks to complete. I took it away on holiday, which gave me extra click-clickety needle time.
I only have three niggles:
I wish I had added an inch or two in the length. I don't think this will last him beyond this winter. The Boy is ten. Slender and fairly tall, so I went for the second size – 81/86cm chest (28/30). The fit is comfortable without being baggy.
The hem is loose. It uses the thumb method of casting on. When he first tried it on, I was miffed that it looked too loose, but when he wore it today and was moving around it didn't seem so bad.
The hood has the opposite issue. It is a bit cocoon like. Next time I may be tempted to make it bigger. Casting on more stitches and knitting extra rows. I may be wrong. Over time, the hood could stretch. We'll see.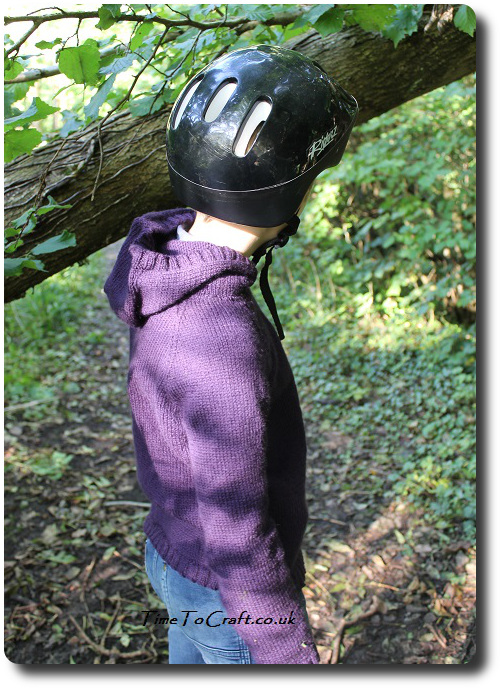 So what does the Boy think? After all, he is the one that counts. Fortunately he is as happy as a sand boy in his new jumper. Being a tween, he was unsure as the jumper grew on my needles. He hinted that it would be a jumper to wear only in the house. I was happy with that. The first time he tried it on, it became a going out jumper, but not with friends.
Today (I'm saying this as a whisper) he suggested that he wouldn't mind wearing it among friends.
Sharp intake of breath. And hold.
And let it out slowly.
I love the look of this hoodie. I may be biased – ok I am with bucket loads – but it looks even better on the Boy. It doesn't howl handmade. Helped by the knit two, purl two ribbing on the hem, I think. It's also a great choice for cycling in the woods.
I'm really happy with it. A little dance of joy. To top it all, another member of the family has put an order in for their own version of the hoodie. Watch this space. It seems, I'm not done yet.
Linking to Frontier Dreams Crafting On
and